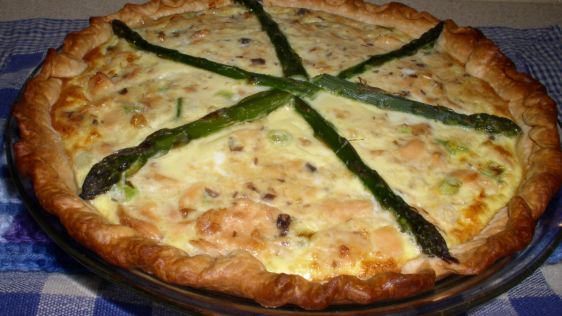 (makes 4 servings)
Ingredients:
1 refrigerated pie crust (e.g. Pillsbury)
8 ounces fresh cooked salmon or smoked salmon, cut into chunks
12-15 asparagus spears, trimmed and cut into 1 1/2-inch slices
4 eggs
1 cup heavy cream
1 cup Parmesan cheese, grated
1 teaspoon minced thyme
1 teaspoon minced dill
Salt and pepper to taste
Directions:
Preheat oven to 375 degrees F.
To cook the asparagus, steam it on the stove (using a steamer basket over a pot filled with an inch of water, or putting it directly in the pot, covered for 3-4 minutes until tender) or in the microwave (wrap a few bunches in damp paper towels and microwave for 3-4 minutes, until tender).
Line a 9-inch pie pan with the crust, trimming any excess and crimping the edges around the pan. Poke several holes in the bottom with a fork, and let it pre-bake for 3-5 minutes.
While the crust is baking, whisk together the eggs, cream, cheese, salt, pepper, and the herbs.
Take the crust out of the oven and fill it with the salmon and asparagus. Then, pour the egg mixture over the top.
Put the pie pan onto a baking sheet, and then place it in the oven. Bake for 20-25 minutes, or until set (poke with a knife and make sure it comes out clean). Let it rest for 5 minutes before serving.
————————