July 26, 2020 The Yellow Pine Times – Valley County, Idaho
Reminder: We are still under a boil water order until further notice.
The 2020 Harmonica Festival has been canceled.
Community Calendar:
April 17 – Boil water order issued
May 15 – Firewood Season starts
June 16 – Hard closure of South Fork Road (weekdays)
2020 Harmonica Festival Canceled
Aug 8 – VYPA meeting at 2pm
Sept 12 – VYPA meeting at 2pm
(details below)
———-
From Valley County
We need Your Help to protect the place and the people we all Love.
link:
— —
Valley County Covid-19 Response Page
link:
— —
Valley County Emergency Operations Center
link:
— —
Rebound – Idaho Governor's phasing program
link:
— —
COVID 19: Recommendations and Resources for Safe Business Practices
link: (lots of info for businesses)
——————-
Local Events:
2020 Festival is Cancelled
We have come to the decision that the 2020 Festival will be cancelled. We look forward to celebrating the 32nd year of the Festival August 5, 6, & 7, 2021.
Our decision was not made lightly. We had to consider the current situation we are in and examine the outlook for the coming months. This is the necessary and right decision for the safety of our community and all participants.
We all look forward to one big reunion with all of you in August 2021.
– DF
———-
Village News:
Boil Water Order issued April 17 still in effect.
Update July 5: the boil order is in effect do to extremely high use due to leaks.
Update June 12: The boil order is still on. We still are experiencing excessive water use because of leaks. Not sure when this will be lifted. We are applying for grants to repair the system.
Update June 2: The water plant is experiencing high water in Boulder Creek which brings more debris into the sand filter.
The high demand caused by leaks in the system plugs the sand filters prematurely. We will be on a boil order until further notice.
As of April 17th 2020, Yellow Pine is under another "Boil Order"
Minutes from July 5, 2020 Meeting
Yellow Pine Water Users Association Annual Shareholders Meeting 7/05/2020
Directors in Attendance:
Steve Holloway, Willie Sullivan, Stu Edwards, Dawn Brown
Steve called the meeting to order and gave a brief description of the agenda.
Willie gave the Treasurers Report. Current balance is $37,699.08. There are 14 accounts in arrears with 4 accounts seriously delinquent. Recommends following with legal action i.e. liens, water shut off, etc. Willie handed out a 3 year financial statement for the department showing 2017, 2018 and 2019 income and expenses.
Steve asked if anyone had questions.
Question from attendee: Should delinquent accounts be shut off first and then file liens? Steve indicated that we are looking at all options.
Question from attendee: They asked 3 years ago to have water line repaired to their place and not done yet so they haven't paid yet. Willie indicated they tried to repair but gate was not open. Steve and Willie agreed that they would schedule repair with the user and coordinate access.
Steve indicated that we are still under a boil order.
Warren (Operator) gave an update as to status of plant. Indicated that as our plant is a surface water plant, has to be monitored every day and we report monthly to DEQ. He also indicated that the boil order is in effect do to extremely high use. He indicated that leaks in the lines are the reason for the high usage. Hard to detect where leaks are as our soil type does not allow leaks to surface and be seen. We also sustained damage from the recent earthquake to the plant. There are big cracks in the cement building 1/8" to 3/16" in very important part of structure. He indicated that it is still functioning properly and there is no danger now. He indicated he has spoken with Mtn Water Works and they are working on improvements and finding grant money and low interest loans. He said Nikki (employee) works every day to maintain adequate chlorine levels. Warren checks several locations when he is in town. Warren asked for questions.
Question from attendee: If you drill your own well do you still have to pay?
Warren: No, there are no restrictions from YPWUA but DEQ restrictions apply.
Question from attendee: Visitors have access to water and might not know about boil order. Should we put up signs at public access points?
Warren: DEQ requires that we make that information available to all. Steve and Willie indicated they would put up signs.
Nikki asked Warren to explain gravity feed water system. Warren gave brief description and indicated it could create air pockets. Nikki indicated that at high usage people on the upper end of the system sometimes have no water.
Warren said we need a new master plan to control leaks, take care of repairs, etc. He indicated we need a new tank but probably won't be up and running until next year.
Steve said we are working on grants with Mtn Water Works and are hoping to get 1.25 million in grants to make all necessary repairs and get new tank up and running.
Willie indicated that they have a person assigned to our department helping to make sure we are doing everything we can. There is also a plan to repair line coming in to town. He said a 20' section of pipe by the apple orchard was replaced. Said there were approximately 12 leaks in that 20' section. Said pipes were not installed correctly originally so now seeing problems.
Steve spoke about rate increases. Said there will be no rate increases in the coming year as they would not be nearly enough to make a difference in repairs. He asked that if you do lawn watering please do not water after 2 pm and try to use the even and odd day schedule.
There are two officers up for election this year. Last year, Stu and Dawn were reelected. This year Steve and Willie are up for reelection.
Attendees nominated both for reelection and both were reelected.
Question from attendee: Is there an estimate from engineer on total cost of all repairs?
Willie: Not yet but it is being worked on.
Meeting adjourned.
— — — —
2020 Census
The 2020 Census Impacts All Valley County Residents
Inching closer. Each of our communities and Valley County as a whole have increased our response rate by a few percentage points over the last few weeks – but we still have a lot of room to grow! We are still ranked #42 of 44 counties in Idaho for our Census response rate. Let's get that number up! Responding to the Census takes less than 10 minutes and mean $1,483 per person in federal funding for Valley County.
It is recommended that we all fill out the census online.
If you spend 50% of your time in Valley County, you can consider it your home per the Census. Where you register with the Census is confidential and never linked to other governmental requirements such as property taxes or mailing address. The deadline for the 2020 Census has been extended until October 31st. They will probably not be sending census takers up to Yellow Pine.
Link: to online census
You do not need an ID number. Go to the link. Click on "start questionnaire". Then on the next page scroll down to "If you do not have a Census ID, click here" – when you click on that line it will start the census. (see below)

— — — —
Critters
Tick's are still very plentiful in early July.
Mosquitoes and no-see-ums are hungry. This year's batch of tree swallow chicks have fledged and learning to hunt.
Bears are out of hibernation, protect your trash and pet food.
Watch out for aggressive mother does and cows, they will stomp your dogs – and you too.
— — — —
Road News
Link: to current road reports.
— — — —
Forest Info
All campgrounds and restroom facilities in the South Fork Corridor, Lick Creek/Secesh Corridor and along the East Fork South Fork Salmon River are open. -Krassel RD
— — — —
Yellow Pine US Mail
The 6-day a week mail delivery started June 1st. The Post Office in Yellow Pine is open six days a week year around: M-F 845am-245pm Saturday 9am-245pm. Forever Stamp: 55 cents. Support our local post office and purchase your holiday stamps here.
— — — —
Yellow Pine Transfer Station
Update July 19: The bins are half full. Road has been graded.
Please do not abuse our Transfer Station or we may lose it. Household trash must be placed in the bins, flattened cardboard boxes can also go into the bins. Do not stack trash in front of the doors. Woody yard debris only for the burn pile. No furniture, appliances, tires or construction debris allowed, those items must be hauled out to the Donnelly station by you.
Yellow Pine Transfer Station (aka, the dump)
The Yellow Pine Transfer Station is located approximately 3 miles south on Johnson Creek Road.
The TRANSFER STATION is for household trash and yard waste:
* Household trash must be put inside (and fit) the dumpster;
* Yard waste (limbs, pine needles, brush, etc.) goes in the burn pile on the south end of the turn-around;
* Cardboard boxes should be flattened before putting the in the dumpster,
The DUMPSTERS are NOT for:
* Furniture (take to Donnelly Transfer Station);
* Appliances (take to Donnelly Transfer Station).
The BURN PILE is NOT for:
* Cardboard boxes (flatten and put in dumpster);
* Furniture and appliances (take to Donnelly Transfer Station);
* Drywall and building material (take to Donnelly Transfer Station);
* Wire or fencing (take to Donnelly Transfer Station);
* Foam Rubber (take to Donnelly Transfer Station);
* Wood with metal (like nails) attached (take to Donnelly Transfer Station.)
When closing the DOORS on the front of the dumpsters:
* Make sure the "U" brackets at the top and bottom of the door are engaged;
* The retaining bar at the middle of the door is slid into the pipe;
* And the "L" bars at the bottom of the doors dropped into place.
The Yellow Pine Transfer Station is Valley County responsibility. If it is not kept tidy, use of the Transfer Station may be revoked. That would result in residents having to take all household trash and yard waste to the Donnelly Transfer Station.
If Dumpsters Are Full, Contact Lake Shore Disposal at: 208/634-7176
———-
Local Groups
YPWUA News:
The annual Water meeting for 2020 was held July 5th at the Community Hall 2pm.
link: minutes 20200705YPWUA.docx
New Boil Water Order issued April 17, 2020. This could last until runoff is over.
Boil Water Advisory Notice
Boil Your Water Before Using
Bring tap water to a rolling boil, boil for one minute, and cool before using or use bottled water. Boiled or bottled water should be used for drinking, making ice, washing dishes, brushing teeth, and preparing food until further notice.
This Boil Water Advisory Notice applies to The Yellow Pine Water System
The system is being monitored and checked daily for compliance. .
You will be informed when you no longer need to boil your water.
Please share this information with other people who drink this water, especially anyone who may not get this notice directly (for example, people in apartments, nursing homes, schools, and businesses).
You can do this by posting this notice in a public place or distributing copies by hand or mail.
State Water System ID#: 4430059 Date distributed: 3-22-2020
Notice of Intent to File an Application with USDA, Rural Development
The Yellow Pine Water Users Association, Yellow Pine, Idaho intends to file an Application with USDA, Rural Development to obtain a drinking water system facility Emergency Community Water Assistance Grant (ECWAG). Emergency Community Water Assistance Grant (ECWAG).
If any additional information is needed, please contact:
Willie Sullivan
Treasurer
ypwater @ gmail.com
Distributed to Yellow Pine Water Users Association customers via Yellow Pine Times on June 12, 2020.
The 2019 Yellow Pine Water Users Shareholders meeting was Sunday July 7, 2019.
link: 20190707YPWUAminutes
— — — —
VYPA News:
2020 Festival has been canceled.
The Community Yard Sale raised $1024 for the Community Hall maintenance.
Next VYPA meeting: August 8 at 2pm
Minutes from June 13, 2020 VYPA meeting
link:
Minutes from June 13, 2020 VYPA meeting
link:
July 1 – Post Harmonica Meeting 2pm Community Hall
Note: at each meeting we simply add to info on the topic. That way, info from all meetings is included in a single document.
Link to notes:
Heat was installed in the community hall on April 30th.
VYPA meeting schedule for 2020 – June 13, 2pm; July 11, 2pm; August 8, 2pm; September 12, 2pm.
— — — —
YPFD News:
There was a YP Fire Commissioner meeting on June 27, 2020 at 10am at the Fire Station.
Link: 20200627 Fire Dept minutes June 27_final.docx
YPFD COVID19 Policy
link: YPFD Covid 19 SOP.docx
link: Covid-19 EMS.pdf (May 23)
May 10th Burn Permits – contact the YPFD
Pile burning: Dress appropriately, have enough help on hand (people, water and tools) and make a firebreak before you start. Call your local fire protection district chief to let them know you'll be conducting a debris burn. This saves them from sending emergency responders to your property if they are not needed. Do NOT burn on breezy afternoons.
Better yet, "Bring It, Don't Burn It", you can take your yard waste (limbs, pine needles, brush, etc.) to the burn pile at the Transfer Station on the south end of the turn-around. Remember, keep the pile neat. Woody debris only, no nails, no cardboard and no furniture! The Boise NF will burn the pile in the fall when it is safe and doesn't pollute our fine YP air.
YP Fire Commissioners:
Sue Holloway – District 1
Dan Stiff – District 2
Merrill Saleen – District 3
(TBA) – Fire Chief
Yellow Pine Fire Protection District Community Service Notice
The purpose of this letter is to show how you as a Yellow Pine Resident can help protect your structure against a wildland fire by being "Fire Wise." Click the link: to view 20190724 Yellow Pine Fire Protection mitigation
——–
Biz Listings:
The Corner (208) 633-3325
Open 11am-8pm Closed Tuesdays
Calling ahead works best but not a huge deal. Groceries, Ice Cream, Beer and Soda. Our menu fluctuates but typically have Smoked Brisket, Tri Tip, Chicken, Burgers and Wings on hand.
— — — —
Yellow Pine Tavern (208) 633-2233
Open Daily 8am to 10pm. Outside Dining and Bar. Breakfast and Bar Food.


— — — —
Yellow Pine Lodge (208) 633-3377
Open.
— — — —
Yellow Pine General Store (208) 633-3300
The store is open now and will be open into October. Hours are 9 am to 6 pm Tuesday through Saturday. Closed Sunday and Monday.
— — — —
Murph's RV Park & Mary's Cabins (208) 633-6677
Cabins are not available in 2020. RV Spaces $25/night; $150/week; $300/month. Tent spaces $10/night. Shower house is closed for 2020.
— — — —
Knotty Kat Crochet Works – 208-502-0940
FB page link
open Tue – Sat, 9-5
Yellow Pine eggs $3/doz
— — — —
Buck Horn Outfitters LLC 208-633-3614
Tom & Sarah Lanham
156 Yellow Pine Ave, Yellow Pine Id 83677
website:
Facebook:
Starting June 2020 We will be doing trail rides out of Yellow Pine along with summer pack / camping trips to high mountain lakes in the area!
Wapiti Meadow Ranch – Johnson Creek (208) 633-3217
or 208-315-3554 – cabin rentals
website:
Deadwood Outfitters
website:
— — — —
Local Fuel Suppliers
Amerigas Phone: (208) 634-8181
Ed Staub & Sons Phone: (208) 634-3833
Diamond Fuel & Feed Phone: (208) 382-4430 open 830am-5pm Monday-Friday, closed weekends.
— — — —
Outside Biz that will service Yellow Pine:
The Star-News


subscribe:
A reminder that those who live in other states can subscribe to the online edition only since the mail can take days for hard copy to reach them.
Rocky Mountain Mechanical – Plumbing – Heating – Air conditioning
(208) 365-PIPE (7473), Emmett, will service Yellow Pine
Elkhorn Heating & Cooling
(208) 906-4067 Middleton, Idaho, will service Yellow Pine
B&T Safety Solutions LLC
208-271-1600 Based out of Donnelly
Snow removal, cleaning chimneys and stoves, we do cabin staining/chinking as well
— — — —
Follow The Yellow Pine Times on Facebook (updated more often than emails)
———————–
Local Observations:
Monday (July 20) overnight low of 46 degrees, clear sky and light breeze this morning. A few early airplanes and light street traffic. Swallows working hard to feed their broods, a robin and a jay hopping around, a few finches and pine siskins visiting. Hot and sunny at lunch time. Hot and clear early afternoon, high of 90 degrees. First swallow chick left the nest. Still hot and clear early evening. Clear sky and cooling off slowly before dusk. Internet out around 9pm and off all night. Hungry skeeters swarming anything warm blooded. Clear at midnight.
Tuesday (July 21) overnight low of 47 degrees, clear sky this morning. Internet back on early this morning. Only a couple of loud airplanes and light street traffic, air quality improved. Robins and ground squirrels scampering about. Some of the swallow chicks have left the nests and hanging around on top of the bird houses begging as the parents swoop by. Two more swallow chicks have left the nest, the two smaller one are still in there. Clear and hot at lunch time. Jay and a few finches visiting. Clear and hot with slight breeze mid-afternoon, high of 93 degrees. Afternoon traffic and dust. Still pretty hot mid-evening and clear sky. Cooling of slowly before dusk, lots of skeeters out. Clear before midnight.
Wednesday (July 22) overnight low of 49 degrees, most of the sky covered in clouds this morning and calm. Nearly all of the swallow chicks in the neighborhood have fledged and are practicing flying around. Loud gunshot at 942am – sounded like it was on the west side of the golf course – followed by a few more shots spaced well apart. A few finches and pine siskins visiting. Cooler and cloudy at lunch time. Mail truck made it in on time. Loud single gunshot in the neighborhood at 233pm. Mild temperature and mostly cloudy mid-afternoon, high of 84 degrees. More than usual street traffic in the neighborhood for mid-week. A little bit cooler mid-evening, mostly cloudy and humidity is up a little. Cooling off slowly after sunset, overcast and calm before dusk. Getting blustery before 11pm, dry but smells like rain somewhere. Gusty breezes after midnight, no rain.
Thursday (July 23) overnight low of 55 degrees, overcast this morning. Loud gunshots on the golf course starting around 920am for 10-15 minutes. Lots of swallows swooping low, young birds are flying around too. Rain sprinkles on and off all morning and after lunch time. Mild temperatures, mostly cloudy and light breeze mid-afternoon, high of 78 degrees. A few cassin's finches visiting. Warmer and partly cloudy mid-evening. A bit dusty with traffic this evening. Just before dusk it was mostly cloudy and cooling off. Lots of swallows on the power lines and more swooping around hunting. Blustery breezes ringing the chimes and mostly cloudy after dark. Calmer after midnight.
Friday (July 24) overnight low of 46 degrees, partly cloudy sky and light breeze this morning, 24 hour rain total = 0.04″. Lots of loud airplanes flying over the village, a street traffic kicking up dust. Swallows swooping and hunting, flicker whooping, red-breasted nuthatch, cassin's finches and a few pine siskins visiting, jays and robins hopping around and a hummingbird visiting. Mostly cloudy and a little breezy at lunch time. Mostly cloudy, warm and getting quite blustery mid-afternoon, high of 86 degrees. Air traffic over the village during windy conditions. By early evening lighter variable breezes, still pretty warm and mostly cloudy. Cooling off and clear just before dusk. Looks like smoke along the river west of the golf course. A few stars out after midnight and smell of smoke.
Saturday (July 25) overnight low of 44 degrees, the sky was partly covered in high thin haze. Early air traffic (some extra loud) and a loud dirt bike in the neighborhood. Flicker whooping, swallows swooping, and a few finches visiting. Mostly clear, warm and a little breezy at lunch time. Increased traffic and dust. Clear, hot and breezy mid-afternoon, high of 87 degrees. Seeing more hummingbirds, also a red-breasted nuthatch stopped by for a snack. Clear sky early evening and still pretty warm. Evening street traffic. Cooling off slowly by dusk. Clear before midnight.
Sunday (July 26) overnight low of 42 degrees, clear sky this morning and light breeze. Early air traffic. Not as many swallows around. Clear, warm and breezy at lunch time. A few finches and hummingbirds visiting. Hot, clear and light breezes mid-afternoon, high of 93 degrees. Still hot mid-evening and clear sky. Traffic kicking up dust. Young Colombian ground squirrels out and about.
—————————
RIP:
Barbara Jean Davis
Davis, Barbara Jean, 84, a resident of Boise [and Yellow Pine], passed away July 21, 2020 in Boise.
Arrangements are under the direction of Bowman Funeral Parlor of Garden City.
Published in Idaho Statesman on Jul. 22, 2020.
————————
Idaho News:
Idaho to remain in Stage 4 for another two weeks, Governor Little says
by Keith Ridler Associated Press Thursday, July 23rd 2020
Gov. Brad Little said Thursday that there are too many coronavirus infections, and Idaho will remain in the fourth and final stage of his plan to reopen during the pandemic for at least another two weeks.
The Republican governor also reemphasized his plan for state-local collaborations in dealing with the pandemic, allowing local leaders to determine restrictions as the state deals with a surge of infections. That means the state's seven health districts and local officials will continue evaluating conditions in their areas and decide on restrictions with Little's oversight.
Little said he was visiting four of the state's health districts Thursday to help them make decisions that would also include information from the state epidemiologist and the director of the Idaho Department of Health and Welfare.
continued:
— — — — — — — — — —
563 new Idaho COVID-19 cases Saturday, 2 new deaths
July 25, 2020 Local News 8
Idaho officials reported 563 new COVID-19 cases and two new deaths on Saturday.
This brings the total confirmed and probable cases reported since March to 17,827.
There are a total of 16,735 confirmed cases and 1,092 probable cases in 41 of the 44 Idaho counties, according to numbers released from the local health districts and the state.
… Two new deaths were reported bringing the total recorded deaths to 146.
continued:
— — — — — — — — — —
Valley County sees first COVID-19 death
Number of cases in county stands at 73
By Tom Grote for The Star-News July 23, 2020
A McCall man has been identified as the first Valley County resident to die from COVID-19.
Elford M. Houseman, Jr., 85, of McCall, died July 15 at St. Luke's Boise hospital due to complications of COVID-19 infection, Valley County Coroner Scott Carver said.
"No information is available where he may have contracted the virus, but he was transferred from St. Luke's McCall to Boise after confirmation of infection, where he remained hospitalized until his death," Carver said.
Houseman's death comes as the number of confirmed COVID-19 cases in Valley County reached 73 on Wednesday, up from 61 cases a week ago.
St. Luke's McCall reported 59 positive cases from testing done at the hospital, while Cascade Medical Center reported 14 positive cases.
Nearly all of the positive cases have been recorded since summer tourism traffic started in mid-June.
Central District Health reported 37 positive cases were confirmed to be Valley County residents as of Tuesday.
Some of those who tested positive at the two hospitals but did not declare Valley County their primary residence could still be in Valley County under quarantine, health officials have said.
Adams County had 15 confirmed cases among residents as of Tuesday, according to Southwest District Health.
source: © Copyright 2009-present Central Idaho Publishing Inc.
— — — — — — — — — —
Valley official learns of COVID-19 exposure during meeting
Hasbrouck did not contract virus from man he was care-giving
By Max Silverson for The Star-News July 23, 2020
Valley County commission Chair Elt Hasbrouck learned during a live-streamed public meeting that he had been exposed to someone with the COVID-19 virus
"Oh crap," Hasbrouck said in the commissioners meeting on July 6 after finding out he had been exposed.
Hasbrouck was back at the county commissioners meeting on Monday following two weeks in quarantine without falling ill.
continued:
— — — — — — — — — —
2020 Valley County Fair to be limited to 4-H events only
Rodeo, open class exhibits canceled due to COVID-19
By Max Silverson for The Star-News July 23, 2020
The 2020 Valley County Fair will be devoted to 4-H youth activities only this year with all other events canceled, Valley County commissioners decided on Monday.
All public events of the fair, such as the Valley County Rodeo, food and entertainment vendors, live music and the Open Class competitions, were canceled due to worries over the COVID-19 virus.
"There's just no way we can separate people," Valley County Fair Board Chair Carl Barrett told commissioners. "If we did separate them, after a few beers from the beer garden, they're going to blow that right out of the water anyhow."
The fair, scheduled for Aug. 3-8 at the Valley County Fairgrounds in Cascade, will continue to feature 4-H projects, including large and small animal competitions.
… For more information, contact Alysson Statz, Valley 4-H Program Coordinator, at astatz@uidaho.edu, 208-315-3871 or 208-382-7190.
continued:
— — — — — — — — — —
Valley P&Z OKs central recycling depot
County to close centers in McCall, Cascade, Donnelly
By Max Silverson for The Star-News July 23, 2020
A centralized Valley County recycling facility on East Lake Fork Road was approved last week by the Valley County Planning and Zoning Commission.
With the new facility approved, the county will close unstaffed recycling depots in McCall, Donnelly and Cascade and centralize recycling at the newly approved staffed facility near the county road department offices and yard.
Construction of the new Lake Fork facility will begin as soon as possible, with an anticipated opening date of Oct. 1, said Valley County Treasurer Gabe Stayton, who oversees the county's solid waste and recycling programs.
continued:
— — — — — — — — — —
McCall man runs 20 miles to heroically rescue missing hiker
"There was a little marshy lake, so she had water but no food for four plus days," Jeremy Humphrey said. "So, it was time. It was getting serious."
Gretchen Parsons July 20, 2020 KTVB
A McCall man made a brave and daring rescue in the Valley County wilderness.
Jeremy Humphrey is an avid ultra-marathon runner and can move quickly in rough terrain so he put his skills to the test to rescue a hiker who hadn't been seen in nearly a week.
Valley County Search and Rescue says 43-year-old Laura set out to go hiking July 3 and hadn't been seen since.
Her car was found at Peril Lake Trail Head in Valley County.
Humphrey said he was familiar with the area and felt called to help.
continued:
— — — — — — — — — —
Update: Hiker found in good shape
Original story…
Hiker, 73, goes missing in Idaho County
by CBS2 News Staff Wednesday, July 22nd 2020
A 73-year-old hiker has gone missing in Idaho County.
The Idaho County Sheriff's Office says 73-year-old David Wolfe was hiking from the Campbell's Ferry area on the Salmon River to the small community of Dixie where his pickup truck was parked near an airstrip.
Deputies say on July 19, he used a satellite phone to call a small back country plane company out of Cascade to ask how much it would cost to come and pick him up. It was then, police say, when Wolfe told the employee that he would figure something else out.
He hasn't been seen or heard from since.
Deputies and search crews found his vehicle on Monday near the airstrip and continue to look for Wolfe, including Wednesday night.
source:
— — — — — — — — — —
Valley County Code
A friendly reminder about utility buildings (i.e. sheds)…these structures are NOT for human habitation or occupancy. Per code, utility buildings may not be used for any other purpose than storage.
Please review our requirements and contact the Valley County Building Department if you have any questions.
FB Link:
— — — — — — — — — —
Traffic back open after crash along Banks-Lowman Road
by Bryan Levin Thursday, July 23rd 2020 CBS2
Banks, Idaho (CBS2) — Both lanes of traffic are back open after a crash on the Banks-Lowman Road earlier Thursday.
Idaho State Police sent out an alert at 5:41 a.m. that it happened at milepost 3, just east of Banks. That's all the information they've released so far.
source:
— —
Hwy 17 Thursday
There is a gravel truck turned over on Hwy 17 Banks to Lowman road at MM 2.5. Only one lane is open which will delay travel. Both lanes of traffic will likely be closed when the tow truck arrives to remove vehicle further delaying commuters.
(Boise County Emergency Management around 630am July 23 FB post)
— — — — — — — — — —
Idaho City man dies in motorcycle vs. vehicle crash north of Boise
The accident happened at about 9:45 a.m. Saturday at milepost 14.4 on Highway 21.
July 25, 2020 KTVB
Idaho State Police responded to a fatal motorcycle versus vehicle crash that happened on Highway 21, near the Hilltop Station, north of Boise.
… The crash blocked traffic off and on for about three hours.
continued:
— — — — — — — — — —
Crews blast large boulders blocking US-95, hope to open highway on Monday
They are working to reopen a temporary road near the base of the slide that has been closed since July 10.
July 23, 2020 KTVB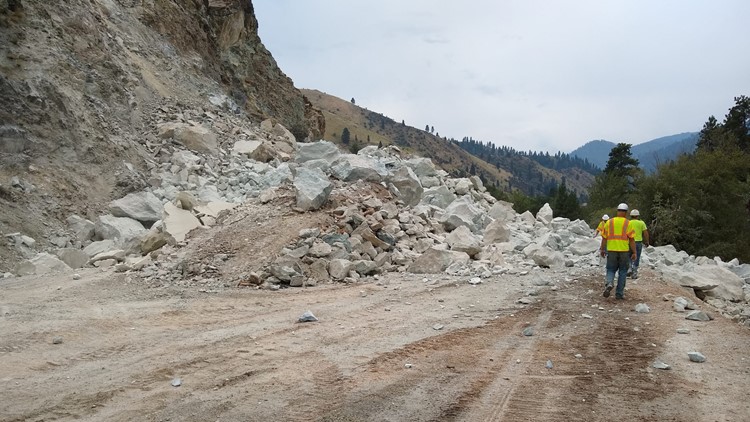 Riggins, Idaho — Highway 95 could reopen as early as Monday, July 27, according to the Idaho Department of Transportation.
Crews were able to drill and blast some the biggest boulders on the highway during the past week. They are working to reopen a temporary road near the base of the slide that has been closed since July 10.
Some of the boulders measure 40 feet across. Crews were able to blow up large boulders on Thursday.
continued: with video of blasting
————————
Mining News:
Valley P&Z OKs Midas Gold facility
Critics say Warm Lake Road project premature
By Max Silverson for The Star-News July 23, 2020
A logistics facility on Warm Lake Road near Cascade for Midas Gold was approved on a split vote last week by the Valley County Planning and Zoning Commission.
The 3-1 approval saw commissioners Scott Freeman, Ray Cooper and Brian Benton voting in favor with commissioner Ed Allen voting against. Commission Chair Johanna Defoort did not participate in the hearing because she works for Midas Gold Idaho.
The application was presented by Midas Gold Idaho field operations manager Kyle Fend. It includes four buildings and outdoor parking areas on 25 acres of land on Warm Lake Road, about eight miles east of Cascade.
Allen questioned the timing of the application to the commission in advance of a formal decision by the Forest Service on the Stibnite Gold Project proposed by Midas Gold.
A draft study of the proposal is due out next month followed by public comment and final approval.
"Any time you're looking at a project that far out, a lot of things are going to change," Allen said. "Seems like maybe there's the possibility of getting the cart before the horse on this one."
He also wondered if the application was contrary to the Valley County comprehensive plan by approving a large industrial facility in such a rural and undeveloped part of the county.
"You're proposing a fairly large deal in a fairly pristine part of the community which is a little bit of a rub with our visions in the comp plan." Allen said.
Buildings at the facility would include an office and laboratory, warehouse, hazardous materials storage and a core sampling and storage building. Plans show 300 parking spaces in addition to a truck staging area and a "laydown" area for larger equipment.
Midas Gold plans to construct the facility over three years from 2021-2023.
The facility would be used as a staging area and parking facility for employees working at the mine who would be shuttled to the site by bus, Fend said.
Packages and other deliveries would be consolidated at the facility to decrease the number of trips into the mine, he said.
The application says that the facility would be in use Monday through Friday from 8 a.m. to 5 p.m. with occasional weekend use.
The facility would only store small quantities of hazardous material, comparable to a high school chemistry lab, Fend said.
Two people spoke in favor of the proposal and six people against during a public hearing on the proposal.
Arguments in support of the facility mentioned jobs, a central location for staging people and fewer trips on Warm Lake Road.
Arguments against approving the facility ranged from conflicts with the comprehensive plan, setting a precedent for industrial development in a secluded area, and a lack of details about water disposal systems, among other concerns.
"I feel that this facility is completely out of character of that corridor and it's not compatible with the comp plan," Jeff Abrams of McCall said. "The location of the proposal absolutely does not preserve the character of the area."
Written comments received before the meeting tallied 21 in support and 36 in opposition.
"This facility will allow for many employees to park at the logistics facility and carpool, which will reduce the number of people traveling to the Stibnite site reducing traffic, which will promote safer roads," David and Kacie Bracht of Cascade said in a written comment.
source: © Copyright 2009-present Central Idaho Publishing Inc.
————————-
Letter to Share:
Hello Friends and Supporters,
I am reaching out for your help at an exciting time for the Stibnite Gold Project in Valley County. As you may know, this project is critical for Idaho and our nation and is unlike any mining project this nation has ever seen.
In just a few weeks, the draft Environmental Impact Statement will be released for the public review and comments. Before it is released, we want to make Idaho's support loud and clear.
Yes, I will be asking you to write a letter of support for the project, but before then, can I count you in as a Proud Supporter?
Be a Proud Supporter.
Sign your name to a Proud Supporter ad which will print in local papers during the comment period and feature the thousands of people in our Support Stibnite Coalition and supporters from around Idaho. A copy of the ad is attached here.
Be a Proud Supporter, (link) You can also respond to this email and let me know you are happy to be a supporter and I will fill out the appropriate info for you.
Thank you all for hanging in there with us as we wait for the draft EIS to come out, I will be reaching out soon for the comment letters.
Hope you are all staying safe and healthy!
Belinda Provancher
provancher@midasgoldinc.com
Community Relations Manager
Midas Gold
————————-
Idaho History:
'Don't be a Guberif': 70 years ago, Idaho's attention-grabbing wildfire prevention campaign was born
"It seemed to work because a lot of people would hear the name and go, 'what is that?'"
Brian Holmes July 22, 2020 KTVB
Idaho has certainly made some significant contributions to culture and innovation, from the Pulaski firefighting tool, the chairlift, and perhaps, television.
About 70 years ago, there was a probably less-popular Idaho creation that has been the cause of so many questions.
"50 years ago, I visited Idaho and noticed something printed on the road," a viewer said. "'Don't be a Guberif': what is that?"
Unless you're a real old-time Idahoan, you may not know the answer.
continued:
————————
Public Lands:
Smokey Bear Stolen
Smokey Bear's carbon copy is missing! During the overnight hours of Monday July 13th thru 14th, the McCall Ranger District Smokey Bear signs were illegally removed, says LaDawn Saxton, Central Zone Fire Prevention Officer. The Smokey Bear signs are always posted next to the McCall Ranger District Fire Danger sign, located on the corner of E. Lake Street and Mission Street.
Smokey Bear is a national symbol of forest prevention and we are seeking the public's help to get our Smokey's returned to their rightful place! These two Smokey's are 2D, made of plywood and are nearly life size. Anyone with information on these Smokey's whereabouts is encouraged to contact the McCall Police Department at 208-634-7144.
We appreciate our local community's support! Please remember, ONLY YOU can prevent wildfires and help bring Smokey home! Fire Danger today is Moderate.
(Payette NF FB page July 17)
— — — — — — — — — —
Plan for state lands around McCall due Dec. 15
Study prompted by Trident Holdings swap proposal
By Drew Dodson for The Star-News July 23, 2020
A long-term management plan for state lands around McCall is expected to be complete by Dec. 15, the State Board of Land Commissioners was told on Tuesday during its meeting in Boise.
An update on the plan is expected at the land board's Sept. 15 meeting before a draft plan is presented at the Nov. 17 meeting, said Ryan Montoya, real estate services bureau chief for the Idaho Department of Lands.
… Trident's proposal would give it about 25,000 acres of state land stretching from north of Payette Lake to south of McCall.
In return, the state would receive unspecified timberlands in northern Idaho that could yield the state about $2.9 annually in revenue and cost savings, according to an analysis commissioned by Trident.
continued:
— — — — — — — — — —
Yurt builder seeks $2.5 million from state
Lease sought to build 'glamping' site on Payette L.
By Drew Dodson for The Star-News July 23, 2020
Two claims totaling about $2.5 million in damages have been filed against the State Board of Land Commissioners in response to its handling of state lands in the McCall area.
The claims were filed on May 11 and June 25 by Boise resident Bruce Smith, who sought to build a "glamping" business with yurts on 28 acres of state land fronting Payette Lake.
continued:
———————–
Fire Season:
Wildfire burning near Lucky Peak
by Brian Morrin Saturday, July 25th 2020 CBS2
The Boise District BLM is currently fighting a wildfire near Luck Peak Reservoir.
As of 10:24 p.m. Saturday, crews have stopped active spread of the fire and are working hot spots to reach full containment.
According to BLM, the fire burned an estimated 150 acres.
continued:
— — — — — — — — — —
Multiple fires start in southeast Idaho
July 25, 2020 Local News 8
Lightning tracked over southeast Idaho Saturday afternoon and evening ignited multiple wildfires.
Fire crews responded quickly to the new starts.
continued: with location and more info
———————
Critter News:
Pet talk – Methicillin-Resistant Staphylococcus Infections (MRSA and MRSP)
By Dr. Allani Delis July 24, 2020 IME
Methicillin-resistant Staphylococcus (MRS) infections are a growing problem in humans and animals. Methicillin is an antibiotic formerly used to treat staphylococcal infections. Most MRS organisms are resistant to all antibiotics in the penicillin and cephalosporin groups, and some are resistant to other antibiotics. A major concern with these infections is the development of strains that will be resistant to all known antibiotics. MRS infections may be localized, like wound infections, or become generalized.
MRS infections are caused by a variety of staphylococcal bacteria. Infections with Staphylococcus aureus (MRSA) and Staphylococcus pseudointermedius (MRSP) are the most common causes in dogs and cats. These organisms may normally live on skin, in the nose, and in the gut of animals without causing any problems. When a wound occurs, a surgical procedure is performed, or skin is otherwise damaged, these bacteria may take advantage of the weak skin and cause an infection. Most Staphylococcus bacteria are susceptible to commonly used disinfectants (bleach) and hand soaps. Transmission is by direct contact with infected people, animals, or via contaminated objects.
continued:
— — — — — — — — — —
7 Yellowstone-area grizzly bear attacks this year
by Associated Press Friday, July 24th 2020
Wildlife officials have documented seven grizzly bear encounters resulting in injuries so far this year in the three-state greater Yellowstone region, an increase compared to the previous high mark of three injuries in the first half of 2007.
Interagency Grizzly Bear Study Team Supervisor Frank van Manen reported that there is usually a single interaction where a person is harmed in the first six months of any year, the Jackson Hole News & Guide reported.
Data from the team dating back to 1992 shows that 17% of injury-induced interactions occur in the first six months of the year compared to big game hunting seasons in September and October when there are more injuries to humans and bears.
continued:
— — — — — — — — — —
Moose wanders into Magic Valley field, close to I-84
Idaho Fish and Game darted the yearling moose and relocated it to habitat north of Carey.
July 21, 2020 KTVB
The Idaho Department of Fish and Game continues to relocate young moose who have lost their way in the Magic Valley.
A yearling cow moose ended up in a field east of Paul, dangerously close to Interstate 84 on Monday evening.
Officials say moose and vehicles on I-84 are not a good mix since a collision at high speeds is dangerous for all involved. In the interest of public safety, the decision was made to anesthetize the moose and move it back to more typical moose habitat.
continued:
— — — — — — — — — —
Several hundred calves stolen from ranch in Cassia County
by CBS2 News Staff Wednesday, July 22nd 2020
Several hundred calves were stolen from a ranch in Cassia County according to the sheriff's office.
The Cassia County Sheriff's Office (CCSO) says it is currently investigating a report of stolen animals from the MGM Calf Ranch in Declo, Idaho.
The several hundred calves that were reported stolen could have been taken any time between January through July of 2020.
If you have any information on livestock theft, CCSO asks you call your local law enforcement agency or the CCSO dispatch center at 208-878-2251 extension 1.
continued:
———————-
Fish & Game News:
Don't forget to buy 2020 controlled hunt tags by August 1
By Brian Pearson, Conservation Public Information Specialist
Tuesday, July 21, 2020
If you are a hunter who was successful in the 2020 controlled hunt drawing, don't forget to purchase your controlled hunt tag by Aug. 1.
Successful applicants must purchase their controlled hunt tags by midnight MDT on Aug. 1 or their tags will be forfeited. All unclaimed tags, along with controlled hunt tags no one applied for, will be available in a second drawing, with the application period running from from Aug. 5 through Aug. 15. Successful applicants for the second drawing will be notified by Aug. 25.
After the second drawing, any leftover tags will be sold first-come, first-served beginning Aug. 26 at 10 a.m. Mountain Time.
continued:
— — — — — — — — — —
Anglers' help needed for second year of wild steelhead study
By Brian Pearson, Conservation Public Information Specialist
Monday, July 20, 2020
Anglers can report tagged steelhead they catch to Fish and Game, and some have a cash reward
Steelhead anglers are once again asked to watch for tagged steelhead they might catch during the 2020-21 steelhead fishing seasons, and report tagged fish if they catch one.
Idaho Fish and Game and the University of Idaho are moving into the second year of a research project to study how often anglers catch wild steelhead, and how well those fish survive after being released.
continued:
— — — — — — — — — —
More F&G News Releases
link:
———————————-
Crazy Critter Stuff:
'We first saw this cougar 3 days ago. We have seen it every day since'
by News Staff Wednesday, July 22nd 2020
Dunes City, Ore. – Imagine seeing a cougar on the other side of your sliding glass door, looking at you.
Then imagine it came back the next day.
And the next.
continued: w/photos and video
————————-
Seasonal Humor:

——————-