Aug 9, 2020 The Yellow Pine Times – Valley County, Idaho
Reminder: We are still under a boil water order until further notice.
Community Calendar:
April 17 – Boil water order issued
May 15 – Firewood Season starts
June 16 – Hard closure of South Fork Road (weekdays)
Aug 8 – VYPA meeting at 2pm
Sept 12 – VYPA meeting at 2pm
(details below)
———-
From Valley County
We need Your Help to protect the place and the people we all Love.
link:
— —
Valley County Covid-19 Response Page
link:
— —
Valley County Emergency Operations Center
link:
— —
Rebound – Idaho Governor's phasing program
link:
— —
COVID 19: Recommendations and Resources for Safe Business Practices
link: (lots of info for businesses)
——————-
Local Events:
No events scheduled at this time.
———-
Village News:
Boil Water Order issued April 17 still in effect.
Update July 5: the boil order is in effect do to extremely high use due to leaks.
Update June 12: The boil order is still on. We still are experiencing excessive water use because of leaks. Not sure when this will be lifted. We are applying for grants to repair the system.
Update June 2: The water plant is experiencing high water in Boulder Creek which brings more debris into the sand filter.
The high demand caused by leaks in the system plugs the sand filters prematurely. We will be on a boil order until further notice.
— — — —
2020 Census
The 2020 Census Impacts All Valley County Residents
Hurry and complete the census, the deadline has been moved up to September 30th.
It is recommended that we all fill out the census online.
If you spend 50% of your time in Valley County, you can consider it your home per the Census. Where you register with the Census is confidential and never linked to other governmental requirements such as property taxes or mailing address.
Link: to online census
You do not need an ID number. Go to the link. Click on "start questionnaire". Then on the next page scroll down to "If you do not have a Census ID, click here" – when you click on that line it will start the census. (see below)

— — — —
Critters
No recent reports of ticks mid-August.
Mosquitoes and no-see-ums are hungry.
Bears are out of hibernation, protect your trash and pet food.
Watch out for aggressive mother does and cows, they will stomp your dogs – and you too.
— — — —
Road News
Link: to current road reports.
— — — —
Forest Info
All campgrounds and restroom facilities in the South Fork Corridor, Lick Creek/Secesh Corridor and along the East Fork South Fork Salmon River are open. -Krassel RD
— — — —
Yellow Pine US Mail
The 6-day a week mail delivery started June 1st. The Post Office in Yellow Pine is open six days a week year around: M-F 845am-245pm Saturday 9am-245pm. Forever Stamp: 55 cents. Support our local post office and purchase your holiday stamps here.
— — — —
Yellow Pine Transfer Station
Update July 19: The bins are half full. Road has been graded.
Please do not abuse our Transfer Station or we may lose it. Household trash must be placed in the bins, flattened cardboard boxes can also go into the bins. Do not stack trash in front of the doors. Woody yard debris only for the burn pile. No furniture, appliances, tires or construction debris allowed, those items must be hauled out to the Donnelly station by you.
Yellow Pine Transfer Station (aka, the dump)
The Yellow Pine Transfer Station is located approximately 3 miles south on Johnson Creek Road.
The TRANSFER STATION is for household trash and yard waste:
* Household trash must be put inside (and fit) the dumpster;
* Yard waste (limbs, pine needles, brush, etc.) goes in the burn pile on the south end of the turn-around;
* Cardboard boxes should be flattened before putting the in the dumpster,
The DUMPSTERS are NOT for:
* Furniture (take to Donnelly Transfer Station);
* Appliances (take to Donnelly Transfer Station).
The BURN PILE is NOT for:
* Cardboard boxes (flatten and put in dumpster);
* Furniture and appliances (take to Donnelly Transfer Station);
* Drywall and building material (take to Donnelly Transfer Station);
* Wire or fencing (take to Donnelly Transfer Station);
* Foam Rubber (take to Donnelly Transfer Station);
* Wood with metal (like nails) attached (take to Donnelly Transfer Station.)
When closing the DOORS on the front of the dumpsters:
* Make sure the "U" brackets at the top and bottom of the door are engaged;
* The retaining bar at the middle of the door is slid into the pipe;
* And the "L" bars at the bottom of the doors dropped into place.
The Yellow Pine Transfer Station is Valley County responsibility. If it is not kept tidy, use of the Transfer Station may be revoked. That would result in residents having to take all household trash and yard waste to the Donnelly Transfer Station.
If Dumpsters Are Full, Contact Lake Shore Disposal at: 208/634-7176
———-
Local Groups
YPWUA News:
The annual Water meeting for 2020 was held July 5th at the Community Hall 2pm.
link: minutes 20200705YPWUA.docx
Boil Water Order issued April 17, 2020. This could last leaks are repaired.
Boil Water Advisory Notice
Boil Your Water Before Using
Bring tap water to a rolling boil, boil for one minute, and cool before using or use bottled water. Boiled or bottled water should be used for drinking, making ice, washing dishes, brushing teeth, and preparing food until further notice.
This Boil Water Advisory Notice applies to The Yellow Pine Water System
The system is being monitored and checked daily for compliance. .
You will be informed when you no longer need to boil your water.
Please share this information with other people who drink this water, especially anyone who may not get this notice directly (for example, people in apartments, nursing homes, schools, and businesses).
You can do this by posting this notice in a public place or distributing copies by hand or mail.
State Water System ID#: 4430059 Date distributed: 3-22-2020
Notice of Intent to File an Application with USDA, Rural Development
The Yellow Pine Water Users Association, Yellow Pine, Idaho intends to file an Application with USDA, Rural Development to obtain a drinking water system facility Emergency Community Water Assistance Grant (ECWAG). Emergency Community Water Assistance Grant (ECWAG).
If any additional information is needed, please contact:
Willie Sullivan
Treasurer
ypwater @ gmail.com
Distributed to Yellow Pine Water Users Association customers via Yellow Pine Times on June 12, 2020.
The 2019 Yellow Pine Water Users Shareholders meeting was Sunday July 7, 2019.
link: 20190707YPWUAminutes
— — — —
VYPA News:
Next VYPA meeting: September 12
Last VYPA meeting: August 8 at 2pm
Village of Yellow Pine Association Meeting Agenda
August 8, 2020 2pm; at the Community Hall
As requested by VYPA members, this meeting will be recorded and kept to a 1-hour timeframe.
Call to Order: Deb Filler
Approval of Prior Meeting Minutes: Deb Filler Please read the July 2020 minutes before the meeting to expedite approval. Final Reading of Proposed Bylaws Changes and Vote Deb Filler
Treasurer's Report; Rhonda Egbert
Cemetery Written Oral [Report]: Tim Rogers Please include progress since July and expected future projects.
Community Hall Oral Report: Ronda Rogers Please include update on YPAC grant.
Community Hall Toilets: Willy Sullivan Please include progress and expected completion date.
Infrastructure Oral Report: Clayton Egbert Please include progress on Ellison St. repair.
Festival Oral Report: Dawn Brown
Stibnite Advisory Council Update: Ronda Rogers
Stibnite Foundation Update: Ronda Rogers
OLD BUSINESS
Update from Midas Gold: Kyle Fend (if available)
Update from YPWA: Steve Holloway (if available)
NEW BUSINESS
Additional Fund Raising on Labor Day Weekend. Golf Tournament. Other ideas?
Community Partnership Representative: Letters of Intent Due to VYPA Council by 9-1-20
2021 Festival Chairman: If interested in being festival chairman for 2021, advise VYPA Council by 8/31/20
Adjournment
Village of Yellow Pine Association Meeting
Meeting Minutes July 11, 2020
The regular meeting of the Organization/Committee Name was called to order at 2:01 PM by Deb Filler.
Council Members Present: Deb Filler, Chairman; Ronda Rogers, Vice-Chair; Rhonda Egbert, Acting Treasurer.
Attendees: Virginia Bartholomew, Tim Rogers, Clayton Egbert, Lorinne Munn, Candy Sullivan, Willie Sullivan, Belinda Provancher, Susan Holloway, Steven Holloway
Approval of Minutes: The minutes of the June 2020 meeting were approved as published
Idaho Power Work on Johnson Creek Road: Gregg Hayes, Key Line Construction, updated the members on the work being done. It is expected to be completed by September 15, 2020. Crews will begin working 24 hours/day soon.
Treasurer's Report: Rhonda Egbert provided copies of the VYPA account summary (copy attached.) July 4th weekend fund raisers: Souvenir sales = $295; Golf Tournament = $666 with more coming in; Basket Raffle = $327; Popcorn sales (courtesy of the General Store) = $14. Total: $1007 for the General Fund; $295 for the Festival.
Cemetery Commission Report: Tim Rogers provided a breakdown of the expenses/income of the Cemetery Commission (copy attached.) Candy Sullivan reported that Linda Welch wants the cemetery map at the cemetery.
Community Hall Report: Ronda Rogers reported that the Village Yard Sale made $1024 for the Community Hall. She also said the committee is looking at some existing ceiling tiles to see if the stained ones in the hall can be replace cheaply.
Community Hall Toilets: Willie Sullivan reported that he would know more about the progress this coming week and he will connect this week with Cecil about the needed excavation.
Infrastructure Committee Report
Clayton Egbert deferred to Tim Rogers for the report. Tim reported that a bid from OK Gravel has been accepted to fix lower Ellison Street. He also reported that the $10k received from Midas Gold are being used on the road work that OK Gravel and Cecil Dallman did. He reported receiving $1500 from Midas Gold to share the dust abatement costs on the main roads. Tim stated the committee is also getting bids on other problem road areas. Willie asked the committee to look at the south side of the Kissinger Bridge approach to see if something can be done until Valley County get the grant to fix it. Belinda Provancher (Midas Gold Idaho) requested a write-up of how the funds are being used. Tim agreed to get the write-up to Belinda.
Festival Report: Deb Filler reported that the contacts had been made to postpone the festival. Rhonda Egbert stated that as she is going to the valley on Tuesday, she will update the sign at Hwy 55/Warm Lake Rd. with the next festival date info.
Stibnite Advisory Council Update: Belinda Provancher reported that the council had received the Workforce Survey results. They matched the economic survey results. She will send the results info to the VYPA. She also reported that they are still working on the partner agreement with the EPA to do further studies on the contaminated water at Stibnite.
Minutes from July 11, 2020 VYPA meeting
link:
Minutes from June 13, 2020 VYPA meeting
link:
July 1 – Post Harmonica Meeting 2pm Community Hall
Note: at each meeting we simply add to info on the topic. That way, info from all meetings is included in a single document.
Link to notes:
Heat was installed in the community hall on April 30th.
VYPA meeting schedule for 2020 – June 13, 2pm; July 11, 2pm; August 8, 2pm; September 12, 2pm.
— — — —
YPFD News:
There was a YP Fire Commissioner meeting on June 27, 2020 at 10am at the Fire Station.
Link: 20200627 Fire Dept minutes June 27_final.docx
YPFD COVID19 Policy
link: YPFD Covid 19 SOP.docx
link: Covid-19 EMS.pdf (May 23)
May 10th Burn Permits – contact the YPFD
Pile burning: Dress appropriately, have enough help on hand (people, water and tools) and make a firebreak before you start. Call your local fire protection district chief to let them know you'll be conducting a debris burn. This saves them from sending emergency responders to your property if they are not needed. Do NOT burn on breezy afternoons.
Better yet, "Bring It, Don't Burn It", you can take your yard waste (limbs, pine needles, brush, etc.) to the burn pile at the Transfer Station on the south end of the turn-around. Remember, keep the pile neat. Woody debris only, no nails, no cardboard and no furniture! The Boise NF will burn the pile in the fall when it is safe and doesn't pollute our fine YP air.
YP Fire Commissioners:
Sue Holloway – District 1
Dan Stiff – District 2
Merrill Saleen – District 3
(TBA) – Fire Chief
Yellow Pine Fire Protection District Community Service Notice
The purpose of this letter is to show how you as a Yellow Pine Resident can help protect your structure against a wildland fire by being "Fire Wise." Click the link: to view 20190724 Yellow Pine Fire Protection mitigation
——–
Biz Listings:
The Corner (208) 633-3325
Open 11am-8pm Closed Tuesdays
Calling ahead works best but not a huge deal. Groceries, Ice Cream, Beer and Soda. Our menu fluctuates but typically have Smoked Brisket, Tri Tip, Chicken, Burgers and Wings on hand.
— — — —
Yellow Pine Tavern (208) 633-2233
Open Daily 8am to 10pm. Outside Dining and Bar. Breakfast and Bar Food.
— — — —
Yellow Pine Lodge (208) 633-3377
Open.
— — — —
Yellow Pine General Store (208) 633-3300
The store is open now and will be open into October. Hours are 9 am to 6 pm Tuesday through Saturday. Closed Sunday and Monday.
— — — —
Murph's RV Park & Mary's Cabins (208) 633-6677
Cabins are not available in 2020. RV Spaces $25/night; $150/week; $300/month. Tent spaces $10/night. Shower house is closed for 2020.
— — — —
Knotty Kat Crochet Works – 208-502-0940
FB page link
open Tue – Sat, 9-5
Yellow Pine eggs $3/doz
— — — —
Buck Horn Outfitters LLC 208-633-3614
Tom & Sarah Lanham
156 Yellow Pine Ave, Yellow Pine Id 83677
website:
Facebook:
Starting June 2020 We will be doing trail rides out of Yellow Pine along with summer pack / camping trips to high mountain lakes in the area!
Wapiti Meadow Ranch – Johnson Creek (208) 633-3217
or 208-315-3554 – cabin rentals
website:
Deadwood Outfitters
website:
— — — —
Local Fuel Suppliers
Amerigas Phone: (208) 634-8181
Ed Staub & Sons Phone: (208) 634-3833
Diamond Fuel & Feed Phone: (208) 382-4430 open 830am-5pm Monday-Friday, closed weekends.
— — — —
Outside Biz that will service Yellow Pine:
The Star-News


subscribe:
A reminder that those who live in other states can subscribe to the online edition only since the mail can take days for hard copy to reach them.
Rocky Mountain Mechanical – Plumbing – Heating – Air conditioning
(208) 365-PIPE (7473), Emmett, will service Yellow Pine
Elkhorn Heating & Cooling
(208) 906-4067 Middleton, Idaho, will service Yellow Pine
B&T Safety Solutions LLC
208-271-1600 Based out of Donnelly
Snow removal, cleaning chimneys and stoves, we do cabin staining/chinking as well
— — — —
Follow The Yellow Pine Times on Facebook (updated more often than emails)
———————–
Local Observations:
Monday (Aug 3) overnight low of 51 degrees, the sky is mostly covered in "mare's tails", light haze of dust and probably smoke in the air. A few early airplanes, left over camp trailer parked in the school yard. A few swallows and finches sighted. Getting hot by lunch time and mostly cloudy. Weird knocking in the water pipes around 225pm. Hot, breezy and almost clear mid-afternoon, high of 91 degrees. Warm, clear and calm at dusk. A few swallows flying around. Looked clear before midnight.
Tuesday (Aug 4) overnight low of 47 degrees, clear sky this morning. A few early airplanes buzzed over. Several finches visiting. Clear sky, pretty warm and breezy at lunch time. Hummingbirds visiting. Clear hot and light breezes mid-afternoon, high of 92 degrees. Light traffic. Shooting west of the golf course around 3pm. A steller jay with a lot to say stopped by. Pretty warm mid-evening under clear sky with light breezes. Clear and calm at dusk, a few swallows flying high.
Wednesday (Aug 5) overnight low of 47 degrees, clear sky this morning. A few early airplanes buzzed the village. Some finches calling and flying around. Mail truck made it in on time. Warm and clear at lunch time. An olive-sided flycatcher calling from the trees. Hot and clear with light breezes mid-afternoon, high of 95 degrees. A few finches calling. Still pretty warm mid-evening, clear and slight breeze. Several swallows flying around. Cooling off slowly at dusk under a clear sky and calm. Clouds moving in, thunder and breezy before midnight. Lighting map showed strikes north west of here towards the lower South Fork.
Thursday (Aug 6) overnight low of 58 degrees, partly cloudy sky this morning and a dry rain gauge. A couple of loud airplanes turning over the village. Some finches calling and a couple of hummingbirds visiting. Mostly cloudy and breezy after lunch time. Steller Jay stopped by. Light traffic (and dust.) Hot by mid-afternoon, mostly cloudy (dark bellies) and light breeze, high of 89 degrees. Wonky sounding airplane making a very tight turn over the village at 641pm. Warm, mostly cloudy and nice breezes mid-evening. Finches calling from the trees. Warm and mostly clear before dusk. Several swallows flying and calling, a few hummingbirds and pine siskins visiting. Mostly clear before midnight.
Friday (Aug 7) overnight low of 48 degrees, mostly clear sky and light breeze this morning. A few early loud airplanes, light street traffic. Finches calling from the trees. Warm and mostly hazy with a nice breeze mid-afternoon, high of 84 degrees. Increasing traffic and dust. Swallows calling and ground squirrels dashing for their holes. Clear sky, mild temperature and light breeze mid-evening. Lots of swallows this evening, calling, flying and perched on the power lines. Cooler, mostly clear with a thin smear of haze and almost calm just before dusk. Looked clear after midnight.
Saturday (Aug 8) overnight low of 41 degrees, mostly hazy sky this morning. A couple early airplanes and 4-wheelers. Several tree swallows flying and calling, a few finches and heard a clark's nutcracker. Decreasing clouds and breezy after lunch time. Increasing traffic. Partly hazy, warm and light breezes mid-afternoon, high of 86 degrees. Loud gunshots to the west started around 615pm, lasted for nearly an hour. Increased traffic and dust on the west side. High haze (smoke?) a few small clouds and light breezes mid-evening. Air quality degrading from the dust. Partly hazy and nearly calm at dusk. Swallows hunting bugs. Looked clear after midnight.
Sunday (Aug 9) overnight low of 43 degrees, clear sky this morning and light breeze. Finches, swallows and a clark's nutcracker calling. Power off/on at 945am. Sunny and breezy at lunch time. The white trailer in the school yard departed. Warm, mostly clear and variable breezes mid-afternoon, high of 86 degrees. Clear and breezy mid-evening, thin high haze (smoke?) A few hummingbirds visiting.
————————-
Idaho News:
Valley County COVID-19 cases reach 88 as of Wednesday
By Tom Grote for The Star-News Aug 6, 2020
The number of positive COVID-19 cases in Valley County reached 88 on Wednesday, up from 77 a week ago, health officials said.
St. Luke's McCall reported 72 positive cases from testing done at the hospital, up from 61 a week ago. Cascade Medical Center reported 16 positive cases, the same number as a week ago.
Nearly all of the positive cases have been recorded since summer tourism traffic started in mid-June.
Central District Health reported 48 positive cases were confirmed to be Valley County residents as of Tuesday, up from 42 a week ago.
Some of those who tested positive at the two hospitals but did not declare Valley County their primary residence could still be in Valley County under quarantine, health officials have said.
Among the new Valley County cases was an employee of the Cascade Aquatic & Recreation Center.
continued:
— — — — — — — — — —
523 new Idaho COVID-19 cases Friday, 6 new deaths
Aug 7, 2020 Local News 8
Idaho officials reported 523 new COVID-19 cases and 6 new deaths on Friday.
This brings the total confirmed and probable cases reported since March to 23,922.
There are a total of 22,408 confirmed cases and 1,514 probable cases in 42 of the 44 Idaho counties, according to numbers released from the local health districts and the state.
… 6 new deaths were reported bringing the total recorded deaths to 229.
full story:
— — — — — — — — — —
Valley commissioners extend call for voluntary mask wearing
By Max Silverson for The Star-News Aug 6, 2020
Valley County commissioners on Monday extended a resolution encouraging people to wear face masks in public places to prevent the spread of COVID-19.
Commissioners first adopted the resolution on July 13, which applies to all areas in Valley County but does not include any punishment for failing to wear a mask.
"I think we need to definitely extend our resolution; that shows that we're trying to do what we can," commissioner Dave Bingaman said.
Commissioners asked Chair Elt Hasbrouck to request that Central District Health issue a mask mandate for Valley County.
continued:
— — — — — — — — — —
McCall extends mask mandate to Sept. 1
Public comments, St. Luke's urged city council to keep order
By Drew Dodson for The Star-News Aug 6, 2020
An extension to Sept. 1 of an emergency order to wear masks in the City of McCall as a precaution against COVID-19 was approved last week by the McCall City Council.
The council voted 4-1 to extend the order that was originally approved on July 1. That order was set to expire last Friday, but the council took action during a special meeting last Thursday night.
Mayor Bob Giles and council members Colby Nielsen, Melanie Holmes and Mike Maciaszek were in favor of extending the order another 30 days while council member Thom Sowers voted against.
"To do otherwise is to disregard both the advice of our healthcare community and our citizens," Maciaszek said, noting that more than 300 public comments the council received and briefings by local health officials in favor.
Sowers, who also voted against the original mask order, suggested the city was disenfranchising many businesses by making the decision on masks for them.
… For more information on the mask order, visit (link)
continued:
— — — — — — — — — —
Central District Health to consider mask mandate in Valley County, limiting social gatherings; no longer considering gym closure
The next CDH Board of Health meeting will be held virtually on Tuesday, August 11.
Aug 7, 2020 KTVB
The Central District Health (CDH) Board of Health is holding their weekly meeting on Tuesday, August 11. During this meeting, CDH and the board will consider additional precautionary measures to further slow the spread of coronavirus.
The board will consider a mask mandate for Valley County and a limit on social gatherings in Ada County.
Idaho was placed in the "red" zone by a recent report from the White House, meaning community spread is significant in the area. Because of this, the White House recommended that Idaho limit social gatherings to no more than 10 people.
CDH found through a series of case investigations that social gatherings like barbeques and weddings are, and continue to be, significant methods of transmission. Therefore, the board will consider drafting new language that prohibits social gatherings of no more than 10 people, or no more than 25 people.
continued:
— — — — — — — — — —
Valley County Fair cancels public events, to focus on 4-H
The Star-News Aug 6, 2020
The 2020 Valley County Fair will be devoted to 4-H youth activities only this year with all other events canceled.
All public events of the fair, such as the Valley County Rodeo, food and entertainment vendors, live music and the Open Class competitions, were canceled due to worries over the COVID-19 virus.
The fair, scheduled for this weekend at the Valley County Fairgrounds in Cascade, will continue to feature 4-H projects, including large and small animal competitions.
continued:
— — — — — — — — — —
Payette strives to save South Fork fish
Road work latest effort to aid Chinook, steelhead runs
The Star-News Aug 6, 2020
Caleb Zurstadt hopes the work being done on the South Fork Road east of McCall will buy time for Chinook salmon and steelhead that spawn in the South Fork of the Salmon River.
When completed, the work will provide the river with increased protection from devastating washouts that can wipe out breeding areas for fish, said Zurstadt, fishery biologist for the Payette National Forest.
Work started last year on the 30-mile stretch of road that parallels the South Fork, the first comprehensive restoration of the road since it was paved in 1993.
The road travels from Warm Lake Road on the south to the confluence of the East Fork South Fork Salmon River on the north.
More than 75 individual projects underway include asphalt repair, drainage improvements, culvert replacements, curve realignments and hillside stabilization.
The entire roadway will be treated with a chip seal or asphalt surface to seal the road, said Payette civil engineer Ben Dreier.
continued:
— — — — — — — — — —
Idaho State Police: One dead, two hurt after crash north of Cascade
by CBS2 News Staff Saturday, August 8th 2020
A Cascade woman has died, and several others are recovering from injuries after a three vehicle crash on Highway 55 Friday night.
Idaho State Police says 48-year-old Jenica Fransesconi was heading south on Highway 55 just north of Cascade Friday night. The Chevrolet Silverado pickup she was driving crossed the center line, side-swiping a GMC Sierra pickup pulling a boat trailer. That vehicle then hit a Honda Element.
Fransesconi had to be extricated from her vehicle. She died at the scene, according to ISP.
continued:
— — — — — — — — — —
ID-55, Smiths Ferry Improvements
Tight lanes and sharp corners will be improved with extensive excavation
The Idaho Transportation Department is constructing safety improvements on Idaho Highway 55 between Smiths Ferry to Round Valley .
The project is anticipated to begin in the Fall. Plans are being finalized and a bid package for contractors is being prepared. Depending on the result of bids and weather, work may begin in the Fall of 2020. Details of the work and impact to traffic will be posted at a later date, when those decisions can be made.
more info:
— —
State Highway 55 Construction Work Scheduled
By Evin Oneale, Regional Communications Manager
Wednesday, August 5, 2020
The Idaho Transportation Department will soon begin construction work on a stretch of State Highway 55 north of Smiths Ferry, and the project won't be completed until the winter of 2022 – at the earliest. With one lane traffic and periods of complete highway closure, hunters and other recreationalists traveling up and down Highway 55 will want to pay attention to construction schedules and plan their trips accordingly.
The 1.5-mile section of highway between Smiths Ferry and Rainbow Bridge that tracks along the N. Fork of the Payette River is narrow and winding with no shoulders or guard rails. The two- to two-and-one-half-year project will correct these issues: straightening the roadway, adding shoulders and guard rails as well as adding additional pull outs and rock catch ditches.
The construction schedule is straight forward:
Fall (September through November) and Spring (March through May)
– Daytime and nighttime work seven days a week
– Full road closures Monday through Thursday from 10:00am to 2:00pm
– One-way alternating traffic during all other time frames
Winter (November through February)
– No construction during this time frame – all lanes open
Summer (June through August)
– Daytime and nighttime work Monday through Friday
– One-way alternating traffic at all times
Visit the ITD project site (Highway 55 Construction) to learn more about the project and sign up for construction updates.
source:
— — — — — — — — — —
Highway 95 opens for overnight travel in area of rockslide
It's been more than a month since boulders crashed down onto the highway, blocking it completely.
August 5, 2020 KTVB
Riggins, Idaho – More than a month after huge boulders crashed down the hillside onto Highway 95, blocking the road completely, officials say it is safe to travel through the area at night.
The stretch of Highway 95 south of Riggins reopened to overnight travel Tuesday night. Previously, cars had been allowed through only during daylight hours.
"We have worked with our geotechnical experts to establish a monitoring and lighting system that allows us to continually observe and survey the slope," Operations Engineer Jared Hopkins said. "Now that we can do it safely outside of daylight hours, opening up for nighttime travel will better serve our customers who need to make deliveries at night."
Link: to ITD updates page
— — — — — — — — — —
4.2-magnitude earthquake hits near Stanley
The National Weather Service in Boise described the earthquake as a "bump."
August 7, 2020 KTVB
Southwestern and south-central Idaho may have felt a "bump" on Friday evening after a 4.2-magnitude earthquake happened near Stanley.
The National Weather Service in Boise said the earthquake happened around 8:10 p.m. MT on Friday. The quake's "preliminary magnitude" was 4.2.
The USGS reports that the earthquake's epicenter was in the Sawtooth Mountain Range, west of Sawtooth Lake and near the Stanley Lake Creek.
continued:
— —
M 4.2 Earthquake 13 km WSW of Stanley, Idaho
2020-08-08 02:11:30 (UTC)
Did you feel it?
Map

Link:
[h/t DP]
— —
Thursday's Quake Caused Rockfall in Sawtooths
Facebook video courtesy Katy Murphee
link:
———————–
Public Lands:
Rapid River Travel Management Project: Invitation for Scoping Comments
August 5, 2020
The New Meadows Ranger District of the Payette National Forest proposes the Rapid River Travel Management Project. I invite you to review the scoping document and submit scoping comments for the project's interdisciplinary team and I to consider in project development. The scoping document provides details on the purpose of and need for action, project area location and management designations, and proposed action. It also provides specific instructions on how to submit comments. The scoping document is available on the project webpage at (link)
We propose this project to review the designated use of sections of National Forest System trails 177, 183, 184, 187, 188, and 362 within and adjacent to the Rapid River Wild River corridor to align with existing regulations, and to update the forest's motor vehicle use map (MVUM) accordingly. The trails under consideration are located approximately fifteen miles northwest of New Meadows, Idaho, within Adams County.
I know this project, as well as travel management in general, is of great interest to a broad spectrum of parties. As the responsible official for the project and New Meadows District Ranger, I want to also take this opportunity to convey to you that because I value the National Environmental Policy Act's (NEPA) public involvement process and your input, I ask that you provide comments that:
* are within the scope of the project (e.g. related to the purpose of and need for action);
* are directly related to the proposed action; and
* articulate a specific concern or issue for the team and I to consider or address, such as through project design or alternative development.
Providing comments that follow these suggestions will help me 1) better able to understand and address your issues, concerns, and suggestions regarding this project early in the NEPA process; 2) plan the next steps forward that take into account those issues and concerns; and 3) make a well-informed decision. Form letters or comments that are not specific to the project or proposed action do not generally provide unique or insightful information for me to consider.
Additionally, please keep this in mind as you review the scoping document: the proposed action is a starting point for a discussion that will not necessarily be easy, but I hope will be a fair, engaging, and respectful dialogue. To that end, I will also be hosting two virtual public meetings: August 19 and September 3 to provide additional opportunities for information sharing, questions, and clarifications. I will provide more details, such as how to join the virtual meeting platform, via the project webpage (link above).
Thank you for your interest in the project. Please feel free to reach me with any questions on the project or clarification on how to engage in the project as we move forward.
Sincerely,
Erin Phelps
erin.phelps@usda.gov
208-514-5809
— — — — — — — — — —
Last Chance Campground – Payette NF
Aug 8, 2020 via FB
Idaho Department of Lands, the Payette National Forest and visiting firefighting resources join in a shared stewardship effort to make Last Chance Campground a safe and enjoyable experience before re-opening to the public.
After the area was heavily impacted by the Douglas-fir Tussock moth last year, the Forest Service and Idaho Department of Lands (IDL) joined together over the winter under the Little Red Goose Forest Resilience Project to quickly remove the larger dead and dying trees, which posed hazards to the recreating public. Now, the teamwork continues as employees from recreation, fuels and fire work together to pile slash – debris left from logging – and cut down smaller dead trees.
With public and employee safety in mind, the decision as to when to reopen Last Chance Campground will hinge on how quickly that work can be completed.
"Last Chance is a very popular area, and I know folks are antsy to get in there and camp," said New Meadows District Ranger Erin Phelps. "We're working very hard to take care of the remaining hazards and residual debris before we open the campground, and appreciate everyone's patience."
Currently, Payette National Forest employees, with the help of the firefighting resources staged on the Payette in preparation for potential wildfire starts, have been working in the campground to remove hazardous trees, meaning chainsaw activity and felling are taking place. This could present a danger for the public and campers, leading to the decision to not yet reopen the campground.
Additionally, a large amount of slash remains in the campground, and the New Meadows District is exploring ways to remove that slash, including chipping, in order to reduce the fire risk and also improve the camping experience.
To protect the public during chainsaw operations, road guards have been placed around the surrounding area and near Goose Creek Trail – which is still open – to ensure that the public is able to safely recreate. When recreating in the nearby area, please remain cautious and stay alert.
———————
Fire Season:
10-acre fire sparks near Smith's Ferry on the North Fork of the Payette River
by CBS2 News Staff Monday, August 3rd 2020
Firefighters are responding to a 10-acre fire near Smith's Ferry on the North Fork of the Payette River.
The fire is burning on the east side of the river, with the highway on the west side of the river. The fire isn't affecting traffic on Highway 55 currently, but any further updates can be found on the U.S. Forest Service – Payette National Forest Facebook page.
The fire is estimated at 10 acres, and two helicopters and ground-based firefighters are on site.
source:
https://idahonews.com/news/local/10-acre-fire-sparks-near-smiths-ferry-in-the-north-fork-of-the-payette-river
UPDATE – 8:00 a.m., August 4 (PNF): The Howell Fire is 100% contained. GPS mapping shows the fire at 4 acres, rather than 9 acres as earlier reported. Fire crews will conduct mop-up of the fire area today. The fire is not impacting travel along Highway 55.
— — — — — — — — — —
Payette Fire Update
August 7, 2020 (via FB)
Firefighters on the Payette National Forest have responded to 5 wildfires over the past 24 hours. All of these wildfire are small in size and either fully contained or nearing full containment.
The largest of the wildfires is the Elk Fire near the Elk Creek Subdivision in the Pollock area along the Little Salmon River corridor. This fire is 70% contained, at 13 acres as of this morning's report from the fire line. The cause of this wildfire is under investigation.
Four other wildfires, the Cow, Tumble, Huck and Point fire are all less than 1/4 acre in size and located on the Krassel Ranger District. A thunderstorm that moved over the district on Wednesday night resulted in these lightning caused wildfires. The Huck, Tumble and Point fires have been contained, while fire managers continue to work on the small Cow Fire this morning.
Fire managers are expecting additional wildfires from Wednesday night's thunderstorm will pop up as "hold over fires" over the next few days. Hold over fires are lightning caused wildfires that begin to show smoke as warmer daytime temperatures heat surrounding fuels and begin to show smoke.
Of the 21 wildfires on the Payette National Forest this year, 12 of them have been determined to be human caused and most as a result of abandoned campfires. With the COVID-19 pandemic, visits to the Forest have increased as much as 5 times in some areas, bringing people that may not be familiar with proper handling of campfires. Please be on the lookout for abandoned campfires and report these fires to a local Forest Service office.
— — — — — — — — — —
Lightning starts several fires across Bogus Basin, Boise NF and Horseshoe Bend
by CBS2 News Staff Thursday, August 6th 2020
Several crews are responding to multiple fires in the Boise National Forest as well as across Boise County.
It seems lightning from storms overnight is the cause of a majority of the fires.
The U.S. Forest Service says it is aware of five new fires. Three of the fires are under the protection of Idaho Department of Lands (IDL), two of which are in the Boise National Forest.
The other two fires are in the Idaho City Ranger District of the Boise National Forest, which the U.S. Forest Service is staffing and responding too.
continued:
— —
PumpkinFire Update for August 9, 2020
The fire was started by lightning early on the morning of August 6 on Idaho state protection land a mile and a half southwest of the Hawley Mountain. The fire is burning in sub-alpine fir on steep terrain. Fire behavior has been moderate, and the primary spread has been by spot fires caused by embers carried by high winds.
Aggressive initial attack with helicopters and air tankers supported by firefighters on the ground helped to minimize the fire's growth and it is currently around 400 acres. The steep terrain has limited the use of dozers and crews are building handline and installing hose lays to corral the spots and contain the fire. Today, smokejumpers, hotshots and other hand crews will continue building direct fireline supported by aviation resources. No structures are immediately threatened by the fire and structure protection assessments will be ongoing for contingency planning. The fire is currently 2 miles northwest of Quartzburg and ½ miles south of the Hawley Mt Lookout, and 7 1/2 miles northeast of Horseshoe Bend.
A regional Type 3 Incident Management Team took command of the fire this morning and has established an Incident Command Post at the Idaho City Airstrip. The suppression of the fire is a joint effort between the Idaho Department of Lands, the US Forest Service, and the Bureau of Land Management. There are currently more than 300 personnel assigned to the incident.
The weather forecast calls for temperatures to be slightly cooler than normal with slightly higher relative humidity for the next few days, and winds are expected to remain high today.
Fire weakened trees, vehicle traffic and steep terrain continue to be some of the greatest hazards for firefighters. Motorists are asked to use caution when traveling the narrow, dusty roads and keep their eyes out for fire personnel and equipment.
Forest Service Road 374 is temporarily closed at the 307 junctions to all non-fire traffic. Recreators are asked to avoid roads west of Placerville, ID so as not to impede firefighting efforts. A temporary flight restriction (TFR) is in place over the fire and airmen are advised to check NOTAMs before flying through the area.
To mitigate the spread of COVID-19 firefighters are implementing a number of protection measures including social distancing, wearing face masks, daily screening, limiting the size of camps, and minimizing contact with local communities.
For more information call the Fire Information Line at 208-719-1705.
Aug 9 update via FB
— — — — — — — — — —
Crews stop two wild fires in Salmon-Challis National Forest
by CBS2 News Staff Monday, August 3rd 2020
Crews were able to stop two wildfires in Salmon-Challis by Sunday afternoon.
The first was the Reynolds Fire, which was about 27 miles northwest of North Fork, 1.5 miles east of Reynolds Lake on the North Fork Ranger District.
… The second was the Newman Fire, reported on August 1, about 15 miles northwest of Stanley, north of Copper Mountain on the Middle Fork Ranger District.
full story:
— — — — — — — — — —
Philips Fire spreads near Fairfield
Additional firefighters en route Friday
Mark Dee Aug 7, 2020 IME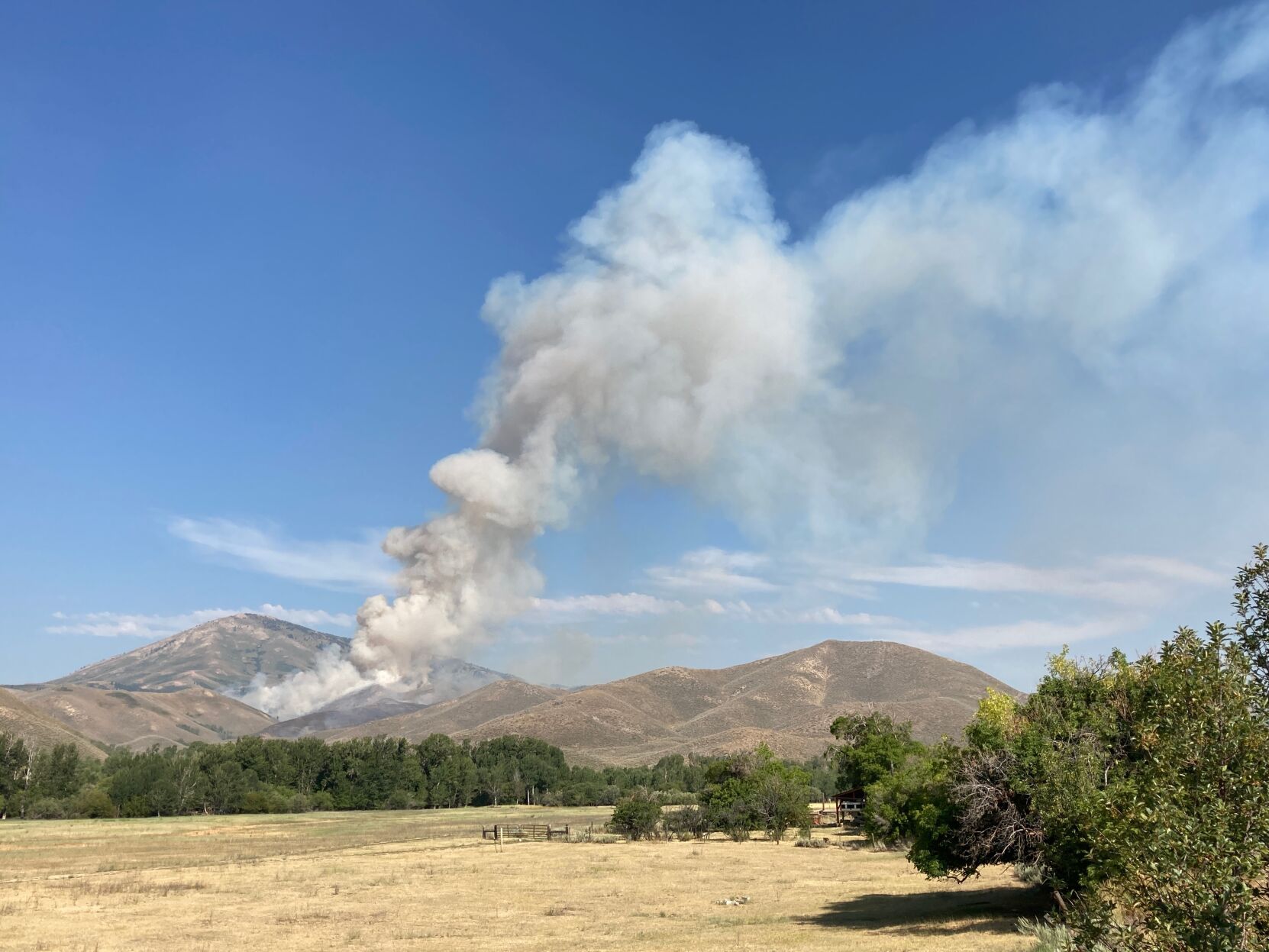 The Philips Fire eight miles north of Fairfield spread to roughly 684 acres overnight, the Forest Service reported Friday morning.
Two days after it sparked, the fire is still burning through the Free Gold Creek drainage in the Sawtooth National Forest. Yesterday, it was reported at around 150 acres; since, it has more than quadrupled in size.
The Forest Service ordered additional firefighters to the site, who are expected to arrive today, according to Public Affairs Officer Julie Thomas. The Camas County Rural Fire Department is working to protect structures in Philips Creek Area while federal crews work on the edge of the fire.
continued:
— —
Fire threatening structures near Soldier Mountain Ski Area
by CBS2 News Staff Saturday, August 8th 2020
Crew are working to get a handle on a fire burning north of Fairfield, the US Forest Service says.
As of Saturday afternoon, the Phillips Creek Fire has burned 1600 acres and is 5% contained.
The fire was first reported on Wednesday, but yesterday afternoon the wind picked up, the Forest Service says. The fire was caused by lightning.
continued:
— —
Phillips Fire forces evacuation at Soldier Mountain Resort
Aug 8, 2020 KIVI
… On Friday, the winds shifted directions and picked up in intensity, sending the fire quickly in an unexpected direction and right for Soldier Mountain Resort.
Employees of the resort quickly evacuated the area at the request of the Sawtooth National Forest Service, the lift manager saw the flames emerge over the ridge.
full story w/video:
— — — — — — — — — —
Crews mopping up after wildfire threatened homes south of Boise
The fire burned about 400 acres of brush near the intersection of 10 Mile Creek Road and Hubbard Road.
August 3, 2020 KTVB
Firefighters worked quickly to protect multiple structures from a wildfire burning southeast of the Boise Airport Monday afternoon.
According to the Bureau of Land Management, the Hubby Fire burned about 400 acres of brush near the intersection of 10 Mile Creek and Hubbard Road.
Homes are no longer threatened, officials said Monday evening, and crews are now working to mop up any hot spots along the perimeter of the fire.
continued:
————————
Letter to Share:
For Those that missed The Gamebird Foundation (TGBF meeting last evening
Aug 5, 2020
Good morning all, we had a great (TGBF) meeting last evening , August 4th. We have some great news. The Red Leg Partridge chicks are going on 3 weeks old, from the 256 that we had hatched, we have only lost 6 babies. We have them in 3 different brooders and loaf pens. In another couple weeks they will go into the large soft release pens. Where they will stay until the soft release into some great habitat. If you would like to take a look at the raising of the chicks, you can contact Joe Warner, Troy Id. 208-310-2674, Chris Ford, Harvard Id. 208-997-8361, bob Carson, 208-835-4258 and make arrangements to visit their brooder and release set up. Well worth the trip.
We are running short off maintenance feed for the remaining pheasant chicks. If you know of any farmer or warehouse that has any cull Garbs, peas or wheat. We can sure use it. We will take it and have it milled so the chicks can eat it. Your help would be greatly appreciated. It gets very costly when we have to start buying feed. In past years we have had plenty, but this year we have 50 + people raising pheasants. Several have 3 to 4 hundred in their brooders at a time and they will raise 2 or 3 different batches. If you can help us raise pheasant chicks, please call Jim Hagedorn 208-883-3423 or email me at jhag1008 @ gmail.com and we will make arrangements to pick up. Or if you want to make a donation you can go to our web site and do so. Thegamebirdfoundation.org. These folks have raised roughly 9,000 + or – babies this spring to release, some are already out there. God Bless and please be safe.
"The Pheasant Guy"
Jim Hagedorn
Executive Director
The Gamebird Foundation
208-883-3423
Jhag1008 @ gmail.com
————————–
Critter News:
'Look Before You Lock' reminds people to check backseat before locking
The Treasure Valley has seen a heatwave over the last few days.
Temperatures are starting to cool down, but the Idaho Humane Society and Boise Police are still encouraging people to take all of the proper precautions when it comes to heat and loved ones.
The "Look Before You Lock" campaign started two years ago when Boise Police, Idaho Humane Society, St. Luke's, and more teamed up to spread awareness about leaving behind pets and children in hot cars.
continued:
— — — — — — — — — —
Pet Talk – What is cat scratch fever?
Dr. Karsten Fostvedt Aug 7, 2020 IME
Cat scratch fever is caused by bacteria called Bartonella henselae. It is present in 30-40 percent of domestic and adopted shelter cats. Cats become infected with Bartonella henselae from the bites of infected fleas or contact with infected blood; cats involved in cat bites or who have received blood transfusions are more at risk for infection. Naturally infected cats are primarily asymptomatic, subclinical carriers of Bartonella henselae.
Occasionally infection can cause a transient fever that lasts for 48-72 hours. In some cats, more serious signs can occur, such as vomiting, red eyes, swollen lymph nodes and a decreased appetite. Bacteria can remain in the bloodstream for months with clinical signs appearing when the cat is under stress or concurrent with another disease.
A human bitten or scratched by an infected cat can get swollen lymph nodes, run intermittent fevers and experience severe lethargy. If you have been bitten or scratched by a cat and are experiencing these symptoms, please contact your doctor immediately and let him or her know that you are worried about cat scratch fever. It can be very difficult to diagnose in people.
continued:
— — — — — — — — — —
Snowdon Wildlife Sanctuary cancels planned fundraiser
The Star-News Aug 6, 2020
Snowdon Wildlife Sanctuary has canceled its annual "Beers for Bears" fundraiser normally held the first week of August due to worries over COVID-19, Director Mary Evers said
The sanctuary also has canceled its annual open house scheduled for September, Evers said
Snowdon, located off Lick Creek Road east of McCall, is still accepting orphaned and injured animals, and releasing those that have been rehabilitated, she said.
Information and photos can be found on Facebook at "SnowdonWildlife."
source:
— — — — — — — — — —
What not to do in a bear attack? Push your slower friends down in attempts of saving yourself, says the National Park Service
Aug 8, 2020 Local News 8
If you're being confronted by a bear, there's a few things you should know before running away.
As people across the country visiting parks and taking trips to the mountains find themselves in terrifying encounters with bears, the National Park Service (NPS) has offered a few tips on what to do if you're face-to-face with the furry beasts.
The first tip? "Please don't run from bears or push your slower friends down in attempts of saving yourself," the NPS joked in a Facebook post Wednesday.
The best thing to do to safely remove yourself from a bear confrontation is move away slowly and sideways so you can keep an eye on the bear without tripping. Bears are not threatened when you move sideways, but like dogs, they will chase fleeing animals.
continued:
— — — — — — — — — —
Fish and Game says elk depredation prevention efforts are working
By Natasha Williams Aug 05, 2020 KIVI
Idaho Fish and Game biologists say non-lethal methods of preventing elk depredation are starting to pay off.
So far this year, Fish and Game says they haven't used sharpshooters in the Magic Valley Region. Instead, they're focusing on non-lethal methods like hazing that uses noisemakers and other methods to scare elk away from crops.
"The hazing idea is to change elk behavior. If that works, and we don't have to do anything else, that's great. That would be our perfect situation," explained Terry Thompson, Fish and Game Magic Valley's Communications Director.
Biologists say those efforts are starting to pay off.
continued:
— — — — — — — — — —
'Oh deer!' Idaho Humane Society rescues fawn caught in fence and hanging upside down
By Meredith Spelbring Aug 06, 2020 KIVI

Photo by: Courtesy of Idaho Humane Society
Idaho Humane Society saved a fawn that was caught in a fence and hanging upside down Thursday.
The young deer was found tangled in a fence and hanging upside down near State Street and Hawthorn off Collister road. The Animal Care and Control team arrived and called Idaho Fish and Game to free the fawn.
Once the fawn was freed from the fence, the team brought it in for an examination.
continued:
— — — — — — — — — —
Eagle man breaks Idaho state record with 17-inch black crappie
by CBS2 News Staff Wednesday, August 5th 2020

Record black crappie. (Photo by Jon Urban courtesy of IDFG)
An Eagle man set a new catch and release record on July 26 with this 17-inch black crappie.
Jon Urban of Eagle caught this giant at Crane Creek Reservoir. After a quick measurement and photo, Jon released the fish to fight another day.
Crane Creek Reservoir has a history of producing big crappie, according to the Idaho Department of Fish and Game.
continued:
— — — — — — — — — —
West Nile virus found mosquitoes in Canyon County
By Meredith Spelbring Aug 03, 2020 KIVI
West Nile virus has been found in several mosquitoes in Canyon County.
The Canyon County Mosquito Abatement District (CCMAD) detected the virus in mosquitoes near the Boise River in Caldwell and at two sites near Lake Lowell, the district announced Monday. The CCMAD routinely sets traps throughout the county to watch viruses in adult mosquitoes and has currently tested 764 pools this season for the virus, according to CCMAD.
Both areas where the mosquitoes carrying the virus were found have been treated.
continued:
— — —
More West Nile positive mosquitoes found in Elmore County
By Meredith Spelbring Aug 07, 2020 KIVI
A pool of West Nile positive mosquitoes was found in Elmore County Friday.
Central District Health announced a single pool mosquitoes carrying the virus were identified in Prairie, Idaho. Since the discovery, the Elmore County Mosquito Abatement District treated the area where the mosquitoes were found, CDH announced.
… No other county within CDH's jurisdiction (Ada, Boise, Elmore and Valley Counties) have reported positive West Nile virus pools this season, but Canyon and Gem County have reported positive samples of the virus.
full story:
———————–
Fish & Game News:
Food-conditioned black bear euthanized in East Fork canyon near Hailey
By Terry Thompson, Regional Communications Manager
Monday, August 3, 2020
A food-conditioned black bear had to be euthanized in the Wood River Valley after repeatedly getting food rewards from residential garbage containers, bird seed and beehives.
To protect public safety and private property Fish and Game had to euthanize a juvenile black bear on Monday August 3 that had become food-conditioned to residential garbage, bird feed, and honey from beehives. Reports of a bear getting into residential garbage in the East Fork area had been received by Fish and Game for the last several weeks. Over this time, the bear quickly learned that residential garbage and bird food is readily available, especially when natural food might be in short supply due to very dry conditions in south-central Idaho.
Conservation officers who investigated the reports observed residential garbage containers stored outside of homes and often left at curbside the day prior to pick-up, and bird feeders hanging around homes. A large number of beehives were also observed.
continued:
— — — — — — — — — —
Prime nursery grounds for Hells Canyon bighorn sheep permanently protected along the Snake River
By Jennifer Bruns, Regional Communications Manager
Friday, August 7, 2020
A piece of the Northwest's most important habitat for bighorn sheep was protected this week, thanks to a partnership between Western Rivers Conservancy and the Idaho Department of Fish and Game
On Wednesday, partners placed a conservation easement over the 2,920-acre Ten Mile Creek Ranch along the Snake River. Western Rivers Conservancy then sold the protected ranch to a private buyer who shares the partners' conservation vision for the property.
The ranch's steep breaks and sheer cliffs provide critical protection for bighorn sheep, allowing them to easily escape predators in the rugged terrain. Because of the ranch's unique topography, between 50 and 80 percent of Idaho's northern Hells Canyon herd of Rocky Mountain bighorn sheep, which currently number roughly 150 head, use this area. Importantly, the property provides secure cliff habitat along the Snake River where ewes give birth and raise their lambs.
continued:
— — — — — — — — — —
Returned elk/deer tags will be sold on Aug. 13
By Roger Phillips, Public Information Supervisor
Friday, August 7, 2020
Nonresident tags will be available as second tags, but at nonresident prices
Idaho Fish and Game will offer for sale about 465 nonresident elk tags and about 30 nonresident deer tags starting at 10 a.m. MDT on Aug. 13 on a first-come, first-served basis. Sale will also include some returned resident elk tags in capped elk zones.
The actual number of tags will depend on whether more tags are returned. Tags can be bought online, at license and tag vendors, or by phone at 1-800-554-8685.
continued:
— — — — — — — — — —
Windows to Wildlife Newsletter
Idaho Department of Fish & Game Aug 5, 2020
In this Summer 2020 issue:
* Idaho's own Tiger King
* Filling hummingbird feeders
– Five reasons not to use red Hummingbird nectar
* Hummingbird nectar recipe
* News from the field
* Idaho bird trail facts
* Spotlight species of greatest conservation need: the hoary marmot
link:
— — — — — — — — — —
More F&G News Releases
link:
———————————-
Crazy Critter Stuff:
Grizzly camera captures female bear and her cubs emerging from den
August 3, 2020 Local News 8
Every year Fish and Game Biologists place GPS collars on grizzly bears to learn about their reproduction, survival and distribution across the ecosystem.
A recently retrieved game camera shows a female grizzly as she emerged from her den in late-April with three cubs in tow.
The antics of these three cubs playing together was too cute not to share.
source: w/video
———————
Seasonal Humor:

—————