Aug 16, 2020 The Yellow Pine Times – Valley County, Idaho
Reminder: We are still under a boil water order until further notice.
Community Calendar:
April 17 – Boil water order issued
May 15 – Firewood Season starts
June 16 – Hard closure of South Fork Road (weekdays)
Aug 12 – Firewood Permits at The Corner
Sept 5 – Golf Tournament
Sept 12 – VYPA meeting at 2pm
(details below)
———-
From Valley County
We need Your Help to protect the place and the people we all Love.
link:
Valley County Covid-19 Response Page
link:
Valley County Emergency Operations Center
link:
Rebound – Idaho Governor's phasing program
link:
COVID 19: Recommendations and Resources for Safe Business Practices
link: (lots of info for businesses)
——————-
Local Events:
Sept 5 – Golf Tournament
Details to follow…
———-
Letter to Share:
Off Established Trail Riding
We made a UTV ride into the Cinnabar mine in early August and as always it was a great trip, one that I never get tired of doing. As we all know we lost the bottom entrance up Sugar Creek which took away a great loop ride when the forest service put a gate down there. I am concerned now that the same thing will happen on the top end of the road/trail after what I saw on our recent ride into the mine. Some UTV/ATV riders or jeeps are going off road and creating a new road/trail straight down from the top to the bottom, crossing the main road several times, and ripping up the hill side as they do. I am concerned that this new trail will allow spring run off to wash the old road out in the places where it goes through it. I feel that this off established trail riding and tearing up the mountain side is all the Forest service will need as a reason to close and gate the road on top. What a shame that would be to lose that great ride into Cinnabar.
RE – August 13, 2020
———-
Village News:
Boil Water Order issued April 17 still in effect.
Update July 5: the boil order is in effect do to extremely high use due to leaks.
Update June 12: The boil order is still on. We still are experiencing excessive water use because of leaks. Not sure when this will be lifted. We are applying for grants to repair the system.
Update June 2: The water plant is experiencing high water in Boulder Creek which brings more debris into the sand filter.
The high demand caused by leaks in the system plugs the sand filters prematurely. We will be on a boil order until further notice.
— — — —
2020 Census
The 2020 Census Impacts All Valley County Residents
Hurry and complete the census, the deadline has been moved up to September 30th.
It is recommended that we all fill out the census online.
If you spend 50% of your time in Valley County, you can consider it your home per the Census. Where you register with the Census is confidential and never linked to other governmental requirements such as property taxes or mailing address.
Link: to online census
You do not need an ID number. Go to the link. Click on "start questionnaire". Then on the next page scroll down to "If you do not have a Census ID, click here" – when you click on that line it will start the census. (see below)

— — — —
Critters
Mosquitoes and no-see-ums are hungry.
Bears are around, protect your trash and pet food.
Watch out for aggressive mother does and cows, they will stomp your dogs – and you too.
— — — —
Road News
Link: to current road reports.
— — — —
Forest Info
All campgrounds and restroom facilities in the South Fork Corridor, Lick Creek/Secesh Corridor and along the East Fork South Fork Salmon River are open. -Krassel RD
— — — —
Yellow Pine US Mail
The 6-day a week mail delivery started June 1st. The Post Office in Yellow Pine is open six days a week year around: M-F 845am-245pm Saturday 9am-245pm. Forever Stamp: 55 cents. Support our local post office and purchase your holiday stamps here.
— — — —
Yellow Pine Transfer Station
Please do not abuse our Transfer Station or we may lose it. Household trash must be placed in the bins, flattened cardboard boxes can also go into the bins. Do not stack trash in front of the doors. Woody yard debris only for the burn pile. No furniture, appliances, tires or construction debris allowed, those items must be hauled out to the Donnelly station by you.
Yellow Pine Transfer Station (aka, the dump)
The Yellow Pine Transfer Station is located approximately 3 miles south on Johnson Creek Road.
The TRANSFER STATION is for household trash and yard waste:
* Household trash must be put inside (and fit) the dumpster;
* Yard waste (limbs, pine needles, brush, etc.) goes in the burn pile on the south end of the turn-around;
* Cardboard boxes should be flattened before putting the in the dumpster,
The DUMPSTERS are NOT for:
* Furniture (take to Donnelly Transfer Station);
* Appliances (take to Donnelly Transfer Station).
The BURN PILE is NOT for:
* Cardboard boxes (flatten and put in dumpster);
* Furniture and appliances (take to Donnelly Transfer Station);
* Drywall and building material (take to Donnelly Transfer Station);
* Wire or fencing (take to Donnelly Transfer Station);
* Foam Rubber (take to Donnelly Transfer Station);
* Wood with metal (like nails) attached (take to Donnelly Transfer Station.)
When closing the DOORS on the front of the dumpsters:
* Make sure the "U" brackets at the top and bottom of the door are engaged;
* The retaining bar at the middle of the door is slid into the pipe;
* And the "L" bars at the bottom of the doors dropped into place.
The Yellow Pine Transfer Station is Valley County responsibility. If it is not kept tidy, use of the Transfer Station may be revoked. That would result in residents having to take all household trash and yard waste to the Donnelly Transfer Station.
If Dumpsters Are Full, Contact Lake Shore Disposal at: 208/634-7176
———-
Local Groups
YPWUA News:
The annual Water meeting for 2020 was held July 5th at the Community Hall 2pm.
link: minutes 20200705YPWUA.docx
Boil Water Order issued April 17, 2020. This could last leaks are repaired.
Boil Water Advisory Notice
Boil Your Water Before Using
Bring tap water to a rolling boil, boil for one minute, and cool before using or use bottled water. Boiled or bottled water should be used for drinking, making ice, washing dishes, brushing teeth, and preparing food until further notice.
This Boil Water Advisory Notice applies to The Yellow Pine Water System
The system is being monitored and checked daily for compliance. .
You will be informed when you no longer need to boil your water.
Please share this information with other people who drink this water, especially anyone who may not get this notice directly (for example, people in apartments, nursing homes, schools, and businesses).
You can do this by posting this notice in a public place or distributing copies by hand or mail.
State Water System ID#: 4430059 Date distributed: 3-22-2020
Notice of Intent to File an Application with USDA, Rural Development
The Yellow Pine Water Users Association, Yellow Pine, Idaho intends to file an Application with USDA, Rural Development to obtain a drinking water system facility Emergency Community Water Assistance Grant (ECWAG). Emergency Community Water Assistance Grant (ECWAG).
If any additional information is needed, please contact:
Willie Sullivan
Treasurer
ypwater @ gmail.com
Distributed to Yellow Pine Water Users Association customers via Yellow Pine Times on June 12, 2020.
The 2019 Yellow Pine Water Users Shareholders meeting was Sunday July 7, 2019.
link: 20190707YPWUAminutes
— — — —
VYPA News:
Next VYPA meeting: September 12 at 2pm
Last VYPA meeting: August 8 at 2pm
Minutes from July 11, 2020 VYPA meeting
link:
Minutes from June 13, 2020 VYPA meeting
link:
July 1 – Post Harmonica Meeting 2pm Community Hall
Note: at each meeting we simply add to info on the topic. That way, info from all meetings is included in a single document.
Link to notes:
Heat was installed in the community hall on April 30th.
VYPA meeting schedule for 2020 – June 13, 2pm; July 11, 2pm; August 8, 2pm; September 12, 2pm.
— — — —
YPFD News:
There was a YP Fire Commissioner meeting on June 27, 2020 at 10am at the Fire Station.
Link: 20200627 Fire Dept minutes June 27_final.docx
YPFD COVID19 Policy
link: YPFD Covid 19 SOP.docx
link: Covid-19 EMS.pdf (May 23)
May 10th Burn Permits – contact the YPFD
Pile burning: Dress appropriately, have enough help on hand (people, water and tools) and make a firebreak before you start. Call your local fire protection district chief to let them know you'll be conducting a debris burn. This saves them from sending emergency responders to your property if they are not needed. Do NOT burn on breezy afternoons.
Better yet, "Bring It, Don't Burn It", you can take your yard waste (limbs, pine needles, brush, etc.) to the burn pile at the Transfer Station on the south end of the turn-around. Remember, keep the pile neat. Woody debris only, no nails, no cardboard and no furniture! The Boise NF will burn the pile in the fall when it is safe and doesn't pollute our fine YP air.
YP Fire Commissioners:
Sue Holloway – District 1
Dan Stiff – District 2
Merrill Saleen – District 3
(TBA) – Fire Chief
Yellow Pine Fire Protection District Community Service Notice
The purpose of this letter is to show how you as a Yellow Pine Resident can help protect your structure against a wildland fire by being "Fire Wise." Click the link: to view 20190724 Yellow Pine Fire Protection mitigation
——–
Biz Listings:
The Corner (208) 633-3325
Open 11am-8pm Closed Tuesdays. Calling ahead works best but not a huge deal. Groceries, Ice Cream, Beer and Soda. Our menu fluctuates but typically have Smoked Brisket, Tri Tip, Chicken, Burgers and Wings on hand.
Starting Aug 12th Firewood Permits at The Corner
— — — —
Yellow Pine Tavern (208) 633-2233
Open Daily 8am to 10pm. Outside Dining and Bar. Breakfast and Bar Food.
— — — —
Yellow Pine Lodge (208) 633-3377
Open.
— — — —
Yellow Pine General Store (208) 633-3300
The store is open now and will be open into October. Hours are 9 am to 6 pm Tuesday through Saturday. Closed Sunday and Monday.
— — — —
Murph's RV Park & Mary's Cabins (208) 633-6677
Cabins are not available in 2020. RV Spaces $25/night; $150/week; $300/month. Tent spaces $10/night. Shower house is closed for 2020.
— — — —
Knotty Kat Crochet Works – 208-502-0940
FB page link
open Tue – Sat, 9-5
Yellow Pine eggs $3/doz
— — — —
Buck Horn Outfitters LLC 208-633-3614
Tom & Sarah Lanham
156 Yellow Pine Ave, Yellow Pine Id 83677
website:
Facebook:
Starting June 2020 We will be doing trail rides out of Yellow Pine along with summer pack / camping trips to high mountain lakes in the area!
Wapiti Meadow Ranch – Johnson Creek (208) 633-3217
or 208-315-3554 – cabin rentals
website:
Deadwood Outfitters
website:
— — — —
Local Fuel Suppliers
Amerigas Phone: (208) 634-8181
Ed Staub & Sons Phone: (208) 634-3833
Diamond Fuel & Feed Phone: (208) 382-4430 open 830am-5pm Monday-Friday, closed weekends.
— — — —
Outside Biz that will service Yellow Pine:
The Star-News


subscribe:
A reminder that those who live in other states can subscribe to the online edition only since the mail can take days for hard copy to reach them.
Rocky Mountain Mechanical – Plumbing – Heating – Air conditioning
(208) 365-PIPE (7473), Emmett, will service Yellow Pine
Elkhorn Heating & Cooling
(208) 906-4067 Middleton, Idaho, will service Yellow Pine
B&T Safety Solutions LLC
208-271-1600 Based out of Donnelly
Snow removal, cleaning chimneys and stoves, we do cabin staining/chinking as well
— — — —
Follow The Yellow Pine Times on Facebook (updated more often than emails)
———————–
Local Observations:
Monday (Aug 10) overnight low of 42 degrees, clear sky and light breeze this morning. Good air quality. Tree swallows, finches, pine siskins and a nuthatch visiting. Clear, warm and light breezes at lunch time. Light traffic. Clear, hot and light breezes mid-afternoon, high of 91 degrees. A few hummingbirds visiting. Temperature slowly dropping mid-evening, clear sky and slight breeze. A few swallows flying high. Warm, clear and almost calm at dusk.
Tuesday (Aug 11) overnight low of 44 degrees, clear sky this morning. A few early loud airplanes. Some finches, pine siskins and a clark's nutcrackers calling, a pine squirrel dashing about. At lunch time it was hot, breezy and almost clear. Hot gusty breezes and a few small clouds mid-afternoon, high of 90 degrees. Quiet afternoon and evening. Still pretty warm mid-evening, mostly clear sky and light breezes. Just before dusk there were a few clouds to the east and nearly calm. Clouds moving in after dark making it difficult to watch the meteor shower.
Wednesday (Aug 12) overnight low of 49 degrees, mostly clear sky and dusty air quality this morning. A pack of loud airplanes buzzed the village early. Finches, an olive-sided flycatcher and a couple of clark's nutcrackers calling, a steller jay and a fat ground squirrel visiting. Shots fired to the west starting around 1035am, lasted around half a hour. Clouds moving in by lunchtime and breezy. Mail truck was a little late. Mostly cloudy, warm and breezy by early afternoon, high of 82 degrees. Cloudy, breezy and cooling off late afternoon to early evening. Cooler, dark clouds and a little short sprinkle of rain just before dusk (not enough to get wet.) Cloudy before midnight.
Thursday (Aug 13) overnight low of 41 degrees, partly clear sky (high hazy wispy clouds) this morning. Early loud air traffic. Finches, swallows and nutcrackers calling. Mostly clear, warming up and slight breeze before lunch time. Mostly clear, warm and gusty breezes early afternoon, high of 81 degrees. Quiet afternoon. Mostly clear and lighter breezes mid-evening, and mild temperatures. Cooling off under clear skies just before dusk. Swallows flying and hunting bugs.
Friday (Aug 14) overnight low of 38 degrees, clear sky and light breezes this morning. Early loud air traffic. Increased street traffic. Clark's nutcrackers and tree swallows calling. Clear and breezy after lunch time. Huge cloud of dust wafting over the neighborhood. Warm, clear and breezy mid-afternoon, high of 87 degrees. Fairly quiet afternoon. Clear, warm and breezy mid-evening. Cooling off at dusk under a clear sky. About a dozen swallows hunting bugs. Haze of dust in the air. Clear sky before midnight.
Saturday (Aug 15) overnight low of 39 degrees, clear sky this morning. Some early air traffic. Swallows and a couple of nutcrackers calling. Light morning street traffic and fairly good air quality. Clear and warm at lunch time. Power blipped off and back on at 215pm. Clear, hot and breezy by early afternoon, high of 94 degrees. OHV groups traveling thru the village. Hot late afternoon, slowly cooling off a little by early evening, clear sky and almost calm. Several hummingbirds visiting. Slow to cool down this evening, warm and clear sky before dusk. Local traffic increasing before dark. Clear sky at midnight.
Sunday (Aug 16) overnight low of 45 degrees, mostly hazy sky this morning. Early air traffic, some quite loud. Finches and a nutcracker calling, pine siskins and hummingbirds visiting. Thicker clouds at lunch time and light breezes. Increased traffic on main street. Mostly cloudy, warm, a bit humid and slight breeze mid-afternoon, high of 89 degrees. ATV traffic in the neighborhood and a little dusty. Overcast, warm, a bit humid and nearly calm mid-evening. Hummingbirds visiting after sunset.
————————
RIP:
D8 Cat
Passed away August 6, 2020 at age 20.
——————-
Idaho News:
542 new Idaho COVID-19 cases Friday
Aug 14, 2020 Local News 8
Idaho officials reported 542 new COVID-19 cases on Friday higher than Thursday's number of 498. 14 deaths were also reported on Friday.
A total of 1,091 cases are hospitalized on Friday across the state, 309 of them are in the hospital are in the ICU, 7 more than Thursday.
This brings the total confirmed and probable cases reported since March to 27,173 and 265 deaths.
continued:
— — — — — — — — — —
Valley County COVID-19 cases reach 97 as of Tuesday
By Tom Grote for The Star-News Aug 13, 2020
The number of positive COVID-19 cases in Valley County reached 97 on Tuesday, up from 88 a week ago, health officials said.
St. Luke's McCall reported 80 positive cases from testing done at the hospital, up from 72 a week ago.
Cascade Medical Center reported 17 positive cases, up from 16 a week ago.
Nearly all of the positive cases have been recorded since summer tourism traffic started in mid-June.
Central District Health reported 62 positive cases were confirmed to be Valley County residents as of Tuesday, up from 48 a week ago.
Some of those who tested positive at the two hospitals but did not declare Valley County their primary residence could still be in Valley County under quarantine, health officials have said.
Adams County had 19 confirmed cases among residents as of Tuesday, up from 18 a week ago, according to Southwest District Health.
One death from COVID-19 has been reported locally since the pandemic reached Idaho in March. An 85-year-old McCall man died July 15 at St. Luke's Boise hospital due to complications of COVID-19 infection.
source: © Copyright 2009-present Central Idaho Publishing Inc. All rights reserved
— — — — — — — — — —
Face masks now required in Valley County; Social gatherings in Ada County limited to groups of 10 or less
The Central District Board of Health voted on Tuesday to implement additional measures in Ada and Valley counties in an effort to slow the spread of COVID-19.
Tyson Miller August 11, 2020 KTVB
The Central District Board of Health voted at its meeting Tuesday afternoon to implement additional precautionary measures for Ada and Valley counties due to the COVID-19 pandemic.
The board voted 5 to 2 to require everyone in Valley County to wear face masks in indoor and outdoor public places when social distancing cannot be maintained.
The order mirrors the mask mandate already in effect in Ada County. The draft order for Valley County can be viewed here.
Board member and Valley County Commissioner Elting Hasbrouck noted the thousands of people who travel to Valley County each weekend from Ada and Canyon counties, which have consistently had the most COVID-19 cases over the last few months.
continued:
— —
Health board orders masks for Valley County
Commissioners wanted ban to aid business owners
By Max Silverson for The Star-News Aug 13, 2020
People in Valley County must wear masks in public spaces until further notice to limit the spread of COVID-19, the Central District Health board voted Tuesday.
The board took the vote after a request for the order from Valley County commissioners.
The new order includes all areas of the county, including within the cities of McCall, Cascade and Donnelly.
continued:
— — — — — — — — — —
WICAP Valley County office changes to appointment only
The Star-News Aug 13, 2020
The Valley County office of the Western Idaho Community Partnership will now provide services by appointment only in order to protect staff from COVID-19, a statement said.
The office, located at 110 W. Pine St., will lock its doors to walk-in traffic between 7 a.m. and 5:30 p.m. Mondays through Fridays.
Appointments can be made by calling 208-382-4577 or by writing to ritchb@wicap.org or thiessenr@wicap.org.
Those with appointments should knock on the office door or call the office for assistance.
WICAP provides USDA food boxes as well as financial assistance to qualifying individuals. The WICAP Thrift Store is currently closed due to worries over COVID-19 and no donations are being accepted.
continued:
— — — — — — — — — —
M-D schools to open Sept. 8 with three options
Mix of in-school, online depends on COVID-19 status
By Max Silverson for The Star-News Aug 13, 2020
McCall-Donnelly schools will open on Sept. 8, most likely with a mix of in-person classes and in-home learning, the M-D board of trustees voted Monday.
Trustees pushed back the opening date from Sept. 1 to Sept. 8 in order to train teachers on the reopening plan to limit the spread of COVID-19.
Just how classes would be conducted depends on the health emergency level declared by Central District Health.
Currently, Valley County is in the "yellow" category, which means minimal to moderate community transmission of COVID-19.
continued:
— — — — — — — — — —
McCall, Cascade chambers gets grants from travel council
The Star-News Aug 13, 2020
The McCall Area Chamber of Commerce & Visitors Bureau received $303,356 and the Cascade Chamber of Commerce received $72,680 from the Idaho Travel Council.
The McCall chamber's grant includes funding for local nonprofit groups for specific events, including the Donnelly Huckleberry Festival, the Idaho Sled Dog Challenge, the Seven Devils Playwrights Conference, the Summer Music Festival at Roseberry, SummerFest, Taste of McCall, the Yellow Pine Music and Harmonica Festival and MCPAWS Oktoberfest.
The travel council funding will be used for advertising, brochures, videos, market research, posters, postcards, and attending trade shows.
continued:
— — — — — — — — — —
Braun Brothers Reunion goes virtual to raise money for Challis nonprofits
Dozens of artists from around the country performed in the virtual festival to help raise money for nonprofits in the small town of Challis, Idaho.
Mark Johnson August 11, 2020 KTVB
One of Idaho's most beloved annual summer music festivals – the Braun Brothers Reunion in Challis – moved online this year.
Nearly three dozen recording artists from around the country performed in their respective homes to raise money for a small Idaho community that relies heavily on the annual event.
The Braun brothers from Stanley have a rich family tradition of music and have put on a three-day music festival in the mountain town of Challis for 30 years.
It's an event that brings in a huge economic impact to the community for youth programs, the golf course where the festival is staged, and other nonprofits in town.
continued:
— — — — — — — — — —
Sheriff: Boise man dead after campground shooting involving Bonners Ferry Police Chief
by CBS2 News Staff Thursday, August 13th 2020
Investigators are releasing more information about a campground shooting in Eastern Idaho earlier this month.
According to the Custer County Sheriff's Office, on the evening of August 1, deputies were called to the Tin Cup Campground in response to a shooting.
Investigators say 73-year-old Russell V. Liddell, a Boise man, confronted a group of 16 to 18 people who were camping in the area. Liddell and the campers were involved in a verbal altercation.
continued:
———————–
Mining News:
Stibnite Gold Project Draft Environmental Impact Statement
Payette NF Aug 14, 2020 (email)
The Forest Service is seeking public comments on the Draft Environmental Impact Statement (DEIS) for the proposed Stibnite Gold Project (SGP). This document was prepared in accordance with the National Environmental Policy Act of 1969, as amended; the National Forest Management Act of 1976 (NFMA), 36 CFR 218; and all other applicable law, regulation, and policy. The DEIS considers approval of a plan of operations for mining, either as submitted by Midas Gold Idaho, Inc. or as reasonably modified to protect National Forest System (NFS) resources.
The proposed project is located on NFS lands that are open to mineral entry on the Payette National Forest (PNF) and Boise National Forest (BNF) on the Krassel and Cascade Ranger Districts, respectively. Components of the proposed project include the following: three open mine pits; ore processing facilities; development rock storage facilities; a tailings storage facility; a water treatment facility; access and haul roads; electrical transmission lines; and various other support facilities. The potentially affected area for the proposed project includes approximately 3,500 acres on federal, state, and private lands located in Valley County, Idaho.
Some of the proposed mining operations would be inconsistent with applicable PNF and BNF Forest Plan standards; therefore, project-specific amendments to the PNF and BNF Land and Resource Management Plans (LRMPs) would be required. The Notice of Intent (NOI) to prepare an EIS that was published on June 5, 2017 (82 FR 25759) indicated the possible need for plan amendments to address inconsistencies with Forest Plan standards, but the amendments that would be needed were not identified at that time. The proposed plan amendments are expected to be approved in the decision document for the Stibnite Gold Project and these plan amendments only apply to this project (36 CFR 219.14 paragraphs (a) and (c)). The details of the proposed amendments and which requirements of 36 CFR §§ 219.8 through 219.11 are likely to be directly related to the amendments, can be found in Appendix A of the DEIS.
The Environmental Protection Agency (EPA) published a Notice of Availability (NOA) for the DEIS in the Federal Register on August 14, 2020. Concurrent with the NOA of the DEIS publication in the Federal Register, a legal notice was published in the PNF and BNF newspaper of record, The Idaho Statesman on August 14, 2020 and a courtesy copy of the legal notice was also provided to the McCall Star-News for publication on August 13, 2020. The legal notice serves as the public notification of information for the proposed plan amendments, as required in the 2012 planning rule (36 CFR 219.13(b)(2) and 36 CFR 219.16(a)(2)).
The Forest Service encourages the public to review and provide comments on the DEIS; comments received during the public comment period will be considered in the preparation of the Final Environmental Impact Statement (FEIS). The legally required comment period for a DEIS and for project-specific Forest Plan amendments is 45 days following the date of publication of the NOA and the legal notice, respectively. Given the level of documentation associated with this project, the comment period has been extended by 15 days leading to a total of 60 days following publication of the NOA and legal notice. Mailed or electronic comments will be accepted; however, electronic submission of comments is encouraged. Mailed comments must be submitted to the following address: Linda Jackson, Payette Forest Supervisor, 500 N. Mission Street, Building 2 McCall, Idaho 83638-3805. Please be advised that our offices are minimally staffed in response to Coronavirus (COVID-19) and hand-delivered comments are not being accepted at this time. Electronic comments must be submitted in a common digital format such as plain text (.txt), rich text format (.rtf), Word (.doc, .docx) or PDF (.pdf) to [link]
All comments, including names and addresses when provided, are placed in the record and are available for public inspection and copying. The public may inspect comments received online via the public reading room at: [link]
The decision to approve the proposed project will be subject to the objection process identified in 36 CFR part 218 Subparts A and B. Only those who submit timely and specific written comments, as defined in §218.2, regarding the proposed project and project-specific plan amendments during a public comment period established by the responsible official are eligible to file an objection per §218.5. It is the responsibility of all individuals and organizations to ensure that their comments are received in a timely manner. For objection eligibility, each individual or representative from each entity submitting timely and specific written comments must either sign the comments or verify identity upon request per §218.24(b)(8). As provided by 36 CFR 219.59(b), the administrative review process of 36 CFR 218 also applies to the project-specific plan amendments.
The DEIS, NOA, legal notice and other project information is available on the project webpage at: [link] The project webpage provides you with tools to engage in the public comment process.
Virtual Open House Meeting
Due to current health precautions associated with COVID-19, the Forest Service is providing alternative measures for conducting public engagement. A Virtual Public Meeting Room using the open house format has been designed to conduct public engagement and solicit feedback on the Stibnite Gold Project DEIS. The Virtual Public Meeting Room will be available on August 24, 2020 at:  [link]  and will remain open through the public comment period. Instructions for entry to the Virtual Public Meeting Room will be included in the link. Thank you for your understanding as we adopt these new measures during this time to comply with the current guidelines and slow the spread of COVID-19 in our community.
For additional information please contact Brian Harris, Payette National Forest Public Affairs Officer at (208) 634-6945 or brian.d.harris@usda.gov. Individuals who use telecommunication devices for the deaf (TDD) may call the Federal Information Relay Service (FIRS) at 1–800–877–8339 between 8:00 a.m. and 8:00 p.m., Eastern Time, Monday through Friday.
——————-
Letters to Share:
Stibnite Gold Project Draft Environmental Impact Statement
Aug 14, 2020
Comment period is now open for the Midas Gold plan of operation for the proposed Stibnite Mine. Your personal letter to Forest Service can be mailed or sent via e-mail. In a separate e-mail you will see that it is almost 5,000 pages, divided into categories. As required, the Draft Environmental Impact Statement (DEIS) addresses the impact of the mine. All aspects of the proposed mine operation and site restoration have been analyzed. This is a draft and public comments result in changes. Comments about Cinnabar, East Fork Road gates, access on side roads and trails, or other areas will not be considered.
Carefully read the directions in the Forest Service's e-mail so your comments will be considered in the final Environmental Impact Statement. Use the links in the Forest Service e-mail you receive or I can forward that e-mail when you contact me. limel @ ruralnetwork.net. [Note: the email mentioned is posted above.]
Your letter of support or opposition must state (1) your name (2) your mail address (3) comments about specific items. That assures your "standing" to participate in future comment periods. Vague comments such as, "I like it.", "I do not support it.", etc., are not considered. Unsigned letters and petitions carry less weight in the final decision. The Village of Yellow Pine Association will be submitting a letter as required in our Community Agreement; this gives our community "standing" for later comment opportunities. Be sure you share your views with council members and also send your personal letter to Forest Service so your opinions will be considered and you will have an opportunity for future comments. The Support Stibnite website [link] has good information and is useful for letter writing. A representative of Midas Gold will be in Yellow Pine August 27th and September 12th at The Corner to meet the public and answer questions.
Lynn Imel is Yellow Pine's representative on the Stibnite Advisory Council.
— — — —
It is Here! The Draft Environmental Impact Statement was issued today.
August 14, 2020
It is here.
Today, the U.S. Forest Service released the Draft Environmental Impact Statement (DEIS) for the Stibnite Gold Project. We are so proud of the work the team has accomplished to get us to this point.
Today, we are one step closer to a solution for the East Fork of the South Fork of the Salmon River, to bringing 500+ family-wage jobs to Idaho and producing antimony, a critical mineral for our country.
It's a big day. Thank you for your support and guidance along the way.
Now the work begins to help establish a credible body of comments to assist in a positive record of decision.
I have three asks.
1. Write a letter to the U.S. Forest Service between now and Oct 13.
Let me know if you would like to write a letter and want help finding specific information or knowing what to say. For those who have already asked for a draft, I will have it to you next week. We had to see parts of the draft before we could finalize the letters. If you live in Cascade and can join me at the Ashley Inn today between noon & 3:00 pm we can get your letter submitted today.
Here are some other resources:
* Visit Restore the Site [link] for information regarding different aspects of the proposed project and a breakdown of the Draft EIS.
* Here is a tool to start your comment letter [link].
* To learn more, join a webinar at [link].
* Make your letter specific to the project and your opinion and experience.
* Letters may be submitted via the U.S. Forest Service via the online portal available here [link] or mailed to Linda Jackson, Payette Forest Supervisor, 500 North Mission Street, McCall, ID 83638
2. Share the news
Do you have friends, colleagues or neighbors that should have their voice heard? Here are some resources to help:
* Send them to Restore the Site [link] to read more about the project.
* Have them join a webinar to learn more [link]
* Tell them about Count Idaho In [link] to help them start a letter.
Draft Email You Can Adapt and Use to Send to Your Network:
Friends, some of you may know I've been following the Stibnite Gold Project in Idaho very closely. I am very excited to announce that the U.S. Forest Service has finally released the much-anticipated Draft Environmental Impact Statement (DEIS) on the project and it is now open for public comment.
This is a project I believe in. Not only will it be a world class gold operation, but it will also produce antimony–a much needed critical mineral for our national security and independence. Combine the economic significance of this project with the environmental upside of restoring a legacy mining site and it makes the Project an incredibly unique opportunity for this country and one that has earned my support.
Please help me voice the importance of this project by submitting a comment to the U.S. Forest Service. You can read more here: Restore The Site or submit a comment easily here.
Thank you, and if you'd like more information, don't hesitate to ask.
Sincerely,
3. Be a Proud Supporter.
Share your support on social media, write a letter to the editor or attend a webinar.
Or, sign up to have your name listed on our Proud Supporter newspaper ad here: [link]
We are here to help you share your support, email community@midasgoldinc.com for ideas or more information.
Belinda Provancher
Community Relations Manager
Midas Gold
——————-
Public Lands:
Ponderosa State Park to start $1.3 million in projects
Road paving, boat ramp repairs among tasks this winter
By Max Silverson for The Star-News Aug 13, 2020
Paving of the scenic overlook road, repairs to the boat ramp and tree thinning are among the projects to be done this winter at Ponderosa State Park in McCall.
Most of the work will start in September and run through the winter.
"Ponderosa is a jewel loved by many," Idaho Department of Parks and Recreation Director David Langhorst said. "This year, it's getting some needed attention to keep its shine."
continued:
— — — — — — — — — —
Warren Wagon Road Work
Payette NF Aug 14, 2020 (via FB)
Road work on the 2.6 mile Long Gulch section of Warren Wagon Road on the Payette National Forest has been completed this week. This project – done in partnership with the Nez Perce Tribe and the Forest Service – will reduce sediment from falling into Long Gulch Creek, improve fish habitat and improve road quality and safety.
Before the work began, the road had several drainage and maintenance issues, causing severe rutting in the road surface, widening of the road and sediment that was falling into the nearby stream.
This road work included adding 20 culverts to the road, insloping the road towards the ditch, narrowing the road and adding gravel to the road. In addition, slash was piled on the banks and they were hydroseeded – which includes a slurry of seeds and mulch that encourages plant growth and prevents erosion.
All the work done on this heavily traveled road will reduce sediment dropping into the nearby stream, protect fish in nearby waterways, make it better equipped to handle flooding and will allow for more accessibility to surrounding recreation areas.
— — — — — — — — — —
Payette forest seeks comments on trails in Rapid River area
The Payette National Forest is seeking public comment to help determine what uses will be allowed in the Rapid River watershed on the New meadows Ranger District.
The Star-News Aug 13, 2020
The trail system includes six trails about 15 miles northwest of New Meadows that were closed to motorized and mechanized use in 2010.
"I recognize that this project is of great interest to a broad spectrum of public land users," New Meadows District Ranger Erin Phelps said.
"Because of that, public involvement is critical for helping us frame how to best to move forward," Phelps said.
The district will host virtual public meetings on Wednesday from 6 to 7:30 p.m., and on Thursday, Sept. 3, from 12:30 p.m. to 2 p.m. The meetings can be viewed via the project website at (link)
Also on the project website is additional details on the specific location of the trails in question, how to submit comments, specific actions that would be taken and why they are needed.
"No matter what type of recreation you enjoy, I think we can all agree Rapid River is a special place," Phelps said.
source:
— — — — — — — — — —
Huckleberry Landscape Restoration Project – Record of Decision Signed
Aug 12, 2020
The Huckleberry Landscape Restoration Project Final Record of Decision has been signed by Payette National Forest, Forest Supervisor, Linda Jackson on August 11th, 2020. Implementation may begin immediately pursuant to 36 CFR 218.12.
The Final Environmental Impact Statement and Draft Record of Decision were made available on February 28th, 2020. Six objections were received during the 45-day predecisional objection period. As a result of instructions given by the Objection Review Officer, the Forest made changes to the Final Record of Decision in response to objections. The Final Environmental Impact Statement, Record of Decision, objection letters, Biological Assessment, Biological Opinion from US Fish and Wildlife Service, and all other pertinent project documents are posted on the Project webpage. (link).
The Huckleberry Project area encompasses approximately 67,000 acres within the Brownlee Reservoir Subbasin, and the Indian, Lick, and Bear Creek subwatersheds. Proposed restoration activities include timber harvest, biomass harvest, road reconstruction, road realignment, temporary road construction, road storage, road decommissioning, culvert removal, culvert replacement, thinning of submerchantable trees, prescribed fire, and other actions. Specific vegetation treatments are proposed to enhance northern Idaho Ground squirrel (NIDGS) habitat, a threatened species as listed by the Endangered Species Act. Proposed recreation improvements include developed and dispersed recreation site improvements, motorized and non-motorized trail development and realignment, trailhead improvements, and the conversion of Smith Mountain Lookout to a public rental cabin. Hard copies or CDs of the FEIS and Final ROD and additional information regarding this project can be obtained from: Mark Fox (project lead), 2092 Highway 95, Council, Idaho, 83612, (208)253-0164, mrfox@fs.fed.us.
— — — — — — — — — —
Giant Idaho forest project on hold again after court ruling
Associated Press (AP) Aug 12, 2020
A giant Idaho forest project favored by some environmental groups but decried by others is on hold again following a federal court ruling.
The decision Tuesday halts for the second time a 125-square-mile project on the Payette National Forest that includes commercial timber sales, work to improve fish passage, prescribed burning, closing roads and restoration of Ponderosa pine ecosystems.
The project with a lengthy legal history had previously gone before the 9th U.S. Circuit Court of Appeals, where the U.S. Forest Service lost. The Forest Service renewed the project, but a U.S. District Court ruled the latest plan contains the same environmental law violations the appeals court previously cited.
source:
— — — — — — — — — —
Land exchange between BLM and Simplot approved
By Curtis Jackson Aug 13, 2020 Local News 8
The Bureau of Land Management has approved a land exchange between it and J.R. Simplot Company.
The swap will allow Simplot to expand its operations at the Don Plant west of Pocatello. BLM will get land in the Blackrock Canyon area near Inkom for recreational purposes.
"The lands the BLM is receiving provide outstanding recreational opportunities, while protecting crucial habitat for mule deer and other native species. This exchange also ensures that Simplot can continue to contribute to eastern Idaho's economy," said Casey Hammond, Principal Deputy Assistant Secretary of the Interior for Land and Minerals Management.
continued:
——————-
Fire Season:
Valley County Fires
Valley County Fire Working Group Aug 14th via FB
Did you know that since August 1st there have been 5 wildfires in Valley County that have been investigated and determined to be escaped campfires? Please be careful while you are out enjoying your public lands and completely extinguish your campfire. Weather conditions will be hot and dry this weekend.
Drown, stir and feel until your campfire is out cold!
If you find a wildfire please call 911 or report to:
208-634-2757 – Payette Interagency Dispatch Center
208-384-3400 – Boise Interagency Dispatch Center
Note the location of the fire by collecting gps coordinates or give a good description of where it is located so firefighters can respond quickly and efficiently.
— — — — — — — — — —
Airplanes enter restrictive airspace while crews fight Pumpkin Fire near Horseshoe Bend
by CBS2 News Staff Tuesday, August 11th 2020

Remote Pumpkin Fire grows near Horseshoe Bend. (Courtesy of Idaho Department of Lands)
Two airplanes have entered restrictive airspace while fire crews battle the Pumpkin Fire near Horseshoe Bend.
The Idaho Department of Lands said Tuesday that there have now been two intrusions in the restricted airspace in the past two days.
"Unauthorized aircraft entering the airspace can create dangerous conditions and may force firefighting aircraft to disengage from the fire until the airspace is clear," the state agency said.
The Pumpkin Fire has grown to 438 acres and the majority of the fire activity on Monday was near the northeast portion of the fire perimeter. It's located about a half-mile from the south side of Hawley Mountain Lookout and seven and a half miles from Horseshoe Bend.
No structures are threatened. Hawley Mountain Road 374 is temporarily closed to all non-fire traffic.
source:
— —
Pumpkin Fire Update
August 15, 2020
The fire is 438 acres and is 50% contained. The west side of the fire is secure, and crews are beginning suppression repair activities to prevent erosion on the soil disturbed by hand line construction. The crews on the east side of the fire are extending hose lays to aid mop-up and increase the depth of the control line. Timber felling teams remain in place to mitigate hazard trees.
An unauthorized aircraft entered the Temporary Flight Restriction (TFR) over the fire early yesterday. This was the third intrusion into the restricted airspace in the past week. Unauthorized aircraft entering the airspace create dangerous conditions for aerial resources ground crews and may force firefighting aircraft to disengage from the fire until the airspace is clear. All aviators are reminded to check the FAA's Notice To Airmen (NOTAM) before traveling near the fire area.
The fire is located ½ mile south of the Hawley Mountain Lookout, 4 miles northwest of Placerville, 7½ miles northeast of Horseshoe Bend, and 8 miles southeast of Garden Valley. No structures are immediately threatened.
The suppression of the fire is a joint effort between the Idaho Department of Lands, the US Forest Service, and the Bureau of Land Management. There are currently 336 personnel assigned to the incident including 11 hand crews.
Hawley Mountain Road 374 is temporarily closed at the 307 junction to all non-fire traffic. Water tenders and road graders continue to maintain the road. Recreationists are asked to avoid roads northwest of Placerville so as not to impede firefighting efforts.
To mitigate the spread of COVID-19 firefighters are implementing a number of protection measures including social distancing, wearing face masks, daily screening, limiting the size of camps, and minimizing contact with local communities.
— — — — — — — — — —
BLM says 'shooting caused' fires are on the rise in Idaho
by Ryan L Morrison Monday, August 10th 2020
Did you know 70% of wildfires in Idaho are human-caused? That's according to a recently released video from the Bureau of Land Management Idaho Fire.
Not only that, but "shooting caused" fires are on the rise in the BLM fire district.
"Before you pull the trigger, take a moment to think about the consequences down range and into the future," the video explains. "All Idahoans play a part when it comes to preventing wildfires."
continued:
— — — — — — — — — —
Fire north of Fairfield burns through heart of Soldier Mountain Ski Area
by CBS2 News Staff Saturday, August 8th 2020

Aerial photo of the Phillips Fire north of Fairfield (Courtesy: Sawtooth National Forest)
The Phillips Fire has now burned 2,121 acres north of Fairfield and passed through the heart of Soldier Mountain Ski Area in the process.
The mountain provided an update on Facebook over the weekend. While crews were able to save the lodge and ski lifts, the bridge that gives access to the resort has been destroyed.
continued:
— — — — — — — — — —
Fire near Mountain Homes prompts evacuations, damages several structures
By Meredith Spelbring Aug 11, 2020 KIVI
A brush fire near Mountain Home in Elmore County broke out Monday night, prompting evacuations and damaging or destroying several structures.
Officials responded to the fire near Ditto Creek Road and Desert Duck in an unincorporated community, Tipanuk, in Elmore County around midnight Monday, according to Elmore County Sheriff's Office. The fire, which reports indicated was originally small and non-threatening, had grown and was threatening several homes in the community. Residents were then evacuated from their homes, officials said.
After residents had been evacuated, several units began fighting the fire until it was contained around 2:30 a.m. A few small structures, vehicles, an unoccupied mobile home and a recreational vehicle were either damaged or destroyed by the fire, according to the sheriff's office.
The Elmore County Sheriff's Office continues to investigate the cause of the fire.
source:
— — — — — — — — — —
Forest roads closed for safety near Bear Creek fire
Aug 12, 2020 Local News 8
The Salmon-Challis National Forest implemented a road closure Thursday to protect forest visitors and firefighters from traffic hazards.
Traffic in the area increased significantly from public viewing of the Bear Creek Fire on the Beaverhead-Deerlodge National Forest.
The following roads are closed:
continued:
——————-
Critter News:
Pet Talk – Respiratory problems in some dog breeds
By Dr. Karsten Fostvedt Aug 14, 2020 IME
Flat-faced and short-nosed breeds of dogs are called brachycephalics. They have a lot of problems with respiration. Commonly affected breeds include the English bulldog, French bulldog, Boston terrier, pug, Pekinese, shih-tzu and boxer. They have many structural anomalies in their nose, throat and soft palate that make it difficult for the animal to take in air, and progressive breathing problems develop. Signs of upper airway obstruction arise from small openings of the nostrils called stenotic nares. They are also complicated by an elongation of the soft palate. Underdeveloped and narrowed trachea also occur in many of these breeds. Excessive soft tissue within the throat area that obstructs the airways prevents normal airflow into and out of the lungs.
Because breathing is affected, increased noises are heard from the nose and throat, usually on inspiration. Many dogs gag or cough, and often snore when they are relaxed or sleeping. Panting is common. Some dogs have so much trouble breathing that their gums turn blue and they become overheated. Engaging in any exercise can cause the dog to collapse. Many affected dogs are overweight.
continued:
— — — — — — — — — —
Sharpshooting debated as method to reduce Idaho elk numbers
By Associated Press August 10, 2020
The growth of the elk population in parts of Idaho has caused state wildlife officials to step up efforts to reduce the number of animals damaging private property with various methods, including nighttime sharpshooters.
Idaho Fish and Game said wildlife officers killed 206 elk last year in an effort to prevent the animals from eating thousands of dollars worth of crops, The Times-News reports.
Some hunters said Fish and Game should have used sportsmen to shoot the elk instead of allowing sharpshooting staff members to elk grazing at night.
continued:
— — — — — — — — — —
Shoshone-Bannock push to save endangered sockeye salmon
Tribes break ground on new fish weir at Pettit Lake Creek
Tony Evans Aug 14, 2020 IME
Representatives from the Shoshone-Bannock Tribes joined scientists, sockeye salmon advocates and construction workers in a Tuesday ceremony for a $1.4 million fish weir reconstruction at Pettit Lake Creek in the Sawtooth Valley, a move all parties hope will help restore a key piece of the region's biological and cultural heritage.
The weir will be used to research Snake River sockeye salmon as they depart Pettit Lake and when they return two years later after a second stage of life in the Pacific Ocean. Ultimately, the goal is to restore natural spawning runs of salmon that were once an integral part of the tribes' food source and culture.
Fort Hall Business Council Member Ladd Edmo spoke about ongoing efforts to recover the endangered species.
continued:
——————–
Fish & Game News:
Construction Efforts Continue at Horsethief Reservoir
By Evin Oneale, Regional Communications Manager
Wednesday, August 12, 2020
Horsethief Reservoir will soon be getting a new boat ramp – sort of. The popular King's Point boat ramp is showing its age and will be replaced in September.
For crews to successfully construct the new ramp, the area around the old ramp must be allowed to dry out. That can only happen by lowering water levels which will begin this week. The drawdown will be done slowly, and the reservoir will remain fishable through the fall and winter months.
Near the end of August, Horsethief's T-dock will be removed and stored for the winter. The remainder of Horsethief's docks and the King's Point ramp should be usable through Labor Day weekend, after which the remaining docks will be removed and stored, and the ramp area closed for the construction effort.
For more information regarding Horsethief's ongoing improvements, please contact Fish and Game fisheries manager Jordan Messner at the Fish and Game McCall office – 208-634-8137.
source:
— — — — — — — — — —
Cow elk shot and left to waste near Howe
By James Brower, Regional Communications Manager
Wednesday, August 12, 2020
CAP reward being offered for information leading to a citation in this case
Conservation Officers with the Idaho Fish and Game are seeking information from the public regarding a cow elk that was shot and left to waste south of Howe, Idaho in Unit 63. The elk was discovered near a well-used but unnamed road often referred to as the INL half mile road . Based on forensic evidence officers estimate the elk to have been shot on August 9th or 10th.
continued:
— — — — — — — — — —
More F&G News Releases
link:
———————————-
Crazy Critter Stuff:
'This was a first': Six-foot alligator captured in Nampa
The Nampa Police Department shared some photos of officers helping to wrangle the animal.
August 5, 2020 KTVB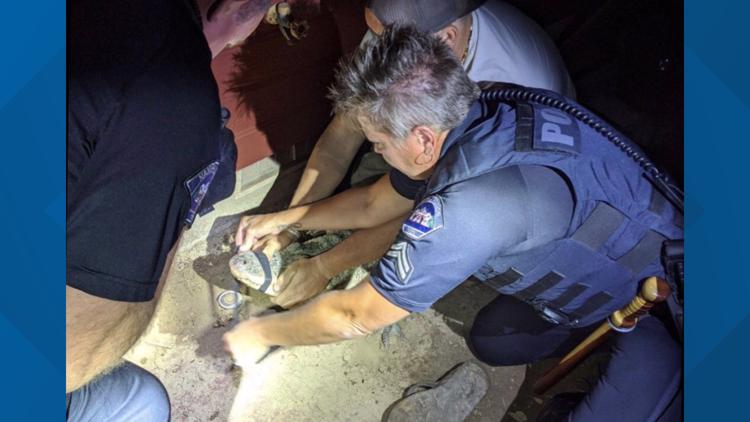 Credit: Nampa Police Department
Nampa police officers found themselves helping to wrangle a rather unusual animal – at least in Idaho.
The department said in a Twitter post that they helped Idaho Fish and Game officers subdue a six-foot alligator during a call Tuesday night.
"This is Nampa, IDAHO not Tampa, FLORIDA," police said in the tweet, noting that they have had to deal with other animals on occasion, including cows, horses, deer and even a moose.
"But a 6' alligator? In Nampa? This was a first," the tweet reads.
continued:
———————-
Seasonal Humor:
Chuck Mead – "I Ain't Been Nowhere" The Official Song of Quarantine
——————–