Sept 13, 2020 The Yellow Pine Times – Valley County, Idaho
Reminder: We are still under a boil water order until further notice.
Community Calendar:
April 17 – Boil water order issued
May 15 – Firewood Season starts
June 16 – Hard closure of South Fork Road (weekdays)
Aug 11 – Valley County Mask Order
Aug 12 – Firewood Permits at The Corner
Sept 8 – Hwy 55 work starts
Sept 22 – Planned Power outage 945am-245pm
(details below)
———-
From Valley County
Valley County Mask-Up
A county-wide mask mandate was approved the CDH August 11th, and is now in effect for Valley County. (link)
We need Your Help to protect the place and the people we all Love.
link:
Valley County Covid-19 Response Page
link:
Valley County Emergency Operations Center
link:
Rebound – Idaho Governor's phasing program
link:
COVID 19: Recommendations and Resources for Safe Business Practices
link: (lots of info for businesses)
——————-
Local Events:
Highway 55 Work starts Tuesday, Sept 8, 2020
Fall (September through November) and Spring (March through May)
– Daytime and nighttime work seven days a week
– Full road closures Monday through Thursday from 10:00am to 2:00pm
– One-way alternating traffic during all other time frames
———-
Village News:
Monday Storm
Monday, Sept 7th a storm blew thru the area. Reports of trees down From Wapiti Meadow to Big Creek. Looks like a few went down on the Yellow Pine Country Club. At least we got some rain out of it, 0.05″ total.
Other areas had stronger damaging winds and power outages. According to the Star-News a tree took the power line down across Hwy 55 up by New Meadows, resulting in power outages.
— — — —
M 4.4 Aftershock Felt in Yellow Pine Tuesday
At 224pm Tuesday, Sept 8th we felt a jolt and heard a rumble. Folks up Johnson Creek felt it too.
Link: to USGS event
Also a M 3.9 was felt by folks on Johnson Creek at 223pm.
Link: to USGS event
— — — —
Life Flight Tuesday
On Sept 8th Life Flight landed at the helipad at 6pm and shut down, took off at 651pm.
— — — —
Fire Reported Wednesday between Amos Road and the EFSF River
A report that a fire was discovered west of the village of Yellow Pine along the west side of the river north of the East Fork bridge (human caused?) Wednesday evening, September 9th. It was successfully contained and extinguished by Ronnie Earl, Matt Huber, and Tim Rogers. The forest service was notified by Matt (that was the helicopter hovering west of town) and they came to check it out. There were no injuries and minimal damage to the forest.
First hand account: "The fire was west of the river between Scott's driveway and the river, likely a cigarette butt not a campfire. The fire was smoldering when Paula called and by the time we made it there it was actively burning into dead and down trees and partially torching a few trees. We used the old BLM heavy to knock it down then cut line around it, tying into rocks and the river. We mopped up multiple hot spots this morning [Sept 10] and the Krassel Rappel crew cold-trailed the entire fire today with no hot spots found. The fire was about 1/10 of an acre. A really good catch and thanks are owed to Paula for calling it in, a few more minutes and we likely would have lost it and easily spotted across to the golf course." – MH
Fire reports are posted at the website as they come in here:
— — — —
Idaho Power
September 9th: the contractor was busy taking down the last of the power poles from Antimony Camp to Yellow Pine and was picking up miscellaneous insulators and cables from the power lines. – LI
On Tuesday, Sept. 22nd at 945am the power will be turned off for approximately 5 hours (until around 245pm) for power line maintenance. There are some hazard trees near the power lines they want to take down and need to drop the lines in order to safely remove those trees. You will received an automated phone message about 5 days before this planned outage.
They have not yet switched us over to the new underground lines yet, we will get advanced notice for that outage.
— — — —
Flu Shots Saturday
Tom Reinhardt from Cascade Medical Center came to YP to talk about Telehealth and brought Flu vaccines with him. Ann Forster was kind enough to administer the "jabs" to locals after the VYPA meeting.
— — — —
Johnson Creek Road Saturday
On Saturday, Sept 12, a report that Johnson Creek road was closed for a spell. The report indicated that a semi coming down the hill had overheated brakes and it caught the tires on fire, blocking the entire road. The driver was OK and self-rescued. A report from Cascade Ranger Jake Strohmeyer: "The truck and lowboy were moved up to the first wide spot. I drove through there at around 4pm today."
— — — —
Sunday Smoke
Sunday morning, Sept 13, we had really thick smoke, socked in down to the valley floor, low visibility and very hazardous air quality.
From the YP Webcam at 945am.


— — — —
Boil Water Order issued April 17 still in effect.
No update for August.
Update July 5: the boil order is in effect due to extremely high use due to leaks.
Update June 12: The boil order is still on. We still are experiencing excessive water use because of leaks. Not sure when this will be lifted. We are applying for grants to repair the system.
Update June 2: The water plant is experiencing high water in Boulder Creek which brings more debris into the sand filter.
The high demand caused by leaks in the system plugs the sand filters prematurely. We will be on a boil order until further notice.
— — — —
2020 Census
The 2020 Census Impacts All Valley County Residents
Hurry and complete the census, the deadline has been moved up to September 30th.
It is recommended that we all fill out the census online.
If you spend 50% of your time in Valley County, you can consider it your home per the Census. Where you register with the Census is confidential and never linked to other governmental requirements such as property taxes or mailing address.
Link: to online census
You do not need an ID number. Go to the link. Click on "start questionnaire". Then on the next page scroll down to "If you do not have a Census ID, click here" – when you click on that line it will start the census. (see below)

— — — —
Critters
West Nile has been found in Ada, Canyon and Gem county mosquitoes.
Be Bear Aware
* Keep all household garbage secured in a garage or other enclosed area.
* Leftovers or discarded fish or meat bones give off a strong odor and should be stored in your freezer until you haul the garbage to the transfer station.
* Keep attractants like B-B-Q grills, bird seed or pet food stored where bears cannot find them.
* Bird feeders should be taken down May through October or placed well out of reach of bears.
Be Mountain Lion Aware
* NEVER run away from a mountain lion. The lion's instinct is to chase and ultimately catch what they perceive as potential prey.
* NEVER turn your back on a lion. Always face them while making yourself look as large as you can. Yell loudly, but don't scream. A high-pitched scream may mimic the sound of a wounded animal.
* SLOWLY back away while maintaining eye contact with the lion.
* Safety equipment you may choose to carry could include bear spray, a noise device, like an air-horn, and if you walk in the dark, a very bright flashlight.
* If you are attacked, fight back!
— — — —
Road News
Link: to current road reports.
— — — —
Yellow Pine US Mail
The 6-day a week mail delivery started June 1st. The Post Office in Yellow Pine is open six days a week year around: M-F 845am-245pm Saturday 9am-245pm. Forever Stamp: 55 cents. Support our local post office and purchase your holiday stamps here.
— — — —
Yellow Pine Transfer Station
Please do not abuse our Transfer Station or we may lose it. Household trash must be placed in the bins, flattened cardboard boxes can also go into the bins. Do not stack trash in front of the doors. Woody yard debris only for the burn pile. No furniture, appliances, tires or construction debris allowed, those items must be hauled out to the Donnelly station by you.
Yellow Pine Transfer Station (aka, the dump)
The Yellow Pine Transfer Station is located approximately 3 miles south on Johnson Creek Road.
The TRANSFER STATION is for household trash and yard waste:
* Household trash must be put inside (and fit) the dumpster;
* Yard waste (limbs, pine needles, brush, etc.) goes in the burn pile on the south end of the turn-around;
* Cardboard boxes should be flattened before putting the in the dumpster,
The DUMPSTERS are NOT for:
* Furniture (take to Donnelly Transfer Station);
* Appliances (take to Donnelly Transfer Station).
The BURN PILE is NOT for:
* Cardboard boxes (flatten and put in dumpster);
* Furniture and appliances (take to Donnelly Transfer Station);
* Drywall and building material (take to Donnelly Transfer Station);
* Wire or fencing (take to Donnelly Transfer Station);
* Foam Rubber (take to Donnelly Transfer Station);
* Wood with metal (like nails) attached (take to Donnelly Transfer Station.)
When closing the DOORS on the front of the dumpsters:
* Make sure the "U" brackets at the top and bottom of the door are engaged;
* The retaining bar at the middle of the door is slid into the pipe;
* And the "L" bars at the bottom of the doors dropped into place.
The Yellow Pine Transfer Station is Valley County responsibility. If it is not kept tidy, use of the Transfer Station may be revoked. That would result in residents having to take all household trash and yard waste to the Donnelly Transfer Station.
If Dumpsters Are Full, Contact Lake Shore Disposal at: 208/634-7176
———-
Local Groups
YPWUA News:
The annual Water meeting for 2020 was held July 5th at the Community Hall 2pm.
link: minutes 20200705YPWUA.docx
Boil Water Order issued April 17, 2020. This could last until leaks are repaired.
Boil Water Advisory Notice
Boil Your Water Before Using
Bring tap water to a rolling boil, boil for one minute, and cool before using or use bottled water. Boiled or bottled water should be used for drinking, making ice, washing dishes, brushing teeth, and preparing food until further notice.
This Boil Water Advisory Notice applies to The Yellow Pine Water System
The system is being monitored and checked daily for compliance.
You will be informed when you no longer need to boil your water.
Please share this information with other people who drink this water, especially anyone who may not get this notice directly (for example, people in apartments, nursing homes, schools, and businesses).
You can do this by posting this notice in a public place or distributing copies by hand or mail.
State Water System ID#: 4430059 Date distributed: 3-22-2020
Notice of Intent to File an Application with USDA, Rural Development
The Yellow Pine Water Users Association, Yellow Pine, Idaho intends to file an Application with USDA, Rural Development to obtain a drinking water system facility Emergency Community Water Assistance Grant (ECWAG). Emergency Community Water Assistance Grant (ECWAG).
If any additional information is needed, please contact:
Willie Sullivan
Treasurer
ypwater @ gmail.com
Distributed to Yellow Pine Water Users Association customers via Yellow Pine Times on June 12, 2020.
The 2019 Yellow Pine Water Users Shareholders meeting was Sunday July 7, 2019.
link: 20190707YPWUAminutes
— — — —
VYPA News:
Next VYPA meeting September 12 at 2pm
Minutes from August 8, 2020 VYPA meeting
link:
Printable Letter of Interest to be a Community Representative
link:
Minutes from July 11, 2020 VYPA meeting
link:
Minutes from June 13, 2020 VYPA meeting
link:
July 1 – Post Harmonica Meeting 2pm Community Hall
Note: at each meeting we simply add to info on the topic. That way, info from all meetings is included in a single document.
Link to notes:
Heat was installed in the community hall on April 30th.
VYPA meeting schedule for 2020 – June 13, 2pm; July 11, 2pm; August 8, 2pm; September 12, 2pm.
— — — —
YPFD News:
There was a YP Fire Commissioner meeting on June 27, 2020 at 10am at the Fire Station.
Link: 20200627 Fire Dept minutes June 27
YPFD COVID19 Policy
link: YPFD Covid 19 SOP
link: Covid-19 EMS (May 23)
May 10th Burn Permits – contact the YPFD
Pile burning: Dress appropriately, have enough help on hand (people, water and tools) and make a firebreak before you start. Call your local fire protection district chief to let them know you'll be conducting a debris burn. This saves them from sending emergency responders to your property if they are not needed. Do NOT burn on breezy afternoons.
Better yet, "Bring It, Don't Burn It", you can take your yard waste (limbs, pine needles, brush, etc.) to the burn pile at the Transfer Station on the south end of the turn-around. Remember, keep the pile neat. Woody debris only, no nails, no cardboard and no furniture! The Boise NF will burn the pile in the fall when it is safe and doesn't pollute our fine YP air.
YP Fire Commissioners:
Sue Holloway – District 1
Dan Stiff – District 2
Merrill Saleen – District 3
(TBA) – Fire Chief
Yellow Pine Fire Protection District Community Service Notice
The purpose of this letter is to show how you as a Yellow Pine Resident can help protect your structure against a wildland fire by being "Fire Wise." Click the link: to view 20190724 Yellow Pine Fire Protection mitigation
——–
Biz Listings:
The Corner (208) 633-3325
Open 11am-8pm Closed Tuesdays. Calling ahead works best but not a huge deal. Groceries, Ice Cream, Beer and Soda. Our menu fluctuates but typically have Smoked Brisket, Tri Tip, Chicken, Burgers and Wings on hand.
Starting Aug 12th Firewood Permits at The Corner
— — — —
Yellow Pine Tavern (208) 633-2233
Open Daily 8am to 10pm. Outside Dining and Bar. Breakfast and Bar Food.
— — — —
Yellow Pine Lodge (208) 633-3377
Open.
— — — —
Yellow Pine General Store (208) 633-3300
The store is open now and will be open into October. Hours are 9 am to 6 pm Tuesday through Saturday. Closed Sunday and Monday.
— — — —
Murph's RV Park & Mary's Cabins (208) 633-6677
Cabins are not available in 2020. RV Spaces $25/night; $150/week; $300/month. Tent spaces $10/night. Shower house is closed for 2020.
— — — —
Knotty Kat Crochet Works – 208-502-0940
FB page link
open Tue – Sat, 9-5
Yellow Pine eggs $3/doz
— — — —
Buck Horn Outfitters LLC 208-633-3614
Tom & Sarah Lanham
156 Yellow Pine Ave, Yellow Pine Id 83677
website:
Facebook:
Starting June 2020 We will be doing trail rides out of Yellow Pine along with summer pack / camping trips to high mountain lakes in the area!
Wapiti Meadow Ranch – Johnson Creek (208) 633-3217
or 208-315-3554 – cabin rentals
website:
Deadwood Outfitters
website:
— — — —
Local Fuel Suppliers
Amerigas Phone: (208) 634-8181
Ed Staub & Sons Phone: (208) 634-3833
Diamond Fuel & Feed Phone: (208) 382-4430 open 830am-5pm Monday-Friday, closed weekends.
— — — —
Outside Biz that will service Yellow Pine:
The Star-News


click to subscribe:
A reminder that those who live in other states can subscribe to the online edition only since the mail can take days for hard copy to reach them.
Rocky Mountain Mechanical – Plumbing – Heating – Air conditioning
(208) 365-PIPE (7473), Emmett, will service Yellow Pine
Elkhorn Heating & Cooling
(208) 906-4067 Middleton, Idaho, will service Yellow Pine
B&T Safety Solutions LLC
208-271-1600 Based out of Donnelly
Snow removal, cleaning chimneys and stoves, we do cabin staining/chinking as well
— — — —
Follow The Yellow Pine Times on Facebook (updated more often than emails)
———————–
Local Observations:
Monday (Sept 7) overnight low of 42 degrees, clear sky above yucky smoke (bad air quality) and light breezes. Low flying loud airplanes and street traffic this morning. Jays and nutcrackers calling. Mostly cloudy and breezy at lunch time. Wind gusting up early afternoon. Better air quality by mid-afternoon, gusty breezes and mostly (dark) clouds with mild temperatures, high of 77 degrees. Pine siskin and a few finches visiting. Windy afternoon, temperature dropping and a 40 minute rain shower late afternoon. Still windy early evening, much better air quality, chilly and short light rain shower. Quiet evening. Cool, breezy and mostly cloudy at dusk. Some stars out before midnight. Gusty breezes after midnight and partly clear.
Tuesday (Sept 8) overnight low of 32 degrees, yesterday's rain total = 0.05″, clear sky and great air quality with chilly breezes this morning. Sounds like the crusher is running up on the hill, lots of clanging and backup beepers. A few finches visiting and nutcrackers calling from the trees. Smoky haze building up to the south east and breezy after lunch time. Aftershock jolted at 224pm. Cool and light breezes mid-afternoon, clear sky with haze of smoke to the west, high of 67 degrees. Life Flight landed at the helipad at 6pm and shut down, took off at 651pm. Cool, light breeze and getting smoky mid-evening. A little thicker smoke settling in at dusk, no clouds, cool and calm. Hazy before midnight.
Wednesday (Sept 9) overnight low of 28 degrees, "clear" sky, haze of smoke, crappy air quality this morning. Smoky haze, light breezes, cool and no clouds at noon. Mail truck was on time. Warmer, better air quality, clear sky and light breezes mid-afternoon, high of 82 degrees. Quiet evening. Early evening a lot of smoke along the EFSF river – fire between Amos Road and the river, VanMeter hill barely visible and a big smoke plume to the south. Poor air quality and pleasant temperature mid-evening. Around 715pm a low helicopter circled over the village a few times and left. Smoky haze at dusk and poor air quality. Thicker smoke after midnight.
Thursday (Sept 10) overnight low of 34 degrees, no clouds and thick smoke obscuring the mountains, hazardous air quality. A few early airplanes and the crusher is running. Extremely smoky at lunch time, can't see the hills. Thinner smoke early afternoon, can see the ridges thru the haze, large smoke cloud building to the south. By mid to late afternoon the air quality had improved to 'poor' – lighter haze of smoke, warm and slight breeze, high of 87 degrees. To the south up Johnson Creek the "notch" has a big cloud of smoke. Clark's nutcracker calling from the trees. A little better air quality mid-evening, haze of smoke in the air and big cloud of smoke to the south up Johnson Creek, light breezes and warm. At dusk it appeared to be clear above a haze of smoke, rather poor air quality and calm. A few bright stars peeking thru the haze before midnight.
Friday (Sept 11) overnight low of 35 degrees, light breeze no clouds and thick smoke to the south and east, blue sky to the north and hazardous air quality. Crusher up on the hill running. Totally smoked in before lunch time, low visibility and hazardous air quality. Quiet day, only one airplane during the heat of the early afternoon. Gusty breezes and lighter smoke, a little better air by mid-afternoon and improved visibility, high of 88 degrees. By mid-evening better air quality, light haze of smoke, warm and light breezes. Jays and nutcrackers calling. Cooling off, light haze of smoke and clear sky at dusk. Smoky before midnight, a few anemic looking stars.
Saturday (Sept 12) overnight low of 35 degrees, no clouds, thick smoke to the south and thinner to the north – hazardous air quality and light breeze. Jays and nutcrackers calling. Totally smoked in by lunch time, very bad air quality and low visibility. Light weekend traffic. Village meeting day. Warm, smoky and light breeze mid-afternoon, visibility somewhat better, high of 89 degrees. Nuthatches calling from the trees closer to the river. Still warm mid-evening, increasing to moderate smoke and light breezes. Smoke settling in at dusk, poor air quality. Bat flitting about and pine squirrel scolding. Thicker smoke before midnight.
Sunday (Sept 13) overnight low of 38 degrees, probably no clouds, very thick smoke this morning – socked in down to the valley floor, low visibility and the sun looked like an orange blob to the east, very hazardous air quality. At lunch time the smoke was thicker, very limited visibility and the sun is not casting any shadows. Cooler without the warmth of the sun mid-afternoon, high of 84 degrees, and slightly thinner smoke – can barely see the outline of Gold Gate but VanMeter, Antimony and Johnson Creek ridges are invisible, very bad air quality. Warm and thinner smoke mid-evening and calm, can see the ridges thru the haze, air quality is still bad. The smoke plume from the Buck Fire has traveled north – you can see it stretching behind Golden Gate ridge north towards Vibika creek. Clark's nutcrackers calling from the trees.
Idaho News:
333 new Idaho COVID-19 cases Friday, 5 new deaths
Sept 11, 2020 Local News 8
Idaho officials reported 333 new COVID-19 cases and 5 new deaths on Friday.
That brings the total confirmed and probable cases reported since March to 34,950.
There are a total of 32,228 confirmed cases and 2,722 probable cases in all 44 of the 44 counties in Idaho, according to numbers released from the local health districts and the state.
… 5 new deaths were reported bringing the total recorded deaths to 412.
full story:
— — — — — — — — — —
Valley County changed to 'green" by health department
Schools wary about changing to all in-person classes
By Tom Grote for The Star-News September 10, 2020
Valley County's COVID-19 health status was changed from "yellow" to "green" on Tuesday by Central District Health.
But the superintendents of the county's two school districts said they are in no hurry to change to full-time in-person schooling for all students.
Valley County recorded less than five new cases during the two weeks up to Aug. 30, which allowed the status to be changed, health district Public Information Officer Christine Myron said.
The change in status does not mean the countywide mandatory mask order imposed Aug. 11 by the health district board will be lifted, Myron said.
… Total Cases Now 118
The total number of positive COVID-19 cases in Valley County reached 118 cases on Tuesday, up just one case from 117 a week ago, health officials said.
St. Luke's McCall reported 94 total positive cases from testing done at the hospital, the same as a week ago.
Cascade Medical Center reported 21 positive cases, up one from the 20 cases reported last week.
In addition, the private testing cooperative Crush the Curve has found three confirmed cases of COVID-19 in Valley County with no change in the past week.
Nearly all of the positive cases reported by the hospitals were found following the start of the summer visitor season in mid-June.
Central District Health reported 80 of the positive cases were confirmed to be Valley County residents as of Tuesday, up two cases from 78 cases reported a week ago.
The difference between the hospital figures and the health department figures are those who tested positive but did not declare Valley County as their residence.
full story:
— — — — — — — — — —
M-D trustees require face masks inside schools at all times
By Max Silverson for The Star-News September 10, 2020
Wearing face masks will be mandatory for all students, staff and visitors inside every school in the McCall-Donnelly School District, the M-D board of trustee decided last week.
"This action item provides consistency and clarity," M-D Superintendent Jim Foudy said of the action taken at a special meeting last Thursday. "Our goal is to keep our students, staff and community safe amidst this pandemic,"
Trustees voted unanimously to amend the district's pandemic operation plan, which previously aligned with guidelines from the Centers for Disease Control and Prevention, that lists face coverings as "optional" or "expected."
"I know it's not easy sometimes for people to take this stance but I think it's an important stance to take," trustee Heidi Galyardt said.
"I think we need to be showing kids what we feel is good health and being good to each other by wearing a mask," Galyardt said.
continued:
— — — — — — — — — —
Tamarack Resort extends summer season
by CBS2 News Staff Friday, September 11th 2020
Donnelly, Idaho (CBS2) — There's still plenty of time to head up to the mountains.
On Friday, Tamarack Resort said it's extending its summer season beyond this weekend. The resort says its bike bark and chair lifts will operate two additional weekends (Sept. 19-20 and 26-27) from 10 a.m. until 4 p.m.
The resort's zip line will also take reservations through Halloween.
source:
— — — — — — — — — —
Windstorm topples trees, cuts power Monday night
The Star-News September 10, 2020
A windstorm toppled a tree across Idaho 55 and power lines on Monday night at about 8:08 p.m. about three miles east of New Meadows, Meadows Valley Fire & EMS said
Crews worked to clear the tree from the roadway about an hour after it fell across the roadway, the fire department said.
Power was restored by 12:17 a.m. Tuesday morning to about 87 residences in the Old Meadows area, an Idaho Power spokesperson said.
The McCall Police Department and Donnelly Fire and EMS also reported downed trees in McCall and Donnelly, but road closures and damage was minimal.
Monday's windstorm had average winds of about 20 miles per hour, with gusts up to nearly 40 miles per hour, according to the National Weather Service's McCall weather station.
source:
— — — — — — — — — —
Hwy 55 – Correction
The Star-News September 10, 2020
A story in The Star-News last week incorrectly said four-hour closures of Idaho 55 north of Smith Ferry would begin on Tuesday to allow for blasting as part of an improvement project.
Blasting and full road closures are expected to begin later this month. When they occur, the closures will be between 10 a.m. and 2 p.m. Mondays through Thursdays.
However, one-lane, alternating traffic with up to 15-minute delays should be expected at all times until a winter pause in work in mid-November.
source:
— — — — — — — — — —
4.4 magnitude earthquake hits northeast of Lowman
by CBS2 News Staff Tuesday, September 8th 2020
A 4.4 magnitude earthquake has been reported in the Lowman area.
The United States Geological Survey reports the quake hit about 23 miles northeast of the small mountain town at about 2:24 p.m. Tuesday.
Central Idaho has been rattling for months now after a record-setting 6.5 magnitude quake hit near Stanley back on March 31. The big one was felt all over Idaho and throughout the region.
Also on Tuesday, the Associated Press reported that the stability of some caves at the Craters of the Moon National Monument are being threatened thanks to all the seismic activity.
source:
— —
6 earthquakes hit near Stanley
The USGS reports that the largest earthquake struck about 20 miles away from Lowman at about 2:30 p.m.
September 8, 2020 KTVB
Multiple earthquakes ranging from 2.7-magnitude to 4.4-magnitude hit near Stanley on Tuesday afternoon.
continued:
——————–
Letter to Share:
Write-in Candidate for Valley County's District 1 Commissioner Seat
On September 2nd, Joshua Hurley of Smiths Ferry, announced his candidacy as a write-in candidate for Valley County's District 1 Commissioner seat. Josh Hurley will be challenging the incumbent, Elt Hasbrouck in an uphill write-in campaign.
"From what I know of write-in campaigns, it is very rare to actually win. But, with this latest extension of big government into the homes, schools and churches of my fellow Valley County residents, spearheaded by Elt Hasbrouck, I felt compelled to do something. I can't stand by. So, I'm putting myself out there in a small community and I'm going to work very hard to win." Mr. Hurley said.
Mr. Hurley is 34 years old, a native-born Idahoan, and a self-described small government conservative. "Valley County is big and diverse. We have locally elected city councils, school boards, and other cooperative groups that work together for their communities. We need to empower these at the lowest possible level to meet the needs of their local communities as they see fit. We need to use the resources of the County to be visionary and to get ahead of some of these challenging issues like public lands, youth advocacy, roads, and housing."
Mr. Hurley touts his years working for the state government in Corrections, as an Idaho State Police Trooper for almost 7 years, and in the public schools as his experience that makes him qualified for the job. "You know, I've run my own business in an actual brick and mortar space. I've started several online businesses over the years. I know the struggle of the private sector in these times. But, I've also worked in state government for almost 9 years. This gives me a great balance to be able to understand the law, how it applies, and how we can use it to shape Valley County's future and to let Idahoans be free in their pursuit of life, liberty, and happiness."
more info:
———————–
Mining News:
Valley County Notice of Public Hearing
Appeal of C.U.P. 20-12 Stibnite Gold Project Logistics Facility
Monday, September 14th at 2pm at the Valley County Courthouse
Social distancing will be required, requiring telephonic testimony and/or limited access. Please call for further information.
Written comments must be received by mail, fax, or email no later than 5:00 p.m., September 8, 2020.
To listen to the hearing, please go to (link) and click on link labeled "Watch Commissioner Meetings Live" Instructions will be provided.
To comment telephonically or in-person, call 208-382-7102 prior to 5:00 p.m. September 11, 2020 -OR- email dmiller@co.valley.id.us until testimony is opened.
(via FB)
— — — — — — — — — —
Oct. 13 deadline noted for comments on Stibnite gold mine project
The Star-News Sept 10, 2020
Public comments on the draft environmental study of Midas Gold's proposed Stibnite Gold Project are being accepted by the Payette National Forest until 5 p.m. on Oct. 13.
The entire draft study can be viewed by clicking on the "Analysis" tab on the Payette Forest's project webpage at (link).
Comments can be submitted through the virtual public meeting room that is being used in lieu of in-person public meetings due to the COVID-19 pandemic. That can be found at (link).
Written comments can be mailed to the Payette Supervisor Linda Jackson at 500 Mission St., Building 2, McCall, Idaho 83638. Comments are not being accepted in person due to the pandemic.
Only "substantive" comments that raise questions about specific elements of the draft study or Midas Gold's proposal will be taken into consideration into the Payette's drafting of a final study.
Analysis of the alternatives in the draft study will be further refined and could change before a "preferred alternative" is defined in the final environmental study, which is tentatively expected by August 2021.
source: © Copyright 2009-present Central Idaho Publishing Inc. • All rights reserved
— — — — — — — — — —
Stibnite project could hurt salmon, bull trout
Water temps would rise under all alternatives
(NOTE: This is the third in a series detailing the draft federal study of the proposed Stibnite Gold Project. Public Comment is due by Oct. 13. Next Week: Mine Access)
By Drew Dodson for The Star-News Sept 10, 2020
Rising water temperatures in the East Fork South Fork Salmon River due to Midas Gold's Stibnite Gold Project would pose the greatest threat to endangered fish species, according to the Payette National Forest.
The chinook salmon and bull trout could both be harmed by water temperature increases under all project alternatives weighed in the Payette's draft environmental study of the proposed gold and antimony mine near Yellow Pine.
However, additional measures to reduce water temperature increases have been submitted by Midas Gold for evaluation in the final environmental study expected by next August.
The East Fork downstream of Stibnite would be about 8 degrees Fahrenheit warmer under each of the four alternatives, with varying temperature changes in mine site creeks and streams that flow into the East Fork.
That would put maximum average water temperatures in the summer in the lower East Fork at about 67 degrees, or below the state standard of 70 degrees for chinook salmon.
State standards set 55 degrees as the maximum average summer water temperature for bull trout, though most of the waterways at Stibnite do not currently meet that standard.
Bull trout and chinook salmon are both protected under the Endangered Species Act, which flags about 27 total miles of Stibnite waterways as important habitat for the fish.
Increased water temperatures stress fish and could ultimately alter fish behavior, feeding, migratory patterns and spawning, and could even result in disease or death, the draft study said.
Water temperatures are expected to gradually improve over time after mining as new plants shade rehabbed waterways and streamflow is not sapped into recovering groundwater.
Alternative 2 would raise water temperatures the least due to changes to the original plan that would redirect water to reduce streamflow losses observed during water studies of Alternative 1.
Alternative 3 would increase East Fork water temperatures more than other alternatives due to the relocation of the tailings storage area.
The draft study ranks Alternative 4 as the worst for fish habitat due to increased risk of spills into Johnson Creek, which the primary mine access would follow under the alternative.
East Fork Tunnel
Currently, about 25 miles of bull trout habitat and 6.5 miles of chinook salmon habitat are blocked where the East Fork flows through the Yellow Pine Pit, which currently is a lake.
Upstream fish passage has been blocked at the pit since mining operations in the 1930s, but would be restored via a mile-long tunnel, under Alternatives 1, 2 and 3.
The tunnel would be used to re-route the East Fork around the Yellow Pine Pit to allow Midas Gold to pump water out of the pit to extract an estimated 2.5 million ounces of gold, 4 million ounces of silver and 86 million pounds of antimony.
Alternative 4 would still see the tunnel built to divert the river, but it would not be designed for fish passage due to uncertain benefits and consequences, the draft study said.
All alternatives would see the tunnel closed after mining, with the restored East Fork channel accommodating fish passage.
Lake Habitat
The existing Yellow Pine Pit lake serves as habitat for up to 48 juvenile chinook salmon and up to 104 bull trout, according to population surveys in the draft study.
But the pit lake, which the East Fork flows through, would not remain under any of the alternatives to the project, erasing the site's most prominent scar from past mining operations.
Currently, the pit lake traps coarse sediment that provides quality salmon spawning habitat while passing fine sediment that ruins spawning habitat further down the East Fork.
Over the last 80 years, the pit lake's depth has been reduced to 35 feet due to about 90 feet of sediment that has collected from upstream.
The restored river channel would provide fish habitat after mining operations, while a pit lake along Meadow Creek would form from the Hangar Flats Pit, one of three open pit mines proposed at Stibnite.
Meadow Creek would be connected to the Hangar Flats pit lake under Alternatives 1, 3 and 4 to replace the lake habitat lost by eliminating the existing Yellow Pine pit lake.
However, water studies showed warm water temperatures in the lake could impede fish movement and warm downstream water.
Alternative 2 would permanently divert Meadow Creek around the eventual pit lake to minimize warming of downstream water.
Tailings and Waste Rock
Lined storage areas designed to prevent lingering metals from escaping waste rock and tailings would permanently block upstream fish habitat in upper Meadow Creek, under Alternatives 1, 2 and 4.
The creek would be diverted around the storage areas during operations, then be re-established in lined channels on top of the piles once mining ends.
But gradients of 20% or more in the streams flowing down the 400-foot tailings dam would permanently block upstream fish passage to about 5.7 miles of fish habitat, the draft study said.
That would include 3.4 miles of critical habitat for chinook salmon and 2.9 miles of critical habitat for bull trout.
Under Alternative 3, 100 million tons of tailings and 81 million tons of waste rock would be relocated to the upper East Fork valley.
Similar to the other alternatives, steep gradients would permanently block upstream fish passage into the East Fork.
That would eliminate about 4.3 miles of critical habitat for chinook salmon and 7.4 miles of critical habitat for bull trout.
However, the habitat in Meadow Creek lost under Alternatives 1, 2, and 4 would remain under Alternative 3.
source: © Copyright 2009-present Central Idaho Publishing Inc. • All rights reserved
——————-
Public Lands:
Outdoors group helps Payette build fences to reduce erosion
By Max Silverson for The Star-News September 10, 2020
The Idaho chapter of the Backcountry Hunters and Anglers organization partnered with the Payette National Forest last month on a project to reduce erosion and improve wildlife habitat near No Business Lookout.
The nonprofit group helped construct a dozen barricades to block off unauthorized routes near the No Business Lookout and Five Corners intersection about 15 miles east of Council.
"The barriers are made of native materials and are designed to withstand the snow loads at these high elevation sites for several years at a time," Payette Public Information Intern Cody Allred said.
Damage has been done to the area for years by people leaving authorized roads and trails in their vehicles, she said.
The group installed signs at each barricade and plans to do more work in the fall to complement the barricades and rehabilitate the area over the long term.
"The hope is that, with additional treatment to help vegetation establish and reduce erosion, the unauthorized trails where barriers were placed will recover by the time the barriers deteriorate," Allred said.
By reducing soil erosion and fostering native vegetation, the project should benefit wildlife and provide a higher quality experience for hunters traveling on foot, she said.
source: © Copyright 2009-present Central Idaho Publishing Inc. • All rights reserved
— — — — — — — — — —
Tour of forest projects near Cascade set for Wednesday
The Star-News September 10, 2020
A tour of about 6,000 acres of the Boise National Forest near Cascade scheduled for rehabilitation will be held on Wednesday.
The tour of the Skunk Creek and Fawn Tussock projects will be held from 9 a.m. to 2 p.m. on Wednesday.
Those who wish to attend should arrive at 9 a.m. Wednesday at the Cascade Ranger District office at 540 N. Main St. in Cascade and provide their own lunch, water, transportation, COVID-19 protective gear and a hardhat.
The Skunk Creek project is about 12 miles southeast of Cascade while the Fawn Tussock project is about seven miles southwest of Cascade. Each project covers about 3,000 acres.
The areas have been infested with insect and diseases, including Douglas fir tussock moth, dwarf mistletoe, western spruce budworm and Douglas-fir beetle.
The Douglas-fir tussock moth outbreak over the last few years has killed a large number of trees in the area, a Boise Forest news release said.
The forest plans to use prescribed burning and logging to reduce fuels and improve forest resistance to insects and disease.
Current roads in the area will be improved while temporary roads built to allow access to the area will be removed. The project is scheduled to start next June.
For questions, call Jim Bishop at 208-382-7442.
source:
— — — — — — — — — —
How an increase in people camping during the pandemic is impacting Idaho's forests
By Lynsey Amundson Sep 10, 2020 KIVI
Camping is a great way to get out of town and see the beauty of Idaho, all while staying safe during the pandemic, but the increase in campers is starting to impact forest lands.
"Down in the Lost Valley area, it's experiencing five times the amount of people than what they usually do," said Payette National Forest Public Affairs Officer Brian Harris. "That's one we know for sure, but it applies to almost every place around the forest."
The increase in people is also leading to an increase in trash left in and around campsites.
"It's a lot of first-time campers that are unaware of camping etiquette," said Harris.
continued:
——————-
Fire News:
Amos Road Fire
A report that a fire was discovered west of the village of Yellow Pine along the west side of the river north of the East Fork bridge (human caused?) Wednesday evening, September 9th. It was successfully contained and extinguished by volunteers from Yellow Pine. The forest service sent a crew to mop up and cold trail the next morning. More info in Village News.
— — — —
Buck Fire
11 miles south of YP
InciWeb:
— — — —
Porphyry Fire
20 miles north of YP
InciWeb:
— — — —
Grouse Fire
Southeast of Featherville
InciWeb:
— — — —
Woodhead Fire
Northwest of Cambridge
InciWeb:
— — — —
Fire reports posted here:
— — — — — — — — — —
Other Fire News:
Emergency fire shelters can save lives but raise questions
By Rebecca Boone – 9/9/20 AP
After flames trapped 14 firefighters in California and they had to use last-resort fire shelters to survive, questions are emerging about how well the emergency devices work and how often crews are forced to use them during wildfires.
"They are for an extreme emergency, never to be considered as an alternative to safe firefighting," National Interagency Fire Center spokeswoman Carrie Bilbao said Wednesday. "They're to be used as a last resort if there's no planned escape out or safety zones become inadequate."
Still, the shelters have saved more than 300 firefighters since they began being used in the 1960s and became required in firefighting equipment in the late 1970s, Bilbao said.
They look like oversized silver sleeping bags, weigh about 4.5 pounds (2 kilograms) and are made of an aluminum foil-woven silica outer shell designed to withstand direct flames and 2,000 degrees (1,090 Celsius) of heat for about a minute. The shelters don't stand up well to direct flames or longer periods of heat exposure.
continued:
— — — — — — — — — —
'Evacuate now:' Wildfires grow in Oregon
Associated Press Friday, September 11th 2020
story:
— — — — — — — — — —
Maps of wildfires burning in Oregon, California and Idaho
Use the interactive maps to see where dozens of wildfires are burning on the West Coast.
Sept 11, 2020 KTVB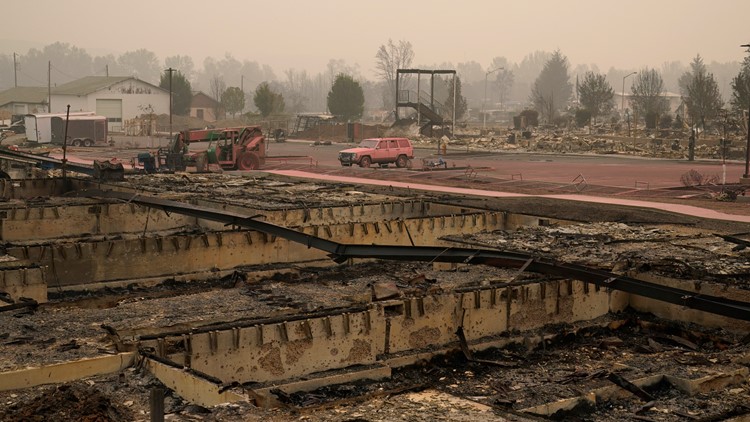 Pink fire retardant covers a car at an area destroyed by the Almeda Fire, Friday, Sept. 11, 2020, in Talent, Ore. (AP Photo/John Locher)
Over 2 million acres of land in California and nearly 900,000 acres in Oregon have burned in the last several weeks as wildfires across the West Coast continue to rage. With dozens of fires burning across the west, use the interactive maps below to see where the wildfires are and how large each one is.
As of Friday, 38 fires have started in Oregon, which has killed five people so far.
In Idaho, the Woodhead Fire has burned about 40,000 acres and is only 14% contained, according to official estimates.
continued:
———————
Scam Alert:
BBB seeing rise in pet scams during the pandemic
By Katie Kloppenburg Sep 11, 2020 KIVI
Right now, with more people staying home, there has been a major increase in animal adoptions. But beware if you are searching online for that perfect pet.
The Better Business Bureau Scam Tracker has received more than 2,100 reports of pet scams in the last few months. That is up 700 for the same period this time last year.
BBB says scammers have been using fake websites using photos of real pets. But unfortunately, those pets are not available for adoption. So if you do turn to the internet to find a new furry family member, remember these tips.
continued:
———————
Letter to Share:
IDFG News Release: 2020 Upland game bird permit required to hunt pheasants at Clearwater region release sites
Folks we need to send this to everyone on your email that might hunt pheasants. These rules pertain to those that hunt on Access Yes Areas and WMA's in Idaho. Youth do not need a permit and the mentor, if not hunting pheasants do not need a permit. But if they carry a scatter gun they will need one. If you click on all the different sights you will get the whole story. Please read the whole story. We want to get the right information out to the folks. If you see anything I missed, please add to it.
"The Pheasant Guy"
Jim Hagedorn
208-883-3423
A 2020 upland game permit is required to hunt pheasants at Clearwater region release sites this fall
By Jennifer Bruns, Regional Communications Manager
Wednesday, September 2, 2020
Idaho Department of Fish & Game (IDFG) will release over 1,300 pheasants this fall at four locations throughout the Clearwater region. In addition to a hunting license, an upland game bird permit is required to hunt stocked pheasants at these regional locations. Permits are not required to hunt pheasants or any other upland game birds outside these stocked locations. The cost of the permit is $23.75 (price locked), $28.75 (non-price locked) and $51.75 (non-resident) and will be valid for six birds—multiple permits may be purchased during the season. The daily bag limit is two roosters at release sites.
continued:
————————-
Critter News:
Pet Talk – Roundworms in dogs and puppies
By Dr. Karsten Fostvedt Sep 11, 2020 IME
There are two species of roundworms affecting dogs and puppies. These worms can be seen if they are passed in the stool, but normally are diagnosed by looking at the stool under the microscope for the eggs of roundworms. The major species of roundworms infecting dogs is Toxocara canis. It is the most common roundworm of the domestic dog, but it is not able to infect cats. Its presence can go completely without symptoms, although more likely it is going to create some degree of diarrhea and possibly vomiting or general unthriftiness in its canine host.
An animal can become infected by consuming worm eggs from soil in the environment. An animal can also be infected by nursing from an infected mother. Another way of transmission is by consuming a prey animal that is carrying developing worms, usually rodents. During embryonic development, when an infected mother dog is pregnant, immature worms can be passed to the fetus in her uterus. Most puppies are infected this way.
continued:
— — — — — — — — — —
Two sightings of a mountain lion in Idaho City
by CBS2 News Staff Sunday, September 13th 2020
Boise County Emergency Management posted on social media a mountain lion was sighted twice near Idaho City. The first sighting was Thursday at 12 a.m. at the Sheriff's office. The second sighting was around 12:30 a.m. near MM 36 on Highway 21.
Mountain lions are normally nocturnal and hunt from dusk to dawn. Boise County Emergency Management recommends keeping your pets inside at night.
continued:
— — — — — — — — — —
Mother bear attacks bow hunters in North Idaho
The two men were able to escape after using bear spray against the female grizzly.
September 10, 2020 KTVB
Sandpoint, Idaho — A pair of hunters survived a grizzly attack after they accidentally surprised a mother bear with her cubs Wednesday morning.
The attack happened north of Sandpoint in the Apache Ridge area of the Upper Pack River drainage.
The archery hunters say they did not realize the grizzly and her cubs were nearby until they came upon her suddenly. The men used bear spray to fend off the attack, but one of the hunters was injured by the bear.
continued:
— — — — — — — — — —
2 grizzly bears killed after conflicts near Yellowstone
The Montana Department of Fish, Wildlife and Parks responded to 15 reports of two bears getting into garbage, approaching houses and entering campgrounds.
Associated Press September 7, 2020
Wildlife officials in Montana have said two grizzly bears were killed this week after entering an occupied tent and recreational vehicle storage compartment near Yellowstone National Park.
The Bozeman Daily Chronicle reported Friday that the Montana Department of Fish, Wildlife and Parks responded to 15 reports of two bears getting into garbage, approaching houses and entering campgrounds.
Department officials said the bears were previously removed from residential areas last year but resurfaced last month.
continued:
— — — — — — — — — —
When Should I Take Down My Hummingbird Feeder?
by Deborah Tukua Farmer's Almanac
Fall migration is underway for the hummingbird. Most North American hummingbird species migrate to Central America or Mexico for the winter; they travel nearly 4,000 miles—a long journey for such a tiny creature. But if you keep your feeders up, will it interfere with their migration? Will they stick around rather than take the trip nature intended?
Birds & Blooms expert Rob Ripma explains that hummingbirds migrate according to their internal, circannual rhythms and leaving the feeder up will not deter them from migrating. In fact, sugar-water feeders are important refueling stations for them along the way. Following these tips will allow you to help them on their journey south.
As hummingbirds prepare for migration, they need to feed more frequently to gain weight and store fat needed for the journey south. An increase intake of flower nectar and sugar-water from feeders will provide a weight increase of 25% to as much as 50% to help provide fuel for the migration.
continued:
— — — — — — — — — —
World Center for Birds of Prey takes in 26 Californian Condors fleeing Oregon wildfires
The Oregon Zoo had to relocate 44 condors from their breeding facility in Clackamas County after being placed under an evacuation order due to wildfires.
September 12, 2020 KTVB
Late Monday night, the Peregrine Fund's World Center for Birds of Prey in Boise took in 26 Californian Condors that had to be relocated due to the wildfires that are raging in Oregon.
The center began preparing for the possibility of the 44 condors from the Oregon Zoo's breeding facility in Clackamas County on Thursday, according to a spokesperson for the Birds of Prey. Oregon Zoo crews delivered the condors, which includes 13 adults, 6 younger birds ready for release, and 7 hatch-year birds, late Monday night.
"The center's condor propagation experts will be providing around-the-clock care to the older birds and will carefully finish rearing the two nestlings that hatched in Oregon this spring but had not yet fledged their nests when evacuation became necessary," an official said in a statement.
continued:
— — — — — — — — — —
Lake Pend Orielle sets new Idaho record with 31-inch bull trout
by CBS2 News Staff Thursday, September 10th 2020

Photo by Ed O'Hara courtesy of IDFG)
An angler just set a new Idaho record after catching a 31-inch bull trout in Lake Pend Oreille.
Ed O'Hara of Hayden set the latest catch-and-release state record for bull trout in Idaho with this monster. O'Hara caught it over the weekend of Aug. 29.
After a quick measurement and photograph, the record fish was released.
continued:
— — — — — — — — — —
Angler sets Idaho record with 42-inch flathead catfish out of Snake River
by CBS2 News Staff Friday, September 11th 2020

Angler sets Idaho record with 42-inch flathead catfish out of Snake River. (Photo by Jared Holt Courtesy of IDFG)
Owyhee County, Idaho (CBS2) — A Homedale angler set the new Idaho state record after catching a 42-inch flathead catfish out of the Snake River.
Jared Holt was fishing the Snake River in Owyhee County on Sept. 6 when he landed the 42-inch long monster catfish. His new record beats the previous flathead catfish record held by Scott Turner set in 2018 by an impressive 3.5 inches!
continued:
— — — — — — — — — —
Nearly 3 dozen venomous snakes seized from Boise home
"We were more than a bit surprised by what we discovered," said conservation officer Charlie Justus.
September 9, 2020 KTVB
Boise, Idaho — The Idaho Department of Fish and Game and Boise Police Department officers seized nearly three dozen venomous snakes from a Boise home after lengthy investigation.
Some were Great Basin rattlesnakes, a species native to Idaho, but many others were exotic species from Southeast Asia, Africa and Central and South America.
Officers made the discovery after serving a search warrant in Boise on Sept. 5.
continued:
— — — — — — — — — —
Two Owyhee County residents diagnosed with Idaho's first West Nile virus cases of 2020
by CBS2 News Staff Wednesday, September 9th 2020
Idaho's first two West Nile virus cases of 2020 were diagnosed Wednesday in Owyhee County residents.
Both people are over the age of 50. One was diagnosed with West Nile fever and the other was identified through blood donor screening.
… So far this year, WNV activity has been detected in six southwest counties.
full story:
———————
Fish & Game News:
Porphyry Fire Could Impact Middle Fork Zone Elk Hunters
By Evin Oneale, Regional Communications Manager
Friday, September 11, 2020
It's hard to pronounce and could prove to be a headache for Middle Fork Zone elk hunters. The Porphyry wildfire, burning north of Yellow Pine in portions of Game Management Units 20A and 26, has led to closures on portions of the Payette National Forest.
While the road from Yellow Pine to Big Creek and beyond remains open, a large area north of the Elk Creek Road (west of Big Creek) is now closed, limiting access to unit 20A.
Holders of Middle Fork Zone elk tags can play the waiting game, but do have the option of exchanging their tags for another available elk tag. The exchange must occur prior to the season opener on September 15th.
continued:
— — — — — — — — — —
Fire affecting your hunting area? Here's what you need to know
By Brian Pearson, Conservation Public Information Specialist
Friday, September 11, 2020
Hunters and anyone else heading into the backcountry are advised to check with Forest Service ranger district offices or county sheriffs' offices in their hunt area before heading out. Fire updates can be found online at: (link).
Additional fire information is available on Fish and Game's Fire Information webpage, and the Fish and Game Hunt Planner Map Center at: (link). To display fire information on the hunt planner map, click "Turn Layers On/Off," select "Wildfires & Closure Related Layers," and check the boxes next to "Active Fire Report" and "Fire Emergency Closure Areas."
Fish and Game generally doesn't close hunts or change seasons in response to fire restrictions. Most fires do not affect an entire controlled hunt unit or elk zone for the entire duration of the hunt, so hunters have the option of hunting a different portion of the hunt area that is not affected by fires or after the fire is out.
continued:
— — — — — — — — — —
Bird hunters encouraged to donate their wings
By Brian Pearson, Conservation Public Information Specialist
Friday, September 11, 2020
Wings provide information used to better understand population trends and improves management
With many upland game bird seasons open or opening soon, the Idaho Department of Fish and Game is asking hunters to donate a fully feathered wing for each bird they harvest.
Because juvenile and adult birds molt their wing feathers differently, biologists can use this information to estimate chick production that year. For sage grouse, biologists can even tell if an adult female successfully produced chicks that year. In addition, the percentage of juveniles and adults wings collected can provide information on production rates. All of this information can help determine the status of various game bird populations and helps Fish and Game improve management.
continued:
— — — — — — — — — —
More F&G News Releases
link:
———————————-
Crazy Critter Stuff:
Two fawns rescued by police officers after falling into swimming pool
by Kendra Mann, Sinclair Broadcast Group Tuesday, September 8th 2020
Pharma, Ohio (SBG) — Police officers in Ohio made a "deering" rescue!
Officers say they were called to the scene for two fawns that had fallen into a swimming pool and were fighting for their lives on Aug. 30.
The homeowner told officials she had attempted for over an hour to rescue them herself before making the desperate call.
The rescue was caught on police cam and shared by the department on Facebook. The officers are seen in the video gently roping the fawns and releasing them back into the wild. Officers say the fawns let out a "cheer" at their release.
"The deer were tired, but happy, as you can hear them let out a "cheer" of appreciation after being rescued!" the City of Parma Police Department posted on Facebook.
source:
———————-
Seasonal Humor:

——————-