Oct 25, 2020 The Yellow Pine Times – Valley County, Idaho
Reminder: We are still under a boil water order until further notice.
Community Calendar:
April 17 – Boil water order issued
Aug 11 – Valley County Mask Order
Aug 12 – Firewood Permits at The Corner
Sept 8 – Hwy 55 work started
Oct 31 – Halloween at the YP Tavern 7pm
Fall 2020 – Rx burn South Fork Salmon River planed
Nov 1 – Daylight Savings Time ends
Nov 2 – 3-day a week mail starts
Nov 26 – Thanksgiving potluck Community Hall 2pm
Nov 30 – Firewood Season Ends
(details below)
———-
From Valley County
Valley County Mask-Up
A county-wide mask mandate was approved the CDH August 11th, and is now in effect for Valley County. (link)
Rebound – Idaho Governor's phasing program
link:
COVID 19: Recommendations and Resources for Safe Business Practices
link: (lots of info for businesses)
——————-
Local Events:
Yellow Pine Tavern Annual Halloween Party
Join us for the "Most Original Covid Mask" Contest at the Tavern October 31 at 7pm. Our Annual Salmon Bake, End of Deer Season, Halloween Party Potluck. Alaskan Salmon provided by Tom Wood.
— — — —
Thanksgiving
Thursday, November 26th, 2pm. Yellow Pine Thanksgiving Potluck Dinner, at the Community Hall.
——————-
Rx burn South Fork Salmon River planed
The Payette National Forest, Krassel Ranger District, is planning to conduct prescribed burning in the Four Mile project area this fall. The Four Mile project area is on both sides of the South Fork of the Salmon River between Poverty Flat Campground and Reed Ranch. The area that will be targeted for fire this fall is to the east of the South Fork Rd between Reed Ranch and Poverty Flat Campground. First priority burn block will be the area between Nasty and Four Mile creeks. Ignitions should take 1-3 days for each burn block, with smoke and fire most likely present in the project area until the next significant precipitation.
The decision to implement prescribed fire always includes assessing the risk and impacts to communities, firefighters and forest resources. This season additional consideration will be given to complexity associated with COVID19, cumulative smoke exposure in our communities from wildfire and the commitment of fire resources locally and nationally.
If you will be operating in the area or have any questions please contact Laurel Ingram, Fuels Tech or Patrick Schon, Fuels Specialist, so that we can collaborate on timing.
Map Link: FourMile Fall 2020 Notification
— — — —
Highway 55 Closure starts Monday, Sept 21st
Fall (September through November) and Spring (March through May)
– Daytime and nighttime work seven days a week
– Full road closures Monday through Thursday from 10:00am to 2:00pm
– One-way alternating traffic during all other time frames
———-
Village News:
Yellow Pine Precinct
Yellow Pine is a "vote by mail" precinct. You must be registered to vote in the Yellow Pine precinct to receive a mail in ballot.
The 2020 ballots have arrived. Make sure you follow instructions and SIGN the outer envelope. There were questions about return postage – the answer is the bar code sticker on the back of the outer envelope with your name is the postage. Ballots must be received by the Valley County Clerk no later than Nov 3rd.
— — — —
After Fire Action Meeting
On Tuesday, Oct 13, there was a meeting at the community hall to compile an "After Action Review" for the Buck Fire. (No report yet.)
— — — —
Help Support the Yellow Pine Volunteer Fire Department
Thank you for all your offers of help and support. Now you can help support the Yellow Pine Fire District by donating through our Go Fund Me account. Just click on the link to get started.
Even a small donation could help reach the fundraising goal. And if you can't make a donation, it would be great if you could share the fundraiser to help spread the word.
Thanks for taking a look!
FAQ: YPAC is the charity that was set up to allow the Village to apply for grants. It was the only 501.c3 the Village has to allow GoFundMe to recognize an authorized EIN. So, funds will go to YPAC then they will cut a check to the fire district. YPAC is lead by Corey Phillips and Matt Huber is the Secretary.
— — — —
Boil Water Order issued April 17 still in effect.
No update for August or September.
Update July 5: the boil order is in effect due to extremely high use due to leaks.
Update June 12: The boil order is still on. We still are experiencing excessive water use because of leaks. Not sure when this will be lifted. We are applying for grants to repair the system.
Update June 2: The water plant is experiencing high water in Boulder Creek which brings more debris into the sand filter.
The high demand caused by leaks in the system plugs the sand filters prematurely. We will be on a boil order until further notice.
— — — —
Critters
Be Bear Aware
* Keep all household garbage secured in a garage or other enclosed area.
* Leftovers or discarded fish or meat bones give off a strong odor and should be stored in your freezer until you haul the garbage to the transfer station.
* Keep attractants like B-B-Q grills, bird seed or pet food stored where bears cannot find them.
* Bird feeders should be taken down May through October or placed well out of reach of bears.
Be Mountain Lion Aware
* NEVER run away from a mountain lion. The lion's instinct is to chase and ultimately catch what they perceive as potential prey.
* NEVER turn your back on a lion. Always face them while making yourself look as large as you can. Yell loudly, but don't scream. A high-pitched scream may mimic the sound of a wounded animal.
* SLOWLY back away while maintaining eye contact with the lion.
* Safety equipment you may choose to carry could include bear spray, a noise device, like an air-horn, and if you walk in the dark, a very bright flashlight.
* If you are attacked, fight back!
— — — —
Latest Road Reports
Link: to current road reports.
— — — —
Yellow Pine US Mail
The 6-day a week mail delivery started June 1st. The 3-day a week mail delivery will start Nov 2nd. The Post Office in Yellow Pine is open six days a week year around: M-F 845am-245pm Saturday 9am-245pm. Forever Stamp: 55 cents. Support our local post office and purchase your holiday stamps here.
— — — —
Yellow Pine Transfer Station
Report the bins were emptied Wednesday Oct 14th.
Road is good from YP to the dump.
Please do not abuse our Transfer Station or we may lose it. Household trash must be placed in the bins, flattened cardboard boxes can also go into the bins. Do not stack trash in front of the doors. Woody yard debris only for the burn pile. No furniture, appliances, tires or construction debris allowed, those items must be hauled out to the Donnelly station by you.
Yellow Pine Transfer Station (aka, the dump)
The Yellow Pine Transfer Station is located approximately 3 miles south on Johnson Creek Road.
The TRANSFER STATION is for household trash and yard waste:
* Household trash must be put inside (and fit) the dumpster;
* Yard waste (limbs, pine needles, brush, etc.) goes in the burn pile on the south end of the turn-around;
* Cardboard boxes should be flattened before putting the in the dumpster,
The DUMPSTERS are NOT for:
* Furniture (take to Donnelly Transfer Station);
* Appliances (take to Donnelly Transfer Station).
The BURN PILE is NOT for:
* Cardboard boxes (flatten and put in dumpster);
* Furniture and appliances (take to Donnelly Transfer Station);
* Drywall and building material (take to Donnelly Transfer Station);
* Wire or fencing (take to Donnelly Transfer Station);
* Foam Rubber (take to Donnelly Transfer Station);
* Wood with metal (like nails) attached (take to Donnelly Transfer Station.)
When closing the DOORS on the front of the dumpsters:
* Make sure the "U" brackets at the top and bottom of the door are engaged;
* The retaining bar at the middle of the door is slid into the pipe;
* And the "L" bars at the bottom of the doors dropped into place.
The Yellow Pine Transfer Station is Valley County responsibility. If it is not kept tidy, use of the Transfer Station may be revoked. That would result in residents having to take all household trash and yard waste to the Donnelly Transfer Station.
If Dumpsters Are Full, Contact Lake Shore Disposal at: 208/634-7176
———-
Local Groups
YPWUA News:
The annual Water meeting for 2020 was held July 5th at the Community Hall 2pm.
link: minutes 20200705YPWUA.docx
Boil Water Order issued April 17, 2020. This could last until leaks are repaired.
Boil Water Advisory Notice
Boil Your Water Before Using
Bring tap water to a rolling boil, boil for one minute, and cool before using or use bottled water. Boiled or bottled water should be used for drinking, making ice, washing dishes, brushing teeth, and preparing food until further notice.
This Boil Water Advisory Notice applies to The Yellow Pine Water System
The system is being monitored and checked daily for compliance.
You will be informed when you no longer need to boil your water.
Please share this information with other people who drink this water, especially anyone who may not get this notice directly (for example, people in apartments, nursing homes, schools, and businesses).
You can do this by posting this notice in a public place or distributing copies by hand or mail.
State Water System ID#: 4430059 Date distributed: 3-22-2020
Notice of Intent to File an Application with USDA, Rural Development
The Yellow Pine Water Users Association, Yellow Pine, Idaho intends to file an Application with USDA, Rural Development to obtain a drinking water system facility Emergency Community Water Assistance Grant (ECWAG). Emergency Community Water Assistance Grant (ECWAG).
If any additional information is needed, please contact:
Willie Sullivan
Treasurer
ypwater @ gmail.com
Distributed to Yellow Pine Water Users Association customers via Yellow Pine Times on June 12, 2020.
The 2019 Yellow Pine Water Users Shareholders meeting was Sunday July 7, 2019.
link: 20190707YPWUAminutes
— — — —
VYPA News:
Heat was installed in the Community Hall on April 30, 2020.
Addition for Community Hall bathrooms October 15, 2020.
Minutes from September 12 VYPA meeting
link:
Minutes from August 8, 2020 VYPA meeting
link:
Minutes from July 11, 2020 VYPA meeting
link:
Minutes from June 13, 2020 VYPA meeting
link:
VYPA Bylaws adopted 8/8/2020 (link)
YPAC Corp Bylaws (link)
— — — —
YPFD News:
Burn Ban rescinded Oct 20, 2020
After Action Report meeting Oct 13, 2020 (no minutes yet.)
YPFD had a budget meeting on September 30th at 10am at the fire station. (No minutes yet.)
Make sure to clean and check chimney fitting before starting that first fall fire in your cabin. Cleaning brushes can be borrowed from the YPFD.
There was a YP Fire Commissioner meeting on June 27, 2020 at 10am at the Fire Station.
Link: 20200627 Fire Dept minutes June 27
YPFD COVID19 Policy
link: YPFD Covid 19 SOP
link: Covid-19 EMS (May 23)
Pile burning: Dress appropriately, have enough help on hand (people, water and tools) and make a firebreak before you start. Call your local fire protection district chief to let them know you'll be conducting a debris burn. This saves them from sending emergency responders to your property if they are not needed. Do NOT burn on breezy afternoons.
Better yet, "Bring It, Don't Burn It", you can take your yard waste (limbs, pine needles, brush, etc.) to the burn pile at the Transfer Station on the south end of the turn-around. Remember, keep the pile neat. Woody debris only, no nails, no cardboard and no furniture! The Boise NF will burn the pile in the fall when it is safe and doesn't pollute our fine YP air.
YP Fire Commissioners:
Sue Holloway – District 1
Dan Stiff – District 2
Merrill Saleen – District 3
(TBA) – Fire Chief
Yellow Pine Fire Protection District Community Service Notice
The purpose of this letter is to show how you as a Yellow Pine Resident can help protect your structure against a wildland fire by being "Fire Wise." Click the link: to view 20190724 Yellow Pine Fire Protection mitigation
——–
Biz Listings:
The Corner (208) 633-3325
Open 11am-8pm Closed Tuesdays thru end of hunting season. Calling ahead works best. Groceries, Ice Cream, Beer and Soda. Our menu fluctuates but typically have Smoked Brisket, Tri Tip, Chicken, Burgers and Wings on hand.
Starting Aug 12th Firewood Permits at The Corner
— — — —
Yellow Pine Tavern (208) 633-2233
Open Daily 8am to 10pm. Outside Dining and Bar. Breakfast and Bar Food.
— — — —
Yellow Pine Lodge (208) 633-3377
Open until November 3rd.
— — — —
Yellow Pine General Store (208) 633-3300
The store is open now and will be thru October (closing November 3rd for the winter.) Hours are 9 am to 6 pm Tuesday through Saturday. Closed Sunday and Monday.
— — — —
Murph's RV Park & Mary's Cabins
FB page link
— — — —
Knotty Kat Crochet Works – 208-502-0940
FB page link
open Tue – Sat, 9-5
Yellow Pine eggs $3/doz
— — — —
Buck Horn Outfitters LLC 208-633-3614
Tom & Sarah Lanham
156 Yellow Pine Ave, Yellow Pine Id 83677
website:
Facebook:
Starting June 2020 We will be doing trail rides out of Yellow Pine along with summer pack / camping trips to high mountain lakes in the area!
Wapiti Meadow Ranch – Johnson Creek (208) 633-3217
or 208-315-3554 – cabin rentals
website:
Deadwood Outfitters
website:
— — — —
Local Fuel Suppliers
Amerigas Phone: (208) 634-8181
Ed Staub & Sons Phone: (208) 634-3833
Diamond Fuel & Feed Phone: (208) 382-4430 open 830am-5pm Monday-Friday, closed weekends.
— — — —
Outside Biz that will service Yellow Pine:
The Star-News


click to subscribe:
A reminder that those who live in other states can subscribe to the online edition only since the mail can take days for hard copy to reach them.
Rocky Mountain Mechanical – Plumbing – Heating – Air conditioning
(208) 365-PIPE (7473), Emmett, will service Yellow Pine
Elkhorn Heating & Cooling
(208) 906-4067 Middleton, Idaho, will service Yellow Pine
B&T Safety Solutions LLC
208-271-1600 Based out of Donnelly
Snow removal, cleaning chimneys and stoves, we do cabin staining/chinking as well
— — — —
Follow The Yellow Pine Times on Facebook (updated more often than emails)
———————–
Local Observations:
Monday (Oct 19) yesterday's rain showers totaled 0.06″, overnight low of 38 degrees, mostly cloudy sky this morning. Jays and a vocal pine squirrel visiting. Partly cloudy after lunch time. Gusty breezes and decreasing clouds mid-afternoon, high of 63 degrees. Pine squirrels hunting for the scarce pine cones. Clouds to the west at sunset were colorful. Partly cloudy and variable breezes at dusk. Blackbird on the power line. Cloudy before midnight.
Tuesday (Oct 20) 24 hour low temp of 41 degrees was from Monday morning, overcast sky this morning. Jays visiting. Gray overcast at lunch time. Boom at 219pm. Gray overcast and mild temperatures mid-afternoon, light breezes, high of 59 degrees. Brown truck speeding down the hill on main street. Mostly cloudy at dusk. Looked cloudy before midnight.
Wednesday (Oct 21) overnight low of 40 degrees, mostly cloudy sky and breezy this morning. Mail truck was a little late today, no problems reported. Mostly cloudy and breezy after lunch time. Cooler, mostly cloudy and breezy mid-afternoon, high of 54 degrees. Gusty late afternoon. Overcast at dusk, blustery and a short bit of rain and graupel. Overcast and breezy before midnight. Trace of snow fell during the night.
Thursday (Oct 22) overnight low of 26 degrees, trace of snow on the ground, partly clear sky this morning. Partly cloudy and breezy at lunch time. Steller Jays visiting. Cool, partly cloudy and chilly breezes mid-afternoon, high of 47 degrees. Clear sky at dusk and just above freezing. Clear and cold at midnight.
Friday (Oct 23) overnight low of 16 degrees, clear sky this morning, slight cold breeze and frosty. Sunny and breezy at lunch time. Cloudy, cool and gusty winds mid-afternoon, high of 48 degrees. Steller jays hanging out. Cloudy and calmer at dusk. Cloudy and calm before midnight. Rain early morning.
Saturday (Oct 24) 24 hour low of 17 degrees from Friday morning (stayed above freezing last night), rain early morning total = 0.03″, this morning clouds sitting halfway down the mountains and clearing above. Just before lunch a few flakes of snow falling (no accumulation,) mostly cloudy and breezy. Scattered sunshine after lunch. Mostly cloudy and chilly gusty breezes mid-afternoon, high of 47 degrees. Blustery, cold and dark overcast at dusk. Partly clear and breezy before midnight, Mars up.
Sunday (Oct 25) overnight low of 16 degrees, clear sky and cold breezes this morning. A little more traffic than usual. Clear and breezy at noon. Cool, clear and breezy mid-afternoon, high of 36 degrees. Blustery afternoon. Clear sky at dusk, below freezing and light breeze.
—————-
RIP:
Ken Boatman
September 11, 1951 – October 17, 2020
Ken Boatman, of Yellow Pine, formerly of New Plymouth and Sandpoint, Idaho, passed away at 630pm Friday, October 17, 2020 after a very long illness.
Mr. Boatman moved to Yellow Pine in the early 1990's and worked at the Stibnite Mine as a heavy equipment operator.
Ken was preceded in death by his father Lloyd and his canine companion Rocky. Survived by sister Connie and daughter Danelle and grandchildren.
—————–
Idaho News:
1,073 new Idaho COVID-19 cases, 9 new deaths
Oct 23, 2020 Local News 8
Idaho officials reported 1,073 new COVID-19 cases and 9 new deaths on Friday.
That's 21 cases less than the record reported cases on a single day of 1,094 last Friday, Oct. 16.
That brings the total confirmed and probable cases reported since March to 57,673.
There are a total of 50,902 confirmed cases and 6,771 probable cases in all 44 of the 44 counties in Idaho, according to numbers released from the local health districts and the state.
… 9 new deaths were reported bringing the total recorded deaths to 562.
full story:
— — — — — — — — — —
Idaho Friday, October 23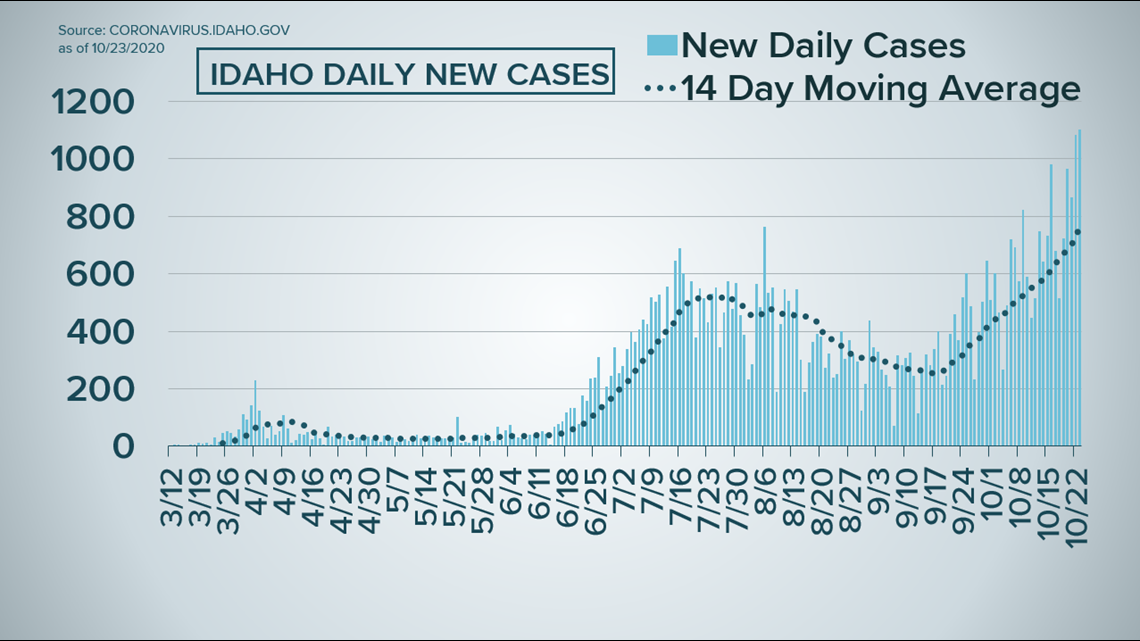 source: KTVB
— — — — — — — — — —
Some Idaho hospitals 'reaching crisis stage' as coronavirus cases surge, medical experts warn
The next two weeks will be crucial in determining the future status of hospital capacities throughout the Gem State, according to Dr. Steven Nemerson.
Katija Stjepovic (KTVB) October 22, 2020
As COVID-19 cases in North Idaho continue to surge, Panhandle Health District moved two counties under its jurisdiction to the highest risk category on Thursday.
Kootenai Health in Coeur d' Alene is nearing its capacity for COVID-19 patients and may have to transfer some of them to out-of-state locations. Kootenai County's positivity rate has surpassed 20%.
A similar situation is developing in South-Central Idaho, where doctors and health district officials are very concerned about the rising number of coronavirus cases and the resulting burden being placed on hospitals there.
continued:
— — — — — — — — — —
Valley County COVID-19 cases up 4, now stand at 144
By Tom Grote for The Star-News Oct 22, 2020
The total number of positive COVID-19 cases in Valley County reached 148 cases on Tuesday, up four cases from 144 a week ago, health officials said.
St. Luke's McCall on Tuesday reported 115 total positive cases from testing done at the hospital, up two cases from 113 a week ago.
Cascade Medical Center reported 30 positive cases, or two more than the 28 cases reported last week.
In addition, the private testing cooperative Crush the Curve has found three confirmed cases of COVID-19 in Valley County with no change in the past week.
Nearly all of the positive cases reported by the hospitals were found following the start of the summer visitor season in mid-June.
Central District Health reported 99 of the positive cases were confirmed to be Valley County residents as of Tuesday, which is two more than the 97 cases reported a week ago.
The difference between the hospital figures and the health department figures are those who tested positive but did not declare Valley County as their residence.
One death from COVID-19 has been reported in Valley County since the pandemic reached Idaho in March. An 85-year-old McCall man died July 15 at St. Luke's Boise hospital due to complications of COVID-19 infection.
continued:
— — — — — — — — — —
Found Safe
Report from Midas Gold Oct 19, 2020 via FB
This weekend, a gentleman got lost from his hunting party near Thunder Mountain. The news traveled to our team at Stibnite and we jumped into action, alongside many other first responders, to help with the search and provide backcountry communications support. Thankfully, the search and rescue helicopter saw a light late Saturday evening, which helped everyone hone our search Sunday and find the lost man!!!
We are so grateful to have wonderful search and rescue personnel in Idaho and that everyone is safe today.
— — — — — — — — — —
Valley County prepares for in-person voting Nov. 3
Voters will be required to wear masks, have temperatures taken
By Max Silverson for The Star-News Oct 22, 2020
In-person voters in Valley County on Nov. 3 will be required to wear a mask and have their temperature taken, Valley County Clerk Doug Miller said.
Voters with elevated temperatures would not be allowed to enter the polling location, but would be able to do curbside voting outside instead, Miller said.
Voters will be required to maintain six feet from each other, poll booths will be sanitized after every voter and public areas will be sanitized every 15 minutes, among other safety precautions and sanitation procedures, Miller said.
… "We would respectfully ask that if a voter has requested an absentee ballot and has not received it that they contact our office immediately at 208-382-7103 for us to determine what the issue is and for us to make sure that the voter has the ability to cast a vote," he said.
full story:
— — — — — — — — — —
WICAP seeks applications for winter home energy assistance
The Star-News Oct 22, 2020
The Low Income Home Energy Assistance Program will accept applications for the winter starting on Nov. 1.
The program offers assistance with heating and cooling energy costs, bill payment, energy crisis, weatherization and energy-related home repairs.
To apply for assistance, visit https://wicap.org and click on LIHEAP application or call 208-382-4577.
Information on the program is also available on the Western Idaho Community Action Partnership website.
source:
— — — — — — — — — —
McCall LOT taxes hold steady despite COVID-19
Collections show busiest tourist season ever
By Drew Dodson for The Star-News Oct 22, 2020
McCall saw its busiest summer tourism season on record this year despite the COVID-19 pandemic, according to city tax collection reports.
The city's two local-option taxes combined to bring in about $1.1 million in June, July and August, or about $26,000 more than the previous record highs set in 2019.
The taxes are a barometer for tourism in McCall because much of the money is generated through sales taxes on overnight lodging, like motels and short-term rentals.
continued:
— — — — — — — — — —
Donnelly man given jail time for shooting into home
Woman recounts terror of bullets smashing into house
By Max Silverson for The Star-News Oct 22, 2020
A Donnelly man was sentenced on Monday to six months in jail and three years of probation for firing his rifle into a neighbor's home on March 27 while a woman and her three children were inside.
Christopher Kaufman, 49 was arrested on five felony offenses when he fired more than a dozen rounds from a semi-automatic rifle into his neighbor's home, which was occupied by the woman and her children ages 1, 3 and 6.
Kaufman later pleaded guilty to one count of shooting at an occupied dwelling and one count of injury to a child, both of which are felonies.
As part of his plea agreement, two additional counts of injury to a child and one count of malicious injury to property were dropped.
Fourth District Court Judge Jason Scott said his decision to primarily issue probation instead of jail time was a matter of luck that the shots fired did not hit anyone.
continued:
—————-
Letter to Share:
Stibnite mine access on Johnson Creek would be a tragedy
To the Editor:
I can agree with the part of your editorial of Oct. 8 bemoaning the idea of the Midas Gold project at Stibnite building 20 miles of new haul road through an area of wilderness bordering on wilderness, and home of threatened species as well as summering grounds for all the ungulate species inhabiting and taking refuge there from the heavily peopled areas to the West ("Upgrade Johnson Creek Road for Stibnite mine," The Star-News).
Its construction would be a tragedy. But even more problematic and tragic would be a route down the Johnson Creek Road from Landmark which borders Johnson Creek for most of its way, home to a struggling and slowly reviving population of Chinook salmon and one of the last best West Slope cutthroat populations in the Northwest.
Also claiming habitat here are bull trout, a signal of the purest waters available for fisheries habitats. The results of chemical or other spills along this route, as opposed to the Burntlog new construction route, are dramatically more damaging since the latter does not offer the companion road/stream embrace.
In addition to possible (and certain, given the reconstruction of the Johnson Creek Road route) damage to one of the most valuable fisheries in the Northwest, the Johnson Creek Road route would conflict with the heavy (and I do mean heavy) current use of that road for fishermen, campers, hikers, ATV/UTV motorcycle users, and homeowner motorists.
It has become the Valley County's most used recreational access in its eastern sector. It is my understanding that Midas wishes for a gate at the Landmark entrance to its new proposed haul road which would eliminate all but mining traffic, leaving the recreational access northward toward Yellow Pine and Big Creek and the southward access toward Deadwood and Stanley free from heavy mining traffic.
While this does not resolve the conflicts and damages wrought on the Warm Lake Road, it does still allow those willing to face the heavy mining traffic there some less dangerous access to recreational areas after the completion of the haul road.
Before its completion, of course, the plans for all the alternatives in the EIS is to access the Stibnite area via Johnson Creek. A better plan would be to complete the haul road before accessing Stibnite via other routes.
If permanent access were decided to be along Johnson Creek, thence through Yellow Pine, as the editorial suggests, it would be the death knell for my business, a backcountry retreat for sportsmen offering wilderness quiet and access, as well as degradation of environment for nine year-round and part-time residents of the Johnson Creek corridor (several of whom would lose property in the "improvement" of the road to accommodate mining traffic).
In addition, a route through Yellow Pine would take private property on one or both sides of their through route, again, to accommodate large trucking traffic. I would doubt that traffic would be stopping for food or lodging there, they'd be highballing it through to meet time commitments. I could foresee the death of Yellow Pine, as well. Perhaps one or two would profit from land sales, but the town would become an oil spot on the road to Stibnite.
I won't even venture to dream as to how the East Fork Road between Yellow Pine and Stibnite would be made usable for today's modern mining/hauling equipment. A disaster waiting to happen.
It is inconceivable to me that the editorial writer encouraging the Johnson Creek access alternative has ever driven the Johnson Creek/Yellow Pine/East Fork route to Stibnite. As a long time resident of Johnson Creek and traveler on these roads, and as much as I loath the idea of the new Burntlog haul road, I see no alternative but the latter route.
Truly, our only alternative to chaos in the Valley County backcountry is to pray that entities more powerful than us are able to quash or significantly reduce the impact of the Midas Gold mining plan at Stibnite.
I recommend a reading/rereading of Mary Faurot Peterson's letter to the editor last week ("Restoration of Stibnite area can be done without mining," The Star-News, Oct 15, 2020). She's a lady who knows and should be heard!
And I thought the McCall City Council's letter to the Forest Service objecting to use of roads and route through their city to facilitate the Midas Gold plan was timely to my response to the Oct. 8 editorial.
I was going to suggest that if an alternative to the Burntlog Route was to be sought, it should be via the Lick Creek/East Fork road to Yellow Pine. Guess we know how that would fly with the Council and McCall residents.
We're all NIMBY folks, but understand that Stibnite is in all our back yard and threatens not only our access to our recreational areas but to our very life style, tranquility of living and livelihoods, as well. Please, please wake up to the danger!
Diana Bryant, Wapiti Meadow Ranch
source: The Star-News Oct 22, 2020
———————-
Mining News:
NM, Adams County weigh in on Midas Gold
More assistance sought for expected growth from Stibnite mine
By Drew Dodson for The Star-News Oct 22, 2020
Midas Gold should give more consideration to assisting local communities with economic growth brought by its proposed Stibnite Gold Project, according to the New Meadows City Council.
The council recently submitted its comments on a draft environmental study of the proposed gold and antimony mine near Yellow Pine in a letter to the Payette National Forest.
The Payette, which is the lead permitting agency for the proposal, is accepting public comments on the draft study until Wednesday at 5 p.m.
The city did not endorse or oppose the project in its comment letter, but instead listed how the 12-year to 15-year life of mining operations could alter life in New Meadows.
… The letter also noted an existing housing shortage of about 70 units in New Meadows, which could "double if not triple" if the mine were to be permitted by the Payette.
"The region is already in a housing crunch," the letter said. "We believe any project should assist the region in developing affordable housing."
The city's letter expressed cautious optimism that modern mining regulations and improved technology could help undo damage at Stibnite left by historic mining operations.
full story: © Copyright 2009-present Central Idaho Publishing Inc. • All rights reserved (used w/permission)
— — — — — — — — —
Adams likes Stibnite project's economic, environmental benefit
By Drew Dodson for The Star-News Oct 22, 2020
Adams County commissioners support Midas Gold's proposed Stibnite Gold Project due to its anticipated economic and environmental benefits, a letter from the commissioners said.
The commissioners on Monday approved a comment letter to the Payette National Forest on its draft environmental study of the proposed gold and antimony mine near Yellow Pine.
The Payette, which is the lead permitting agency for the proposal, is accepting public comments on the draft study until Wednesday at 5 p.m.
The county supports Alternative 2 as outlined in the draft study, which is an updated plan submitted by Midas Gold that reduces traffic and harm to water quality compared to other project alternatives studied.
"Adams County approves of the extra measures proposed by Midas Gold to protect the environment and help restore habitats for local wildlife and fish populations," the letter said.
In particular, the letter focused on the economic benefits that could trickle down from the mine into Adams County.
An average of about 600 direct jobs with Midas Gold during the three-year construction phase and 12 to 15-year life of mining would keep average annual payroll at nearly $50 million.
Many of those jobs could go to local residents and give younger generations a chance at well-paying jobs close to their hometowns and families, the letter said.
Those jobs, plus another 290 indirect local jobs expected to be supported by the mine, would decrease the local economy's reliance on tourism and government jobs, the letter said.
"This project represents some encouraging news about the potential for economic growth and revitalization within Adams County," the letter said.
The county's letter commended Midas Gold for its "unique approach" to crafting its mining plan, which has emphasized community collaboration to maximize local benefits.
One example of this is the Stibnite Advisory Council, which is a panel of representatives from local communities who meet every other month with Midas Gold officials.
"Through the council, local community members have been able to learn more about the project, request additional information from Midas Gold, voice concerns, and have their questions answered," the letter said.
The county also expressed confidence in modern mining regulations and financial bonding requirements to ensure environmental restoration work is completed as planned.
Adams County was required to review and comment on the draft environmental study of the mine as a condition of it signing a Community Agreement with Midas Gold in 2018.
The agreement was posed to all local communities that could be affected by the mine. Each signatory was granted a seat on the Stibnite Advisory Council.
Eight local communities signed the agreement, including the cities of Cascade, Donnelly, New Meadows, Council and Riggins, as well as Idaho and Adams counties and the community of Yellow Pine.
The City of McCall and Valley County declined to sign the agreement, citing potential conflicts of interests.
source: © Copyright 2009-present Central Idaho Publishing Inc. • All rights reserved (used w/permission)
— — — — — — — — —
Comments on Stibnite Gold Project due by Wednesday
The Star-News Oct 22, 2020
Public comments on the draft environmental study of Midas Gold's proposed Stibnite Gold Project are being accepted until 5 p.m. on Wednesday.
The entire draft study can be viewed by clicking on the "Analysis" tab on the Payette Forest's project webpage at (link).
Comments can be submitted through the virtual public meeting room that is being used in lieu of in-person public meetings due to the COVID-19 pandemic. That can be found at (link).
Written comments can be mailed to the Payette Supervisor Linda Jackson at 500 Mission St., Building 2, McCall, Idaho 83638. Comments are not being accepted in person due to the pandemic.
Only "substantive" comments that raise questions about specific elements of the draft study or Midas Gold's proposal will be taken into consideration in the Payette's drafting of a final study.
Analysis of the alternatives in the draft study will be further refined and could change before a "preferred alternative" is defined in the final environmental study, which is tentatively expected by August 2021.
source: © Copyright 2009-present Central Idaho Publishing Inc. • All rights reserved (used w/permission)
———————-
Public Lands:
Prescribed fires to be set this fall on Payette National Forest
The Star-News Oct 22, 2020
Prescribed fires will be conducted this fall on the Council Ranger District, New Meadows Ranger District, McCall Ranger District and Krassel Ranger District.
The Payette conducts prescribed fires to reduce risk to homes from wildfires, protect healthy timber, improve wildlife habitat and improve the forest's resilience to fire, pests and disease.
Here is a list of the planned fires:
Council Ranger District
• 15 landing piles in among the Middle Fork of the Weiser River, 9 miles southeast of Council.
New Meadows Ranger District
• 30 acres adjacent to west side of Lost Valley Reservoir.
• 170 acres of hand piles west of Hwy 95 near Evergreen Campground.
• 10 acres of hand piles in the Last Chance Campground.
• 4 landing piles between Meadows Valley and Goose Creek.
McCall Ranger District
• 410 acres of hand piles in the Bear Basin area.
• 8 landing piles near the Brundage Road.
Krassel Ranger District
• 1,300 acres along the east side of the South Fork of the Salmon River south of Reed Ranch Airstrip.
Trailheads and roads that lead into these areas will be posted with caution signs and maps of prescribed burn locations.
source:
— — — — — — — — —
From rock slides to trails, ongoing earthquakes are changing the shape of the Sawtooths
Oct 20, 2020 by Nicole Blanchard Idaho Statesman
Six months after a major earthquake rattled Idaho, the rumbling has continued with a quake shaking near Stanley as recently as Monday morning. Since March 31, the earthquakes have intrigued scientists and, in some cases, reshaped the landscape of the Sawtooth mountains near their epicenter.
The initial magnitude-6.5 quake and its aftershocks caused multiple avalanches in the Sawtooths, but many of the effects were masked by snow. As the weather warmed — and as strong quakes continued — more ramifications came to light: the 'liquefaction' of a popular beach at Stanley Lake, toppled rock climbing destinations, structural damage to lava tubes at Craters of the Moon National Monument and Preserve and debris strewn over trails.
"The earthquakes and their effects on the Sawtooth skyline have been an interesting exclamation mark on an already surreal year," said Ed Cannady, former backcountry manager for the Sawtooth National Recreation Area, in an email.
continued:
— — — — — — — — — —
Closure Order Terminated for the Woodhead Fire, Hazards Remain
October 20, 2020, Payette National Forest
McCall, Idaho –Forest Supervisor Linda Jackson has terminated the Woodhead Fire Closure Order, effective October 19th. With the change in weather patterns and associated precipitation in the fire area, fire behavior is minimal and is no longer a threat to containment objectives. Fire suppression resources continue to work in the area and some smoke may still be visible.
Forest users entering the burned area are reminded that there are still hazards in the area, including fire-weakened trees, smoldering fire, and heavy equipment operating in and around the fire area. A burned landscape presents several safety hazards that either did not exist prior to the fire, or have been exacerbated by the effects of the fire. Those travelling or recreating in the burned area are reminded to be very aware of your surroundings and follow warming signs and directions from agency personnel. Hazards include unstable terrain, displaced wildlife, hazard trees, burned stump holes and root chambers, and the possibility of flash flooding and debris flows during periods of heavy rain. Travelers should exercise caution and patience while traveling on narrow roads in and around the burned area.
The Woodhead Fire, northwest of Cambridge, Idaho, started on September 9, 2020, and has burned on lands managed by the Payette National Forest, the Bureau of Land Management, the Idaho Department of Lands, the Andrus Wildlife Management Area, and privately owned land. Suppression damage repair and burned area emergency response are in process.
Additional information about the termination of the closure order, traveling in the burned area, and rehab activities can be found at (InciWeb)
— — — — — — — — — —
Idaho parks outline plans for COVID-19 relief funds
Oct 19, 2020 Local News 8
The Idaho Parks and Recreation Department will receive $1.3 million in CARES Act funding. The department said Monday it will use the money to repair and improve park facilities, cover increased operational expenses, and acquire equipment to maintain high-use areas.
As of October 1, visitation at Idaho State Parks set an annual record of more than 6.5 million visitors, despite a 60-day closure early in the year. That surpassed the prior annual visitation record by 100,000 visitors and there are still more than two months in the year.
Parks and Recreation Board Chairman said the COVID-19 pandemic has created an increased burden on Idaho's 30 state parks.
continued:
—————
Critter News:
Pet Talk – Antifreeze toxicity in dogs and cats
By Dr. Karsten Fostvedt Oct 23, 2020 IME
Wintertime is approaching and we all want to make sure that our automobiles are functioning properly. This means changing our radiator fluids and adding new antifreeze. Antifreeze products can contain ethylene glycol, propylene glycol, methanol, or a combination of these agents. Most automotive antifreeze liquids contain ethylene glycol and pose the greatest hazard to pets; they are often dyed fluorescent green. Propylene glycol is generally recognized as safe, but can also be dyed a green or blue color. Methanol is present in the windshield washer fluids as well as gasoline antifreezes.
All three compounds can develop a serious metabolic condition known as acidosis after pets drink these fluids. They can depress the brain and cause drunken behavior, mental depression, and coma. Of the three compounds, ethylene glycol is of the most serious concern for pets. It is said to have a sweet taste that is attractive to dogs and cats. When it is metabolized by the body, crystals form that are deposited in the kidneys. These crystals can cause permanent kidney failure.
Signs can occur within one hour after ingestion. Anywhere from 12-36 hours after ingestion, kidney failure may develop with decreased urine production. The kidney damage is often irreversible and fatal.
continued:
— — — — — — — — — —
MCPAWS to host cat adoption Saturday at thrift store
The Star-News Oct 22, 2020
MCPAWS will host a no-cost cat adoption event on Saturday from 11 a.m. to 3 p.m. at the MCPAWS Thrift Store in downtown McCall thanks to a Rachael Ray No-Kill Excellence Grant.
The McCall shelter has teamed up with partners in the Idaho Shelter Coalition for this statewide adoption event in their effort to make Idaho a no-kill state.
"The goal of the coalition is to end the unnecessary euthanasia of dogs and cats in Idaho by 2025," said Amber Kostoff, executive director of MCPAWS and vice president of the Idaho Shelter Coalition.
The Idaho Shelter Coalition received the $30,000 grant to distribute to the organizations' 20 members.
"We know we have a lot of work to do, and events like this represent just one strategy that the coalition has developed to accomplish this goal," Kostoff said.
MCPAWS Thrift Store is located at 301 Lenora St.
source:
— — — — — — — — —
Idaho Humane Society, Kuna PD and several citizens rescue horse at skatepark
by Ariana Pyper Saturday, October 24th 2020
Idaho Humane Society officers rescued a horse that fell into the Kuna Skate Park on Saturday.
A minor was out riding the horse when she got too close and fell into the bowl.
Officers say the horse appears to be in good health but the horse has a limp and her hock is bleeding.
"We are hoping she has a speedy recovery. Thank you to our Humane Officers who are called out around the clock and those who assisted in this case," the Humane Society said.
continued: w/video
— — — — — — — — — —
Colville man shoots wolf to escape encounter
By RaeLynn Ricarte Statesman Examiner Tuesday, October 20, 2020
Colville, WA — A Colville man who found himself surrounded by wolves on Oct. 7 in the forest near Rocky Creek Road, just east of town, shot and killed a young male in the pack to escape.
"The man called us as soon as he managed to get back to a place where he had cell service, and the incident was investigated by the county's wildlife conflict specialist, Jeff Flood, and the state Department of Fish and Game," said Stevens County Sheriff Brad Manke. "Investigators went to the scene and found the dead wolf. From the evidence, they confirmed the man's story and determined that he acted completely within the law because he was threatened."
Manke said the identity of the man is being kept confidential to avoid making him a potential target for retaliation from wolf advocates. The incident occurred about 6:30 p.m. on Wednesday, Oct. 7, he said. According to Manke, the man had gone into the woods to check on his trail cameras. After walking through tall grass, he encountered multiple wolves in front of him. Manke said the man then began to slowly retreat, but looked behind to find other wolves flanking him.
continued:
———————
Letter to Share:
If you are not pheasant hunting you are missing the best.
from The Gamebird Foundation
Hi all you folks that like to hunt pheasants, or just go out and look at these beautiful birds. I am up several mornings and out in the afternoon, evenings. I have not seen as many pheasants in the last several years as I have seen this year. The areas where we are raising pheasants and releasing them are producing clutches of chicks from the birds we released last year. You need to get out and visit these areas.
I spend quite a bit of time around the Access Yes areas. Lots of pheasants, but very few hunters. Just came back from the Youth Access Area over on the Palouse River area. We see pheasants everywhere, but very few hunting. We visited with a young fellow, grinning from ear to ear. He harvested 2 roosters. His dad said that he missed more than he harvested. The farther said they were seeing roosters everywhere. They had just returned from elk hunting and his son wanted to go pheasant hunting. They checked and no one signed up to hunt so they went hunting. Dad said that the boy likes to hunt pheasants much more than elk and deer hunting. I had better sign of or I may fill the page. Give me a call or email if you want to know how to find these places.
"The Pheasant Guy"
Jim Hagedorn
208-883-3423
———————-
Fish & Game News:
Four bull moose illegally shot at, three killed in Valley County over the weekend
By Brian Pearson, Conservation Public Information Specialist
Monday, October 19, 2020
Conservation Officers seek help locating the individuals responsible for killing and leaving a trophy Shiras moose to waste near Tripod
An illegally killed bull moose was discovered recently in Idaho Fish and Game's Southwest Region, and Fish and Game conservation officers are asking the public for information to bring the poacher to justice.
On Saturday, Oct. 17, a large bull moose was found dead and suspected of being poached west of Tripod Meadow, which is west of Smiths Ferry, in Unit 24. Conservation officers believe the animal was shot sometime between Oct. 10 and Oct. 17.
continued:
— — — — — — — — — —
Nonresident fee increase takes effect Dec. 1 and 2021 nonresident deer/elk tags will be available then
By Roger Phillips, Public Information Supervisor
Wednesday, October 21, 2020
Nonresident deer and elk tags sold out in 2020 and demand is expected to be high
Most nonresident hunters, anglers and trappers will pay higher prices for licenses, tags and fees starting Dec. 1. Price increases will vary by item, but here are new prices for some of the most popular licenses and tags for adult nonresidents:
continued:
— — — — — — — — — —
Protect people, protect bats and avoid rabies
By Rita Dixon, Wildlife Natural Resource Program Coordinator
Thursday, October 22, 2020
Bats are beneficial, but often misunderstood wildlife
Idaho Fish and Game — in collaboration with the Idaho Department of Health and Welfare, Centers for Disease Control and Prevention, Bat World Sanctuary, and Ravenswood Media — has released a short film (see below) called "Protect People, Protect Bats, Avoid Rabies!" Funded through a grant from the U.S. Fish and Wildlife Service's White-Nose Syndrome Small Grants Program, and a Peekaboo Rescue Fund Grant from Bat World Sanctuary, the film promotes a One Health message by explaining the connection between human health, bat health, and the environment and how best to avoid a rabies exposure.
Late September through October brings our last wave of migrating bats through Idaho. This is a time of year when people are likely to come into contact with bats, which is why it's important to understand how to avoid a rabies exposure. Although most of our bats are resident and make short-distance movements to their hibernation sites, two Idaho bat species, the Hoary Bat and Silver-haired Bat (both species of greatest conservation need), are long-distance migrants that make twice yearly journeys between their summer and winter grounds, traveling as far as over 900 miles and as far south as southern California and Arizona. These migratory tree bats undertake some of the longest seasonal movements of any bat species and can travel over 150 miles per night, making much needed stopovers for sanctuary or short-term rest. When not in flight, bats often enter daily torpor (controlled reductions in body temperature and metabolism), which reduces their energy costs.
continued:
— — — — — — — — — —
Wildlife Express Newsletter & Educational Activities
A new issue of Wildlife Express is out, and we're expanding beyond the school year so that you can enjoy monthly wildlife features and activities all year long.
Have you ever had a quiet hike interrupted by an exploding bird? If so, you encountered a member of the grouse family. These birds don't really explode, but their sudden getaway right at your feet will seem like a feathered explosion.
Take a closer look at Idaho's forest grouse in the October edition of Wildlife Express.
link:
— — — — — — — — — —
Windows to Wildlife newsletter header
In this Fall 2020 issue:
* Studying the surprisingly elusive American white pelican
* Watchable Wildlife
* Idaho birding trails
* News from the Field
– * Great Basin Collared Lizard
link:
— — — — — — — — — —
More F&G News Releases
link:
———————————-
Crazy Critter Stuff:
Elephant Smash Giant Pumpkins
Oregon Zoo Oct 23, 2020
They did the mash!
The elephant family stomped and snacked on over 1,200 lbs of pumpkins this morning during our Squishing of the Squash! Big thanks to growers Larry Nelson and Jim Paino for the gourd time!
— — — — — — — — — —
Cute co-pilot! Owl lands in helicopter fighting California wildfires
by KMPH Staff Wednesday, October 14th 2020

Co-pilot owl lands inside helicopter fighting Creek Fire in California (Photo Courtesy: Dan Alpiner / Sky Aviation)
Fresno County, Calif. (KMPH) — It's odd to have an owl enter an aircraft. It's unheard of to have it enter while it's in-flight.
"It's an unexplainable and magical miracle for it to stay with you for several water drops, then leave just as it arrived – safe and unannounced," said helicopter pilot Dan Alpiner.
The pilot was flying water drops on the Creek Fire in California in a UH-1 Huey Helicopter.
The pilot said the bird just flew inside, sat on the co-pilot's chair for a long time, long enough for several water drops and returns.
source:
——————
Seasonal Humor:
"Do not covid thy neighbors wife, wear a mask."
— —

———————