Nov 8, 2020 The Yellow Pine Times – Valley County, Idaho
Reminder: We are still under a boil water order until further notice.
Community Calendar:
April 17 – Boil water order issued
Aug 11 – Valley County Mask Order
Aug 12 – Firewood Permits at The Corner
Sept 8 – Hwy 55 work started
Nov 2 – 3-day a week mail starts
Nov 3 – Lodge and Store closing for winter, Corner open on mail days.
Nov 14 – YP Tavern winter closure
Nov 26 – Thanksgiving potluck Community Hall 2pm
Nov 30 – Firewood Season Ends
(details below)
———-
From Valley County
Valley County Mask-Up
A county-wide mask mandate was approved the CDH August 11th, and is now in effect for Valley County. (link)
Rebound – Idaho Governor's phasing program
link:
COVID 19: Recommendations and Resources for Safe Business Practices
link: (lots of info for businesses)
——————-
Local Events:
Thanksgiving
Thursday, November 26th, 2pm. Yellow Pine Thanksgiving Potluck Dinner, at the Community Hall.
— — — —
Highway 55 Closure starts Monday, Sept 21st
Fall (September through November) and Spring (March through May)
– Daytime and nighttime work seven days a week
– Full road closures Monday through Thursday from 10:00am to 2:00pm
– One-way alternating traffic during all other time frames
———-
Village News:
Yellow Pine Tavern Annual Halloween Party
Had a great Halloween-Salmon Bake- End of Deer Season Potluck at the Tavern, our only gathering at the Tavern since February. The wild Salmon brought from Alaska by Tom Wood was wonderful and other dishes by our local cooks made for a good feed. Will miss our hunters and locals who are leaving for the season.
— — — —
Rx burn South Fork Salmon River Nov 2
Smoky sunset Monday, Nov 2nd

photo courtesy John B.
Smoke from the prescribed fire visible from Yellow Pine by mid-afternoon.

Satellite image of SF smoke plume 11/2/2020 330pm.
Map Link: FourMile Fall 2020 Notification
— — — —
Amerigas Nov 6
Dan from Amerigas was in Yellow Pine Friday, topping off propane tanks for winter.
— — — —
South Fork Road Update – Project Complete
10/26/2020
The South Fork Road reconstruction project is fully complete. No more closures or delays will take place currently or into the future.
Brian Harris
Public Affairs Officer
Payette National Forest
— — — —
After Fire Action Meeting
On Tuesday, Oct 13, there was a meeting at the community hall to compile an "After Action Review" for the Buck Fire. (No report yet.)
— — — —
Help Support the Yellow Pine Volunteer Fire Department
Thank you for all your offers of help and support. Now you can help support the Yellow Pine Fire District by donating through our Go Fund Me account. Just click on the link to get started.
Even a small donation could help reach the fundraising goal. And if you can't make a donation, it would be great if you could share the fundraiser to help spread the word.
Thanks for taking a look!
FAQ: YPAC is the charity that was set up to allow the Village to apply for grants. It was the only 501.c3 the Village has to allow GoFundMe to recognize an authorized EIN. So, funds will go to YPAC then they will cut a check to the fire district. YPAC is lead by Corey Phillips and Matt Huber is the Secretary.
— — — —
Boil Water Order issued April 17 still in effect.
No update for August or September or October.
Update July 5: the boil order is in effect due to extremely high use due to leaks.
Update June 12: The boil order is still on. We still are experiencing excessive water use because of leaks. Not sure when this will be lifted. We are applying for grants to repair the system.
Update June 2: The water plant is experiencing high water in Boulder Creek which brings more debris into the sand filter.
The high demand caused by leaks in the system plugs the sand filters prematurely. We will be on a boil order until further notice.
— — — —
Critters
Be Bear Aware
* Keep all household garbage secured in a garage or other enclosed area.
* Leftovers or discarded fish or meat bones give off a strong odor and should be stored in your freezer until you haul the garbage to the transfer station.
* Keep attractants like B-B-Q grills, bird seed or pet food stored where bears cannot find them.
* Bird feeders should be taken down May through October or placed well out of reach of bears.
Be Mountain Lion Aware
* NEVER run away from a mountain lion. The lion's instinct is to chase and ultimately catch what they perceive as potential prey.
* NEVER turn your back on a lion. Always face them while making yourself look as large as you can. Yell loudly, but don't scream. A high-pitched scream may mimic the sound of a wounded animal.
* SLOWLY back away while maintaining eye contact with the lion.
* Safety equipment you may choose to carry could include bear spray, a noise device, like an air-horn, and if you walk in the dark, a very bright flashlight.
* If you are attacked, fight back!
— — — —
Latest Road Reports
Link: to current road reports.
— — — —
Yellow Pine US Mail
The 3-day a week mail delivery started Nov 2nd (he will also drive the route Nov 3rd to make sure any ballots get taken out.) The Post Office in Yellow Pine is open six days a week year around: M-F 845am-245pm Saturday 9am-245pm. Forever Stamp: 55 cents. Support our local post office and purchase your holiday stamps here.
— — — —
Yellow Pine Transfer Station
Report the bins were emptied Wednesday Oct 14th.
Road is good from YP to the dump.
Please do not abuse our Transfer Station or we may lose it. Household trash must be placed in the bins, flattened cardboard boxes can also go into the bins. Do not stack trash in front of the doors. Woody yard debris only for the burn pile. No furniture, appliances, tires or construction debris allowed, those items must be hauled out to the Donnelly station by you.
Yellow Pine Transfer Station (aka, the dump)
The Yellow Pine Transfer Station is located approximately 3 miles south on Johnson Creek Road.
The TRANSFER STATION is for household trash and yard waste:
* Household trash must be put inside (and fit) the dumpster;
* Yard waste (limbs, pine needles, brush, etc.) goes in the burn pile on the south end of the turn-around;
* Cardboard boxes should be flattened before putting the in the dumpster,
The DUMPSTERS are NOT for:
* Furniture (take to Donnelly Transfer Station);
* Appliances (take to Donnelly Transfer Station).
The BURN PILE is NOT for:
* Cardboard boxes (flatten and put in dumpster);
* Furniture and appliances (take to Donnelly Transfer Station);
* Drywall and building material (take to Donnelly Transfer Station);
* Wire or fencing (take to Donnelly Transfer Station);
* Foam Rubber (take to Donnelly Transfer Station);
* Wood with metal (like nails) attached (take to Donnelly Transfer Station.)
When closing the DOORS on the front of the dumpsters:
* Make sure the "U" brackets at the top and bottom of the door are engaged;
* The retaining bar at the middle of the door is slid into the pipe;
* And the "L" bars at the bottom of the doors dropped into place.
The Yellow Pine Transfer Station is Valley County responsibility. If it is not kept tidy, use of the Transfer Station may be revoked. That would result in residents having to take all household trash and yard waste to the Donnelly Transfer Station.
If Dumpsters Are Full, Contact Lake Shore Disposal at: 208/634-7176
———-
Local Groups
YPWUA News:
The annual Water meeting for 2020 was held July 5th at the Community Hall 2pm.
link: minutes 20200705YPWUA.docx
Boil Water Order issued April 17, 2020. This could last until leaks are repaired.
Boil Water Advisory Notice
Boil Your Water Before Using
Bring tap water to a rolling boil, boil for one minute, and cool before using or use bottled water. Boiled or bottled water should be used for drinking, making ice, washing dishes, brushing teeth, and preparing food until further notice.
This Boil Water Advisory Notice applies to The Yellow Pine Water System
The system is being monitored and checked daily for compliance.
You will be informed when you no longer need to boil your water.
Please share this information with other people who drink this water, especially anyone who may not get this notice directly (for example, people in apartments, nursing homes, schools, and businesses).
You can do this by posting this notice in a public place or distributing copies by hand or mail.
State Water System ID#: 4430059 Date distributed: 3-22-2020
Notice of Intent to File an Application with USDA, Rural Development
The Yellow Pine Water Users Association, Yellow Pine, Idaho intends to file an Application with USDA, Rural Development to obtain a drinking water system facility Emergency Community Water Assistance Grant (ECWAG). Emergency Community Water Assistance Grant (ECWAG).
If any additional information is needed, please contact:
Willie Sullivan
Treasurer
ypwater @ gmail.com
Distributed to Yellow Pine Water Users Association customers via Yellow Pine Times on June 12, 2020.
The 2019 Yellow Pine Water Users Shareholders meeting was Sunday July 7, 2019.
link: 20190707YPWUAminutes
— — — —
VYPA News:
Heat was installed in the Community Hall on April 30, 2020.
Addition for Community Hall bathrooms October 15, 2020.
Minutes from September 12, 2020 VYPA meeting
link:
Minutes from August 8, 2020 VYPA meeting
link:
Minutes from July 11, 2020 VYPA meeting
link:
Minutes from June 13, 2020 VYPA meeting
link:
VYPA Bylaws adopted 8/8/2020 (link)
YPAC Corp Bylaws (link)
— — — —
YPFD News:
November 1 – Time to change your clocks and change the batteries (and test) your smoke and CO alarms.
Burn Ban rescinded Oct 20, 2020
After Action Report meeting Oct 13, 2020 (no minutes yet.)
YPFD had a budget meeting on September 30th at 10am at the fire station. (No minutes yet.)
Make sure to clean and check chimney fitting before starting that first fall fire in your cabin. Cleaning brushes can be borrowed from the YPFD.
There was a YP Fire Commissioner meeting on June 27, 2020 at 10am at the Fire Station.
Link: 20200627 Fire Dept minutes June 27
YPFD COVID19 Policy
link: YPFD Covid 19 SOP
link: Covid-19 EMS (May 23)
Pile burning: Dress appropriately, have enough help on hand (people, water and tools) and make a firebreak before you start. Call your local fire protection district chief to let them know you'll be conducting a debris burn. This saves them from sending emergency responders to your property if they are not needed. Do NOT burn on breezy afternoons.
Better yet, "Bring It, Don't Burn It", you can take your yard waste (limbs, pine needles, brush, etc.) to the burn pile at the Transfer Station on the south end of the turn-around. Remember, keep the pile neat. Woody debris only, no nails, no cardboard and no furniture! The Boise NF will burn the pile in the fall when it is safe and doesn't pollute our fine YP air.
YP Fire Commissioners:
Sue Holloway – District 1
Dan Stiff – District 2
Merrill Saleen – District 3
(TBA) – Fire Chief
Yellow Pine Fire Protection District Community Service Notice
The purpose of this letter is to show how you as a Yellow Pine Resident can help protect your structure against a wildland fire by being "Fire Wise." Click the link: to view 20190724 Yellow Pine Fire Protection mitigation
——–
Biz Listings:
The Corner (208) 633-3325
Starting Nov 3rd open 3 days a week on mail days. Firewood Permits available.
— — — —
Yellow Pine Tavern (208) 633-2233
Open Daily 8am to 10pm. Outside Dining and Bar. Breakfast and Bar Food.
Winter Closure: November 14, 2020 to April 16, 2021
— — — —
Yellow Pine Lodge (208) 633-3377
Closed Nov 3rd for winter.
— — — —
Yellow Pine General Store (208) 633-3300
Closed Nov 3rd for winter.
— — — —
Murph's RV Park & Mary's Cabins
FB page link
— — — —
Knotty Kat Crochet Works – 208-502-0940
FB page link
open Tue – Sat, 9-5
Yellow Pine eggs $3/doz
— — — —
Buck Horn Outfitters LLC 208-633-3614
Tom & Sarah Lanham
156 Yellow Pine Ave, Yellow Pine Id 83677
website:
Facebook:
Starting June 2020 We will be doing trail rides out of Yellow Pine along with summer pack / camping trips to high mountain lakes in the area!
Wapiti Meadow Ranch – Johnson Creek (208) 633-3217
or 208-315-3554 – cabin rentals
website:
Deadwood Outfitters
website:
— — — —
Local Fuel Suppliers
Amerigas Phone: (208) 634-8181
Ed Staub & Sons Phone: (208) 634-3833
Diamond Fuel & Feed Phone: (208) 382-4430 open 830am-5pm Monday-Friday, closed weekends.
— — — —
Outside Biz that will service Yellow Pine:
The Star-News


click to subscribe:
A reminder that those who live in other states can subscribe to the online edition only since the mail can take days for hard copy to reach them.
Rocky Mountain Mechanical – Plumbing – Heating – Air conditioning
(208) 365-PIPE (7473), Emmett, will service Yellow Pine
Elkhorn Heating & Cooling
(208) 906-4067 Middleton, Idaho, will service Yellow Pine
B&T Safety Solutions LLC
208-271-1600 Based out of Donnelly
Snow removal, cleaning chimneys and stoves, we do cabin staining/chinking as well
— — — —
Follow The Yellow Pine Times on Facebook (updated more often than emails)
———————–
Local Observations:
Monday (Nov 2) overnight low of 23 degrees, clear sky and very little frost (dry.) Sunny at lunch time. Extra traffic for a Monday. The Rx burn at 4-mile on the South Fork putting up a lot of smoke, by mid-afternoon the sky was mostly smoky and the sun a red orb, high of 67 degrees. Jay and pine squirrel hanging around. At dusk it still mostly smoky (clear sky above) and starting to settle in along the river. Looked mostly clear before midnight.
Tuesday (Nov 3) overnight low of 24 degrees, clear sky and light frost. Slight haze of smoke, but probably from local wood stoves. Sunny and mild at lunch time, increasing haze of smoke. Warm and calm mid-afternoon, a few small clouds and thicker smoke, high of 69 degrees. Mostly high thin hazy clouds tinged with pink before dusk. It looked partly to mostly clear before midnight – bright golden moon.
Wednesday (Nov 4) overnight low of 28 degrees, partly hazy sky this morning, dry – no frost. Steller jay hanging around. Partly clear and warm at lunch time. Mail truck made it in on time. Warm and partly cloudy mid-afternoon, slight breeze, high of 67 degrees. A little more traffic than usual for a Wednesday. Sky looked clear at dusk, still fairly warm and light breezes. Appeared clear before midnight.
Thursday (Nov 5) overnight low of 29 degrees, mostly hazy sky this morning, light breeze and frost melting and dripping off roofs. Gusty breezes before lunch time. Mostly cloudy and light breezes after lunch time. Mostly cloudy with light breezes and warm mid-afternoon, high of 70 degrees. Steller jay hanging around. Clear sky and light breezes at dusk. Windy after dark. Cloudy and calmer before midnight.
Friday (Nov 6) overnight low of 33 degrees, about half cloudy half clear sky this morning, dry – no frost or dew. Sounded like a northern flicker calling to the north. Almost overcast at lunch time, warm and light breezes. Dan from Amerigas in the village filling propane tanks. Blustery and gusty early afternoon. Overcast and light breezes mid-afternoon, cooling off, high of 63 degrees. Steller jay calling from the trees. Looked overcast at dusk and calmer. Appeared to be cloudy before midnight.
Saturday (Nov 7) overnight low of 34 degrees, gray overcast sky this morning. Jay calling from the trees. Cloudy at lunch time. Cool, dark overcast and slight breeze mid-afternoon, high of 50 degrees. Raining and cooler at dusk. Rain turned to snow before midnight. More snow during the night.
Sunday (Nov 8) overnight low of 26 degrees, low clouds and light snow falling this morning with light chilly breezes. 24 hour rain/melted snow = 0.17″ and 1.25″ new snow on the board. Light snowfall and light breeze at lunch time. Steady snow, low overcast and light breezes mid-afternoon, high of 31 degrees. Stopped snowing before dusk.
———————–
Idaho News:
Valley County Election
Nov 4, 2020 The Star-News (via email)
Valley County Commissioner
District 2
Sherry Maupin (R) 3,873 – 57%
Tony Moss (D) 2,922 – 43%
District 3
Elt Hasbrouck (R) 4,976 – 91%
Josh Hurley (Write In) 469 – 9%
Valley County Sheriff
Patti Bolen (R) 4,246 – 68%
Jason Speer (Write-In) 1,967 – 32%
Valley County Prosecuting Attorney
Brian Naugle (R) 4,053 – 60%
Serhiy Stavynskyy (D) 2,737 – 40%
— —
More Election Data from The Star-News
Nov 5, 2020 by Tom Grote
Early Voting
The Valley County Clerk's Office received 4,472 mail-in ballots, more than double the 1,963 mail-in ballots that were received for the 2016 presidential election, Valley County Clerk Doug Miller said.
Mail-in ballots accounted for 63% of the 7,153 total voters who cast ballots on Tuesday, county figures showed.
Valley County had 8,181 registered voters for Tuesday's election, an increase of 40 percent over the 5,884 registered voters in 2016, Miller said. An additional 382 voters registered at the polls on Tuesday.
full story: The Star-News
— — — — — — — — — —
Record 1,330 new Idaho COVID-19 cases, 8 new deaths
Nov 6, 2020 Local News 8
Idaho officials reported a record 1,330 new COVID-19 cases and 8 new deaths on Friday.
The next highest single day report was Wednesday with 1,290.
That brings the total confirmed and probable cases reported since March to 70,909.
There are a total of 61,110 confirmed cases and 9,799 probable cases in all 44 of the 44 counties in Idaho, according to numbers released from the local health districts and the state.
… 8 new deaths were reported bringing the total recorded deaths to 679.
full story:
— — — —
Idaho Thursday, November 5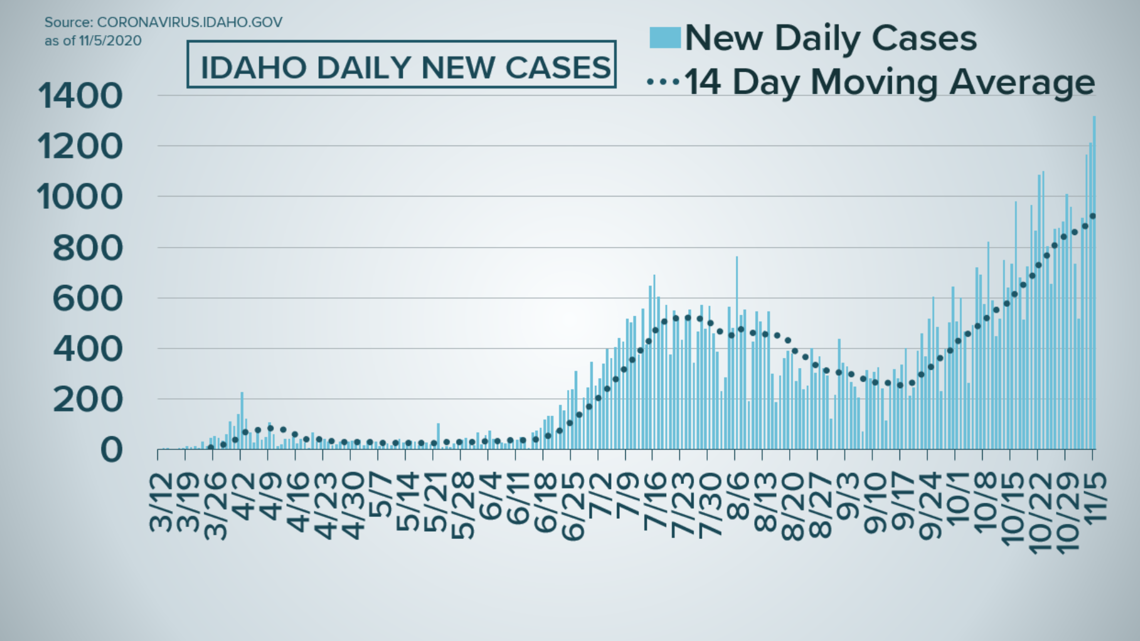 source: KTVB
— — — —
Idaho sees record COVID-19 cases, full hospitals and now flu
Associated Press Nov 5, 2020
A state panel of medical experts are asking Idaho's governor for a statewide mask mandate, hospitals are running out of space for COVID-19 patients and the week has been marked with record numbers of new cases and deaths.
continued:
— — — — — — — — — —
Valley County reports 184 total COVID-19 cases, up 18
By Tom Grote for The Star-News Nov 5, 2020
The total number of positive COVID-19 cases in Valley County reached 184 cases on Tuesday, up 18 cases from 166 a week ago, health officials said.
St. Luke's McCall on Wednesday reported 140 total positive cases from testing done at the hospital, up 11 cases from 129 a week ago.
Cascade Medical Center reported 41 positive cases, or seven more than the 34 cases reported last week.
In addition, the private testing cooperative Crush the Curve has found three confirmed cases of COVID-19 in Valley County with no change in the past week.
Nearly all of the positive cases reported by the hospitals were found following the start of the summer visitor season in mid-June.
Central District Health reported 128 of the positive cases were confirmed to be Valley County residents as of Tuesday, which is 20 more than the 108 cases reported a week ago.
The difference between the hospital figures and the health department figures are those who tested positive but did not declare Valley County as their residence.
One death from COVID-19 has been reported in Valley County since the pandemic reached Idaho in March. An 85-year-old McCall man died July 15 at St. Luke's Boise hospital due to complications of COVID-19 infection.
continued:
— — — —
All three Valley commissioners test positive for COVID-19
By Max Silverson for The Star-News Nov 5, 2020
All three Valley County commissioners have tested positive for COVID-19, leading the commissioners' weekly meeting on Monday to be canceled hours before it was set to start.
Commissioner Sherry Maupin tested positive on Friday, while commissioners Dave Bingaman and chair Elt Hasbrouck tested positive on Monday after experiencing symptoms over the weekend.
Hasbrouck said that the board intended to continue with its weekly meeting on Monday. Maupin will be out of quarantine while he and Bingaman would attend via phone or video conference, he said.
Public spaces in Valley County Courthouse in Cascade were cleaned as a precaution. All offices in the courthouse remained open.
Commissioners each said they were surprised to contract the virus and said they took the recommended precautions.
"I wear a mask distance and use hand sanitizers," Maupin said. "I have no idea where I was infected. This virus is very contagious.'
"I was very shocked when I tested positive on Monday," Bingaman said. "I had some cold like symptoms but never thought about COVID."
"My family and I have been very careful since the virus started spreading last spring," he said. "We have been extra cautious with our social interactions and basic precautions for the last two months since my father was diagnosed with a rare type of lymphoma and I was recovering from non-COVID pneumonia."
The result demonstrated the need to continue to be vigilant about following recommendations from the Centers for Disease Control and Central District Health moving into flu season, Bingaman said.
"Basic precautions could be all that keeps us out of another shutdown based on recent infection rates," he said. "Seems like a pretty easy thing to me."
Maupin echoed the same recommendations saying, "we need to wear our masks and follow guidelines to protect each other. Even with that some will be infected."
"I encourage everybody to be vigilant and wear the mask and protect yourself because I don't want anybody to go through this," Hasbrouck said.
The county adopted an infectious disease control policy in March in an effort to provide essential services open and protect the staff.
The policy requires that masks be worn within county buildings, people observe physical distancing and good hand hygiene.
The policy also details telecommuting, limiting travel, limiting face-to-face interactions when appropriate and general sanitization protocol for all county buildings.
source: © Copyright 2009-present Central Idaho Publishing Inc. All rights reserved (Used with permission.)
— — — —
Cascade School District reports second COVID-19 case
The Star-News Nov 5, 2020
Cascade Schools on Monday reported a positive case of COVID-19 in the school, but could only identify that person as "an adult" for privacy reasons.
Central District Health conducted tracing of people who had come into contact with the infected adult and requested that each go into quarantine, district Superintendent Jeff Blaser said.
"For students who were quarantined, we moved them to our remote learning program and they continued with their cohort classes the next day," said Blaser, adding that he could not say how many students were required to go into quarantine.
The school also intensified cleaning and disinfection throughout the building, he said.
This marks the second confirmed positive case at Cascade Schools since another person was found to have COVID-19 in the first week of school that started Aug. 28.
source:
— — — — — — — — — —
Cascade woman killed in rollover crash along Highway 55
by CBS2 News Staff Tuesday, November 3rd 2020
Cascade, Idaho (CBS2) — A 31-year-old Cascade woman died on Tuesday after a rollover crash.
Idaho State Police says Shaya Lee was driving south along Highway 55 north of Cascade when she drove off the road, overcorrected and then went back on the highway and off the right shoulder.
The vehicle rolled.
ISP says Lee was not wearing a seat belt. She died at Cascade Medical Center in Cascade.
source:
— — — — — — — — — —
'We're stretched so thin': Boise County needs more volunteer EMTs. Here's how you can help
by Deni Hawkins Thursday, November 5th 2020 CBS2
Boise County is one of southern Idaho's more rural counties, but in the summer and winter months, it can feel like anything but.
The ongoing coronavirus pandemic has driven more Idahoans out of their homes in search of fresh air and open space. Fittingly, this county is an outdoor oasis filled with rushing rivers, towering trees, and seemingly endless terrain suited for outings and adventure.
… "We've seen a substantial increase in outdoor recreation with campers, people coming up four-wheeling or in their side-by-sides," he said.
As more people filter in each summer and winter, emergency crews find themselves responding to more rollovers, motorcycle crashes, ATV accidents and off-road rescues.
full story:
— — — — — — — — — —
4.0 magnitude earthquake near Stanley
Nov 6, 2020 Local News 8
The United States Geological Survey reports there was a 4.0 magnitude earthquake near Stanley Friday.
USGS said the earthquake happened around 12:30 p.m.
continued:
——————-
Mining News:
Midas study draws 10,000 comments
Payette forest sorts through Stibnite Mine responses
By Drew Dodson for The Star-News Nov 5, 2020
Nearly 10,000 public comments were submitted on Midas Gold's Stibnite Gold Project near Yellow Pine.
The comments were received during a 75-day comment period on the Payette National Forest's draft environmental study of the mine that ended Oct. 28.
The Payette received 9,611 online comments and several hundred more comments via mail and email that are still being processed, Payette Public Affairs Officer Brian Harris said.
The Payette is sorting the comments by content, which is expected to take three weeks to six weeks, Harris said.
"We then will identify which comments are substantive and which are not per the Federal Code of Regulations," he said.
"Substantive" comments are those that offer in-depth critiques of certain elements of the project or that identify areas in which existing analysis is insufficient.
Some substantive comments could trigger further analysis of the project that could ultimately influence how the mine is permitted, Harris said.
A team of Forest Service experts from across the nation will be helping the Payette sift through the comments to speed up the process, he said.
Midas Gold is "proud to be one step closer" to permitting the proposed gold and antimony mine, the company said in a news release.
"The feedback from these comments will be incredibly valuable as we work with regulators to finalize the plan for the Stibnite Gold Project," Midas Gold Corp. President Stephen Quin said.
The public comment period opened on Aug. 14 and was originally expected to last until Oct. 13 until the Payette granted a 15-day extension to Oct. 28.
Over 7,300 comments, or 76%, were received during the extension period, according to timestamps on the comments.
Responses will be issued to all 10,000 comments in the final environmental study, which is currently slated for release in August.
A minimum 45-day objection period will follow the release of the final environmental study and draft record of decision, which will be released at the same time as the final study.
Only those who submitted substantive comments during the project scoping period in 2017 or on the draft environmental study may issue an objection.
A final decision on the project could come as soon as December 2021.
source: © Copyright 2009-present Central Idaho Publishing Inc. All rights reserved (Used with permission.)
— — — — — — — — — —
Idaho lawmakers support Midas Gold environmental impact statement draft
By Steve Dent Nov 05, 2020 KIVI
The public comment has ended on the environmental impact statement draft for a proposed mine near the headwaters of the South Fork of the Salmon River.
Midas Gold has been working for ten years to put this draft together, they want to mine for gold, silver and antimony at the Stibnite Mine site.
There were 9,609 comments on the Stibnite Mine proposal, and we combed through them to see what stood out.
continued:
———————–
Letter to Share:
Midas Gold has been a strong supporter of first responders
To the Editor:
I have had the privilege of working for Midas Gold for the past seven years. I joined the team because I believed the company genuinely cared about the community and I am proud to say nothing could be more true.
Every day, I see how Midas Gold places a high value on transparency and working with Idahoans. From the very beginning, we've sought feedback from community members and tried to address concerns and implement suggestions into our Plan of Restoration and Operations. This work is still ongoing.
One area we prioritize is public safety. We want to ensure our operations and our communities are as safe as possible, now and in the future.
Today, our staff at site are trained in emergency response and many are wilderness first responders. From training exercises with the Village of Yellow Pine Volunteer Fire Department, supporting wildfire crews, to assisting Search and Rescue, the team partners regularly with emergency workers.
It is important to note that, as an operating mine, we will have EMS on-site and our own safety response plans and resources. We will also do our part to help ensure communities have the resources they need.
Prior to operations at the mine site, Midas Gold is committed to coordinating with the appropriate emergency response teams to identify equipment and training needed to respond to a variety of incidents both medical and environmental in nature, be it in the back country or on the highway.
Over the last several years, Midas Gold has made it a point to meet with first responders across Valley County and beyond. To date, we've met with the McCall, Cascade and Donnelly Fire Departments, and the Village of Yellow Pine's fire district to discuss our plans and the potential impacts it may bring to their communities.
In these meetings, we've also found ways we can partner to better serve the community. For example, a few years ago, we loaned our emergency response trailer to the McCall fire department to respond to a fuel oil spill on Payette Lake. In addition, once we learned communication between first responders was strained around Yellow Pine, Midas Gold donated equipment, operator time, supplies and helped install a radio tower.
Today, first responders can communicate clearly, which makes the area safer for all of us and has been key to fighting wildfires and in search and rescue efforts.
We want these conversations to continue because we know collaboration will help make our communities safer and stronger. And the only way for us to fully understand the issues on the minds of communities is to work alongside them.
So, whether you have thoughts on public safety, traffic or jobs, please consider this an open invitation to come and speak with me or other members of the Midas Gold team. Trust me, we care what is on your mind and, working together, we can identify solutions.
Belinda Provancher, McCall
source: The Star-News Nov 5, 2020
——————–
Public Lands:
Tamarack Resort fire uncontained
Cause of 60 acre blaze under investigation
By Max Silverson for The Star-News Nov 5, 2020
A fire that started Monday inside the ski area boundaries of Tamarack Resort grew to 61 acres on Wednesday, coming close to an unfinished mid-mountain lodge but causing no damage.
The West State Fire was considered uncontained on Wednesday but firefighters have made their way around the entire perimeter of the fire, the Payette National Forest said in an update.
"Containment of fire perimeter is not called until fire managers are fully certain the fire will not escape over a given part of the fire line," the update said.
The cause was still under investigation, Southern Idaho Timber Protective Association Chief Fire Warden Paul Wagner said.
"It is still very dry," Wagner said. "It is still fire season here."
continued:
— —
Fire near Tamarack Ski Resort stays at 61 acres, rain and possible snow expected
The Valley County Sheriff's Office is urging residents in the area to make preparations now to keep your family and home safe.
November 4, 2020 KTVB
Tamarack, Idaho — A fire is actively burning on the West Mountain of Tamarack Ski Resort doubled in size by Tuesday morning, officials say.
The West State Fire started at about 1 p.m. on Monday and grew to about 50 acres by evening. As of 8 a.m. Tuesday, the fire was measured at 110 acres, with zero percent containment, according to Payette National Forest spokesman Brian Harris.
As of about 10:30 a.m. Wednesday, the fire is at 61 acres and 0% contained. However, officials added that the fire has stayed inside a set perimeter and no structures are threatened.
continued:
— —
West State Fire Update Nov 5, 2020
Valley County Sheriff's Office (via FB)
We have cancelled the "ready" stage of the Ready, Set, Go evacuation process near Tamarack Resort, in Donnelly. The West State Fire is no longer a threat of spreading and is contained. A cancellation CodeRED alert was sent to the effected area.
Once again if you would like to be notified of CodeRED alerts for Valley County in the future, please click this link and sign up.
— —
West State Fire Update Nov 6, 2020
Idaho Department of Lands (via FB)
The fire has remained within the perimeter established on 11/3/20. Fire officials have estimated containment at 70%. Today fire crews will continue mop up operations – securing the remainder of the fire's edge. Cooler and wetter weather conditions are expected late today and into tomorrow. The Idaho interagency Type 3 incident management team will return command of the fire to the local district at 6:30pm tonight.
— —
West State Fire Tamarack Resort
Nov 6, 2020 (via FB)
"Thanks to the hard work of fire crews on the West State Fire, we're pleased to share that this morning the Forest Service rescinded the ready stage of the evacuation order issued by Valley County. There was minimal fire activity overnight, and the remaining ground crews continue to monitor the 61-acre fire footprint.
While the West State Fire burned within 500 feet of our mid mountain lodge and in the vicinity of our Summit Chairlift on Tuesday, we are grateful that the swift and coordinated action of fire crews prevented damage to either one. Out of an abundance of caution, Tamarack's lift maintenance professionals inspected every portion of the Summit Lift on Wednesday and confirmed that no part of the lift had any exposure to the fire.
Our mountain operations team deployed our snowmaking equipment to help fight the fire. The mid mountain snow guns were used as an added measure of protection for the mid mountain lodge, and fire crews used the snow making water lines to refill their water trucks.
Starting today, the remaining fire crews on site will begin demobilizing and expect to be complete by Saturday. Tamarack is grateful for the efforts of all the crews who fought the West State Fire from the air and ground, including Donnelly and McCall Fire Departments, Southern Idaho Timber Protective Association, the Idaho Department of Lands, the Payette National Forest and the Boise National Forest.
The fire will not impact Tamarack's ski season and operations, still planned to begin December 11." – From Tamarack Resort President Scott Turlington
— —
61-acre fire at Tamarack Resort now 100 percent contained
by CBS2 News Staff Friday, November 6th 2020
A small late-season forest fire that broke out at Tamarack Resort earlier this week is now 100 percent contained.
The fire grew to 61 acres and was reported above mid-mountain.
Folks in the area may see smoke for several days, but crews will be pulled off the fire by Saturday.
About 85 firefighters from Donnelly and McCall Fire Departments, Southern Idaho Timber Protective Association, the Idaho Department of Lands, the Payette National Forest and the Boise National Forest responded.
source:
— — — — — — — — — —
Crystal Creek Fire
Payette NF Nov 5, 2020 (via FB)
Payette National Forest firefighters are working the 355 acre Crystal Creek Fire which was started by an abandoned warming fire.
The wildfire is burning on the east side of Council Mountain in Buck's Basin, and has been visible from Council Valley and Long Valley (McCall area) with active torching of trees in Sub-Alpine fir stands.
Since the beginning of hunting season, 17 abandoned warming fires have been found on the landscape, and 25 abandoned campfires have been discovered in campground facilities. This number of human caused wildfires is not normal for this time of year.
It is critical that warming fires and campfires are fully extinguished before walking away from them. Persons found responsible for starting wildfires can be held liable for the full cost of putting the fire out.
— — — — — — — — — —
Wildhorse Creek Fire
BLM Nov 5, 2020 (via FB)
Wildhorse Creek Fire located 6 miles northwest of Hill City, near Wildhorse Creek. Fire is estimated at 250 acres, pushing north west and north east with strong winds. Camas County water tender, 5 #BLMTFDFire engines, 1 dozer, 2 Single Engine Air Tankers (SEATs), 1 helicopter, and 1 Air Attack, are on scene. The fire is burning in grass and brush. Currently, there is no estimate on contain or control. Cause of the fire is under investigation.
— —
Wildhorse Creek Fire Update
BLM Nov 6, 2020 (via FB)
Wildhorse Creek Fire located 6 miles northwest of Hill City, near Wildhorse Creek. Fire is estimated at 350 acres. Crews continue to create and improve containment lines and mop up hot spots. The fire is experiencing wind gust of 20 mph but the fire is staying within containment lines. Containment is set for 11/6 at 6 p.m. with est. control set for 11/7 at 8 p.m. Cause of the fire is under investigation.
Remember, it's still dry and the risk of wildfire is still high. Use caution when enjoying public lands, make sure campfires are dead out, check chains and fire pressure, and when debris burning, make sure to have water and shovel close by.
— — — — — — — — — —
BLM to conduct pile burning near Horseshoe Bend
November 6, 2020
Jared Jablonski jjablonski@blm.gov 208-384-3210
The Bureau of Land Management (BLM) will be burning logging slash piles approximately eight miles northeast of Horseshoe Bend along Pumpkin Creek as soon as Nov. 9 once weather, fuel moisture and conditions on the ground are favorable.
Burning operations are expected to last three to five days, with follow-up patrols lasting up to three weeks. Resulting smoke will have the potential to be visible from large distances due to location, fuel type and burning conditions. Updates will be posted to http://www.idahofireinfo.com
The purpose of this controlled burn is to reduce piles of hazardous fuels throughout 720 acres of BLM managed land after the recent Pumpkin Brainard commercial timber harvest. Doing so during cool and wet conditions minimizes the potential for fire spread.
For more information, contact the BLM Boise District Fire Information Line at (208) 384-3378.
———————
Critter News:
MCPAWS shelter closes for five days after staffer tests positive
The Star-News Nov 5, 2020
MCPAWS Regional Animal Shelter in McCall was closed last Friday after a staff member tested positive for COVID-19, an announcement from the shelter said.
"The rest of the staff was tested and came back negative, so we will be back to normal operations today," Development Director Kattie Kingsley said Wednesday.
MCPAWS Veterinary Hospital and MCPAWS Thrift Store had no contact with the infected employee and those businesses remain open, Kingsley said.
source:
— — — — — — — — — —
NPS seeks information related to illegal wolf shooting
Nov 2, 2020 Local News 8
Moose, Wyo. — National Park Service investigators seek help from the public as they try to find out who shot and killed a wolf in western Wyoming's Grand Teton National Park.
The body of the black-colored wolf was found near the Pilgrim Creek trailhead in the park on the morning of Oct. 26, park officials said Monday.
continued:
— — — — — — — — — —
2nd wolf found shot to death in Eastern Oregon
CBS2 Tuesday, November 3rd 2020
Halfway, Ore. – An elk hunter found a wolf that had been shot and killed on the largest national forest in Oregon last week.
Now the Oregon State Police Fish & Wildlife Division is asking for the public's help identifying the person or people responsible for killing the wolf.
The animal is the second wolf found shot and killed in the area this fall.
continued:
— — — — — — — — — —
Reward doubled for information in central Idaho moose poaching case
by Ryan L Morrison Tuesday, November 3rd 2020
Smiths Ferry, Idaho (CBS2) — Four bull moose were shot at and three were killed over a weekend in mid-October in Valley County.
One of the large bull moose was found dead by Fish and Game officers on Oct. 17 in, what they believe, is a poaching incident.
The bull was found west of Tripod Meadow near Smiths Ferry.
continued:
— — — — — — — — — —
Elk reduction program begins Saturday
Nov 6, 2020 Local News 8
An elk reduction program begins Saturday in Grand Teton National Park.
The park's enabling legislation of 1950 authorizes Grand Teton National Park to jointly administer an elk reduction program with the Wyoming Game and Fish Department when necessary for the proper management and conservation of the Jackson Elk Herd.
Respective federal and state resource managers have reviewed available data and concluded that the 2020 program is necessary.
continued:
— — — — — — — — — —
Nearly 100,000 hatchery steelhead killed to stop virus
Associated Press November 2, 2020
Filer, Idaho — Idaho Fish and Game officials say 96,000 juvenile steelhead at a southern Idaho hatchery have been killed to prevent a virus from spreading.
Officials tell The Times-News in a story on Monday that the steelhead in the Magic Valley Fish Hatchery would have been released next spring into the Little Salmon River.
Officials say there are 1.5 million fish at the hatchery, and losing 96,000 is not expected to have a significant impact.
Officials say the fish had been shipped as eggs from Fish and Game's Clearwater Fish Hatchery in northern Idaho, and might have already had the virus then.
source:
——————-
Fish & Game News:
Two elk found shot and left to waste in Blaine County
By Terry Thompson, Regional Communications Manager
Wednesday, November 4, 2020
Fish and Game asks for the public's help in finding individuals responsible for killing and wasting cow elk shot north of Carey, Idaho.
The public's help is sought in the killing of two cow elk north of Carey, Idaho in the area of Road Canyon. Fish and Game officers received a report of two cow elk, one fully intact and the other partially processed that had been left to rot up Road Canyon along the Little Fish Creek Road. A bull elk carcass was also found at the scene but with an open antlered elk hunt at the time it is thought the bull was taken legally.
continued:
— — — — — — — — — —
F&G seeking information about bull elk shot and left to waste in Unit 66
By James Brower, Regional Communications Manager
Thursday, November 5, 2020
A reward is being offered for information leading to a citation
A branch antlered bull elk was shot and left to waste sometime between Oct. 15 and Oct. 21 in Unit 66 near Flag Knoll. Fish and Game Conservation Officers are looking for any information the public may have about the incident.
Three elk carcasses in total were discovered in close proximity to each other. Two were properly cared for while the third was untouched and left to decay. It is suspected that all three animals may have been shot around the same time.
continued:
— — — — — — — — — —
More F&G News Releases
link:
———————————-
Crazy Critter Stuff:
Bobcat found inside Kentucky Dollar General; released back into wild
by Anna Moore, WCHS/WVAH Staff Friday, October 16th 2020

Floyd County Sheriff's Department
Floyd County, Ky. (WCHS/WVAH) – The Floyd County Sheriff's Department released a bobcat back into the wild Wednesday night after it was found inside a store.
According to the sheriff's department, the bobcat was seen inside a Dollar General Store near Route 680 and Route 80.
Deputies are unsure how the bobcat got inside the store, but say it was uninjured.
Deputies worked with Kentucky State Police and Martin Police Department to capture the wild animal.
source:
—————–
Seasonal Humor:

———————