Nov 15, 2020 The Yellow Pine Times – Valley County, Idaho
Reminder: We are still under a boil water order until further notice.
Community Calendar:
April 17 – Boil water order issued
Aug 11 – Valley County Mask Order
Aug 12 – Firewood Permits at The Corner
Sept 8 – Hwy 55 work started
Nov 2 – 3-day a week mail starts
Nov 14 – YP Tavern winter closure
Nov 26 – Thanksgiving potluck Community Hall 2pm
Nov 30 – Firewood Season Ends
(details below)
———-
From Valley County
Valley County Mask-Up
A county-wide mask mandate was approved the CDH August 11th, and is now in effect for Valley County. (link)
Rebound – Idaho Governor's phasing program
link:
COVID 19: Recommendations and Resources for Safe Business Practices
link: (lots of info for businesses)
——————-
Local Events:
Thanksgiving
Thursday, November 26th, 2pm. Yellow Pine Thanksgiving Potluck Dinner, at the Community Hall.
———-
Village News:
Veteran's Day Snow in Yellow Pine
courtesy the Yellow Pine Tavern
link: to photo gallery on FB
— — — —
South Fork Objectors Meeting
There was a meeting of the group of objectors Tuesday November 10 at 1pm in the Yellow Pine Tavern. The draft response is objecting to the the South Fork RAMP second draft decision which results in closing all secondary roads and drive in campsites on the South Fork and most on the Lick Creek Roads. (No minutes or info yet.)
— — — —
Help Support the Yellow Pine Volunteer Fire Department
Thank you for all your offers of help and support. Now you can help support the Yellow Pine Fire District by donating through our Go Fund Me account. Just click on the link to get started.
Even a small donation could help reach the fundraising goal. And if you can't make a donation, it would be great if you could share the fundraiser to help spread the word.
Thanks for taking a look!
FAQ: YPAC is the charity that was set up to allow the Village to apply for grants. It was the only 501.c3 the Village has to allow GoFundMe to recognize an authorized EIN. So, funds will go to YPAC then they will cut a check to the fire district. YPAC is lead by Corey Phillips and Matt Huber is the Secretary.
— — — —
Boil Water Order issued April 17 still in effect.
No update for August or September or October.
Update July 5: the boil order is in effect due to extremely high use due to leaks.
Update June 12: The boil order is still on. We still are experiencing excessive water use because of leaks. Not sure when this will be lifted. We are applying for grants to repair the system.
Update June 2: The water plant is experiencing high water in Boulder Creek which brings more debris into the sand filter.
The high demand caused by leaks in the system plugs the sand filters prematurely. We will be on a boil order until further notice.
— — — —
Critters
Be Bear Aware
* Keep all household garbage secured in a garage or other enclosed area.
* Leftovers or discarded fish or meat bones give off a strong odor and should be stored in your freezer until you haul the garbage to the transfer station.
* Keep attractants like B-B-Q grills, bird seed or pet food stored where bears cannot find them.
* Bird feeders should be taken down May through October or placed well out of reach of bears.
Be Mountain Lion Aware
* NEVER run away from a mountain lion. The lion's instinct is to chase and ultimately catch what they perceive as potential prey.
* NEVER turn your back on a lion. Always face them while making yourself look as large as you can. Yell loudly, but don't scream. A high-pitched scream may mimic the sound of a wounded animal.
* SLOWLY back away while maintaining eye contact with the lion.
* Safety equipment you may choose to carry could include bear spray, a noise device, like an air-horn, and if you walk in the dark, a very bright flashlight.
* If you are attacked, fight back!
— — — —
Latest Road Reports
Link: to current road reports.
— — — —
Yellow Pine US Mail
The 3-day a week mail delivery started Nov 2nd. The Post Office in Yellow Pine is open six days a week year around: M-F 845am-245pm Saturday 9am-245pm. Forever Stamp: 55 cents. Support our local post office and purchase your holiday stamps here.
— — — —
Yellow Pine Transfer Station
Please do not abuse our Transfer Station or we may lose it. Household trash must be placed in the bins, flattened cardboard boxes can also go into the bins. Do not stack trash in front of the doors. Woody yard debris only for the burn pile. No furniture, appliances, tires or construction debris allowed, those items must be hauled out to the Donnelly station by you.
Yellow Pine Transfer Station (aka, the dump)
The Yellow Pine Transfer Station is located approximately 3 miles south on Johnson Creek Road.
The TRANSFER STATION is for household trash and yard waste:
* Household trash must be put inside (and fit) the dumpster;
* Yard waste (limbs, pine needles, brush, etc.) goes in the burn pile on the south end of the turn-around;
* Cardboard boxes should be flattened before putting the in the dumpster,
The DUMPSTERS are NOT for:
* Furniture (take to Donnelly Transfer Station);
* Appliances (take to Donnelly Transfer Station).
The BURN PILE is NOT for:
* Cardboard boxes (flatten and put in dumpster);
* Furniture and appliances (take to Donnelly Transfer Station);
* Drywall and building material (take to Donnelly Transfer Station);
* Wire or fencing (take to Donnelly Transfer Station);
* Foam Rubber (take to Donnelly Transfer Station);
* Wood with metal (like nails) attached (take to Donnelly Transfer Station.)
When closing the DOORS on the front of the dumpsters:
* Make sure the "U" brackets at the top and bottom of the door are engaged;
* The retaining bar at the middle of the door is slid into the pipe;
* And the "L" bars at the bottom of the doors dropped into place.
The Yellow Pine Transfer Station is Valley County responsibility. If it is not kept tidy, use of the Transfer Station may be revoked. That would result in residents having to take all household trash and yard waste to the Donnelly Transfer Station.
If Dumpsters Are Full, Contact Lake Shore Disposal at: 208/634-7176
———-
Local Groups
YPWUA News:
The annual Water meeting for 2020 was held July 5th at the Community Hall 2pm.
link: minutes 20200705YPWUA.docx
Boil Water Order issued April 17, 2020. This could last until leaks are repaired.
Boil Water Advisory Notice
Boil Your Water Before Using
Bring tap water to a rolling boil, boil for one minute, and cool before using or use bottled water. Boiled or bottled water should be used for drinking, making ice, washing dishes, brushing teeth, and preparing food until further notice.
This Boil Water Advisory Notice applies to The Yellow Pine Water System
The system is being monitored and checked daily for compliance.
You will be informed when you no longer need to boil your water.
Please share this information with other people who drink this water, especially anyone who may not get this notice directly (for example, people in apartments, nursing homes, schools, and businesses).
You can do this by posting this notice in a public place or distributing copies by hand or mail.
State Water System ID#: 4430059 Date distributed: 3-22-2020
Notice of Intent to File an Application with USDA, Rural Development
The Yellow Pine Water Users Association, Yellow Pine, Idaho intends to file an Application with USDA, Rural Development to obtain a drinking water system facility Emergency Community Water Assistance Grant (ECWAG). Emergency Community Water Assistance Grant (ECWAG).
If any additional information is needed, please contact:
Willie Sullivan
Treasurer
ypwater @ gmail.com
Distributed to Yellow Pine Water Users Association customers via Yellow Pine Times on June 12, 2020.
The 2019 Yellow Pine Water Users Shareholders meeting was Sunday July 7, 2019.
link: 20190707YPWUAminutes
— — — —
VYPA News:
Heat was installed in the Community Hall on April 30, 2020.
Addition for Community Hall bathrooms October 15, 2020.
Minutes from September 12 VYPA meeting
link:
Minutes from August 8, 2020 VYPA meeting
link:
Minutes from July 11, 2020 VYPA meeting
link:
Minutes from June 13, 2020 VYPA meeting
link:
VYPA Bylaws adopted 8/8/2020 (link)
YPAC Corp Bylaws (link)
— — — —
YPFD News:
After Action Report meeting Oct 13, 2020 (no minutes yet.)
YPFD had a budget meeting on September 30th at 10am at the fire station. (No minutes yet.)
Make sure to clean and check chimney fitting before starting that first fall fire in your cabin. Cleaning brushes can be borrowed from the YPFD.
There was a YP Fire Commissioner meeting on June 27, 2020 at 10am at the Fire Station.
Link: 20200627 Fire Dept minutes June 27
YPFD COVID19 Policy
link: YPFD Covid 19 SOP
link: Covid-19 EMS (May 23)
Pile burning: Dress appropriately, have enough help on hand (people, water and tools) and make a firebreak before you start. Call your local fire protection district chief to let them know you'll be conducting a debris burn. This saves them from sending emergency responders to your property if they are not needed. Do NOT burn on breezy afternoons.
Better yet, "Bring It, Don't Burn It", you can take your yard waste (limbs, pine needles, brush, etc.) to the burn pile at the Transfer Station on the south end of the turn-around. Remember, keep the pile neat. Woody debris only, no nails, no cardboard and no furniture! The Boise NF will burn the pile in the fall when it is safe and doesn't pollute our fine YP air.
YP Fire Commissioners:
Sue Holloway – District 1
Dan Stiff – District 2
Merrill Saleen – District 3
(TBA) – Fire Chief
Yellow Pine Fire Protection District Community Service Notice
The purpose of this letter is to show how you as a Yellow Pine Resident can help protect your structure against a wildland fire by being "Fire Wise." Click the link: to view 20190724 Yellow Pine Fire Protection mitigation
——–
Biz Listings:
The Corner (208) 633-3325
Starting Nov 3rd open 3 days a week on mail days. Firewood Permits available.
— — — —
Yellow Pine Tavern (208) 633-2233
Winter Closure: November 14, 2020 to April 16, 2021
— — — —
Yellow Pine Lodge (208) 633-3377
Closed Nov 3rd for winter.
— — — —
Yellow Pine General Store (208) 633-3300
Closed Nov 3rd for winter.
— — — —
Murph's RV Park & Mary's Cabins
FB page link
— — — —
Knotty Kat Crochet Works – 208-502-0940
FB page link
open Tue – Sat, 9-5
Yellow Pine eggs $3/doz
— — — —
Buck Horn Outfitters LLC 208-633-3614
Tom & Sarah Lanham
156 Yellow Pine Ave, Yellow Pine Id 83677
website:
Facebook:
Starting June 2020 We will be doing trail rides out of Yellow Pine along with summer pack / camping trips to high mountain lakes in the area!
Wapiti Meadow Ranch – Johnson Creek (208) 633-3217
or 208-315-3554 – cabin rentals
website:
Deadwood Outfitters
website:
— — — —
Local Fuel Suppliers
Amerigas Phone: (208) 634-8181
Ed Staub & Sons Phone: (208) 634-3833
Diamond Fuel & Feed Phone: (208) 382-4430 open 830am-5pm Monday-Friday, closed weekends.
— — — —
Outside Biz that will service Yellow Pine:
The Star-News


click to subscribe:
A reminder that those who live in other states can subscribe to the online edition only since the mail can take days for hard copy to reach them.
Rocky Mountain Mechanical – Plumbing – Heating – Air conditioning
(208) 365-PIPE (7473), Emmett, will service Yellow Pine
Elkhorn Heating & Cooling
(208) 906-4067 Middleton, Idaho, will service Yellow Pine
B&T Safety Solutions LLC
208-271-1600 Based out of Donnelly
Snow removal, cleaning chimneys and stoves, we do cabin staining/chinking as well
— — — —
Follow The Yellow Pine Times on Facebook (updated more often than emails)
———————–
Local Observations:
Monday (Nov 9) overnight low of 17 degrees, mostly cloudy this morning. Yesterday's snow total 1/2″ (melted SWE = 0.03″), total snow on board 1.5″. Raven calling in flight, jay screeching from the trees. Dark clouds and overcast after lunch time. Low flying helicopter at 109pm. Overcast and light chilly breezes mid-afternoon, high of 33 degrees. Overcast and below freezing at dusk. Cloudy before midnight. Snow started falling early morning.
Tuesday (Nov 10) overnight low of 23 degrees, low overcast and light snowfall, 3/4″ new snow (SWE = 0.03″) and 2″ total snow. Very quiet. A few flakes at lunch time, clouds lifting off the ridges. Occasional flakes of snow on and off this afternoon. Mid-afternoon just below freezing, thick dark overcast and occasional flakes of snow falling, high of 33 degrees. Didn't appear to be snowing at dusk and cold. Snowed during the night.
Wednesday (Nov 11) overnight low of 25 degrees, 3.5″ new snow overnight (SWE = 0.18″) and 5″ total snow on the ground this morning, thinning overcast. Breaks in the clouds and bits of sunshine before lunch time. At noon light breeze dumping snow out of the trees and filtered sunshine. More clouds and less cracks by mid-afternoon, chilly light breeze and occasional flake of snow falling, high of 33 degrees. Getting colder after dusk and not snowing. A few stars out before midnight and cold.
Thursday (Nov 12) overnight low of 6 degrees, light breeze, high thin haze over most of the sky this morning and filtered sunshine, 4″ of snow remains on the measuring board. High thin overcast at lunch time. Mail truck driver was a little late today. Thin overcast, filtered sun and cold gusty breezes mid-afternoon, high of 35 degrees. Hairy woodpecker visited. Overcast, cold and breezy at dusk. Cloudy before midnight.
Friday (Nov 13) Earthquake over by Stanley around 4am. Blizzard started at 815am, by 10am we had about an inch of snow (SWE = 0.06″) and about 4″ total on the board, blowing and snowing, socked in to the valley floor and low visibility. Snowing and breezy at lunch time. By 4pm we had received 6″ of new snow since 10am, steady snowfall and low overcast, high of 31 degrees. Stopped snowing before dusk. More snow after dark. Not snowing at midnight.
Saturday (Nov 14) overnight low of 24 degrees, overcast this morning and lightly flaking. Yesterday we had about 7″ of snow fall between 10am and midnight, but it had settled down to 5″ (SWE = 0.38″) on the measuring board by this morning and 8″ total on the ground. Breaks in the clouds at lunch time. Mostly cloudy and light breeze mid-afternoon, snow is settling and trees unloading, high of 36 degrees. Cloudy and light breeze at dusk. Light snow falling before midnight and into the night.
Sunday (Nov 15) 24 hour low of 27 degrees was from Saturday morning, 1.2″ new heavy wet snow fell during the night (SWE = 0.07) and measured a total of 7.5″ snow on the board this morning, sky is overcast. Cloudy and quiet at lunch time. Warmer, cloudy and dripping mid-afternoon, high of 39 degrees. Possible junco sighting. Cloudy and above freezing at dusk.
——————
Idaho News:
Idaho governor mobilizes National Guard, orders rollback to Stage 2 as COVID-19 cases swell
Little held a virtual news conference Friday afternoon and updated Idahoans on the Gem State's fight against COVID-19 and the next steps to take.
Katie Terhune November 13, 2020 KTVB
Idaho Gov. Brad Little announced Friday that he is mobilizing the National Guard to help combat the coronavirus pandemic as cases threaten to overwhelm the state's healthcare system's ability to care for the sick and dying.
The executive order signed by the governor calls up 100 guardsmen to help expand healthcare access by assisting with mobile testing, facility decontamination, and more.
In addition, Idaho will also move back into Stage 2 of the reopening plan. Restrictions include a limit on gatherings to ten people or less, both inside and outside. Religious and political expression is exempt from the gathering limit, however, and bars, restaurants and other businesses can remain open, although patrons must be seated when not entering or leaving the business.
continued:
— — — — — — — — — —
1,519 new Idaho COVID-19 cases, 3 new deaths
November 13, 2020 Local News 8
Idaho officials reported 1,519 new COVID-19 cases and 3 new deaths on Friday.
That brings the total confirmed and probable cases reported since March to 79,798.
There are a total of 68,350 confirmed cases and 11,448 probable cases in all 44 of the 44 counties in Idaho, according to numbers released from the local health districts and the state.
… 3 new deaths were reported bringing the total recorded deaths to 752.
full story:
— — —
Idaho Cases Friday, November 13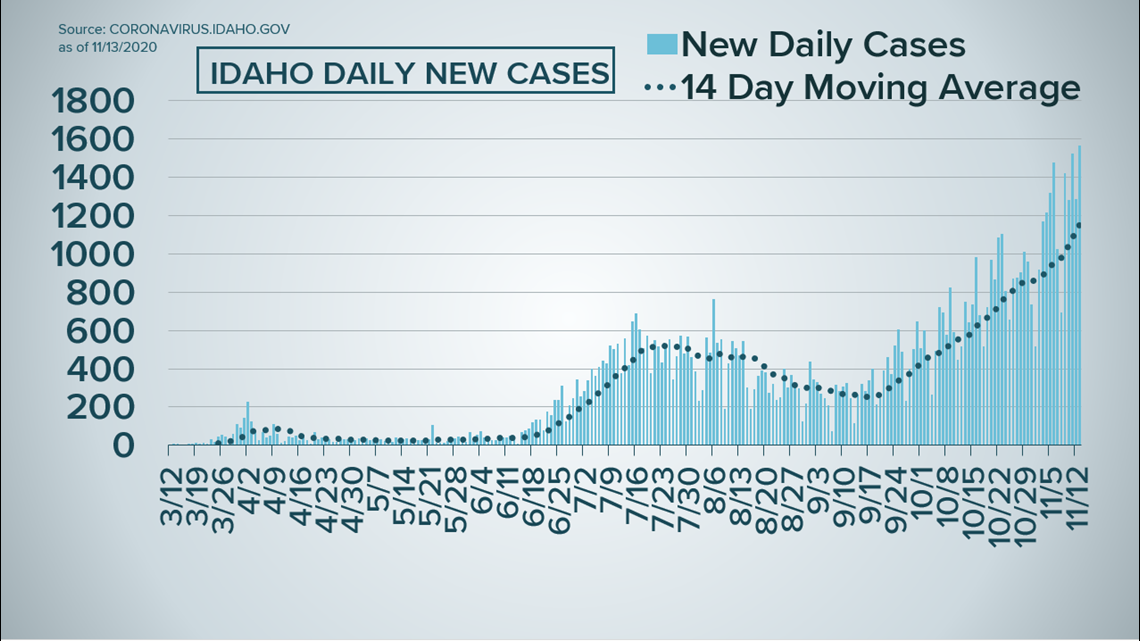 source: KTVB
— — — — — — — — — —
Valley County reports 29 new COVID-19 cases
Total cases of virus now stands at 213
By Tom Grote for The Star-News Nov 12, 2020
The total number of positive COVID-19 cases in Valley County reached 213 cases on Wednesday, up 29 cases from 184 a week ago, health officials said.
St. Luke's McCall on Wednesday reported 165 total positive cases from testing done at the hospital, up 25 cases from 140 a week ago.
Cascade Medical Center on Monday reported 48 positive cases, or seven more than the 41 cases reported last week.
Central District Health reported 152 of the positive cases were confirmed to be Valley County residents as of Tuesday, which is 24 more than the 128 cases reported a week ago.
The difference between the hospital figures and the health department figures are those who tested positive but did not declare Valley County as their residence.
One death from COVID-19 has been reported in Valley County since the pandemic reached Idaho in March. An 85-year-old McCall man died July 15 at St. Luke's Boise hospital due to complications of COVID-19 infection.
continued:
— — — — — — — — — —
M-D still in class despite 'red' rating
None of six COVID-19 cases transmitted in schools
By Max Silverson for The Star-News Nov 12, 2020
In-person classes for the McCall-Donnelly School District will continue despite Central District Health declaring Valley County in the "red" category of COVID-19 community infection rates.
M-D trustees on Monday decided not to change its current alternating day schedule, saying current precautions are adequate to prevent the spread of the virus inside the schools.
However, all extra-curricular activities, including basketball and wrestling, were temporarily suspended until Valley County is moved out of the red category.
Within the past week, six people within the M-D district tested positive for COVID-19, and 45 were quarantining at home after contact tracing found that they had potentially been exposed to known positive cases, Superintendent Jim Foudy said.
continued:
— —
Cascade in-person classes to go on under 'red' category
By Max Silverson for The Star-News Nov 12, 2020
Cascade schools will continue in-person classes despite Central District Health declaring Valley County in the "red" category of COVID-19 community infection rates.
The district's board of trustees made the decision during a special meeting on Tuesday.
The "red" category is the most severe on the district's three category scale, where significant community spread of the virus is identified.
The health district changed Valley County's category to red on Monday, which recommends "limited in-person instruction" for schools.
continued:
— — — — — — — — — —
'People are running for the hills'
COVID-19 fuels local building boom
By Drew Dodson for The Star-News Nov 12, 2020
Carrie Potter has not had to leave her desk to witness how the COVID-19 pandemic has fueled a local building boom.
Potter, office manager at Pinetop Custom Homes in McCall, has been fielding an average of two new inquiries per day from people thinking about building a home in Valley County.
"If anything, the pandemic will cause exponential growth in Valley County," Potter said.
"In a sense, people are running for the hills," she said. "They have realized the disadvantages and dangers of living in highly populated areas."
"This has been the busiest construction season I can remember since I started working for the city in 2013," McCall Building Official John Powell said.
continued:
— — — — — — — — — —
Canyon, Washington counties moved to red health alert level
by CBS2 News Staff Thursday, November 12th 2020
Canyon and Washington counties have been moved to Southwest District's Health red health alert level.
The health district says it's due to daily incident rates continuing to increase "across the majority of the district."
Canyon County has a daily incidence rate of 4.90 daily new cases per 10,000 people while Washington County has 6.89 daily cases per 10,000, "which is increasing dramatically."
continued:
— — — — — — — — — —
New COVID-19 travel restrictions in California, Washington, Oregon may impact Idaho travelers
Governors of California, Washington and Oregon unveiled new COVID-19 travel restrictions on Friday.
November 14, 2020 KTVB
Idaho Gov. Brad Little rolled Idaho back to Stage 2 on Friday while neighboring West Coast states announced stricter guidelines and travel restrictions amid surging COVID-19 cases across the U.S.
continued:
— — — — — — — — — —
Complicated Valley County land deal
By Don Nelson Nov 14, 2020 KIVI
Payette Lake is known for its peace and its unmatched beauty in every direction. It's no surprise locals have become very curious about a proposed and very complicated land deal involving a Boise investment company and the state of Idaho.
Don Day from BoiseDev.com says "if you're standing in downtown McCall and you're looking over the lake, and you see that beautiful timberland that frames Payette Lake, it's that and a whole lot more."
There's forty- four square miles that surround s the lake. It's part of the Idaho Land Endowment, managed by the state for the benefit of public -school children which means they must manage the lands to make money.
Enter Trident Holdings, a privately held investment firm in Boise.
Days adds, "Trident sees an opportunity here to transition this land from its current status in the endowment to a new structure that would put about two thirds into what it calls park and then develop the rest of the land."
continued:
— — — — — — — — — —
Several earthquakes hit near Stanley; largest a 4.3-magnitude
Four earthquakes hit near Stanley in Central Idaho Thursday night and into Friday morning, the latest series to rattle the area.
November 13, 2020 KTVB
Several earthquakes hit near Stanley in Central Idaho Thursday night and into Friday morning, the latest series of quakes to rattle the area.
According to the USGS, a 2.7-magnitude earthquake struck the area at 7:48 p.m. Thursday, followed about ten minutes later by a 2.6-magnitude quake. A stronger 4.3-magnitude earthquake hit at 3:54 a.m., then a 2.5 at 4:55 a.m.
KTVB has not received any reports of damage. The area where the earthquakes happened is about 14 miles northwest of Stanley in the mountains.
continued:
———————–
Mining News:
BLM seeks comments on proposed mining operation near Quartzburg
Boise, Idaho – The Bureau of Land Management (BLM) is seeking public comments on a proposed placer mine located near Quartzburg. The proponent, Mountain States Mining, LLC, has submitted a Plan of Operations to develop a 3-acre mining site after several years of exploratory work.
This scoping period for the environmental assessment allows the public, organizations and other interested parties to identify potential issues that the BLM may consider including in the environmental analysis. Comments are most helpful if they provide specific actions, resources or issues to be considered and analyzed. The BLM will accept comments throughout the scoping period: Nov. 13-27, 2020.
"The scoping process is a critical part of our planning process and ensures public involvement," said BLM Four Rivers Field Manager Brent Ralston.
Maps and information about the project are available at: (link). The URL is case sensitive.
Comments can be submitted by any one of the following:
Email: BLM_ID_FourRiversOffice@blm.gov
Fax: 208-384-3326
Mail: BLM Four Rivers Field Office, 3948 Development Ave, Boise, ID 83705; Attention: Brent Ralston.
Please note that before including their personal identifying information (address, email, phone number), commenters should be aware that their entire comment – including their personal identifying information – may be made publicly available at any time. While those commenting can ask in their comments to withhold this information from public review, the BLM cannot guarantee that they will be able to do so.
For more information, contact Brent Ralston at 208-384-3300 or BLM_ID_FourRiversOffice@blm.gov
——————-
Public Lands:
Tamarack Resort fire contained; no cause released
By Max Silverson for The Star-News Nov 12, 2020
The West State Fire at Tamarack Resort was declared 100% contained on Friday and extinguished completely by snowfall that started on Saturday.
The fire burned 61 acres within 500 feet of the resort's unfinished mid-mountain lodge and about 100 feet from the Mile High Cantina.
The cause of the fire was still under investigation, said Jennifer Russell, a public information officer for the Idaho Department of Lands.
continued:
— —
Fire near Council Mtn. burns 800 acres before snow falls
By Max Silverson for The Star-News Nov 12, 2020
A wildfire started by an abandoned campfire grew to about 800 acres last week in Buck's Basin east of Council Mountain before being quashed by snowfall, the Payette National Forest reported.
The Crystal Creek Fire was reported on Nov. 2 and was considered controlled after snow fell on the site over the weekend.
"Since the beginning of hunting season, 17 abandoned warming fires have been found on the landscape, and 25 abandoned campfires have been discovered in campground facilities," Payette Forest Public Affairs Officer Brian Harris said.
"This number of human-caused wildfires is not normal for this time of year," he said.
People with information on who may have left the fire, or to report any abandoned campfire, should contact the Payette headquarters office in McCall at 208-634-0700.
continued:
— — — — — — — — — —
Payette National Forest to Soon Begins Christmas Tree Permit Sales
McCall, ID, November 10, 2020 – The Payette National Forest vendors will begin selling Christmas tree permits Saturday, Nov. 21. On Monday, Nov. 23, permits will be available at Forest Service offices via curbside service. Online purchase of permits begins on Nov. 16. All permits are valid to Dec. 31.
New this year, Christmas tree permits will be available for purchase online at Recreation.gov – click this link. Making permits available on-line adds convenience for visitors as well as provide an alternative to in-person transactions at offices that remain closed to walk-in business due to the COVID-19 pandemic. When purchasing online, be certain to specifically purchase a permit for the Payette National Forest as permits purchased online for other Forests are not valid on the Payette. Permits purchased online are $10 and an additional $2.50 service fee, then printed by the purchaser at the time of purchase (printer access is required).
Permits remain available locally as well at our vendors (see attached list) – and by calling our local Forest Service offices, paying via credit card/debit card, then curbside pickup (phone numbers attached). Each permit allows one tree to be cut, with a limit of three permits per family. The cost of a permit purchased locally is $10. Locally purchased permits are valid on both the Payette and Boise National Forest – one permit works for both Forests.
All purchasers are provided with information about where a Christmas tree may be harvested, restrictions and helpful tips. A Christmas Tree Permit is for personal use only, and use of permits for commercial purposes is prohibited. Permits are non-refundable and the purchaser must be at least 18 years in age.
In coordination with the "Every Kid Outdoors" program, fourth-graders who are participating in the Every Kid Outdoors program can receive a free Christmas tree Permit. The U.S. Forest Service is among several federal agencies that support the Every Kid Outdoors initiative which is a nationwide call to action to build the next generation of outdoor enthusiasts. The initiative provides a free pass to all fourth-grade students who first go to (link) and complete the application process for a pass, print the pass and call a Forest Service office for curbside service. If utilizing the online system at recreation.gov, enter the pass number when prompted.
Commercial vendors will not be issuing a free Christmas tree permit to participants of the Every Kid Outdoors program, and free Christmas tree permits cannot be sent through the mail or electronically. Participation in the Every Kid Outdoors program also offers benefits at National Parks and on other public lands and facilities across the United States.
Harvesting a Christmas tree is a fun adventure and often a traditional family event. Please review the Christmas tree brochure and map for optimal areas and be fully prepared for winter travel.
If an unusually heavy snowfall occurs and forest roads become a safety concern for the public, some areas may be closed early to Christmas tree gathering. Forest roads are not plowed. Call ahead and check websites for road conditions before heading out. Please do not block private or county roadways at any time.
To provide for family safety, officials advise a few simple guidelines:
* Use the brochure with instructions provided.
* Practice winter survival and driving techniques.
* Bring the right tools, such as a saw and a shovel, so the tree can be cut to within 6" of the ground's surface.
* Take along emergency equipment, plenty of food and water, and try to use a 4-wheel drive vehicle if you are planning to travel in snow country.
* Always inform neighbors and family friends of the route you intend to take, include a map of your destination, and the time that you plan to be gone.
* Be prepared for the possibility of a long hike or snowmobile ride while searching for the perfect tree.
* According to Idaho state law, any vehicle carrying a load that extends more than 4 feet past the tailgate, must display a red or florescent orange flag tied on the end of the load to caution other drivers.
Where to get a Christmas Tree Permit
Payette National Forest Offices via Curbside Service – call first.
All Payette National Forest offices are open for curbside service Monday through Friday, 8 a.m. to 4:30 p.m. Offices, and some vendors are closed on Thanksgiving.
McCall Forest Supervisor's Office
500 North Mission Street, McCall, ID
208-634-0700
Council Ranger District Office
2092 Highway 95, Council, ID
208-253-0100
New Meadows Ranger District Office
3674 Highway 95, New Meadows, ID
208-347-0300
Weiser Ranger District Office
851 E Ninth St., Weiser, ID
208-549-4200
McCall Ranger District Office
102 West Lake St., McCall, ID
208-634-0400
Payette National Forest Vendors
Weiser: Ridley's Food and Drug (208) 549-1332
652 E First St., Weiser, ID
Open: Everyday 7 a.m. – 11 p.m.
Cambridge: Jay's Sinclair (208) 257-5000
Corner of Hwy 95 and Hwy 71, Cambridge, ID
Open: Everyday 7 a.m. – 8 p.m.
Council: Farmer's Supply Cooperative (208) 253-4266
2030 N. Highway 95, Council, ID
Open: Everyday 6 a.m. – 10 p.m.
McCall: Albertsons (208) 634-8166
132 E. Lake Street, McCall, ID
Open: Everyday 6:30 a.m. -11 p.m.
New Meadows: C & M Lumber (208) 347-3648
3625 Walker Ln, New Meadows, ID
Open: Mon – Sat 8 a.m. – 6 p.m.
— — — — — — — — — —
Veterans and Gold Star families to get free access to national parks, wildlife refuges and other public lands
Nov 10, 2020 Local News 8
Veterans and Gold Star families are getting a free pass to national parks, wildlife refuges and other federal lands managed by the Department of the Interior starting on Veterans Day.
They will then have free access for life to nearly 2,000 public locations spread across 400 million acres of land.
"With the utmost respect and gratitude, we are granting veterans and Gold Star families free access to the iconic and treasured lands they fought to protect starting this Veterans Day and every single day thereafter," said Secretary of the Interior David L. Bernhardt.
continued:
—————–
Critter News:
Dog snatched by mountain lion during Idaho hot springs trip
Fish and Game officers say the family was sitting in the hot springs when the mountain lion attacked one of their small dogs.
November 10, 2020 KTVB
The Idaho Department of Fish and Game says a mountain lion carried away a small dog as its owners visited a hot spring near Carey, Idaho.
The attack happened Thursday evening at the Wild Rose Hot Springs, which sits on private property along Highway 20.
The family reported that they were sitting in the hot springs with their small dogs nearby, when the mountain lion appeared and snatched up their pet. The mountain lion ran away with the dog, which has not been found.
continued:
— — — — — — — — — —
Black Bear Denning Activities and Den Characteristics in West-Central Idaho
January 1983
Authors: John J. Beecham, Doyle G. Reynolds, Maurice G. Hornocker
Characteristics of black bears (Ursus americanus) were studied in west-central Idaho during 1973-77.
Link: to paper to download
— — — — — — — — — —
Zoo Boise adds sand cats to Small Animal Kingdom
by Ryan L Morrison Thursday, November 12th 2020 CBS2
Zoo Boise now has sand cats! Well, one sand cat for now.
Zoo Boise announced Thursday that it added a female sand cat, Nala, to its Small Animal Kingdom. The zoo also expects to add a male sand cat soon.
Nala was previously housed at the Hogle Zoo in Salt Lake City. The male, named Simba, will be coming from the Living Desert in Palm Springs.
continued:
— — — — — — — — — —
Watch for Elk on the Highway
from Boise County Emergency Management Nov 11 (via FB)
Elk vs. vehicle collision in Boise County on Hwy 21 left four elk dead and one badly damaged vehicle. No one was seriously injured (other than the four cows). This is a reminder that the snow has brought the elk and deer down to lower elevations and onto our roads throughout Boise County. Please use extreme caution when driving in the darker hours and especially when our roads are slick. Elk in large numbers … are not uncommon in Boise County. Especially on Highways 21, 55 and just North of Horseshoe Bend. This isn't to say large numbers of elk can't be seen in other parts of our county. Please use caution and report any accidents on our roadways to 208-392-4411 or 911. Be safe when driving Boise County and Friends.
——————-
Letters to Share:
The Gamebird Foundation has maintenance feed
Good snowy Sunday morning all, The Gamebird Foundation has maintenance feed for those hungry pheasants and other ground birds and some of our tree roosting friends. The grain is stored at the Jess and Chris Ford Ranch between Harvard and Deary Idaho For directions and to make arrangements to pick up you need to call Chris, 208-997-8361. The feed is free but the Foundation would like folks to make a donation if you can? They have lots of DOLLARS into gathering, hauling and storing of the feed. The Foundation can use your help along with the hungry birds. The feed is in large 1000 lb. totes. We have some bags to fill or if you have some bags to bring it would sure help. Don't let your friends starve during the deep, wet cold winter weather.
We also have feed at the Dale Gottchalk ranch just West of Potlatch off Hwy. 6 on the way to Palouse. You can call Dale Gottchalk for Directions 509-334-8660 or call me at 208-883-3423. Again bring bags or something to haul it in as these totes weigh about 1000 lbs.
"The Pheasant Guy"
Jim Hagedorn
208-883-3423
— — — — — — — — — —
Mystic Farm Wildlife Rescue, Inc.
Holiday Fundraiser
I'm so excited about this one… Heavy duty Mystic Farm Wildlife Rescue coffee mugs. Each is filled with my all natural and awesome candle pour. This scent is "Woodland Fawn" and smells AMAZING! When your candle is finished burning (approximate 60 hr. burn time!) you just simply wash your mugs with soap and hot water and you have a beautiful morning coffee mug ! You can have each mug/candle for only $15.00 minimum donation. This is less than you could get just the candle…and you will be getting a coffee mug, too! I can fit up to six in a medium flat rate box for $15.05 shipping. Local orders dropped off by arrangement. These make wonderful Christmas gifts. Support the fawns!
Contact me [Dory] via email or phone: 208 241-7081
——————-
Fish & Game News:
Wildlife Express Newsletter & Educational Activities
Idaho Fish & Game November 2020
link: (pdf file)
— — — — — — — — — —
F&G Officer Rescues Mule Deer Buck from Deadly Entanglement
By Evin Oneale, Regional Communications Manager
Monday, November 9, 2020
On Friday, November 6th, Fish and Game conservation officer Zac Sedlmayr received a call from the Washington County Sheriff's Office reporting a mule deer buck caught in some irrigation wheel line cabling. When he arrived on scene, he bulldogged the buck and used wire cutters to free the exhausted deer from the cable's otherwise deadly clutches.
His body cam captured the entire encounter, and together with two Washington County and the local landowner, officer Sedlmayr gave the buck a new lease on life.
source: w/video
— — — — — — — — — —
November check stations will help monitor for chronic wasting disease
By Kara Campbell, Wildlife Regional Biologist
Tuesday, November 10, 2020
Idaho Fish and Game staff will be collecting samples from deer at hunter check stations across the Panhandle over two weekends in November as part of a statewide surveillance program for chronic wasting disease (CWD).
Check stations will be operated November 14, 15, 21 and 22 from 10 a.m. to sunset. Check stations will be located at:
continued:
— — — — — — — — — —
The A's and B's of steelhead, what do those terms mean?
By Marika Dobos, Fisheries Regional Biologist
Monday, November 9, 2020
Anglers fishing for steelhead in the Snake River basin, particularly the Clearwater River, often hear the terms A-run, B-run or A-Index, B-Index steelhead but what exactly do those terms mean? The terms A and B are unique to steelhead management in the Columbia and Snake river basins and does not classify specific populations.
Rather the A and B terms define steelhead based on their adult size and the date they pass Bonneville Dam during their adult migration upstream. Snake River basin steelhead populations can be broadly termed "A-run" or "B-run" based on the dominant traits expressed. It is important to note that steelhead are extremely diverse, so there are overlaps in migration timing, age, and size across all summer-run steelhead populations in the Columbia River basin. To understand the reasoning for defining these two "types" of steelhead, we need to go downriver into the mainstem Columbia River and look at some history.
continued:
— — — — — — — — — —
More F&G News Releases
link:
———————————-
Crazy Critter Stuff:
Mother rhino practices sparring with baby rhino at Cincinnati Zoo
by Kendra Mann, Sinclair Broadcast Group Tuesday, November 10th 2020
A baby rhino stole the show at the Cincinnati Zoo.
Baby Ajani Joe was caught on camera practicing sparring with his mother, Seyia, zoo staff explained on their Facebook page.
In the adorable video, the baby rhino is seen facing off with his mother as she gently gives him several nudges.
source: w/video
——————–
Seasonal Humor:

—————–