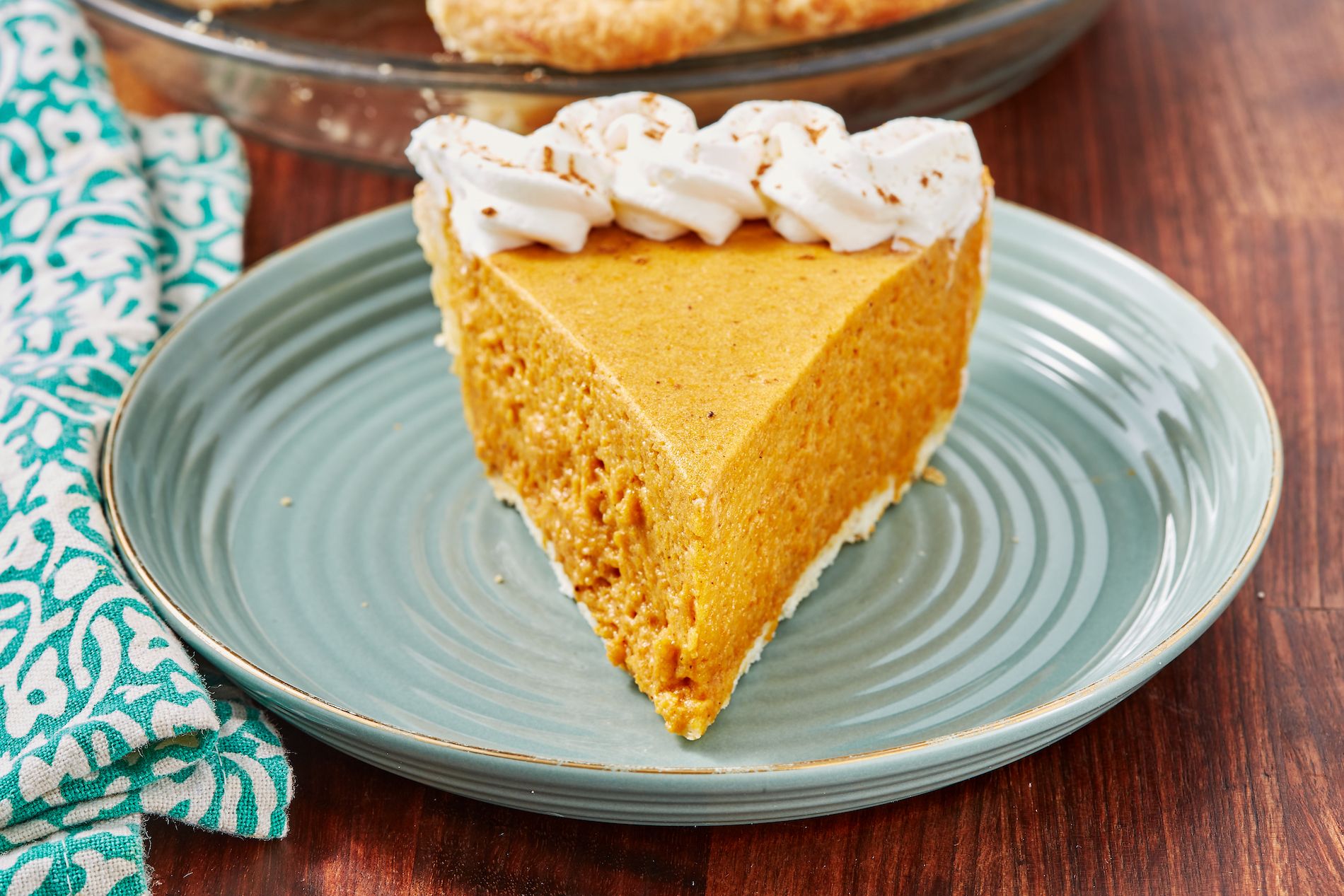 By Lena Abraham
8 Servings
Ingredients
1 pie crust
3/4 c. granulated sugar
1 envelope unflavored gelatin
1 tsp. pumpkin pie spice, plus more for garnish
1/2 tsp. kosher salt
1 (15-oz) can pumpkin puree
3 egg yolks
1/2 c. whole milk
3 egg whites
1/4 tsp. cream of tartar
Whipped cream, for serving
Directions
Preheat oven to 400F. Lightly grease a 9" pie dish with cooking spray.
On a lightly floured surface, roll out dough into a 12" circle. Drape over pie dish and gently press to fit (don't stretch). Prick bottom with a fork, trim edge to 1", tuck overhang under itself, and crimp the edges. Chill in the fridge for 30 minutes or freezer for 10 minutes.
Line crust with parchment paper and fill with dried beans or pie weights. Blind bake until edges are lightly golden, 18 to 20 minutes, then remove parchment and weights and bake 10 to 15 minutes more, until golden and fully baked. Let cool completely.
Whisk to combine 1/2 cup sugar, gelatin, pumpkin pie spice, and salt in a medium sauce pan.
In a medium bowl, whisk to combine pumpkin, egg yolks, and milk. Whisk until smooth, then pour into sauce pan and whisk to combine with sugar mixture.
Place saucepan over medium heat, stirring constantly, until mixture is hot and small bubbles are starting to form around the edges. Remove from heat, transfer to a large bowl, and cool to room temperature.
In a large bowl, combine egg whites and cream of tartar. Using a hand mixer or stand mixer, beat egg whites until soft peaks form. Add sugar a tablespoon at a time until all is used, and beat again until stiff peaks form.
Transfer 1/4 of the whipped egg whites to the bowl with the cooled pumpkin mixture. Gently fold to combine, then add remaining whipped egg whites and fold to combine. Pour mixture into cooled pie shell and smooth top. Refrigerate at least 4 hours, up to overnight, before serving. Slice and top with whipped cream and a sprinkle of pumpkin spice.
———————