Dec 6, 2020 The Yellow Pine Times – Valley County, Idaho
Reminder: We are still under a boil water order until further notice.
Community Calendar:
April 17 – Boil water order issued
Aug 11 – Valley County Mask Order
Dec 25 – Xmas potluck 3pm Community Hall
(details below)
———-
From Valley County
Valley County Mask-Up
A county-wide mask mandate was approved the CDH August 11th, and is now in effect for Valley County. (link)
Rebound – Idaho Governor's phasing program
link:
COVID 19: Recommendations and Resources for Safe Business Practices
link: (lots of info for businesses)
——————-
Local Events:
The Boise NF plans to conduct Fall/Winter burning.
In our area:
Johnson Creek Transfer Site (1-acre): Pile debris generated from fuels reduction activities located off National Forest System (NFS) road 413.
— — — —
Xmas Potluck
December 25 at 3pm in the Community Hall.
———-
Village News:
Attention Santa's Yellow Pine Elves
It is time to start thanking about the Christmas gift bags!! Any questions please get a hold of me. We are looking at about 30 bags this year!!
Nicki H
— — — —
Boil Water Order issued April 17 still in effect.
Update Nov 29: Warren replaced the water meter because of inconsistent readings. With the new meter, the community is currently using over 55,000 gallons of water per day. A leak has been identified and will be repaired as soon as we can coordinate the contractor, equipment needed and weather together. It is difficult to get everything planned in the winter. When the repair is scheduled, the community will have a few days notice before the water is shut down. Since we are using more water than the rated use through the sand filters, the boil order will remain in effect. We continue the grant request process that is extremely slow. – Steve H
Update Nov 25: the boil order is still in effect due to the large quantity of water that is leaking from the system. – Warren D
Update July 5: the boil order is in effect due to extremely high use due to leaks.
Update June 12: The boil order is still on. We still are experiencing excessive water use because of leaks. Not sure when this will be lifted. We are applying for grants to repair the system.
Update June 2: The water plant is experiencing high water in Boulder Creek which brings more debris into the sand filter.
The high demand caused by leaks in the system plugs the sand filters prematurely. We will be on a boil order until further notice.
— — — —
Critters
Be Mountain Lion Aware
* NEVER run away from a mountain lion. The lion's instinct is to chase and ultimately catch what they perceive as potential prey.
* NEVER turn your back on a lion. Always face them while making yourself look as large as you can. Yell loudly, but don't scream. A high-pitched scream may mimic the sound of a wounded animal.
* SLOWLY back away while maintaining eye contact with the lion.
* Safety equipment you may choose to carry could include bear spray, a noise device, like an air-horn, and if you walk in the dark, a very bright flashlight.
* If you are attacked, fight back!
— — — —
Road Reports
Link: to current road reports.
— — — —
Yellow Pine US Mail
The 3-day a week mail delivery started Nov 2nd. The Post Office in Yellow Pine is open six days a week year around: M-F 845am-245pm Saturday 9am-245pm. Forever Stamp: 55 cents. Support our local post office and purchase your holiday stamps here.
— — — —
Yellow Pine Transfer Station
Please do not abuse our Transfer Station or we may lose it. Household trash must be placed in the bins, flattened cardboard boxes can also go into the bins. Do not stack trash in front of the doors. Woody yard debris only for the burn pile. No furniture, appliances, tires or construction debris allowed, those items must be hauled out to the Donnelly station by you.
Yellow Pine Transfer Station (aka, the dump)
The Yellow Pine Transfer Station is located approximately 3 miles south on Johnson Creek Road.
The TRANSFER STATION is for household trash and yard waste:
* Household trash must be put inside (and fit) the dumpster;
* Yard waste (limbs, pine needles, brush, etc.) goes in the burn pile on the south end of the turn-around;
* Cardboard boxes should be flattened before putting the in the dumpster,
The DUMPSTERS are NOT for:
* Furniture (take to Donnelly Transfer Station);
* Appliances (take to Donnelly Transfer Station).
The BURN PILE is NOT for:
* Cardboard boxes (flatten and put in dumpster);
* Furniture and appliances (take to Donnelly Transfer Station);
* Drywall and building material (take to Donnelly Transfer Station);
* Wire or fencing (take to Donnelly Transfer Station);
* Foam Rubber (take to Donnelly Transfer Station);
* Wood with metal (like nails) attached (take to Donnelly Transfer Station.)
When closing the DOORS on the front of the dumpsters:
* Make sure the "U" brackets at the top and bottom of the door are engaged;
* The retaining bar at the middle of the door is slid into the pipe;
* And the "L" bars at the bottom of the doors dropped into place.
The Yellow Pine Transfer Station is Valley County responsibility. If it is not kept tidy, use of the Transfer Station may be revoked. That would result in residents having to take all household trash and yard waste to the Donnelly Transfer Station.
If Dumpsters Are Full, Contact Lake Shore Disposal at: 208/634-7176
———-
Local Groups
YPWUA News:
The annual Water meeting for 2020 was held July 5th at the Community Hall 2pm.
link: minutes 20200705YPWUA.docx
Boil Water Order issued April 17, 2020. This could last until leaks are repaired.
Boil Water Advisory Notice
Boil Your Water Before Using
Bring tap water to a rolling boil, boil for one minute, and cool before using or use bottled water. Boiled or bottled water should be used for drinking, making ice, washing dishes, brushing teeth, and preparing food until further notice.
This Boil Water Advisory Notice applies to The Yellow Pine Water System
The system is being monitored and checked daily for compliance.
You will be informed when you no longer need to boil your water.
Please share this information with other people who drink this water, especially anyone who may not get this notice directly (for example, people in apartments, nursing homes, schools, and businesses).
You can do this by posting this notice in a public place or distributing copies by hand or mail.
State Water System ID#: 4430059 Date distributed: 3-22-2020
Notice of Intent to File an Application with USDA, Rural Development
The Yellow Pine Water Users Association, Yellow Pine, Idaho intends to file an Application with USDA, Rural Development to obtain a drinking water system facility Emergency Community Water Assistance Grant (ECWAG). Emergency Community Water Assistance Grant (ECWAG).
If any additional information is needed, please contact:
Willie Sullivan
Treasurer
ypwater @ gmail.com
Distributed to Yellow Pine Water Users Association customers via Yellow Pine Times on June 12, 2020.
The 2019 Yellow Pine Water Users Shareholders meeting was Sunday July 7, 2019.
link: 20190707YPWUAminutes
— — — —
VYPA News:
The Community Hall toilet is functional! It was christened at the Thanksgiving Potluck. Many hands were involved over the last three months to get this far. The goal is to have it completely finished by Christmas. Thanks to everyone who was able to lend a hand or give advice. Couldn't have done it without you.
Minutes from September 12 VYPA meeting
link:
Minutes from August 8, 2020 VYPA meeting
link:
Minutes from July 11, 2020 VYPA meeting
link:
Minutes from June 13, 2020 VYPA meeting
link:
VYPA Bylaws adopted 8/8/2020 (link)
YPAC Corp Bylaws (link)
— — — —
YPFD News:
After Action Report meeting Oct 13, 2020 (no minutes yet.)
YPFD had a budget meeting on September 30th at 10am at the fire station. (No minutes yet.)
Make sure to clean and check chimney fitting before starting that first fall fire in your cabin. Cleaning brushes can be borrowed from the YPFD.
There was a YP Fire Commissioner meeting on June 27, 2020 at 10am at the Fire Station.
Link: 20200627 Fire Dept minutes June 27
YPFD COVID19 Policy
link: YPFD Covid 19 SOP
link: Covid-19 EMS (May 23)
Pile burning: Dress appropriately, have enough help on hand (people, water and tools) and make a firebreak before you start. Call your local fire protection district chief to let them know you'll be conducting a debris burn. This saves them from sending emergency responders to your property if they are not needed. Do NOT burn on breezy afternoons.
Better yet, "Bring It, Don't Burn It", you can take your yard waste (limbs, pine needles, brush, etc.) to the burn pile at the Transfer Station on the south end of the turn-around. Remember, keep the pile neat. Woody debris only, no nails, no cardboard and no furniture! The Boise NF will burn the pile in the fall when it is safe and doesn't pollute our fine YP air.
YP Fire Commissioners:
Sue Holloway – District 1
Dan Stiff – District 2
Merrill Saleen – District 3
(TBA) – Fire Chief
Yellow Pine Fire Protection District Community Service Notice
The purpose of this letter is to show how you as a Yellow Pine Resident can help protect your structure against a wildland fire by being "Fire Wise." Click the link: to view 20190724 Yellow Pine Fire Protection mitigation
——–
Biz Listings:
The Corner (208) 633-3325
Starting Nov 3rd open 3 days a week on mail days.
— — — —
Yellow Pine Tavern (208) 633-2233
Winter Closure: November 14, 2020 to April 16, 2021
— — — —
Yellow Pine Lodge (208) 633-3377
Closed Nov 3rd for winter.
— — — —
Yellow Pine General Store (208) 633-3300
Closed Nov 3rd for winter.
— — — —
Murph's RV Park & Mary's Cabins
FB page link
— — — —
Knotty Kat Crochet Works – 208-502-0940
FB page link
open Tue – Sat, 9-5
Yellow Pine eggs $3/doz
— — — —
Buck Horn Outfitters LLC 208-633-3614
Tom & Sarah Lanham
156 Yellow Pine Ave, Yellow Pine Id 83677
website:
Facebook:
Starting June 2020 We will be doing trail rides out of Yellow Pine along with summer pack / camping trips to high mountain lakes in the area!
Wapiti Meadow Ranch – Johnson Creek (208) 633-3217
or 208-315-3554 – cabin rentals
website:
Deadwood Outfitters
website:
— — — —
Local Fuel Suppliers
Amerigas Phone: (208) 634-8181
Ed Staub & Sons Phone: (208) 634-3833
Diamond Fuel & Feed Phone: (208) 382-4430 open 830am-5pm Monday-Friday, closed weekends.
— — — —
Outside Biz that will service Yellow Pine:
The Star-News


click to subscribe:
A reminder that those who live in other states can subscribe to the online edition only since the mail can take days for hard copy to reach them.
Rocky Mountain Mechanical – Plumbing – Heating – Air conditioning
(208) 365-PIPE (7473), Emmett, will service Yellow Pine
Elkhorn Heating & Cooling
(208) 906-4067 Middleton, Idaho, will service Yellow Pine
B&T Safety Solutions LLC
208-271-1600 Based out of Donnelly
Snow removal, cleaning chimneys and stoves, we do cabin staining/chinking as well
— — — —
Follow The Yellow Pine Times on Facebook (updated more often than emails)
———————–
Local Observations:
Monday (Nov 30) 24 hour low of 8 degrees from Sunday morning, mostly cloudy (small white) and light breeze this morning. Hairy woodpecker, juncos and jays visiting. Started snowing just after lunch time, overcast and ridges getting foggy, high of 34 degrees. Socked in and snowing lightly early afternoon. Stopped snowing and patches of blue sky mid-afternoon, looks like about 1/4th inch of new snow. Mostly cloudy and a little above freezing right after sunset. Cloudy and not snowing at dusk. Mostly cloudy before midnight and filtered moonlight.
Tuesday (Dec 1) 24 hour low of 19 degrees from Monday morning, partly clear to mostly cloudy sky this morning. We received 1/4″ new snow yesterday (SWE=0.01″) and measured 3″ snow on the ground. Sunrise (down by the school) at 1025am. Jays visiting. Light traffic. Mostly clear and icicles dripping after lunch time, high of 40 degrees. Snowy trees on VanMeter stood out against a very blue sky. Juncos visiting. Sun went behind the ridge at 325pm, clear sky and a hair above freezing. Sun set behind the ridge at 325pm. Temperature dropping quickly at dusk. Clear sky after full dark, breezy mid-evening. Looked clear before midnight, bright waning moon.
Wednesday (Dec 2) overnight low of 7 degrees, clear sky and frosty this morning, 3″ of snow on the board. Jays, juncos and hairy woodpecker visiting. Clear and chilly at lunch time, high of 37 degrees. Mail truck made it in on time, no problems reported. Red-breasted nuthatch visiting. Quiet day. Clear and below freezing before sunset. Pine squirrel calling from the trees. Clear and cold at dusk. Moon shadows before midnight.
Thursday (Dec 3) 24 hour low of 10 degrees, very blue clear sky and frosty this morning, 3″ of snow on the ground. A report of wolves howling above the orchard before dawn. Jays visiting. Sunny and clear at lunch time, icicles dripping, high of 42 degrees. Red-breasted nuthatch and jays visiting. Clear and just below freezing at sunset. It was 22 degrees at dusk. Clear before midnight.
Friday (Dec 4) overnight low of 7 degrees, clear sky and frosty this morning, the same 3″ of snow is still on the ground. Little herd of elk traveling thru the golf course late morning. Sunny and below freezing after lunch time, high of 37 degrees. Jays and woodpecker visiting. Clear and just below freezing right before sunset. At dusk it was 21 degrees and elk calling and squealing out on the golf course. Clear before midnight.
Saturday (Dec 5) 24 hour low of 10 degrees, clear blue sky and frost sparkling like diamonds when the sun popped over the ridge, still have 3″ of snow on the ground. Jays visiting. Sunny and clear at lunchtime, high of 39 degrees. Pine squirrel visiting. Clear and chilly after sunset. Below freezing at dusk. Lots of stars out before midnight.
Sunday (Dec 6) overnight low of 12 degrees, clear sky and hoarfrost feathers poking up out of the 3″ of snow. Jays, woodpecker and pine squirrel visiting. Sunny and clear at lunch time, high of 40 degrees. The sun set before 320pm, temperature above freezing under clear skies. Clear and below freezing at dusk.
——————-
Idaho News:
1,911 new Idaho COVID-19 cases, 18 new deaths
December 4, 2020 Local News 8
Idaho officials reported 1,911 new COVID-19 cases and 18 new deaths on Friday.
That brings the total confirmed and probable cases reported since March to 108,366.
There are a total of 91,243 confirmed cases and 17,123 probable cases in all 44 of the 44 counties in Idaho, according to numbers released from the local health districts and the state. …
18 new deaths were reported bringing the total recorded deaths to 1,032.
full story:
— — —
Idaho Thursday, December 3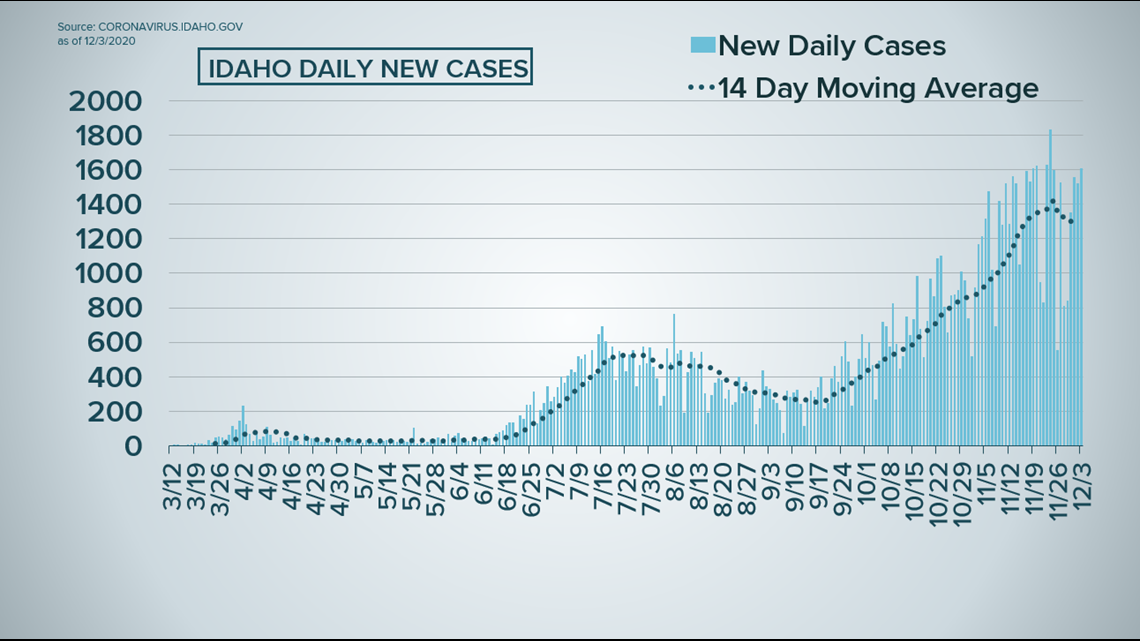 source: KTVB
— — — — — — — — — —
Valley County reports 31 new COVID-19 cases, total now at 291
By Tom Grote for The Star-News Dec 3, 2020
The total number of positive COVID-19 cases in Valley County reached 291 cases on Tuesday, up 31 cases from 260 a week ago, health officials said.
St. Luke's McCall on Tuesday reported 226 total positive cases from testing done at the hospital, up 26 cases from 200 a week ago.
Cascade Medical Center reported 65 positive cases through Tuesday, or five more than the 60 cases reported last week.
Central District Health reported 207 of the positive cases were confirmed to be Valley County residents as of Tuesday, which is 24 more than the 183 cases reported a week ago.
The difference between the hospital figures and the health department figures are those who tested positive but did not declare Valley County as their residence.
One death from COVID-19 has been reported in Valley County.
continued:
— — — — — — — — — —
McCall Winter Carnival canceled for 2021
By Cooper Waytenick Dec 05, 2020 KIVI
McCall, Idaho — Treasure Valley residents have to cross another holiday favorite off their list this year due to COVID-19.
The McCall Winter Area Chamber of Commerce has canceled the 2021 McCall Winter Carnival due to rising case counts, positivity rates and tighter restrictions on public gatherings.
Early in November, organizers were still planning to hold the carnival the last weekend of January 2021 and those willing to risk the winter weather would have been able to enjoy snow sculptures, vendors and other outdoor recreation that the city of McCall has to offer.
A statement on the official McCall Area Chamber of Commerce website says "While we will not be hosting Winter Carnival this year, we will be working to share safe ways visitors can enjoy the McCall area for the entirety of the winter season. Our hope is that we can still celebrate the "Winter Wanderlust" in all of us over the many months of winter. Look for tips and ideas on ways to experience winter fun outdoors, support our local businesses, AND stay safe and healthy."
source:
— — — — — — — — — —
Health warning on Lake Cascade lifted
Advisory on toxic algae lasted seven weeks
By Max Silverson for The Star-News Dec 3, 2020
The health advisory for dangerous concentrations of toxic cyanobacteria in Lake Cascade that has been in place since Oct. 5 was lifted last week.
The advisory by Central District Health and the Idaho Department of Environmental Quality was rescinded after water quality tests showed that toxins from the bacteria had returned to non-dangerous levels.
The agencies advised the public to be cautious in and around areas where a bloom may still be visible.
"Always use caution around water bodies with visible slime, surface scum, or a foul odor," a press release from the two agencies said.
High concentrations of toxin-producing cyanobacteria may cause illness to both humans and animals, the release said.
continued:
— — — — — — — — — —
Garden Valley School cancels all classes Wednesday ahead of emergency meeting
The move comes just days after the district announced that at least one person at the school had tested positive for COVID-19.
Dec 2, 2020 KTVB
Garden Valley School has canceled all classes from preschool to 12th grade for Wednesday.
The move comes just days after the Garden Valley School District said in a letter to parents that at least one person at the school had tested positive for COVID-19. Officials said Sunday they were working to identify and get in touch with those who had been in close contact with the infected person, but did not say if he or she was a teacher or a student.
Sports competitions and practices have also been canceled for Wednesday, district officials say, and staff members and students will not be allowed inside the school building.
continued:
——————-
Idaho History:
Idaho hikers, historians aim to uncover trail to gold mine
Dec 1, 2020 Post Register (AP)
Historians and hikers in Idaho have teamed up to uncover a 120-year-old route used by gold miners that was partially rediscovered near Thunder Mountain, the Idaho Statesman reported.
The Idaho Trails Association has partnered with the U.S. Forest Service to survey three sections of the trail, which was originally about 50 miles (80 kilometers) long, according to Morgan Zedalis, assistant forest archaeologist for Payette National Forest's Heritage Program.
The Heritage Program history of the trail said it was created after brothers Ben and Lou Caswell struck gold in the late 1890s in what is now part of the Frank Church-River of No Return Wilderness in southern Idaho.
The Caswells sold their mining claims to investor William H. Dewey in 1900, spurring a gold rush, officials said. William Campbell and W.A. Stonebraker then created a more accessible route for miners.
"There was no real easy way to get (to Thunder Mountain), especially for the miners north of the Main Salmon River in Florence, Dixie and those areas," Zedalis told the Statesman.
continued:
—————-
Mining News:
Midas Gold Provides Corporate Update
December 4, 2020
Vancouver, British Columbia – Midas Gold Corp. announced today the transition of five members the Company's current Board of Directors (the "Board") to five new, independent directors who will assist the Company in moving the Stibnite Gold Project (the "Project") through the remaining phase of permitting under the National Environmental Policy Act and into construction and operations. The decision comes as a part of a transition agreement between the Company and Paulson & Co. Inc. ("Paulson"), which owns 44.1% of the outstanding common shares of the Company. As part of the agreement, Stephen Quin has resigned as President, CEO and a director of the Company and has been succeeded by Ms. Laurel Sayer, currently President and CEO of the Company's wholly-owned subsidiary, Midas Gold Idaho, Inc. ("Midas Gold Idaho").
The transition agreement results in the resignation from the Board of the following members: Keith Allred, Jaimie Donovan, Brad Doores, Jon Goode, and Peter Nixon, effective today.
"We are confident in the management team at Midas Gold and the value provided by the Stibnite Gold Project," said Peter Nixon, former Lead Director of Midas Gold. He added, "Today's transition allows the Company to continue to focus on the execution of its business plan, the successful completion of the permitting process, and the Company's continuing efforts to create value for all stakeholders."
continued:
———————
Public Lands:
Camping fee structure in Idaho simplified, vehicle entrance fees increased
By Katie Kloppenburg Dec 01, 2020 KIVI
It will now be slightly easier to find out what campsite is best for people in Idaho. Idaho Department of Parks and Recreation is adopting a new fee structure and site-type simplification that goes into effect on December 10.
The new structure and simplification are designed to make the reservation process easier by limiting the number of site types there are to choose from. There are now only three, basic, electric and full hook-up. The department said in a news release that "serviced site" has been removed and replaced with either "electric site" or "full hook-up site." The change is to make it easier to identify the ideal campsite.
The release says there is a fee increase across the board, ranging from 8% to 16% per site. The department also notes the new fees are now tax inclusive and more transparent to the customer.
continued:
— — — — — — — — — —
BAER Assessment Underway for Woodhead Fire on the Payette National Forest
McCall, Idaho, December 1, 2020 The Woodhead Fire Burned Area Emergency Response (BAER) Plan has been approved, and work to stabilize burned watersheds and repair small infrastructure is being scheduled for prompt completion. Approved treatments will be implemented over the next 12 months using federal dollars on federal lands.
Storm damage risk reduction treatments will be undertaken on roads affected by high or moderate severity fire. The roads are at risk of erosion by increased runoff as a result of the fire burned landscape. Treatments include cleaning culverts and ditches, removing fire debris like rocks and downed trees from roadway, and installing rolling dips to drain the road surface. Some pre-winter work was done to improve ditches and culverts ahead of spring run-off and the rest of the work will be done in spring or summer of 2021.
Next growing season will be a prime opportunity for weed treatment on fire-suppression damaged lands (rehabbed firelines to mitigate noxious weed infestations on disturbed ground), weed treatments on lands affected by high or moderate severity fire where noxious weed infestation threatens naturalized or native plant communities.
Work is also planned on small forest infrastructure managed by the Forest. Trail work will be undertaken to reestablish drainage and repair any damaged trail tread to protect soil and water resources. The forest is also installing burned area caution/warning signs on key roads and trails, for public safety. A damaged wing wall on the Brownlee Creek bridge and the Brownlee Campground fence will be repaired.
The Woodhead Fire burned 96,614 acres in a mosaic pattern west of Cambridge and Council, Idaho in September and October 2020. Satellite imagery of the burned area and field work during the BAER assessment process found that inside the fire perimeter most of the land is a patchwork of unburned, low severity, or moderate severity. High severity burned areas is where most of the post-fire watershed effects are likely to occur, namely in Crooked River, No Business Basin, and Brownlee Creek.
All fire closure orders have been lifted and the burned area is open to public entry as normal. Forest users are advised to be aware of post-fire hazards. Information about recreating and traveling safely in a burned area as well as other information about the Woodhead BAER effort is available at (link)
— — — — — — — — — —
Public Comment Sought on Proposed Brundage Mountain Communications Site Upgrades
McCall, Idaho, December 1, 2020 To respond to current and future communication needs in the McCall and New Meadows areas, the Payette National Forest is proposing to amend communication site leases on the 5 acre Brundage Mountain Communications Site. These proposed amendments are in response to proposals from current Communication Use Lease holders, and to address anticipated future communications proposals on the site.
The Brundage Mountain Communications Site is an area of National Forest System land designated in the Payette National Forest Land Management Plan and has been utilized for electronic communications since the 1950's.
The purpose of the project is to respond to current and future proposals to upgrade communication facilities at the Brundage Mountain Communications Site. Brundage Mountain is a critical link for communication services covering the McCall and Meadows Valley areas and the new, upgraded facilities will expand capacity and improve coverage.
Current improvement proposals include the addition of two 100-foot towers, and the reconstruction of two communication buildings on the site. Towers at these specific locations are currently 25 and 50 feet and would be replaced with 100-foot towers. Four other 100 foot towers currently exist on the communications site.
Current uses at the Brundage Communications site are for local, state and federal emergency response communications, and private communications such as cellular and telephone microwave relay communications service. This proposal would upgrade wireless communication facilities to better serve the McCall and New Meadows areas.
The project is being proposed as a Categorical Exclusion with no additional designated public comment periods so this "scoping" phase that closes on December 31, 2020 is the best opportunity for public input. The project webpage (link) provides tools to engage this project. Use the "Comment/Object on Project" link to access a simple webform to submit your comments on this project. Hard copy comments may be submitted to: District Ranger Jennifer Blake, McCall Ranger District, 102 West Lake Street, McCall, ID 83638.
This project is responsive to the MOBILE NOW Act (2017) and Executive Order (EO13821-2018) on Streamlining and Expediting Requests to Locate Broadband Facilities in Rural America, which direct the US Forest Service (USFS) to provide timely and thorough review and consideration of all communication-use proposals on National Forest System lands. The project is consistent with Forest Plan goals and objectives to work with utilities and others to provide for developments that meet the needs of the public while protecting other Forest resources.
For further information on this project, please contact District Ranger Jennifer Blake at 208-634-0400 or jennifer.b.blake@usda.gov.
— — — — — — — — — —
37,000 seedlings planted in the Boise National Forest as part of The City of Trees Challenge
By Lynsey Amundson Dec 04, 2020 KIVI
As part of The City of Trees Challenge to fight climate change and restore our National Forests, the City of Boise, the Arbor Foundation, and The Nature Conservancy have partnered together to plant 37,000 seedlings in the Boise National Forest.
This will help restore the land, wildlife habitat and vegetation destroyed in the 2016 Pioneer Fire that burned over 180,000 acres.
continued:
— — — — — — — — — —
The Bureau of Land Management increases access, recreation opportunities in southern Idaho
December 4, 2020
Contact: Mike Williamson mwilliamson@blm.gov 208-384-3393
Eric Grace egrace@lttv.org 208-345-1452
Boise, Idaho – The Bureau of Land Management Four Rivers Field Office announced today that the agency has acquired 560 acres in the northwest Boise foothills to enhance public access to open space and recreation opportunities. The BLM purchased the land— known as the Healy Toll Road parcel—from the Land Trust of the Treasure Valley using money from the Land and Water Conservation Fund. The acquisition will secure public access in perpetuity to the parcel and open approximately 3,040 acres of adjacent BLM-managed public lands that previously lacked formal legal access.
"The Trump Administration has continued to prioritize and enhance outdoor recreation opportunities for the American people," said BLM Deputy Director for Programs and Policy William Perry Pendley. "This acquisition demonstrates our commitment to expanding these opportunities as well as access to public lands."
The Healy Toll Road parcel lies 10 miles north of Boise. The parcel and surrounding BLM-managed public lands are popular destinations for outdoor recreation, including hunting, mountain biking and hiking. In addition to expanding public access for outdoor recreation opportunities, acquisition of the Healy Toll Road parcel will help conserve wildlife habitat.
Acquisition of the Healy Toll Road parcel is a result of a collaboration between the BLM and the Land Trust of the Treasure Valley.
"This acquisition is an important step in conserving open space in the northwestern foothills. The parcel is prime habitat for wintering elk and mule deer, provides ample recreation and sportsman opportunities, and has historic value," said Eric Grace, Executive Director of Land Trust of the Treasure Valley. "The acquisition is a prime example of how the Land Trust and the BLM can partner to provide public access and preserve habitat."
"The Boise District appreciates the support of the Land Trust of the Treasure Valley in securing this key parcel for public access and important wildlife habitat," said Tanya Thrift, Boise District Manager. "Completion of this acquisition will ensure the public not only has access to a range of recreational opportunities on the Healy Toll Road parcel but to all of the adjacent BLM lands as well."
Video featuring BLM and Land Trust of the Treasure Valley discussing the value of this land:
——————–
Critter News:
Idaho Sled Dog Challenged canceled due to COVID-19
The Star-News Dec 3, 2020
The 2021 Idaho Sled Dog Challenge has been canceled due to the COVID-19 pandemic.
"We could not responsibly justify potential exposure to our volunteers, mushers and the public," said race director Jerry Wortley.
What would have been the fourth running of the race was scheduled to start in Cascade on Jan. 31 and finish on Feb. 4.
Musher participation has steadily increased each year, with the maximum possible 25 teams already signed up for the 2021 event, Wortley said.
The 300-mile distance at the Idaho Sled Dog Challenge has served as a qualifier for the 1,000-mile Iditarod Trail Sled Dog Race and Yukon Quest races.
The full course extended from McCall to the Wye Campground, west of New Meadows, to Smiths Ferry and the Van Wyck Campground in Cascade with over 42,000 feet of elevation gain throughout.
Last year's winner Jessie Royer of Seely Lake, Montana went on to place third in what was her 18th Iditarod race.
The sled dog challenge also featured a 100-mile race and a 37-mile junior race.
source:
— — — — — — — — — —
Pet talk – What is proptosis?
By Dr. Karsten Fostvedt Sep 4, 2020 IME
Proptosis is the movement of the eyeball beyond the bony socket and eyelids. As it moves forward, the eyelids become folded behind it, which prevents the eye from returning towards its normal location. The eye quickly becomes inflamed and dry; it is often bloody and may ulcerate.
Typically, only one eye is involved. Proptosis is usually caused by trauma. In dogs, it is most likely to occur in the small flat-faced breeds, because their eyes are naturally prominent. A common cause in these breeds is a dog fight, especially when a large dog grabs the small one by the scruff of the neck.
continued:
— — — — — — — — — —
Idaho's Salmon Workgroup finalizing recommendations to save salmon and steelhead populations
By Lynsey Amundson Dec 04, 2020 KIVI
For over a year and a half, the Salmon Workgroup, comprised of representatives from the fish industry, conservation, and other stakeholders, has met to draft recommendations on how they can recover the salmon and steelhead population and present those recommendations to Governor Brad Little on Dec. 15.
"Despite having some good runs we are still in an extinction trajectory, and we are getting down to the red line here, these last few years have been incredibly scary," said Brian Brooks, Idaho Wildlife Federation Executive Director/Salmon Workgroup member.
If absolutely nothing is done, he said that data shows the salmon and steelhead populations in our region will be extinct within the next 20 years, which will have a significant ecological and economic impact.
continued:
— — — — — — — — — —
Study looks at impact of ocean and dams on salmon runs
A controversial new study challenges long-standing science that pins salmon declines in the Snake River Basin on dams.
Dec 2, 2020 Associated Press
A controversial new study challenges long-standing science that pins salmon declines in the Snake River Basin on dams.
The Lewiston Morning Tribune reports the work by British Columbia scientist David Welch puts the blame for poor returns of adult Snake River spring and fall chinook salmon on conditions in the Pacific Ocean instead of the dams. The study argues that chinook runs from California to Alaska have suffered similar declines.
Welch's work, funded by the Bonneville Power Administration and published in the journal "Fish and Fisheries," argues that since chinook runs in rivers with pristine freshwater habitat and those with highly degraded habitat have suffered similar declines, the problem must be in the ocean.
continued:
——————
Fish & Game News:
Fish and Game captures and treats sick cow moose in Hailey
By Terry Thompson, Regional Communications Manager
Friday, December 4, 2020
A sick cow moose was captured and treated for an eye infection after several reports were received from residents in the Hailey, ID area.
Over the past two weeks Fish and Game received several reports from Hailey, Idaho residents of a sick cow moose with a calf. Residents reported that the moose had what appeared to be severely infected eyes. On Wednesday, December 2, 2020 a local resident reported the cow and calf were in their yard, prompting Fish and Game officials along with support from two Blaine County Sheriff deputies to quickly respond. Fish and Game biologists darted and anesthetized the cow, allowing them to treat the eye condition, which is thought to be conjunctivitis.
Biologists were able to obtain cultures from around the eyes, draw a blood sample and administer antibiotics through injections. A radio collar was also placed on the cow, allowing biologists to monitor the cow's status over the coming months.
continued:
— — — — — — — — — —
Fish and Game seeks information about a bull moose poaching incident in Unit 54, south of Twin Falls
By Terry Thompson, Regional Communications Manager
Thursday, December 3, 2020
A large bull moose was killed illegally in Unit 54, south of Twin Falls, and the public is asked to help find the poachers responsible for the killing.
On October 24, 2020 a hunter in Game Management Unit 54 south of Twin Falls who was hunting near Deadline Ridge found a dead bull moose that had been left to rot. The hunter contacted local Fish and Game officials who found an adult bull moose in a significant level of decomposition indicating it was killed in August or early September, 2020.
continued:
— — — — — — — — — —
Wildlife Express Newsletter & Educational Activities
Red squirrels create quite the commotion in Idaho's forests, especially when it comes to protecting their territory. They will stomp their feet, wave their tail, and scold with churring and rolling chatter. They might even growl.
This month's Wildlife Express provides a closer look at these energetic stashers and explains why they are a great game species for first-time hunters.
link: (pdf file)
— — — — — — — — — —
More F&G News Releases
link:
———————————-
Crazy Critter Stuff:
Tennessee tiger sighting was a case of 'mistaken identity,' wildlife officials say
by Kaylin Jorge, WZTV Thursday, September 17th 2020

Photo: Tennessee Wildlife Resources Agency
Knoxville, Tenn. (WZTV) — Tennessee Wildlife Resources Agency officials say a tiger sighting in Knoxville was likely a case of mistaken identity.
A spokesperson from the East Tennessee region said they received a call a couple days ago in the Kingsport area saying folks saw a tiger.
An officer responded and the cat, which was still on site, was a bobcat.
source:
———————
Seasonal Humor:

————