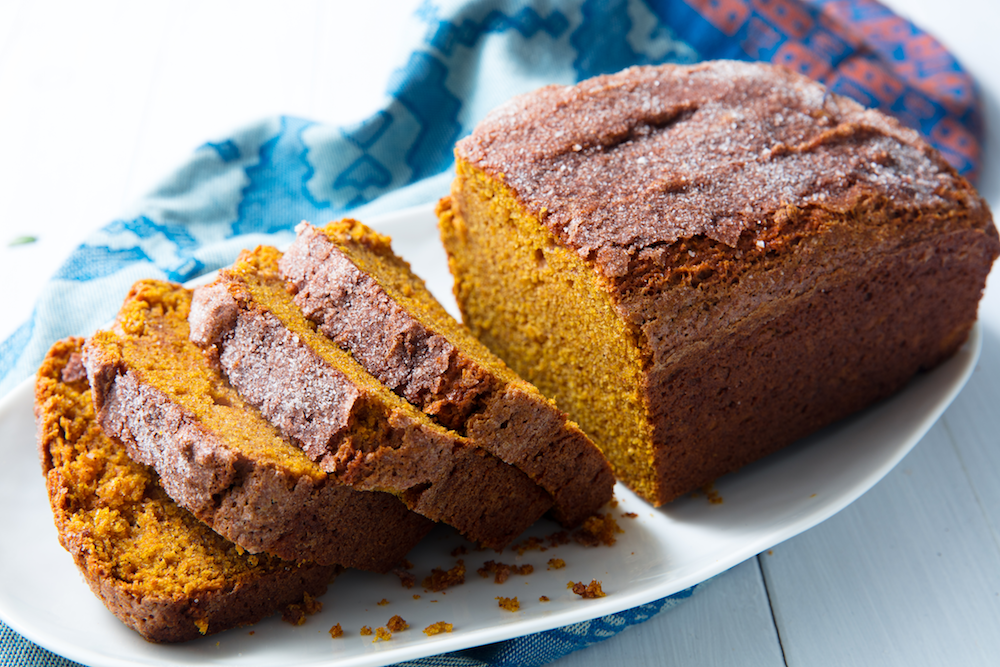 By Lauren Miyashiro
Yield 1 Loaf
Ingredients
Cooking spray, for pan
2 c. all-purpose flour
1 tsp. ground cinnamon
1 tsp. baking soda
1/2 tsp. baking powder
1/2 tsp. kosher salt
1/4 tsp. ground ginger
1/4 tsp. ground nutmeg
1/2 c. (1 stick) butter, melted
1 1/4 c. granulated sugar
1 c. pumpkin puree
1/4 c. sour cream
2 large eggs
1 tsp. pure vanilla extract
Cinnamon-sugar, for sprinkling (optional)
Directions
Preheat oven to 350F. Line an 8"-x-4" loaf pan with parchment paper then grease with cooking spray (or softened butter).
In a large bowl, whisk together flour, cinnamon, baking soda, baking powder, ginger, nutmeg, and salt.
In a separate large bowl using a hand mixer, beat melted butter, sugar, pumpkin puree, sour cream, eggs, and vanilla.
Gradually add dry ingredients to wet ingredients until just combined. Transfer batter to prepared pan then sprinkle with cinnamon-sugar, if using.
Bake until a toothpick inserted into the center of the loaf comes out clean, about 50 minutes to 1 hour.
Author's note: Feel free to fold in 1 cup of extra stuff like chocolate chips, nuts, dried cranberries, or pepitas once the batter is made.
—————-