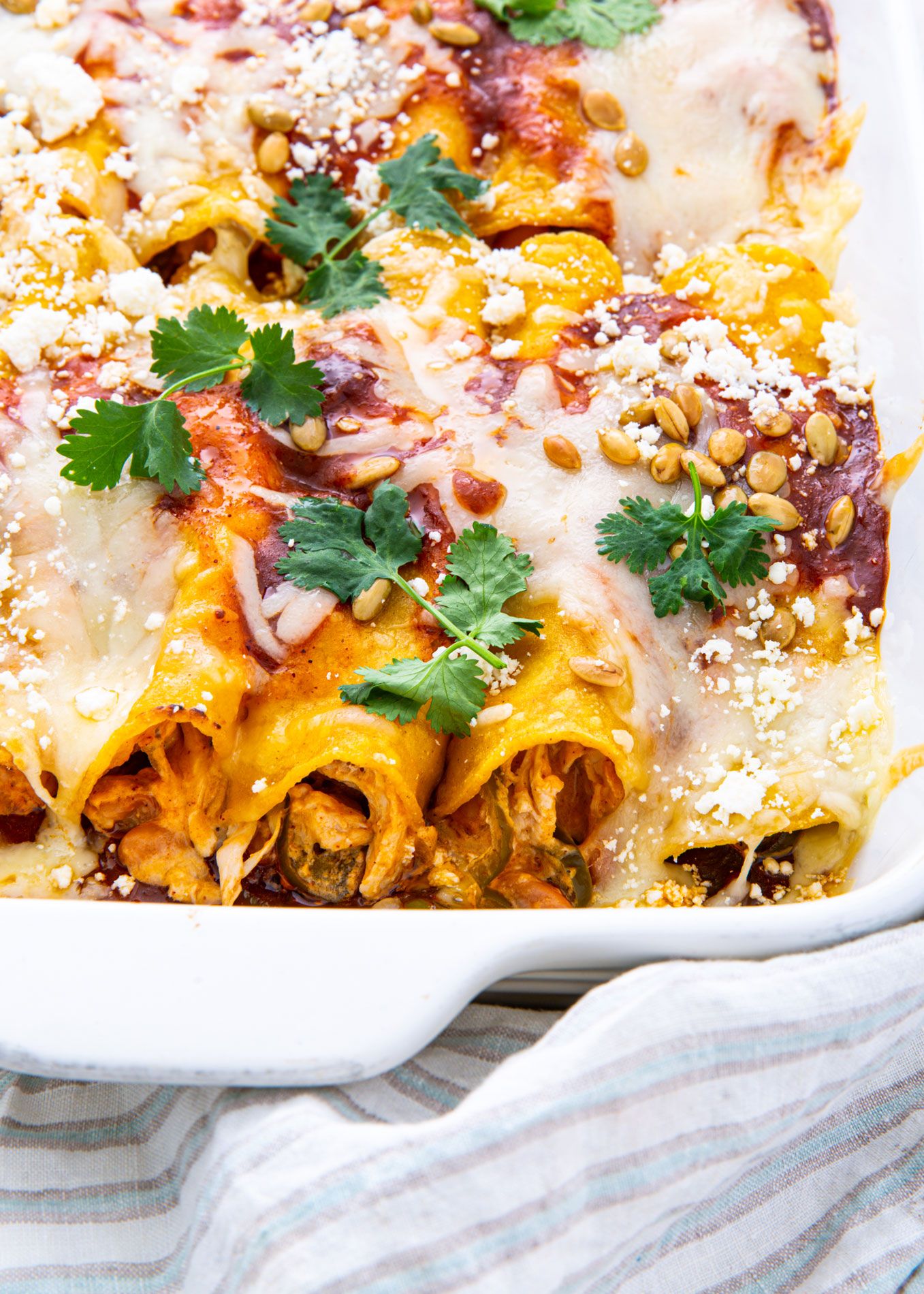 By Kat Boytsova
6 Servings
Ingredients
8 tbsp. vegetable oil, divided
1 large yellow onion, thinly sliced
4 cloves garlic, minced
2 jalalpeños, seeded, thinly sliced
3 (10-oz.) cans enchilada sauce
12 small yellow corn tortillas
3 c. cooked shredded turkey meat
1 (14-oz.) can pinto beans, drained and rinsed
2 1/2 c. shredded Monterey jack, divided
3/4 c. sour cream, plus more for serving
Kosher salt
1/2 c. cilantro leaves and tender stems
3/4 c. crumbled Cotija
1/4 c. toasted pepitas
Directions
Preheat oven to 375F. In a large skillet over medium-high heat, heat 2 tablespoons oil. Add onion, garlic, and jalapeño and cook until onion is soft, 5 minutes. Add enchilada sauce and cook until slightly thickened, about 8 minutes.
Meanwhile, heat remaining 6 tablespoons oil in a medium skillet over medium high until hot. Using tongs, dip each tortilla into hot oil, making sure to get it covered in oil, just until they are pliable—they don't need to take on any color. (This will make rolling them easier!) Transfer to a paper towel lined plate until ready to use.
In a medium bowl, combine turkey, pinto beans, and 2 cups Monterey jack. Add 1 cup enchilada sauce mixture and 3/4 cup sour cream and toss to combine, then season with salt.
Place 1 1/4 cups enchilada sauce to a 9″-x-13″ baking dish and spread evenly across the bottom. Add a small scoop of the turkey mixture in the center of a tortilla, then roll up and place seam side down in the dish of enchilada sauce. Repeat with remaining tortillas. Spread remaining enchilada sauce on top and sprinkle with remaining 1/2 cup Monterey jack.
Bake until cheese is bubbling and melty, 15 to 20 minutes.
Garnish with cilantro, cotija, and pepitas and serve with sour cream.
————————