Dec 13 2020 The Yellow Pine Times – Valley County, Idaho
Reminder: We are still under a boil water order until further notice.
Community Calendar:
April 17 – Boil water order issued
Aug 11 – Valley County Mask Order
Dec 21 – Jupiter-Saturn Conjunction
Dec 25 – Xmas potluck 3pm Community Hall
(details below)
———-
From Valley County
Valley County Mask-Up
A county-wide mask mandate was approved the CDH August 11th, and is now in effect for Valley County. (link)
Rebound – Idaho Governor's phasing program
link:
COVID 19: Recommendations and Resources for Safe Business Practices
link: (lots of info for businesses)
——————-
Local Events:
The Boise NF plans to conduct Fall/Winter burning.
In our area:
Johnson Creek Transfer Site (1-acre): Pile debris generated from fuels reduction activities located off National Forest System (NFS) road 413.
— — — —
Xmas Potluck
December 25 at 3pm in the Community Hall.
———-
Village News:
Village of Yellow Pine
by Local Color Photography
— — — —
Attention Santa's Yellow Pine Elves
It is time to start thanking about the Christmas gift bags!! Any questions please get a hold of me. We are looking at about 30 bags this year!!
Nicki H
— — — —
Boil Water Order issued April 17 still in effect.
Update Nov 29: Warren replaced the water meter because of inconsistent readings. With the new meter, the community is currently using over 55,000 gallons of water per day. A leak has been identified and will be repaired as soon as we can coordinate the contractor, equipment needed and weather together. It is difficult to get everything planned in the winter. When the repair is scheduled, the community will have a few days notice before the water is shut down. Since we are using more water than the rated use through the sand filters, the boil order will remain in effect. We continue the grant request process that is extremely slow. – Steve H
Update Nov 25: the boil order is still in effect due to the large quantity of water that is leaking from the system. – Warren D
Update July 5: the boil order is in effect due to extremely high use due to leaks.
Update June 12: The boil order is still on. We still are experiencing excessive water use because of leaks. Not sure when this will be lifted. We are applying for grants to repair the system.
Update June 2: The water plant is experiencing high water in Boulder Creek which brings more debris into the sand filter.
The high demand caused by leaks in the system plugs the sand filters prematurely. We will be on a boil order until further notice.
— — — —
Critters
Be Fox Aware
* Do not feed foxes human food
* Feed domestic pets indoors
* Make sure your pets are updated on Rabies vaccines
* Small pets could become prey
Be Mountain Lion Aware
* NEVER run away from a mountain lion. The lion's instinct is to chase and ultimately catch what they perceive as potential prey.
* NEVER turn your back on a lion. Always face them while making yourself look as large as you can. Yell loudly, but don't scream. A high-pitched scream may mimic the sound of a wounded animal.
* SLOWLY back away while maintaining eye contact with the lion.
* Safety equipment you may choose to carry could include bear spray, a noise device, like an air-horn, and if you walk in the dark, a very bright flashlight.
* If you are attacked, fight back!
— — — —
Road Reports
Link: to current road reports.
— — — —
Yellow Pine US Mail
The 3-day a week mail delivery started Nov 2nd. The Post Office in Yellow Pine is open six days a week year around: M-F 845am-245pm Saturday 9am-245pm. Forever Stamp: 55 cents. Support our local post office and purchase your holiday stamps here.
— — — —
Yellow Pine Transfer Station
Please do not abuse our Transfer Station or we may lose it. Household trash must be placed in the bins, flattened cardboard boxes can also go into the bins. Do not stack trash in front of the doors. Woody yard debris only for the burn pile. No furniture, appliances, tires or construction debris allowed, those items must be hauled out to the Donnelly station by you.
Yellow Pine Transfer Station (aka, the dump)
The Yellow Pine Transfer Station is located approximately 3 miles south on Johnson Creek Road.
The TRANSFER STATION is for household trash and yard waste:
* Household trash must be put inside (and fit) the dumpster;
* Yard waste (limbs, pine needles, brush, etc.) goes in the burn pile on the south end of the turn-around;
* Cardboard boxes should be flattened before putting the in the dumpster,
The DUMPSTERS are NOT for:
* Furniture (take to Donnelly Transfer Station);
* Appliances (take to Donnelly Transfer Station).
The BURN PILE is NOT for:
* Cardboard boxes (flatten and put in dumpster);
* Furniture and appliances (take to Donnelly Transfer Station);
* Drywall and building material (take to Donnelly Transfer Station);
* Wire or fencing (take to Donnelly Transfer Station);
* Foam Rubber (take to Donnelly Transfer Station);
* Wood with metal (like nails) attached (take to Donnelly Transfer Station.)
When closing the DOORS on the front of the dumpsters:
* Make sure the "U" brackets at the top and bottom of the door are engaged;
* The retaining bar at the middle of the door is slid into the pipe;
* And the "L" bars at the bottom of the doors dropped into place.
The Yellow Pine Transfer Station is Valley County responsibility. If it is not kept tidy, use of the Transfer Station may be revoked. That would result in residents having to take all household trash and yard waste to the Donnelly Transfer Station.
If Dumpsters Are Full, Contact Lake Shore Disposal at: 208/634-7176
———-
Local Groups
YPWUA News:
The annual Water meeting for 2020 was held July 5th at the Community Hall 2pm.
link: minutes 20200705YPWUA.docx
Boil Water Order issued April 17, 2020. This could last until leaks are repaired.
Boil Water Advisory Notice
Boil Your Water Before Using
Bring tap water to a rolling boil, boil for one minute, and cool before using or use bottled water. Boiled or bottled water should be used for drinking, making ice, washing dishes, brushing teeth, and preparing food until further notice.
This Boil Water Advisory Notice applies to The Yellow Pine Water System
The system is being monitored and checked daily for compliance.
You will be informed when you no longer need to boil your water.
Please share this information with other people who drink this water, especially anyone who may not get this notice directly (for example, people in apartments, nursing homes, schools, and businesses).
You can do this by posting this notice in a public place or distributing copies by hand or mail.
State Water System ID#: 4430059 Date distributed: 3-22-2020
Notice of Intent to File an Application with USDA, Rural Development
The Yellow Pine Water Users Association, Yellow Pine, Idaho intends to file an Application with USDA, Rural Development to obtain a drinking water system facility Emergency Community Water Assistance Grant (ECWAG). Emergency Community Water Assistance Grant (ECWAG).
If any additional information is needed, please contact:
Willie Sullivan
Treasurer
ypwater @ gmail.com
Distributed to Yellow Pine Water Users Association customers via Yellow Pine Times on June 12, 2020.
The 2019 Yellow Pine Water Users Shareholders meeting was Sunday July 7, 2019.
link: 20190707YPWUAminutes
— — — —
VYPA News:
The Community Hall toilet is functional! It was christened at the Thanksgiving Potluck. Many hands were involved over the last three months to get this far. The goal is to have it completely finished by Christmas. Thanks to everyone who was able to lend a hand or give advice. Couldn't have done it without you.
Minutes from September 12 VYPA meeting
link:
Minutes from August 8, 2020 VYPA meeting
link:
Minutes from July 11, 2020 VYPA meeting
link:
Minutes from June 13, 2020 VYPA meeting
link:
VYPA Bylaws adopted 8/8/2020 (link)
YPAC Corp Bylaws (link)
— — — —
YPFD News:
After Action Report meeting Oct 13, 2020 (no minutes yet.)
YPFD had a budget meeting on September 30th at 10am at the fire station. (No minutes yet.)
Make sure to clean and check chimney fitting before starting that first fall fire in your cabin. Cleaning brushes can be borrowed from the YPFD.
There was a YP Fire Commissioner meeting on June 27, 2020 at 10am at the Fire Station.
Link: 20200627 Fire Dept minutes June 27
YPFD COVID19 Policy
link: YPFD Covid 19 SOP
link: Covid-19 EMS (May 23)
Pile burning: Dress appropriately, have enough help on hand (people, water and tools) and make a firebreak before you start. Call your local fire protection district chief to let them know you'll be conducting a debris burn. This saves them from sending emergency responders to your property if they are not needed. Do NOT burn on breezy afternoons.
Better yet, "Bring It, Don't Burn It", you can take your yard waste (limbs, pine needles, brush, etc.) to the burn pile at the Transfer Station on the south end of the turn-around. Remember, keep the pile neat. Woody debris only, no nails, no cardboard and no furniture! The Boise NF will burn the pile in the fall when it is safe and doesn't pollute our fine YP air.
YP Fire Commissioners:
Sue Holloway – District 1
Dan Stiff – District 2
Merrill Saleen – District 3
(TBA) – Fire Chief
Yellow Pine Fire Protection District Community Service Notice
The purpose of this letter is to show how you as a Yellow Pine Resident can help protect your structure against a wildland fire by being "Fire Wise." Click the link: to view 20190724 Yellow Pine Fire Protection mitigation
——–
Biz Listings:
The Corner (208) 633-3325
Starting Nov 3rd open 3 days a week on mail days.
— — — —
Yellow Pine Tavern (208) 633-2233
Winter Closure: November 14, 2020 to April 16, 2021
— — — —
Yellow Pine Lodge (208) 633-3377
Closed Nov 3rd for winter.
— — — —
Yellow Pine General Store (208) 633-3300
Closed Nov 3rd for winter.
— — — —
Murph's RV Park & Mary's Cabins
FB page link
— — — —
Knotty Kat Crochet Works – 208-502-0940
FB page link
open Tue – Sat, 9-5
Yellow Pine eggs $3/doz
— — — —
Buck Horn Outfitters LLC 208-633-3614
Tom & Sarah Lanham
156 Yellow Pine Ave, Yellow Pine Id 83677
website:
Facebook:
Starting June 2020 We will be doing trail rides out of Yellow Pine along with summer pack / camping trips to high mountain lakes in the area!
Wapiti Meadow Ranch – Johnson Creek (208) 633-3217
or 208-315-3554 – cabin rentals
website:
Deadwood Outfitters
website:
— — — —
Local Fuel Suppliers
Amerigas Phone: (208) 634-8181
Ed Staub & Sons Phone: (208) 634-3833
Diamond Fuel & Feed Phone: (208) 382-4430 open 830am-5pm Monday-Friday, closed weekends.
— — — —
Outside Biz that will service Yellow Pine:
The Star-News


click to subscribe:
A reminder that those who live in other states can subscribe to the online edition only since the mail can take days for hard copy to reach them.
Rocky Mountain Mechanical – Plumbing – Heating – Air conditioning
(208) 365-PIPE (7473), Emmett, will service Yellow Pine
Elkhorn Heating & Cooling
(208) 906-4067 Middleton, Idaho, will service Yellow Pine
B&T Safety Solutions LLC
208-271-1600 Based out of Donnelly
Snow removal, cleaning chimneys and stoves, we do cabin staining/chinking as well
— — — —
Follow The Yellow Pine Times on Facebook (updated more often than emails)
———————–
Local Observations:
Monday (Dec 7) overnight low of 10 degrees, clear and frosty this morning, measured 3″ of old snow on the board. Pine squirrel and jay visiting. Partly cloudy after lunch time, light breeze, high of 41 degrees. Partly cloudy (high wispies) and above freezing before sundown. Lots of stars out before midnight.
Tuesday (Dec 8) 24 hour low of 13 degrees (from Monday morning), clear sky and lots of frost "feathers" sticking up out of the 3″ of old snow. Clear and below freezing before lunch time. Opinionated pine squirrel visiting. Mostly cloudy and above freezing before sunset, high of 49 degrees. Still above freezing and overcast at dusk. Stars out before midnight, then cloudy.
Wednesday (Dec 9) overnight low of 16 degrees, mostly cloudy sky and hoarfrost feathers all over the top of the 3″ of old snow. Jays and pine squirrel visiting. Overcast by lunch time, high of 40 degrees. Mail truck made it in on time. Junco and nuthatch visiting. Above freezing and overcast after sunset. A little above freezing at dark. Snowmobile traffic. Cloudy mid-evening and very dark.
Thursday (Dec 10) overnight low of 9 degrees, clear sky and frosty this morning, the same 3″ of snow is on the board topped with about 1/2″ of hoarfrost. Pine squirrel showed up at sunrise. Some high thin hazy clouds after lunch time, high of 38 degrees. Thin overcast at sunset and right at freezing. Thin haze after dark, then clearing before midnight, lots of bright stars. Clouds came in early morning with a trace of snow.
Friday (Dec 11) 24 hour low of of 10 degrees (from Thurs morning), broken overcast, still have 3″ of old snow plus a trace of new. Jays, juncos and pine squirrel visiting. Overcast at lunch time, high of 26 degrees. Lower clouds and snow falling early afternoon. Still snowing lightly at sunset. At dusk still snowing lightly (trace so far) and cold. About 1/2″ of snow by 10pm.
Saturday (Dec 12) overnight low of 7 degrees, overcast sky this morning. Measured 1/2″ new snow (SWE=0.02″) and 4″ total snow on the board (old snow plus hoarfrost plus new snow.) Fox and squirrel tracks in the fresh snow, jays visiting. Dark clouds at lunch time, high of 29 degrees. Hairy woodpecker visiting. Broken overcast and below freezing before sunset. Temperature dropping at dusk. Stars out before midnight and cold.
Sunday (Dec 13) overnight low of 3 degrees, overcast sky and light breeze this morning, 4″ of old snow on the board. Fresh fox tracks. Pine squirrel and jays visiting. Snowed for about half an hour and breezy at lunch time, high of 29 degrees. A few red-breasted nuthatches visiting. Overcast, cold and snowing lightly before sunset. Snowed about an inch before dusk.
——————-
Special Event:
Great Conjunction 2020: Jupiter and Saturn Meet on Solstice

by: Meteorologist, Jacob Dickey
Rare Jupiter-Saturn Conjunction on December 21 — Closest Since the Middle Ages
A rare, spectacular sky event is about to unfold: the greatest conjunction ever! It will be more impressive than the usual celestial headliners, like lunar eclipses and Mercury transits. And it will be visible around the world. On the very day of the solstice, December 21, 2020, Jupiter will come as close to Saturn as Jove's own moons!
When Jupiter and Saturn—the two biggest planets in our solar system—meet, it's termed the "Great Conjunction." What's even more special is that it's happening on night of the winter solstice.
It will appear as if the planets touch in the sky above. To some, it may appear as a single bright "star." How fitting for Christmastime!
It's already making headlines in the astrological world. After all, from time immemorial, a meeting of Jupiter and Saturn was deemed the most auspicious of all planetary get-togethers, the only one called a "Great Conjunction." There was good reason for such attention: This is the rarest meeting between any of the five bright planets. It happens just once every two decades, and 2020 brings the closest Jupiter-Saturn conjunction since 1623, during Galileo's times.
… Unfortunately, this will be a one-night affair. The day before and the day after, the planets will be noticeably farther apart and nowhere near as striking. So if the weather cooperates on the 21st, you'll want to get all you can out of the spectacle. Binoculars will be a nice adjunct, and will easily reveal Jupiter's four huge satellites spread in a straight line. Saturn will be off in a different direction, perpendicular to those moons.
… Jupiter and Saturn will perform their Great Conjunction lowish in the southwest on December 21, the day of the solstice.
If you wish, start watching a few days prior. On December 16, soon after sunset, look for the crescent Moon in the southwest sky. Right above the Moon are the two bright planets. You can't miss it.
full story:
——————-
Idaho News:
1,582 new Idaho COVID-19 cases, 16 new deaths
Dec 11, 2020 Local News 8
Idaho officials reported 1,582 new COVID-19 cases and 16 new deaths on Friday.
That brings the total confirmed and probable cases reported since March to 119,610.
There are a total of 100,082 confirmed cases and 19,528 probable cases in all 44 of the 44 counties in Idaho, according to numbers released from the local health districts and the state. …
16 new deaths were reported bringing the total recorded deaths to 1,152.
full story:
— — — —
Idaho Thursday, December 10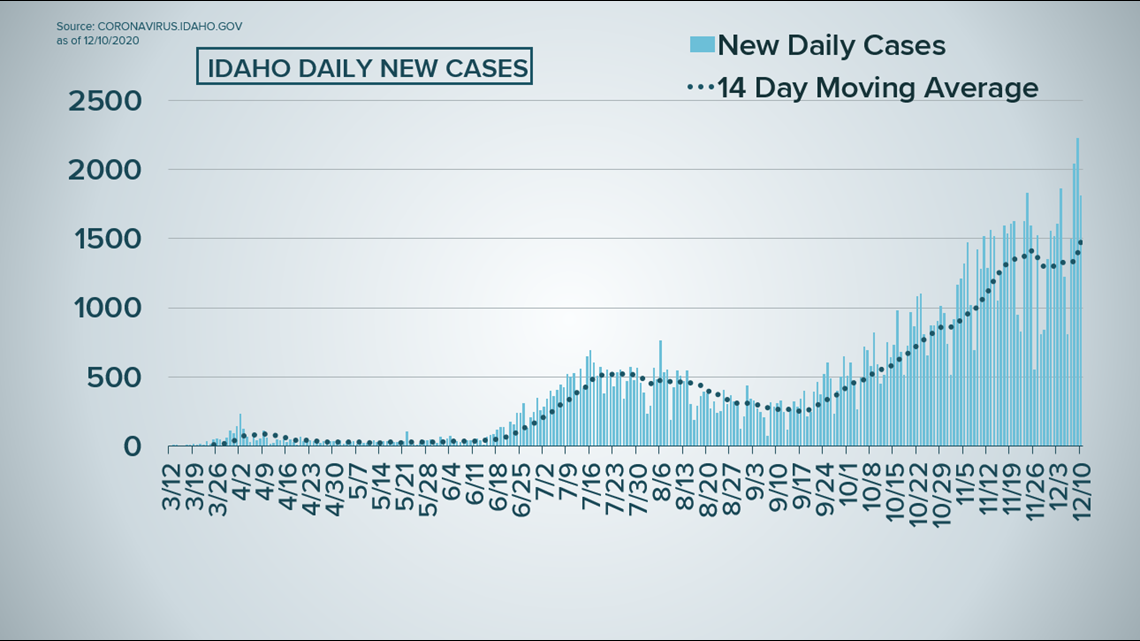 source: KTVB
— — — — — — — — — —
Dec. 21 deadline noted for Valley, Adams property taxes
The Star-News Dec 10, 2020
The deadline for the first half of the year's property taxes for Valley and Adams counties will be Monday, Dec. 21.
Payments will be accepted through 5 p.m. Dec. 21 at the county courthouses in Cascade and Council. The treasurer offices in both counties are staffed Monday through Friday, including the lunch hour.
Late charges begin on Dec. 22, and interest begins on Jan. 1, so mailed payments must be postmarked by Dec. 21.
continued:
— — — — — — — — — —
Little keeps Idaho in Stage 2: 'Please make the right choices'
by CBS2 News Staff Thursday, December 10th 2020
Governor Brad Little planned two press events on Tuesday and Thursday to provide Idahoans with updates on the pandemic.
On Tuesday, Little said Idaho is expecting 13,650 doses of the new COVID-19 vaccine around Tuesday or Wednesday of next week (Dec. 15 or 16).
Little announced Thursday that Idaho would stay in Stage 2 as new coronaviruses continue to rise. COVID-19 is now the leading cause of death in the state.
continued:
— — — — — — — — — —
Valley County reports 23 new COVID-19 cases, total now 314
By Tom Grote for The Star-News Dec 10, 2020
The total number of positive COVID-19 cases in Valley County reached 314 cases on Tuesday, up 23 cases from 291 a week ago, health officials said.
St. Luke's McCall on Tuesday reported 242 total positive cases from testing done at the hospital, up 16 cases from 226 a week ago.
Cascade Medical Center reported 72 positive cases through Monday, or seven more than the 65 cases reported last week.
Central District Health reported 239 of the positive cases were confirmed to be Valley County residents as of Tuesday, which is 32 more than the 207 cases reported a week ago.
The difference between the hospital figures and the health department figures are those who tested positive but did not declare Valley County as their residence.
One death from COVID-19 has been reported in Valley County.
continued:
— — — — — — — — — —
COVID-19 cancels Winter Carnival
Chamber: Surge in cases makes staging event unsafe
By Tom Grote for The Star-News Dec 10, 2020
The 2021 McCall Winter Carnival will be canceled entirely due to the COVID-19 pandemic, the McCall Area Chamber of Commerce and Visitors Bureau said Monday.
The carnival was scheduled to run Jan. 29 through Feb. 7 and would have marked its 56th year.
"It was an extremely difficult decision and we are deeply disappointed," chamber spokesperson McKenzie Kraemer said.
"We could not in good conscience promote an event that would go against current restrictions on public gatherings and COVID-19 safety measures," Kraemer said.
The chamber previously announced on Nov. 2 that events attracting large crowds would be canceled but that the building of snow sculpture and other events would go on.
continued:
— — — — — — — — — —
Donnelly library closes after director gets COVID-19
By Tom Grote for The Star-News Dec 10, 2020
The Donnelly Public Library has been closed after Director Sherry Scheline was tested positive for COVID-19.
The Donnelly Public Library District board on Tuesday decided to keep the library closed until Jan. 5.
The closure will allow time for deep cleaning and previously scheduled carpet installation, the board said in a statement.
"The (library) has maintained high standards to prevent the spread of COVID-19," the statement said. "(Sherry) did not contract COVID-19 at the library, and is currently recovering at home."
Scheline gave permission for her name to be disclosed.
Limited curbside service will be available Dec. 15-18 from noon to 3 p.m. Contact the library at 208-325-8237 or desk@donnellylibrary.org for questions.
source:
— — — — — — — — — —
Tamarack Resort opens seven-day operations on Friday
by CBS2 News Staff Tuesday, December 8th 2020
Tamarack Resort is gearing up for its 2020-2021.
The mountain will open to the public for skiing and riding seven days a week on Friday, Dec. 11.
Tamarack just wrapped two weekends of limited operations for pass holders while it fine-tuned its COVID-19 safety protocols:
continued:
—————–
Mining News:
Paulson takes over Midas Gold board
Quin out as CEO; Sayer promoted
By Drew Dodson for The Star-News Dec 10, 2020
Midas Gold President Stephen Quin and five corporate board members resigned last week amid a bid by the mining company's largest investor to revamp the company's corporate leadership.
Quin and five corporate directors agreed to resign last Friday as part of a transition agreement with Paulson & Co., a New York City investment firm that owns 44% of Midas Gold.
The move allowed five new board members to be appointed by Midas Gold's two remaining board members, Paulson partners Marcelo Kim and Chris Papagianis.
"The changes implemented today position Midas Gold for the future stages of its development," Kim said in a news release.
Kim and Papagianis also appointed Midas Gold Idaho President Laurel Sayer to replace Quin as head of Midas Gold Corp., the Vancouver, B.C., parent company of Midas Gold Idaho.
"While I did not anticipate not being around to see the project to fruition, I have every confidence that the Midas Gold team in Idaho will carry it forward to completion," said Quin, who founded Midas Gold in 2011.
Sayer, a natural resources policy expert who formerly served as executive director for the Idaho Coalition of Land Trusts, will also assume Quin's seat on Midas Gold's eight-seat board.
A Midas Gold spokesperson said Sayer's corporate leadership role with the company will expand, but that her responsibilities to Midas Gold Idaho remain the same.
"There are no changes to the Midas Gold Idaho staff, to the project or its vision," said Mckinsey Lyon, vice president of external affairs for Midas Gold.
Lyon described the leadership transition agreement as "mutual" and noted Paulson's choices to replace outgoing board members are "extremely well-qualified."
Kim and Papagianis are now joined on Midas Gold's corporate board by Sayer and fellow newcomers Bob Dean of Boise, David Deisley of Salt Lake City, Jeff Malmen of Boise, Chris Robison of Denver and Alex Sternhell of Chevy Chase, Maryland.
Board members who stepped down were Keith Allred of Virginia, Jaimie Donovan of Canada, Brad Doores of Canada, Jon Goode of Idaho and Peter Nixon of Canada.
"Today's transition allows the company to continue to focus on the execution of its business plan, the successful completion of the permitting process and the company's continuing efforts to create value for all stakeholders," said Nixon, who formerly was lead corporate director.
Paulson called for a special shareholder meeting last month when sitting board members "rebuffed" its proposal to shuffle the board, according to a letter Paulson sent to shareholders on Nov. 20.
The meeting will no longer be necessary since Midas Gold agreed to the leadership changes, said Chris Ullman, a Paulson spokesperson.
Previously, Paulson said Midas Gold needed to align corporate interests with shareholder interests by installing new corporate board members that hold significant stock in the company.
The investment firm also suggested converting Midas Gold from a Canadian company to a U.S. company headquartered in Boise.
Next steps towards a possible relocation would be decided by the corporate board, Ullman said.
Paulson also wants to emphasize Midas Gold's status as a company producing antimony, which the federal government has tabbed as a strategic mineral to the country's defense.
Midas Gold's commitments through the Stibnite Advisory Council and the Stibnite Foundation remain in place regardless of who owns or operates the company.
Since 2016, Paulson has invested about $66 million into Midas Gold, $25 million of which came earlier this year.
Paulson currently owns 209.4 million shares of Midas Gold, or about 44.1% of all shares. That is four times as many shares as Barrick Gold Corp., the company's second-largest shareholder.
Toronto-based Barrick Gold owns about $53.8 million shares, or 11% of all shares, following purchases in 2018 and 2019.
Approval on the Stibnite Gold Project could come by next August, according to the Payette National Forest, the lead permitting agency on the proposed mine.
Midas Gold's probable mineral reserves in the Stibnite deposits include more than 4 million ounces of gold, or about 125 tons.
The value of the gold is projected to bring in 94% of the mine's estimated $6 billion in total revenue over the 12 to 15-year life of mining.
The reserves also are predicted to contain 100 million pounds of antimony, which is used to make flame-proofing materials, paints, munitions, ceramic enamels, glass and pottery.
Antimony would generate only about 5% of the mine's total revenue, but would supply about 30% of the annual antimony demand for the United States.
source: © Copyright 2009-present Central Idaho Publishing Inc. All rights reserved (Shared with permission.)
——————
Public Lands:
Valley adopts new rules for snowmobile trails, parking areas
By Max Silverson for The Star-News Dec 10, 2020
New rules for using groomed snowmobile trials and parking areas at trailheads were adopted on Monday by Valley County commissioners.
Monday's vote came following a public hearing Nov. 23 at the Valley County Courthouse in Cascade.
Under the new rules, vehicles parked in snowmobile lots that impede snow removal equipment or the flow of traffic would be towed.
Overnight parking in snowmobile lots is allowed only in designated areas except for special events.
The rules encourage snowmobile rental companies to provide transportation to trailheads and parking lots.
The rules set 45 miles per hour as the maximum speed on groomed trails and require snowmobiles to travel single file on the extreme right-hand side of the roadway.
Wheeled vehicles are not allowed to travel on Warren Wagon Road north of the Francis Wallace Parking Lot, No Business Road, High Valley Road, Clear Creek Road, East Side Drive/Brush Creek, and the "Green Gate" off Warren Wagon Road.
The ordinance outlines what should be done if a wheeled vehicle becomes stuck on a groomed snowmobile trail or closed road.
The operator of the vehicle is responsible for the removal of the vehicle and county parks and recreation director Larry Laxson would decide if a tow company or snow groomer can be used to remove the vehicle.
The cost of removing a vehicle and repairing the groomed trail is set at $200 plus $200 per hour.
Large tracked vehicles may be permitted on groomed trails for homeowners if approved by commissioners.
The ordinance also requires a permit for any road construction, utility installation, snow removal or other work in county rights of way.
Violating the ordinance would be punishable by a fine of up to $300.
source: © Copyright 2009-present Central Idaho Publishing Inc. All rights reserved (Shared with permission.)
— — — — — — — — — —
Fawn Tussock – Request for Scoping Comments
The Forest Service is seeking public input (scoping comments) for the proposed Fawn Tussock Project on the Cascade Ranger District in Valley County.
Project Description
The project would utilize salvage harvest, commercial thinning, non-commercial thinning, and/or prescribed fire to improve stand conditions, increase resiliency to ongoing and future insect activity, reduce existing hazardous fuels accumulations, and reduce the potential future fuel load being created by the current insect mortality.
For a more detailed description of the proposed project, please review the proposed action report (PAR) on the Project webpage: (link)
How to Comment
The Forest Service is contacting interested persons, groups, and agencies to make them aware of the project and to gather pertinent feedback. Your comments will help us identify and address issues. Comments may be submitted in the following ways:
1. Through the Fawn Tussock Project webpage (link above). Select "Comment on Project" under "Get Connected" on the right panel. If uploading a file with comments, comments must be in the form of plain text (.txt), Word (.doc, .docx) or PDF (.pdf).
2. Mail to Cascade Ranger District, PO Box 696, Cascade, ID 83611. If submitting comments by mail be sure to include "Fawn Tussock" in the subject line.
Hand delivered comments are not being accepted at this time as there are limited office functions as part of precautions in response to the coronavirus.
Comments received will be included in the project record and may be released in their entirety, if requested, pursuant to the Freedom of Information Act (FOIA).
When to Comment
To be most helpful, please submit your comments by January 6, 2021. For further information on the project, please contact Terre Pearson-Ramirez, Team Leader, at 208-382-7400.
——————
Critter News:
Ice anglers rejoice; Fish & Game says Lake Cascade is loaded with fish
By Max Silverson for The Star-News Dec 10, 2020
Anglers ice fishing on Lake Cascade can look forward to a successful winter season after a recent survey by biologists confirmed healthy and plentiful fish populations in the lake.
The survey, conducted by the Idaho Department of Fish and Game, found increased numbers of perch and smallmouth bass as well as stable numbers of rainbow trout and kokanee.
Each fall, biologists use nets to collect more than 1,000 fish to accurately depict the lake community and monitor trends in fish populations, said Regional Fisheries Biologist Mike Thomas.
"Anglers targeting large perch and rainbow trout on Lake Cascade should expect another excellent season," Thomas said.
continued:
— — — — — — — — — —
Pet talk – Methicillin-Resistant Staphylococcus Infections (MRSA and MRSP)
By Dr. Allani Delis Jul 24, 2020 IME
Methicillin-resistant Staphylococcus (MRS) infections are a growing problem in humans and animals. Methicillin is an antibiotic formerly used to treat staphylococcal infections. Most MRS organisms are resistant to all antibiotics in the penicillin and cephalosporin groups, and some are resistant to other antibiotics. A major concern with these infections is the development of strains that will be resistant to all known antibiotics. MRS infections may be localized, like wound infections, or become generalized.
MRS infections are caused by a variety of staphylococcal bacteria. Infections with Staphylococcus aureus (MRSA) and Staphylococcus pseudointermedius (MRSP) are the most common causes in dogs and cats. These organisms may normally live on skin, in the nose, and in the gut of animals without causing any problems. When a wound occurs, a surgical procedure is performed, or skin is otherwise damaged, these bacteria may take advantage of the weak skin and cause an infection. Most Staphylococcus bacteria are susceptible to commonly used disinfectants (bleach) and hand soaps. Transmission is by direct contact with infected people, animals, or via contaminated objects.
continued:
———————-
Fish & Game News:
Virtual open houses for moose, bighorn sheep and mountain goat season setting run Dec. 16-21
By Brian Pearson, Conservation Public Information Specialist
Friday, December 11, 2020
Proposals will be posted to F&G's website on Dec. 14
Hunters will soon have the opportunity to see the proposed 2021-22 hunting seasons for moose, mountain goats, and bighorn sheep, and hear more from regional Fish and Game staff about the proposals.
The 2021-22 season proposals will be posted to the moose, sheep, goat proposals webpage at (link) on Dec. 14, and virtual open houses will take place for each region over the course of the next week, from Dec. 16-21. Hunters are encouraged to read the proposals before participating in the virtual open houses.
continued:
— — — — — — — — — —
Lake Cascade ice fishing conditions update: Dec. 10, 2020
By Mike Thomas, Regional Fisheries Biologist
Friday, December 11, 2020
Ice fishing season has finally arrived on Lake Cascade! Anglers can expect another great season in 2020-21, and you can read a full Lake Cascade fishing outlook. Recent weather conditions have created a layer of solid, clear ice throughout much of the lake. On Dec. 10, we visited each major lake access area (access information) and measured ice depth up to 300 yards from shore. We did not measure ice depth beyond 300 yards.
We recorded 5.5 to 6 inches of ice on the southern half of Lake Cascade and 7 to 8 inches of ice on the northern half. There are ice pressure ridges within 100 yards of Van Wyck, Crown Point, and Sugarloaf access areas, so exhibit caution if fishing in these areas. Right now, there is very little snow on the southern half of the lake, although some snow is predicted in mid December.

Glenna Gomez/Idaho Fish and Game
continued:
— — — — — — — — — —
More F&G News Releases
link:
———————————-
Crazy Critter Stuff:
Arkansas man makes Christmas tree out of deer antler sheds
by Kaitlin Barger, KATV Wednesday, December 9th 2020

(Photo: Meggan and Jeff Jester)
Little Rock (KATV) — An Arkansas woman wanted a unique Christmas tree this year, so her husband did something special.
Jeff Jester said he dug into his collection of antler sheds and went to work creating the one-of-a-kind antler tree.
Jester said his wife Meggan gets all the credit for decorating.
source: w/more photos
—————
Seasonal Humor:

— —
Xmas 2020
T'was a month before Christmas,
And all through the town,
People wore masks,
That covered their frown.
The frown had begun
Way back in the Spring,
When a global pandemic
Changed everything.
They called it corona,
But unlike the beer,
It didn't bring good times,
It didn't bring cheer.
Contagious and deadly,
This virus spread fast,
Like a wildfire that starts
When fueled by gas.
Airplanes were grounded,
Travel was banned.
Borders were closed
Across air, sea and land.
As the world entered lockdown
To flatten the curve,
The economy halted,
And folks lost their verve.
From March to July
We rode the first wave,
People stayed home,
They tried to behave.
When summer emerged
The lockdown was lifted.
But away from caution,
Many folks drifted.
Now it's November
And cases are spiking,
Wave two has arrived,
Much to our disliking.
Frontline workers,
Doctors and nurses,
Try to save people,
From riding in hearses.
This virus is awful,
This COVID-19.
There isn't a cure.
There is no vaccine.
It's true that this year
Has had sadness a plenty,
We'll never forget
The year 2020.
And just 'round the corner –
The holiday season,
But why be merry?
Is there even one reason?
To decorate the house
And put up the tree,
When no one will see it,
No-one but me.
But outside my window
The snow gently falls,
And I think to myself,
Let's deck the halls!
So, I gather the ribbon,
The garland and bows,
As I play those old carols,
My happiness grows.
Christmas ain't cancelled
And neither is hope.
If we lean on each other,
I know we can cope.
So for those staying home,
Safe out of sight,
Merry Christmas to ya all,
May it be extra bright!
– Author unknown.
————-