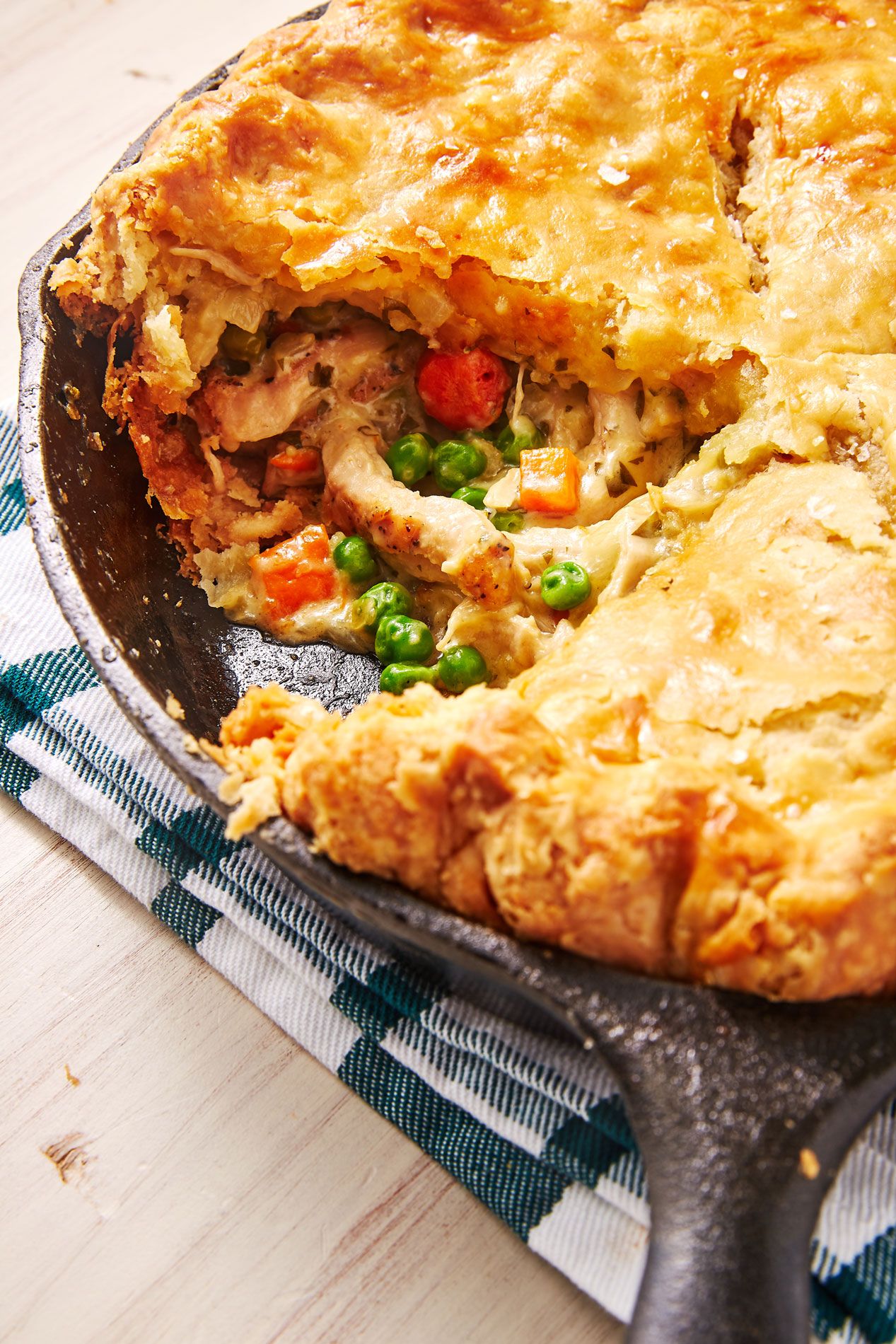 By Kat Boytsova
6 – 8 Servings
Ingredients
For The Crust
1 1/2 c. (3 sticks) butter, cut into small pieces
3 3/4 c. cups all-purpose flour
1 1/2 tsp. kosher salt
2 tbsp. granulated sugar
1 1/2 tbsp. apple cider vinegar, chilled
6 tbsp. ice water, plus more if needed
For The Filling
3 tbsp. butter, plus more for greasing baking dish
1 medium onion, finely diced
2 medium carrots, peeled and medium diced
4 cloves garlic, minced
3 tbsp. all-purpose flour
3/4 c. white wine
1 1/3 c. heavy cream, plus 2 tablespoons for brushing
2 1/2 c. shredded turkey meat
1 1/2 c. frozen peas
3 tbsp. freshly chopped parsley
3 sprigs thyme, stems removed
Kosher salt
Freshly ground black pepper
Flaky salt
Directions
Make crust: Place butter into freezer for 15 minutes before starting crust process. In a large food processor, pulse flour, salt, and sugar until combined. Add butter and pulse until pea-size and some slightly larger pieces form. With the machine running, add vinegar and 4 tablespoons ice water into feed tube, 1 tablespoon at a time, until dough just comes together and is moist but not wet and sticky or too crumbly (test by squeezing some with your fingers). If the dough is too crumbly and not coming together, add ice water, 1 teaspoon at a time, until it does.
Turn dough out onto a lightly floured surface and squeeze together. Knead a few times to combine, then divide into two equal balls. Flatten each ball into a smooth disk, cover with plastic wrap, and refrigerate for at least 1 hour.
Make filling: Preheat oven to 375F. In a large, deep-sided skillet over medium heat, melt butter. Add onions and carrots and cook until softened, 5 minutes. Add garlic, then stir in flour and cook until golden and beginning to bubble. Gradually whisk in white wine. Bring mixture to a simmer and cook until the smell of alcohol is cooked out, about 3 minutes. Slowly stream in heavy cream and continue to cook, stirring until mixture comes to a boil and thickens slightly, about 5 minutes. Fold in shredded turkey, peas, parsley and thyme. Season mixture with salt and pepper. Let cool until ready to assemble.
To assemble: On a lightly floured surface, roll out one disk of dough into a large round about 1/4″ thick. Place into a greased, shallow 9″ pie dish or deep skillet, trim edges to leave a 1″ overhang and then add cooled filling. Roll out second disk of dough into a large round about 1/4″ thick and place on top of filling. Trim and crimp edges, then use a paring knife to create slits on top. Brush with remaining heavy cream and sprinkle with flaky salt.
Bake pie until crust is golden and filling is bubbling, about 1 hour 15 minutes. If the edges of the pie start to darken faster than the rest of the pie, cover edges with foil.
Let pie cool for 15 minutes before serving.
—————————–