Dec 20, 2020 The Yellow Pine Times – Valley County, Idaho
Reminder: We are still under a boil water order until further notice.
Community Calendar:
April 17 – Boil water order issued
Aug 11 – Valley County Mask Order
Dec 21 – Jupiter-Saturn Conjunction
Dec 25 – Xmas potluck 3pm Community Hall
(details below)
———-
From Valley County
Valley County Mask-Up
A county-wide mask mandate was approved the CDH August 11th, and is now in effect for Valley County. (link)
Rebound – Idaho Governor's phasing program
link:
COVID 19: Recommendations and Resources for Safe Business Practices
link: (lots of info for businesses)
——————-
Local Events:
Xmas Potluck
December 25 at 3pm in the Community Hall.
———-
Village News:
Santa's Yellow Pine Elves.
The Bags are at the Community Hall ready for stuffing.
Nicki H
— — — —
Yellow Pine General Store
Please welcome Josh Jones as the new owner of the Yellow Pine General Store.
— — — —
Boil Water Order issued April 17 still in effect.
Update Nov 29: Warren replaced the water meter because of inconsistent readings. With the new meter, the community is currently using over 55,000 gallons of water per day. A leak has been identified and will be repaired as soon as we can coordinate the contractor, equipment needed and weather together. It is difficult to get everything planned in the winter. When the repair is scheduled, the community will have a few days notice before the water is shut down. Since we are using more water than the rated use through the sand filters, the boil order will remain in effect. We continue the grant request process that is extremely slow. – Steve H
Update Nov 25: the boil order is still in effect due to the large quantity of water that is leaking from the system. – Warren D
Update July 5: the boil order is in effect due to extremely high use due to leaks.
Update June 12: The boil order is still on. We still are experiencing excessive water use because of leaks. Not sure when this will be lifted. We are applying for grants to repair the system.
Update June 2: The water plant is experiencing high water in Boulder Creek which brings more debris into the sand filter.
The high demand caused by leaks in the system plugs the sand filters prematurely. We will be on a boil order until further notice.
— — — —
Critters
Be Fox Aware
* Do not feed foxes human food
* Feed domestic pets indoors
* Make sure your pets are updated on Rabies vaccines
* Small pets could become prey
Be Mountain Lion Aware
* NEVER run away from a mountain lion. The lion's instinct is to chase and ultimately catch what they perceive as potential prey.
* NEVER turn your back on a lion. Always face them while making yourself look as large as you can. Yell loudly, but don't scream. A high-pitched scream may mimic the sound of a wounded animal.
* SLOWLY back away while maintaining eye contact with the lion.
* Safety equipment you may choose to carry could include bear spray, a noise device, like an air-horn, and if you walk in the dark, a very bright flashlight.
* If you are attacked, fight back!
— — — —
Road Reports
Link: to current road reports.
— — — —
Yellow Pine US Mail
The 3-day a week mail delivery started Nov 2nd. The Post Office in Yellow Pine is open six days a week year around: M-F 845am-245pm Saturday 9am-245pm. Forever Stamp: 55 cents. Support our local post office and purchase your holiday stamps here.
— — — —
Yellow Pine Transfer Station
Update Dec 15: The Boise NF burned the pile and there was still room in the dumpsters.
Please do not abuse our Transfer Station or we may lose it. Household trash must be placed in the bins, flattened cardboard boxes can also go into the bins. Do not stack trash in front of the doors. Woody yard debris only for the burn pile. No furniture, appliances, tires or construction debris allowed, those items must be hauled out to the Donnelly station by you.
Yellow Pine Transfer Station (aka, the dump)
The Yellow Pine Transfer Station is located approximately 3 miles south on Johnson Creek Road.
The TRANSFER STATION is for household trash and yard waste:
* Household trash must be put inside (and fit) the dumpster;
* Yard waste (limbs, pine needles, brush, etc.) goes in the burn pile on the south end of the turn-around;
* Cardboard boxes should be flattened before putting the in the dumpster,
The DUMPSTERS are NOT for:
* Furniture (take to Donnelly Transfer Station);
* Appliances (take to Donnelly Transfer Station).
The BURN PILE is NOT for:
* Cardboard boxes (flatten and put in dumpster);
* Furniture and appliances (take to Donnelly Transfer Station);
* Drywall and building material (take to Donnelly Transfer Station);
* Wire or fencing (take to Donnelly Transfer Station);
* Foam Rubber (take to Donnelly Transfer Station);
* Wood with metal (like nails) attached (take to Donnelly Transfer Station.)
When closing the DOORS on the front of the dumpsters:
* Make sure the "U" brackets at the top and bottom of the door are engaged;
* The retaining bar at the middle of the door is slid into the pipe;
* And the "L" bars at the bottom of the doors dropped into place.
The Yellow Pine Transfer Station is Valley County responsibility. If it is not kept tidy, use of the Transfer Station may be revoked. That would result in residents having to take all household trash and yard waste to the Donnelly Transfer Station.
If Dumpsters Are Full, Contact Lake Shore Disposal at: 208/634-7176
———-
Local Groups
YPWUA News:
The annual Water meeting for 2020 was held July 5th at the Community Hall 2pm.
link: minutes 20200705YPWUA.docx
Boil Water Order issued April 17, 2020. This could last until leaks are repaired.
Boil Water Advisory Notice
Boil Your Water Before Using
Bring tap water to a rolling boil, boil for one minute, and cool before using or use bottled water. Boiled or bottled water should be used for drinking, making ice, washing dishes, brushing teeth, and preparing food until further notice.
This Boil Water Advisory Notice applies to The Yellow Pine Water System
The system is being monitored and checked daily for compliance.
You will be informed when you no longer need to boil your water.
Please share this information with other people who drink this water, especially anyone who may not get this notice directly (for example, people in apartments, nursing homes, schools, and businesses).
You can do this by posting this notice in a public place or distributing copies by hand or mail.
State Water System ID#: 4430059 Date distributed: 3-22-2020
Notice of Intent to File an Application with USDA, Rural Development
The Yellow Pine Water Users Association, Yellow Pine, Idaho intends to file an Application with USDA, Rural Development to obtain a drinking water system facility Emergency Community Water Assistance Grant (ECWAG). Emergency Community Water Assistance Grant (ECWAG).
If any additional information is needed, please contact:
Willie Sullivan
Treasurer
ypwater @ gmail.com
Distributed to Yellow Pine Water Users Association customers via Yellow Pine Times on June 12, 2020.
The 2019 Yellow Pine Water Users Shareholders meeting was Sunday July 7, 2019.
link: 20190707YPWUAminutes
— — — —
VYPA News:
The Community Hall toilet is functional! It was christened at the Thanksgiving Potluck. Many hands were involved over the last three months to get this far. The goal is to have it completely finished by Christmas. Thanks to everyone who was able to lend a hand or give advice. Couldn't have done it without you.
Minutes from September 12 VYPA meeting
link:
Minutes from August 8, 2020 VYPA meeting
link:
Minutes from July 11, 2020 VYPA meeting
link:
Minutes from June 13, 2020 VYPA meeting
link:
VYPA Bylaws adopted 8/8/2020 (link)
YPAC Corp Bylaws (link)
— — — —
YPFD News:
After Action Report meeting Oct 13, 2020 (no minutes yet.)
YPFD had a budget meeting on September 30th at 10am at the fire station. (No minutes yet.)
Make sure to clean and check chimney fitting before starting that first fall fire in your cabin. Cleaning brushes can be borrowed from the YPFD.
There was a YP Fire Commissioner meeting on June 27, 2020 at 10am at the Fire Station.
Link: 20200627 Fire Dept minutes June 27
YPFD COVID19 Policy
link: YPFD Covid 19 SOP
link: Covid-19 EMS (May 23)
Pile burning: Dress appropriately, have enough help on hand (people, water and tools) and make a firebreak before you start. Call your local fire protection district chief to let them know you'll be conducting a debris burn. This saves them from sending emergency responders to your property if they are not needed. Do NOT burn on breezy afternoons.
Better yet, "Bring It, Don't Burn It", you can take your yard waste (limbs, pine needles, brush, etc.) to the burn pile at the Transfer Station on the south end of the turn-around. Remember, keep the pile neat. Woody debris only, no nails, no cardboard and no furniture! The Boise NF will burn the pile in the fall when it is safe and doesn't pollute our fine YP air.
YP Fire Commissioners:
Sue Holloway – District 1
Dan Stiff – District 2
Merrill Saleen – District 3
(TBA) – Fire Chief
Yellow Pine Fire Protection District Community Service Notice
The purpose of this letter is to show how you as a Yellow Pine Resident can help protect your structure against a wildland fire by being "Fire Wise." Click the link: to view 20190724 Yellow Pine Fire Protection mitigation
——–
Biz Listings:
The Corner (208) 633-3325
Starting Nov 3rd open 3 days a week on mail days.
— — — —
Yellow Pine Tavern (208) 633-2233
Winter Closure: November 14, 2020 to April 16, 2021
— — — —
Yellow Pine Lodge (208) 633-3377
Closed Nov 3rd for winter.
— — — —
Yellow Pine General Store
Closed – New owner will open this spring.
— — — —
Murph's RV Park & Mary's Cabins
FB page link
— — — —
Knotty Kat Crochet Works – 208-502-0940
FB page link
open Tue – Sat, 9-5
Yellow Pine eggs $3/doz
— — — —
Buck Horn Outfitters LLC 208-633-3614
Tom & Sarah Lanham
156 Yellow Pine Ave, Yellow Pine Id 83677
website:
Facebook:
Starting June 2020 We will be doing trail rides out of Yellow Pine along with summer pack / camping trips to high mountain lakes in the area!
Wapiti Meadow Ranch – Johnson Creek (208) 633-3217
or 208-315-3554 – cabin rentals
website:
Deadwood Outfitters
website:
— — — —
Local Fuel Suppliers
Amerigas Phone: (208) 634-8181
Ed Staub & Sons Phone: (208) 634-3833
Diamond Fuel & Feed Phone: (208) 382-4430 open 830am-5pm Monday-Friday, closed weekends.
— — — —
Outside Biz that will service Yellow Pine:
The Star-News


click to subscribe:
A reminder that those who live in other states can subscribe to the online edition only since the mail can take days for hard copy to reach them.
Rocky Mountain Mechanical – Plumbing – Heating – Air conditioning
(208) 365-PIPE (7473), Emmett, will service Yellow Pine
Elkhorn Heating & Cooling
(208) 906-4067 Middleton, Idaho, will service Yellow Pine
B&T Safety Solutions LLC
208-271-1600 Based out of Donnelly
Snow removal, cleaning chimneys and stoves, we do cabin staining/chinking as well
— — — —
Follow The Yellow Pine Times on Facebook (updated more often than emails)
———————–
Local Observations:
Monday (Dec 14) low of 18 degrees, 2 1/4″ new snow (SWE=0.13″) and 5 1/2″ total snow on the board, mostly cloudy sky this morning. A pair of hairy woodpeckers, jays and a pine squirrel visiting. Icicles dripping after lunch time and mostly cloudy, high of 32 degrees. Below freezing and mostly cloudy at sunset. Partly cloudy at dusk and cold. Looked cloudy before midnight.
Tuesday (Dec 15) overnight low of 18 degrees, low overcast (top of VanMeter fogged in) and started snowing before sunrise – trace so far this morning, 5 1/4″ total snow on the board. Air smelled like vehicle exhaust. Jays, clarks nutcracker, hairy woodpecker and pine squirrel visiting. A break in the snow around lunch time, high of 31 degrees. Flaking lightly early afternoon and dark overcast. Not snowing at sunset, below freezing and dark overcast. Cold and not snowing at dusk. Didn't appear to be snowing before midnight.
Wednesday (Dec 16) 24 hour low of 24 degrees from Tuesday morning, scant 1/4″ new snow (SWE=0.01″) and 5″ on the board, partly cloudy sky and light breeze. Jays, nutcracker, flicker, woodpecker and squirrel visiting. Clear and light breezes at lunch time. Mail truck made it in on time. Local snowmobile traffic. Icicles dripping in the sunshine early afternoon, high of 44 degrees. Several red-breasted nuthatches visiting. Above freezing and overcast after sunset. Still above freezing and cloudy at dusk. Snowing before midnight (trace.) Above freezing and probably some rain too, ending before 540am.
Thursday (Dec 17) 24 hour low of 29 degrees from Wednesday morning, overnight snow (and rain?) gave us 1 1/4″ new heavy wet snow (SWE=0.18″) and 6″ total on the board, low overcast with fog belts mid-mountain and occasional flakes of snow this morning. Hairy woodpecker, jays, flicker and pine squirrel visiting, raven calling. After lunch the sun was peeking thru a crack in the clouds, but ridges and hills fogged in, high of 38 degrees. Partly clear and some sunshine (fog had lifted) by mid-afternoon. Mostly cloudy by sunset and above freezing. Just below freezing and cloudy at dusk.
Friday (Dec 18) overnight low of 25 degrees, trace of new snow and 6″ total snow, cracks in the overcast this morning. Red-breasted nuthatches, steller jays, hairy woodpecker, clarks nutcracker and pine squirrel visiting. Overcast at lunch time, high of 36 degrees. Breezy and a few flakes of snow after sunset. Calmer and cloudy at dusk. Elk hanging out in the neighborhoods. Gusty breezes after 9pm. Snowing after midnight.
Saturday (Dec 19) overnight low of 26 degrees, measured a fat 1/4″ of new snow (SWE=0.02″) and a little over 6″ total snow this morning, partly clear and light breezes. Jays and pine squirrel calling. Snowmobile traffic. Icicles dripping and cloudy at lunch time, high of 42 degrees. Cloudy and above freezing before sunset. Still a little above freezing at dusk and cloudy. Elk wandering by after dark. Cloudy and slight breeze before midnight. Snowing and a fat trace by 230am. Warmed up and melted most of the new snow by morning.
Sunday (Dec 20) overnight low of 31 degrees, about 1/10″ of new snow that hadn't melted yet (SWE=0.02″) and an average of 6″ total snow on the ground, the sky is overcast this morning and light sprinkle of rain. Flicker, nutcracker, jays, nuthatches and pine squirrel visiting. Cloudy after lunch time, sprinkling lightly and light fog. Little downy woodpecker visited. Light rain, above freezing, dark overcast and light fog before sunset, high of 36 degrees. Still sprinkling and above freezing at dusk, low foggy clouds.
——————-
Idaho News:
1,340 new Idaho COVID-19 cases, 16 new deaths
Dec 18, 2020 Local News 8
Idaho officials reported 1,340 new COVID-19 cases and 16 new deaths on Friday.
That brings the total confirmed and probable cases reported since March to 128,218.
There are a total of 106,967 confirmed cases and 21,251 probable cases in all 44 of the 44 counties in Idaho, according to numbers released from the local health districts and the state.
… 16 new deaths were reported bringing the total recorded deaths to 1,275.
full story:
— — — —
Idaho Thursday, December 17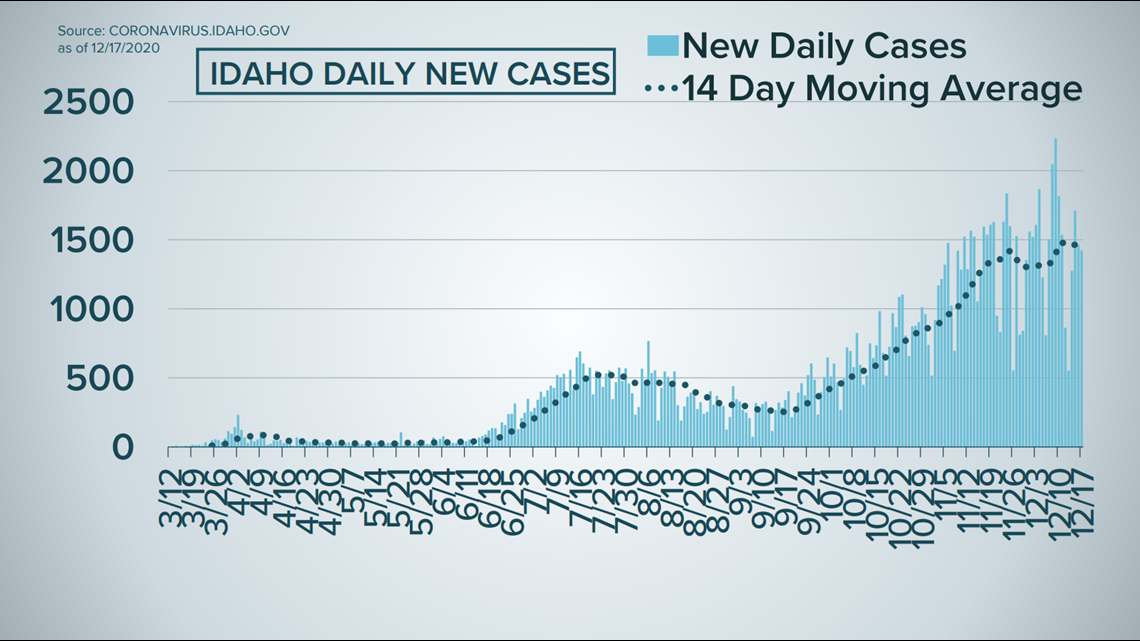 source: KTVB
— — — — — — — — — —
Valley County reports 42 new COVID-19 cases, total now 356
By Tom Grote for The Star-News Dec 17, 2020
The total number of positive COVID-19 cases in Valley County reached 356 cases on Tuesday, up 42 cases from 314 a week ago, health officials said.
St. Luke's McCall on Tuesday reported 275 total positive cases from testing done at the hospital, up 33 cases from 242 a week ago.
Cascade Medical Center reported 81 positive cases through Monday, or nine more than the 72 cases reported last week.
Central District Health reported 273 of the positive cases were confirmed to be Valley County residents as of Tuesday, which is 34 more than the 239 cases reported a week ago.
The difference between the hospital figures and the health department figures are those who tested positive but did not declare Valley County as their residence.
Two deaths from COVID-19 has been reported in Valley County.
continued:
— — — — — — — — — —
McCall woman, 68, dies from COVID-19
Lorna Hirt is 2nd Valley County death from virus
By Tom Grote for The Star-News Dec 17, 2020
A McCall woman died from complications from COVID-19 Saturday to become the second Valley County resident to die from the virus.
… Hirt was the life partner of Larry Martin, who is the Parks Department Lead for the City of McCall.
"We send our deepest condolences to the family, McCall City Manager Anette Spickard said.
"Lorna's death and Larry's tragic loss should ignite a renewed commitment to keep each other safe in our small city," Spickard said.
full story:
— — — — — — — — — —
Central District Board of Health public health order fails to pass on 3-3 vote
by CBS2 News Staff Tuesday, December 15th 2020
A public health order for four counties in southern Idaho has failed on a three to three vote.
Once again, protesters gathered outside of Central District Health for the vote.
continued:
— — — — — — — — — —
Idaho remains in red zone with 2nd highest test positivity rate in the country
Dec 17, 2020 Local News 8
The latest White House Coronavirus Task Force report obtained by ABC News shows Idaho is in the red zone for test positivity, indicating a rate at or above 10.1%, with the second-highest rate in the country.
Idaho is also in the red zone for cases, indicating 101 or more new cases per 100,000 population, with the seventh highest rate in the country.
The Gem State has seen an increase in new cases and a decrease in test positivity. Test positivity is still increasing in 13 counties and is over 20% in 18 counties; cases rates continued to increase in 26 counties.
continued:
— — — — — — — — — —
Not wearing a face mask at Tamarack could lead to losing season pass without a refund
Face masks are required in its restaurant, indoor areas and while in the line for the lifts. But not when seated and eating or drinking or when skiing.
December 18, 2020 KTVB
Tamarack Ski Resort in Valley County is taking a strong stance on its face mask guidelines, going as far as ending someone's season pass for the year with no refund or option to roll the pass over to next season.
The resort is the only one in Valley County to require face masks but still have guidelines like other resorts, such as "day-dodging" at your car while locker rooms are closed.
Face masks are required in its restaurant, indoor areas, and while in the line for the lifts. But not when seated and eating or drinking and not when skiing.
continued:
— — — — — — — — — —
Gov. Little names December Health Care Worker Appreciation Month in Idaho
Dec 16, 2020 KIVI
Governor Brad Little issued a proclamation today naming December Health Care Worker Appreciation Month in Idaho.
"I ask all Idahoans to share their gratitude for health care heroes in Idaho," Governor Little said. "We can show our gratitude by minimizing transmissible moments this holiday season. Wear a mask, avoid gatherings with people outside your household, continue to keep safe physical distance, and wash your hands regularly. As individuals, we must choose to do all we can to combat COVID-19 in order to relieve pressure on Idaho's health care workers."
Health care workers have been called heroes since the COVID-19 pandemic started. Workers at Idaho's hospital and long-term care facilities put patients and residents ahead of their own health.
continued:
— — — — — — — — — —
Monday deadline noted for Valley, Adams property taxes
The Star-News Dec 17, 2020
The deadline for the first half of the year's property taxes for Valley and Adams counties will be Monday.
Payments will be accepted through 5 p.m. Monday at the county courthouses in Cascade and Council. The treasurer offices in both counties are staffed Monday through Friday, including the lunch hour.
Late charges begin on Tuesday, and interest begins on Jan. 1, so mailed payments must be postmarked by Monday.
continued:
— — — — — — — — — —
McCall Activity Barn opening its tubing hill for the season
by CBS2 News Staff Thursday, December 10th 2020

Activity Barn. (Courtesy Photo)
McCall's Activity Barn is opening up its tubing hill on Friday.
The Barn says it's opening up three 800-foot tubing lanes. New this season, of course, will be some changes given the pandemic. You'll need to go online to schedule a two-hour session in advance.
And face coverings will be required in all indoor areas as well as in the line and while riding the Moonrider Conveyor.
The Activity Barn will be open Fridays from 2-6 p.m., Saturdays from 10 a.m. until 6 p.m. and Sundays from 10 a.m. until 4 p.m. It will be open every day between Dec. 18 and Jan. 3.
source:
———————-
Public Lands:
Land board debates local involvement
Members ask how much McCall rules should affect state land use
By Drew Dodson for The Star-News Dec 17, 2020
The State Land Board on Tuesday questioned whether a phased long-term management proposal for state endowment lands around McCall caters too much to local preferences.
The plan aired by the Idaho Department of Lands on Tuesday in Boise would guide management of about 5,500 acres of state land around McCall based on local growth as foreseen in city planning documents.
The land board is accepting public comments on the long-term management proposal until Feb. 12 at (link).
Land board chair Gov. Brad Little noted the importance of local involvement, but admitted local goals rarely align with the state's constitutional mandate to maximize long-term profits from state lands.
"If you let every local group talk about every parcel of state land, there'd be a natural tendency to say, 'we just want that to be open space that we can all enjoy for our own benefit,'" Little said.
Little suggested outside opinions on how to maximize profits would put more "meat on the bones" of public outreach efforts.
"We always come to this tipping point of 'how do we maximize our constitutional responsibility and our trust responsibility while basically being good neighbors?' and I think that's the issue," he said.
Secretary of State Lawerence Denney echoed Little and pondered whether the draft plan runs afoul of the state's constitutional mandate by using city planning documents to guide the plan.
"I wonder about our fiduciary responsibility and whether we should even be concerned about what the City of McCall thinks in their impact area," Denney told fellow land board members.
continued:
— — —
State eyes development of 390 acres around McCall
Deinhard Lane, Pilgrim Cove parcels high on list
By Drew Dodson for The Star-News Dec 17, 2020
About 390 acres of state endowment land around McCall could be developed within 20 years under a long-term management strategy proposed by the Idaho Department of Lands.
The proposal tabs 56 acres in Pilgrim Cove near Payette Lake and 60 acres off of Deinhard Lane as "probable" for low-density residential development in the next five to 10 years.
Payette Lake's Shellworth Island and Cougar Island are also identified by the plan for residential development within the next decade.
Meanwhile, about 5,000 acres of state land surrounding the lake would likely be managed as it is today for 20 or more years, under the plan.
continued:
— — — — — — — — — —
Lowman Ranger District intends to submit two grant proposals
to Idaho Department of Parks and Recreation
Boise, Idaho, December 16, 2020 — The Lowman Ranger District of the Boise National Forest is applying for grant funding from the Idaho Department of Parks and Recreation (IDPR) to help with trail improvements and maintenance.
The applications will request funding through both the Federal Highway Administration's Recreational Trails Program (RTP) and Idaho's Off-Road Motor Vehicle (ORMV) Fund, administered by IDPR.
RTP funds would be used to replace trail structures (puncheon) and repair erosion on the Deadwood Ridge Trail caused by the 2016 Pioneer Fire.
* ORMV funds would be used to maintain trails on the North Zone of the Boise National Forest. These trails receive heavy summer usage from motor bike enthusiasts and other user groups. This grant proposes to address culvert placements, signage, brushing and heavy tread maintenance needs.
All grant proposals will improve visitor experience and mitigate public health and safety hazards. This will also help sustain the capital investment of the trail treads. If received, implementation of the projects would begin in late summer of 2021.
Comments or requests for more information should be submitted to Savannah Steele, Lowman Ranger District, 7539 Highway 21, Lowman, ID 83631, or by calling 208-259-3361.
M. Joseph Schindel
Public Affairs
Boise National Forest
—————–
Critter News:
Lead horse retires from Payette National Forest after over 20 years of service
by Ryan L Morrison Thursday, December 17th 2020

Courtesy of the U.S. Forest Service
"We are proud to announce a retirement! A horse retirement that is."
The Payette National Forest took to Facebook Wednesday to wish 23-year-old Ajax a happy horse retirement.
"Ajax developed into a competent lead horse, able to do any backcountry and packing job, leading strings all across the wilderness, keeping mules in line, and able to pack anything that was needed," the post explains.
Ajax was a member of the Krassel Wilderness Pack Stock, and served as one of the lead animals on the pack. He led strings of pack mules across thousands of miles in the Frank Church Wilderness for nearly twenty years.
continued:
— — — — — — — — — —
Pet Talk – Cleft palate in dogs
By Dr. Karsten Fostvedt Dec 18, 2020 IME
A cleft palate is a gap or hole in the roof of the mouth. The palate originally forms as two halves, on the left and right side of the mouth. These two halves normally fuse during the development of the fetus. A cleft palate results when the two sides of the palate do not fuse properly prior to birth.
The palate has a hard, bony part which is called the hard palate, and a soft, membranous part which is called the soft palate. A cleft may involve either or both of these parts. Clefts of the front part of the hard palate may also involve the upper lip.
A cleft sometimes forms in the palate after trauma to the head and mouth, such as being hit by car. More commonly, a cleft palate is a congenital birth defect. Affected pets can be of any breed or a mixed breed. Boston terriers, English bulldogs, and pugs are at increased risk.
continued:
— — — — — — — — — —
Idaho groups, others sue over federal wolverine verdict
Species faces habitat threat
Emily Jones Dec 18, 2020 IME
A coalition of environmental groups—including the Idaho Conservation League—filed suit against U.S. Fish and Wildlife Services on Monday, arguing that the agency's Oct. 8 decision to deny long-sought protections to the wolverine under the Endangered Species Act heralds grim consequences for the mountain-dwelling mammal.
The lawsuit contends that wolverines could face accelerated habitat loss and potential extinction in the continental U.S. without a "threatened" or "endangered" listing to unlock further recovery efforts.
Fewer than 300 wolverines live in Idaho, Montana, Washington and Wyoming today, according to a Monday statement from Earthjustice, the environmental nonprofit representing the ICL and nine other conservation groups in the suit.
continued:
— — — — — — — — — —
50 ducks found dead near Salmon
by CBS2 News Staff Sunday, December 13th 2020
State wildlife officials are trying to find out what killed approximately 50 mallard ducks in and near Salmon.
The dead ducks were found along an irrigation ditch and in adjacent sloughs and ponds.
Officials say the first dead ducks were found by a concerned resident on Dec. 7, along an irrigation ditch. The Idaho Department of Fish and Game was notified and found more dead ducks along the ditch and in adjacent sloughs and ponds.
Fish and Game conducted necropsies and sent tissue samples to a diagnostic lab for testing. The results are pending.
continued:
— — — — — — — — — —
Fish and Game provides mentored waterfowl hunt for disabled American veterans
"(It's) really important to each of these guys."
By Natasha Williams Dec 16, 2020
Hagerman, Idaho — Idaho Fish and Game volunteers are working together with the Idaho Division of Veteran Services to help provide opportunities for disabled American veterans.
Through Fish and Game, four to eight veterans are able to take part in a day of mentored waterfowl hunting in Hagerman.
Habitat Biologist Skyler Farnsworth summed up the day when he said, "I feel privileged to witness the joy that these mentored waterfowl hunts provide our local veterans."
continued:
——————
Letter to Share:
Red-Leg Partridge, don't miss out.
Hi all, we raised and released 240 of these this year. They are doing great so far. We have not had to do any supplemental feed this winter. We want to see how they survive. We have feed and if it comes down to it we will do. We want to raise more next year. We have 2000 eggs ordered now. If we can raise some more money we would like to get another 1000 eggs. These are one of the easiest birds to raise. We hatched 256 and released 240. The most we lost were those that didn't hatch well and were very weak to start with. If you would like to raise some of these and could help out with some of the cost we would sure appreciate it. If you can't raise them, please donate a few $ to help us along. You can go to The Gamebird Foundation Web and make a donation or you can join and pay membership dues with a credit card. Dues are $25.00 for family. Web is (link) we are a 501c3 non-profit. All donations are tax deductible.
This is the best picture I have been able to get of the Red-Leg Partridge.
"The Pheasant Guy"
Jim Hagedorn
—————-
Fish & Game News:
Idaho's wildlife collision salvage rule: what can you salvage?
By Korey Owens, Conservation Officer Sr. – District (DCO) #511
Friday, December 18, 2020
In spring 2012, the wildlife collision salvage rule went into effect in Idaho. This rule allows individuals to keep road-killed wildlife species classified as upland birds, upland game animals, big game, furbearers, and predators that may be lawfully hunted or trapped. Unprotected non-game wildlife are also legal for salvage.
Protected non-game wildlife, Threatened or Endangered species, migratory birds (including waterfowl which are federally protected), and other wildlife species not lawfully hunted or trapped may NOT be recovered, possessed, or salvaged. For a list of wildlife that can and cannot be recovered, possessed or salvaged please visit  (link).
Since the rule started, thousands of deer, elk, moose and other species that would have otherwise been wasted have been salvaged for meat, taxidermy and other uses. If you find a road-killed animal that you would like to salvage, here's what to do.
continued:
— — — — — — — — — —
Potential fungal infection may have caused duck deaths near Salmon
By Mike Demick, Staff Biologist
Friday, December 18, 2020
Final lab results are pending on exact cause
While laboratory test results are pending on the dead ducks found south of Salmon, preliminary necropsies sent to the National Wildlife Health Center indicate a potential acute Aspergillosis infection, a respiratory illness caused by a fungus commonly found in soil, dead vegetation, compost piles and moldy grains.
Formal results are pending on several more tests, which may take up to two weeks to determine the exact cause of death.
continued:
— — — — — — — — — —
Every year is different: Steelhead grad study update
By Brett Bowersox, Fisheries Staff Biologist
Wednesday, December 16, 2020
Written by Will Lubenau, University of Idaho
As we near the end of the year, it is a good time for another update on the University of Idaho and Idaho Fish and Game steelhead study. Lately, we have been comparing tag reports from the two years of the study to look for differences in where, when, and how many steelhead are being caught around the Snake River Basin.
What are we seeing so far?
The table below has the percentage of the total tags released that anglers reported as caught by December 9th in both years of the study. For example, in year 1 of the study, 3.6% of the 1,024 adipose-intact fish tagged were caught in the Snake River by December 9th.
continued:
— — — — — — — — — —
More F&G News Releases
link:
———————————-
Crazy Critter Stuff:
What a hoot! Owl rescued from Rockefeller Center Christmas tree
by Associated Press Wednesday, November 18th 2020

(Lindsay Possumato/Ravensbeard Wildlife Center via AP)
It wasn't quite a partridge in a pear tree, but a worker helping set up the Rockefeller Center Christmas tree found a holiday surprise — a tiny owl among the massive branches.
The little bird, now named what else but Rockefeller, was discovered on Monday, dehydrated and hungry, but otherwise unharmed, said Ellen Kalish, director and founder of the Ravensbeard Wildlife Center in Saugerties, New York, where the bird was taken.
Kalish said the bird is an adult male Saw-whet owl, one of the tiniest owls. It was taken to a veterinarian on Wednesday and got a clean bill of health.
continued:
—————-
Seasonal Humor:

———