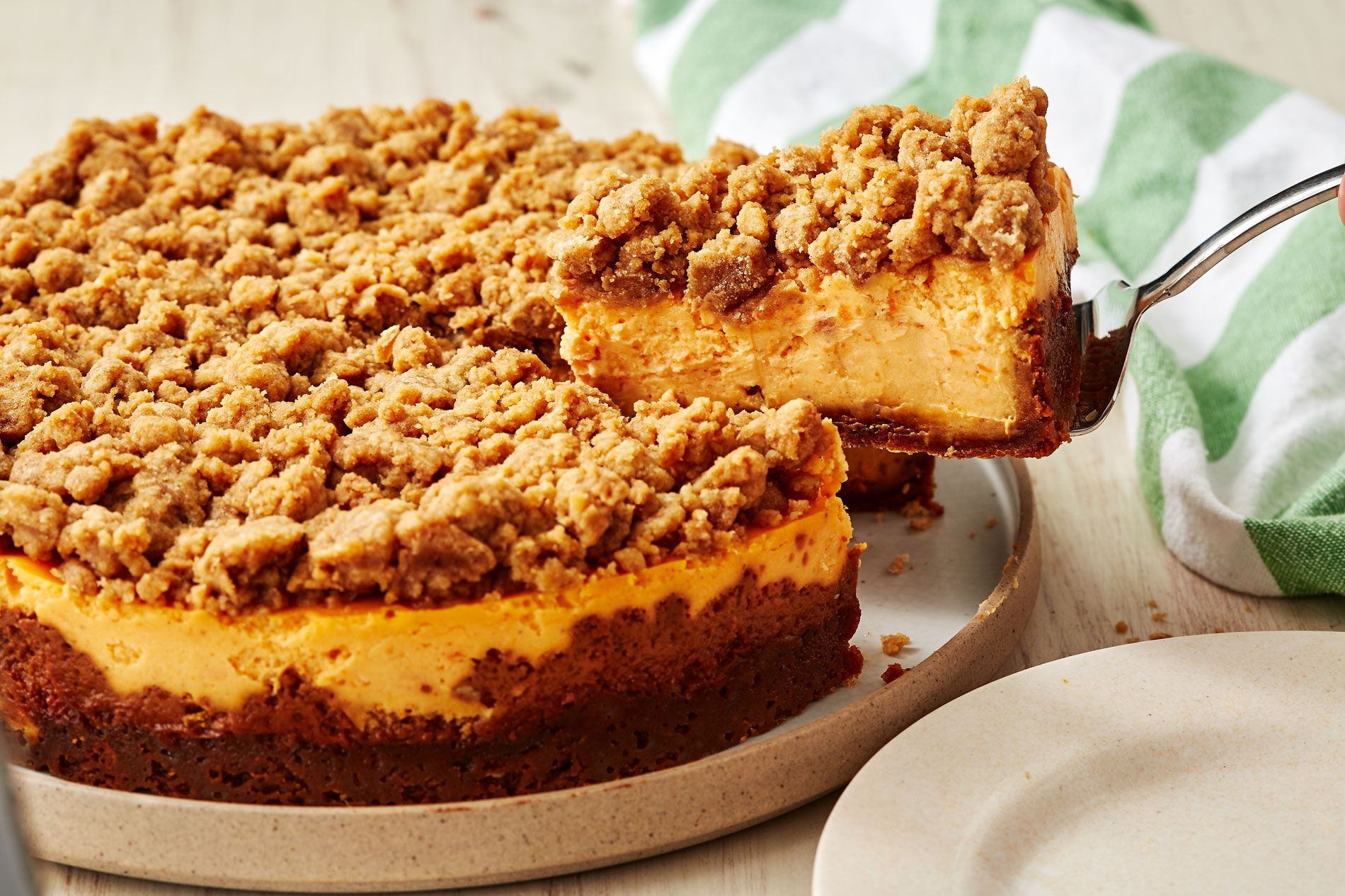 By Kat Boytsova
6 – 8 Servings
Ingredients
For Crust
10 oz. gingersnaps
1/2 tsp. kosher salt
1/2 c. (1 stick) melted butter
For Cheesecake
2 (8-oz.) packages cream cheese, softened, cut into small pieces
3 large eggs, room temperature
3/4 c. granulated sugar
1 tsp. pure vanilla extract
1/2 tsp. kosher salt
6 oz. sour cream, room temperature
1/4 c. pure maple syrup
1 tsp. cinnamon
1/2 tsp. nutmeg
1 1/2 c. roasted sweet potatoes, peeled and pureed in the food processor
For Topping
3/4 c. lightly packed dark brown sugar
1/4 c. granulated sugar
1 tbsp. ground cinnamon
1/2 tsp. kosher salt
12 tbsp. (1 1/4 sticks) melted butter, warm
1 3/4 c. all-purpose flour
Directions
Make crust: Preheat oven to 350F. Pulse gingersnaps and salt in a food processor until fine crumbs form. Drizzle in melted butter and mix until fully incorporated. Transfer to a 9" spring form pan and press firmly into the bottom and slightly up the sides.
Bake crust until golden brown around edges, about 10 minutes. Let cool until ready to use.
Make filling: Reduce oven to 325F. In a large bowl using a hand mixer, beat cream cheese on medium high speed until very smooth. Add eggs, sugar, vanilla, salt, sour cream, maple syrup, and cinnamon. Continue to mix, scraping down sides as needed until mixture is smooth. Add sweet potato puree and mix until no lumps remain.
Pour cheesecake filling into cooled crust and bake until almost set, about 1 hour.
Meanwhile, make the topping: In a medium bowl, whisk together both sugars, cinnamon and salt. Add warm melted butter and stir to combine. Using a fork, mix in flour until a moist mixture forms.
Remove cheesecake from oven and sprinkle topping over, squeezing it in your hands to make medium sized clumps. Bake cheesecake until topping is beginning to look golden, and cheesecake no longer jiggles in the middle, about 30 to 35 minutes more. Let cool to room temperature and then refrigerate until well chilled, at least 4 hours.
——————-