Jan 31, 2021 The Yellow Pine Times – Valley County, Idaho
Reminder: We are still under a boil water order until further notice.
Community Calendar:
Apr 17 – Boil water order issued
Aug 11 – Valley County Mask Order
(details below)
———-
From Valley County
Valley County Mask-Up
A county-wide mask mandate was approved the CDH August 11th, and is now in effect for Valley County. (link)
——————-
Local Events:
(No events scheduled at this time.)
———-
Village News:
Winter Storms
The weather service issued a winter storm warning for Wednesday, but it kept snowing until early Saturday morning, giving us 13.5″ of new snow over 4 days. As of Sunday morning we have 20″ of snow on the flat down by the school house.
Webcam view of the village looking west on the afternoon of January 30th

— — — —
January Precipitation History:
Year: Water / Snow
2021: 2.58″ / 23.9″
2020: 3.34″ / 38.6″
2019: 2.45″ / 19.0″
2018: 2.67″ / 17.7″
2017: 2.64″ / 17.8″
2016: 1.87″ / 10.7″
2015: 1.70″ / 7.5″
2014: 1.58″ / 8.4"
2013: 1.80″ / 16.0″
2012: 2.36″ / 11.9″
2011: 2.05″ / 7.8″
2010: 1.91″ / 12.75″
— — — —
Yellow Pine General Store
Please welcome Josh Jones as the new owner of the Yellow Pine General Store.
— — — —
Critters
Be Fox Aware
* Do not feed foxes human food
* Feed domestic pets indoors
* Make sure your pets are updated on Rabies vaccines
* Small pets could become a snack
Be Mountain Lion Aware
* NEVER run away from a mountain lion. The lion's instinct is to chase and ultimately catch what they perceive as potential prey.
* NEVER turn your back on a lion. Always face them while making yourself look as large as you can. Yell loudly, but don't scream. A high-pitched scream may mimic the sound of a wounded animal.
* SLOWLY back away while maintaining eye contact with the lion.
* Safety equipment you may choose to carry could include bear spray, a noise device, like an air-horn, and if you walk in the dark, a very bright flashlight.
* If you are attacked, fight back!
— — — —
Road Reports
Link: to current road reports.
— — — —
Yellow Pine US Mail
The 3-day a week mail delivery started Nov 2nd. The Post Office in Yellow Pine is open six days a week year around: M-F 845am-245pm Saturday 9am-245pm. Forever Stamp: 55 cents. Support our local post office and purchase your holiday stamps here.
— — — —
Yellow Pine Transfer Station
The road to the dump was plowed Saturday (Jan 30) and Lakeshore came in Sunday (Jan 31) to empty the dumpsters.
Yellow Pine Transfer Station (aka, the dump)
Please do not abuse our Transfer Station or we may lose it. Household trash must be placed in the bins, flattened cardboard boxes can also go into the bins. Do not stack trash in front of the doors. Woody yard debris only for the burn pile. No furniture, appliances, tires or construction debris allowed, those items must be hauled out to the Donnelly station by you.
The Yellow Pine Transfer Station is Valley County responsibility. If it is not kept tidy, use of the Transfer Station may be revoked. That would result in residents having to take all household trash and yard waste to the Donnelly Transfer Station.
If Dumpsters Are Full, Contact Lake Shore Disposal at: (208) 634-7176
———-
Local Groups
YPWUA News:
The annual Water meeting for 2020 was held July 5th at the Community Hall 2pm.
link: minutes 20200705YPWUA.docx
Boil Water Order issued April 17, 2020. This could last until leaks are repaired.
Update Nov 29: Warren replaced the water meter because of inconsistent readings. With the new meter, the community is currently using over 55,000 gallons of water per day. A leak has been identified and will be repaired as soon as we can coordinate the contractor, equipment needed and weather together. It is difficult to get everything planned in the winter. When the repair is scheduled, the community will have a few days notice before the water is shut down. Since we are using more water than the rated use through the sand filters, the boil order will remain in effect. We continue the grant request process that is extremely slow. – Steve H
Update Nov 25: the boil order is still in effect due to the large quantity of water that is leaking from the system. – Warren D
Boil Water Advisory Notice
Boil Your Water Before Using
Bring tap water to a rolling boil, boil for one minute, and cool before using or use bottled water. Boiled or bottled water should be used for drinking, making ice, washing dishes, brushing teeth, and preparing food until further notice.
This Boil Water Advisory Notice applies to The Yellow Pine Water System
The system is being monitored and checked daily for compliance.
You will be informed when you no longer need to boil your water.
Please share this information with other people who drink this water, especially anyone who may not get this notice directly (for example, people in apartments, nursing homes, schools, and businesses).
You can do this by posting this notice in a public place or distributing copies by hand or mail.
State Water System ID#: 4430059 Date distributed: 3-22-2020
Notice of Intent to File an Application with USDA, Rural Development
The Yellow Pine Water Users Association, Yellow Pine, Idaho intends to file an Application with USDA, Rural Development to obtain a drinking water system facility Emergency Community Water Assistance Grant (ECWAG). Emergency Community Water Assistance Grant (ECWAG).
If any additional information is needed, please contact:
Willie Sullivan
Treasurer
ypwater @ gmail.com
Distributed to Yellow Pine Water Users Association customers via Yellow Pine Times on June 12, 2020.
— — — —
VYPA News:
VYPA Meetings are the 2nd Saturday of June, July, August, and September (June 12, July 10, August 14, September 11) at 2:00pm at the Community Hall.
Village Council members:
Deb Filler, Chairman
Matt Huber, Vice Chairman
Ronda Rogers, Treasurer
Rhonda Egbert, Secretary
Ron Noel, Member at Large
Anyone interested in being a part of the Festival Planning/Working committee, please contact Deb Filler. Meetings will begin at the end of January. Even if you aren't physically in YP, you can participate in the committee.
VYPA Bylaws adopted 8/8/2020 (link)
YPAC Corp Bylaws (link)
— — — —
YPFD News:
After Action Report meeting Oct 13, 2020 (no minutes yet.)
YPFD had a budget meeting on September 30th at 10am at the fire station. (No minutes yet.)
Make sure to keep your chimney clean. Cleaning brushes can be borrowed from the YPFD.
YPFD COVID19 Policy
link: YPFD Covid 19 SOP
link: Covid-19 EMS (May 23)
Pile burning: Dress appropriately, have enough help on hand (people, water and tools) and make a firebreak before you start. Call your local fire protection district chief to let them know you'll be conducting a debris burn. This saves them from sending emergency responders to your property if they are not needed. Do NOT burn on breezy afternoons.
Better yet, "Bring It, Don't Burn It", you can take your yard waste (limbs, pine needles, brush, etc.) to the burn pile at the Transfer Station on the south end of the turn-around. Remember, keep the pile neat. Woody debris only, no nails, no cardboard and no furniture! The Boise NF will burn the pile in the fall when it is safe and doesn't pollute our fine YP air.
YP Fire Commissioners:
Sue Holloway – District 1
Dan Stiff – District 2
Merrill Saleen – District 3
Tim Rogers – Fire Chief
Yellow Pine Fire Protection District Community Service Notice
The purpose of this letter is to show how you as a Yellow Pine Resident can help protect your structure against a wildland fire by being "Fire Wise." Click the link: to view 20190724 Yellow Pine Fire Protection mitigation
——–
Biz Listings:
The Corner (208) 633-3325
Starting Nov 3rd open 3 days a week on mail days.
— — — —
Yellow Pine Tavern (208) 633-2233
Winter Closure: November 14, 2020 to April 16, 2021
— — — —
Yellow Pine Lodge (208) 633-3377
Closed Nov 3rd for winter.
— — — —
Yellow Pine General Store (208) 633-3300
New owner, plans to open this spring.
— — — —
Murph's RV Park & Mary's Cabins
FB page link
— — — —
Knotty Kat Crochet Works – 208-502-0940
FB page link
open Tue – Sat, 9-5
Yellow Pine eggs $3/doz
— — — —
Buck Horn Outfitters LLC 208-633-3614
Tom & Sarah Lanham
156 Yellow Pine Ave, Yellow Pine Id 83677
website:
Facebook:
Wapiti Meadow Ranch – Johnson Creek (208) 633-3217
or 208-315-3554 – cabin rentals
website:
Deadwood Outfitters
website:
— — — —
Local Fuel Suppliers
Amerigas Phone: (208) 634-8181
Ed Staub & Sons Phone: (208) 634-3833
Diamond Fuel & Feed Phone: (208) 382-4430 open 830am-5pm Monday-Friday, closed weekends.
— — — —
Outside Biz that will service Yellow Pine:
The Star-News


click to subscribe:
A reminder that those who live in other states can subscribe to the online edition only since the mail can take days for hard copy to reach them.
Rocky Mountain Mechanical – Plumbing – Heating – Air conditioning
(208) 365-PIPE (7473), Emmett, will service Yellow Pine
Elkhorn Heating & Cooling
(208) 906-4067 Middleton, Idaho, will service Yellow Pine
B&T Safety Solutions LLC
208-271-1600 Based out of Donnelly
Snow removal, cleaning chimneys and stoves, we do cabin staining/chinking as well
— — — —
Follow The Yellow Pine Times on Facebook (updated more often than emails)
———————–
Local Observations:
Monday (Jan 25) overnight low of 4 degrees, mostly clear sky this morning with a little thin high haze, estimated 13″ snow on the ground. Pine squirrel, chickadees and nuthatches visiting. Thin overcast and filtered sunshine at lunch time, high of 30 degrees. Chilly mid-afternoon, below freezing, calm and mostly high thin haze. Hazy sky and filtered moonlight before midnight.
Tuesday (Jan 26) overnight low of -1 degree, cracks in the overcast this morning and 13″ of snow on the ground. Jays, a clarks nutcracker (briefly), chickadees, nuthatches, a hairy woodpecker and the pine squirrel visiting. Gray overcast at lunch time, high of 27 degrees. A few flakes of snow fell early afternoon for a short while. Overcast late afternoon and below freezing plus wind chill from light breezes. Broken cloud cover and weak moonlight before midnight. Clear and cold after midnight. Started snowing after 7am, by 9am snowing pretty good.
Wednesday (Jan 27) 24 hour low of 11 degrees from Tuesday morning. By 1030am we had 1″ new snow (SWE=0.07″) and 14″ on the ground, low clouds and snowing pretty good. A pair of hairys and a downy woodpecker, nuthatches, chickadees, jays and the pine squirrel visiting. Snowing pretty good (another inch), socked in to the valley floor and breezy at lunch time, high of 31 degrees. Mail truck made it in on time. Snowing pretty good early afternoon, gusty breezes and snow blowing out of the trees, low visibility at times. By 3pm we had 3″ new snow since the morning measurement, still snowing, below freezing and gusty breezes, ridges socked in. Still snowing at dusk, calmer and below freezing. More snow had accumulated by 9pm. Snowed all night.
Thursday (Jan 28) 24 hour low of 26 degrees from Wednesday morning (high of 31 degrees this morning) low overcast and light snowfall. Measured 5″ new snow on the board (SWE=0.32″) and 18″ snow on the ground. A pair of hairys and a downy woodpecker, chickadees, nuthatches, jays and the pine squirrel visiting. Still snowing lightly at lunch time and low clouds, high of 35 degrees. Break in the snow around 4pm, about 1/4″ accumulation but mostly melting as it was above freezing. A few more flakes late afternoon then another break at dusk. Snowing lightly after dark. Still snowing lightly at midnight. Light snow all night, then moderate snow early morning. (Bulk of snow fell after 6am.)
Friday (Jan 29) overnight low of 30 degrees, 4.5″ new snow (SWE=0.31″) and 21″ on the ground, low overcast and snowing pretty good – about an inch per hour. Northern flicker, jays, 2 hairys and a downy woodpecker, numerous chickadees and some nuthatches visiting, (the squirrel showed up later.) Socked in and steady wet snow at lunch time, high of 36 degrees. Snowed until mid-afternoon (settled down to 1.5″ from 3″ earlier), above freezing and clouds lifted from floor to below ridge tops. Snowing pretty good before midnight. Snowed until 7am.
Saturday (Jan 30) overnight low of 24 degrees, 3″ new snow (SWE=026″) and 22″ on the ground, broken overcast this morning. Jays, a pair of hairy woodpeckers, nuthatches, several chickadees, a dark-eyed junco and the pine squirrel visiting. Overcast at lunch time, a few icicles dripping, high of 34 degrees. Above freezing, overcast and a biting breeze before sundown. Cloudy and just below freezing at dusk. Partly clear and filtered moonlight before midnight.
Sunday (Jan 31) overnight low of 10 degrees, partly clear sky this morning, measured 20″ snow on the ground. Lots of chickadees, a few nuthatches, jays, a hairy woodpecker and the pine squirrel visiting. Thickening overcast at lunch time. Partly sunny early afternoon and icicles dripping, high of 43 degrees. Gusty breezes mid-afternoon. Mostly clear and cold breezes at sunset. Calmer and mostly clear at dusk.
———————
Idaho News:
635 new Idaho COVID-19 cases, 4 new deaths
Jan 29, 2021 Local News 8
Idaho officials reported 635 new COVID-19 cases and 4 new deaths on Friday.
That brings the total confirmed and probable cases reported since March to 162,355.
There are a total of 132,217 confirmed cases and 30,138 probable cases in all 44 of the 44 counties in Idaho, according to numbers released from the local health districts and the state. …
The state said 94,071 people have received the vaccine, and 114,372 total doses have been administered. …
4 new deaths were reported bringing the total recorded deaths to 1,725.
full story: [Valley County 710 casts 4 deaths.]
— — — —
Idaho Thursday, January 28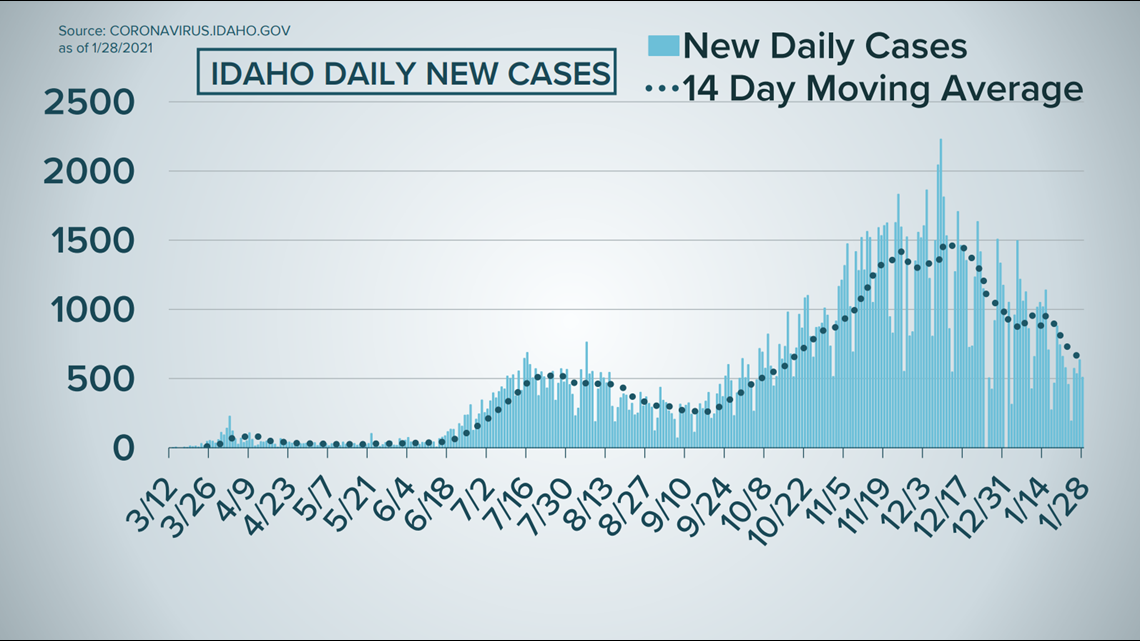 source: KTVB
— — — — — — — — — —
[Valley County] Cases Total 654
By Tom Grote for The Star-News Jan 28, 2021
The total number of positive COVID-19 cases in Valley County since the start of the pandemic rose to 654 cases by Tuesday, up 34 cases from 620 a week ago, health officials said.
St. Luke's McCall on Tuesday reported 556 total positive cases from testing done at the hospital, up 31 cases from 525 a week ago.
Cascade Medical Center reported 98 positive cases through Monday, or three more than the 95 cases reported last week.
Central District Health reported 562 of the positive cases were confirmed to be Valley County residents as of Tuesday, which is 37 more than the 525 cases reported a week ago.
The difference between the hospital figures and the health department figures are those who tested positive but did not declare Valley County as their residence.
Three confirmed deaths and one probable death of Valley County residents related to COVID-19 have been reported.
continued:
— — — — — — — — — —
Cascade hospital to start COVID-19 vaccinations for ages 65+
St. Luke's McCall hopes to schedule older residents soon
By Tom Grote for The Star-News Jan 28, 2021
Cascade Medical Center expects to give 500 people COVID-19 vaccinations on Wednesday, including the first group of people age 65 and older.
All 500 appointments have been filled for Wednesday's clinic at the Cascade American Legion Hall, hospital CEO Tom Reinhardt said.
St. Luke's McCall is also hoping to offer the COVID-19 vaccine to those age 65 and older next week, but was still waiting Wednesday for authorization from the hospital's parent company, St. Luke's Health System, hospital Chief Operating Officer/Chief Nursing Officer Amber Green said.
More clinics will be scheduled in Cascade as more vaccine becomes available, Reinhardt said.
Those wishing to be vaccinated in Cascade should go to http://cascademedicalcenter.net  and complete a form. Hospital staffers will call back to schedule an appointment.
More than 900 people have requested the vaccine from Cascade Medical Center, Reinhardt said.
The vaccine will be the first of two required to provide full immunization. Those who are vaccinated Wednesday will receive appointments for the second dose, he said.
As of Wednesday, 719 residents of Valley County had received only the first of two required doses of the COVID-19 vaccine while 94 residents had received both doses, according to figures from the Idaho Department of Health and Welfare.
continued:
— — — — —
6 Common Myths and Facts About COVID-19 Vaccine, Debunked by CDH
by Erika Lee Wednesday, January 27th 2021 CBS2
Here are the six most common myths Central District Health says are frequently assumed about the COVID-19 vaccine and why they say they're not true.
link:
— — — — — — — — — —
7 more Idaho children diagnosed with MIS-C
All of the children diagnosed with the rare complication of COVID-19 have required hospitalization, according to the Idaho Department of Health and Welfare.
January 28, 2021 KTVB
The Idaho Department of Health and Welfare said Thursday that seven more children in Idaho have been diagnosed with a serious inflammatory illness linked to COVID-19.
The children, who were sickened by Multisystem Inflammatory Syndrome in Children (MIS-C) between November and early January, were not previously added to the state's count. In some of the cases, public health investigations were only recently completed, according to Health and Welfare.
The new additions bring Idaho's total number of confirmed MIS-C cases to 16 since the beginning of the pandemic.
MIS-C is a rare complication that causes inflammation in a child's organs, brain, eyes, or skin, and can be fatal.
continued:
— — — — — — — — — —
Photos: McCall, Valley County gets pummeled with lots and lots of snow
CBS2 Jan 28, 2021
link: to photo gallery
— — —
McCall sees more than 2 feet of snow in 2 days
by CBS2 News Staff Friday, January 29th 2021
The most recent weather pattern is dumping snow into the McCall area.
According to the National Weather Service, McCall has seen 25.5 inches of snow over the last two days.
NWS says this is the most snow over a two-day period since January 1971, and it's the fifth-highest amount over the course of two days since records began in 1905.
More snow is expected today!
source:
— — — — — — — — — —
Snow bike races continue despite McCall Winter Carnival cancellation
By Steve Dent Jan 29, 2021 KIVI
Cascade, Idaho — The organizers of the McCall Winter Carnival made the difficult decision to cancel the carnival, it would have taken place this weekend.
Normally thousands of people make their way to McCall for this annual tradition, but despite the cancellation due to concerns over the coronavirus one event was able to continue.
On Saturday, a unique race with deep ties to Idaho will take center stage in Cascade.
continued:
— — — — — — — — — —
Area home, lot sales surge in 2020
McCall, NM see largest growth in prices, land sales
By Tom Grote for The Star-News Jan 28, 2021
Sales of homes and lots in 2020 reached levels not seen since the real estate boom of the 2000s, according to local Realtors and sales reports.
"Everyone wants a slice of paradise," said Will Minshall, associate broker with The McCall Real Estate Company. "Buyers are looking for places with less people."
Realtors responding to an informal survey by The Star-News offered mixed opinions on where the buyers are coming from.
Home sales increased 23% in 2020 over 2019 with sales of lots and acreages soaring to a 61% gain in 2020 over the prior year, according to figures compiled by the Mountain Central Association of Realtors.
The figures include sales in Valley County and the New Meadows area in Adams County.
continued:
— — — — — — — — — —
Tamarack Resort submits ambitious expansion plans for the mountain
The resort has filed for a special use permit with Forest Service that would greatly expand operations with six new aerial lifts including a 10-person gondola.
January 28, 2021 KTVB
As more snow continues to fall in Idaho's mountains, Tamarack Resort is looking to the future with an ambitious expansion plan.
The all-season resort near Donnelly has filed for a special use permit with the U.S. Forest Service to more than double its mountain terrain for winter and summer recreation.
Tamarack Resort has spent the past 18 months updating its Master Development Plan (MDP), which sets the resort's long-term development vision and identifies the mountain terrain necessary for expanding winter and summer operations on lands administered by the Boise National Forest.
continued:
———————–
Public Lands:
Focus Group looks at endowment land surrounding Payette Lake
By Steve Dent Jan 28, 2021 KIVI
The Idaho Department of Lands manages 183,000 acres of land around Payette Lake and Little Payette Lake. On Thursday, interested stakeholders came together to form a focus group and hold their first virtual meeting.
Endowment Land was handed over when Idaho became a state, but it came with a catch. Endowment Land has to be managed to maximize revenue.
"These lands were pulled out of the public domain and given to the state to be managed in a way to produce income for public schools and other beneficiaries," said Dustin Miller of the Idaho Department of Lands.
continued:
— — — — — — — — — —
Idaho State Parks sees record-breaking visitation numbers
By Katie Kloppenburg Jan 28, 2021 KIVI
Idaho State Parks had a record-breaking year with 7,6571,582 people visiting the parks in 2020. The previous record was set in 2019 with 6,468,159 visitors, after several years of steady growth.
"It's a mind-boggling number," said Brian Beckley, chairman of the Idaho Parks and Recreation Board, which oversees the department. "Never before have we had so many people come out to our parks. But with the pandemic keeping people indoors and isolated, outdoor recreation became one of the few things people could do responsibly to beat COVID cabin fever."
The visitation figure accounts for day users and campers, according to a news release. Beckley said it is great to see so many people experiencing some of Idaho's most special places, but it also meant more strain and wear on park facilities and staff.
continued:
— — — — — — — — — —
USDA Forest Service Chief Announces New Acting Regional Forester for Intermountain Region
Ogden, Utah, January 27, 2021 – USDA Forest Service Chief Vicki Christiansen has announced Mary Farnsworth as Acting Regional Forester for the Forest Service Intermountain Region located in Ogden, Utah. As Acting Regional Forester, Farnsworth will oversee management of more than 32 million acres of national forest and grasslands, in six states with over 2,500 employees. In her new role as Acting Regional Forester, Farnsworth will play an essential role in carrying out agency and regional goals including enhancing shared stewardship opportunities; emphasizing, strengthening and strategically planning future program delivery of recreation and range programs; and increasing the Region's ability to treat priority landscapes to reduce the risk of wildfire.
Farnsworth is currently serving as the Deputy Regional Forester for the Intermountain Region. Previously, she was the Forest Supervisor on the Idaho Panhandle National Forest. Beginning her career on the Umatilla National Forest in 1987, Farnsworth has dedicated more than 30 years to the agency. She has held a variety of leadership and staff positions across the agency including in the agency national headquarters in Washington, D.C., California, Oregon, Idaho and Utah. Farnsworth has a Bachelor of Science Degree in Forest Management from Humboldt State University in northern California.
"I look forward to building upon the amazing work this region has accomplished in the past few years." said Farnsworth. "My focus will be building upon the principles of shared stewardship by maintaining and enhancing partnerships with state, tribal and local partners to ensure we maintain healthy, productive and sustainable forest lands on behalf of the American people."
Farnsworth is taking over the position left vacant in April 2020, when Nora Rasure retired after serving 6 years as the Regional Forester for the Intermountain Region. In the interim, Frank Beum has been assigned as the Acting Regional Forester and will return to his role as the Deputy Regional Forester for the Forest Service Southern Region in Atlanta, Georgia.
——————
Critter News:
Close of a long, distinguished career
Appaloosa spent 20 years working in the Frank Church wilderness
By Max Silverson for The Star-News Jan 28, 2021
Ajax, a 23-year-old Appaloosa, has settled into pack-horse retirement after 20 years and more than 15,000 miles of leading pack trains through the Frank Church – River of No Return Wilderness.
Ajax likely has more miles and days on the trail in the Frank Church-River of No Return Wilderness than any horse alive, said Payette National Forest Wilderness Management Specialist Patrick Brown, who bought Ajax as a young colt in 2000 and trained him as a pack leader.
The 2.3-million acre Frank Church wilderness east of McCall prohibits motorized travel, so most Forest Service work depends on pack trains to move gear and supplies in and out. Tasks range from trail and facility maintenance to firefighting and historic restoration.
Ajax was primarily responsible for leading a pack [string] of about eight mules, but he was sometimes saddled with cargo.
Having a competent and reliable lead horse is essential for safety and efficiency, because much can go wrong when leading a string of eight animals each weighing 1,100 pounds stretching for 60 feet, Brown said.

Courtesy of the U.S. Forest Service
— — — — — — — — — —
Fish and Game to reduce Idaho moose hunting tags for next season as population drops
Available tags for antlerless moose will drop from 74 to just three for the upcoming season.
January 29, 2021 KTVB
The Idaho Department of Fish and Game announced a major reduction in the number of moose tags that will be available for hunters next season. The reduction comes as biologists are working to figure out what is causing declining population and low calf survival for moose across the state.
Overall, Fish and Game will reduce available bull moose tags from 560 to 542 for the 2021-2022 hunting season, while available antlerless moose tags will drop from 74 to just three tags.
IDFG Director Ed Schriever said the department is trying determine the cause of the decline and reverse it in order to keep a healthy number of moose in Idaho.
continued:
— — — — — — — — — —
GPS collars help Idaho Fish and Game track deer and elk populations
By Lynsey Amundson Jan 28, 2021 KIVI
Idaho Fish and Game is using GPS collars to track deer and elk populations to help them better understand migrations, predation, and if any action needs to be taken to help these populations.
"It allows us to determine what management actions are necessary to manage that population effectively," said Rick Ward, IDFG Deer, and Elk Coordinator.
They can set the collars to ping them as many times a day as they want, as well as detect when one of the animals have died.
continued:
— — — — — — — — — —
Officers find 25 more whole waterfowl carcasses dumped in Emmett
by Ryan L Morrison Thursday, January 28th 2021 CBS2
For the second time this week, Idaho Fish and Game officers have found an egregious amount of whole waterfowl carcasses dumped in the Treasure Valley.
IDFG officers say they found 25 whole waterfowl carcasses north of Emmett on Van Deusen Road. The mix of birds included mallards, teal and northern pintails.
Fish and Game conservation officer Josh Leal is investigating the incident and would like to find any potential eyewitnesses.
continued:
———————–
Fish & Game News:
Safety tips when living in proximity to mountain lions
By Terry Thompson, Regional Communications Manager
Wednesday, January 27, 2021
Incidents of human-wildlife conflict with mountain lions have diminished in the Wood River Valley but sporadic reports of lions in residential areas continue to come into the Magic Valley Regional Office.
Reports of mountain lions in the Wood River Valley are down considerably from the winter of 2019-2020. Last year, Fish and Game reported nearly 100 incidents involving mountain lions in the Wood River Valley, which included several attacks on pets.
While reports have diminished this winter, mountain lions continue to live throughout the Wood River Valley. Fish and Game continues to receive reports, most of which involve lions moving through neighborhoods or sightings of lions in yards.
continued:
— — — — — — — — — —
Hunters will see big reduction in antlerless moose tags, similar sheep and goat tags for 2021-22 seasons
By Roger Phillips, Public Information Supervisor
Thursday, January 28, 2021
Fish and Game biologists are trying to find out why moose populations are declining and reverse it
Fish and Game Commission on Jan. 28 set moose, bighorn sheep and mountain goat seasons for 2021-22 during its meeting in Nampa. Changes include reductions in tags available for all three species, including substantial decreases in moose tags, particularly antlerless tags, and minor adjustments to tags for bighorn sheep and mountain goats.
The new seasons will be posted on Fish and Game's website in early-to-mid March and available in printed rules booklets at Fish and Game offices and license vendors in mid-to-late March. The controlled hunt application period for moose, bighorn sheep and mountain goats is April 1- 30.
continued:
— — — — — — — — — —
Winter surveys show high numbers of mule deer fawns in the Upper Snake
By Morgan Pfander, Wildlife Regional Biologist
Wednesday, January 27, 2021
Mule deer fawn numbers are looking really good across much of the Upper Snake Region as we head into the rough part of winter. "Our fawn production across the region was pretty incredible," says Wildlife Manager Curtis Hendricks. "I think that we have only had fawn ratios rivaling these numbers on the east side of the interstate on one other occasion."
Wildlife Biologists conducted mule deer herd composition flights this past December in each of the region's mule deer data analysis units (DAUs). The Upper Snake Region includes portions of 5 mule deer DAUs – Smoky-Boise, Mountain Valley, Island Park, Palisades and Caribou.
continued:
— — — — — — — — — —
More F&G News Releases
link:
———————————-
Crazy Critter Stuff:
Little Kid Feeding Birds Like Mother by Hand

— — — —
Crow feeding bread to a rodent

——————-
Seasonal Humor:

——————