Jan 3, 2021 The Yellow Pine Times – Valley County, Idaho
Reminder: We are still under a boil water order until further notice.
Community Calendar:
Apr 17 – Boil water order issued
Aug 11 – Valley County Mask Order
(details below)
———-
From Valley County
Valley County Mask-Up
A county-wide mask mandate was approved the CDH August 11th, and is now in effect for Valley County. (link)
Rebound – Idaho Governor's phasing program
link:
COVID 19: Recommendations and Resources for Safe Business Practices
link: (lots of info for businesses)
——————-
Local Events:
Nothing scheduled.
———-
Village News:
A quiet week.
— — — —
Yellow Pine General Store
Please welcome Josh Jones as the new owner of the Yellow Pine General Store.
— — — —
Boil Water Order issued April 17 still in effect.
Update Nov 29: Warren replaced the water meter because of inconsistent readings. With the new meter, the community is currently using over 55,000 gallons of water per day. A leak has been identified and will be repaired as soon as we can coordinate the contractor, equipment needed and weather together. It is difficult to get everything planned in the winter. When the repair is scheduled, the community will have a few days notice before the water is shut down. Since we are using more water than the rated use through the sand filters, the boil order will remain in effect. We continue the grant request process that is extremely slow. – Steve H
Update Nov 25: the boil order is still in effect due to the large quantity of water that is leaking from the system. – Warren D
The high demand caused by leaks in the system plugs the sand filters prematurely. We will be on a boil order until further notice.
— — — —
Critters
Be Fox Aware
* Do not feed foxes human food
* Feed domestic pets indoors
* Make sure your pets are updated on Rabies vaccines
* Small pets could become a snack
Be Mountain Lion Aware
* NEVER run away from a mountain lion. The lion's instinct is to chase and ultimately catch what they perceive as potential prey.
* NEVER turn your back on a lion. Always face them while making yourself look as large as you can. Yell loudly, but don't scream. A high-pitched scream may mimic the sound of a wounded animal.
* SLOWLY back away while maintaining eye contact with the lion.
* Safety equipment you may choose to carry could include bear spray, a noise device, like an air-horn, and if you walk in the dark, a very bright flashlight.
* If you are attacked, fight back!
— — — —
Road Reports
Link: to current road reports.
— — — —
Yellow Pine US Mail
The 3-day a week mail delivery started Nov 2nd. The Post Office in Yellow Pine is open six days a week year around: M-F 845am-245pm Saturday 9am-245pm. Forever Stamp: 55 cents. Support our local post office and purchase your holiday stamps here.
— — — —
Yellow Pine Transfer Station
Please do not abuse our Transfer Station or we may lose it. Household trash must be placed in the bins, flattened cardboard boxes can also go into the bins. Do not stack trash in front of the doors. Woody yard debris only for the burn pile. No furniture, appliances, tires or construction debris allowed, those items must be hauled out to the Donnelly station by you.
Yellow Pine Transfer Station (aka, the dump)
The Yellow Pine Transfer Station is located approximately 3 miles south on Johnson Creek Road.
The TRANSFER STATION is for household trash and yard waste:
* Household trash must be put inside (and fit) the dumpster;
* Yard waste (limbs, pine needles, brush, etc.) goes in the burn pile on the south end of the turn-around;
* Cardboard boxes should be flattened before putting the in the dumpster,
The DUMPSTERS are NOT for:
* Furniture (take to Donnelly Transfer Station);
* Appliances (take to Donnelly Transfer Station).
The BURN PILE is NOT for:
* Cardboard boxes (flatten and put in dumpster);
* Furniture and appliances (take to Donnelly Transfer Station);
* Drywall and building material (take to Donnelly Transfer Station);
* Wire or fencing (take to Donnelly Transfer Station);
* Foam Rubber (take to Donnelly Transfer Station);
* Wood with metal (like nails) attached (take to Donnelly Transfer Station.)
When closing the DOORS on the front of the dumpsters:
* Make sure the "U" brackets at the top and bottom of the door are engaged;
* The retaining bar at the middle of the door is slid into the pipe;
* And the "L" bars at the bottom of the doors dropped into place.
The Yellow Pine Transfer Station is Valley County responsibility. If it is not kept tidy, use of the Transfer Station may be revoked. That would result in residents having to take all household trash and yard waste to the Donnelly Transfer Station.
If Dumpsters Are Full, Contact Lake Shore Disposal at: 208/634-7176
———-
Local Groups
YPWUA News:
The annual Water meeting for 2020 was held July 5th at the Community Hall 2pm.
link: minutes 20200705YPWUA.docx
Boil Water Order issued April 17, 2020. This could last until leaks are repaired.
Boil Water Advisory Notice
Boil Your Water Before Using
Bring tap water to a rolling boil, boil for one minute, and cool before using or use bottled water. Boiled or bottled water should be used for drinking, making ice, washing dishes, brushing teeth, and preparing food until further notice.
This Boil Water Advisory Notice applies to The Yellow Pine Water System
The system is being monitored and checked daily for compliance.
You will be informed when you no longer need to boil your water.
Please share this information with other people who drink this water, especially anyone who may not get this notice directly (for example, people in apartments, nursing homes, schools, and businesses).
You can do this by posting this notice in a public place or distributing copies by hand or mail.
State Water System ID#: 4430059 Date distributed: 3-22-2020
Notice of Intent to File an Application with USDA, Rural Development
The Yellow Pine Water Users Association, Yellow Pine, Idaho intends to file an Application with USDA, Rural Development to obtain a drinking water system facility Emergency Community Water Assistance Grant (ECWAG). Emergency Community Water Assistance Grant (ECWAG).
If any additional information is needed, please contact:
Willie Sullivan
Treasurer
ypwater @ gmail.com
Distributed to Yellow Pine Water Users Association customers via Yellow Pine Times on June 12, 2020.
The 2019 Yellow Pine Water Users Shareholders meeting was Sunday July 7, 2019.
link: 20190707YPWUAminutes
— — — —
VYPA News:
The Community Hall toilet is functional.
VYPA Bylaws adopted 8/8/2020 (link)
YPAC Corp Bylaws (link)
— — — —
YPFD News:
After Action Report meeting Oct 13, 2020 (no minutes yet.)
YPFD had a budget meeting on September 30th at 10am at the fire station. (No minutes yet.)
Make sure to clean and check chimney fitting before starting that first fall fire in your cabin. Cleaning brushes can be borrowed from the YPFD.
YPFD COVID19 Policy
link: YPFD Covid 19 SOP
link: Covid-19 EMS (May 23)
Pile burning: Dress appropriately, have enough help on hand (people, water and tools) and make a firebreak before you start. Call your local fire protection district chief to let them know you'll be conducting a debris burn. This saves them from sending emergency responders to your property if they are not needed. Do NOT burn on breezy afternoons.
Better yet, "Bring It, Don't Burn It", you can take your yard waste (limbs, pine needles, brush, etc.) to the burn pile at the Transfer Station on the south end of the turn-around. Remember, keep the pile neat. Woody debris only, no nails, no cardboard and no furniture! The Boise NF will burn the pile in the fall when it is safe and doesn't pollute our fine YP air.
YP Fire Commissioners:
Sue Holloway – District 1
Dan Stiff – District 2
Merrill Saleen – District 3
(TBA) – Fire Chief
Yellow Pine Fire Protection District Community Service Notice
The purpose of this letter is to show how you as a Yellow Pine Resident can help protect your structure against a wildland fire by being "Fire Wise." Click the link: to view 20190724 Yellow Pine Fire Protection mitigation
——–
Biz Listings:
The Corner (208) 633-3325
Starting Nov 3rd open 3 days a week on mail days.
— — — —
Yellow Pine Tavern (208) 633-2233
Winter Closure: November 14, 2020 to April 16, 2021
— — — —
Yellow Pine Lodge (208) 633-3377
Closed Nov 3rd for winter.
— — — —
Yellow Pine General Store (208) 633-3300
New owner, plans to open this spring.
— — — —
Murph's RV Park & Mary's Cabins
FB page link
— — — —
Knotty Kat Crochet Works – 208-502-0940
FB page link
open Tue – Sat, 9-5
Yellow Pine eggs $3/doz
— — — —
Buck Horn Outfitters LLC 208-633-3614
Tom & Sarah Lanham
156 Yellow Pine Ave, Yellow Pine Id 83677
website:
Facebook:
Wapiti Meadow Ranch – Johnson Creek (208) 633-3217
or 208-315-3554 – cabin rentals
website:
Deadwood Outfitters
website:
— — — —
Local Fuel Suppliers
Amerigas Phone: (208) 634-8181
Ed Staub & Sons Phone: (208) 634-3833
Diamond Fuel & Feed Phone: (208) 382-4430 open 830am-5pm Monday-Friday, closed weekends.
— — — —
Outside Biz that will service Yellow Pine:
The Star-News


click to subscribe:
A reminder that those who live in other states can subscribe to the online edition only since the mail can take days for hard copy to reach them.
Rocky Mountain Mechanical – Plumbing – Heating – Air conditioning
(208) 365-PIPE (7473), Emmett, will service Yellow Pine
Elkhorn Heating & Cooling
(208) 906-4067 Middleton, Idaho, will service Yellow Pine
B&T Safety Solutions LLC
208-271-1600 Based out of Donnelly
Snow removal, cleaning chimneys and stoves, we do cabin staining/chinking as well
— — — —
Follow The Yellow Pine Times on Facebook (updated more often than emails)
———————–
Local Observations:
Monday (Dec 28) overnight low of 1 degree, no new precipitation, estimate 8″ old snow on the ground, mostly clear sky this morning – a little high haze. Sunrise at 1045am. Red-breasted nuthatches, mountain chickadees, steller jays, male and female northern flickers, dark-eyed juncos, male and female hairy woodpeckers, clarks nutcracker and a pine squirrel visiting. Mostly sunny at lunch time, high of 28 degrees. The sun was behind the ridge before 320pm, mostly clear and cold. Clear and cold at dusk. Clear and cold at midnight.
Tuesday (Dec 29) overnight low of -2 degrees, clear sky and estimate 8″ old snow on the ground. Chickadees, nuthatches, flickers, hairy and downy woodpeckers, juncos and jays visiting. Clear and sunny at lunch time, high of 27 degrees. Cloudy by early afternoon. Mostly cloudy (high thin haze and wispies) just after sunset and cold. Looked about half cloudy at dusk, temperature dropping quickly. Hazy almost full moon up after dark. Hazy before midnight, filtered moonlight. Snow fell some time after 6am.
Wednesday (Dec 30) 24 hour low of 0 degrees from Tuesday morning, this morning at 1030am it was 23 degrees, overcast and snowing lightly, measured 1/2″ new snow (SWE=0.03″) and 9″ total snow on the ground. Several chickadees, red-breasted nuthatches, hairy and downy woodpeckers, flickers and jays – and the crazy pine squirrel visiting. Steady snow before lunch time. Mail truck made it in right on time. Low overcast and break in the snow after lunch time, high of 32 degrees. Low clouds, hovering right at freezing and light snow falling early afternoon. Cloudy and breezy after sunset, occasional flake of snow. Steady light snow at dusk. Cloudy (full moon hidden) and snowing lightly before midnight. Probably snowed most of the night.
Thursday (Dec 31) 24 hour low of 23 degrees from Wednesday morning, this morning it was 29 degrees at 1030am, low overcast (socked in) and snowing lightly, measured 2 1/4″ new snow (SWE=0.15″) and 11″ total snow on the ground. Chickadees, nuthatches, hairy woodpecker, flicker, clarks nutcracker, jays and the opinionated pine squirrel here. Ridges socked in and light snowfall at lunchtime, high of 34 degrees. Break in the snow early afternoon. Overcast and above freezing just before sunset. Just below freezing at dusk and not snowing. High thin clouds and fuzzy just past full moon before midnight.
Friday (Jan 1) overnight low of 21 degrees, overcast sky with a few thin spots this morning, measured 11″ snow on the ground. Lots of fox tracks! Chickadees, nuthatches, downy woodpecker, jays and the pine squirrel visiting. Cloudy at lunch time, high of 36 degrees. Breezy and cloudy early afternoon. Dark overcast at sunset and calmer. Quiet and cloudy before midnight.
Saturday (Jan 2) overnight low of 26 degrees, 1/2″ new snow fell early morning (SWE=0.03″) and an average of 11″ on the ground, low overcast and light snow falling this morning. Clark's nutcracker, chickadees, nuthatches, jays and the pine squirrel visiting. Quit snowing before lunch time, high of 36 degrees. Gray overcast all afternoon. Not snowing at dusk. Gusty breezes after midnight, no snow yet. Snowed early morning.
Sunday (Jan 3) overnight low of 30 degrees, 1 1/2″ of new heavy wet snow fell early morning (SWE=0.17″) and an average of 12″ on the ground, overcast sky and an occasional flake of snow. Lots of chickadees this morning, several jays and the pine squirrel visiting, later a male northern flicker stopped by. Socked in and steady snow before lunch time. Partly sunny after lunch time and melting, high of 42 degrees. Partly cloudy at sunset (approx 335pm.) Cooling off and mostly clear at dusk.
———————
Idaho News:
1,213 new Idaho COVID-19 cases, 33 new deaths
Dec 31, 2020 Local News 8
Idaho officials reported 1,213 new COVID-19 cases and 33 new deaths on Thursday.
That brings the total confirmed and probable cases reported since March to 141,077.
There are a total of 116,717 confirmed cases and 24,360 probable cases in all 44 of the 44 counties in Idaho, according to numbers released from the local health districts and the state. …
33 new deaths were reported bringing the total recorded deaths to 1,436.
full story:
— — — —
Idaho Deaths Thursday, December 31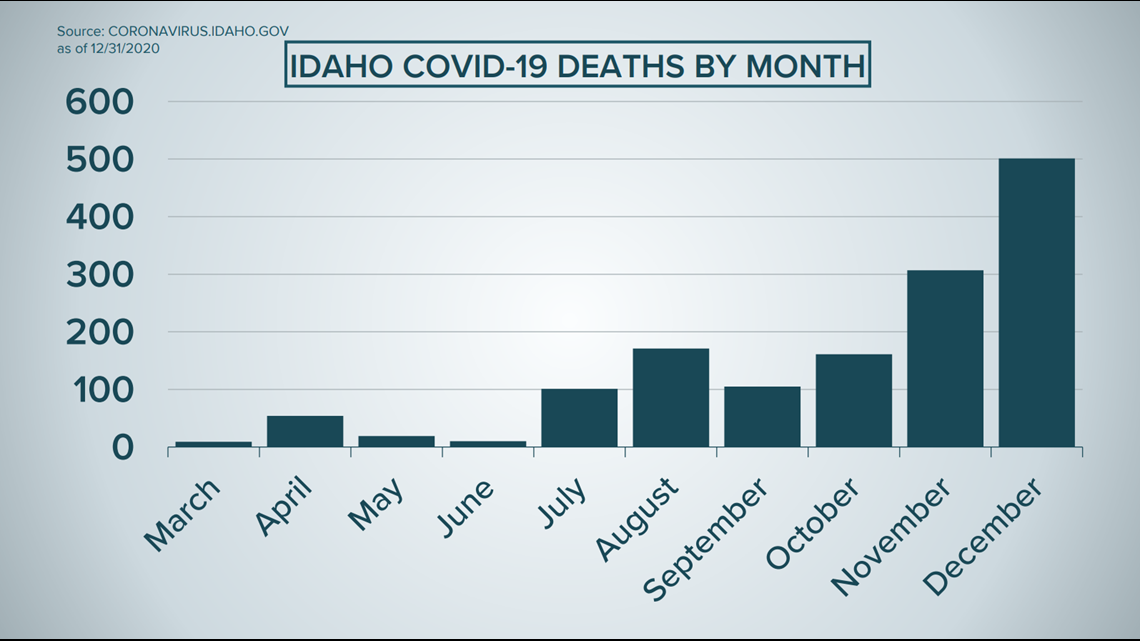 Idaho Cases Tuesday, December 29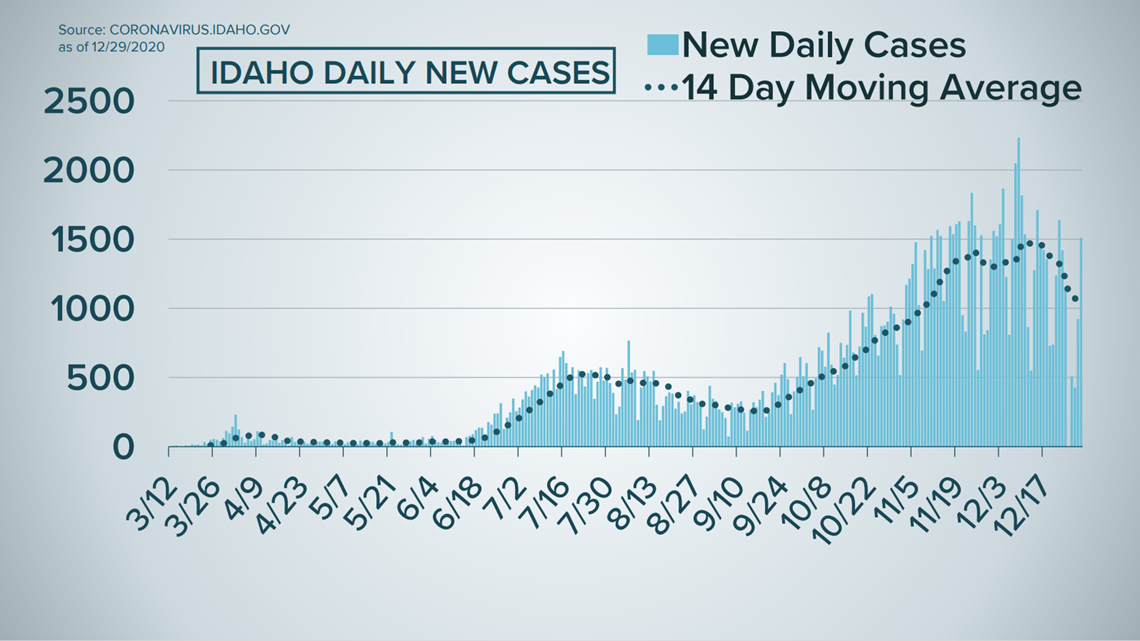 source: KTVB
— — — — — — — — — —
Valley County COVID-19 cases reach 474, up 34 in week
By Tom Grote for The Star-News Dec 31, 2020
The total number of positive COVID-19 cases in Valley County since the start of the pandemic surged to 474 cases by Tuesday, up 34 cases from 440 a week ago, health officials said.
St. Luke's McCall on Tuesday reported 388 total positive cases from testing done at the hospital, up 31 cases from 357 a week ago.
Cascade Medical Center reported 86 positive cases through Monday, or three more than the 83 cases reported last week.
Central District Health reported 380 of the positive cases were confirmed to be Valley County residents as of Tuesday, which is 58 more than the 322 cases reported a week ago.
The difference between the hospital figures and the health department figures are those who tested positive but did not declare Valley County as their residence.
Three deaths of Valley County residents related to COVID-19 have been reported.
continued:
— — — — — — — — — —
Starting Jan. 1, police to start issuing citations for hands-free ordinance
by CBS2 News Staff Wednesday, December 30th 2020
Starting January 1st, Idaho will transition from giving warnings to citations for using your phone will driving.
Idaho's Hands-Free Law went into effect in July, but there has been a grace period of no citations.
Even if you are at a red light, you can't pick up your phone to check messages or make a call. Three offenses could get your license suspended for 90 days, so use caution on the road
continued:
———————–
Public Lands:
Idaho land board dismisses request to quash cell tower plan
by Associated Press Saturday, January 2nd 2021
The Idaho Board of Land Commissioners has turned down a request from two Idaho nonprofits to contest a proposed lease that would allow a 195-foot cellular tower to be built in the Sawtooths as part of the nationwide first responders' network, FirstNet.
The board voted unanimously to reject appeals from the Idaho Conservation League and Sawtooth Interpretive and Historical Association.
Conservation groups and Stanley residents have raised concerns about the proposed tower, which would be built by telecommunications company AT&T.
Opponents say the tower would mar the natural beauty of the Sawtooth Valley and popular nearby Redfish Lake.
source:
——————
Critter News:
FDA issues pet food alert after 28 dogs are reported dead from toxin
Dec 31, 2020 Local News 8
The Food and Drug Administration is alerting pet owners about high levels of aflatoxin in some pet foods after 28 dogs reportedly died and eight others were sickened.
The food containing the toxin has been identified as certain Sportmix products manufactured by Midwestern Pet Foods. The products were voluntarily recalled by the company on Wednesday.
The FDA and the Missouri Department of Agriculture are working with the manufacturer to determine whether more products contain high levels of the toxin. The FDA said the investigation is ongoing and the "scope of the recall may expand as new information becomes available."
continued:
— — — — — — — — — —
BLM wild horse auction begins Tuesday
Dec 30, 2020 Local News 8

BLM
46 wild horses will be put up for an online corral adoption beginning next Tuesday, January 5 and continuing through January 12 at the Wild Horse and Burro Online Corral. The horses were gathered from the Saylor Creek Herd Management Area south of Glenns Ferry last August.
According to BLM, the horses range in age from one to 23 years old and are now being cared for at the Boise Wild Horse Corrals. Adopted horses will only be available for local pickup at the Boise corrals from Jan. 29-30. Each of the Saylor Creek horses is eligible for the Adoption Incentive Program, which allows qualified adopters to receive up to $1,000 when adopting an untrained wild horse or burro.
"The horses selected for this adoption exhibit a nice range for size, color and ages," said Jarbidge Wild Horse and Burro Specialist Katie Shewmaker.
continued:
— — — — — — — — — —
Boise Police rush small owl to emergency vet after morning accident
by CBS2 News Staff Tuesday, December 29th 2020

Courtesy of Boise Police Department
"Who who whoo saved this owl?"
Boise Police Department officers responded to a call Tuesday morning from a couple who hit this little owl with their car.
"They quickly realized it was alive, just injured and scared, so they grabbed the owl in a jacket and put it in their car," BPD said in a Facebook post. "Our officers were able to wrap the owl up in a towel and take it to the emergency vet."
The owl is being examined and BPD is hoping for a full recovery.
source:
— — — — — — — — — —
Over 100 ducks near Salmon died of acute fungal infection
Dec 28, 2020 KIVI
Idaho state and federal officials say they have received indication that over 100 mallard ducks near Salmon died of an acute fungal infection. Idaho Fish and Games says the cause of death is almost certainly acute Aspergillosis.
Aspergillosis is a respiratory tract infection caused by a fungus found in soil, dead leave, moldy grain, compost piles or in other decaying vegetation. Fungal cultures in two of three ducks tested showed growth of Aspergillus fungi.
IDFG says final confirmation is pending according to the most recent update from the National Wildlife Health Center in Madison, Wisconsin. The fungus can cause severe respiratory tract infections in birds that inhale the spores but it cannot be passed from one infected duck to another.
continued:
— — — — — — — — — —
Fish and Game asking for information after geese found dead
By Katie Kloppenburg Dec 30, 2020 KIVI
Idaho Fish and Game (IDFG) asks for help finding those responsible for dumping nine Canada geese along the Snake River in Minidoka County. IDFG officers received a report on Tuesday about the geese, which were all intact when found with no meat taken.
The geese were likely dumped either the evening of December 28 or early on December 29, according to Senior Conservation Officer Aaron Adruska.
continued:
— — — — — — — — — —
Conservation officers investigate wasted ducks
Dec 31, 2020 Local News 8
About a dozen dead duck carcasses were dumped on the side of Hall Road in McCammon.
The Idaho Department of Fish and Game received a Citizens Against Poaching tip on Christmas Day. The ducks were a mixture of common goldeneyes, gadwalls, and mallards. Some had been cleaned with breast meat removed. Others were left to waste, which is a violation of state code.
continued:
— — — — — — — — — —
Angler sets Idaho record with 4.8-pound tiger trout
by CBS2 News Staff Tuesday, December 29th 2020

Courtesy of Idaho Fish and Game)
An angler set an Idaho state record after catching a 4.8-pound tiger trout.
Gatlynn Mayes hooked this big fish out of Becker Pond in Idaho Falls. Mayes brought the 24-inch tiger into Idaho Fish and Game on Dec. 16 and weighed it after a day of ice fishing with his father.
Becker Pond produces state record tiger trout
The previous record for tiger trout was caught in 2018 and came out of Deer Creek Reservoir with a weight of 4.04 pounds.
continued:
——————-
Fish & Game News:
More F&G News Releases
link:
———————————-
Crazy Critter Stuff:
Residents of a Queens neighborhood are dealing with a squirrely threat.
by Associated Press Thursday, December 31st 2020
Denizens of the New York City borough's Rego Park neighborhood say an aggressive squirrel has jumped on them and bitten them in the past several weeks, WCBS-TV reported Wednesday.
Micheline Frederick pointed to a bruise on her wrist where she said the squirrel landed on her and then sank its teeth into her fingers and hand.
"We're wrestling in the snow and there's blood everywhere and my fingers getting chewed and it won't let go," Frederick said. "Eventually, it just stopped and there I was a big bloody mess."\

—————–
Seasonal Humor:
2020 Observations
1. The dumbest thing I ever bought was a 2020 planner.
2. I was so bored I called Jake from State Farm just to talk to someone. He asked me what I was wearing.
3. 2019: Stay away from negative people. 2020: Stay away from positive people.
4. The world has turned upside down. Old folks are sneaking out of the house and their kids are yelling at them to stay indoors!
5. This morning I saw a neighbor talking to her dog. It was obvious she thought her dog understood her. I came into my house and told my cat. We laughed a lot.
6. Every few days try your jeans on just to make sure they fit. Pajamas will have you believe all is well in the kingdom.
7. Does anyone know if we can take showers yet or should we just keep washing our hands?
8. This virus has done what no woman has been able to do. Cancel sports, shut down all bars and keep men at home!
9. I never thought the comment, "I wouldn't touch him/her with a 6-foot pole" would become a national policy, but here we are!
10. I need to practice social-distancing from the refrigerator.
11. I hope the weather is good tomorrow for my trip to the Backyard. I'm getting tired of the Living Room.
12. Never in a million years could I have imagined I would go up to a bank teller wearing a mask and ask for money.
— — — — — — — — — —

——————-