Jan 10, 2021 The Yellow Pine Times – Valley County, Idaho
Reminder: We are still under a boil water order until further notice.
Community Calendar:
Apr 17 – Boil water order issued
Aug 11 – Valley County Mask Order
Jan 16 – Annual Chili Cook Off 3pm Community Hall
(details below)
———-
From Valley County
Valley County Mask-Up
A county-wide mask mandate was approved the CDH August 11th, and is now in effect for Valley County. (link)
——————-
Local Events:
Chili Cook-Off Jan 16
Saturday, January 16, 2021, 3pm – Annual Chili Cook-Off at the Community Hall. If you are interested in judging the contest, please notify one of the VYPA Council Members. Feel free to bring a side dish if you are not competing but plan on attending.
———-
Village News:
Yellow Pine 2020 Year in Review (link)
— — — —
Jan 5
There was a halo around the setting sun Tuesday afternoon.
by Local Color Photography
— — — —
Fest 2021
Anyone interested in being a part of the Festival Planning/Working committee, please contact Deb Filler. Meetings will begin at the end of January. Even if you aren't physically in YP, you can participate in the committee.
— — — —
Yellow Pine General Store
Please welcome Josh Jones as the new owner of the Yellow Pine General Store.
— — — —
Critters
Be Fox Aware
* Do not feed foxes human food
* Feed domestic pets indoors
* Make sure your pets are updated on Rabies vaccines
* Small pets could become a snack
Be Mountain Lion Aware
* NEVER run away from a mountain lion. The lion's instinct is to chase and ultimately catch what they perceive as potential prey.
* NEVER turn your back on a lion. Always face them while making yourself look as large as you can. Yell loudly, but don't scream. A high-pitched scream may mimic the sound of a wounded animal.
* SLOWLY back away while maintaining eye contact with the lion.
* Safety equipment you may choose to carry could include bear spray, a noise device, like an air-horn, and if you walk in the dark, a very bright flashlight.
* If you are attacked, fight back!
— — — —
Road Reports
Link: to current road reports.
— — — —
Yellow Pine US Mail
The 3-day a week mail delivery started Nov 2nd. The Post Office in Yellow Pine is open six days a week year around: M-F 845am-245pm Saturday 9am-245pm. Forever Stamp: 55 cents. Support our local post office and purchase your holiday stamps here.
— — — —
Yellow Pine Transfer Station
Yellow Pine Transfer Station (aka, the dump)
Please do not abuse our Transfer Station or we may lose it. Household trash must be placed in the bins, flattened cardboard boxes can also go into the bins. Do not stack trash in front of the doors. Woody yard debris only for the burn pile. No furniture, appliances, tires or construction debris allowed, those items must be hauled out to the Donnelly station by you.
The Yellow Pine Transfer Station is Valley County responsibility. If it is not kept tidy, use of the Transfer Station may be revoked. That would result in residents having to take all household trash and yard waste to the Donnelly Transfer Station.
If Dumpsters Are Full, Contact Lake Shore Disposal at: (208) 634-7176
———-
Local Groups
YPWUA News:
The annual Water meeting for 2020 was held July 5th at the Community Hall 2pm.
link: minutes 20200705YPWUA.docx
Boil Water Order issued April 17, 2020. This could last until leaks are repaired.
Update Nov 29: Warren replaced the water meter because of inconsistent readings. With the new meter, the community is currently using over 55,000 gallons of water per day. A leak has been identified and will be repaired as soon as we can coordinate the contractor, equipment needed and weather together. It is difficult to get everything planned in the winter. When the repair is scheduled, the community will have a few days notice before the water is shut down. Since we are using more water than the rated use through the sand filters, the boil order will remain in effect. We continue the grant request process that is extremely slow. – Steve H
Update Nov 25: the boil order is still in effect due to the large quantity of water that is leaking from the system. – Warren D
Boil Water Advisory Notice
Boil Your Water Before Using
Bring tap water to a rolling boil, boil for one minute, and cool before using or use bottled water. Boiled or bottled water should be used for drinking, making ice, washing dishes, brushing teeth, and preparing food until further notice.
This Boil Water Advisory Notice applies to The Yellow Pine Water System
The system is being monitored and checked daily for compliance.
You will be informed when you no longer need to boil your water.
Please share this information with other people who drink this water, especially anyone who may not get this notice directly (for example, people in apartments, nursing homes, schools, and businesses).
You can do this by posting this notice in a public place or distributing copies by hand or mail.
State Water System ID#: 4430059 Date distributed: 3-22-2020
Notice of Intent to File an Application with USDA, Rural Development
The Yellow Pine Water Users Association, Yellow Pine, Idaho intends to file an Application with USDA, Rural Development to obtain a drinking water system facility Emergency Community Water Assistance Grant (ECWAG). Emergency Community Water Assistance Grant (ECWAG).
If any additional information is needed, please contact:
Willie Sullivan
Treasurer
ypwater @ gmail.com
Distributed to Yellow Pine Water Users Association customers via Yellow Pine Times on June 12, 2020.
— — — —
VYPA News:
VYPA Meetings are the 2nd Saturday of June, July, August, and September (June 12, July 10, August 14, September 11) at 2:00pm at the Community Hall.
Village Council members:
Deb Filler, Chairman
Matt Huber, Vice Chairman
Ronda Rogers, Treasurer
Rhonda Egbert, Secretary
Ron Noel, Member at Large
Anyone interested in being a part of the Festival Planning/Working committee, please contact Deb Filler. Meetings will begin at the end of January. Even if you aren't physically in YP, you can participate in the committee.
VYPA Bylaws adopted 8/8/2020 (link)
YPAC Corp Bylaws (link)
— — — —
YPFD News:
After Action Report meeting Oct 13, 2020 (no minutes yet.)
YPFD had a budget meeting on September 30th at 10am at the fire station. (No minutes yet.)
Make sure to keep your chimney clean. Cleaning brushes can be borrowed from the YPFD.
YPFD COVID19 Policy
link: YPFD Covid 19 SOP
link: Covid-19 EMS (May 23)
Pile burning: Dress appropriately, have enough help on hand (people, water and tools) and make a firebreak before you start. Call your local fire protection district chief to let them know you'll be conducting a debris burn. This saves them from sending emergency responders to your property if they are not needed. Do NOT burn on breezy afternoons.
Better yet, "Bring It, Don't Burn It", you can take your yard waste (limbs, pine needles, brush, etc.) to the burn pile at the Transfer Station on the south end of the turn-around. Remember, keep the pile neat. Woody debris only, no nails, no cardboard and no furniture! The Boise NF will burn the pile in the fall when it is safe and doesn't pollute our fine YP air.
YP Fire Commissioners:
Sue Holloway – District 1
Dan Stiff – District 2
Merrill Saleen – District 3
(TBA) – Fire Chief
Yellow Pine Fire Protection District Community Service Notice
The purpose of this letter is to show how you as a Yellow Pine Resident can help protect your structure against a wildland fire by being "Fire Wise." Click the link: to view 20190724 Yellow Pine Fire Protection mitigation
——–
Biz Listings:
The Corner (208) 633-3325
Starting Nov 3rd open 3 days a week on mail days.
— — — —
Yellow Pine Tavern (208) 633-2233
Winter Closure: November 14, 2020 to April 16, 2021
— — — —
Yellow Pine Lodge (208) 633-3377
Closed Nov 3rd for winter.
— — — —
Yellow Pine General Store (208) 633-3300
New owner, plans to open this spring.
— — — —
Murph's RV Park & Mary's Cabins
FB page link
— — — —
Knotty Kat Crochet Works – 208-502-0940
FB page link
open Tue – Sat, 9-5
Yellow Pine eggs $3/doz
— — — —
Buck Horn Outfitters LLC 208-633-3614
Tom & Sarah Lanham
156 Yellow Pine Ave, Yellow Pine Id 83677
website:
Facebook:
Wapiti Meadow Ranch – Johnson Creek (208) 633-3217
or 208-315-3554 – cabin rentals
website:
Deadwood Outfitters
website:
— — — —
Local Fuel Suppliers
Amerigas Phone: (208) 634-8181
Ed Staub & Sons Phone: (208) 634-3833
Diamond Fuel & Feed Phone: (208) 382-4430 open 830am-5pm Monday-Friday, closed weekends.
— — — —
Outside Biz that will service Yellow Pine:
The Star-News


click to subscribe:
A reminder that those who live in other states can subscribe to the online edition only since the mail can take days for hard copy to reach them.
Rocky Mountain Mechanical – Plumbing – Heating – Air conditioning
(208) 365-PIPE (7473), Emmett, will service Yellow Pine
Elkhorn Heating & Cooling
(208) 906-4067 Middleton, Idaho, will service Yellow Pine
B&T Safety Solutions LLC
208-271-1600 Based out of Donnelly
Snow removal, cleaning chimneys and stoves, we do cabin staining/chinking as well
— — — —
Follow The Yellow Pine Times on Facebook (updated more often than emails)
———————–
Local Observations:
Monday (Jan 4) overnight low of 18 degrees, a trace of new snow this morning and an average of 12″ of snow on the ground, overcast and snowing lightly this morning. Chickadees, nuthatches and jays visiting. Break in the snow around lunch time, high of 34 degrees. Nutty pine squirrel stopped by. Snow then rain/snow mix early afternoon. All rain by sunset, ridges socked in. Still above freezing and raining at dusk. Rain/snow mix then all snow by midnight. More snow during the night.
Tuesday (Jan 5) overnight low of 25 degrees, 2 1/4″ new snow (rain+melted snow=0.49″) and 13″ total snow on the ground, mostly cloudy sky this morning. The snow was light and fluffy but on top of a layer of half frozen slush. Red-breasted nuthatches, mountain chickadees, downy and hairy woodpeckers and jays visiting. Mostly cloudy at lunch time, bits of sunshine and icicles dripping, high of 38 degrees. Pine squirrel made a "dramatic entrance" early afternoon. Mostly high thin clouds at sunset, with a dark rainbow over the sun. Below freezing at dusk and partly clear. Stars out before midnight.
Wednesday (Jan 6) overnight low of 12 degrees, mostly cloudy sky this morning and measured 12″ old snow on the ground. Lots of red-breasted nuthatches and several jays visiting, crazy pine squirrel making a fuss. Still below freezing and mostly cloudy at lunch time, high of 34 degrees. Mail truck was running a few minutes late today. Mostly cloudy and a hair above freezing at sunset. Snowing after midnight.
Thursday (Jan 7) 24 hour low of 16 degrees from Wed morning, overcast sky this morning, measured a scant 1 1/2″ new snow (SWE=0.11″) and 13″ total snow on the ground. Nuthatches, chickadees, jays, hairy and downy woodpecker, possible white-crowned sparrow and a pine squirrel visiting. Cloudy and icicles dripping after lunch time, high of 35 degrees. Right at freezing just after sunset and mostly cloudy. At dark it was a little below freezing and cloudy. Clearing off some before midnight and cold.
Friday (Jan 8) overnight low of 8 degrees, partly hazy sky this morning, and measured 12″ of snow on the ground. Chickadees, nuthatches, jays, hairy and downy woodpeckers, flicker and the pine squirrel visiting. Overcast after lunch time, high of 31 degrees. Below freezing and overcast at sunset. Cold and cloudy at dusk. Snow after dark, stopping before midnight.
Saturday (Jan 9) 24 hour low of 14 degrees from Friday morning, overcast sky this morning, measured 1/4″ new snow (SWE=0.01″) and 12 inches snow on the ground. Lots of fox tracks this morning. Jays, nuthatches, chickadees, hairy and downy woodpeckers and the pine squirrel visiting. Very quiet, no human sounds, just birds. Breaks in the clouds after lunch time, big patches of blue sky, high of 38 degrees. Mostly clear at sunset and below freezing. Very quiet. Cold and looks clear at dusk. Clear sky and sparkly stars before midnight. Cloudy by daylight.
Sunday (Jan 10) overnight low of 7 degrees, overcast sky this morning, measured 12″ old snow on the ground. Jays, nuthatches and pine squirrel visiting. Filtered sun thru the overcast at lunch time, high of 35 degrees. Mostly high thin clouds and haze just before sunset, and a little below freezing. Temperature dropping at dusk.
—————–
Poem to Share:
There's a clever young fellow named Somebody Else.
There's nothing that fellow can't do.
He's busy from morning till late at night
Just substituting for you.
You're asked to do this or asked to do That.
And what is your reply?
Oh, why pick on me, Get Somebody Else
He'll do it much better than I.
You've a worn-out excuse on the tip of Your tongue
Too busy, too something-or-other.
When the truth of the matter is
You simply don't want to bother.
So much to do in this weary old world,
So much, and the workers so few,
And Somebody Else is all tired and worn
Just substituting for you.
'Tis time that faithful old Somebody Else
Gets a much-needed vacation –
Suppose you start substituting for him
And build up your own reputation."
Author unknown.
—————-
Idaho News:
1,085 new Idaho COVID-19 cases, 6 new deaths
Jan 8, 2021 Local News 8
Idaho officials reported 1,085 new COVID-19 cases and 6 new deaths on Friday.
That brings the total confirmed and probable cases reported since March to 148,258.
There are a total of 121,954 confirmed cases and 26,304 probable cases in all 44 of the 44 counties in Idaho, according to numbers released from the local health districts and the state. …
The state said 9 vaccine doses have been administered and 26,806 people have received the vaccine. …
6 new deaths were reported bringing the total recorded deaths to 1,523.
full story:
— — — —
Idaho Monday, January 4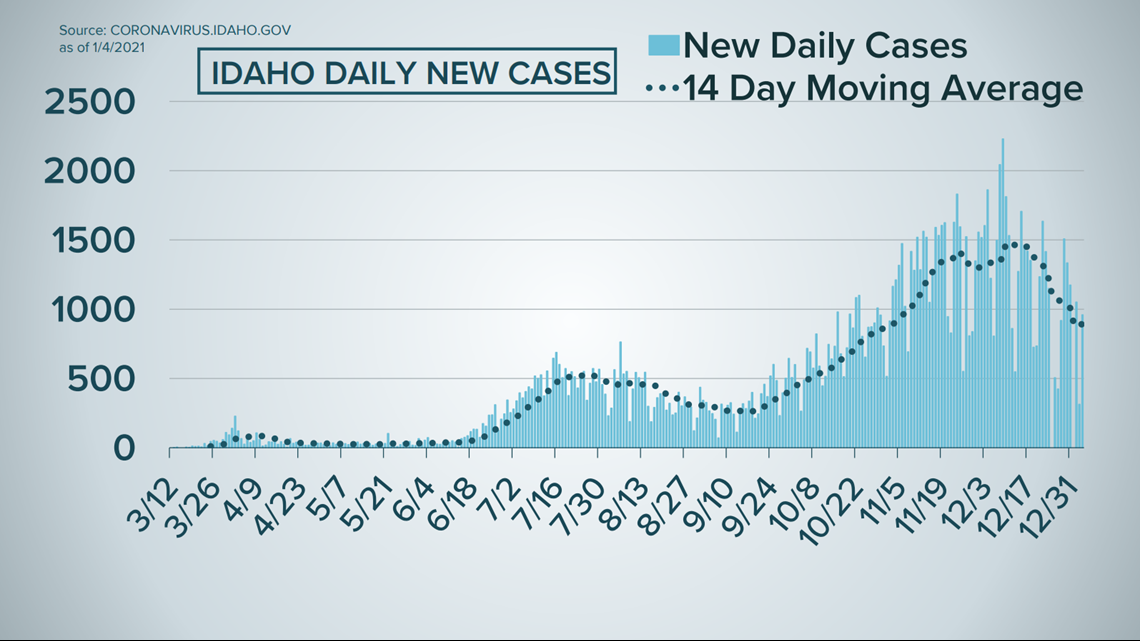 source: KTVB
— — — — — — — — — —
Valley County COVID-19 cases reach 521, up 47 in week
By Tom Grote for The Star-News Jan 7, 2021
The total number of positive COVID-19 cases in Valley County since the start of the pandemic surged to 521 cases by Tuesday, up 47 cases from 474 a week ago, health officials said.
St. Luke's McCall on Tuesday reported 432 total positive cases from testing done at the hospital, up 44 cases from 388 a week ago.
Nearly 60 percent of the about 300 employees at St. Luke's McCall will have received the first of two required doses by Friday, said Amber Green, St. Luke's McCall Chief Operating Officer/Chief Nursing Officer.
"St. Luke's McCall is working to vaccinate employees who choose to be vaccinated as quickly as possible," Green said.
Cascade Medical Center reported 89 positive cases through Monday, or three more than the 86 cases reported last week.
About half of the 60 employees of the Cascade hospital received the first dose of the vaccine two weeks ago with the second dose to be given next week, CEO Tom Reinhardt said. "We have a list of additional CMC staff and EMS personnel who want the vaccine as soon as we receive another shipment," Reinhardt said.
Central District Health reported 414 of the positive cases were confirmed to be Valley County residents as of Tuesday, which is 34 more than the 380 cases reported a week ago.
The difference between the hospital figures and the health department figures are those who tested positive but did not declare Valley County as their residence.
Three confirmed deaths of Valley County residents related to COVID-19 have been reported.
continued:
— — — — — — — — — —
McCall city council passes advisory to lessen COVID impact
by CBS2 News Staff Thursday, January 7th 2021
The city of McCall has approved an advisory order that aims to lessen the impact of COVID-19 in the mountainous community.
The advisory urges everyone to follow the Central District Health Advisory passed back in November that asks folks to abide by the mask order, work from home if possible, minimize non-essential travel, suspend visits to congregate living facilities, avoid social gatherings with others who do not live in your immediate household, if 65 years of age or older or those with health conditions to avoid contact with anyone outside their household; special recommended guidance for businesses, places of worship, non-school sports, bars and gyms.
A mask mandate has been in place for Valley County since Aug. 11.
Hospital officials and Central District Staff have reported to the McCall mayor that they're seeing an increase of positive tests and "as tourist (destinations), McCall and Valley County have the potential to add to the current level community spread."
source:
— — — — — — — — — —
Poor addressing causes headaches for responders
County law says numbers must be at least 3-1/2 inches tall
By Max Silverson for The Star-News Jan 7, 2021
Medical responders from Donnelly Fire & EMS once rushed to a home in the Wagon Wheel Subdivision near Donnelly only to find that three homes shared the same driveway with no posted address.
"We had to go home by home looking for the patient," Donnelly Fire Chief Juan Bonilla said.
… A Valley County ordinance requires the addresses of home in rural areas to be properly marked, but that often is not the case, McCall Fire & EMS Chief Garrett de Jong said.
… Cascade Fire Chief Steven Hull said it is particularly difficult to identify the correct location at night if the address numbers do not reflect light.
"This is extremely important at night," Hull said. "When they are reflective, we can shine a light on the residence to see the number."
… Valley County's ordinance requires all homes to have an address posted.
full story:
— — — — — — — — — —
McCall, ITD look at Idaho 55 swap
Change would reduce volume of traffic through town
By Drew Dodson for The Star-News Jan 7, 2021
Moving Idaho 55 from its current route through town to Deinhard Street and Boydstun Lane is under study by the City of McCall and the Idaho Transportation Department.
The proposal would see the city and ITD swap ownership of the corridors in order to divert Idaho 55 traffic around the town.
Over the last 20 years, the number of vehicles passing through downtown McCall on Idaho 55 increased from an average of 8,800 per day to 11,000 per day, according to a study of the proposed exchange presented recently to the McCall City Council.
continued:
———————
Public Lands:
New Start – JaBob Mining Project: Decision Notice Signed
1/5/2021 Boise National Forest
Dear Interested Party,
The Idaho City District Ranger has signed the Decision Notice for the New Start – JaBob (NSJB) Mining Project Plan of Operations.
A copy of the Environmental Assessment, Finding of No Significant Impact, and Decision Notice for the NSJB Project can be found on the project webpage at (link) (see Analysis and Decision tabs).
If you would like further information about the project please contact Travis Whitman, Minerals Administrator, at Travis.Whitman@usda.gov or by phone at 208-392-3701.
— — — — — — — — — —
Little Weiser Forest Resilience Project – Decision Memo signed
1/5/2021 Payette National Forest
Dear Interested Party,
The Little Weiser Forest Resilience Project Decision Memo has been signed by Payette National Forest, Forest Supervisor, Linda Jackson on January 4, 2021. Implementation may begin immediately as it is not subject to the administrative review process (Agriculture Act of 2014 [Pub. L. No. 113-79], Subtitle A, Sec. 8006) but will likely begin spring or summer of 2021.
The Little Weiser Forest Resilience Project area is 14,370 acres in size and located approximately 15 miles southeast of Council, Idaho in Adams County. The Project is on Council Ranger District of the Payette National Forest, within the Weiser River drainage, including the Upper Little Weiser River, Anderson Creek, and Grays Creek subwatersheds. The Project authorizes commercial and noncommercial vegetation treatments, prescribed fire, trail maintenance, trail reroutes, road maintenance, road storage, road decommissioning, and temporary road construction.
The Decision Memo and Categorical Exclusion Review Form, along with all other pertinent project documents, are posted on the Project webpage. (link)
Additional information regarding this project can be obtained from: Mark Fox (project lead), 2092 Highway 95, Council, Idaho, 83612, (208)253-0164, mark.fox@usda.gov.
——————-
Critter News:
Pet Talk – Atrial fibrillation in dogs
By Dr. Karsten Fostvedt Jan 8, 2021 IME
Atrial fibrillation is an abnormal heart rhythm caused by rapid irregular contractions of the upper chambers, or atria, of the heart. Because the heart is beating faster and more irregularly than normal, it does not fill or pump blood properly. Failure to pump blood normally can result in fluid accumulation in the lungs, chest, or abdomen, and can lead to weakness in heart failure.
The most common cause of atrial fibrillation is advanced heart disease. Advanced heart disease in dogs may include degeneration and leakage of heart valves, diseases of the heart muscle which is called cardiomyopathy, and certain congenital heart deformities. It is especially common in large breed dogs. Clinical signs are primarily weakness and inability to exercise. Fainting episodes may occur.
An electrocardiogram is needed to confirm the presence of atrial fibrillation. Additional tests, such as chest x-rays and cardiac ultrasounds may be performed. Treatment is initially directed at any underlying heart disease or heart failure and may include drugs to increase cardiac contractility and decrease fluid retention. Drugs such as pimobendan, furosemide, digoxin, diltiazem, beta blockers are commonly used. In people, a procedure called electrical cardioversion is performed. This procedure is not always successful in our canine patients, as recurrence of atrial fibrillation is common after the procedure.
Dogs with advanced heart disease and atrial fibrillation may live 3-12 months, depending on the type and severity of their heart disease. Giant breed dogs with idiopathic atrial fibrillation can live for years; however their atrial fibrillation can progress to serious heart disease, especially dilated cardiomyopathy. Every dog should have its heart checked annually by a veterinarian, especially if there are signs of weakness and episodes of fainting.
source:
——————-
Fish & Game News:
Two bull elk killed illegally and left to waste in Gooding County
By Terry Thompson, Regional Communications Manager
Friday, January 8, 2021
Fish and Game asks for the public's help in finding those responsible for poaching two bull elk and left to waste in Gooding County, north of Bliss.
In late November, while a cow elk hunt was underway in the Smoky-Bennett Zone, two bull elk were illegally killed in separate incidents in Game Management Unit 45, north of Bliss, ID. Both elk were left to waste.
There were no antlered elk hunts in Unit 45 at the time of these poaching incidents.
continued:
— — — — — — — — — —
Two cow elk shot and left to waste on Magpie Grade off Reubens-Gifford Rd.
By Jennifer Bruns, Regional Communications Manager
Thursday, January 7, 2021
On the morning of Monday, January 4, 2021, two cow elk were discovered shot and left to waste in a field near mile marker 7 on the Reubens-Gifford Rd (Magpie Grade).
The elk were part of a small herd that had been seen in the area recently and one was pregnant with a calf due this spring. No edible meat was removed from either cow and they were not able to be salvaged.
It appears the animals were shot from the road on the night of Sunday, January 3 or early morning hours of January 4.
continued:
— — — — — — — — — —
More F&G News Releases
link:
———————————-
Crazy Critter Stuff:
Video shows Utah man rescue fawn trapped on thin ice on frozen lake
by Adam Forgie, Matthew Sampson, KUTV Thursday, December 24th 2020
An ice fishing trip at Panguitch Lake in Garfield County, Utah turned into a heroic rescue for Bransen Jackson after he spotted a young fawn trapped on the frozen lake, and it was all caught on video.
continued: w/more photos and video
——————-
Seasonal Humor:

———————