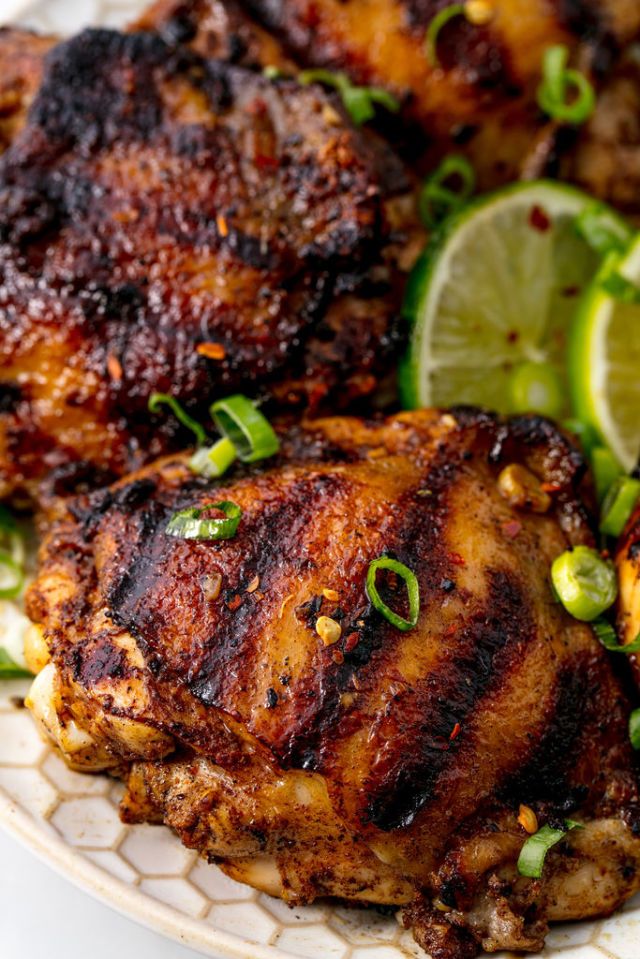 Yield 4 servings
Ingredients
For the Chicken
1 bunch green onions, plus more thinly sliced for garnish
2 cloves garlic
1 jalapeño, roughly chopped
Juice of 1 lime
2 tbsp. extra-virgin olive oil
1 tbsp. packed brown sugar
1 1/2 tsp. ground allspice
1 tsp. dried thyme
1/2 tsp. ground cinnamon
Kosher salt
8 pieces bone-in chicken drumsticks and thighs
Vegetable oil, for grill
Directions
In a blender, combine green onions, garlic, jalapen~o, lime juice, oil, brown sugar, allspice, thyme, cinnamon, 1 teaspoon salt, and 2 tablespoons water and blend until smooth. Set aside 1/4 cup.
Place chicken in a shallow dish and season with salt. Pour remaining marinade over chicken; toss to coat. Let marinate in fridge, turning once or twice, at least 2 hours or up to overnight.
When ready to grill, heat grill to medium-high and oil grates. Grill chicken, turning occasionally, until chicken is charred in spots, about 10 minutes.
Move chicken to a cooler part of the grill and brush with reserved marinade. Grill, covered, until chicken is cooked through, 10 to 15 minutes more.
– Delish
————————-