Jan 24, 2021 The Yellow Pine Times – Valley County, Idaho
Reminder: We are still under a boil water order until further notice.
Community Calendar:
Apr 17 – Boil water order issued
Aug 11 – Valley County Mask Order
(details below)
———-
From Valley County
Valley County Mask-Up
A county-wide mask mandate was approved the CDH August 11th, and is now in effect for Valley County. (link)
——————-
Local Events:
(Nothing submitted by deadline)
———-
Village News:
Nighttime Visitor

Photo taken Jan 18, 2021 by AP
— — — —
Yellow Pine General Store
Please welcome Josh Jones as the new owner of the Yellow Pine General Store.
— — — —
Critters
Be Fox Aware
* Do not feed foxes human food
* Feed domestic pets indoors
* Make sure your pets are updated on Rabies vaccines
* Small pets could become a snack
Be Mountain Lion Aware
* NEVER run away from a mountain lion. The lion's instinct is to chase and ultimately catch what they perceive as potential prey.
* NEVER turn your back on a lion. Always face them while making yourself look as large as you can. Yell loudly, but don't scream. A high-pitched scream may mimic the sound of a wounded animal.
* SLOWLY back away while maintaining eye contact with the lion.
* Safety equipment you may choose to carry could include bear spray, a noise device, like an air-horn, and if you walk in the dark, a very bright flashlight.
* If you are attacked, fight back!
— — — —
Road Reports
Link: to current road reports.
— — — —
Yellow Pine US Mail
The 3-day a week mail delivery started Nov 2nd. The Post Office in Yellow Pine is open six days a week year around: M-F 845am-245pm Saturday 9am-245pm. Forever Stamp: 55 cents. Support our local post office and purchase your holiday stamps here.
— — — —
Yellow Pine Transfer Station
Report Jan 24: The bins are reported to be 90% full. Hopefully Lakeshore will be coming in next week. Access has been plowed.
Yellow Pine Transfer Station (aka, the dump)
Please do not abuse our Transfer Station or we may lose it. Household trash must be placed in the bins, flattened cardboard boxes can also go into the bins. Do not stack trash in front of the doors. Woody yard debris only for the burn pile. No furniture, appliances, tires or construction debris allowed, those items must be hauled out to the Donnelly station by you.
The Yellow Pine Transfer Station is Valley County responsibility. If it is not kept tidy, use of the Transfer Station may be revoked. That would result in residents having to take all household trash and yard waste to the Donnelly Transfer Station.
If Dumpsters Are Full, Contact Lake Shore Disposal at: (208) 634-7176
———-
Local Groups
YPWUA News:
The annual Water meeting for 2020 was held July 5th at the Community Hall 2pm.
link: minutes 20200705YPWUA.docx
Boil Water Order issued April 17, 2020. This could last until leaks are repaired.
Update Nov 29: Warren replaced the water meter because of inconsistent readings. With the new meter, the community is currently using over 55,000 gallons of water per day. A leak has been identified and will be repaired as soon as we can coordinate the contractor, equipment needed and weather together. It is difficult to get everything planned in the winter. When the repair is scheduled, the community will have a few days notice before the water is shut down. Since we are using more water than the rated use through the sand filters, the boil order will remain in effect. We continue the grant request process that is extremely slow. – Steve H
Update Nov 25: the boil order is still in effect due to the large quantity of water that is leaking from the system. – Warren D
Boil Water Advisory Notice
Boil Your Water Before Using
Bring tap water to a rolling boil, boil for one minute, and cool before using or use bottled water. Boiled or bottled water should be used for drinking, making ice, washing dishes, brushing teeth, and preparing food until further notice.
This Boil Water Advisory Notice applies to The Yellow Pine Water System
The system is being monitored and checked daily for compliance.
You will be informed when you no longer need to boil your water.
Please share this information with other people who drink this water, especially anyone who may not get this notice directly (for example, people in apartments, nursing homes, schools, and businesses).
You can do this by posting this notice in a public place or distributing copies by hand or mail.
State Water System ID#: 4430059 Date distributed: 3-22-2020
Notice of Intent to File an Application with USDA, Rural Development
The Yellow Pine Water Users Association, Yellow Pine, Idaho intends to file an Application with USDA, Rural Development to obtain a drinking water system facility Emergency Community Water Assistance Grant (ECWAG). Emergency Community Water Assistance Grant (ECWAG).
If any additional information is needed, please contact:
Willie Sullivan
Treasurer
ypwater @ gmail.com
Distributed to Yellow Pine Water Users Association customers via Yellow Pine Times on June 12, 2020.
— — — —
VYPA News:
VYPA Meetings are the 2nd Saturday of June, July, August, and September (June 12, July 10, August 14, September 11) at 2:00pm at the Community Hall.
Village Council members:
Deb Filler, Chairman
Matt Huber, Vice Chairman
Ronda Rogers, Treasurer
Rhonda Egbert, Secretary
Ron Noel, Member at Large
Anyone interested in being a part of the Festival Planning/Working committee, please contact Deb Filler. Meetings will begin at the end of January. Even if you aren't physically in YP, you can participate in the committee.
VYPA Bylaws adopted 8/8/2020 (link)
YPAC Corp Bylaws (link)
— — — —
YPFD News:
After Action Report meeting Oct 13, 2020 (no minutes yet.)
YPFD had a budget meeting on September 30th at 10am at the fire station. (No minutes yet.)
Make sure to keep your chimney clean. Cleaning brushes can be borrowed from the YPFD.
YPFD COVID19 Policy
link: YPFD Covid 19 SOP
link: Covid-19 EMS (May 23)
Pile burning: Dress appropriately, have enough help on hand (people, water and tools) and make a firebreak before you start. Call your local fire protection district chief to let them know you'll be conducting a debris burn. This saves them from sending emergency responders to your property if they are not needed. Do NOT burn on breezy afternoons.
Better yet, "Bring It, Don't Burn It", you can take your yard waste (limbs, pine needles, brush, etc.) to the burn pile at the Transfer Station on the south end of the turn-around. Remember, keep the pile neat. Woody debris only, no nails, no cardboard and no furniture! The Boise NF will burn the pile in the fall when it is safe and doesn't pollute our fine YP air.
YP Fire Commissioners:
Sue Holloway – District 1
Dan Stiff – District 2
Merrill Saleen – District 3
(TBA) – Fire Chief
Yellow Pine Fire Protection District Community Service Notice
The purpose of this letter is to show how you as a Yellow Pine Resident can help protect your structure against a wildland fire by being "Fire Wise." Click the link: to view 20190724 Yellow Pine Fire Protection mitigation
——–
Biz Listings:
The Corner (208) 633-3325
Starting Nov 3rd open 3 days a week on mail days.
— — — —
Yellow Pine Tavern (208) 633-2233
Winter Closure: November 14, 2020 to April 16, 2021
— — — —
Yellow Pine Lodge (208) 633-3377
Closed Nov 3rd for winter.
— — — —
Yellow Pine General Store (208) 633-3300
New owner, plans to open this spring.
— — — —
Murph's RV Park & Mary's Cabins
FB page link
— — — —
Knotty Kat Crochet Works – 208-502-0940
FB page link
open Tue – Sat, 9-5
Yellow Pine eggs $3/doz
— — — —
Buck Horn Outfitters LLC 208-633-3614
Tom & Sarah Lanham
156 Yellow Pine Ave, Yellow Pine Id 83677
website:
Facebook:
Wapiti Meadow Ranch – Johnson Creek (208) 633-3217
or 208-315-3554 – cabin rentals
website:
Deadwood Outfitters
website:
— — — —
Local Fuel Suppliers
Amerigas Phone: (208) 634-8181
Ed Staub & Sons Phone: (208) 634-3833
Diamond Fuel & Feed Phone: (208) 382-4430 open 830am-5pm Monday-Friday, closed weekends.
— — — —
Outside Biz that will service Yellow Pine:
The Star-News


click to subscribe:
A reminder that those who live in other states can subscribe to the online edition only since the mail can take days for hard copy to reach them.
Rocky Mountain Mechanical – Plumbing – Heating – Air conditioning
(208) 365-PIPE (7473), Emmett, will service Yellow Pine
Elkhorn Heating & Cooling
(208) 906-4067 Middleton, Idaho, will service Yellow Pine
B&T Safety Solutions LLC
208-271-1600 Based out of Donnelly
Snow removal, cleaning chimneys and stoves, we do cabin staining/chinking as well
— — — —
Follow The Yellow Pine Times on Facebook (updated more often than emails)
———————–
Local Observations:
Monday (Jan 18) overnight low of 22 degrees, trace of snow fell before sunrise, 11″ total snow on the ground. Chickadees are back along with a few red-breasted nuthatches, steller jays and the local pine squirrel. Flaking snow for a short time before lunch, dark overcast, high of 34 degrees. Breezy snow flurries for about half an hour before sunset, no accumulation. Breaks in the clouds and patches of clear sky before dusk. Mostly cloudy before midnight. Clearing early morning and cold.
Tuesday (Jan 19) overnight low of 4 degrees, clear sky this morning, no accumulation from Monday's little snow flurries, estimate 11″ old snow on the ground. Sun popped over the ridge just after 1030am. Fresh fox tracks this morning and lots of squirrel tracks, chickadees, nuthatches and jays visiting. Mostly clear at lunch time, a few tiny clouds, high of 34 degrees. Mostly clear before sunset, small patch of haze to the southwest and below freezing. Cold and clear at dusk. Looked cloudy or hazy before midnight.
Wednesday (Jan 20) 24 hour low of 5 degrees was from Tues morning, mostly cloudy sky this morning. Jays, chickadees, nuthatches and pine squirrel visiting. Mail truck (Robert) made it in early, road is "ice all the way in." Broken overcast at lunch time, high of 34 degrees. Overcast, chilly light breeze and a hair below freezing after sunset. A little below freezing and cloudy at dusk. Cloudy before midnight. Started snowing before 7am.
Thursday (Jan 21) 24 hour low of 19 degrees from Wed morning, measured 3/4″ new snow (SWE=0.03″) and 12″ total snow on the ground, overcast and still snowing lightly this morning. Fresh fox tracks, several jays and a few nuthatches visiting, later a female hairy woodpecker and the local squirrel. Steady snow and low clouds after lunch time, high of 33 degrees. Steady or light snowfall all afternoon, right at freezing at sunset. Still snowing lightly at dusk. Snow ended just before 10pm. Cloudy before midnight.
Friday (Jan 22) overnight low of 24 degrees, received 2″ new snow (SWE=0.15″) in the preceding 24 hours and measured 14″ total snow on the ground. Mostly cloudy sky early then decreasing clouds and partly clear before lunch time. Raven and flicker calling, jays, nuthatches, chickadees, downy woodpecker and squirrel visiting. Sunny after lunch time, high of 40 degrees. A little above freezing and partly cloudy at sunset (around 415pm.) Cloudy and below freezing at dusk. It appeared to be partly clear before midnight.
Saturday (Jan 23) overnight low of 7 degrees, no new precipitation, measured 13″ snow on the ground, clear sky and a good amount of frost this morning. Sunrise at 1029am. Fresh fox tracks. Jays, nuthatches, chickadees, female hairy woodpecker and pine squirrel visiting. Sunny and lots of blue sky at lunch time, high of 35 degrees. Below freezing, clear sky and chilly breeze right before sunset. Clear and cold at dusk. Down to single digits by 10pm, clear and bright moon. Clear sky at midnight.
Sunday (Jan 24) overnight low of -1 degree, mostly high thin clouds at sunrise, measured 13″ old snow on the ground. Chickadees, nuthatches, jays, a flicker, a pair of hairy and a downy woodpecker, also the pine squirrel visiting. Nearly overcast at lunch time. Thinner clouds and hazy blue sky early afternoon, high of 35 degrees. Hazy sky and below freezing before sunset. Partly clear after dark and bright waxing moon.
——————-
RIP:
Sally Louise Gossi
October 27, 1959 – January 21, 2021
Cascade, Idaho – After a strong and courageous battle with lung cancer, Sally passed peacefully in her home surrounded by family, Thursday, January 21st, 2021.
Sally was born in Boise, Idaho on October 27th, 1959 to Delbert and Peggy Gossi. Sally was the middle child of four siblings, Susan, Doug and Jill.
Sally attended schools in Meridian before moving to Cascade with her family in 1975 and graduated from Cascade High School in 1978. At a young age she worked for her dad's logging company. Even though she was the only girl on the crew, she could set chokers as good as any man on the job. Sally then moved to Houston, Texas, for a short while where she found her love for tending bar at a local bar called The Limit.
Sally then moved to Boise where she began bartending at The Overland Bar and later became manger of the Regal Eagle Bar, in Eagle Idaho. She met her first husband, R.D. Bradford, in 1987 and they had their only child, Molly in 1989. They separated 10 years later.
Sally then began a concrete saw cutting business in the concrete industry, after working with R.D.
In 2005 Sally moved back to Cascade, Idaho where she met Jon Remaklus and made a life with him for the last 16 years. They enjoyed fishing, boating, outdoor adventures and each other's company. She became a building inspector for Valley County and later for the City of Cascade. She then found herself back to doing what she loved most…tending bar.
Sally was an outdoor enthusiast and loved fishing, picking huckleberries, boating, all sports and working in the "scrap yard". She loved rescuing animals; domesticated and the wild ones (she's still on the lookout for Bigfoot). She was a dog whisperer and loved her golden retrievers. She was very crafty and enjoyed doing many projects. She was always up for an adventure and brought light and joy to any gathering. Family was the most important thing to her and she was the "mother hen" to us all. She was her nieces' biggest supporter in Outlaw Kart racing, and loved spending time with her granddaughter Ellie Mae. She instilled her love of the outdoors to her daughter, grandchildren, nieces and nephews.
Sally was a very special person and left a lasting impression with everyone she met. She lived her life openly and wore her heart on her sleeve. Sally saw people for who they truly were and loved everyone the same. She was a selfless, trustworthy, and honest friend to all. She would lend a helping hand to anyone in need, no matter the circumstances.
Sally is preceded in death by her parents, Delbert and Peggy Gossi, along with many aunts, uncles and cousins. She is survived by her significant other Jon Remaklus; daughter, Molly Adame (Ruben), their children Ellie Mae, Tristen & Hunter; Jon's children Cody (Jen), their children Macy & Noa, Kadie & her daughter Aadya, & Anna; siblings Susan Folger (Jerry), their children Derek, Lindsey & Kara; Doug Gossi (Deedee) their children C.W., Corbin & Deven; Jill Huddleston (Cody), their children Erin, Kylie & Jacie, and many cousins.
A celebration of Sally's life will be held at a later date in Cascade, Idaho.
source:
——————-
Idaho News:
598 new Idaho COVID-19 cases, 13 new deaths
January 22, 2021 Local News 8
Idaho officials reported 598 new COVID-19 cases and 13 new deaths on Friday.
That brings the total confirmed and probable cases reported since March to 158,798.
There are a total of 129,512 confirmed cases and 29,286 probable cases in all 44 of the 44 counties in Idaho, according to numbers released from the local health districts and the state. …
13 new deaths were reported bringing the total recorded deaths to 1,667.
full story: (Valley Co 662 cases 4 deaths)
— — — —
Idaho Jan 16 Hospitalizations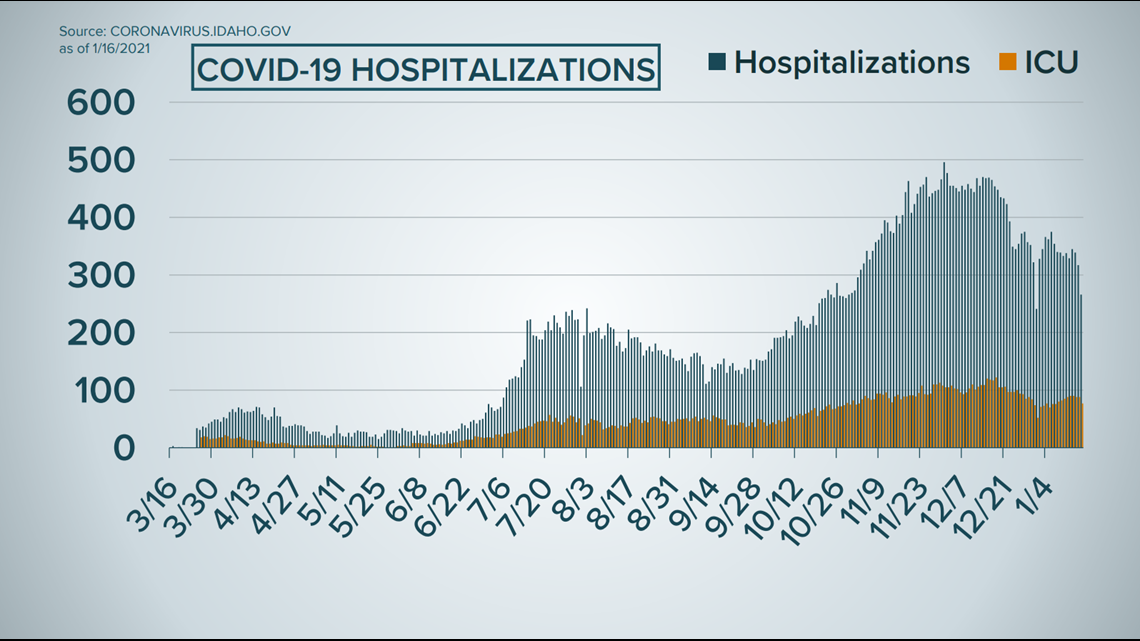 source: KTVB
— — — — — — — — — —
Valley County COVID-19 cases reach 620, up 48 in week
By Tom Grote for The Star-News Jan 21, 2021
The total number of positive COVID-19 cases in Valley County since the start of the pandemic rose to 620 cases by Tuesday, up 48 cases from 572 a week ago, health officials said.
St. Luke's McCall on Tuesday reported 525 total positive cases from testing done at the hospital, up 45 cases from 480 a week ago.
Cascade Medical Center reported 95 positive cases through Monday, or three more than the 92 cases reported last week.
Central District Health reported 525 of the positive cases were confirmed to be Valley County residents as of Tuesday, which is 51 more than the 474 cases reported a week ago.
The difference between the hospital figures and the health department figures are those who tested positive but did not declare Valley County as their residence.
Three confirmed deaths and one probable death of Valley County residents related to COVID-19 have been reported.
continued:
— — — — — — — — — —
St. Luke's expands list for COVID-19 vaccine
Teachers, daycare workers can now get shots
By Tom Grote for The Star-News Jan 21, 2021
St. Luke's McCall is now scheduling COVID-19 vaccine appointments for a larger group of recipients after the State of Idaho expanded the list of eligible recipients.
First responders, teachers and school staff, daycare workers, and correctional and detention facility staff are among those added to the list by the state last week.
Health-care workers and long-term care residents and staff were in the first group declared eligible for the vaccine.
Vaccinations will be given on Tuesdays, Wednesdays and Saturdays at St. Luke's Clinic – Payette Lakes Family Medicine.
St. Luke's patients can schedule appointments online using myChart. Current patients may also set up online myChart proxy access for family members or dependents.
Those who have never used St. Luke's services may set-up a myChart account by calling 208-381-9000.
Those who cannot use myChart because they do not speak English, have a disability that prevents them from doing so, or they don't have the necessary technology may call St. Luke's Connect at 208-381-9500 to set up an appointment.
There is no schedule yet for those age 65 and older to receive the vaccine, St. Luke's Chief Operating Office and Chief Nursing Supervisor Amber Green said.
Vaccinations of eligible community members started last week. "We were able to vaccinate 120 community members on Saturday alone," Green said.
"Even though the clinic is open for same day appointments, we have more exam rooms available and will ask staff to pick up extra shifts, which allows us to offer more appointments for COVID-19 vaccines," Senior Clinic Practice Manager Maureen Arnold said.
Saturday appointments will be offered over the next two months while the Tuesday-Wednesday clinics will continue indefinitely Arnold said.
A total of 57 employees of the McCall-Donnelly School District had received the first of two required doses by Tuesday, M-D Superintendent Jim Foudy said.
"If all appointments are kept between now and Feb. 3, 91 staff will have received the first dose, which is 58% of all staff," Foudy said.
Cascade Medical Center
Cascade Medical Center received a shipment of 300 doses of the COVID-19 vaccine on Tuesday to immunize those in the expanded list of eligible recipients, CEO Tom Reinhardt said.
A community vaccination clinic will be set up at the Cascade American Legion Hall today, Reinhardt said.
"The focus is on school staff, first responders, deputies, jail personnel, and other essential workers," he said.
More than 250 people have registered with the hospital to receive the vaccine.
To register, go to (link) or call 208-382-4285.
source: © Copyright 2009-present Central Idaho Publishing Inc. • All rights reserved – used with permission
— — — — — — — — — —
With limited vaccine, Idaho faces priority group confusion
By Associated Press January 22, 2021
Limited coronavirus vaccine availability, confusion over which Idaho residents should be vaccinated first and rumors of line-jumpers are all complicating the state's vaccine rollout.
Members of Idaho's COVID-19 Vaccine Advisory Committee met Friday to help clarify exactly who should have first dibs on the state's doses.
Sarah Leeds with the Idaho Immunization Program says the demand is far higher than the doses available.
continued:
——————-
Mining News:
Midas Gold gets go-ahead to clean up Stibnite waste
Nez Perce Tribe unhappy with deal struck by EPA
By Drew Dodson for The Star-News Jan 21, 2021
Decades-old mining waste polluting water at Stibnite will be cleaned up by Midas Gold under an agreement reached last week with the U.S. Environmental Protection Agency.
The agreement allows Midas Gold to immediately begin clean-up of mining waste left from operations during World War II and the Korean War without facing liability for the waste.
About $7.5 million in work will begin this spring by diverting streams away from toxic waste and moving about 325,000 tons of waste away from the East Fork South Fork Salmon River.
"This agreement provides the green light to finally see improvements in Idaho's water quality at Stibnite and is one more opportunity for us to put our commitment to restoring the site into action," Midas Gold CEO Laurel Sayer said.
"While we did not cause the problems impacting water quality today, we have always been clear on our intentions to be part of the solution," Sayer said.
The agreement outlines two more optional phases of work that would build on clean-up work proposed in Midas Gold's operating plan by cleaning up waste outside of the project area.
Those phases hinge on regulators granting approval for Midas Gold's proposed gold and antimony mine at Stibnite near Yellow Pine in Valley County. A draft decision is currently slated for August.
"If the project moved forward without the agreement, we would not be able to address any waste that lays outside of the project's footprint," said Mckinsey Lyon, a Midas Gold spokesperson.
The Nez Perce Tribe called the EPA agreement a "glide path" toward approval of the proposed mine and a "gift from the outgoing (Trump) administration."
"The settlement agreement issued today is stunningly inadequate and fails to accomplish the comprehensive and responsible cleanup of the site that the Nez Perce Tribe and Idahoans deserve," Nez Perce Tribal Executive Committee Chairman Shannon F. Wheeler said.
"Instead, the proposed cleanup actions are heavily influenced by, and appear designed to facilitate, Midas Gold's plans to re-mine the area," Wheeler said.
The agreement with the EPA also calls into question a federal Clean Water Act lawsuit filed by the Nez Perce Tribe in August 2019 against Midas Gold.
The lawsuit seeks to force Midas Gold to obtain federal permits for the pollutants left by past mining companies that are actively contaminating water in the East Fork South Fork Salmon River watershed.
The tribe is currently weighing its options for moving forward with the lawsuit, Communications Manager Kayeloni Scott said.
Midas Gold said the federal permits sought by the tribe are unnecessary due to the agreement.
"This agreement allows us to actually address and remove the sources of water contamination," Lyon said.
During a December 2019 hearing in Boise, Midas Gold asked U.S. District Judge Lynn Winmill to suspend the tribe's lawsuit while the company was negotiating the agreement with the EPA.
Winmill rejected that request, but told the company is could renew its request once an agreement was reached.
"We are evaluating our options, but hope that the agreement leads to renewed conversation (with the tribe) and an opportunity to work toward common goals," Lyon said.
Negotiations with the EPA on the agreement spanned nearly three years, according to Midas Gold.
The agreement stems from three other EPA agreements between 2000 and 2012 that released past regulators and mining companies from liability for environmental damage at Stibnite.
All work outlined by the agreement will be paid for and conducted by Midas Gold, but overseen by the EPA and other regulatory agencies.
The agreement has no effect on the Payette National Forest's permitting process for the company's proposed Stibnite Gold Project.
Water quality benefits expected to be achieved are not factored into water studies in the Payette's draft environmental study of the project.
Samples taken in recent years from groundwater adjacent to the East Fork show arsenic levels up to 700 times higher than drinking water standards allow.
The Nez Perce Tribe announced its formal opposition to the mine in October 2018.
The mine would be near lands subject to a federal treaty from 1855 that protects the tribe's rights to fishing, hunting, gathering and pasturing.
— — —
Midas Gold to move corporate offices from Canada to Boise
By Drew Dodson for The Star-News Jan 21, 2021
Midas Gold Corp. will relocate its corporate offices from Canada to Boise by the end of the month, the company announced last week.
The Vancouver, British Columbia, company will move into a building at 405 S. 8th St. in downtown Boise that currently serves as offices for Midas Gold Idaho, the subsidiary of Midas Gold Corp.
"Idaho is our home," Midas Gold CEO Laurel Sayer said. "Our project, our people and our work are focused here in Idaho and the move reconfirms our commitment to seeing the project come to fruition."
The move follows a corporate board reshuffling urged by Paulson & Co., a New York City investment firm that owns 44% of Midas Gold and is the company's largest shareholder.
Paulson advised Midas Gold in a November letter that relocating to the United States would strategically position it as the only domestic producer of mined antimony, a mineral deemed critical by the federal government.
The company is still studying the feasibility of converting from a Canadian company to a U.S. company, which is a separate action from moving its corporate offices, Midas Gold spokesperson Mckinsey Lyon said.
"We are engaging the expertise of attorneys and financial experts to analyze the requirements, potential impacts and best timing," Lyon said.
The decision to convert the company into a U.S. company would need to be approved by Midas Gold's corporate board and shareholders, she said.
Midas Gold Idaho and its board of directors are not expected to be affected by either move, Lyon said.
The Midas Gold Idaho board is designed to integrate local interests into the project, but has no decision-making authority.
Midas Gold Idaho currently has 37 employees based in Idaho, while Midas Gold Corp. has four employees based in Vancouver.
Midas Gold's four Vancouver employees will stay with the company temporarily by working remotely to help with a smooth transition, Lyon said.
Since 2016, Paulson has invested about $66 million into Midas Gold, $35 million of which came in 2020.
Paulson currently owns 209.4 million shares of Midas Gold, or about 44.1% of all shares. That is four times as many shares as Barrick Gold Corp., the company's second-largest shareholder.
Midas Gold's probable mineral reserves in the Stibnite deposits include more than 4 million ounces of gold, or about 125 tons.
The value of the gold is projected to bring in 94% of the mine's estimated $6 billion in total revenue over the 12 to 15-year life of mining.
The reserves also are predicted to contain 100 million pounds of antimony, which is used to make flame-proofing materials, paints, ceramic enamels, glass and pottery.
The value of antimony is only expected to produce 5% of total mine revenue, but would supply 30% of the annual antimony demand for the United States as the mineral's only domestic source.
source: © Copyright 2009-present Central Idaho Publishing Inc. • All rights reserved – used with permission
— — — — — — — — — —
Lawmakers asked to approve $3 million for old mine cleanup
By Associated Press January 22, 2021
State environmental officials on Friday asked lawmakers to approve just over $3 million to deal with toxic discharge and a collapsing tunnel at an abandoned silver and lead mine in central Idaho. [Triumph mine site.]
The Idaho Department of Environmental Quality made the request to the Legislature's powerful budget-setting committee. Lawmakers will make budget decisions in the coming months.
About $1 million of the agency's request Friday is to study a roughly $3 million plan to stabilize the mine that had a collapse following the 6.5 magnitude earthquake in March.
continued:
——————-
Letter to Share:
Midas Gold's approach is to apply science, experience
To the Editor:
After concerns were raised about our tailings storage facility ("EPA: Stibnite gold mine study lacks detail," The Star-News, Jan. 14, 2021) we wanted to reiterate some important details about our design from the DEIS and supporting documents.
The experts and industry-leading design firms working on the facility are taking a belt-and-suspenders approach to exceed standards and apply what science and experience tell us works.
That includes thoroughly investigating the foundation with nearly 100 drill-holes, designing for extremes of climate and seismic activity, applying industry best practices throughout the tailings handling and deposition lifecycle, and augmenting an already-robust design with a buttress larger than the embankment itself. We are unaware of a single failure anywhere in the world of a dam so designed.
One area we must design for is for seismic risk. Stibnite is outside the high-seismic zone defined in Idaho Dam Safety rules; nevertheless, we designed the facility for the high-seismic zone.
Standing alone, the embankment would withstand the Maximum Credible Earthquake (the worst possible condition, six times the March 2020 shaking). The 65-million-ton rock buttress adds more protection against earthquakes and other risks, upping safety factors to more than double state standards.
We are planning for climate extremes too. The TSF would maintain reserve storage to contain the runoff from the Probable Maximum Precipitation, i.e., the greatest amount of precipitation physically possible in the watershed, plus four feet.
Neutralized and thickened tailings will be pumped to the TSF via an HDPE-lined carbon steel pipeline. Per best practice, the pipeline will be contained in geomembrane-lined trenches or secondary pipes, which would all drain to a geomembrane-lined pond sized to hold the contents of the pipelines plus a 100-year storm with snowmelt.
The U.S. Forest Service consultants that reviewed our plans estimated the annual risk of failure at one in 10 million. Well before any construction, state agencies must still confirm our design meets their requirements.
Gene Bosley, Senior Civil Engineer, Midas Gold Idaho
posted: The Star-News Jan 21, 2021
——————-
Public Lands:
Payette National Forest Ranger Districts Seek Grants for Recreation Projects
McCall, Idaho, January 19, 2021 – The McCall, New Meadows, and Krassel Ranger Districts of the Payette National Forest are applying for grant funding from the Idaho Department of Parks and Recreation (IDPR) to support the Forest's recreation program. The districts are planning to submit two applications through IDPR's Off-Road Motor Vehicle (ORMV) fund, and two applications through the Recreational Trails Program (RTP).
On the McCall and New Meadows Ranger Districts, ORMV funds will be used to support the Payette Avalanche Center (PAC) through the purchase of a new snowmobile. The PAC issues five avalanche advisories each week and plays a critical role providing public safety information throughout the winter season. ORMV funds will also be used to support the over snow vehicle ranger program, which has been in place for several years. Rangers provide information to visitors on routes and conditions, install and maintain signage, and assist with parking and facility maintenance.
RTP funds are being sought to improve and update trail signage across the New Meadows and McCall Ranger Districts, as well as fund work to reduce the amount of deferred maintenance on district trails. Signage on-trail and at trailheads will be updated with information that is more uniform, easy to understand, and useful than that which exists currently.
The Krassel Ranger District is applying for RTP funds to fund and install a bridge on the Smith Creek trail near Big Creek. This project is necessary to realize full implementation of the Big Creek Recreation Access Management Plan Decision of 2016, and to mitigate impacts to fisheries prior to the trail converting from a trail open to vehicles 50" or less in width (ATVs) to a trail open to all vehicles (TOV).
If received, implementation of the grants would begin as early as the fall of 2021 and continue through the summer of 2022.
Comments or requests for more information should be submitted to:
Mike Beach, McCall Ranger District, 102 West Lake Street, McCall, ID 83638; 208-315-5263
Joshua Simpson, Krassel Ranger District, 500 North Mission Street, McCall, ID 83638; 208-634-0616
— — — — — — — — — —
Boise National Forest Ranger Districts submitting grants to Idaho Department of Parks and Recreation.
Boise, Idaho, January 21, 2021 – The Idaho City and Mountain Home Ranger Districts are applying for grant funding from the Idaho Department of Parks and Recreation to improve snowmobile signage at trailheads and trails. Additionally, the funding would replace 30-year old campground furniture in Power Plant and Little Roaring campgrounds.
The two applications will request funding through the Department's Recreational Vehicle (RV) and Off-road Motor Vehicle (ORMV) programs for both Ranger Districts.
* RV funds will be used to enhance the health, safety, accessibility and enjoyment of RV users by updating the campground furniture. If received, the construction would be in the fall of 2021 and the summer of 2022.
* ORMV funds will provide navigational and regulation trails signs. Four map boards are proposed at snowmobile parking lots to assist forest users with information and trail routes, to navigate the groomed snowmobile systems on federal and state lands within the Idaho City and Pine areas. If received, the project will begin June 2021.
Comments or requests for more information should be submitted to Everardo Santillan, Idaho City Ranger District, and P.O. Box 129, Idaho City, ID or by calling 208-392-6681.
— — — — — — — — — —
Idaho City Ranger District to submit grant proposal to Idaho Department of Parks and Recreation
Boise, Idaho, January 22, 2021 — The Off-Road Motor Vehicle (ORMV) grant proposal focuses on several actions to improve access and provide a more enjoyable and safer trail riding experience for motorized bikes in the Rabbit Creek area.
Specifically, ORMV funds would be used to place a three-panel informational kiosk with a map, forest information and Motor Vehicle Use Maps (MVUMs). Additional signage will be posted to help users navigate the system and avoid user-created trails that are causing resource damage near streams and meadows. Crews will clear brush along 21 miles of trail along Hoodoo Rabbit #289, Rabbit Creek Loop #291 and Middle Rabbit #292 opening access and complete minor tread work as needed.
If the District is awarded the grant, work is expected to begin July 2021 with the project completed June 30, 2022.
Comments or requests for more information should be submitted to Everardo Santillan, Idaho City Ranger District, and P.O. Box 129, Idaho City, ID or by calling 208-392-6681.
— — — — — — — — — —
Mountain Home Ranger District to Submit Grant Proposal to Idaho Department of Parks and Recreation
Boise, Idaho, January 21, 2021 – The Mountain Home Ranger District Off-Road Motor Vehicle (ORMV) grant proposal focuses on improving new designated motorized trails in the vicinity of the Lower Roaring River watershed. Heavy trail maintenance is planned for 2.4 miles of the Lower Roaring River Trail and 2.2 miles of trail 122 heading into the East Fork of Sheep Creek.
ORMV funds would be used for necessary equipment and crew time to remove overgrown brush, improve or create tread and signage along each system. These improvements would provide additional user access, a more enjoyable and safer trail riding experience for motorized bike users.
If the District is awarded the grant, work is expected to begin as soon as conditions permit and conclude during the 2021 summer season.
Comments or requests for more information should be submitted to Everardo Santillan, Idaho City Ranger District, and P.O. Box 129, Idaho City, ID or by calling 208-392-6681.
——————-
Critter News:
Parma couple punished for killing second bighorn sheep after winning tag lottery
by CBS2 News Staff Friday, January 22nd 2021
A Parma husband and wife have been punished for killing a second bighorn sheep after winning the tag lottery.
The case stems from events in 2017 after Idaho Fish and Game discovered Joe and Susan Willmorth had killed a second bighorn sheep shortly after killing their one and only licensed sheep.
Susan had one the coveted tag, beating out 39 people who applied that year. After several weekends of scouting, the pair found a rugged, isolated area deep in the heart of the Owyhee Canyonlands.
Susan bagged her trophy bighorn sheep in late September of 2017.
Just days later, Joe and Susan went back to the remote area, according to Fish and Game. The pair went back for a bighorn ram known to them as the "old man."
continued:
— — — — — — — — — —
Grizzly, 34, confirmed as Yellowstone region's oldest known
By Associated Press January 23, 2021
Zach Turnbull could barely make out the emaciated grizzly bear's inside-lip tattoo, and when he did decipher the digits – 168 – they just didn't seem right.
The Pinedale-based large carnivore biologist dialed up his boss, Dan Thompson, to make sense of a tranquilized animal that seemed to somehow span careers and trace all the way back to the Reagan administration.
"He was like, 'Hey, ah, how old do bears live?'" Thompson remembers of the exchange. "We started talking about it, and he's like, 'I am sure that this bear I have, based on everything I can find, is 34 years old.' "
A check of a federal grizzly bear dataset confirmed the news. Remarkably, Grizzly 168 is, so far, the oldest grizzly ever documented in the tri-state Greater Yellowstone Ecosystem.
continued:
— — — — — — — — — —
Great Backyard Bird Count
Connect to birds, to nature, and with each other
Each year people from around the world come together to watch, learn about, count, and celebrate birds. Join us, February 12-15, 2021.
more info: (how to sign up)
———————–
Letter to Share:
How to make your donation to the Pig Raffle
Hi, here is how I do it. You can go to the web site [The Gamebird Foundation] (link) and across the top it has Home, About, Donation or Membership, Habitat, Birds. Click on the donation or membership and you can fill in the information blank and make your donation. Last night we added raffle tickets. You can also click on request a reply and it will print out a letter for you and your membership. The donations are in $5.00 increments so you will have to figure out how many $5.00 for $20.00 or how much you want to donate. There is nothing to designate what the donation is for; working on it. Right now the donation will go for feed, I just assume that is what the donation is for, RAFFLE TICKETS. Right now we are looking at a chick feed bill of $8,000.00 to $9,000.00 approximately for this year babies. We will fill out and mail you your stubs. We love having folks raising pheasants. We will give you all the help we can. Thank you. God Bless and be safe.
"The Pheasant Guy"
Jim Hagedorn
———————
Fish & Game News:
Windows to Wildlife:
Western Monarch Update, A Winter Salamander, Wildlife Viewing at Hagerman WMA, and The Harlequin Duck
Thank you for your support of Idaho's Wildlife Diversity Program (nongame) and the Watchable Wildlife Program. You are receiving this email because you opted to subscribe to Windows to Wildlife, a quarterly newsletter, when you purchased your wildlife license plate or asked to be added to the mailing list.
In the winter edition of Windows to Wildlife (link)
* Western Monarch Update – Living on the Edge
* How You Can Help Monarchs and Other Pollinators
* A Winter Salamander
* On The Idaho Birding Trail: Winter Viewing at Hagerman WMA
* The Harlequin Duck
Deniz Aygen
Watchable Wildlife Biologist, Idaho Department of Fish and Game
— — — — — — — — — —
Ice fishing update, Jan. 22: Cascade and Payette Lakes
By Mike Thomas, Regional Fisheries Biologist
Friday, January 22, 2021
Snow and travel conditions have improved following a week of colder temperatures. On Friday, Jan. 22, I visited two access areas on Lake Cascade to check surface and ice conditions. At Van Wyck access, I measured 3 inches of snow and 14 inches of ice. At Boulder Creek access, I measured 5 inches of snow, 2 inches of ice, 5 inches of slush, and 17 inches of ice – tough going with a hand auger! The thin layer of ice at Boulder Creek access (northern Lake Cascade) could make traveling with wheeled ATVs difficult, but conditions across the lake have otherwise improved greatly. The forecast looks promising for this weekend (Jan. 23 – 24) with cold nights and partly clear skies.
continued:
— — — — — — — — — —
Additional Services proposed for Horsethief Reservoir Campgrounds
By Jordan Messner, Fisheries Regional Manager
Wednesday, January 20, 2021
Horsethief Reservoir continues to be a camping and fishing destination for outdoor enthusiasts across Idaho. As visitation continues to increase, the need has arisen to provide more structured camping to protect the very environment that visitors travel to Horsethief to enjoy.
That effort began in 2018, when three of Horsethief's east side camping loops — Beaver Tail, Trout Landing and Horsethief Creek — were upgraded with compacted gravel loop roads, parking pads, new picnic tables and fire rings.
continued:
— — — — — — — — — —
More F&G News Releases
link:
———————————-
Crazy Critter Stuff:
Chicken checks out Nampa police car, investigators believe there's no fowl play
The "very-well behaved" chicken jumped onto a patrol car's hood, then spent some time doing "a little tight rope walk on the windshield wipers," Nampa police said.
Kim Fields Dec 15, 2020 KTVB
Nampa, Idaho — Police are sworn to serve and protect their communities, even the free-range chicken who made a daring mid-day escape from the coop that went so well, it's now considered poultry in motion.
Thankfully in this tense situation between police and a chicken ended peacefully without anyone's feathers getting ruffled.
In his 24 years of working around the cluck with the Nampa Police Department, Officer Deran Watt has never seen anything quite like this before.
"They always tell you when you're sitting out there in your patrol car to expect the unexpected and keep your head on a swivel so nobody will sneak up on you and probably the last thing I expected to happen is to have a chicken jump up on the hood of my patrol car," Nampa Police Officer Deran Watt said.

————
Seasonal Humor:

—————–