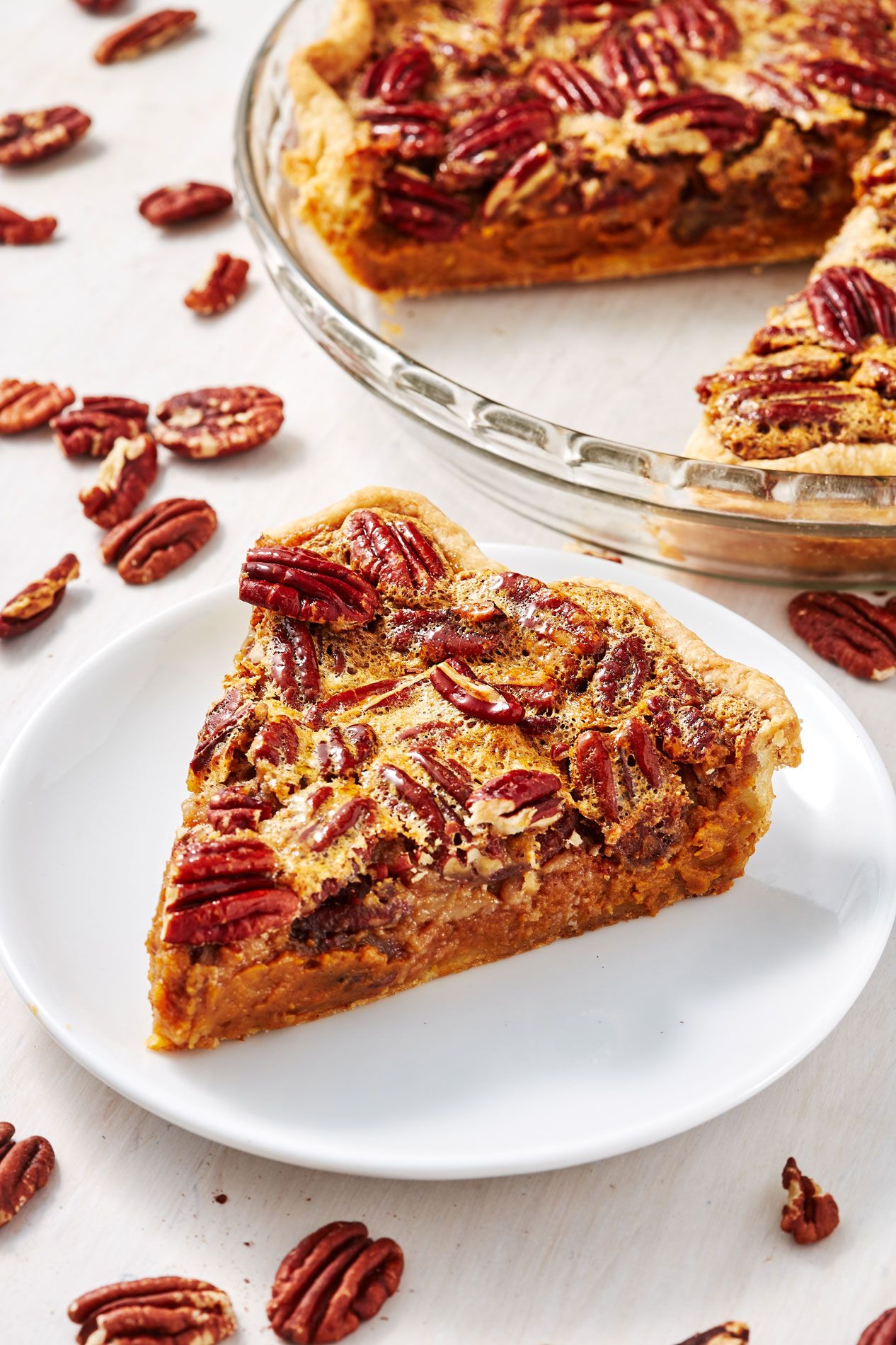 By Makinze Gore
8 Servings
Ingredients
For the Crust
1/2 c. (1 stick) butter, cut into 1/2″ pieces
1 1/2 c. all-purpose flour, plus more for surface
1 tbsp. granulated sugar
1/4 tsp. kosher salt
1/2 tbsp. apple cider vinegar
4 tbsp. ice water (or more, if needed)
Cooking spray
For the Pumpkin Layer
1 1/2 c. pumpkin puree
1/2 c. heavy cream
3/4 c. packed brown sugar
2 large eggs
1 tsp. pure vanilla extract
1 tsp. cinnamon
1/2 tsp. kosher salt
1/2 tsp. cloves
1/2 tsp. ground ginger
1/2 tsp. nutmeg
For the Pecan Layer
4 tbsp. melted butter
1/2 c. packed brown sugar
1/2 c. corn syrup
2 tsp. pure vanilla extract
1/2 tsp. kosher salt
2 large eggs, beaten
1 1/2 c. pecan halves
Directions
Place butter and flour into freezer for 30 minutes before starting crust process. (You want them SUPER cold.)
In a large bowl, whisk together flour, sugar, and salt. (Alternately, you can do this in a food processor.) Add butter and, using your hands, mix together until pea-sized and some slightly larger pieces form. Add vinegar and then ice water, 1 tablespoon at a time, until dough starts to come together and is moist but not wet and sticky (test by squeezing some with your fingers). Mixture will be crumbly.
Turn dough onto a lightly floured surface and form into a ball. Flatten into a disk (making sure there are no/minimal cracks).
Cover with plastic wrap and refrigerate until dough is very cold, at least 2 hours or up to overnight.
Preheat oven to 425F and lightly grease a deep 9″ pie dish with cooking spray.
On a lightly floured surface, roll out dough into a 12" circle. Drape over pie dish and gently press to fit, making sure there are no air bubbles. Trim edge to 1" and tuck overhang under itself and crimp edges, With a fork, lightly prick bottom of crust. Refrigerate 30 minutes or freeze 10 minutes.
Line crust with parchment paper and fill with dried beans or pie weights. Bake 10 minutes, then remove parchment and weights and bake for 10 minutes more. Reduce heat to 350F.
Meanwhile, make fillings: In a large bowl, whisk pumpkin puree, heavy cream, sugar, and eggs together. Add vanilla and spices and stir to combine.
In another large bowl, whisk together melted butter, sugar, corn syrup, vanilla, salt, and eggs. Add pecans and stir until well coated.
Pour pumpkin filling on top of parbaked crust and smooth top. Gently, pour pecan filling over pumpkin.
Bake pie until filling is only slightly jiggly in center, 45 minutes. If crust starts to darken too much, place foil loosely around crust and continue baking.
Let cool at room temp for 1 hour, then refrigerate until ready to serve.
——————