Feb 28, 2021 The Yellow Pine Times – Valley County, Idaho
Reminder: We are still under a boil water order until further notice.
Community Calendar:
Apr 17 – Boil water order issued
Feb 19 – Valley County Mask Advisory
Feb 28 – 2pm Fest Planning Meeting
June 12 – VYPA Meeting
(details below)
———-
Local Events:
School Bond Ballots
A quick thinking local noticed that return postage was not included with the school bond ballots and contacted the county. The county has since made arrangements with the Yellow Pine Post Office to process the ballots without postage and be reimbursed later since we are a "vote by mail precinct."
— — — —
Next Festival Planning Meeting
Sunday, Feb 28, 2021 @ Community Hall, 2pm
———-
Village News:
Avalanche Closes Road to Stibnite
The morning of Feb 23rd, we received a message there are slides on the road to Stibnite. "These slides start below Tamarack creek then up around the corner where the 2019 slides were." They will keep us posted. Please don't attempt to go up there to look and get in the way.
— — — —
Another Snowy Week in YP
Yellow Pine has received snow every day of the week, adding up to over 9″ of new snow. Saturday morning we had an average of 31″ of snow on the ground on the open flat down by the school. We received a total of 35.8″ of new snow for the month of February. We have received a total of 90″ of snow so far this winter.

YP Weather Station Feb 27th
Check the Weather Page for snow totals for other months and years.
— — — —
From Gov Brad Little Feb 19th
The Village of Yellow Pine sends a big Thank You to Cascade Medical Center.
— — — —
Yellow Pine General Store
Please welcome Josh Jones as the new owner of the Yellow Pine General Store.
— — — —
Critters
Be Fox Aware
* Do not feed foxes human food
* Feed domestic pets indoors
* Make sure your pets are updated on Rabies vaccines
* Small pets could become a snack
Be Mountain Lion Aware
* NEVER run away from a mountain lion. The lion's instinct is to chase and ultimately catch what they perceive as potential prey.
* NEVER turn your back on a lion. Always face them while making yourself look as large as you can. Yell loudly, but don't scream. A high-pitched scream may mimic the sound of a wounded animal.
* SLOWLY back away while maintaining eye contact with the lion.
* Safety equipment you may choose to carry could include bear spray, a noise device, like an air-horn, and if you walk in the dark, a very bright flashlight.
* If you are attacked, fight back!
— — — —
Road Reports
Link: to current road reports.
— — — —
Yellow Pine US Mail
The 3-day a week mail delivery started Nov 2nd. The Post Office in Yellow Pine is open six days a week year around: M-F 845am-245pm Saturday 9am-245pm. Forever Stamp: 55 cents. Support our local post office and purchase your holiday stamps here.
— — — —
Yellow Pine Transfer Station
The dump (and road) were plowed on Saturday, Feb 27th.
Yellow Pine Transfer Station (aka, the dump)
Please do not abuse our Transfer Station or we may lose it. Household trash must be placed in the bins, flattened cardboard boxes can also go into the bins. Do not stack trash in front of the doors. Woody yard debris only for the burn pile. No furniture, appliances, tires or construction debris allowed, those items must be hauled out to the Donnelly station by you.
The Yellow Pine Transfer Station is Valley County responsibility. If it is not kept tidy, use of the Transfer Station may be revoked. That would result in residents having to take all household trash and yard waste to the Donnelly Transfer Station.
If Dumpsters Are Full, Contact Lake Shore Disposal at: (208) 634-7176
———-
Local Groups
YPWUA News:
The annual Water meeting for 2020 was held July 5th at the Community Hall 2pm.
link: minutes 20200705YPWUA.docx
Boil Your Water Before Using
Boil Water Order issued April 17, 2020.
Link: to Notice
Update Nov 29: Warren replaced the water meter because of inconsistent readings. With the new meter, the community is currently using over 55,000 gallons of water per day. A leak has been identified and will be repaired as soon as we can coordinate the contractor, equipment needed and weather together. It is difficult to get everything planned in the winter. When the repair is scheduled, the community will have a few days notice before the water is shut down. Since we are using more water than the rated use through the sand filters, the boil order will remain in effect. We continue the grant request process that is extremely slow. – Steve H
Update Nov 25: the boil order is still in effect due to the large quantity of water that is leaking from the system. – Warren D
— — — —
VYPA News:
VYPA Meetings are the 2nd Saturday of June, July, August, and September (June 12, July 10, August 14, September 11) at 2:00pm at the Community Hall.
Village Council members:
Deb Filler, Chairman
Matt Huber, Vice Chairman
Ronda Rogers, Treasurer
Rhonda Egbert, Secretary
Ron Noel, Member at Large
VYPA Bylaws adopted 8/8/2020 (link)
YPAC Corp Bylaws (link)
Festival
Anyone interested in being a part of the Festival Planning/Working committee, please contact Deb Filler. Meetings will begin at the end of January. Even if you aren't physically in YP, you can participate in the committee.
Next Festival Planning Meeting Sunday, Feb 28, 2021 @ Community Hall, 2pm
2021 Planning Notes Link:
Yellow Pine Music and Harmonica Festival Policy and Procedure Link:
— — — —
YPFD News:
After Action Report meeting Oct 13, 2020 (no minutes yet.)
YPFD had a budget meeting on September 30th at 10am at the fire station. (No minutes yet.)
Make sure to keep your chimney clean. Cleaning brushes can be borrowed from the YPFD.
YPFD COVID19 Policy
link: YPFD Covid 19 SOP
link: Covid-19 EMS (May 23)
Pile burning: Dress appropriately, have enough help on hand (people, water and tools) and make a firebreak before you start. Call your local fire protection district chief to let them know you'll be conducting a debris burn. This saves them from sending emergency responders to your property if they are not needed. Do NOT burn on breezy afternoons.
Better yet, "Rake It and Take It" yard waste (limbs, pine needles, brush, etc.) to the burn pile at the Transfer Station on the south end of the turn-around. Remember, keep the pile neat. Woody debris only, no nails, no cardboard and no furniture! The Boise NF will burn the pile in the fall when it is safe and doesn't pollute our fine YP air.
YP Fire Commissioners:
Sue Holloway – District 1
Dan Stiff – District 2
Merrill Saleen – District 3
Tim Rogers – Fire Chief
Yellow Pine Fire Protection District Community Service Notice
The purpose of this letter is to show how you as a Yellow Pine Resident can help protect your structure against a wildland fire by being "Fire Wise." Click the link: to view 20190724 Yellow Pine Fire Protection mitigation
——–
Biz Listings:
The Corner (208) 633-3325
Starting Nov 3rd open 3 days a week on mail days.
— — — —
Yellow Pine Tavern (208) 633-2233
Winter Closure: November 14, 2020 to April 16, 2021
— — — —
Yellow Pine Lodge (208) 633-3377
Closed Nov 3rd for winter.
— — — —
Yellow Pine General Store (208) 633-3300
New owner, plans to open this spring.
— — — —
Murph's RV Park & Mary's Cabins
FB page link
— — — —
Knotty Kat Crochet Works – 208-502-0940
FB page link
open Tue – Sat, 9-5
Yellow Pine eggs $3/doz
— — — —
Buck Horn Outfitters LLC 208-633-3614
Tom & Sarah Lanham
156 Yellow Pine Ave, Yellow Pine Id 83677
website:
Facebook:
Wapiti Meadow Ranch – Johnson Creek (208) 633-3217
or 208-315-3554 – cabin rentals
website:
Deadwood Outfitters
website:
— — — —
Local Fuel Suppliers
Amerigas Phone: (208) 634-8181
Ed Staub & Sons Phone: (208) 634-3833
Diamond Fuel & Feed Phone: (208) 382-4430 open 830am-5pm Monday-Friday, closed weekends.
— — — —
Outside Biz that will service Yellow Pine:
The Star-News


click to subscribe:
A reminder that those who live in other states can subscribe to the online edition only since the mail can take days for hard copy to reach them.
Rocky Mountain Mechanical – Plumbing – Heating – Air conditioning
(208) 365-PIPE (7473), Emmett, will service Yellow Pine
Elkhorn Heating & Cooling
(208) 906-4067 Middleton, Idaho, will service Yellow Pine
B&T Safety Solutions LLC
208-271-1600 Based out of Donnelly
Snow removal, cleaning chimneys and stoves, we do cabin staining/chinking as well
— — — —
Follow The Yellow Pine Times on Facebook (updated more often than emails)
———————–
Local Observations:
Monday (Feb 22) the 24 hour high of 33 degrees was this morning and the low of 23 degrees was from Sunday morning. Measured a fat 1/2″ new snow (SWE=0.04″) and 27″ of snow on the ground, sky is overcast. Looks like every fox in the valley was partying in our yard last night, lots of tracks. Hairy woodpecker, red-winged blackbird, jays, chickadees, nuthatches and the pine squirrel visiting. Cloudy at lunch time, high of 40 degrees. Gusty breezes early afternoon. Lower clouds, gusty breezes and misty sprinkles mid-afternoon. Calmer and cloudy at dusk. Gusty breezes after dark. Rain then rain/snow mix ending before midnight. More rain and snow after midnight.
Tuesday (Feb 23) overnight low of 21 degrees, measured 1/2″ new snow (rain+snow=0.24″) measured 25-27″ snow on the ground (average 26″.) Gusty breezes this morning, big patch of blue sky to the south and black clouds to the north. Jays, nuthatches, chickadees and the pine squirrel visiting. Mostly cloudy and breezy at lunch time, high of 34 degrees. Low clouds, foggy, light breeze and fine light snow falling early afternoon. Flaking or lightly snowing during the rest of the afternoon, alternating between mostly cloudy and socked in with variable breezes. Breaks in the clouds and fat moon to the east at dusk. Hazy sky and filtered moonlight before midnight. Snowed before morning.
Wednesday (Feb 24) overnight low of 20 degrees, measured a fat 2 1/4″ new snow (SWE=0.14″) and 27-29″ snow on the ground (average 28″.) Jays, red-winged blackbird, a white-breasted and several red-breasted nuthatches, chickadees and the pine squirrel visiting. A few flakes of snow falling from mostly cloudy skies for a little while before lunch time. Internet went wonky around 1140am, back on by 1215pm. Mail truck was a little late today. Breaks in the clouds early afternoon and icicles dripping, high of 38 degrees. The internet blipped out and back at 235pm. Partly cloudy and just above freezing mid-afternoon, beautiful blue sky over VanMeter hill. A report of 10 red-winged blackbirds in a flock up here. Sunset was pretty close to 6pm. Almost clear sky and temperature dropping at dusk. Cold and breezy late evening. Clear and cold before midnight, bright waxing moon high in the sky. Cold night.
Thursday (Feb 25) overnight low of -4 degrees, no measurable new snow and an average of 27″ on the ground, overcast sky and cold breezes. Jays, female hairy woodpecker, male red-winged blackbird, dark-eyed junco, red-breasted nuthatches, chickadees and pine squirrel visiting. Socked in and started snowing at lunch time, high of 27 degrees. Gusty winds, still socked in and snowing early afternoon. Below freezing, calmer but still socked in and snowing mid-afternoon, less then 1/2″ so far. Still snowing at dusk and calmer. Snowing pretty good before midnight. Looks like it snowed all night.
Friday (Feb 26) 24 hour low of 10 degrees from Thurs morning, measured 3 1/2″ new snow (SWE=0.15″) and an average of 30″ on the ground, sky overcast – foggy ridges, steady light snow falling and breezy. Jays, red-winged blackbird, dark-eyed juncos, red-breasted nuthatches, mountain chickadees, hairy woodpecker and pine squirrel visiting. Light snowfall at lunch time, breezy and overcast, high of 32 degrees. Break in the snow early afternoon for about an hour, then lowering clouds, chilly breezes and light snow mid-afternoon. Two pine squirrels yelling at each other near the golf course. Break in the snow late afternoon and thin spots in the clouds. Cold, cloudy and not snowing at dusk. Snowing lightly after dark, thinner clouds and filtered moonlight. Still snowing lightly at midnight. Snowed most of the night, ending around 630am.
Saturday (Feb 27) overnight low of 15 degrees, patches of clear sky early then mostly cloudy. Measured a fat 2 1/4″ new snow (SWE=0.16″) and an average of 31″ on the ground. Blackbird, jays and chickadees calling, also nuthatches, hairy woodpecker and pine squirrel visiting. Snowing lightly at noon, lasted about half an hour then partly clear, high of 35 degrees. Short little flurry around 1pm then partly sunny. Partly cloudy, below freezing and gusty breezes mid-afternoon. Calmer, mostly cloudy and cold at dusk. Partly clear before midnight and down to single digits, bright full moon peeking out from a large gap in the clouds.
Sunday (Feb 28) overnight low of -4 degrees, a trace of new snow and an average of 29″ snow on the ground, the sky was overcast this morning. Very vocal pine squirrel, hairy woodpecker, jays, nuthatches and chickadees visiting. Overcast at lunch time, high of 32 degrees. Overcast and just below freezing mid-afternoon. Overcast and quiet at dusk, did not see the sun all day.
——————
RIP:
Tasha


Tasha was abandoned in Yellow Pine by her previous owner. Rescued and given a new home by John and Andi and taken to McCall in September of 2020 for the remaining months of her life. "She loved to catch popcorn, walk in tall weeds, and go visit a nearby cat playground dumpster, we called Kitty City. She brought us so much happiness." She passed away Wednesday, Feb 24, 2021.
—————-
Idaho News:
312 new Idaho COVID-19 cases, 9 new deaths
Feb 26, 2021 Local News 8
Idaho officials reported 312 new COVID-19 cases and 9 new deaths on Friday.
That brings the total confirmed and probable cases reported since March to 170,907.
There are a total of 138,652 confirmed cases and 32,255 probable cases in all 44 of the 44 counties in Idaho, according to numbers released from the local health districts and the state. …
The state said 233,241 people have received the vaccine, and 346,393 total doses have been administered. …
The state said 8 new hospitalizations have been reported bringing the total number to 7,065 and 1 new case has been admitted to the ICU bringing the total to 1,229.
There are 10,321 asymptomatic reported cases and 9,558 cases among health care workers.
9 new deaths were reported bringing the total recorded deaths to 1,859.
full story:
— — — —
Idaho Hospitalizations Feb 21, 2021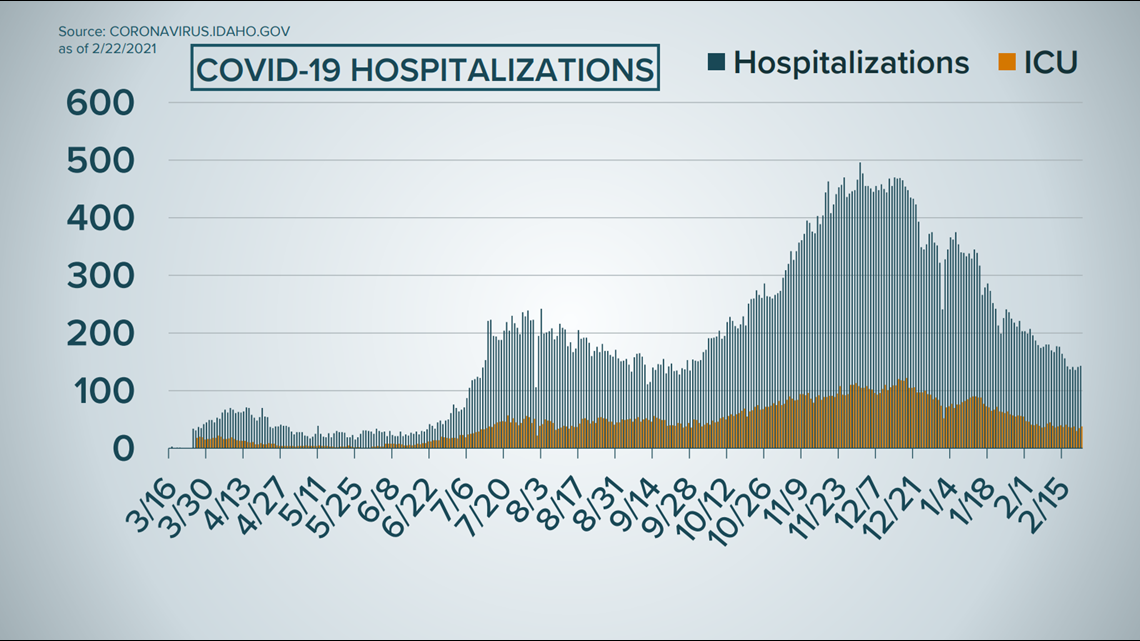 source: KTVB
— — — — — — — — — —
New COVID-19 cases in Valley County rise by 10 in week
Hospitals give 2,325 first doses of vaccines
By Tom Grote for The Star-News Feb 25, 2021
The number of new positive COVID-19 cases in Valley County rebounded slightly after declining the previous four weeks, health officials said.
The total number of positive cases since the pandemic reached Valley County last summer totaled 713 by Tuesday, up 10 cases from 703 a week ago, health officials said.
That compared to a total of four new cases reported week, 17 new cases two weeks ago, 28 new cases three weeks ago and 24 new cases four weeks ago.
St. Luke's McCall on Tuesday reported 612 total positive cases from testing done at the hospital since the pandemic reached Valley County last summer, up nine cases from 603 cases a week ago.
Cascade Medical Center reported 101 total positive cases through Monday, or one more than the 100 cases reported last week.
Central District Health reported 625 of the positive cases were confirmed to be Valley County residents as of Tuesday, which is seven more than the 618 cases reported a week ago.
The difference between the hospital figures and the health department figures are those who tested positive but did not declare Valley County as their residence.
Four confirmed deaths and one probable death of Valley County residents related to COVID-19 have been reported by Central District Health.
continued:
— — — —
2,325 Vaccinations
By Tom Grote for The Star-News Feb 25, 2021
A total of 2,325 people had received the first dose of the COVID-19 vaccine from Valley County's two hospitals by Tuesday, the hospitals reported.
St. Luke's McCall had given 1,270 of the first doses as of Tuesday and 581 of the required second doses of the vaccine.
St. Luke's McCall continues to schedule vaccine appointments three days a week. This week 368 appointments are scheduled for first and second doses, an increase of 97 appointments over the previous week.
Cascade Medical Center had given out 1,055 first doses by Monday while 154 people had received the second dose.
Five clinics have been scheduled at the Cascade American Legion Hall through April 29, where a total of 1,360 first doses and 1,640 second doses are scheduled to be given.
… To request a vaccination from Cascade Medical Center, go to (link) or call 208-382-4285.
continued:
— — — — — — — — — —
Health board lifts Valley County mask order
Action comes after decline in new COVID-19 cases
By Max Silverson for The Star-News Feb 25, 2021
The mandatory mask order for Valley County was lifted by the Central District Health board on Friday.
The mandatory mask order that had been in place since last August was replaced by a health advisory that strongly encourages people to wear masks to prevent the spread of COVID-19.
The order was lifted because of a steady decline in cases and reduced strain on hospitals across the district, health district Director Russ Duke said.
In Valley County, the number of new cases reported by St. Luke's McCall and Cascade Medical Center dropped to four during the previous week.
That is down from 48 new cases reported a month prior, but 10 new cases were reported in the past week.
continued:
— — — — — — — — — —
McCall City Council approves new mask mandate
The move comes after the Central District Health Board last week voted to lift public health orders for Ada and Valley counties.
February 25, 2021 KTVB
The McCall City Council on Thursday passed a new mask mandate with the "intention to protect its tourism-based community" from COVID-19.
The mandate goes into effect immediately and will remain in place for 45 days.
The move comes after the Central District Health Board last week voted to lift public health orders for Ada and Valley counties and implement public health advisories for the two counties.
continued:
— — — — — — — — — —
March 9 bond would roll over previous bond, lower cost
By Max Silverson for The Star-News Feb 25, 2021
McCall-Donnelly School District voters will be asked on March 9 to approve a $33 million bond to expand Donnelly Elementary School and Payette Lakes Middle School as well as refinance existing debt.
The vote requires a two-thirds majority to pass, or one more than 66.6% in favor.
The largest share of the bond, about $22.5 million, would be spent on the school renovations. About $10.7 million of the levy would refinance the district's outstanding bond.
The outstanding bond is from a 2012 refinancing of a 2006 bond. The 2006 bond, which was for $28.6 million, was used to build Barbara R. Morgan Elementary School, expand Donnelly Elementary and remodel McCall-Donnelly High School.
Refinancing will allow the district to borrow at an interest rate of 1.65%, compared to the 2012 rate of 3.29%, for a savings of about $51,000 over the course of the loan.
The annual total cost to taxpayers would decrease from $53 per $100,000 in taxable value to $51. The bond would be paid off in 2038.
continued:
— — — — — — — — — —
ITD continuing work on Highway 55 Smiths Ferry and the Rainbow Bridge
By Meredith Spelbring Feb 26, 2021 KIVI
Idaho Transportation Department is sharing new details about plans to improve Highway 55.
That work between Smiths Ferry and the Rainbow Bridge is expected to start March 8. Drivers can plan for daytime work with a 15-minute delay through March 12. Spring construction starts March 15 with full road closures during the day from 10 a.m. to 2 p.m., Monday through Thursday.
"The important thing to note is that this is all weather dependent," said Vincent Trimboli, ITD spokesperson. "If we get a major storm that comes through we'll probably shut it down, it'll go back to one lane and we won't have closures."
continued:
— — — — — — — — — —
Boise man killed in rollover crash near Horseshoe Bend
Police say Everett Fowler died after his Ford pickup went off the highway and rolled. He was ejected from the truck.
A Boise man was killed in a rollover crash near Horseshoe Bend Friday afternoon.
Idaho State Police say shortly after noon, 69-year-old Everett Fowler was northbound on State Highway 55 when his Ford F-350 pickup crashed.
Investigators say Fowler failed to negotiate a curve while descending a grade, the truck went off the right shoulder and rolled. The crash happened at milepost 59.
continued:
— — — — — — — — — —
Earthquake reported west of Stanley
Feb 22, 2021 Local News 8
The U.S. Geological Survey is reporting a 3.5 magnitude earthquake was registered at around 3:40 p.m. about 12 kilometers west of Stanley, Idaho.
The quake was fairly deep, at an estimated 8 kilometers.
source:
—————–
Mining News:
Thunder Mountain Gold Reports Significant Drill Intercepts in the Texas Zone at its High-Grade Polymetallic South Mountain Project
22 February 2021 Thunder Mountain Gold Inc.
Boise, Idaho and Vancouver, British Columbia, Feb. 22, 2021 (Globe Newswire) — Thunder Mountain Gold, Inc. is pleased to report on the latest analytical results from its Phase 2 underground diamond drilling program at the high-grade South Mountain Zinc-Silver-Gold-Copper Project ("South Mountain" or "South Mountain Project" or the "Property") in southwestern Idaho, U.S.A. The Company`s 2020 drill results demonstrate that South Mountain's Texas Zone contains both high-grade Copper-Silver and Zinc-Silver-Gold mineralization (See Tables 1 and 2). The Company's core drilling program intersected mineralization at depths beyond any historical drilling of the Texas Zone and the deposit remains open to depth (See Figure 1). Further drilling results will be reported when received from the laboratories.
continued:
[h/t SM]
———————
Public Lands:
Lake Cascade park reports 30% rise in campers
Ponderosa park notes 10% drop during 2020
By Max Silverson for The Star-News Feb 25, 2021
Ponderosa State Park reported a 10% decrease in campers in 2020, while Lake Cascade State Park reported a 29% increase in overnight camping visitors, the Idaho Department of Parks and Recreation reported.
Lake Cascade park reported a 13% decrease in day-use visitors in 2020. A count of day-use visitors for Ponderosa park was not available because the park traffic counter did not operate properly, park manager Matt Linde said.
Camping numbers were down in Ponderosa because the park closed one of the camping loops the day after Labor Day to make repairs and improvements, Linde said.
Despite the curtailed season, the park hosted about 78,000 campers in 2020..
continued:
— — — — — — — — — —
Busy Season of Trails Work Planned for the McCall and New Meadows Ranger Districts
McCall, Idaho, [February] 22, 2021 – The trails program on the Payette National Forest's McCall and New Meadows Ranger Districts have a busy 2021 field season planned. Priority projects include three bridge replacements which were funded in part by an Idaho Parks and Recreation grant and work under the Great American Outdoors Act (GAOA), in additional to annual maintenance of the trail system.
Bridges to be replaced include: the Alex Creek bridge on the Secesh River Trail near Chinook Campground; the Center Ridge Trail bridge which is accessed from Warren Wagon Road (about a half mile past the bridge completed in 2020); and, the second bridge on the Pete Creek Trail, accessed from the Three Mile Creek dispersed camping area.
Funds received from the Great American Outdoors Act (GAOA) will allow for reroutes to be completed on the French Creek and Bear Pete Ridge trails, which were approved in the mid-2010s. GAOA funds are also planned to replace the Jenkins Crossing bridge, further north on the French Creek Trail. Completion of this project in 2021 will depend on contractor and material availability.
Other planned work includes deferred maintenance on several trails in the Rapid River drainage and a cooperative project with the Payette's Heritage program to improve conditions on the Chinese Cemetery Trail outside of Warren.
Annual maintenance such as log out, brushing, drainage maintenance, and tread repair will continue across both Ranger Districts, much of it off Goose Creek Road, Warren Wagon Road, and Lick Creek Road.
McCall and New Meadows trails staff are also looking forward to working with their regular project partners this coming summer, including Montana Conservation Corps (MCC), Idaho Conservation Corps (ICC), Idaho Trails Association (ITA), Central Idaho Trail Riders Alliance (CITRA), Back Country Horsemen of Idaho (BCHI), and Central Idaho Mountain Bike Association (CIMBA). Last year alone, these partners assisted in the maintenance of over 300 miles of trails!
In addition to the projects described above, the Forest is seeking public input on two planned trail reroutes intended to improve public safety, user experience, and watershed condition in the Secesh Summit area.
* The Bear Pete Ridge Trail (#142) is a popular trail approximately 20 miles from McCall, Idaho, Township 22 North, Range 4 East, section 28, Boise Meridian. In 2013, the District approved work on a number of sections of this trail to bring it up to Forest Service standards; however, this section was not included in that original NEPA. Under this proposal, approximately 0.2 miles of heavily-eroded sections would be obliterated and replaced with 0.4 miles of new trail. This trail would reduce trail grade by constructing a switchback which would accommodate motorcycle use.
* The Willow Basket Trail (#141) is located in Township 22 North, Range 5 East, sections 32 & 33, Boise Meridian and provides access to the Loon Lake trail system. The current proposal is to relocate the trail which involves obliterating 0.3 miles of trail, removing dilapidated structures and constructing 0.7 miles of new trail. The segment of the Willow Basket Trail proposed for reroute travels through a flat meadow and contains six trail structures (bridges, puncheons, and turnpikes) which are in various stages of disrepair. The proposed realignment follows the toe of the slope and crosses two drainages in more confined locations where two small trail structures would be constructed.
More information about the trail reroute project and a comment form can be found at: (link). Comments are requested by March 30, 2021.
If you have questions about these projects, please contact Central Zone Recreation Manager Michael Beach at michael.beach@usda.gov or 208-315-5263 or Central Zone Trails Lead Adam Larson at adam.larson@usda.gov or 208-634-0419.
Brian Harris
Public Affairs Officer
Payette National Forest
———————-
Critter News:
Proposed legislation would reduce Idaho's 1,500 wolves to 500
by Associated Press Tuesday, February 23rd 2021
Legislation allowing the use of snowmobiles, ATVs, powered parachutes and other methods to hunt and kill wolves year-round with no limits in most of Idaho has been introduced.
A House panel on Tuesday cleared the way for a public hearing on the proposed law backers say is needed because Idaho has too many wolves. Former Republican Sen. Jeff Siddoway, who is filling in for a senator who is out with COVID-19, says the plan is to reduce Idaho's wolf population from about 1,500 to 500.
Wolves could be hunted year-round in the state with no limits in all but a rugged area of central Idaho.
source:
— — — — — — — — — —
Three sheep guard dogs stolen from Emmett ranch, commission says
by Ryan L Morrison Thursday, February 25th 2021 CBS2
The Idaho Rangeland Resources Commission says three sheep guard dogs were stolen from a ranch near Emmett.
The commission says the Gem County Sheriff's Office has issued a felony warrant against a Washington man in connection with the incident. CBS2 has reached out to Gem County to confirm this information.
According to sheep rancher Harry Soulen, the young dogs were taken on Dec. 16 while they were with a herd of about 50 sheep along Hanna Road. The dogs were left with the sheep on purpose for them to bond with the sheep and guard them against predators.
continued:
— — — — — — — — — —
World Center for Birds of Prey starts campaign to expand
By Katie Kloppenburg Feb 23, 2021 KIVI
The Peregrine Fund's World Center for Birds of Prey has launched the public phase of a $3.2 million capital campaign to expand educational opportunities and exhibits at its interpretive center. The campaign, called HATCHED, has raised 84 percent of the funding needed for the project to break ground this summer.
A news release says the Center has seen a 48 percent growth over a four-year period, as well as a need to reinvest in aging infrastructure. Nearly a million guests and around 500,000 children have visited the Center since it opened.
The design will double the capacity to serve students and the public, create STEM learning opportunities and show how we can act on behalf of wildlife and crucial landscapes, according to the release.
continued:
—————–
Fish & Game News:
Feb. 22: Upper Salmon River Steelhead Fishing Report
By Brent Beller, Fisheries Biologist 1
Tuesday, February 23, 2021
Fish and Game began interviewing steelhead anglers along the upper Salmon River Feb. 19
Angler effort over the weekend was low, and the majority of interviews were obtained in location code 17 between the Lemhi and Pahsimeroi rivers. No interviews were obtained from downstream of the Middle Fork Salmon River in location code 14. Upstream of the Middle Fork in location code 15, interviewed anglers averaged 27 hours per steelhead caught. Upstream of North Fork in location code 16, interviewed anglers averaged 14 hours per steelhead caught, and upstream of the Lemhi River in location code 17, interviewed anglers averaged 63 hours per steelhead caught. No anglers interviewed upstream of the Pahsimeroi River in location code 18 reported catching a steelhead.
River conditions varied depending on location but were generally good. On Sunday, the river had cloudy visibility downstream of the Lemhi River and clear visibility upstream of the Lemhi River with river temperatures in the low to mid 30s. Currently the Salmon River is flowing at 1,040 cfs through the town of Salmon, which is 95 percent of average for today's date.
continued:
— — — — — — — — — —
Southwest Idaho River Otter Season Closes
By Evin Oneale, Regional Communications Manager
Thursday, February 25, 2021
By order of the Idaho Department of Fish and Game, the river otter trapping season in Idaho's Southwest Region will close on February 26th due to the regional harvest quota of 20 otters being met on February 23rd.
River otters must be presented at a regional office to obtain the appropriate pelt tag within 72 hours of harvest. Any trapper who has already reached their personal quota of three otters, and/or checks any otters after March 1st, must surrender those otters at an IDFG office for a $10 reward.
For more information regarding the otter season closure in Southwest Idaho, contact the Fish and Game Nampa office at 208-465-8465 or the McCall office at 208-634-8137.
source:
— — — — — — — — — —
Fish and Game offers three self-paced Project WILD courses for educators
Monday, February 22, 2021 – 3:05 PM MST
Idaho Fish and Game's Project WILD program will not host in-person workshops until late summer or fall, but the program will offer three courses that are self-paced with a completion deadline of May 10.
Idaho Ecosystems with WET, WILD and PLT
This class is a "sampler platter" of three leading environmental education programs (Project WILD, Project WET and Project Learning Tree) explored through the lens of Idaho ecosystems. There are three synchronous meetings and the rest is on your own time.
continued:
— — — — — — — — — —
More F&G News Releases
link:
———————————-
Crazy Critter Stuff:
Animals Playing in Snow
———————
Seasonal Humor:

—————-