Feb 7, 2021 The Yellow Pine Times – Valley County, Idaho
Reminder: We are still under a boil water order until further notice.
Community Calendar:
Apr 17 – Boil water order issued
Aug 11 – Valley County Mask Order
Feb 28 – 2pm Fest Planning Meeting
(details below)
———-
From Valley County
Valley County Mask-Up
A county-wide mask mandate was approved the CDH August 11th, and is now in effect for Valley County. (link)
——————-
Local Events:
Next Festival Planning Meeting
Sunday, Feb 28, 2021 @ Community Hall, 2pm
———-
Village News:
Happy Birthday John
John Hanson just turned 96 years old. John is a former teacher at the University of Yellow Pine and one of the founders of the Yellow Pine Country Club. The village of Yellow Pine sends Happy Birthday Greetings.
— — — —
January Precipitation History:
Year: Water / Snow
2021: 2.58″ / 23.9″
2020: 3.34″ / 38.6″
2019: 2.45″ / 19.0″
2018: 2.67″ / 17.7″
2017: 2.64″ / 17.8″
2016: 1.87″ / 10.7″
2015: 1.70″ / 7.5″
2014: 1.58″ / 8.4"
2013: 1.80″ / 16.0″
2012: 2.36″ / 11.9″
2011: 2.05″ / 7.8″
2010: 1.91″ / 12.75″
January Average Highs & Lows
2021 35.5 15.0
2020 35.1 18.4
2019 36.3 13.5
2018 39.0 22.1
2017 29.8 4.1
2016 36.3 15.3
2015 38.8 15.4
2014 39.1 13.0
2013 32.9 8.1
2012 37.5 14.8
2011 34.9 13.8
— — — —
Yellow Pine General Store
Please welcome Josh Jones as the new owner of the Yellow Pine General Store.
— — — —
Critters
Be Fox Aware
* Do not feed foxes human food
* Feed domestic pets indoors
* Make sure your pets are updated on Rabies vaccines
* Small pets could become a snack
Be Mountain Lion Aware
* NEVER run away from a mountain lion. The lion's instinct is to chase and ultimately catch what they perceive as potential prey.
* NEVER turn your back on a lion. Always face them while making yourself look as large as you can. Yell loudly, but don't scream. A high-pitched scream may mimic the sound of a wounded animal.
* SLOWLY back away while maintaining eye contact with the lion.
* Safety equipment you may choose to carry could include bear spray, a noise device, like an air-horn, and if you walk in the dark, a very bright flashlight.
* If you are attacked, fight back!
— — — —
Road Reports
Link: to current road reports.
— — — —
Yellow Pine US Mail
The 3-day a week mail delivery started Nov 2nd. The Post Office in Yellow Pine is open six days a week year around: M-F 845am-245pm Saturday 9am-245pm. Forever Stamp: 55 cents. Support our local post office and purchase your holiday stamps here.
— — — —
Yellow Pine Transfer Station
Report Monday (Feb 1) Dumpsters were empty and the building was clean, also there were some muddy bear paw prints on the outside of the doors. The road to the dump is plowed wide and smooth, nice drive.
Yellow Pine Transfer Station (aka, the dump)
Please do not abuse our Transfer Station or we may lose it. Household trash must be placed in the bins, flattened cardboard boxes can also go into the bins. Do not stack trash in front of the doors. Woody yard debris only for the burn pile. No furniture, appliances, tires or construction debris allowed, those items must be hauled out to the Donnelly station by you.
The Yellow Pine Transfer Station is Valley County responsibility. If it is not kept tidy, use of the Transfer Station may be revoked. That would result in residents having to take all household trash and yard waste to the Donnelly Transfer Station.
If Dumpsters Are Full, Contact Lake Shore Disposal at: (208) 634-7176
———-
Local Groups
YPWUA News:
The annual Water meeting for 2020 was held July 5th at the Community Hall 2pm.
link: minutes 20200705YPWUA.docx
Boil Your Water Before Using
Boil Water Order issued April 17, 2020.
Link: to Notice
Update Nov 29: Warren replaced the water meter because of inconsistent readings. With the new meter, the community is currently using over 55,000 gallons of water per day. A leak has been identified and will be repaired as soon as we can coordinate the contractor, equipment needed and weather together. It is difficult to get everything planned in the winter. When the repair is scheduled, the community will have a few days notice before the water is shut down. Since we are using more water than the rated use through the sand filters, the boil order will remain in effect. We continue the grant request process that is extremely slow. – Steve H
Update Nov 25: the boil order is still in effect due to the large quantity of water that is leaking from the system. – Warren D
— — — —
VYPA News:
VYPA Meetings are the 2nd Saturday of June, July, August, and September (June 12, July 10, August 14, September 11) at 2:00pm at the Community Hall.
Village Council members:
Deb Filler, Chairman
Matt Huber, Vice Chairman
Ronda Rogers, Treasurer
Rhonda Egbert, Secretary
Ron Noel, Member at Large
VYPA Bylaws adopted 8/8/2020 (link)
YPAC Corp Bylaws (link)
Festival
Anyone interested in being a part of the Festival Planning/Working committee, please contact Deb Filler. Meetings will begin at the end of January. Even if you aren't physically in YP, you can participate in the committee.
Next Festival Planning Meeting Sunday, Feb 28, 2021 @ Community Hall, 2pm
2021 Planning Notes Link:
Yellow Pine Music and Harmonica Festival Policy and Procedure Link:
— — — —
YPFD News:
After Action Report meeting Oct 13, 2020 (no minutes yet.)
YPFD had a budget meeting on September 30th at 10am at the fire station. (No minutes yet.)
Make sure to keep your chimney clean. Cleaning brushes can be borrowed from the YPFD.
YPFD COVID19 Policy
link: YPFD Covid 19 SOP
link: Covid-19 EMS (May 23)
Pile burning: Dress appropriately, have enough help on hand (people, water and tools) and make a firebreak before you start. Call your local fire protection district chief to let them know you'll be conducting a debris burn. This saves them from sending emergency responders to your property if they are not needed. Do NOT burn on breezy afternoons.
Better yet, "Rake It and Take It" yard waste (limbs, pine needles, brush, etc.) to the burn pile at the Transfer Station on the south end of the turn-around. Remember, keep the pile neat. Woody debris only, no nails, no cardboard and no furniture! The Boise NF will burn the pile in the fall when it is safe and doesn't pollute our fine YP air.
YP Fire Commissioners:
Sue Holloway – District 1
Dan Stiff – District 2
Merrill Saleen – District 3
Tim Rogers – Fire Chief
Yellow Pine Fire Protection District Community Service Notice
The purpose of this letter is to show how you as a Yellow Pine Resident can help protect your structure against a wildland fire by being "Fire Wise." Click the link: to view 20190724 Yellow Pine Fire Protection mitigation
——–
Biz Listings:
The Corner (208) 633-3325
Starting Nov 3rd open 3 days a week on mail days.
— — — —
Yellow Pine Tavern (208) 633-2233
Winter Closure: November 14, 2020 to April 16, 2021
— — — —
Yellow Pine Lodge (208) 633-3377
Closed Nov 3rd for winter.
— — — —
Yellow Pine General Store (208) 633-3300
New owner, plans to open this spring.
— — — —
Murph's RV Park & Mary's Cabins
FB page link
— — — —
Knotty Kat Crochet Works – 208-502-0940
FB page link
open Tue – Sat, 9-5
Yellow Pine eggs $3/doz
— — — —
Buck Horn Outfitters LLC 208-633-3614
Tom & Sarah Lanham
156 Yellow Pine Ave, Yellow Pine Id 83677
website:
Facebook:
Wapiti Meadow Ranch – Johnson Creek (208) 633-3217
or 208-315-3554 – cabin rentals
website:
Deadwood Outfitters
website:
— — — —
Local Fuel Suppliers
Amerigas Phone: (208) 634-8181
Ed Staub & Sons Phone: (208) 634-3833
Diamond Fuel & Feed Phone: (208) 382-4430 open 830am-5pm Monday-Friday, closed weekends.
— — — —
Outside Biz that will service Yellow Pine:
The Star-News


click to subscribe:
A reminder that those who live in other states can subscribe to the online edition only since the mail can take days for hard copy to reach them.
Rocky Mountain Mechanical – Plumbing – Heating – Air conditioning
(208) 365-PIPE (7473), Emmett, will service Yellow Pine
Elkhorn Heating & Cooling
(208) 906-4067 Middleton, Idaho, will service Yellow Pine
B&T Safety Solutions LLC
208-271-1600 Based out of Donnelly
Snow removal, cleaning chimneys and stoves, we do cabin staining/chinking as well
— — — —
Follow The Yellow Pine Times on Facebook (updated more often than emails)
———————–
Local Observations:
Monday (Feb 1) overnight low of 18 degrees, this morning mostly thin clouds, and measured 20″ of snow on the ground. Jays, chickadees, nuthatches and the pine squirrel visiting. At lunch time mostly thicker gray clouds, high of 50 degrees. Variable breezes, warm and mostly small white clouds early afternoon. Nearly overcast with gray thicker clouds late afternoon. Cloudy and above freezing at dusk. Gusty breezes started before 10pm and into the night. Mostly cloudy before midnight. Little bit of rain early morning (around 5am?)
Tuesday (Feb 2) 24 hour low of 23 degrees from Monday morning, (probably did not go below freezing.) This morning dark overcast, light breezes and started to sprinkle at 10am. Nuthatches, chickadees, a jay, a hairy woodpecker and the pine squirrel visiting. Break in the rain at lunch time, then light sprinkles early afternoon, breezy with low overcast sitting on top of the higher peaks and ridges, high of 42 degrees. Break in the rain mid-afternoon, then coming down pretty good for a short while then back to sprinkles. Still sprinkling and above freezing at dusk. A light dusting of snow before 930pm. Cloudy before midnight.
Wednesday (Feb 3) overnight low of 20 degrees, a scant 1/4″ new snow plus rain = 0.19″, snow on the ground averages 16″. Broken overcast sky this morning. Hairy woodpeckers, nuthatches, chickadees, jays visiting and later the squirrel. A few flakes of snow before lunch time and above freezing, high of 36 degrees. Mail truck made it in on time. Thin spots in the clouds early afternoon with filtered sunlight and a bit breezy. Cloudy at dusk and below freezing. Fat trace of snow late evening. Cloudy before midnight.
Thursday (Feb 4) overnight low of 16 degrees, a scant 1/4″ new snow (SWE=0.01″) and 16″ of snow on the ground, flat overcast sky. Jays, nuthatches, chickadees and the squirrel visiting. Fairly fresh deer scat on Westside Ave. Overcast at lunch time, high of 33 degrees. Barely above freezing, overcast and breezy with a few flakes of snow mid-afternoon. Flaking but not accumulating at dusk. Light snow before midnight and a trace accumulation. Bold fox on the porch! Looks like it snowed all night.
Friday (Feb 5) 24 hour low of 20 degrees from Thursday morning, low overcast and steady snow this morning, a fat 3″ new snow (SWE=0.20″) and 19″ snow on the ground. Jays, hairy woodpecker, chickadees, nuthatches and the pine squirrel visiting. Thinner clouds and filtered sunlight at lunch time, light breeze, above freezing and light snowfall (another 1/2″ new), high of 39 degrees Mail truck made it in on time. Stopped snowing early afternoon and breaks in the clouds. Partly clear and gusty breezes just before sunset. Lighter breezes, a little above freezing and cloudy at dusk. Partly clear before midnight.
Saturday (Feb 6) overnight low of 17 degrees, light dusting of snow fell early plus 1/2″ snow from Fri (SWE=0.05″) and measured 18″ snow on the ground, the sky was overcast at sunrise. Fresh fox tracks. Jays, several chickadees, a few nuthatches and squirrel visiting. Cloudy and icicles dripping at lunch time, high of 39 degrees. Overcast and light breeze mid-afternoon, flaking snow. The river sounds louder. Cloudy, snowing lightly and right at freezing at dusk. A fat trace of snow by 8pm. Snowing lightly before midnight, maybe 1/2″ so far. Probably quit snowing shortly after midnight.
Sunday (Feb 7) 24 hour low of 27 degrees from Saturday morning, measured 3/4″ new snow (SWE=0.05″) and a little over 18″ snow on the ground. Overcast and gusty breezes this morning. Jays, chickadees, nuthatches, a downy woodpecker and the pine squirrel visiting. Cloudy and breezy at lunch time, high of 35 degrees. Flakes and flurries on and off during the afternoon, breezy and chilly. Elk wandering through the golf course. Calmer and cloudy at dusk.
——————-
Idaho News:
Idaho moves to stage three of reopening after decrease in COVID-19 cases
By Katie Kloppenburg Feb 02, 2021
Idaho Gov. Brad Little announced Tuesday the state is moving into stage three of the Idaho Rebounds reopening plan.
In stage three, gathering sizes increase from 10 to 50 people and does not apply to political and religious expression, educational activities and healthcare-related events, like COVID-19 testing or vaccination events. The gathering size limit also does not apply to youth sporting events, as long as spectator rules by the Idaho State Board of Education are followed.
Bars, restaurants and nightclubs can still operate with seating only.
"This is not a signal to let up on our collective good efforts," Little said. "We must stay vigilant. Idaho is surrounded by states that have detected a much more contagious, variant strain of COVID-19. We know it is only a matter of time before we discover it right here in Idaho."
continued:
— — — — — — — — — —
404 new Idaho COVID-19 cases, 11 new deaths
Feb 5. 2021 Local News 8
Idaho officials reported 404 new COVID-19 cases and 11 new deaths on Friday.
That brings the total confirmed and probable cases reported since March to 164,969.
There are a total of 134,265 confirmed cases and 30,704 probable cases in all 44 of the 44 counties in Idaho, according to numbers released from the local health districts and the state. …
The state said 134,367 people have received the vaccine, and 166,466 total doses have been administered. …
The state said 14 new hospitalizations have been reported bringing the total number to 6,785 and 1 new case has been admitted to the ICU bringing the total to 1,184. …
11 new deaths were reported bringing the total recorded deaths to 1,758.
full story: [Valley County 768 cases 5 deaths.]
— — — —
Idaho February 3, 2021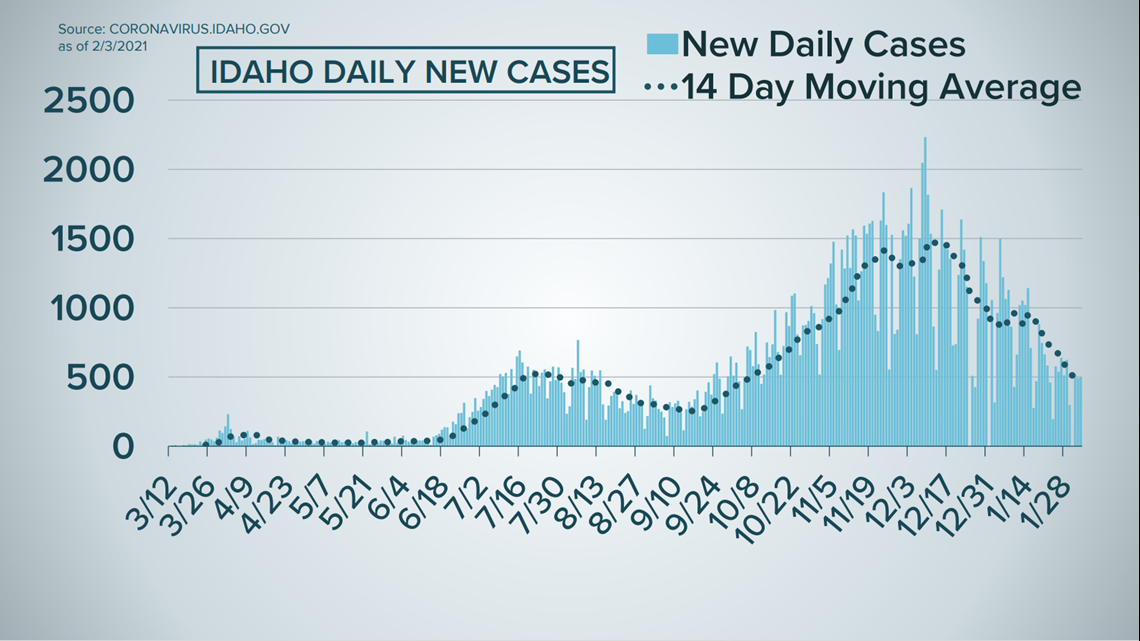 source: KTVB
— — — — — — — — — —
Valley [County] Cases Total 682
By Tom Grote for The Star-News Feb 4, 2021
The total number of positive COVID-19 cases in Valley County since the start of the pandemic rose to 682 cases by Tuesday, up 28 cases from 654 a week ago, health officials said.
St. Luke's McCall on Tuesday reported 583 total positive cases from testing done at the hospital, up 27 cases from 556 a week ago.
Cascade Medical Center reported 99 total positive cases through Monday, or one more than the 98 cases reported last week.
Central District Health reported 596 of the positive cases were confirmed to be Valley County residents as of Tuesday, which is 34 more than the 562 cases reported a week ago.
The difference between the hospital figures and the health department figures are those who tested positive but did not declare Valley County as their residence.
Three confirmed deaths and one probable death of Valley County residents related to COVID-19 have been reported.
continued:
— — — —
St. Luke's McCall fills up COVID-19 vaccine slots in minutes
Cascade hospitals gives 500 shots on Wednesday
By Tom Grote for The Star-News Feb 4, 2021
Appointments for COVID-19 vaccinations through St. Luke's McCall for those age 65 and older were filled within minutes after opening on Monday.
The 200 appointments were the first offered to a part of the general population as well as specific groups of people.
Previously, the COVID-19 vaccine was only available to health-care workers, residents and staff of long-term care facilities, first responders, teachers and school staff, daycare workers, and jail or prison staffers.
New appointments will be based on the number of doses allocated to St. Luke's McCall, St. Luke's McCall Chief Operating Officer/Chief Nursing Officer Amber Green said.
New appointments likely will open up on Monday each week, with more opening during the week if more doses are acquired, Green said. …
Cascade Medical Center was expected to give the COVID-19 vaccine on Wednesday to 500 people, most of which were over age 65, hospital CEO Tom Reinhardt said. The clinic was held at the Cascade American Legion Hall.
"We have ordered more vaccine, and will schedule our next clinic when it arrives," Reinhardt said.
As of Wednesday, 858 residents of Valley County had received the first dose of the vaccine while 145 residents had received both doses, according to figures from the Idaho Department of Health and Welfare. …
full story:
— — — — — — — — — —
Valley County Driver's License Services
Feb 6, 2021
Our driver's license services are now open to normal business hours.
We are asking the public to assist us in keeping our community safe and our doors are open. Masks are still required and we are limiting the amount of people allowed in the office/lobby area at a time.
Hours are Monday through Friday from 8 a.m. – 5 p.m.
The hours for testing for Class D and motorcycle endorsements will be from 8 a.m. – 4 p.m.
The hours for CDL testing will be 8 a.m. – 3:30 p.m.
Fingerprinting services are available Tuesday and Thursdays from 9 a.m. – 4 p.m.
Our office will be closed Wednesday March 10, 2021 for training.
As always if you have any questions please feel free to contact us at 208-382-7158.
from their FB:
— — — — — — — — — —
Valley County get $2,837 for emergency food, shelter programs
The Star-News Feb 4, 2021
Valley County has been awarded $2,837 to supplement emergency food and shelter programs in the county.
The funds were made available through the Department of Homeland Security/Federal Emergency Management Agency under the Emergency Food and Shelter National Board Program.
continued:
— — — — — — — — — —
Snow bike race draws 1,000 people, 95 entrants to Cascade
The Star-News Feb 4, 2021
Round Two of the 2021 North American Snow Bike Association National Championship Snow Bike Series drew 95 entrants and about 1,000 people on Saturday to the event's new location near Cascade.
The event was moved from McCall, where it made its debut in 2009, to a track along Warm Lake Road, after the 2021 McCall Winter Carnival was canceled due to the COVID-19 pandemic. …
The day of racing ended with the UTVs taking the line, and the crowd was treated to mayhem and crashing galore.
full story:
— — — — — — — — — —
Two people taken to hospital after helicopter crash near Horseshoe Bend
Feb 05, 2021 KIVI
Two people were taken to the hospital after a USDA Wildlife Service helicopter crashed near Horseshoe Bend just after 12:30 p.m. The Boise County Sheriff's Office says the helicopter was doing wildlife work in the area.
One of the occupants was taken to a local hospital by St. Luke's air ambulance. The other occupant was taken by ground ambulance, according to the Boise County Sheriff's Office. There is no word on their condition.
source:
— — — — — — — — — —
Still waiting on your stimulus check? Check your pile of junk mail
8 million Americans received stimulus debit cards
By Karen Lehr Feb 02, 2021 KIVI
Here's what you want to look for:

By now, most eligible Americans have received their second stimulus payment but some people are still waiting.
Even if your first payment in 2020 was deposited directly into your bank account, this time around you may want to keep an eye on the mailbox.
The Treasury Department and IRS sent out eight million pre-paid debit cards in this round of payments that are making some people question if they're the real deal.
continued:
——————-
Scam Alert:
Fake N95 masks have flooded the market. Here's how to tell the difference
Feb 5, 2021 Local News 8
There's one mask guideline that hasn't changed throughout the pandemic — you definitely should be wearing one.
But what happens when you're not sure if your mask is real?
Between the time the pandemic began and the year ended, US Customs and Border Protection (CBP) seized over 14.6 million counterfeit face masks entering the US, the agency told CNN.
N95 masks are considered the gold standard for mask usage, but counterfeit doppelgängers may threaten Americans' safety. Not meeting US safety standards means they may not filter out airborne particles effectively, the agency said.
Here's how you can spot a fake N95 mask.
continued:
————
Mining News:
Midas Gold submits updated plan for Stibnite mine
Changes aimed to ensure water quality in East Fork
By Drew Dodson for The Star-News Feb 4, 2021
Midas Gold has submitted an updated plan that would go beyond its previous proposal to protect water quality and fish habitat at its proposed Stibnite Gold Project near Yellow Pine.
The changes come in response to the comments received on the Payette National Forest's draft study of the project that was released last August.
Those comments, from citizens as well as the U.S. Environmental Protection Agency, worried whether Midas Gold's plans to clean pollution from water draining from piles of waste rock and tailings would work, especially long after the mine is closed.
The new plan would eliminate two permanent water treatment plants that had been proposed. One water treatment plant would remain, but would only need to operate for 25 years after the mine is closed.
Critics worried whether funding would be available years from now to keep the treatment plants running and whether the plants would be adequate to keep pollution out of the East Fork South Fork Salmon River.
The Payette's draft study outlined four alternatives for the proposed gold and antimony mine. The approved plan could feature parts of those alternatives as well as the latest proposal.
It is too soon to know if the updated plan will delay approval of the mine, for which a draft decision is currently expected in August, Payette Public Affairs Office Brian Harris said.
If further study is needed, the Payette could re-open the public comment period on the project, which has already drawn more than 10,000 comments.
The changes to the plan would focus on water quality in the East Fork, which runs through the heart of the project area.
Hangar Flats/Fiddle Creek
The most significant part of the new plan would eliminate a proposed waste rock pile in the Fiddle Creek Drainage, which at 168 acres would have covered the equivalent of 127 football fields.
Eliminating the Fiddle Creek pile means a permanent water treatment plant would not be needed to clean pollutants from rainwater and snow run-off seeping through the pit.
Some of the waste rock that would have gone in the Fiddle Creek pile would instead backfill the Hangar Flats Pit, one of three open pit mines planned by Midas Gold.
The new plan would reduce the Hangar Flats pit size from about 140 acres to 66 acres, reducing the amount of rock to be excavated by 44 million tons
Previous plans had called for a lake to be formed in the Hangar Flats Pit with groundwater, rain and snow runoff.
Eliminating the lake would prevent the release of acid and metals that occurs when exposed mining rock comes in contact with water.
The lake water would have required permanent water treatment to remove arsenic and antimony leached from the exposed mining rock, under previous plans.
Eliminating the lake also would keep water flowing in nearby streams. Those streams would be at risk of drying up until the lake is filled, which could have taken up to seven years.
Stibnite Lake
The updated plan calls for the existing Yellow Pine Pit Lake to be restored after gold ore is removed from the pit.
The lake marks where past mining operations have blocked upstream fish passage in the East Fork South Fork Salmon River for the last 80 years.
Previously, Midas Gold had planned to fill the pit and route the East Fork through a channel across the filled-in pit.
The new plan would put a liner in the bottom of the partially backfilled pit and let natural water refill it. The new lake would be renamed Stibnite Lake.
The East Fork would flow through Stibnite Lake and benefit downstream fish with colder water. Without the lake, downstream water temperatures would rise and could harm fish, according to Midas Gold.
Arsenic Reduction
The updated plan would neutralize more arsenic left in the slurry remaining after gold and silver is removed from ore.
Arsenic and other pollutants in the slurry would be neutralized by adding more lime than previously proposed.
Not all of the arsenic would be neutralized, however, and a treatment plant would still be needed to decontaminate water from the slurry, which would collect over time in a storage pond on top of the lined tailings pile.
Run-off water and water from the condensed tailings would need to be treated for about 25 years after the mine is closed, under the updated plan.
source: © Copyright 2009-present Central Idaho Publishing Inc. All rights reserved (used with permission.)
——————-
Public Lands:
State forms advisory panel on endowment lands
Group's formation prompted by proposals to develop state parcels
By Drew Dodson for The Star-News Feb 4, 2021
A panel of local citizens, organizations and businesses has been formed by the Idaho Department of Lands to review management of state endowment lands around McCall.
The Payette Endowment Land Strategy Focus Group met for the first time last Thursday for three hours over Zoom. Two more meetings will be held on Feb. 11 and Feb. 25.
About 87 members of the public observed last week's meeting.
continued:
— — — — — — — — — —
Masks required at national parks
Feb 3, 2021 Local News 8
Masks are now required inside our national parks.
Everyone will need to wear a mask inside all park buildings and facilities.
They are also required on any park managed lands when physical distancing cannot be maintained. That includes narrow or busy trails, overlooks, and historic homes.
The National Park Service says it will continue to evaluate operations and make changes to visitor services as needed.
source:
—————-
Critter News:
Two wolves poached near Cambridge off Highway 71
by CBS2 News Staff Wednesday, February 3rd 2021
Idaho Fish and Game says two wolves have been poached just off Highway 71 northwest of Cambridge.
A conservation officer responded to the report on Jan. 30 and found two wolves; one was heavily scavenged, while the other remained intact after tumbling down a hill into Brownlee Creek.
Evidence was collected but the officer hopes to learn more about the case from an eyewitness or anyone else who may have information.
continued:
— — — — — — — — — —
Bannock Sheriffs Office retires drug dog into care of his handler
By Emma Iannacone February 2, 2021 Local News 8
After 8 years in the force, Bannock County Sheriff drug dog Ryder is retiring into the care of his handler.
On Tuesday, Bannock County Commissioners agreed to Sheriff Tony Manu's request to retire one of the County's 3 narcotic canines. For the adoption fee of $1, Ryder will get to spend his golden years with his handler, Corporal Nick Zweigart.
continued:
— — — — — — — — — —
IDFG says there is uptick in mountain lion encounters in Southcentral Idaho neighborhoods
by CBS2 News Staff Saturday, February 6th 2021

Adult female lions sits in the backyard of a home in the Wood River Valley. (M. Smith)
Idaho Fish and Game officials say mountain lion sightings and encounters have increased in Southcentral Idaho mountain communities after recent heavy snowfall in late January.
Officials say they have received calls about mountain lions in the Wood River Valley, and near the mountain communities of Pine and Featherville. These calls started coming in after recent snowstorms brought feet of snow to area communities.
"Numerous reports of lion sighting and encounters have been reported to Fish and Game since late January, with most reports coming from neighborhoods north of Hailey," Idaho Fish and Game said.
continued:
— — — — — — — — — —
Second sand cat arrives at Zoo Boise
By Katie Kloppenburg Feb 02, 2021 KIVI
Zoo Boise announced Tuesday that they welcomed their second sand cat, named Simba. Zoo staff says Simba has recently been introduced to the female sand cat, Nala.
The introductions are going well and there are exciting prospects for the future of the species at Zoo Boise.
Nala came to Zoo Boise last November from the Hogle Zoo in Salt Lake City. Simba came from the Living Desert in Palm Springs.
continued:
— — — — — — — — — —
Boise State students fined, admit to dumping 34 waterfowl carcasses behind Fred Meyer
by Ryan L Morrison Wednesday, February 3rd 2021 CBS2
Two Boise State University students recently confessed and were fined for dumping 34 waterfowl carcasses behind a Fred Meyer in Garden City.
Idaho Fish and Game officers started investigating the case on Jan. 25 when someone reported 19 whole waterfowl carcasses and 15 others with the breast meat removed behind the store at Glenwood and Chinden.
A suspected vehicle was identified through security footage and a photo was put out to the public.
continued:
——————–
Fish & Game News:
F&G Commission modifies outfitter allocation in some newly limited, over-the-counter elk hunts
By Brian Pearson, Conservation Public Information Specialist
Friday, February 5, 2021
Increased allocation is to match documented outfitter use in certain elk zones
During its meeting in Nampa on Jan. 28, the Idaho Fish and Game Commission modified the number of elk tags available to outfitted nonresident hunters in newly limited, over-the-counter elk hunts by increasing the allocation of outfitter tags in some elk zones in order to match documented outfitter use.
The modification to the outfitter allocation is part of a transitional process as Fish and Game heads into its first year with newly established limits on nonresident participation in over-the-counter elk and deer hunts.
The Commission used temporary rulemaking in December to approve increasing the outfitter set-aside for nonresident elk tags from 2,400 to 2,800. That was after approving a rulemaking petition seeking to increase the outfitter set-aside up to 25 percent of the nonresident quota for general nonresident deer and elk tags, which is the statutory ceiling. Without this action, documented outfitter use of tags in certain over-the-counter elk hunts would not be met.
continued:
— — — — — — — — — —
Mule deer poached and left to waste in Bingham County
By Jennifer Jackson, Regional Communications Manager
Thursday, February 4, 2021
Idaho Department of Fish and Game is seeking information regarding the poaching and waste of a mule deer buck in Bingham County. The buck's carcass was recently discovered on private property on the edge of Hell's Half Acre in Game Management Unit 63 just west of Shelley.
Fish and Game estimates that the buck was shot sometime between the evening of Wednesday, Jan 27 and the evening of Friday, Jan 29. The head of the deer was removed along with its back straps. The rest of the carcass was left to waste.
continued:
— — — — — — — — — —
More F&G News Releases
link:
———————————-
Crazy Critter Stuff:
Pandas play in the snow: National Zoo captures baby and parent pandas enjoying the snow
by Samantha Mitchell, WJLA Sunday, January 31st 2021
What really could be better than capturing pandas playing in the snow? How about a video of pandas sliding around and seeming to thoroughly enjoy it?
That's exactly what the Smithsonian National Zoo did Sunday as they sent out videos and photos of both the baby panda and parent pandas relishing the white powder in their enclosures.
One video captured the adorable moment one of the pandas slid through the snow on its back, while another angle of the video captured the panda rolling around in the fluff.
video:
—————-
Seasonal Humor:

————–