Feb 14, 2021 The Yellow Pine Times – Valley County, Idaho
Reminder: We are still under a boil water order until further notice.
Community Calendar:
Apr 17 – Boil water order issued
Aug 11 – Valley County Mask Order
Feb 28 – 2pm Fest Planning Meeting
June 12 – VYPA Meeting
(details below)
———-
From Valley County
Valley County Mask-Up
A county-wide mask mandate was approved the CDH August 11th, and is now in effect for Valley County. (link)
——————-
Local Events:
Next Festival Planning Meeting
Sunday, Feb 28, 2021 @ Community Hall, 2pm
———-
Village News:
It takes a village to protect a village
On Monday, Feb 8th, 21 Yellow Piners received their first shot of the Moderna Vaccine at the Community Hall thanks to the Cascade Medical Center. This project started a couple of weeks in advance, with note from Tom Reinhardt, CEO of the CMC, requesting a survey of our wintering in population. We set about making phone calls and sending emails, asking folks, "Are you interested in getting the jab?" With help from local ladies, we found 20 willing villagers (plus 1 standby) and submitted the list to Cascade. They set the date for Feb 8th at noon. Preparations were made on our end, the Community Hall was warmed up, cookies and coffee provided, and cleaned up afterwards thanks to Deb, Rhonda and Ronda, Village Council Members. And our local snow plow operator went out Sunday to clear the South Fork and East Fork roads to make sure the medical folks had a safe trip in. By 1130am, both sides of main street were parked full of an assortment of winter vehicles waiting for the ambulance to arrive. A little after noon the locals (wearing masks) started filing inside the hall to read a helpful flyer about the vaccine and fill out paperwork, and then line up for the shots. Teri Coombs, RN, and Sam Jensen, Paramedic, administered the painless jabs. Then we all sat around (spaced well apart) to enjoy coffee and cookies while we waited the allotted time to make sure no one had a reaction. A bunch of very happy locals then headed for their homes a few at a time.
The Village of Yellow Pine wishes to send a great big Thank You to Cascade Medical Center and their hardworking personnel for taking care of us old farts in the back country.

Cascade Medic 3



Sam Jensen, Paramedic



Teri Coombs, RN
— — — —
Feb 13th Pie Contest
The annual pie contest was held at The Corner at 2pm.
Judges; Nate, Ray, Ron

1st: Christie Harris, 2nd: Deb Filler: 3rd: Teri Norell, Olivia McNeley, Liesl Constantidis


— — — —
Weekend Snow Storms
The weather service put out winter storm advisories for 3 winter storms to hit our area. Storm #1 gave us 3″ new snow by Friday morning, storm #2 another 3″ new snow by Saturday morning plus another 1.25″ by Sunday morning and measured 24″ total snow on the ground. Storm #3 is due Sunday night into Monday with more snow. So far in February we have received 12″ of snowfall.
— — — —
Yellow Pine General Store
Please welcome Josh Jones as the new owner of the Yellow Pine General Store.
— — — —
Critters
Be Fox Aware
* Do not feed foxes human food
* Feed domestic pets indoors
* Make sure your pets are updated on Rabies vaccines
* Small pets could become a snack
Be Mountain Lion Aware
* NEVER run away from a mountain lion. The lion's instinct is to chase and ultimately catch what they perceive as potential prey.
* NEVER turn your back on a lion. Always face them while making yourself look as large as you can. Yell loudly, but don't scream. A high-pitched scream may mimic the sound of a wounded animal.
* SLOWLY back away while maintaining eye contact with the lion.
* Safety equipment you may choose to carry could include bear spray, a noise device, like an air-horn, and if you walk in the dark, a very bright flashlight.
* If you are attacked, fight back!
— — — —
Road Reports
Link: to current road reports.
— — — —
Yellow Pine US Mail
The 3-day a week mail delivery started Nov 2nd. The Post Office in Yellow Pine is open six days a week year around: M-F 845am-245pm Saturday 9am-245pm. Forever Stamp: 55 cents. Support our local post office and purchase your holiday stamps here.
— — — —
Yellow Pine Transfer Station
Report Monday (Feb 1) Dumpsters were empty and the building was clean, also there were some muddy bear paw prints on the outside of the doors. The road to the dump is plowed wide and smooth, nice drive.
Yellow Pine Transfer Station (aka, the dump)
Please do not abuse our Transfer Station or we may lose it. Household trash must be placed in the bins, flattened cardboard boxes can also go into the bins. Do not stack trash in front of the doors. Woody yard debris only for the burn pile. No furniture, appliances, tires or construction debris allowed, those items must be hauled out to the Donnelly station by you.
The Yellow Pine Transfer Station is Valley County responsibility. If it is not kept tidy, use of the Transfer Station may be revoked. That would result in residents having to take all household trash and yard waste to the Donnelly Transfer Station.
If Dumpsters Are Full, Contact Lake Shore Disposal at: (208) 634-7176
———-
Local Groups
YPWUA News:
The annual Water meeting for 2020 was held July 5th at the Community Hall 2pm.
link: minutes 20200705YPWUA.docx
Boil Your Water Before Using
Boil Water Order issued April 17, 2020.
Link: to Notice
Update Nov 29: Warren replaced the water meter because of inconsistent readings. With the new meter, the community is currently using over 55,000 gallons of water per day. A leak has been identified and will be repaired as soon as we can coordinate the contractor, equipment needed and weather together. It is difficult to get everything planned in the winter. When the repair is scheduled, the community will have a few days notice before the water is shut down. Since we are using more water than the rated use through the sand filters, the boil order will remain in effect. We continue the grant request process that is extremely slow. – Steve H
Update Nov 25: the boil order is still in effect due to the large quantity of water that is leaking from the system. – Warren D
— — — —
VYPA News:
VYPA Meetings are the 2nd Saturday of June, July, August, and September (June 12, July 10, August 14, September 11) at 2:00pm at the Community Hall.
Village Council members:
Deb Filler, Chairman
Matt Huber, Vice Chairman
Ronda Rogers, Treasurer
Rhonda Egbert, Secretary
Ron Noel, Member at Large
VYPA Bylaws adopted 8/8/2020 (link)
YPAC Corp Bylaws (link)
Festival
Anyone interested in being a part of the Festival Planning/Working committee, please contact Deb Filler. Meetings will begin at the end of January. Even if you aren't physically in YP, you can participate in the committee.
Next Festival Planning Meeting Sunday, Feb 28, 2021 @ Community Hall, 2pm
2021 Planning Notes Link:
Yellow Pine Music and Harmonica Festival Policy and Procedure Link:
— — — —
YPFD News:
After Action Report meeting Oct 13, 2020 (no minutes yet.)
YPFD had a budget meeting on September 30th at 10am at the fire station (no minutes yet.)
Make sure to keep your chimney clean. Cleaning brushes can be borrowed from the YPFD.
YPFD COVID19 Policy
link: YPFD Covid 19 SOP
link: Covid-19 EMS (May 23)
Pile burning: Dress appropriately, have enough help on hand (people, water and tools) and make a firebreak before you start. Call your local fire protection district chief to let them know you'll be conducting a debris burn. This saves them from sending emergency responders to your property if they are not needed. Do NOT burn on breezy afternoons.
Better yet, "Rake It and Take It" yard waste (limbs, pine needles, brush, etc.) to the burn pile at the Transfer Station on the south end of the turn-around. Remember, keep the pile neat. Woody debris only, no nails, no cardboard and no furniture! The Boise NF will burn the pile in the fall when it is safe and doesn't pollute our fine YP air.
YP Fire Commissioners:
Sue Holloway – District 1
Dan Stiff – District 2
Merrill Saleen – District 3
Tim Rogers – Fire Chief
Yellow Pine Fire Protection District Community Service Notice
The purpose of this letter is to show how you as a Yellow Pine Resident can help protect your structure against a wildland fire by being "Fire Wise." Click the link: to view 20190724 Yellow Pine Fire Protection mitigation
——–
Biz Listings:
The Corner (208) 633-3325
Starting Nov 3rd open 3 days a week on mail days.
— — — —
Yellow Pine Tavern (208) 633-2233
Winter Closure: November 14, 2020 to April 16, 2021
— — — —
Yellow Pine Lodge (208) 633-3377
Closed Nov 3rd for winter.
— — — —
Yellow Pine General Store (208) 633-3300
New owner, plans to open this spring.
— — — —
Murph's RV Park & Mary's Cabins
FB page link
— — — —
Knotty Kat Crochet Works – 208-502-0940
FB page link
open Tue – Sat, 9-5
Yellow Pine eggs $3/doz
— — — —
Buck Horn Outfitters LLC 208-633-3614
Tom & Sarah Lanham
156 Yellow Pine Ave, Yellow Pine Id 83677
website:
Facebook:
Wapiti Meadow Ranch – Johnson Creek (208) 633-3217
or 208-315-3554 – cabin rentals
website:
Deadwood Outfitters
website:
— — — —
Local Fuel Suppliers
Amerigas Phone: (208) 634-8181
Ed Staub & Sons Phone: (208) 634-3833
Diamond Fuel & Feed Phone: (208) 382-4430 open 830am-5pm Monday-Friday, closed weekends.
— — — —
Outside Biz that will service Yellow Pine:
The Star-News


click to subscribe:
A reminder that those who live in other states can subscribe to the online edition only since the mail can take days for hard copy to reach them.
Rocky Mountain Mechanical – Plumbing – Heating – Air conditioning
(208) 365-PIPE (7473), Emmett, will service Yellow Pine
Elkhorn Heating & Cooling
(208) 906-4067 Middleton, Idaho, will service Yellow Pine
B&T Safety Solutions LLC
208-271-1600 Based out of Donnelly
Snow removal, cleaning chimneys and stoves, we do cabin staining/chinking as well
— — — —
Follow The Yellow Pine Times on Facebook (updated more often than emails)
———————–
Local Observations:
Monday (Feb 8) overnight low of 21 degrees, no accumulation from the flakes and flurries on Sunday, measured 18″ total snow on the ground and broken overcast sky this morning. Jays, nuthatches, chickadees and the pine squirrel visiting. Fresh fox tracks in the area. Mostly cloudy and breezy at lunch time. Vaccines at Community Hall completed by 1pm. Mostly cloudy, cool and a little breezy mid-afternoon, high of 34 degrees. Partly cloudy and below freezing at dusk. Cold night.
Tuesday (Feb 9) overnight low of Zero degrees, no new precipitation and estimate 18″ of snow on the ground, mostly clear sky this morning. Lots of chickadees and nuthatches, a few jays, a flicker and the pine squirrel visiting. Mostly clear and still well below freezing before lunchtime. Almost clear sky and light breezes mid-afternoon, high of 39 degrees. Cold and partly cloudy at dusk. Clear and single digits before midnight.
Wednesday (Feb 10) overnight low of -3 degrees, no precipitation and measured 18″ old snow on the ground, the sky was partly cloudy this morning with a slight cold breeze. Sunrise 1015am. Jays, nuthatches and chickadees visiting. Overcast and still below freezing at lunch time. Mail truck made it in on time. Partly cloudy, chilly light breeze and above freezing before sundown, high of 39 degrees. Cold and mostly clear at dusk. Stars out before midnight.
Thursday (Feb 11) 24 hour low of 1 degree from Wednesday morning, this morning overcast and measured 18″ old snow on the ground. A few fox tracks. Lots of chickadees, nuthatches and a little downy woodpecker visiting. Shooting on and off during the morning. Light snow falling before lunch time for less than half an hour. Below freezing, low clouds and fine light snow falling early afternoon and a bit foggy, high of 25 degrees. About 1/4″new snow by mid-afternoon and below freezing. Shots fired late afternoon. Steady snow and below freezing just before dusk. Still snowing at midnight, about 1″ so far. Snowed all night.
Friday (Feb 12) 24 hour low of 13 degrees from Thurs morning, this morning overcast – ridges fogged in, below freezing and steady light snow continues, as of 10am 3″ new (SWE=0.32″) and 21″ on the ground. Squirrel tracks. Jays, hairy woodpecker, nuthatches and chickadees visiting. Steady fine snow and low overcast at lunch time, high of 26 degrees. Still below freezing mid-afternoon, clouds sitting on peaks and ridges, light fog and still snowing – less than 1/2″ has accumulated since this morning. Juvenile male red winged blackbird visiting. Still snowing lightly at dusk, low clouds and temperature dropping. Steady snowfall before midnight, about 1″ so far. Looks like it snowed all night.
Saturday (Feb 13) overnight low of 16 degrees, measured 3″ new snow (SWE=0.26″) and 23″ snow on the ground, overcast and fine light snow falling. Fresh fox and squirrel tracks. Hairy woodpecker, juvenile male red-wing blackbird, chickadees, nuthatches and jays visiting. Socked in and steady snowfall at lunch time, high of 26 degrees. Pine squirrel visited briefly. Light snowfall mid-afternoon, about 1/2″ accumulation for the day and below freezing. Breaks in the clouds and not snowing at dusk, temperature dropping. Cloudy before midnight. Another half inch of snow during the night.
Sunday (Feb 14) overnight low of 9 degrees, thinning overcast this morning, measured 1.25″ new snow (SWE=0.04″) and 24″ total on the ground. Red-winged blackbird, hairy woodpecker, jays, nuthatches and several chickadees visiting. Overcast at lunch time. Pine squirrel showed up for quick lunch. Thicker clouds early afternoon, foggy ridges and peaks, high of 30 degrees. Overcast and fine light snow falling late afternoon for a short while. Low overcast and cold at dusk.
——————
Idaho News:
349 new Idaho COVID-19 cases, 5 new deaths
Feb 12, 2021 Local News 8
Idaho officials reported 349 new COVID-19 cases and five new deaths on Friday.
That brings the total confirmed and probable cases reported since March to 167,225.
There are a total of 135,949 confirmed cases and 31,276 probable cases in all 44 of the 44 counties in Idaho, according to numbers released from the local health districts and the state. …
The state said 171,604 people have received the vaccine, and 222,173 total doses have been administered. …
5 new deaths were reported bringing the total recorded deaths to 1,796.
full story:
— — — —
Idaho Thursday, February 11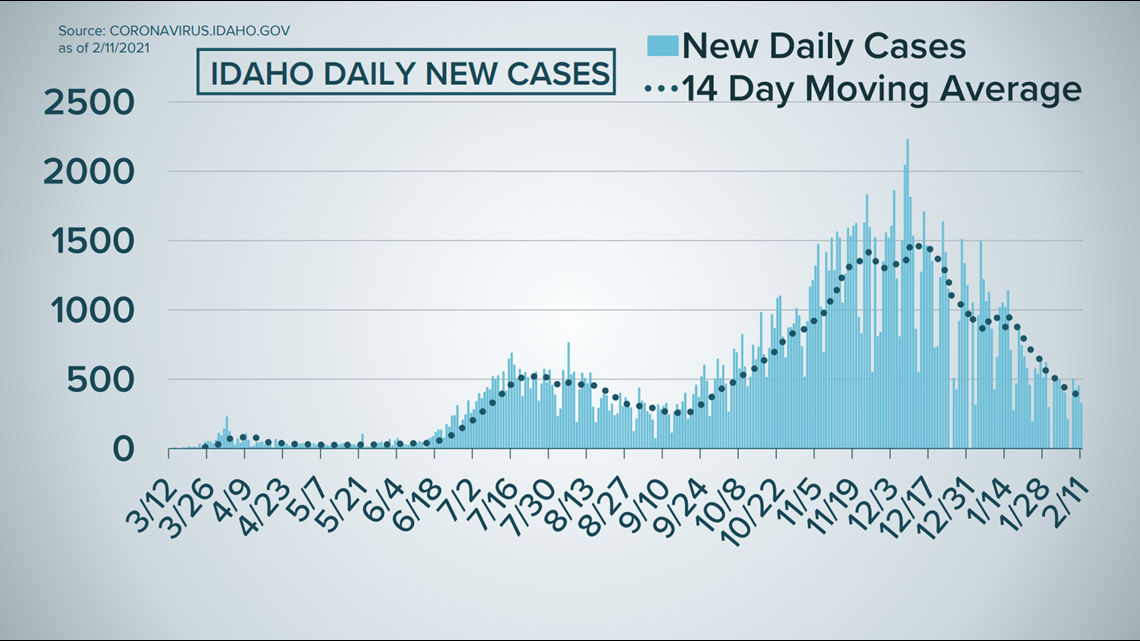 source: KTVB
— — — — — — — — — —
Number of new COVID-19 cases decline in Valley, Adams
By Tom Grote for The Star-News Feb 11, 2021
The number of new cases of COVID-19 in Valley and Adams counties continues to decline, according to health agency reports.
The total number of positive COVID-19 cases in Valley County since the start of the pandemic rose to 699 cases by Tuesday, up 17 cases from 682 a week ago, health officials said.
The number of new cases is down from the 28 new cases reported last week. That figure is also down from the 34 new cases reported two weeks ago and 48 new cases reported three weeks ago.
St. Luke's McCall on Tuesday reported 600 total positive cases from testing done at the hospital, up 17 cases from 583 cases a week ago.
Cascade Medical Center reported no new positive cases through Monday, leaving the total number of cases at 99 since the pandemic reached Valley County last summer.
Central District Health reported 611 of the positive cases were confirmed to be Valley County residents as of Tuesday, which is 15 more than the 596 cases reported a week ago.
continued:
— — — — — — — — — —
Valley hospitals give 1,635 people first COVID-19 dose
224 people get second dose of vaccine
By Tom Grote for The Star-News Feb 11, 2021
A total of 1,635 people have received the first dose of the COVID-19 vaccine from Valley County's two hospitals, the hospitals reported.
St. Luke's McCall had given 1,020 of the first doses as of Saturday, while Cascade Medical Center has given out 615 first doses through Monday.
The Cascade hospital total includes 21 first doses given Monday to Yellow Pine residents.
A total of 170 people have received the second of two required COVID-19 doses from St. Luke's McCall, while 54 people have received the second dose at the Cascade hospital. …
St. Luke's patients can schedule appointments online using myChart. Those who have never used St. Luke's services can set-up a myChart account online or by calling 208-381-9000.
Those who cannot use myChart can call St. Luke's Connect at 208-381-9500 to set up an appointment.
Appointments at Cascade Medical Center can be made at (link)  or call and leave a message at 208-382-4285.
Those eligible for the COVID-19 vaccine include people over age 65, health-care workers, residents and staff of long-term care facilities, first responders, teachers and school staff, daycare workers, and jail or prison staffers.
full story:
— — — — — — — — — —
$500 grants offered for wildfire prevention projects near homes
Residents and organizations can apply for a $500 grant for projects to protect their homes and neighborhoods against wildfires in anticipation of Wildfire Community Preparedness Day on Saturday, May 1.
Wildfire Community Preparation Day is a national campaign to encourage people and organizations to come together to take action to raise awareness and reduce wildfire risk.
This year's event will focus on what residents can do on and around their home to protect against wildfires.
There are more than 150 funding awards made possible through donations from State Farm.
For more information on application links and projects, email VCFirewise@gmail.com
source: The Star-News Feb 11, 2021
— — — — — — — — — —
Deadly avalanche season
By Linda Larsen February 12, 2021 Local News 8
We are in the middle of an extremely dangerous avalanche year.
Last week was the deadliest week of US avalanches on record, and at least 15 people died.
A persistent weak snow layer, combined with last week's high winds and the new snow we are receiving Friday and Saturday make for very dangerous conditions. Especially this weekend.
Safety experts are warning us to stay out of areas prone to avalanches.
continued: w/video
———————–
Letters to Share:
Viewpoint: Pact only gives Midas Gold permission to clean up old mining
By Laurel Sayer
For years, Midas Gold has raised concerns about water quality conditions in the abandoned Stibnite mining district. Now we can take action.
More than 100 years of mostly unregulated mining activity at Stibnite left legacy environmental features that are negatively impacting ground and surface water. In some places, arsenic levels in ground water can peak at 700 times the drinking water standard.
The problems at site are vast and it will take many years and millions of dollars to implement a comprehensive solution. The problem is, when the federal government and the last of the remaining operators abandoned the site in 2012, Stibnite became an orphan. As a result, the most viable and comprehensive solution will now have to come from private investment.
We want to be a part of the solution. We designed the Stibnite Gold Project to address environmental legacies in areas that overlap our operations.
The legacy cleanup work proposed by the Project will need to wait until the Project receives approval. However, this does not address the waste remaining outside the Project footprint and it does not solve the most pressing water concerns now.
Up until recently, we could not do anything to help. Why couldn't we do anything before now? Well, to clean up historical mining wastes on a site previously subject to three previous Superfund agreements, we needed government authority and we needed to make sure that by volunteering to clean up a mess we didn't make, we wouldn't unfairly inherit the environmental liability.
The agreement with the Environmental Protection Agency and the U.S. Forest Service took three years of detailed discussion and deliberation that involved multiple state and federal agencies as well as numerous federal government-to-tribal government consultations before a final agreement was reached.
The agreement is solely focused on cleanup. It does not authorize mining activity and it has no impact on the ongoing regulatory review process of the Stibnite Gold Project under NEPA. To be clear, Midas Gold has no authority to begin mining operations under this agreement.
The actions under the agreed-upon phase of this agreement do not "pave the way" or pre-build any of the features needed for the project. These actions are entirely separate – and in some cases increase, not decrease, the amount of work we must do in construction.
The agreement does three things. First, it directs Midas Gold to conduct "time-critical" cleanup actions that the agencies determined were necessarily urgent and must be completed in the next four years.
Second, if the Stibnite Gold Project is permitted to move forward and Midas Gold, EPA, and the USFS agree to the subsequent phases, this agreement allows us to clean up additional legacy waste outside of the project footprint. This provides the only credible path for a comprehensive cleanup across the entire district.
Finally, it provides us clarity and certainty that if we voluntarily do this work, we will not unfairly inherit the environmental liability for the mess we didn't create in the first place – a mess left behind generations ago. Importantly, the agreement does not change our liability or responsibility for our own actions.
Phase 1 of the agreement will take place over the next four years and addresses critical locations affecting water quality impacting the East Fork of the South Fork of the Salmon River. The work was ordered now because, as EPA determined in the agreement, there is an immediate threat posed to public health, welfare and the environment and these types of actions must happen sooner rather than later.
Over the next four years, we will safely remove 325,000 tons of historical mine waste left behind by past operators and conduct three water diversions on site, so we can keep clean water away from contaminants. We will also conduct a historical mine waste characterization study and an adit investigation.
This work will be approved and closely monitored by federal agencies. It is backed by $7.5 million dollars in financial assurance. Once it is complete, more work will still need to be done. But our team believes, and regulators agreed, it is better to start solving parts of the problem now instead of letting it continue to worsen.
Our team did not cause the problems at site but we are committed to being a part of the solution for a comprehensive and permanent restoration of Stibnite. For now, we are focused on taking the first step.
(Laurel Sayer is the CEO of Midas Gold Idaho and Midas Gold Corp.)
source: The Star-News Feb 11, 2021
— — — — — — — — — —
Proposed access roads to Stibnite mine have many problems
To the Editor:
Over the past 40 years I have raised a family and grown a business here in Valley County. During that time my family and I have recreated extensively through camping, motorcycling, biking, hiking and kayaking in the South Fork of the Salmon area.
I wish to express my concerns for the access routes that Midas Gold has proposed to transport hazardous materials, supplies and manpower to and from the mine.
The proposed Burnt Log Road is currently a jeep trail along a high elevation ridge, reaching nearly 8,600 feet, and is immediately adjacent the the Frank Church Wilderness. This would make it the second-highest year round road in the state.
In several locations it lies within the Middle Fork of the Salmon River watershed. Midas Gold is proposing to keep this road open in winter for 65 vehicles per day, many of which will be carrying hazardous materials. It will use magnesium chloride, know to cause damage to road surfaces, vehicular brakes, and plant life.
This route is planned to be a 5%-7% grade, requiring massive amounts of earth to be moved, roughly 20 streams to be crossed, and wildlife migratory paths to be rerouted. We need a detailed design of the Burnt Log Road to be examined by appropriate scientists and engineers to assure safety for people, wildlife, and the environment.
The Johnson Creek and Stibnite roads will be used during the mine's construction, deconstruction and throughout operations if Alternative 4 is chosen. In April 2019 an avalanche followed by land slides buried the Stibnite Road to depths close to 100 feet and closed access to the mine for close to a month. Valley County was responsible for the repair costing tax payers over $700,000.
Apparently, federal taxpayers will help with the expenses, but not any funds yet. The unwritten understanding is that Midas Gold will upgrade and maintain the Stibnite and Johnson Creek roads during the time of mine operation.
How do they intend to prevent slides in the numerous avalanche chutes to keep the road open? How is Midas going to handle recreation traffic, particularly in winter? Johnson Creek is a popular snowmobile route. Can backcountry enthusiasts and ore traffic share the road?
The DEIS does not discuss clearly what happens on the Warm Lake Road, a shared route among all the proposed alternatives, and is hugely popular with Yellow Pine locals and recreationalists. At present the grade to Landmark is not plowed in winter and has a grade of 13 percent in places, sharp switchbacks, and a narrow crumbling road surface.
Winter use by heavy ore trucks and magnesium chloride would further degrade this road. Who is responsible for improvements and repairs? Can campers and ore trucks safely negotiate this track together in summer?
Does the Idaho Transportation Department have a written agreement with Midas as to who is responsible for improvements and maintenance of Idaho 55 during construction and mine activities? Can we keep locals and tourists safe with Midas traffic once every 10 to 15 minutes? Has the impact of 29 ore-trucks daily, heavier than log trucks, on the road surface, particularly with the use of magnesium chloride, been calculated?
Most Idahoans who never enter the backcountry think they will be unaffected by the Stibnite Gold Mine, but in fact, their family's driving safety will be compromised and most likely they will feel the affects of greater taxes. The Stibnite Gold Mine is all of our problem.
Gusti Laidlaw, McCall
source: The Star-News Feb 11, 2021
——————-
Public Lands:
Friends of avalanche center to open online auction Sunday
The Star-News Feb 11, 2021
A live silent auction to benefit Friends of the Payette Avalanche Center will open on Sunday and run through Feb. 20.
The auction will be posted at (link)
Auction items posted so far include hotel stays, rounds of golf, snowmobile rentals, two-way radios, skis and snow gear. More items will be added in the coming days.
The goal is to raise $5,000 to fund additional avalanche forecasts for the 2021-22 season, "future forecasters" scholarships, the group's beacon training park at the Little Ski Hill and the Granite Mountain weather station.
source: The Star-News Feb 11, 2021
——————-
Critter News:
Idaho Fish and Game guides elk herd of 150 across Highway 20
by Ryan L Morrison Thursday, February 11th 2021 CBS2
For the third year in a row, a very large herd of elk have moved their way into the Sugar City area from Teton Canyon.
The elk have caused traffic issues in the past near the Highway 20 and Highway 33 junction.
Idaho Fish and Game tried using a baiting operation in late December to try and prevent the elk from reaching the highway, but it didn't appear to work. Officers are now working with landowners to patrol and place signs in the area to minimize disturbance of the elk from motorists of all kinds.
On Tuesday, it took about 15 minutes for the large herd to move from the east side of Highway 20 to the west side. Idaho State Police troopers helped Fish and Game officers escort the animals.
continued: w/videos
——————
Fish & Game News:
Fish and Game Seeks Input on Upcoming Big Game Hunting Seasons
By Mike Demick, Staff Biologist
Tuesday, February 9, 2021
Idaho Dept. of Fish and Game wants to hear from big game hunters about proposed changes for the 2021 and 2022 seasons for deer, elk, pronghorn, mountain lion, black bear and wolf.
Fish and Game will not hold regular open house meetings, but the easiest way for hunters to review the proposals and provide their comments is by visiting the big game proposals webpage at (link).
The proposed changes are posted by species within each of Fish and Game's seven regions. Potential season changes in the Salmon Region include:
continued:
— — — — — — — — — —
Idaho Fish and Game Conservation Officer awarded Idaho Medal of Honor
By Sharon Kiefer, Bureau Chief – Communications & Marketing
Thursday, February 11, 2021
Conservation Officer Randy Martinez returned fire while two deputies were under attack in New Meadows
The Idaho Medal of Honor Commission announced on Feb. 10 that Idaho Fish and Game Senior Conservation Officer Randy Martinez is among six Idaho law enforcement officers awarded the Idaho Medal Of Honor.
The medal is the state's highest honor for bravery and exceptional courage. It is awarded to first responders, including law enforcement officers, firefighters, or EMS providers, who perform exceptional, meritorious conduct in the line of duty in a situation that may have resulted in death or serious injury.
continued:
— — — — — — — — — —
Fish and Game biologists treat sick cow moose for a second time in Hailey
By Terry Thompson, Regional Communications Manager
Tuesday, February 9, 2021
A cow moose with a severe eye infection was treated and released

IDFG
In early December 2020, Fish and Game was notified by residents of Hailey of a cow moose that appeared to have a severe case of conjunctivitis in both eyes. Local Fish and Game officers darted the moose and applied antibiotics in an attempt to clear up the eye infection. A GPS collar was also placed on the moose so that wildlife biologists could track her location and assess if the antibiotic treatment was effective.
The cow moose and her calf were seen throughout the Hailey area during winter.
continued:
— — — — — — — — — —
More F&G News Releases
link:
———————————-
Crazy Critter Stuff:
Boise cat struggles with diet after sneaking food from the neighbors
Like many humans, Chester Bartlett, a dignified orange tabby, has added on a few pandemic pounds.
Feb 11, 2021 KTVB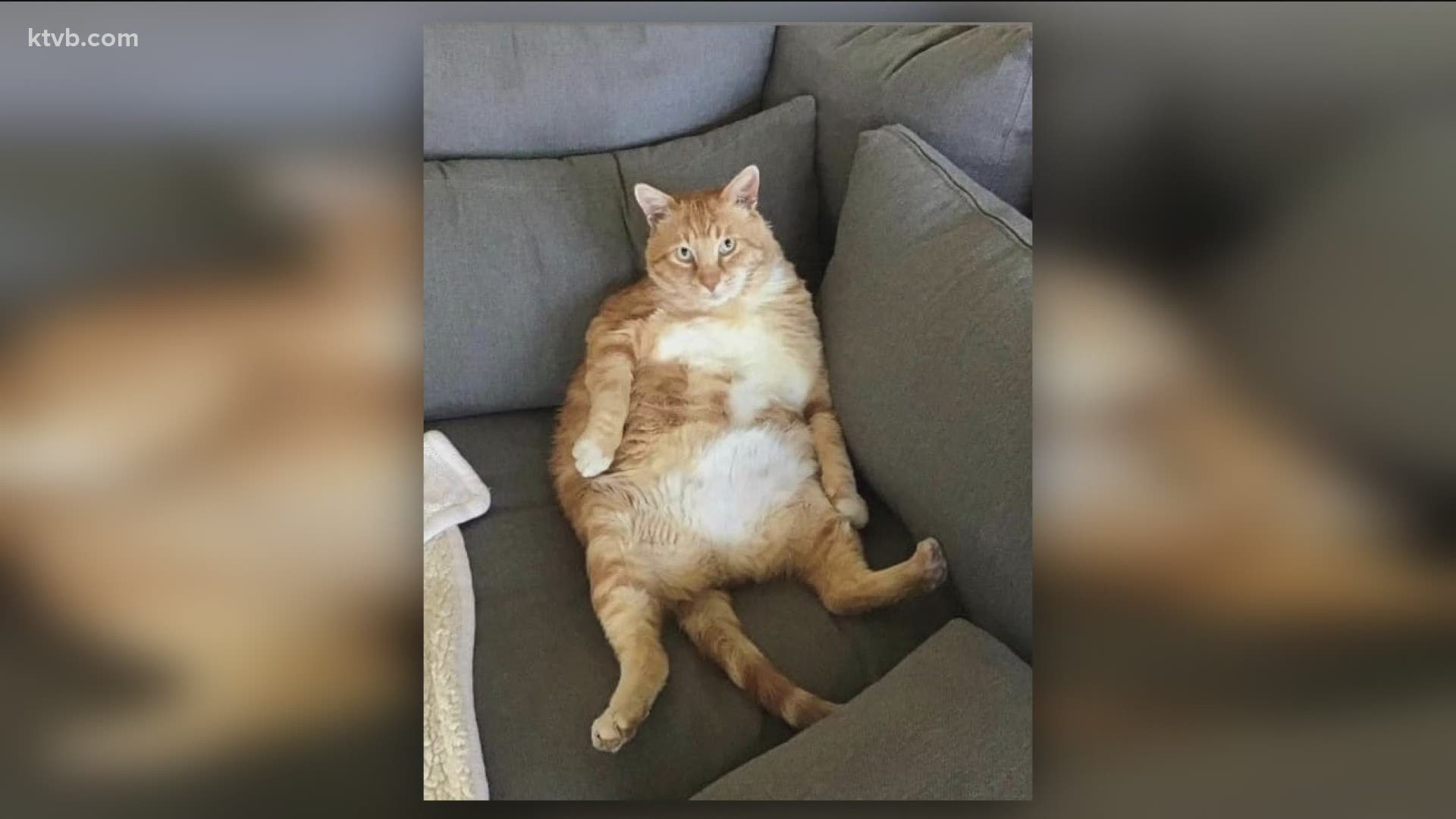 The stresses of being a sentient being during the last few years have led to countless scores of people occasionally cheating on their diets. Some more than others, like one very tubby kitty in Boise.
Chester Bartlett, a dignified orange tabby, has certainly added on a few pandemic pounds after he weighed in at 31 pounds.
Bartlett's mother told KTVB that he was placed on a diet after he tricked the whole family and the neighbors next door into feeding him repeatedly each day.
Turns out the cat wanted second breakfast every day – and elevenses, luncheon, afternoon tea, dinner and supper to boot.
continued: w/video
——————–
Seasonal Humor:

——————