Feb 21, 2021 The Yellow Pine Times – Valley County, Idaho
Reminder: We are still under a boil water order until further notice.
Community Calendar:
Apr 17 – Boil water order issued
Feb 19 – Valley County Mask Advisory
Feb 28 – 2pm Fest Planning Meeting
June 12 – VYPA Meeting
(details below)
———-
Local Events:
Next Festival Planning Meeting
Sunday, Feb 28, 2021 @ Community Hall, 2pm
———-
Village News:
Snowy Week in Yellow Pine
We have received measurable snow every day this week. Monday 1.5″, Tuesday 5″, Wednesday 3.5″, Thursday .5″, Friday .8″, Saturday 2.8″ and Sunday .5″ for a total of 14.6″ new snow. The snow depth has varied from 24″ to 30″ this week. Sunday morning measured an average of 26.5″ on the ground. So far in February we have had 26.6″ of snow fall and average 22″ on the ground. Average high 36F and average low 14F.

Feb 16th University of Yellow Pine over the fence.
— — — —
Internet and Phone Outage
On Thursday a report that folks were unable to call in from the outside – or out from the inside. Thank you to Marty for noticing and calling it in to MTE – the phones were working again by late afternoon. Friday evening, Feb 19, Yellow Pine internet and long distance went down. Saturday morning we also discovered that 911 was also down. We could call each other locally but could not call out to report the outage. However, Nate from MTE must have gotten the "bat signal" and managed to get our internet/phones working again by 1230pm Saturday. A report that it was ice and snow causing the outage. Yellow Pine owes Nate from MTE a big Thank You.
— — — —
South Fork Bull

photo by Ray Lutz Feb 17th
— — — —
Yellow Pine General Store
Please welcome Josh Jones as the new owner of the Yellow Pine General Store.
— — — —
Critters
Be Fox Aware
* Do not feed foxes human food
* Feed domestic pets indoors
* Make sure your pets are updated on Rabies vaccines
* Small pets could become a snack
Be Mountain Lion Aware
* NEVER run away from a mountain lion. The lion's instinct is to chase and ultimately catch what they perceive as potential prey.
* NEVER turn your back on a lion. Always face them while making yourself look as large as you can. Yell loudly, but don't scream. A high-pitched scream may mimic the sound of a wounded animal.
* SLOWLY back away while maintaining eye contact with the lion.
* Safety equipment you may choose to carry could include bear spray, a noise device, like an air-horn, and if you walk in the dark, a very bright flashlight.
* If you are attacked, fight back!
— — — —
Road Reports
Link: to current road reports.
— — — —
Yellow Pine US Mail
The 3-day a week mail delivery started Nov 2nd. The Post Office in Yellow Pine is open six days a week year around: M-F 845am-245pm Saturday 9am-245pm. Forever Stamp: 55 cents. Support our local post office and purchase your holiday stamps here.
— — — —
Yellow Pine Transfer Station
Report Monday (Feb 1) Dumpsters were empty and the building was clean, also there were some muddy bear paw prints on the outside of the doors. The road to the dump is plowed wide and smooth, nice drive.
Yellow Pine Transfer Station (aka, the dump)
Please do not abuse our Transfer Station or we may lose it. Household trash must be placed in the bins, flattened cardboard boxes can also go into the bins. Do not stack trash in front of the doors. Woody yard debris only for the burn pile. No furniture, appliances, tires or construction debris allowed, those items must be hauled out to the Donnelly station by you.
The Yellow Pine Transfer Station is Valley County responsibility. If it is not kept tidy, use of the Transfer Station may be revoked. That would result in residents having to take all household trash and yard waste to the Donnelly Transfer Station.
If Dumpsters Are Full, Contact Lake Shore Disposal at: (208) 634-7176
———-
Local Groups
YPWUA News:
The annual Water meeting for 2020 was held July 5th at the Community Hall 2pm.
link: minutes 20200705YPWUA.docx
Boil Your Water Before Using
Boil Water Order issued April 17, 2020.
Link: to Notice
Update Nov 29: Warren replaced the water meter because of inconsistent readings. With the new meter, the community is currently using over 55,000 gallons of water per day. A leak has been identified and will be repaired as soon as we can coordinate the contractor, equipment needed and weather together. It is difficult to get everything planned in the winter. When the repair is scheduled, the community will have a few days notice before the water is shut down. Since we are using more water than the rated use through the sand filters, the boil order will remain in effect. We continue the grant request process that is extremely slow. – Steve H
Update Nov 25: the boil order is still in effect due to the large quantity of water that is leaking from the system. – Warren D
— — — —
VYPA News:
VYPA Meetings are the 2nd Saturday of June, July, August, and September (June 12, July 10, August 14, September 11) at 2:00pm at the Community Hall.
Village Council members:
Deb Filler, Chairman
Matt Huber, Vice Chairman
Ronda Rogers, Treasurer
Rhonda Egbert, Secretary
Ron Noel, Member at Large
VYPA Bylaws adopted 8/8/2020 (link)
YPAC Corp Bylaws (link)
Festival
Anyone interested in being a part of the Festival Planning/Working committee, please contact Deb Filler. Meetings will begin at the end of January. Even if you aren't physically in YP, you can participate in the committee.
Next Festival Planning Meeting Sunday, Feb 28, 2021 @ Community Hall, 2pm
2021 Planning Notes Link:
Yellow Pine Music and Harmonica Festival Policy and Procedure Link:
— — — —
YPFD News:
After Action Report meeting Oct 13, 2020 (no minutes yet.)
YPFD had a budget meeting on September 30th at 10am at the fire station. (No minutes yet.)
Make sure to keep your chimney clean. Cleaning brushes can be borrowed from the YPFD.
YPFD COVID19 Policy
link: YPFD Covid 19 SOP
link: Covid-19 EMS (May 23)
Pile burning: Dress appropriately, have enough help on hand (people, water and tools) and make a firebreak before you start. Call your local fire protection district chief to let them know you'll be conducting a debris burn. This saves them from sending emergency responders to your property if they are not needed. Do NOT burn on breezy afternoons.
Better yet, "Rake It and Take It" yard waste (limbs, pine needles, brush, etc.) to the burn pile at the Transfer Station on the south end of the turn-around. Remember, keep the pile neat. Woody debris only, no nails, no cardboard and no furniture! The Boise NF will burn the pile in the fall when it is safe and doesn't pollute our fine YP air.
YP Fire Commissioners:
Sue Holloway – District 1
Dan Stiff – District 2
Merrill Saleen – District 3
Tim Rogers – Fire Chief
Yellow Pine Fire Protection District Community Service Notice
The purpose of this letter is to show how you as a Yellow Pine Resident can help protect your structure against a wildland fire by being "Fire Wise." Click the link: to view 20190724 Yellow Pine Fire Protection mitigation
——–
Biz Listings:
The Corner (208) 633-3325
Starting Nov 3rd open 3 days a week on mail days.
— — — —
Yellow Pine Tavern (208) 633-2233
Winter Closure: November 14, 2020 to April 16, 2021
— — — —
Yellow Pine Lodge (208) 633-3377
Closed Nov 3rd for winter.
— — — —
Yellow Pine General Store (208) 633-3300
New owner, plans to open this spring.
— — — —
Murph's RV Park & Mary's Cabins
FB page link
— — — —
Knotty Kat Crochet Works – 208-502-0940
FB page link
open Tue – Sat, 9-5
Yellow Pine eggs $3/doz
— — — —
Buck Horn Outfitters LLC 208-633-3614
Tom & Sarah Lanham
156 Yellow Pine Ave, Yellow Pine Id 83677
website:
Facebook:
Wapiti Meadow Ranch – Johnson Creek (208) 633-3217
or 208-315-3554 – cabin rentals
website:
Deadwood Outfitters
website:
— — — —
Local Fuel Suppliers
Amerigas Phone: (208) 634-8181
Ed Staub & Sons Phone: (208) 634-3833
Diamond Fuel & Feed Phone: (208) 382-4430 open 830am-5pm Monday-Friday, closed weekends.
— — — —
Outside Biz that will service Yellow Pine:
The Star-News


click to subscribe:
A reminder that those who live in other states can subscribe to the online edition only since the mail can take days for hard copy to reach them.
Rocky Mountain Mechanical – Plumbing – Heating – Air conditioning
(208) 365-PIPE (7473), Emmett, will service Yellow Pine
Elkhorn Heating & Cooling
(208) 906-4067 Middleton, Idaho, will service Yellow Pine
B&T Safety Solutions LLC
208-271-1600 Based out of Donnelly
Snow removal, cleaning chimneys and stoves, we do cabin staining/chinking as well
— — — —
Follow The Yellow Pine Times on Facebook (updated more often than emails)
———————–
Local Observations:
Monday (Feb 15) 24 hour low of 17 degrees from Sunday morning. This morning 1.5″ new (SWE=0.09″) from overnight snow and 24″ on the ground, socked in fairly low and steady light snowfall. Hairy and downy woodpeckers, a clark's nutcracker, jays, red-winged blackbird, chickadees, nuthatches and the pine squirrel visiting. Fresh fox tracks. Light snow ended after lunch time and clouds lifted on the hills, high of 35 degrees. Snowing big flakes and socked in mid-afternoon, just above freezing. Break in the snow late afternoon, then snowing and socked in again before dusk. Alternating light and moderate snowfall after dark. Snowed all night.
Tuesday (Feb 16) overnight low of 26 degrees, low overcast this morning, light breeze and snowing lightly. Measured 5″ new snow (SWE=0.38″) and 28.5″ average snow depth. Northern flicker, male red-wing blackbird, hairy woodpecker, jays, nuthatches, chickadees and pine squirrel visiting. Fresh fox tracks. Clouds lifting and a bit brighter at lunch time, a break in the snow while trees were dumping snowloads, high of 35 degrees. Flaking or snowing on and off during the afternoon, overcast and light breeze. Snowing lightly at dusk, about 1/2″ so far today. Snowed a little after dark. Some stars out around 1030pm, then snow after midnight. Looks like it snowed all night.
Wednesday (Feb 17) overnight low of 18 degrees, broken overcast this morning. Measured 3.5″ new snow (SWE=0.21″) and an average of 30″ on the ground. Hairy and downy woodpeckers, young red-winged blackbird, jays, nuthatches, chickadees and the pine squirrel visiting. Socked in and 30 minute snow flurry around 1030am, then broken clouds and scattered sunshine. Big patch of blue sky to south west, dark cloud to north east at lunch time, high of 37 degrees. Mail truck made it in on time. Partly clear and warmer early afternoon. Socked in to the floor, breezy and snowing hard mid-afternoon, a whiteout for about 30 minutes, then thinning clouds. Partly clear after sunset, mix of dark lower clouds and higher pink poofy clouds. Mostly cloudy and cold at dusk. Cloudy before midnight.
Thursday (Feb 18) overnight low of 0 degrees, high thin haze covered the sky, measured 1/2″ new snow (SWE=0.03″) and 29″ on the ground. Red-winged blackbird, jays, clark's nutcracker, hairy woodpecker, nuthatches, chickadees and the pine squirrel visiting. Overcast and cold at lunch time, high of 30 degrees. Gusty breezes mid-afternoon, overcast and below freezing. A report that our phones were down for a while (no outside calls.) A few flakes late afternoon, calmer and cold. Cloudy at dusk. Started snowing before 11pm. More snow after midnight.
Friday (Feb 19) 24 hour low of 5 degrees from Thurs morning, measured a fat 3/4″ new snow (SWE=0.05″) and 28″ total snow on the ground. Broken overcast this morning and flaking lightly. Red-wing blackbird, jays and chickadees calling, nuthatches, hairy woodpecker and squirrel visiting. Cloudy at lunch time, icicles dripping, high of 40 degrees. Light snowfall early afternoon, no measurable accumulation. Overcast, occasional flake of snow and icicles dripping late afternoon. Right at freezing at dusk. Internet was wonky around 715pm, then out for the rest of the evening. Started snowing around 11pm. Looks like it snowed most of the night.
Saturday (Feb 20) overnight low of 19 degrees, measured 2 3/4″ new snow (SWE=0.24″) and 29″ on the ground, high thin hazy overcast. Jays, red-winged blackbird, nuthatches, chickadees, female hairy woodpecker and pine squirrel visiting. Partly clear at lunch time, icicles dripping, high of 39 degrees. Internet (and phones) back on by 1230pm. Partly sunny early afternoon. Mostly cloudy, light breezes and flaking snow late afternoon for about half an hour, temperature dropping, then socked in down to the floor, foggy (low visibility) and snowed hard for a little over half an hour. Partly cloudy at dusk and temperature dropping. Cloudy before midnight.
Sunday (Feb 21) overnight low of 14 degrees, measured 1/2″ new snow (SWE=0.04″) from yesterday's storm, and an average of 26.5″ on the ground. Snowing lightly before 10am and overcast. Hairy woodpecker, jays, chickadees, nuthatches and squirrel (tracks) visiting. Still snowing lightly at lunch time, high of 32 degrees. Still snowing lightly and just below freezing mid-afternoon, less than 1/2″ accumulation so far. Still snowing lightly at dusk, a bit over 1/2″ had stacked up.
—————–
Idaho News:
Central District Health changes Ada, Valley county health orders to advisories
by CBS2 News Staff Friday, February 19th 2021
The health orders in Ada and Valley Counties are now shifted to health advisories, after a vote by the board of Central District Health Friday morning.
A Public Health Advisory is a set of strong recommendations, rather than requirements.
The advisories do not replace or supersede orders in place by cities or by the state, according to the board. For example, the mask order for the city of Boise is still in effect, as is the federal order for masks while using public transportation.
continued:
— — — —
City of Boise re-issues public health emergency order mandating face coverings, social distancing
link: KIVI story
— — — — — — — — — —
314 new Idaho COVID-19 cases
Feb 19, 2021 Local News 8
Idaho officials reported 314 new COVID-19 cases on Friday.
That brings the total confirmed and probable cases reported since March to 168,953.
There are a total of 137,279 confirmed cases and 31,674 probable cases in all 44 of the 44 counties in Idaho, according to numbers released from the local health districts and the state. See the chart below.
The state said 205,152 people have received the vaccine, and 258,541 total doses have been administered. …
Zero new deaths were reported bringing the total recorded deaths to 1,826.
full story:
— — — —
Idaho February 15, 2021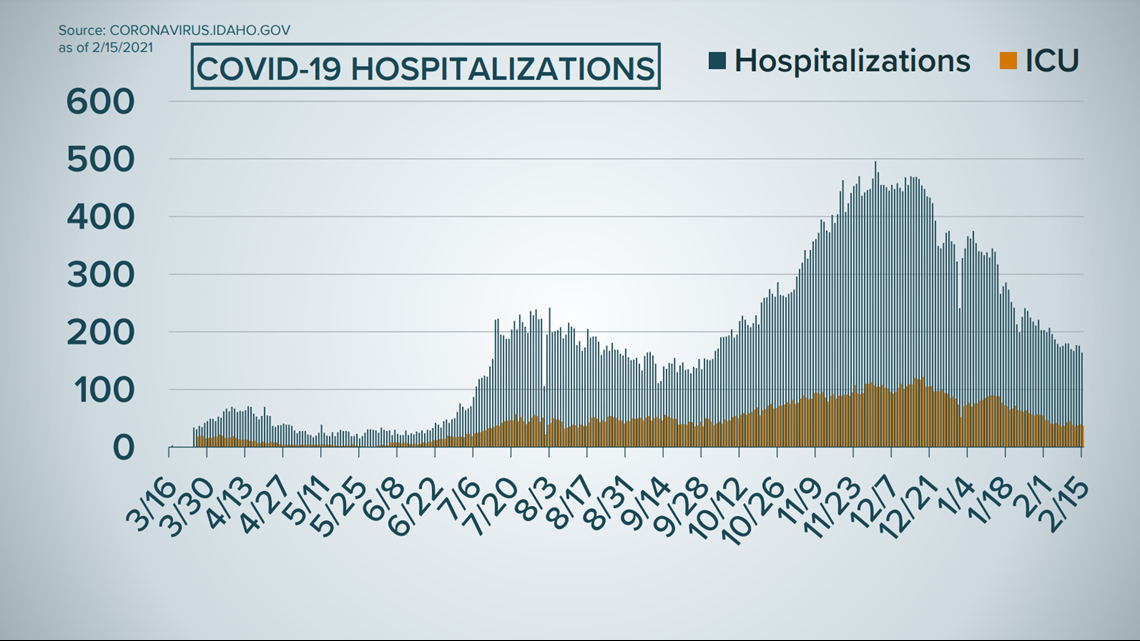 source: KTVB
— — — — — — — — — —
New COVID-19 cases in Valley County continue to decline
Just four new cases reported during previous week
By Tom Grote for The Star-News Feb 18, 2021
The number of new positive COVID-19 cases in Valley County declined for the fourth straight week last week, health officials said.
The total number of positive cases since the pandemic reached Valley County last summer totaled 703 by Tuesday, up just four cases from 699 a week ago, health officials said.
That compared to a total of 17 new cases reported last week, 28 new cases two weeks ago, 34 new cases three weeks ago and 48 new cases four weeks ago.
St. Luke's McCall on Tuesday reported 603 total positive cases from testing done at the hospital since the pandemic reached Valley County last summer, up three cases from 600 cases a week ago.
Cascade Medical Center reported 100 total positive cases through Monday, or one more than the 99 cases reported last week.
Central District Health reported 618 of the positive cases were confirmed to be Valley County residents as of Tuesday, which is seven more than the 611 cases reported a week ago.
The difference between the hospital figures and the health department figures are those who tested positive but did not declare Valley County as their residence.
Four confirmed deaths and one probable death of Valley County residents related to COVID-19 have been reported by Central District Health.
continued:
— — — —
1,939 Vaccinations
By Tom Grote for The Star-News Feb 18, 2021
A total of 1,939 people have received the first dose of the COVID-19 vaccine from Valley County's two hospitals, the hospitals reported.
St. Luke's McCall had given 1,324 of the first doses as of Tuesday and 220 of the required second doses of the vaccine.
St. Luke's McCall has been averaging 240 appointments per week since opening to those 65 and older on Feb. 1.
Cascade Medical Center has given out 615 first doses while 64 people have received the second dose.
The Cascade hospital will hold its next vaccination clinic today where 460 first doses and 90 second doses are scheduled to be given.
continued:
— — — — — — — — — —
Valley County mulls buying land for employee housing
The Star-News Feb 18, 2021
County would be landlord with small mobile home
By Max Silverson for The Star-News Feb 18, 2021
Buying property to rent out to new Valley County employees was proposed as a short-term housing solution by Valley County commissioners on Monday.
In their weekly meeting at the Valley County Courthouse in Cascade, commissioners discussed the possibility of purchasing an empty lot or a lot with a park model mobile home on it. The county would then act as landlord to new employees looking for permanent housing.
"We've all just been talking about how difficult it is to hire employees right now, because they can't find housing," commissioner Sherry Maupin said.
continued:
— — — — — — — — — —
Grants available for Wildifire Community Preparedness Day
The Star-News Feb 18, 2021
Wildfire Community Preparation Day is a national campaign to encourage people and organizations to come together to take action to raise awareness and reduce wildfire risk.
This year's event will focus on what residents can do on and around their home to protect against wildfires.
There are more than 150 funding awards made possible through donations from State Farm.
For more information on application links and projects, email VCFirewise@gmail.com
source:
——————-
Letters to Share:
Next Chapter of Stibnite Gold Project – Exciting Company News
Busy time at our company today, a lot has happened recently at our company. A few months ago, regulators wrapped up the comment period on our Draft Environmental Impact Statement. We recently released our feasibility study, which shows a very positive outlook for the Stibnite Gold Project. Just a few weeks ago, we moved our corporate office home to Idaho and today we are announcing that we were approved to trade on Nasdaq (which will begin Feb 18).
Each exciting milestone has been a point of reflection for our team. And the more we thought about the future, the more we realized we've outgrown our old name.
I am very proud to announce our team is changing our name to Perpetua Resources. VIDEO link:
Perpetua Resources is a nod to our Idaho roots and our commitment to follow our state's tradition of Esto Perpetua, translated to mean let it be eternal. We have always been stewards of Idaho's vast resources. Our new name is simply a public declaration that we will always do our part to make sure our water, land, air and the opportunities for Idaho families will endure for this generation and many to come.
Our name may be new but I want to make sure you know nothing else has changed. We are still the same dedicated team of Idahoans. Our commitment to Idaho remains strong. And our plan to responsibly and ethically mine America's only domestically mined source of the critical mineral antimony and one of the top-grade gold deposits is moving full steam ahead.
Making the transition to Perpetua Resources does mean I have a new email. You can now contact me at belinda.provancher@perpetua.us . If you happen to write me at my old email, please know, over the next several months, it will still find its way to me. If you want to see the new logo and look, please check out our new website (link) If you have any questions, do not hesitate to reach out to me.
Belinda Provancher
Belinda.Provancher@Perpetua.us
— — — — — — — — — —
Burntlog Road route is the safest access to Stibnite Gold Project
To the Editor:
In a recent letter to The Star-News, questions were brought up regarding access to the Stibnite Gold Project, specifically around transportation of materials, supplies and our workforce to the project.
Safety is, and always will be, our top priority.
We spent a lot of time evaluating the safest route to Stibnite. We wanted to avoid traveling in parallel to the East Fork of the South Fork Salmon River and Johnson Creek and we wanted to minimize impacts to recreationalists and residents. We also wanted the safest route in terms of avoiding known hazards.
During the course of our transportation study, local residents pointed to the Burntlog Road as a possible option. The Burntlog Route accesses Stibnite from Warm Lake Road and connects to the old Thunder Mountain Road which keeps our traffic away from the rivers and reduces interaction with residents and recreationalists. It also avoids more known hazards.
This route utilizes existing roads wherever possible and will be updated to meet the 2011 guidelines and standards for designing National Forest System Roads as published in the U.S. Forest Service Handbook (FSH 7709.56) and cross-checked against Valley County road design standards. Additionally, we will upgrade culverts to allow for fish passage during the redevelopment of the road.
Our plan projects about 50 vehicles per day. Only one mile of the Burntlog Road travels the edge of the Middle Fork Salmon River watershed. This is an existing section of road along the Meadow Creek Lookout Road. The road will be widened from approximately 12 feet to 21 feet to ensure safe transport.
It is important to note that we will maintain the road year-round using the same methods approved by the forest and county today. In the summer, we will apply magnesium chloride as a dust suppressant on gravel roads to help limit additional sediment into waterways and to improve travel conditions. This is the dust suppressant used across the forest and county today.
The road between Yellow Pine and Stibnite is known to have avalanches during the winter/spring season and is precisely why we've proposed the Burntlog Route. For example, the Stibnite Road avalanche that occurred in April 2019 left the road buried by 40 to 50 feet of snow and downed timber.
The avalanche was naturally caused, and similar events will likely continue to occur whether or not we have a project. However, we were happy to lend a hand and our crews worked tirelessly to help clear the road.
We also pitched in to repair a section of the road and helped facilitate permitting in support of the emergency repair action in coordination with federal disaster relief funding.
We have been working with avalanche mitigation experts to develop best practices towards implementing a mitigation plan for all transportation routes during construction and operations.
For many years now we have had a road use agreement with the county to make sure we do our part to help maintain the roads we use. To date, we have spent more than $800,000 in maintaining and upgrading Stibnite and Johnson Creek roads. Should the Project move forward, we expect to include regular grading, dust suppression application, gravel application, and winter plowing.
The Idaho Transportation Department is responsible for the state highway system. However, we have committed to cooperatively designing and funding intersection improvements at Warm Lake Road and Idaho 55.
Significantly, no "ore trucks" will ever be on any road outside of the mine site. All truck traffic and supply deliveries will be in standard highway rated transport truck-trailers (WB-67). Permits will be obtained for oversized or overweight loads, the bulk of which will occur during construction.
We proposed that Warm Lake Road would be plowed open during the winter months. We understand that our proposed access route to the site will impact existing snowmobile routes along Warm Lake and Johnson Creek Roads.
However, we have worked diligently with the local snowmobile clubs to mitigate these impacts and have identified an alternative route to Landmark. Project traffic use of the Warm Lake Road will not prohibit Yellow Pine and Warm Lake residents and recreationalists from utilizing this route and has the possibility of increasing access to backcountry winter recreational opportunities.
We recognize that transportation safety is important to everyone. Finding the safest routes, investing in care and maintenance, communicating regularly with our communities and other users, and holding a high standard for transportation safety, are all a part of what we do every day and will continue to do every day.
We welcome continued conversation and encourage anyone with questions or ideas to reach out to us at community@perpetua.us.
Note: Midas Gold has changed its name to Perpetua Resources to better reflect our commitment to Idaho and to protect and sustain our state's vast resources. Our people, our project, and our commitments are the same.
Kyle Fend, Field Operations Manager, Perpetua Resources
source: The Star-News
——————-
Mining News:
Midas Gold Announces Name Change to Perpetua Resources and Approved Nasdaq Listing
News Provided By Midas Gold Corp. Feb 16, 2021
New Name Reinforces Commitment to Idaho
Restoration of Legacy Mining District and Domestic Production of Critical Mineral Antimony
Shares to Begin Trading on Nasdaq on February 18
Management Team Strengthened with Hiring of Jessica Largent and Promotion of Tanya Nelson
Boise, Idaho, Feb. 16, 2021 – Perpetua Resources Corp. (formerly Midas Gold Corp.) ("Perpetua Resources" or the "Company") announced today that it has changed its name to "Perpetua Resources Corp." effective February 15, 2021 and the Company's common shares have been approved for listing on the Nasdaq Stock Market ("Nasdaq").
The Company's common shares will begin trading on the Nasdaq on February 18, 2021 under the symbol "PPTA" and on the Toronto Stock Exchange ("TSX") under the new name at market open on or around February 18, 2021 under the stock symbol "PPTA". As the Stibnite Gold Project (the "Stibnite Project" or "Project") continues to advance through major milestones, the listing on a U.S. stock exchange is a strategic decision to focus the Company's business in the United States and open additional opportunities for American investment.
continued:
— — — —
Midas Gold is now Perpetua Resources
Name change shows 'a commitment to Idaho' by mining company
By Drew Dodson for The Star-News Feb 18, 2021
Perpetua Resources Corp. is the new name of Midas Gold Corp., the company that wants to extract gold and antimony from the Stibnite area in Valley County.
The new name, announced on Tuesday, is a nod to the company's commitment to Idaho, sustainability and environmental restoration at Stibnite, Perpetua Resources President Laurel Sayer said.
"We are proud to enter our next chapter with a name that helps communicate our values and the sustainable future we are working to create for all of us," Sayer said.
The name is also inspired by Idaho's state motto, "Esto Perpetua," which translated from Latin means "Let It Be Perpetual."
The company's new logo also draws from imagery in the Idaho state seal, said Mckinsey Lyon, vice president of external affairs for Perpetua.
"Perpetua's logo and Idaho's state seal use a protective shield around the river, forest and mountains to reflect a commitment to protect the things that make Idaho special," Lyon said.
"Both also reference the mineral resources of the state, which are represented by a miner in the state seal and as stars for antimony and gold in our new logo," she said.
The company also re-named its Idaho-based subsidiary to "Perpetua Resources Idaho," which formerly was known as Midas Gold Idaho.
The subsidiary and its board of directors were established in 2014 to integrate local interests into the project, but have no decision-making authority.
Perpetua did not consolidate the companies into one because steps to convert from a Canadian company to a U.S. company are still unknown, Lyon said.
"No major decision can be made until then, so there are no changes to our company structure or to the business entities," she said.
The name change follows last month's relocation of the company's corporate headquarters from Vancouver, British Columbia, to offices at 405 S. 8th St. in downtown Boise.
Despite the recent flurry of changes, there are no changes with the company's personnel, its commitments or the Stibnite Gold Project, Lyon said.
"We want to make sure the community knows our name is the only thing changing," she said.
A draft decision on the proposed gold and antimony mine near Yellow Pine is currently slated for release in August by the Payette National Forest.
Approval of the project would trigger a three-year construction phase that Perpetua estimates would cost about $1.26 billion.
The re-naming and relocation of Midas Gold stem from a corporate board reshuffling urged in November by Paulson & Co., a New York City investment firm.
The firm has invested about $66 million into Perpetua since 2016 and is the company's largest shareholder with 44% of all shares.
Midas Gold's probable mineral reserves in the Stibnite deposits include more than 4 million ounces of gold, or about 125 tons.
The value of the gold is projected to bring in 94% of the mine's estimated $6 billion in total revenue over the 12-year to 15-year life of the mine.
The reserves also are predicted to contain 100 million pounds of antimony, which is used to make flame-proofing materials, paints, ceramic enamels, glass and pottery.
Antimony is also used in the renewable energy industry, including the development of a battery capable of storing renewable energy, like wind and solar.
About 5% of the mine's revenue would come from antimony, but it would become the only domestic source of the mineral and supply 30% of the annual demand for the United States.
source: © Copyright 2009-present Central Idaho Publishing Inc. All rights reserved (Used with permission.)
— — — — — — — — — —
BeMetals Reports Significant Copper and Silver Drill Intersections at Its High-Grade Polymetallic South Mountain Project
Vancouver, BC February 9, 2021 / BeMetals Corp. is pleased to announce a new batch of analytical results from its Phase 2 underground diamond drilling program at the high-grade South Mountain Zinc-Silver-Gold-Copper Project ("South Mountain" or "South Mountain Project" or the "Property") in southwestern Idaho, U.S.A. Today's results demonstrate that South Mountain's Texas Zone contains both high-grade Copper-Silver and Zinc-Silver-Gold mineralization (See Tables 1 and 2). The Company's 2020 program intersected mineralization at depths beyond any historical drilling of the Texas Zone and the deposit remains open to depth (See Figure 1). Further drilling results will be reported when received from the laboratories.
continued:
—————–
Public Lands:
Krassel Spring Burning Notification
Feb 18, 2021
The Payette National Forest, Krassel Ranger District, is planning to conduct prescribed burning on the Four Mile, Bald Hill, and Krassel Administration Site Prescribed Fire projects this spring. Maps of the project areas can be found in the attached document. Units may be broken into smaller portions to aid in implementation. Timing will be dependent on weather; ignitions will most likely occur sometime between March and May 2021. Ignitions should take 1-3 days for each project, with smoke and fire most likely present in the project area until the next significant precipitation.
For any questions or concerns, please email patrick.schon@usda.gov. Thank you and have a nice day.
Link: EZ Spring Burn Notification 2021021820.docx
Will Woods
Fuels Technician (Detail)
Krassel Ranger District, Payette National Forest
— — — — — — — — — —
USDA Forest Service wants you to #RecreateResponsibly during this winter season
Know Before You Go Out in the Snow
17, February 2021 – In light of recent tragic events and the 21 fatalities during the 2020-2021 winter season, the USDA Forest Service wants to remind recreationists to think ahead, plan, and prepare for their outings on National Forest System lands and to recreate responsibly.
To #RecreateResponsibly means to keep yourself healthy, to keep others safe, and to preserve and protect public lands. With another 2-3 months of winter remaining, visitors should exercise increased caution when traveling out into the backcountry. Visitors can mitigate their risk by doing the following:
* Know Before You Go – Check the forecast in advance. Find out if a recreation fee or permit is required. Bring the proper clothing and gear, packing extra layers, waterproof clothing, and avalanche safety gear. In addition, some areas can become dangerous with winter conditions. Keep in mind that roads and facilities may be closed in winter. Visit (link) for more information.
* Recreate with respect – Be respectful of other visitors and the place you are visiting by keeping pets on leash, packing out all trash and waste, and leaving the area better than you found it. Practice physical distancing by covering your nose and mouth and eating and resting outside. If you feel sick, stay home.
* Plan your route in advance – Go early or during the week when visiting popular areas. If possible, visit other sites to beat crowds. Explore locally as driving and parking may be more challenging in winter. Know what kind of roads you will be driving on and ensure that you have the right vehicle to make it to your destination. Do not rely on cell coverage or GPS. Instead, carry a paper map and know how to read it.
* Keep in touch – Always let someone know the details of your trip, including where you're going and when you will be back. Be sure to stick to your plan.
* Play it safe – Know your limits and your gear. Slow down and choose lower-risk activities to reduce your risk of injury.
By preparing ahead of time and using the resources provided, recreationists become aware of the dangers associated with winter recreation. Recreating responsibly, especially during the winter months, helps save lives.
To learn more about how to recreate responsibly during the winter, please visit (link),
— — — — — — — — — —
Trident submits formal proposal for large (but reduced) McCall-area land swap
by Don Day Feb 16, 2021 KIVI
Trident Holdings formally submitted its application with the State of Idaho to swap timberlands in North Idaho for a significant area around Payette Lake in the McCall area.
The 73-page document outlines Trident's idea to buy timberland, then exchange it with the State of Idaho for about 26 square miles of land in Valley County. The land includes the tree-covered areas that frame Payette Lake, several islands in the lake itself, a few parcels in Pilgrim Cove and a large parcel near Deinhard Ln. in McCall.
The formal proposal represents a significant reduction from Trident's earlier vision – to trade for 44 square miles. The updated proposal largely removes lands south of Little Payette Lake, as well as several parcels in Pilgrims Cove. Those lands would remain as Idaho endowment lands.
continued:
——————-
Critter News:
Intermountain Bird Observatory seeing growth in Anna's Hummingbird population in Idaho
In 2015, there were only about 20 reported sightings of the bird. This winter there have been about 150 sightings.
Chase Biefeldt (KTVB) February 18, 2021
There are just over a handful of species of hummingbirds in Idaho, but one of those species are relatively new to the Gem State.
They are called Anna's Hummingbirds, and they are quite special.
Most hummingbirds fly to Idaho in April and leave by September, but Anna's Hummingbirds arrive in October and leave in March, staying here during the coldest months of the year.
The Intermountain Bird Observatory (IBO) is trying to figure out why they can survive these cold months, and why they choose Idaho as their home.
continued:
— —
more info:
Anna's Hummingbird Identification

link: The Cornell Lab
————————
Fish & Game News:
Draw results available for spring bear controlled hunts
By Brian Pearson, Conservation Public Information Specialist
Friday, February 19, 2021
Most controlled hunts begin April 1
Spring bear controlled hunt draw results are available now at (link),
The results are posted through Fish and Game's licensing system. Email notifications will be sent to those who provided an email address on their profile.
Hunters whose names were drawn can buy the controlled hunt tags through any Idaho Fish and Game license vendor. The can also buy through the online license system, or by calling 1-800-554-8685 and the tag will be mailed to them after purchase. Tags will be mailed within seven to 10 days, so allow time for shipping.
continued:
— — — — — — — — — —
Annual F&G fur auction moves online for 2021
By Brian Pearson, Conservation Public Information Specialist
Friday, February 19, 2021
After a one-year hiatus, Idaho Fish and Game's annual fur auction is back – albeit with some significant changes due to COVID.
This year's auction of furs, hides, antlers, and other items has been moved entirely online, and will be run through Prime Time Auctions (link).
The online auction kicks off on March 1, and ends on April 9. While this unfortunately means potential buyers will not get to inspect items in person this year, they will be able to see photos of them on the Prime Time Auctions website.
Potential buyers will need provide a credit or debit card to register for the online auction, but have other options to pay for items they purchase. Here is more information.
continued:
— — — — — — — — — —
Application period for F&G Commission Community Challenge Grants opens March 1
By Roger Phillips, Public Information Supervisor
Friday, February 19, 2021
Program provides funding for nonprofit groups' projects that enhance fish and wildlife and recreation opportunities
The Idaho Fish and Game Commission's Community Challenge Grant program is open for applications March 1 though April 15. Grants provide competitive funding for officially recognized nonprofit organizations to implement projects that are broadly supported by the local sporting community and enhance fish and wildlife habitat, populations, or associated recreational opportunities.
The Commission Community Challenge Grant program consists of two different awards:
continued:
— — — — — — — — — —
More F&G News Releases
link:
———————————-
Crazy Critter Stuff:
Key West wants to ban people from feeding roaming chickens
by Associated Press Sunday, January 24th 2021
Feral chickens run free in Key West, just one of those things that keep the Southernmost City charmingly weird.
But what's delightful here and there becomes a nuisance when they're everywhere. With the population getting out of hand, city commissioners are taking action — not by hunting down the fixings for a massive tailgate party, but by going after their human enablers.
They're making it illegal to feed the free-roaming birds.
… The roaming chickens are fearless when it comes to approaching people, said City Commissioner Mary Lou Hoover.
"They're becoming more aggressive by the day," Hoover said. In her district, people have reported that when they go to put dog feces in the trash, chickens come up and attack them, thinking it might be food.
full story:
——————-
Seasonal Humor:
(Early fear of smallpox vaccinations – Getty Images)
——————