It is Rock Migration Season. Please share road reports. Please turn on your vehicle lights when traveling our narrow mountain roads. Rock Migration season has started. Conditions change quickly this time of year. Be prepared for rocks and trees in the road, icy conditions and deep snow in higher elevation. Remember there is no cell phone service.
Yellow Pine: Local roads are baring up, shady side streets are snow packed. It can be muddy or slushy on warm afternoons. Please respect residents and wildlife and SLOW DOWN.
"Drivers don't speed through neighborhoods or most anywhere. Locals brake for kids, wandering dogs, deer, elk, moose, fox, beaver, squirrels and chipmunks. Most are lifetime members of SPLAT, the Society to Prevent Little Animal Tragedies." – IME
link: Local Forecast
Yellow Pine Webcam: (check date on image)

Highway 55 Webcams Link:
Update March 31: Starting Friday, April 2, at 8 a.m. the original spring construction schedule for the ID-55 Smiths Ferry project will resume. From April 2 through mid-May, the road will be closed Monday through Thursday from 10 a.m. to 2 p.m., and open to one lane of alternating traffic with a 15-minute delay outside of the closure hours.
Update March 29: Over the weekend, Idaho Transportation Department contractors successfully removed an undercut outcropping of rock that remained from a rockslide near Smiths Ferry on March 15, completing a critical safety intervention to allow a return to normal work. (see link below for more info)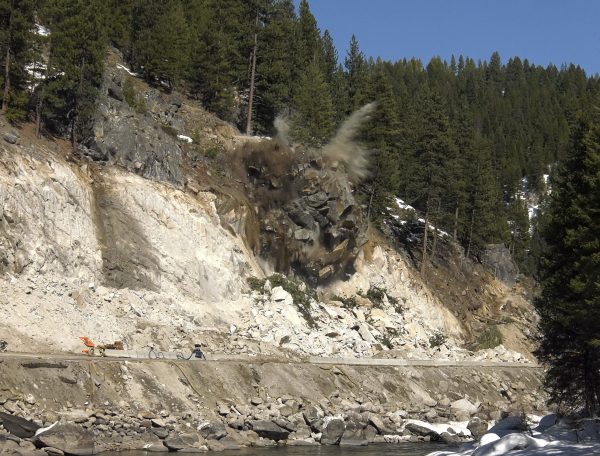 Update March 23: Starting Wednesday, March 24, Idaho Highway 55 will have daily openings to one lane of alternating traffic from 8 a.m. to 3 p.m. Travelers can expect at least 15 minutes delays during this time. Crews will be actively monitoring the rock outcropping and are prepared to close the road immediately if weather or hillside conditions change. ITD recommends travelers, especially large vehicles, RVs, and trucks pulling trailers, still use U.S. 95 as the alternate route. The current traffic restrictions are expected to last through early April as crews work to remove the remaining rock outcropping.
ITD link:
When construction resumes expect full road closures Monday-Thursday from 10am to 2pm.
Project link:
Warm Lake Highway: Open
Wed (March 31) Mail truck driver reports the highway is pretty much bare except at the summit and the usual shady corners.
link: SNOTEL Big Creek Summit 6580′
South Fork Road: Open – Watch for rocks.
Update March 31: Spring weight limits in effect
"Forest Service officials on the Payette and Boise National Forests implemented the annual seasonal break up limits/road weight restrictions on portions of the South Fork Salmon River Road (National Forest System Road #674 and #474) effective today, March 31, 2021. The restriction is in effect annually through June 1, or as Forest Service officers determine that no further damage will occur to the roadway and remove the signing."
Report Wednesday (Mar 31) Mail truck driver said there were a lot of trees down Monday, but other travelers had cut them out. One new tree today, but it had been cut out. Says the FS has plowed the rocks off the road. The road is pretty much bare now, except at the upper end.
link: Tea Pot Weather Station 5175′
link: South Fork Stream Gauge
EFSF Road: Open – Watch for rocks.
Update March 31:  Reports that the local crew cleared downed trees off the road as well as cleaning up rocks and small slides.
Report Wednesday (Mar 31) mail truck driver reports the local crews have done a great job cleaning up the rocks and slides on the road. Pretty much bare except at the upper end.
Johnson Creek Road: Upper end closed to wheeled vehicles at Landmark.
Update March 31: There were several trees down from the wind storm on lower Johnson Creek between YP and Wapiti Meadow Ranch, cleared by the local plow crew.
Local report that the lower end of the road is getting better, more bare spots going to the dump.
link: Johnson Creek Airstrip Webcam
link: Johnson Creek Stream Gauge
Note: The elevation at Landmark is 6,630 feet
Lick Creek: Closed to wheeled vehicles.
Note: The elevation at Lick Creek Summit is 6,877 feet
Profile Creek Road: Closed to wheeled vehicles.
Note: The elevation at Profile summit is 7607 feet.


Big Creek Webcam: (check date on image)

Yellow Pine to Stibnite: Closed near MM7 (Tamarack Creek area) by Avalanche Feb 22nd.


The crew has a snowmobile trail over the slide to get to the site. They have asked that the public avoid the area as it is narrow and may be unstable.
link: Stibnite Weather Station 6594′
Stibnite to Thunder Mountain: Closed to wheeled vehicles.
Note: The elevation at Monumental Summit is 8590 feet.

Big Creek to Elk Summit to Warrens Road: Closed to wheeled vehicles.
Note: The elevation at Elk Summit is nearly 9000 feet.
Deadwood Summit: Closed to wheeled vehicles.
Note: The approx. elevation at Deadwood Summit is 6,883 feet.
link: SNOTEL Deadwood Summit 6860′
New Link
Valley County Road Maintenance Dashboard
——————