March 7, 2021 The Yellow Pine Times – Valley County, Idaho
Reminder: We are still under a boil water order until further notice.
Community Calendar:
Apr 17 – Boil water order issued
Feb 19 – Valley County Mask Advisory
March 10 – 11am-1130am 2nd Vax Community Hall
March 14 – Time Change Spring Ahead
March 17 – St. Patrick's Day
March 28 – Festival Zoom meeting at 2pm
June 12 – VYPA Meeting
(details below)
——————
Local Events:
School Bond Ballots
A quick thinking local noticed that return postage was not included with the school bond ballots and contacted the county. The county has since made arrangements with the Yellow Pine Post Office to process the ballots without postage and be reimbursed later since we are a "vote by mail precinct." Ballots much be received by the county clerk March 9th.
— — — —
Second Dose March 10
On Wednesday, March 10th, the 20 locals who received the 1st dose of vaccine, will get the 2nd dose from Cascade Medical Center at the Community hall from 11am to 1130am.
— — — —
Next Festival Planning Meeting
Sunday, March 28, 2021, Zoom meeting at 2pm. (If you need the link, contact Deb.)
———-
Village News:
Avalanche Closed Road to Stibnite
The morning of Feb 23rd, we received a message there are slides on the road to Stibnite. "These slides start below Tamarack creek then up around the corner where the 2019 slides were." They will keep us posted. Please don't attempt to go up there to look and get in the way.
"Debris strewn along 1,500 feet of roadway and up to 30 feet deep across the road." No timeline as to when the road will open. (More info in Idaho News.)
— — — —
March
The first week of March has been very nice in Yellow Pine, no new snow to shovel! Warmer than normal days (Friday's high was 59 degrees) with sunshine melting the snow slow and easy, we have lost 5″ of our snowpack. Nights in the low teens early in the week, the freeze thaw cycle has started the Spring Rock Migration on both the EFSF and SF drainages (watch for rocks in the road.)
March 1, 2021 Van Meter Hill by Local Color Photography.
— — — —
YP Winter 2020-2021 Census = 29 people
This was counting only residents that wintered in. (If someone wants to count the dogs, cats, horses and mules, please share.)
— — — —
Yellow Pine February Precipitation History:
Year: Water / Snow
2021: 2.91″ / 35.8″
2020: 3.33″ / 43.7″
2019: 4.21″ / 38.2″
2018: 1.43″ / 12.0″
2017: 6.27″ / 10.0″
2016: 1.70" / 6.7"
2015: 2.05″ / 1.5″
2014: 3.05″ / 24.8″
2013: 0.69″ / 9.1″
2012: 1.97″ / 12.5″
2011: 1.56″ / 13.9″
2010: 0.60″ / 3.5″
— — — —
Yellow Pine General Store
Please welcome Josh Jones as the new owner of the Yellow Pine General Store.
— — — —
Critters
Be Fox Aware
* Do not feed foxes human food
* Feed domestic pets indoors
* Make sure your pets are updated on Rabies vaccines
* Small pets could become a snack
Be Mountain Lion Aware
* NEVER run away from a mountain lion. The lion's instinct is to chase and ultimately catch what they perceive as potential prey.
* NEVER turn your back on a lion. Always face them while making yourself look as large as you can. Yell loudly, but don't scream. A high-pitched scream may mimic the sound of a wounded animal.
* SLOWLY back away while maintaining eye contact with the lion.
* Safety equipment you may choose to carry could include bear spray, a noise device, like an air-horn, and if you walk in the dark, a very bright flashlight.
* If you are attacked, fight back!
— — — —
Road Reports
Link: to current road reports.
— — — —
Yellow Pine US Mail
The 3-day a week mail delivery started Nov 2nd. The Post Office in Yellow Pine is open six days a week year around: M-F 845am-245pm Saturday 9am-245pm. Forever Stamp: 55 cents. Support our local post office and purchase your holiday stamps here.
— — — —
Yellow Pine Transfer Station
The dump (and road) were plowed on Saturday, Feb 27th.
Yellow Pine Transfer Station (aka, the dump)
Please do not abuse our Transfer Station or we may lose it. Household trash must be placed in the bins, flattened cardboard boxes can also go into the bins. Do not stack trash in front of the doors. Woody yard debris only for the burn pile. No furniture, appliances, tires or construction debris allowed, those items must be hauled out to the Donnelly station by you.
The Yellow Pine Transfer Station is Valley County responsibility. If it is not kept tidy, use of the Transfer Station may be revoked. That would result in residents having to take all household trash and yard waste to the Donnelly Transfer Station.
If Dumpsters Are Full, Contact Lake Shore Disposal at: (208) 634-7176
———-
Local Groups
YPWUA News:
The annual Water meeting for 2020 was held July 5th at the Community Hall 2pm.
link: minutes 20200705YPWUA.docx
Boil Your Water Before Using
Boil Water Order issued April 17, 2020.
Link: to Notice
Update Nov 29: Warren replaced the water meter because of inconsistent readings. With the new meter, the community is currently using over 55,000 gallons of water per day. A leak has been identified and will be repaired as soon as we can coordinate the contractor, equipment needed and weather together. It is difficult to get everything planned in the winter. When the repair is scheduled, the community will have a few days notice before the water is shut down. Since we are using more water than the rated use through the sand filters, the boil order will remain in effect. We continue the grant request process that is extremely slow. – Steve H
Update Nov 25: the boil order is still in effect due to the large quantity of water that is leaking from the system. – Warren D
— — — —
VYPA News:
VYPA Meetings are the 2nd Saturday of June, July, August, and September (June 12, July 10, August 14, September 11) at 2:00pm at the Community Hall.
Village Council members:
Deb Filler, Chairman
Matt Huber, Vice Chairman
Ronda Rogers, Treasurer
Rhonda Egbert, Secretary
Ron Noel, Member at Large
VYPA Bylaws adopted 8/8/2020 (link)
YPAC Corp Bylaws (link)
Festival
Anyone interested in being a part of the Festival Planning/Working committee, please contact Deb Filler. Meetings will begin at the end of January. Even if you aren't physically in YP, you can participate in the committee.
Next Festival Planning Meeting Sunday, Feb 28, 2021 @ Community Hall, 2pm
2021 Planning Notes updated Feb 28th (link)
Yellow Pine Music and Harmonica Festival Policy and Procedure Link:
— — — —
YPFD News:
After Action Report meeting Oct 13, 2020 (no minutes yet.)
YPFD had a budget meeting on September 30th at 10am at the fire station. (No minutes yet.)
Make sure to keep your chimney clean. Cleaning brushes can be borrowed from the YPFD.
YPFD COVID19 Policy
link: YPFD Covid 19 SOP
link: Covid-19 EMS (May 23)
Pile burning: Dress appropriately, have enough help on hand (people, water and tools) and make a firebreak before you start. Call your local fire protection district chief to let them know you'll be conducting a debris burn. This saves them from sending emergency responders to your property if they are not needed. Do NOT burn on breezy afternoons.
Better yet, "Rake It and Take It" yard waste (limbs, pine needles, brush, etc.) to the burn pile at the Transfer Station on the south end of the turn-around. Remember, keep the pile neat. Woody debris only, no nails, no cardboard and no furniture! The Boise NF will burn the pile in the fall when it is safe and doesn't pollute our fine YP air.
YP Fire Commissioners:
Sue Holloway – District 1
Dan Stiff – District 2
Merrill Saleen – District 3
Tim Rogers – Fire Chief
Yellow Pine Fire Protection District Community Service Notice
The purpose of this letter is to show how you as a Yellow Pine Resident can help protect your structure against a wildland fire by being "Fire Wise." Click the link: to view 20190724 Yellow Pine Fire Protection mitigation
——–
Biz Listings:
The Corner (208) 633-3325
Starting Nov 3rd open 3 days a week on mail days.
— — — —
Yellow Pine Tavern (208) 633-2233
Winter Closure: November 14, 2020 to April 16, 2021
— — — —
Yellow Pine Lodge (208) 633-3377
Closed Nov 3rd for winter.
— — — —
Yellow Pine General Store (208) 633-3300
New owner, plans to open this spring.
— — — —
Murph's RV Park & Mary's Cabins
FB page link
— — — —
Knotty Kat Crochet Works – 208-502-0940
FB page link
open Tue – Sat, 9-5
Yellow Pine eggs $3/doz
— — — —
Buck Horn Outfitters LLC 208-633-3614
Tom & Sarah Lanham
156 Yellow Pine Ave, Yellow Pine Id 83677
website:
Facebook:
Wapiti Meadow Ranch – Johnson Creek (208) 633-3217
or 208-315-3554 – cabin rentals
website:
Deadwood Outfitters
website:
— — — —
Local Fuel Suppliers
Amerigas Phone: (208) 634-8181
Ed Staub & Sons Phone: (208) 634-3833
Diamond Fuel & Feed Phone: (208) 382-4430 open 830am-5pm Monday-Friday, closed weekends.
— — — —
Outside Biz that will service Yellow Pine:
The Star-News


click to subscribe:
A reminder that those who live in other states can subscribe to the online edition only since the mail can take days for hard copy to reach them.
Rocky Mountain Mechanical – Plumbing – Heating – Air conditioning
(208) 365-PIPE (7473), Emmett, will service Yellow Pine
Elkhorn Heating & Cooling
(208) 906-4067 Middleton, Idaho, will service Yellow Pine
B&T Safety Solutions LLC
208-271-1600 Based out of Donnelly
Snow removal, cleaning chimneys and stoves, we do cabin staining/chinking as well
— — — —
Follow The Yellow Pine Times on Facebook (updated more often than emails)
———————–
Local Observations:
Monday (Mar 1) 24 hour low of 12 degrees from Sunday morning, measured an average of 28″ of snow on the ground, clear very blue sky this morning. Heard a red-wing calling, hairy woodpecker, jays, nuthatches and chickadees visiting, fresh fox tracks. Clear at lunch time. Breezy and clear early afternoon. Warm, strong sunshine and breezy mid-afternoon, melting snow and semi slushy paths, high of 49 degrees. Two pine squirrels chasing each other. Some high thin haze after sunset and still above freezing. Mostly cloudy (hazy) around midnight.
Tuesday (Mar 2) overnight low of 14 degrees, average snow depth 26 1/2″. Partly cloudy then mostly clear this morning, swept paths are very icy. Jays, juncos, chickadees, nuthatches and the pine squirrel visiting. Shots fired at 1126am. A few clouds at lunch time, sunny and icicles dripping. Very warm mid-afternoon, light breeze and partly cloudy, high of 52 degrees. Paths exposed to sunshine are slushy, those in the shade are solid ice. Partly cloudy and just above freezing at dusk. Hazy before midnight, a few stars out after.
Wednesday (Mar 3) overnight low of 12 degrees, average snow depth 25 1/2″. Clear sky and calm. Pine squirrel an early visitor, female hairy woodpecker, male northern flicker, nuthatches, chickadees and jays also visited. Warm and sunny at lunch time. Mail truck was about 10 minutes late today, no problems reported. Warm clear and sunny mid-afternoon, snow melting and slushy paths, high of 55 degrees. Clear and a little above freezing at dusk.
Thursday (Mar 4) overnight low of 12 degrees, average snow depth is close to 25″. Clear sky and slight breeze this morning. Heard a raven go "cronk" off in the distance, pine squirrel early visitor, male hairy and female downy woodpeckers, jays, nuthatches, chickadees, red-winged black bird and starlings visiting. Sunny at lunch time, icicles dripping. Almost clear sky, strong sunshine and quite warm mid-afternoon, high of 57 degrees. Shot fired 544pm. Mostly clear and above freezing at dusk. Looked hazy to the east before midnight.
Friday (Mar 5) 24 hour low of 15 degrees from Thursday morning, average snow depth is 24 1/2″. Hazy sky this morning. Lots of dark-eyed juncos, 2 pine squirrels chasing each other, a male hairy woodpecker, jays, chickadees and nuthatches visiting. Breezy and hazy sky with filtered sunshine at lunch time. Gusty breezes early afternoon. Warm, breezy and mostly hazy mid-afternoon, high of 59 degrees. It was well above freezing, calmer and mostly hazy sky at dusk. Hazy or cloudy before midnight.
Saturday (Mar 6) overnight low of 24 degrees, this morning gray overcast and light breeze, average snow depth is 23 1/2″. Heard a raven calling, male and female hairy woodpeckers and a downy, juncos, jays, chickadees, nuthatches, a small flock of starlings and 2 pine squirrels visiting. Raining lightly and lowering clouds at lunch time, lasted around half an hour. Small flock of starlings showed up. Gray overcast and a little breezy mid-afternoon, high of 42 degrees. Overcast, above freezing and misting before dusk. Occasional flake of snow late evening. Scant trace of graupel fell later. Looked cloudy before midnight.
Sunday (Mar 7) overnight low of 20 degrees, measured 0.02″ of rain from yesterday and an average of 23″ snow on the ground, mostly cloudy sky this morning. Male and female hairy and male and female downy woodpeckers, jays, juncos, chickadees, nuthatches, starlings and a pine squirrel visiting. Gun shot around 1015am. Mostly cloudy and breezy after lunch time. Gray overcast, chilly breezes and above freezing mid-afternoon, high of 42 degrees. A little snow fell (and melted) before sunset. Light snow after dark.
——————
Idaho News:
Avalanches block road to Stibnite
Perpetua: Closure does not affect mine operations
By Max Silverson for The Star-News March 4, 2021
A series of avalanches last week near Yellow Pine indefinitely blocked the road to the site of a mine proposed by Perpetua Resources, the company formerly known as Midas Gold.

Perpetua Resources Field Operations Supervisor Layne Mouritsen stands on the Stibnite Road near Yellow Pine that was covered last week by avalanche shown behind him.
The slides on the Stibnite Road were the second time in two years that avalanches had blocked the only access to the Stibnite area.
Warm temperatures and rain triggered the avalanches on Feb. 23, leaving debris strewn along 1,500 feet of roadway and up to 30 feet deep across the road, said Mckinsey Lyon, a spokesperson for Perpetua.
On Monday, Valley County commissioners decided to wait for the snow piles to melt instead of using crews to clear the road to the proposed gold and antimony mine.
"First of all, I don't think it's done snowing," Commission Chair Elt Hasbrouck said. "I think we should give it some time and let it melt down."
Nobody was hurt in the slides, but one employee was temporarily stranded at Stibnite, the historic mining district 40 miles east of McCall that Perpetua is seeking permits to mine, Lyon said.
"Our staff has created a footpath over and around the debris and drives from Yellow Pine, hikes over the slide and then meets snowmobiles on the other side to get to the site," she said.
There is no timeline for when the road may be cleared, but the company's permitting and monitoring work at the site will not be affected, she said.
Clean-up of historic mining waste at Stibnite scheduled to begin this summer under a recent agreement with the U.S. Environmental Protection Agency could be delayed if the road is not cleared, Lyon said.
"We will work with state and federal agencies to get the road clear as soon as feasible," she said.
Last week's slides were not as large and did not carry as many uprooted trees and downed logs as slides in April 2019 that blocked the East Fork South Fork Salmon River.
"Water is moving through and beneath the obstruction, so at the moment there is limited risk to losing the road," Lyon said.
Emergency Money
County commissioners also approved an emergency declaration on Monday that frees up state money to repair Stibnite Road if it is damaged by the slides.
The 2019 avalanches caused about $700,000 in damage to the road, which took about six months to rebuild after being washed out by the East Fork, Valley County Road Superintendent Jeff McFadden said.
The county paid about $26,000 for that work using money budgeted for other county road needs like chip sealing or patching, Hasbrouck said.
Federal and state emergency funds paid for $674,000 of the damages in 2019, but Commissioner Sherry Maupin said funding is not guaranteed.
Perpetua pays for routine maintenance on Stibnite Road, like snow plowing, under an agreement with the county, but the county is responsible for major maintenance work.
Maupin questioned whether the county should have any funding responsibility for Stibnite Road since the roads department is already facing a funding shortage.
"We don't have enough funds to fix the valley roads, so anything in excess of standard maintenance has no funding source," she said.
Perpetua also assisted with cleaning up the 2019 slides and will offer to help clean up this year's slides as well, Lyon said.
Perpetua has spent about $800,000 maintaining Stibnite Road and Johnson Creek Road, which Lyon noted benefits Yellow Pine residents and recreationists.
Perpetua's routine year-round maintenance efforts also free up county crews and equipment to work on more heavily traveled county roads in the valley, she said.
In 2014, there were 22 avalanches along the South Fork Salmon River from Yellow Pine to Stibnite.
source: © Copyright 2009-present Central Idaho Publishing Inc. All rights reserved (Used with permission.)
— — — — — — — — — —
240 new Idaho COVID-19 cases
March 5, 2021 Local News 8
Idaho officials reported 240 new COVID-19 cases on Friday.
That brings the total confirmed and probable cases reported since March to 172,827.
There are a total of 140,013 confirmed cases and 32,814 probable cases in all 44 of the 44 counties in Idaho, according to numbers released from the local health districts and the state. …
The state said 271,684 people have received the vaccine, and 421,337 total doses have been administered. …
The state said 15 new hospitalizations have been reported bringing the total number to 7,179 and 3 new cases have been admitted to the ICU bringing the total to 1,245. …
Zero new deaths were reported bringing the total recorded deaths to 1,876.
full story:
— — — —
Idaho Hospitalizations March 1, 2021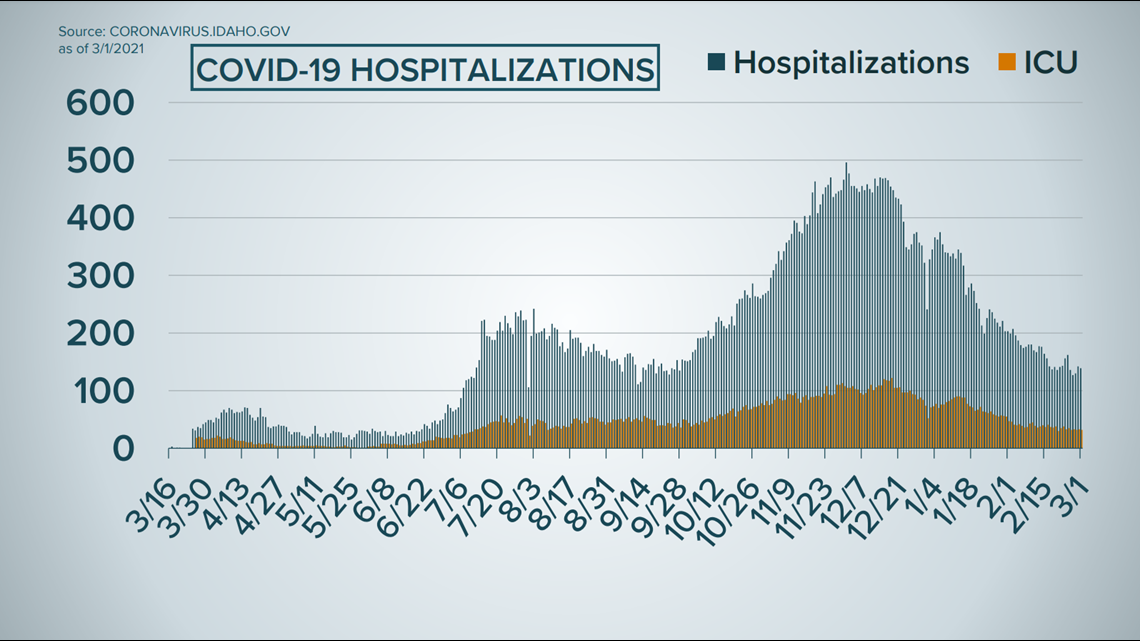 source: KTVB
— — — — — — — — — — —
New COVID-19 cases in Valley County down to two in week
By Tom Grote for The Star-News March 4, 2021
The number of new positive COVID-19 cases in Valley County rose by only two during the last week, health officials said.
The total number of positive cases since the pandemic reached Valley County last summer totaled 715 by Tuesday, up two cases from 713 a week ago, health officials said.
St. Luke's McCall on Tuesday reported 613 total positive cases from testing done at the hospital since the pandemic reached Valley County last summer, up one case from 612 cases a week ago.
Cascade Medical Center reported 102 total positive cases through Monday, or one more than the 101 cases reported last week.
Central District Health reported 629 of the positive cases were confirmed to be Valley County residents as of Tuesday, which is four more than the 625 cases reported a week ago.
The difference between the hospital figures and the health department figures are those who tested positive but did not declare Valley County as their residence.
Four confirmed deaths and one probable death of Valley County residents related to COVID-19 have been reported by Central District Health.
continued:
— — — —
2,731 First Doses
By Tom Grote for The Star-News March 4, 2021
A total of 2,731 people had received the first dose of the COVID-19 vaccine and 1,411 people had received the required second dose from Valley County's two hospitals by Wednesday, the hospitals reported.
St. Luke's McCall had given 1,516 of the first doses as of Tuesday and 817 of the second doses of the vaccine. This week 367 appointments are scheduled for first and second doses.
St. Luke's McCall has added a fourth day to its weekly clinics. First doses will be given on Tuesdays, Wednesdays and Fridays, while second doses will be given on Saturdays,
Cascade Medical Center had given out 1,215 first doses by Wednesday while 594 people had received the second dose.
Four clinics have been scheduled at the Cascade American Legion Hall through April 29, where a total of 1,200 first doses and 1,200 second doses are scheduled to be given.
continued:
— — — — — — — — — — —
McCall puts back mandatory mask order
Health district board had lifted ban Feb. 19
By Drew Dodson for The Star-News March 4, 2021
The McCall City Council last Thursday reimposed an order requiring face masks in public in the city to combat the spread of COVID-19.
The action came a week after the Central District Health board lifted a mandatory mask order that was in place for all of Valley County since last August.
The city order carries a $100 fine for not wearing a mask in public places, except for people who can prove a valid medical exemption.
continued:
— — — — — — — — — — —
Idaho 55 project at Smiths Ferry to resume Monday
By Max Silverson for The Star-News March 4, 2021
Traffic delays will return to Idaho 55 near Smiths Ferry on Monday with four-hour closures starting on March 15 as a roadway improvement project starts up again.
The project, which is scheduled to be completed in the fall of 2022, will widen shoulders, minimize curves in the road and install guardrails on about one mile of road between Smiths Ferry and Rainbow Bridge.
Work on the project paused for the winter in November. Preliminary work to clear the site of snow will cause daytime delays of about 15 minutes through March 12.
Construction is scheduled to resume on March 15 with full, two-lane closures every Monday-Thursday from 10 a.m. to 2 p.m.
The road, and the adjacent stretch of the North Fork Payette River, will be closed completely while crews conduct blasting and hillside demolition.
The schedule will continue until June, when one-way alternating traffic would replace the four-hour closures.
For more information, visit (link)
source: © Copyright 2009-present Central Idaho Publishing Inc. All rights reserved (Used with permission.)
— — — — — — — — — — —
ITD reminds people to get their Star Card, deadline is October 1
By Katie Kloppenburg Mar 04, 2021 KIVI
The deadline for Idahoans to get the Star Card, Idaho's REAL ID, is now seven months away. Starting October 1, people will need a Star Card. U.S. passport, military ID or another form of REAL ID to board a commercial flight or enter a federal facility.
The Idaho Transportation Department (ITD) says 465,563 of 1.25 million licensed drivers in Idaho have a Star Card. Two years ago, only 70,000 people in Idaho had a Star Card.
continued:
— — — — — — — — — — —
Idaho could increase snowmobile fees
March 3, 2021 Local News 8
A House bill is now in the Senate which could increase the current snowmobile certificate fee.
If passed, the fee for Idaho residents would increase by 7.4%, and it would increase by 92% for non-residents.
Validation stickers on rented snowmobiles would increase to nearly $66 for everyone.
continued:
——————–
Public Lands:
Seedlings available for reforestation and habitat improvement
Boise, Idaho, March 3, 2021 — Landowners who need trees and shrubs to create windbreaks, improve wildlife habitat, and enhance forests on their property are encouraged to come to the Boise National Forest Lucky Peak Nursery's annual surplus seedling sale.
The surplus seedling sale will begin Saturday, April 3, from 8 a.m. to 4 p.m. Seedlings will not be available on Sunday. The seedling sale will continue through the end of April, Monday through Friday, from 8 a.m. to 3 p.m. The price is $30.00 for 50 seedlings. The minimum quantity that can be purchased is 50 seedlings of each species. A bundle of 50 seedlings will easily fit into a standard grocery bag. First come-first served, no presales.
Due to COVID considerations this years' sale will be conducted differently than previous years.
All sales Saturday, April 3, will be drive up. CASH or CHECK only. In accordance with President Biden's Executive Order on Protecting the Federal Workforce, visitors are asked to please wear a mask.
This year limited quantities of big sagebrush and ponderosa pine seedlings will be available on a first-come, first-served basis. Sagebrush is highly desirable for improving big game habitat in the Foothills. In forested areas, ponderosa pine is typically found on drier sites.
Each year, the Lucky Peak Nursery produces over three million one and two-year old trees and shrubs. These seedlings are used for public land reforestation activities in the intermountain west disturbed by wildfire, timber sales, or other events. When the Nursery has produced more seedlings than is customers need, that surplus becomes available to rural landowners for conservation plantings.
The seedlings are best suited for landowners with property in rural areas. They are not intended for homeowners in urban areas to plant in their backyards. Landowners who purchase the one-year old trees can expect many of them to grow and thrive if planted correctly. Written planting instructions and technical assistance will be available.
The Lucky Peak Nursery is located 16 miles northeast of Boise on State Highway 21. For more information about the annual seedling sale, call 208-343-1977. Lucky Peak Nursery, 15169 E Highway 21, Boise, ID 83716.
Linda Steinhaus
Public Affairs Specialist
R4, Boise National Forest
— — — — — — — — — —
Comment Period on the Rapid River Travel Management Project's Environmental Assessment – Virtual Public Meetings Scheduled
New Meadows, Idaho, March 5, 2021 – The New Meadows Ranger District of the Payette National Forest invites comments on an environmental assessment for the Rapid River Travel Management Project. New Meadows District Ranger Erin Phelps and her staff value public comment to help inform Forest Service officials in their development of the project.
"We had a great level of public response during the initial scoping for the project last fall," said Phelps. "We listened and incorporated that input into our alternative development, project design, and analysis. Now we're really looking forward to this next step of public involvement to help ensure we have the full picture to help inform the decision-making process."
The assessment and information on how to submit comments are available online at the project's webpage at (link). Comments will be accepted for thirty days from the publication of the legal notice in the McCall Star-News. A copy of the legal notice will be available at the project's webpage.
The district will host virtual public meetings to provide an overview of the project and answer question:
* March 11 from 12 to 2:30 (link), or by telephone at 669-254-5252, passcode 1604948076#; and
* March 18 from 5 to 6:30 (link), or by telephone at 669-254-5252, passcode 1603804972#
Additionally, the district has developed a story map of the project (link). The story map provides an interactive opportunity to learn about the project and the proposed action and alternatives.
The district proposes the project to review the designated use of sections of National Forest System trails 177, 183, 184, 187, 188, and 362 within and adjacent to the Rapid River Wild River corridor to align with existing regulations, and to update the forest's motor vehicle use map (MVUM) accordingly. The trails under consideration are located approximately fifteen miles northwest of New Meadows, Idaho, within Adams County.
"I really appreciate the interest and involvement of so many varied interest groups and individuals," said Phelps. "Rapid River is a deeply-loved place, and the only way to successfully move through this project will be to continue the fair, engaging, and respectful dialogue."
Brian Harris
Public Affairs Officer
Tribal Liaison
Payette National Forest
— — — — — — — — — —
USDA Forest Service Chief Announces New Regional Forester for Intermountain Region
Ogden, UT, March 4, 2021 – USDA Forest Service Chief Vicki Christiansen today announced the appointment of Mary Farnsworth as Regional Forester for the agency's Intermountain Region, located in Ogden, Utah. As regional forester, Farnsworth will oversee management of more than 32 million acres of national forests and grasslands, across six states with over 3,500 permanent and seasonal employees.
Farnsworth will build on the progress made last year enhancing shared stewardship opportunities; emphasizing, strengthening and strategically planning future program delivery of recreation and range programs; and increasing the Region's ability to treat priority landscapes to reduce the risk of wildfire. Farnsworth will also support national priorities such as containing the COVID-19 pandemic, ensuring racial justice and equity, rebuilding the rural economy, and addressing the impacts of climate change.
"Mary's ability to build effective and enduring partnerships will ensure the continued delivery of healthy, working forests for the Intermountain Region," said Chief Christiansen. "The strong relationships she has formed while working with our state and local partners and diverse stakeholders make her a great choice to lead the Region."
Farnsworth is currently serving as the acting regional forester for the Forest Service's Intermountain Region. Previously, she held the position of deputy regional forester for the Region. Farnsworth has dedicated more than 30 years to the agency, beginning her career on the Umatilla National Forest in 1987. She has held a variety of leadership positions across the agency including in the agency national headquarters in Washington, D.C., California, Oregon, Idaho and Utah. Farnsworth has a degree in forest management from Humboldt State University.
Farnsworth is taking over the position left vacant in April 2020, when Nora Rasure retired after serving six years as the regional forester for the Intermountain Region. In the interim, Frank Beum acted as the acting regional forester and recently returned to his role as the deputy regional forester for the Forest Service's Southern Region in Atlanta, Georgia.
— — — — — — — — — —
Bureau of Land Management, Owyhee County remind people to enjoy public lands safely
Boise, Idaho – The Bureau of Land Management (BLM) and Owyhee County Search and Rescue (SAR) want to remind the public that while enjoying the tremendous recreational opportunities in southwest Idaho, to please do so safely and responsibly.
"There are year-round recreational opportunities on BLM-managed public lands in Owyhee County in addition to the many other uses, such as grazing," said BLM Boise District Manager Tanya Thrift. "These lands are often remote, and we ask visitors to please take precautions to avoid hazardous situations and come prepared in case of an emergency."
There have been a high number of Emergency Medical Services and SAR responses to incidents on public lands within Owyhee County that could have been prevented with a little preparation and adherence to basic safety principles.
• Always let someone know where you are going and what time you will return.
• Cellphone service is very limited, especially outside of highway corridors.
• Be prepared for emergencies by taking along extra water, food and clothing.
• Stay on designated roads and trails; it is unlawful to travel cross-country with motorized vehicles in Owyhee County.
• Carry a spare tire and know how to change a flat one.
• Unpaved roads should be avoided during inclement weather, and most require high- clearance, four-wheel drive vehicles even in dry conditions.
• Adhere to closure times for recreation sites such as Jump Creek (April 1 to Oct. 1 is 9 p.m. to 6 a.m. and Oct. 2 to March 30 is 6 p.m. to 8 a.m.). Violators will be ticketed.
• Be aware that the BLM manages public lands for multiple uses, including grazing, mining, logging and a wide variety of recreation. Please be respectful of other users.
"Always know where you are going. The biggest problem we have is when somebody in distress calls the sheriff's office, but has no idea where they are at," said Owyhee County Sheriff's Office Sergeant Kenny Hoagland. "If lost, stuck, disabled or in an emergency, do not call a friend to relay the information to us, call 911. That way we can get a GPS location from your phone call."
"It's also important to check the weather," said Hoagland. "Most rainstorms turn our dirt roads muddy, slick and impassable even with four-wheel drive. Please stay on established roads. Not only can you get stuck, you tear up the land that takes years to recover, if ever."
When called upon, first responders and volunteer SAR personnel take time away from their families and jobs to provide emergency services after dark, on weekends and in extreme weather conditions. Often, these personnel experience the same hazards that contributed to the emergency. Response times, especially in remote areas, can take several hours.
"We welcome visitors to come down and enjoy the public lands in Owyhee County," said Hoagland. "Just please be safe and considerate of others sharing the land with you."
— — — — — — — — — —
Bureau of Land Management seeks public input on National Guard training expansion
Boise, Idaho – The Bureau of Land Management (BLM) and National Guard Bureau have announced they are seeking public scoping comments on a proposal by the Idaho Army National Guard to expand military training onto about 20 square miles of public land west of Mountain Home and adjacent to the existing Orchard Combat Training Center.
The proposal's purpose is to meet Department of Defense training requirements, ensure troop combat readiness and offset loss of training areas due to increases in native shrublands within the Orchard Combat Training Center. Portions of this proposed area are managed by the BLM, including the Morley Nelson Snake River Birds of Prey National Conservation Area.
The Simco Training Area Environmental Assessment will analyze possible impacts from proposed heavy maneuver training between March and November, construction and maintenance of 12.7 miles of dirt roadways, infrastructure development and engineering practice areas. The proposal does not include live fire exercises.
"The BLM and Idaho Army National Guard have a history of collaborative management of the adjacent Orchard Combat Training Center," said Amanda Hoffman, Morley Nelson Snake River Birds of Prey National Conservation Area manager. "This scoping period provides the public an opportunity to identify issues the BLM will consider as we develop our analysis of the proposal."
Detailed information on the proposal can be found at (link)
This public scoping period will run from March 5 to April 5, 2021. Comments will be accepted through the following means:
Email: BLM_ID_FourRiversOffice@blm.gov
Fax: 208-384-3326
Surface mail: BLM Four Rivers Field Office, 3948 Development Ave., Boise, ID 83705
The BLM and Idaho Army National Guard will host two virtual public scoping meetings jointly via Zoom on March 17, the first at 2-3 p.m. and the second at 6-7 p.m. Meetings will include a presentation of the project proposal with an opportunity for the public to submit questions to specialists. Preregistration is required before receiving the virtual meeting links and can be found at (link).
The purpose of the scoping period is to obtain public input on relevant issues that may influence the BLM's analysis. The BLM invites comments that would be useful in refining or identifying new issues, identifying possible alternatives or identifying actions that may have a cumulative effect on the proposed action.
Those who provide comments are advised that before including their personal identifying information (address, email, phone number) they should be aware that the entire comment – including their personal identifying information – may be made publicly available at any time. While those commenting can ask in their comments to withhold this information from public review, the BLM cannot guarantee that they will be able to do so.
For more information, contact the BLM Four Rivers Field Office at 208-384-3300.
———————–
Critter News:
ISP warns of elk herd causing crashes near Pocatello
The herd of about 100 elk crossed Interstate 15, causing multiple collisions.
March 1, 2021 KTVB
Idaho State Police is warning all drivers to slow down and keep a sharp eye out for elk near Pocatello.
A large herd, numbering about 100 elk, has been spotted along Interstate 15 north of town, and has already caused multiple crashes.
Several of the elk were hit as they crossed the interstate between Pocatello and Fort Hall.
continued:
— — — — — — — — — —
Idaho officials ask for bird feeder removals amid outbreak
By Associated Press March 1, 2021
Idaho fish and wildlife officials are recommending that residents take down their backyard bird feeders or clean them frequently amid a salmonella outbreak that has infected songbirds across the western U.S.
The outbreak has been reported along the west coast and as far inland as Idaho, the Lewiston Tribune reported Friday.
"I got a call from a citizen in Grangeville and another in Kamiah saying they had birds behaving strangely and matching the symptoms of salmonellosis," said Joel Sauder, a nongame biologist with the Idaho Department of Fish and Game at Lewiston.
Those potential symptoms include wild birds behaving tamely, displaying lethargy, puffing up their feathers and not flying away when approached, the newspaper reported. Birds that are displaying these behaviors are typically well into the bacterial illness, which is usually fatal.
continued:
— — — — — — — — — —
Idaho officials find invasive mussels in aquarium products
By Meredith Spelbring Mar 05, 2021 KIVI
The Idaho State Department of Agriculture announced invasive mussels were found on aquarium items sold in the state.
The ISDA Invasive Species Program found live invasive zebra mussels in Marimo moss balls, a product commonly sold for use in aquariums, according to ISDA.
The ISDA is working with local Petco stores to get any additional product that is currently in transit. The agency's response is part of a coordinated, nationwide effort to remove the impacted products from stores and advise on how to dispose of the products, according to a news release from ISDA.
continued:
———————–
Letter to Share:
The Gamebird Foundation

12 and 16 ounce. Outstanding wildlife mugs.
Hi all, take a look below at The Gamebird Foundation cups. Small one is 12 ounce and the large one is 16 ounce. These mugs are done for us by Andy Sewell, he is one of the best wildlife artist in the country. The prints are from Andy's own original drawings. He does the cups himself, it is quite a process. We are working to figure a place for the logo of the foundation on the cup. Right now it is the large cup I think? Either cup will sell for the same price. Donation of $20.00 or more per each. If you want them mailed, you will have to pay postage, as we have to buy special boxes to ship. These are some of the most outstanding wildlife cups I have ever seen and I have done a lot of National Wildlife Banquets. You can go to our web page and order (LINK) or email me at jhagedorn611 @ gmail.com or call me at 208-883-3423. We have many members and board members that you can give an order to. We will also have coasters very soon that I will have pictures off. The money we raise from the products we take donations for only goes to buy baby chick feed for the baby pheasant and red-leg chicks we raise and release. We are a 501c3 non-profit corp.
Please pass along to your other wildlife friends. This are special collectable items. Stay posted for other good stuff.
"The Pheasant Guy"
Jim Hagedorn
The Gamebird Foundation.
———————–
Fish & Game News:
Fish and Game seeks comments about several proposed rule changes
By Brian Pearson, Conservation Public Information Specialist
Wednesday, March 3, 2021
Idaho Fish and Game is launching a negotiated rulemaking process and wants to hear from the public about four dockets of proposed rule changes. The comment period opened on March 3. To view the negotiated rulemaking notices, visit (link)
People can view and comment on each of the rulemaking proposals by visiting Fish and Game's public comment page, or by following the respective links below. The deadline for comments for each is indicated under each individual proposal.
continued:
— — — — — — — — — —
Moose, bighorn sheep and mountain goat seasons and rules booklet available online now
By Brian Pearson, Conservation Public Information Specialist
Monday, March 1, 2021
Hunters will be able to pick up a print copy by late-March
Idaho's 2021-22 moose, bighorn sheep and mountain goat seasons and rules booklet is now available online, and should be hitting the shelves at regional offices and license vendors in mid to late-March.
The booklet can be viewed online at (link)
continued:
— — — — — — — — — —
Wildlife Express Newsletter & Educational Activities
Feb 2021 link:
— — — — — — — — — —
Southern Idaho residents encouraged to temporarily remove bird feeders due to a suspected outbreak of salmonellosis
By Terry Thompson, Regional Communications Manager
Tuesday, March 2, 2021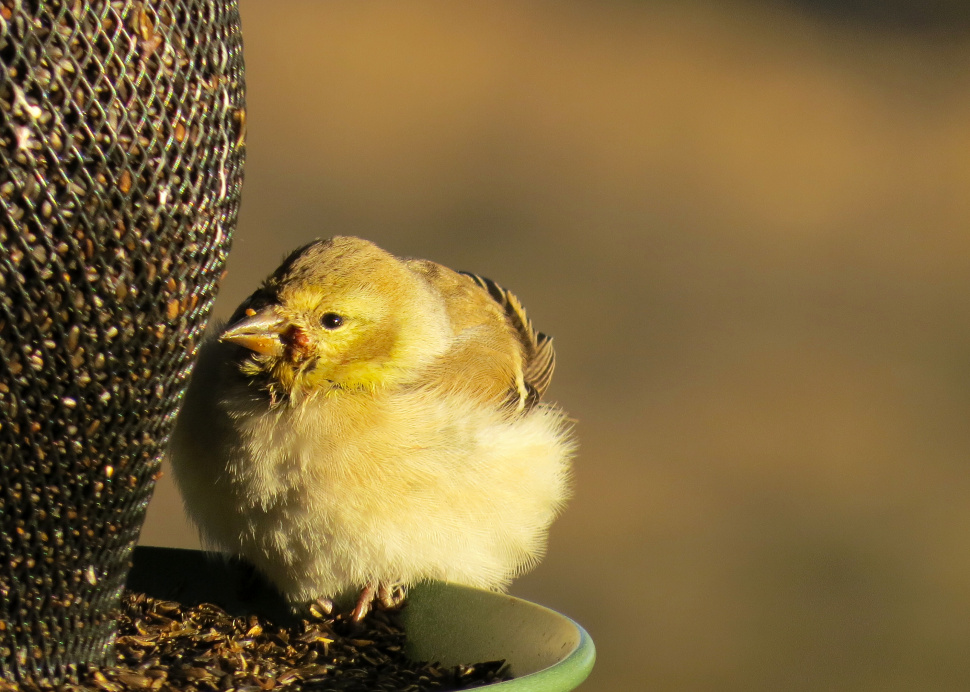 Sarah Harris
A female American goldfinch showing signs of salmonellosis in the Twin Falls area.
Salmonellosis, a fatal disease in birds, is suspected to have been found in southern Idaho birds that frequent area bird feeders.
After reports of sick and dying birds began to reach biologists in northern Idaho, it appears that salmonellosis, also commonly known as salmonella, might have been detected in southern Idaho. Salmonellosis is a common and generally fatal bird disease.
Wild birds that frequent feeders in the winter can be especially susceptible to outbreaks due to the large numbers of birds coming to the feeders.
continued:
— — — — — — — — — —
More F&G News Releases
link:
————————
Crazy Critter Stuff
Ferdinand the house duck brings joy to Boise family
Maggie O'Mara March 4, 2021 KTVB
A Boise woman may have the only "house duck" in town. Hailey Schisel says at first she considered getting chickens, but it turns out a fluffy baby duck was more her speed.
"I took him home, and just kind of went from there – it was a crash course taking care of a duck inside," she said.
That's right: The duck, who she named Ferdinand, is a regular part of the family, getting so comfortable inside the house as a duckling that Schisel says she needed to train him on how to be outside.
continued: w/video
——————-
Seasonal Humor:

—————–