March 14, 2021 The Yellow Pine Times – Valley County, Idaho
Reminder: We are still under a boil water order until further notice.
Community Calendar:
Apr 17 – Boil water order issued
Feb 19 – Valley County Mask Advisory
Feb 23 – Avalanche closed Stibnite Road
March 11 – Tick Season Began
March 14 – Time Change Spring Ahead
March 15 – Hwy 55 road closures start
March 17 – St. Patrick's Day at The Corner
March 28 – Festival Zoom meeting at 2pm
April 4 – Easter
June 12 – VYPA Meeting
(details below)
———-
Local Events:
Hwy 55 Work Begins March 15
Expect full road closures Monday-Thursday from 10am to 2pm in the Smith's Ferry area.
Project Website link:
— — — —
Next Festival Planning Meeting
Sunday, March 28, 2021, Zoom meeting at 2pm. (If you need the link, contact Deb.)
———-
Village News:
Second Dose March 10
(photo captured from KTVB news story, probably courtesy Sam Jensen.)
On Wednesday, March 10th, the 20 locals who received the 1st dose of vaccine, received the 2nd dose from Cascade Medical Center at the Yellow Pine Community hall.
The Village of Yellow Pine would like to thank Cascade Medical Center, Teri Coombs RN and Sam Jensen Paramedic for coming all the way up here – again. And a big thank you to the Village Ladies for having the hall open, warm and welcoming with coffee and munchies.

Some locals that had to go out met the ambulance en route at Goat Creek to receive their 2nd shot.


photos courtesy TN
— — — —
March 12 Power Outage
Idaho Power called Friday morning, March 12th, to inform us that they had received an "alert" of a Line Down in the Johnson creek area. Shortly after the call their helicopter flew over the village at 911am looking for the problem. Idaho Power called again early afternoon and the nice fellow (didn't get his name) remarked he was surprised our power was still on, and reported there were trees down on the line and extensive damage. Crews dispatched from Boise were en route with a probable arrival around 230pm, and he estimated it will take 5-6 hours to repair.
Our power went off at 205pm. Power restored at 737pm.
A big Thank You to Idaho Power crews and to the friendly fellow for calling us with information.
— — — —
Avalanche Closes Road to Stibnite
The morning of Feb 23rd, we received a message there are slides on the road to Stibnite. "These slides start below Tamarack creek then up around the corner where the 2019 slides were." -PR They will keep us posted. Please don't attempt to go up there to look, the road is narrow and more slides could come down.
"Debris [is] strewn along 1,500 feet of roadway and up to 30 feet deep across the road" – PR. No timeline as to when the road will open.
— — — —
Ticks!
A report Thursday morning, March 11th of the first tick found. Check your dogs and yourself after a walk in the woods.
— —
YP Winter 2020-2021 Census = 29 people
This was counting only residents that wintered in. (If someone wants to count the dogs, cats, horses and mules, please share.)
— — — —
Yellow Pine General Store
Please welcome Josh Jones as the new owner of the Yellow Pine General Store.
— — — —
Critters
Be Fox Aware
* Do not feed foxes human food
* Feed domestic pets indoors
* Make sure your pets are updated on Rabies vaccines
* Small pets could become a snack
Be Mountain Lion Aware
* NEVER run away from a mountain lion. The lion's instinct is to chase and ultimately catch what they perceive as potential prey.
* NEVER turn your back on a lion. Always face them while making yourself look as large as you can. Yell loudly, but don't scream. A high-pitched scream may mimic the sound of a wounded animal.
* SLOWLY back away while maintaining eye contact with the lion.
* Safety equipment you may choose to carry could include bear spray, a noise device, like an air-horn, and if you walk in the dark, a very bright flashlight.
* If you are attacked, fight back!
— — — —
Road Reports
Link: to current road reports.
— — — —
Yellow Pine US Mail
The 3-day a week mail delivery started Nov 2nd. The Post Office in Yellow Pine is open six days a week year around: M-F 845am-245pm Saturday 9am-245pm. Forever Stamp: 55 cents. Support our local post office and purchase your holiday stamps here.
— — — —
Yellow Pine Transfer Station
The dump (and road) were plowed on Saturday, Feb 27th.
Yellow Pine Transfer Station (aka, the dump)
Please do not abuse our Transfer Station or we may lose it. Household trash must be placed in the bins, flattened cardboard boxes can also go into the bins. Do not stack trash in front of the doors. Woody yard debris only for the burn pile. No furniture, appliances, tires or construction debris allowed, those items must be hauled out to the Donnelly station by you.
The Yellow Pine Transfer Station is Valley County responsibility. If it is not kept tidy, use of the Transfer Station may be revoked. That would result in residents having to take all household trash and yard waste to the Donnelly Transfer Station.
If Dumpsters Are Full, Contact Lake Shore Disposal at: (208) 634-7176
———-
Local Groups
YPWUA News:
The annual Water meeting for 2020 was held July 5th at the Community Hall 2pm.
link: minutes 20200705YPWUA.docx
Boil Your Water Before Using
Boil Water Order issued April 17, 2020.
Link: to Notice
Update Nov 29: Warren replaced the water meter because of inconsistent readings. With the new meter, the community is currently using over 55,000 gallons of water per day. A leak has been identified and will be repaired as soon as we can coordinate the contractor, equipment needed and weather together. It is difficult to get everything planned in the winter. When the repair is scheduled, the community will have a few days notice before the water is shut down. Since we are using more water than the rated use through the sand filters, the boil order will remain in effect. We continue the grant request process that is extremely slow. – Steve H
Update Nov 25: the boil order is still in effect due to the large quantity of water that is leaking from the system. – Warren D
— — — —
VYPA News:
VYPA Meetings are the 2nd Saturday of June, July, August, and September (June 12, July 10, August 14, September 11) at 2:00pm at the Community Hall.
Village Council members:
Deb Filler, Chairman
Matt Huber, Vice Chairman
Ronda Rogers, Treasurer
Rhonda Egbert, Secretary
Ron Noel, Member at Large
VYPA Bylaws adopted 8/8/2020 (link)
YPAC Corp Bylaws (link)
Festival
Anyone interested in being a part of the Festival Planning/Working committee, please contact Deb Filler. Meetings will begin at the end of January. Even if you aren't physically in YP, you can participate in the committee.
Next Festival Planning Meeting Sunday, Feb 28, 2021 @ Community Hall, 2pm
2021 Planning Notes updated Feb 28th (link)
Yellow Pine Music and Harmonica Festival Policy and Procedure Link:
— — — —
YPFD News:
After Action Report meeting Oct 13, 2020 (no minutes yet.)
YPFD had a budget meeting on September 30th at 10am at the fire station. (No minutes yet.)
Make sure to keep your chimney clean. Cleaning brushes can be borrowed from the YPFD.
YPFD COVID19 Policy
link: YPFD Covid 19 SOP
link: Covid-19 EMS (May 23)
Pile burning: Dress appropriately, have enough help on hand (people, water and tools) and make a firebreak before you start. Call your local fire protection district chief to let them know you'll be conducting a debris burn. This saves them from sending emergency responders to your property if they are not needed. Do NOT burn on breezy afternoons.
Better yet, "Rake It and Take It" yard waste (limbs, pine needles, brush, etc.) to the burn pile at the Transfer Station on the south end of the turn-around. Remember, keep the pile neat. Woody debris only, no nails, no cardboard and no furniture! The Boise NF will burn the pile in the fall when it is safe and doesn't pollute our fine YP air.
YP Fire Commissioners:
Sue Holloway – District 1
Dan Stiff – District 2
Merrill Saleen – District 3
Tim Rogers – Fire Chief
Yellow Pine Fire Protection District Community Service Notice
The purpose of this letter is to show how you as a Yellow Pine Resident can help protect your structure against a wildland fire by being "Fire Wise." Click the link: to view 20190724 Yellow Pine Fire Protection mitigation
——–
Biz Listings:
The Corner (208) 633-3325
Starting Nov 3rd open 3 days a week on mail days.
— — — —
Yellow Pine Tavern (208) 633-2233
Winter Closure: November 14, 2020 to April 16, 2021
— — — —
Yellow Pine Lodge (208) 633-3377
Closed Nov 3rd for winter.
— — — —
Yellow Pine General Store (208) 633-3300
New owner, plans to open this spring.
— — — —
Murph's RV Park & Mary's Cabins
FB page link
— — — —
Knotty Kat Crochet Works – 208-502-0940
FB page link
open Tue – Sat, 9-5
Yellow Pine eggs $3/doz
— — — —
Buck Horn Outfitters LLC 208-633-3614
Tom & Sarah Lanham
156 Yellow Pine Ave, Yellow Pine Id 83677
website:
Facebook:
Wapiti Meadow Ranch – Johnson Creek (208) 633-3217
or 208-315-3554 – cabin rentals
website:
Deadwood Outfitters
website:
— — — —
Local Fuel Suppliers
Amerigas Phone: (208) 634-8181
Ed Staub & Sons Phone: (208) 634-3833
Diamond Fuel & Feed Phone: (208) 382-4430 open 830am-5pm Monday-Friday, closed weekends.
— — — —
Outside Biz that will service Yellow Pine:
The Star-News


click to subscribe:
A reminder that those who live in other states can subscribe to the online edition only since the mail can take days for hard copy to reach them.
Rocky Mountain Mechanical – Plumbing – Heating – Air conditioning
(208) 365-PIPE (7473), Emmett, will service Yellow Pine
Elkhorn Heating & Cooling
(208) 906-4067 Middleton, Idaho, will service Yellow Pine
B&T Safety Solutions LLC
208-271-1600 Based out of Donnelly
Snow removal, cleaning chimneys and stoves, we do cabin staining/chinking as well
— — — —
Follow The Yellow Pine Times on Facebook (updated more often than emails)
———————–
Local Observations:
Monday (Mar 8) overnight low of 26 degrees, snowed 3/8″ early morning (SWE=0.02″) and measured an average of 23″ on the ground, overcast (VanMeter socked in) and light snow falling. Lots of juncos, a downy and a hairy woodpecker, jays, starlings, chickadees, a white-breasted and several red-breasted nuthatches and 2 pine squirrels visiting. Looks like a fox had visited during the night. Flaking snow right after lunch time. Light to moderate snow (mostly melting as it lands), socked into the valley floor or foggy ridges all afternoon, high of 35 degrees. Light snow and right at freezing at dusk. Snowing and stacking up after dark. Couple inches by midnight and still snowing. Probably snowed most of the night.
Tuesday (Mar 9) overnight low of 15 degrees, measured 4 1/2″ new snow (SWE=0.38″) and an average of 28″ on the ground, mostly clear sky, strong sunshine bringing the temperature up quickly. Male and female hairy woodpeckers, flock of dark-eyed juncos, noisy jays, little nuthatches and chickadees and a pine squirrel visiting. Some clouds before lunch time. Overcast after lunch. Light snow for about an hour mid-afternoon, low clouds and below freezing, high of 41 degrees. Breaks in the clouds late afternoon for a short while then about an hour of light snow (dusting.) Mostly clear at dusk. Some haze before midnight.
Wednesday (Mar 10) overnight low of 10 degrees, measured 1/4″ new snow (SWE=0.01″) and an average of 27″ on the ground, clear very blue sky. Jays, nuthatches, chickadees, male and female hairy and a female downy woodpecker and 2 pine squirrel visiting. Cascade Medical Center came in and gave the 2nd dose of Moderna vaccine at the Community Hall. Mail truck made it in on time and locals got their packages on main street after the shots. Mostly clear after lunch time. Report the ambulance returned with lights flashing at 3pm (ATV accident.) Mostly cloudy mid-afternoon, warm and roof snow melting and dripping, high of 42 degrees. A herd of elk wandered by slowly just before sunset. Partly hazy and a little below freezing before dusk. Stars out before midnight, temperatures dropping.
Thursday (Mar 11) overnight low of 4 degrees, no new precipitation and 25″ snow on the ground, clear sky and frosty this morning. Report of ticks out already. Jays, juncos, nuthatches, chickadees, hairy and downy woodpeckers, starlings and 2 pine squirrels visiting. Mostly clear at lunch time, icicles dripping. Warmer and mostly clear mid-afternoon, slight breeze, high of 47 degrees. Clear at dusk and just below freezing. Stars out before midnight.
Friday (Mar 12) overnight low of 5 degrees, clear sky and an average of 24 1/2″ snow on the ground. Idaho Power helicopter flew over at 911am. Jays, juncos, chickadees, nuthatches, male and female hairy woodpeckers, starling and flicker visiting. Clear and sunny at lunch time. Power off 205pm. Clear and light breeze mid-afternoon, high of 47 degrees. Clear and just below freezing at dusk. Power back on at 737pm. Stars out before midnight.
Saturday (Mar 13) overnight low of 11 degrees, clear sky and an average of 24″ snow on the ground. Jays, juncos, pair of hairys and a downy woodpecker, a red-winged blackbird, starlings, a clark's nutcracker, nuthatches, chickadees and pine squirrel visiting. Clear and sunny at lunch time. Warm, clear and light breeze mid-afternoon, high of 53 degrees. Clear sky and above freezing at dusk. Stars out before midnight.
Sunday (Mar 14) overnight low of 13 degrees, clear sky and an average of 23″ snow on the ground. Jays, juncos, chickadees, nuthatches, hairy and downy woodpeckers, northern flicker, clark's nutcracker, starlings and 2 pine squirrels visiting. Bright sunshine at lunch time and warming up. Warm, clear and sunny with slight breeze mid-afternoon, high of 58 degrees. Mostly cloudy at sundown.
——————-
Idaho News:
Paramedic, nurse drive 8 hours on backcountry roads to deliver vaccines to rural Idaho community
Yellow Pine, a community of 29, is about 50 miles of dirt roads into the mountains east of McCall but like many others, residents were eager to get vaccinated.
March 12, 2021 KTVB
Yellow Pine, Idaho — Over the river and through the woods they went to grandma's house, well, kind of. Thanks to a nurse and a paramedic, a small and very rural Idaho town was able to vaccinate most of its residents, most of whom are at high-risk for COVID-19 complications.
Paramedic Sam Jensen and Cascade Medical Chief Medical Nurse Terri Coombs have taken the 50-mile journey down dirt Forest Service roads to the community of Yellow Pine.
The community of 29 seasonal residents would have made an eight-hour round-trip drive if they wanted to go to the nearest city of Cascade to get vaccinated, a trip many couldn't or wouldn't want to make. But for Jensen and Coombs, it was a drive through Idaho's backcountry that they wanted to do.
"Yesterday, it felt like we were going back to see friends," Coombs said.
For these two healthcare workers, it likely felt that way since it was their second trip to the rural community in a month. This time it was for their booster shot of vaccine.
"It's been a godsend for them to come up here twice up here to get it done," Rhonda, a Yellow Pine resident, said.
Coombs and Jensen vaccinated 20 people when they came to town. The few who weren't in town were still able to get the shot along an old dirt road.
"They flashed their lights at us, we all pulled over and immunizations were given," Coombs said.
For a community of people who don't fancy themselves going out often, they're finally free to go out without the worry of contracting the deadly virus.
source: (Watch the video!)
— — — — — — — — — —
333 new Idaho COVID-19 cases, 3 new deaths
March 12, 2021 Local News 8
Idaho officials reported 333 new COVID-19 cases and 3 new deaths on Friday.
That brings the total confirmed and probable cases reported since March to 174,943.
There are a total of 141,114 confirmed cases and 33,829 probable cases in all 44 of the 44 counties in Idaho, according to numbers released from the local health districts and the state. …
The state said 311,860 people have received the vaccine, and 495,633 total doses have been administered. …
The state said 19 new hospitalizations have been reported bringing the total number to 7,295 and 2 new cases have been admitted to the ICU bringing the total to 1,258. …
3 new deaths were reported bringing the total recorded deaths to 1,909.
full story:
— — — —
March 11 Idaho Cases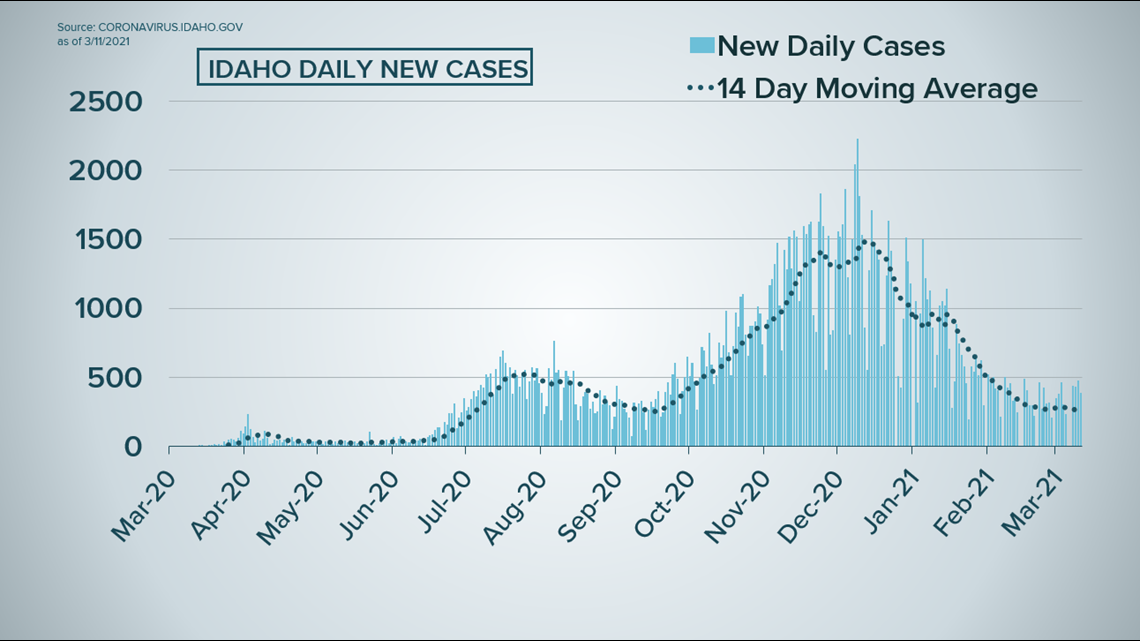 source: KTVB
— — — — — — — — — —
St. Luke's, state launch COVID-19 vaccination registries
By Tom Grote for The Star-News March 11, 2021
St. Luke's Health System and the Idaho Department of Health and Welfare have announced new online sites to register for COVID-19 vaccinations.
Those interested in being added to St. Luke's vaccine registry should fill out a questionnaire in MyChart patient online electronic health record portal.
"Instead of people checking back repeatedly for available vaccination appointments, St. Luke's will reach out to patients on our registry when new vaccine supply has arrived and appointments are available," a news release said.
People who do not have a myChart account, do not have internet access or need interpretation services can call St. Luke's at 208-381-9500. Callers will be added to the vaccine registry and be contacted to schedule an appointment.
Those who wish to be vaccinated by Cascade Medical Center should use the H&W website at (link), CEO Tom Reinhardt said.
"Anyone who wants the vaccine should go to the site and put in their information, including where they prefer to receive the vaccine, and we'll schedule them," Reinhardt said.
Those seeing vaccinations also can go to (link) or calll 208-382-4285.
New groups of people have been added to those eligible to received the COVID-19 vaccine. They include grocery, convenience store and food pantry workers, U.S. Postal Service workers and essential gas, electric, water, and telecommunications utility workers who work indoors.
continued:
— — — —
One New Case
By Tom Grote for The Star-News March 11, 2021
Only one new case of COVID-19 was reported in Valley County in the last week by St. Luke's McCall and Cascade Medical Center.
The total number of positive cases since the pandemic reached Valley County last summer totaled 716 by Tuesday, up one case from 715 a week ago, health officials said.
St. Luke's McCall on Tuesday reported 614 total positive cases, up one case from week ago. Cascade Medical Center reported no new positive cases over the 102 total positive cases reported last week.
A fifth confirmed death related to COVID-19 among of Valley County residents was reported by Central District Health in the last week.
The new death was a man over age 60, a health district spokesperson said. No other details were disclosed due to privacy reasons.
continued:
— — — — — — — — — —
3.1 magnitude earthquake reported near Smiths Ferry
by CBS2 News Staff Sunday, March 14th 2021
The USGS on Sunday reported a 3.1 magnitude earthquake near Smiths Ferry just after about 11 a.m.
The approximate location of the quake occurred 4.4 miles west of town.
The USGS said it was about 12.8 km deep.
source:
— —
M 3.1 – 7 km WNW of Smiths Ferry, Idaho
2021-03-14 11:17:04 (UTC) 44.318°N 116.175°W12. 8 km depth
USGS link:
M 2.5 – 8 km W of Smiths Ferry, Idaho
2021-03-14 13:19:45 (UTC) 44.308°N 116.195°W 10.0 km depth
USGS link:
— — — — — — — — — —
M-D school bond passes by whopping 89%
Only 20% of registered voters in the district cast ballots
By Max Silverson for The Star-News March 11, 2021
A $33 million bond for the McCall-Donnelly School District passed by a landslide in a vote on Tuesday.
The measure received 1,076 votes in favor and 130 against for an 89% margin of success. A 66.7% "yes" vote was required for passage.
About 20% of registered voters in the district cast ballots in the election, according to the Valley County Clerk's Office.
continued:
— — — —
Cascade renews $650K school levy by 72% margin
By Max Silverson for The Star-News March 11, 2021
The Cascade School District's $650,000 two-year supplemental levy renewal passed by a wide margin on Tuesday with a vote of 244 to 94, or 72%.
About 18% of registered voters in the district cast a vote, according to the Valley County Clerk's Office.
The result means the school will continue to fund teachers, support staff, bus routes and travel for varsity athletics.
continued:
— — — — — — — — — —
85-year-old man, two dogs killed in McCall house fire
by CBS2 News Staff Wednesday, March 10th 2021
An 85-year-old man and two dogs were killed in a house fire in McCall.
According to McCall Fire and EMS, a house on East Lake Street became fully engulfed on March 3.
Firefighters did a primary search on the main floor while the basement flames were being attacked. They were unable to get into the basement during the attack due to "defensive fire conditions."
Crews found the man in the basement and two dogs in a bedroom following the fire.
continued:
— — — — — — — — — —
Road closures on Idaho 55 near Smiths Ferry to begin Monday
Travelers should plan ahead for full road closures Monday through Thursday from 10 a.m. to 2 p.m.
March 12, 2021 KTVB
Construction resumes on Idaho Highway 55 next week and that means travelers should expect major delays between Boise and McCall.
The Idaho Transportation Department says crews will pick back up on the Smiths Ferry Project on Monday, March 15.
Crews are working to widen shoulders, add guardrail, and straighten a curvy one-mile stretch of the highway to improve safety between Smiths Ferry and the Rainbow Bridge.
continued:
——————–
Tips & Advice:
Meridian Fire issues warning after battery sparks house fire
A metal object touching both battery posts can spark enough heat to get a fire going, the department said.
March 9, 2021 KTVB
Meridian Fire is warning residents to be careful about how they store items after a 9-volt battery sparked a small fire at a home in Meridian.
The fire department shared a photo of the scorched pantry where the battery had been stored.
"9-Volt batteries can be dangerous as the positive and negative posts are very close together," Meridian Fire wrote. "If a metal object touches the two posts of a 9-volt battery, it can cause a short circuit which can make enough heat to start a fire."
People can protect against an accidental fire by storing the batteries in their original container. In addition, the posts of used batteries should be covered with a cap or tape prior to throwing them in the trash. Even weak or nearly-dead batteries may have enough charge to start a fire, officials said.
source:
— — — — — — — — — —
Daylight saving time: 'Turn and test' to stay safe from home fires
March 13, 2021 Local News 8
As you turn your clocks forward for daylight saving time this Sunday, the Red Cross of Greater Idaho encourages you to also test your smoke alarms.
In the first two months of 2021 alone, Idaho Red Cross volunteers have helped almost 90 people with urgent needs like emergency lodging, financial assistance and recovery planning following 29 disasters, the vast majority of which were home fires.
"Home fires remain the nation's most frequent disaster during COVID-19," said Nicole Sirak Irwin, regional CEO of the Red Cross of Idaho and Montana. "This weekend, take a moment to test your smoke alarms to help protect your family against home fires."
continued:
——————-
Public Lands:
Payette National Forest plans prescribed burns through June
The Star-News March 11, 2021
The Payette National Forest will be conducting multiple prescribed burns between March and June in an effort to improve the ability to protect local communities from wildfire.
The dates and times of the prescribed fires will depend on weather conditions.
The benefits of prescribed fires include reducing surface fuels, increasing the height of the canopy, promoting fire resilient trees and improving wildlife habitat.
The prescribed burns will include:
• McCall Ranger District: 350 acres in the Bear Basin area and West Face parking lot.
• New Meadows Ranger District: About 3,000 acres in Boulder Creek and 250 acres in the Meadows Slope project area.
• Krassel Ranger District: 3,800 acres in the Four Mile project area along the South Fork of the Salmon River near Reed Ranch and Poverty Flat campground.
Trailheads and roads that lead to these areas will be posted with caution signs and a map of the prescribed burn locations.
Fire personnel will work with the Idaho/Montana Airshed Group, the National Weather Service and the Idaho Department of Environmental Quality to ensure that smoke impacts are minimized, according to a recent press release.
For the most current information, visit (link) and search for Payette.
source:
— — — — — — — — — —
David Hogen Returns to the Payette National Forest as the Krassel District Ranger
McCall, Idaho, March 10, 2021 – Payette National Forest Supervisor Linda Jackson is pleased to announce that David Hogen has been selected as the Krassel District Ranger. Hogen replaces Anthony Botello who moved to the Wallowa-Whitman National Forest as the Deputy Forest Supervisor.
Ranger Hogen is no stranger to Idaho and earned his bachelor degree in Fisheries Biology from the University of Idaho, then attended graduate school at the University of Idaho where he focused on Bull Trout life history in the East Fork of the South Fork of the Salmon River near Yellow Pine.
He began his Forest Service career on the New Meadows Ranger District and returns to the Payette from the Medicine Wheel Ranger District on the Bighorn National Forest in northern Wyoming. He has been a District Ranger for 10-1/2 years, and has worked in Forest Service Regions 2, 4, 6 and the Washington Office.
"I am honored to have the opportunity to return to work on the Payette National Forest as the Krassel District Ranger," said Hogen. "Coming back to the Payette brings a mixture of new to our lives as we are recent empty nesters with our son off to college, along with rediscovering our roots as my wife and son were both born in McCall." The recreation opportunities on the Payette National Forest are a big hit with David as he enjoys ice fishing, skiing, hiking, and Cross Fit.
The Krassel Ranger district is east of McCall and encompasses the South Fork of the Salmon River, the East Fork of the South Fork of the Salmon River, the Yellow Pine and Big Creek areas and nearly 800,000 acres of the Frank Church River of No Wilderness Area.
Brian Harris
Public Affairs Officer
Tribal Liaison
Payette National Forest
— — — — — — — — — —
BLM to increase Snively Hot Springs patrol after continued illegal, prohibited behavior
by Ryan L Morrison Monday, March 8th 2021 CBS2
The Bureau of Land Management Vale District and local officials will soon be taking stricter measures to protect the Snively Hot Springs after an increase of illegal and prohibited behavior has been noticed.
"We want to keep the hot springs open for the public to use and enjoy, but if people continue to ignore the rules and engage in criminal behavior, we will have to look at other options," said Malheur Field Manager Pat Ryan.
Littering, illegal drug use, underage drinking, and driving under the influence are prohibited on public lands. Other behaviors, such as nudity, can also be considered as causing a nuisance.
continued:
——————
Critter News:
Payette County Sheriff's Office warns of cattle rustling after 9 calves taken
Officials said they have been notified of at least nine calves stolen during the night from pastures in the Fruitland and Payette area.
March 11, 2021 KTVB
After a slew of reports and multiple calves going missing during the night, the Payette County Sheriff's Office is warning residents of cattle rustling in pastures near Payette and Fruitland.
The sheriff's office announced on Wednesday that it is investigating several reports of cattle theft that were called in between March 5 and March 8.
Officials said they have been reported of at least nine calves that were taken during the night from pastures in the Fruitland and Payette areas.
continued:
— — — — — — — — — —
Burglars target veterinary clinics
March 10, 2021 Local News 8
Idaho Falls area law enforcement agencies are investigating a series of burglaries at local veterinary clinics.
There have been four break-ins reported since February 21.
continued:
— — — — — — — — — —
16.25-inch perch pulled from Lake Cascade, sets state record
by CBS2 News Staff Friday, March 12th 2021
A Wisconsin man set a state record Tuesday when he pulled a 16.25-inch yellow perch from Lake Cascade.
For Adam Mann, it wasn't the length of the fish but the weight that beat the previous record. Mann's perch was a whopping 3.22 pounds, beating Skye Coulter's 2016 record of 2.96 pounds.
Mann and several friends made the long trek to Idaho in search of trophy perch, according to Idaho Fish and Game. Although fishing had not been hot that day, they had been finding some large perch throughout the day.
continued:
——————-
Fish & Game News:
Lake Cascade produces another state record perch
By Martin Koenig, Natural Resource Program Coordinator
Thursday, March 11, 2021
Wisconsin angler breaks certified-weight record set in 2016
Congratulations to Adam Mann of Mosinee, Wisconsin, on landing the latest record yellow perch from Lake Cascade. After being weighed locally on a certified scale and inspected by a Fish and Game biologist, Mann was awarded a new certified-weight state record for his 3.22-pound perch that was 16.25-inches long.
Mann landed the monster perch while ice fishing on Tuesday, March 9. As an avid ice-fisherman, Mann and several friends made the long trek to Idaho in search of trophy perch. Although fishing had not been hot that day, they had been finding a some large perch throughout the day.
continued:
— — — — — — — — — —
Cougar in Canfield Mountain area serves as a reminder to use caution
By Kara Campbell, Regional Communications Manager
Wednesday, March 10, 2021
When people and their pets live in close proximity to mountain lions, everyone needs to be vigilant and aware of their surroundings.
Fish and Game has confirmed a report of a mountain lion in the Canfield Mountain area. To keep residents, visitors, pets, as well as wildlife safe, Fish and Game encourages everyone to follow these safety tips and suggestions when they recreate or live near mountain lion habitat.
continued:
— — — — — — — — — —
Area bird lovers asked to temporarily remove and clean bird feeders due to a suspected outbreak of salmonellosis
By Mike Demick, Staff Biologist
Thursday, March 11, 2021
The fatal disease is suspected to have been found in southern and northern Idaho birds that frequent area feeders
Wild birds that frequent feeders in the winter can be especially susceptible to disease outbreaks of salmonellosis, due to the large numbers of birds coming to feeders.
Outbreaks associated with bird feeders may cause high mortality across large geographic areas. Currently, this outbreak is affecting wild birds in Idaho, Oregon, California, Washington, and even into British Columbia, Canada.
continued:
— — — — — — — — — —
More F&G News Releases
link:
———————————-
Crazy Critter Stuff:
Watch: Close Call When Driver Suddenly Caught in Middle of Deer Stampede
By Kendra Mann, Sinclair Broadcast Group Tuesday, March 9th 2021
It was a close call for a driver in Oakland, California, when a vehicle was suddenly caught in the middle of a stampede of deer.
In a video posted by the Oakland County Sheriff's Office, a police cruiser's camera captured a driver in front of them slam on their brakes as several deer ran in front of their vehicle, with one of the deer even landing on the back windshield of the car before running off.
"Another reminder you have to always be in control of your car and not distracted by anything else," the Oakland County Sheriff's Office wrote in part on Facebook.
Police say it appeared there were no injuries, including to the deer.
source: w/video
——————–
Seasonal Humor:

——————-