March 21, 2021 The Yellow Pine Times – Valley County, Idaho
Reminder: We are still under a boil water order until further notice.
Highway 55 is closed due to rock slide.
Community Calendar:
Apr 17 – Boil water order issued
Feb 19 – Valley County Mask Advisory
Feb 23 – Avalanche closed Stibnite Road
March 11 – Tick Season Began
March 15 – Hwy 55 closures start *Closed by rockfall 3/16
March 28 – Festival Zoom meeting at 2pm
April 4 – Easter
June 12 – VYPA Meeting
(details below)
———-
Local Events:
Hwy 55 Work Begins March 15 * Road is currently closed due to rock slide.
Expect full road closures Monday-Thursday from 10am to 2pm in the Smith's Ferry area.
Project Website link:
— — — —
Next Festival Planning Meeting
Sunday, March 28, 2021, Zoom meeting at 2pm. (If you need the link, contact Deb.)
— — — —
Plumbers Coming to Yellow Pine
Rocky Mountain Mechanical will be coming to Yellow Pine some time in April to do a plumbing project. If you are interested in plumbing work please call (208) 365-PIPE (7473). These guys are professionals and do great work, clean and courteous.
———-
Village News:
Equinox

Sunset near the Helipad March 20 by Scott A.
— — — —
Avalanche Closes Road to Stibnite
The morning of Feb 23rd, we received a message there are slides on the road to Stibnite. "These slides start below Tamarack creek then up around the corner where the 2019 slides were." -PR They will keep us posted. Please don't attempt to go up there to look, the road is narrow and more slides could come down.
"Debris [is] strewn along 1,500 feet of roadway and up to 30 feet deep across the road" – PR. No timeline as to when the road will open.
— — — —
Ticks!
A report Thursday morning, March 11th of the first tick found. Check your dogs and yourself after a walk in the woods.
— —
Yellow Pine General Store
Please welcome Josh Jones as the new owner of the Yellow Pine General Store.
— — — —
Critters
Be Fox & Coyote Aware
* Do not feed foxes human food
* Feed domestic pets indoors
* Make sure your pets are updated on Rabies vaccines
* Small pets could become a snack
Be Mountain Lion Aware
* NEVER run away from a mountain lion. The lion's instinct is to chase and ultimately catch what they perceive as potential prey.
* NEVER turn your back on a lion. Always face them while making yourself look as large as you can. Yell loudly, but don't scream. A high-pitched scream may mimic the sound of a wounded animal.
* SLOWLY back away while maintaining eye contact with the lion.
* Safety equipment you may choose to carry could include bear spray, a noise device, like an air-horn, and if you walk in the dark, a very bright flashlight.
* If you are attacked, fight back!
— — — —
Road Reports
Link: to current road reports.
— — — —
Yellow Pine US Mail
The 3-day a week mail delivery started Nov 2nd. The Post Office in Yellow Pine is open six days a week year around: M-F 845am-245pm Saturday 9am-245pm. Forever Stamp: 55 cents. Support our local post office and purchase your holiday stamps here.
— — — —
Yellow Pine Transfer Station
The dump (and road) were plowed on Saturday, Feb 27th.
Yellow Pine Transfer Station (aka, the dump)
Please do not abuse our Transfer Station or we may lose it. Household trash must be placed in the bins, flattened cardboard boxes can also go into the bins. Do not stack trash in front of the doors. Woody yard debris only for the burn pile. No furniture, appliances, tires or construction debris allowed, those items must be hauled out to the Donnelly station by you.
The Yellow Pine Transfer Station is Valley County responsibility. If it is not kept tidy, use of the Transfer Station may be revoked. That would result in residents having to take all household trash and yard waste to the Donnelly Transfer Station.
If Dumpsters Are Full, Contact Lake Shore Disposal at: (208) 634-7176
———-
Local Groups
YPWUA News:
The annual Water meeting for 2020 was held July 5th at the Community Hall 2pm.
link: minutes 20200705YPWUA.docx
Boil Your Water Before Using
Boil Water Order issued April 17, 2020.
Link: to Notice
Update Nov 29: Warren replaced the water meter because of inconsistent readings. With the new meter, the community is currently using over 55,000 gallons of water per day. A leak has been identified and will be repaired as soon as we can coordinate the contractor, equipment needed and weather together. It is difficult to get everything planned in the winter. When the repair is scheduled, the community will have a few days notice before the water is shut down. Since we are using more water than the rated use through the sand filters, the boil order will remain in effect. We continue the grant request process that is extremely slow. – Steve H
Update Nov 25: the boil order is still in effect due to the large quantity of water that is leaking from the system. – Warren D
— — — —
VYPA News:
VYPA Meetings are the 2nd Saturday of June, July, August, and September (June 12, July 10, August 14, September 11) at 2:00pm at the Community Hall.
Village Council members:
Deb Filler, Chairman
Matt Huber, Vice Chairman
Ronda Rogers, Treasurer
Rhonda Egbert, Secretary
Ron Noel, Member at Large
VYPA Bylaws adopted 8/8/2020 (link)
YPAC Corp Bylaws (link)
Festival
Anyone interested in being a part of the Festival Planning/Working committee, please contact Deb Filler. Meetings will begin at the end of January. Even if you aren't physically in YP, you can participate in the committee.
Next Festival Planning Meeting Sunday, Feb 28, 2021 @ Community Hall, 2pm
2021 Planning Notes updated Feb 28th (link)
Yellow Pine Music and Harmonica Festival Policy and Procedure Link:
— — — —
YPFD News:
After Action Report meeting Oct 13, 2020 (no minutes yet.)
YPFD had a budget meeting on September 30th at 10am at the fire station. (No minutes yet.)
Make sure to keep your chimney clean. Cleaning brushes can be borrowed from the YPFD.
YPFD COVID19 Policy
link: YPFD Covid 19 SOP
link: Covid-19 EMS (May 23)
Pile burning: Dress appropriately, have enough help on hand (people, water and tools) and make a firebreak before you start. Call your local fire protection district chief to let them know you'll be conducting a debris burn. This saves them from sending emergency responders to your property if they are not needed. Do NOT burn on breezy afternoons.
Better yet, "Rake It and Take It" yard waste (limbs, pine needles, brush, etc.) to the burn pile at the Transfer Station on the south end of the turn-around. Remember, keep the pile neat. Woody debris only, no nails, no cardboard and no furniture! The Boise NF will burn the pile in the fall when it is safe and doesn't pollute our fine YP air.
YP Fire Commissioners:
Sue Holloway – District 1
Dan Stiff – District 2
Merrill Saleen – District 3
Tim Rogers – Fire Chief
Yellow Pine Fire Protection District Community Service Notice
The purpose of this letter is to show how you as a Yellow Pine Resident can help protect your structure against a wildland fire by being "Fire Wise." Click the link: to view 20190724 Yellow Pine Fire Protection mitigation
——–
Biz Listings:
The Corner (208) 633-3325
Starting Nov 3rd open 3 days a week on mail days.
— — — —
Yellow Pine Tavern (208) 633-2233
Winter Closure: November 14, 2020 to April 16, 2021
— — — —
Yellow Pine Lodge (208) 633-3377
Closed Nov 3rd for winter.
— — — —
Yellow Pine General Store (208) 633-3300
New owner, plans to open this spring.
— — — —
Murph's RV Park & Mary's Cabins
FB page link
— — — —
Knotty Kat Crochet Works – 208-502-0940
FB page link
open Tue – Sat, 9-5
Yellow Pine eggs $3/doz
— — — —
Buck Horn Outfitters LLC 208-633-3614
Tom & Sarah Lanham
156 Yellow Pine Ave, Yellow Pine Id 83677
website:
Facebook:
Wapiti Meadow Ranch – Johnson Creek (208) 633-3217
or 208-315-3554 – cabin rentals
website:
Deadwood Outfitters
website:
— — — —
Local Fuel Suppliers
Amerigas Phone: (208) 634-8181
Ed Staub & Sons Phone: (208) 634-3833
Diamond Fuel & Feed Phone: (208) 382-4430 open 830am-5pm Monday-Friday, closed weekends.
— — — —
Outside Biz that will service Yellow Pine:
The Star-News


click to subscribe:
A reminder that those who live in other states can subscribe to the online edition only since the mail can take days for hard copy to reach them.
Rocky Mountain Mechanical – Plumbing – Heating – Air conditioning
(208) 365-PIPE (7473), Emmett, will service Yellow Pine
Website:
Elkhorn Heating & Cooling
(208) 906-4067 Middleton, Idaho, will service Yellow Pine
B&T Safety Solutions LLC
208-271-1600 Based out of Donnelly
Snow removal, cleaning chimneys and stoves, we do cabin staining/chinking as well
— — — —
Follow The Yellow Pine Times on Facebook (updated more often than emails)
———————–
Local Observations:
Monday (Mar 15) 24 hour low of 22 degrees from Sunday morning, average 22 1/2″ old snow on the ground and almost clear sky this morning. Raven calling off in the distance. Jays, northern flicker, starlings, male hairy woodpecker, nuthatches, chickadees and pine squirrel visiting. Partly cloudy after lunch time. Warm, mostly cloudy and breezy mid-afternoon, high of 55 degrees. Still above freezing at dusk and clear sky. Stars out before midnight.
Tuesday (Mar 16) overnight low of 23 degrees, average snow depth 22″, and almost clear sky this morning and warm sunshine. Jays, nuthatches, clark's nutcracker, hairy and downy woodpeckers, chickadees and a pine squirrel visiting. Alert from YPWUA for low water today. Sunny and warm at lunch time. Partly cloudy, warm and light breezes mid afternoon, high of 53 degrees. Still above freezing and clear at dusk. At least partly or all clear before midnight.
Wednesday (Mar 17) overnight low of 19 degrees, measured snow in more places and new average of 20″ this morning, clear sky and warm sunshine. Jays, nuthatches, chickadees, clark's nutcracker, hairy and downy woodpeckers, starling, flicker and 2 feuding pine squirrels visiting. Partly cloudy at lunch time. Mail truck made it in on time. Mostly cloudy, warm and breezy mid-afternoon, high of 55 degrees. Partly cloudy and way above freezing at dusk. Partly clear before midnight.
Thursday (Mar 18) overnight low of 22 degrees, measured an average of 19″ of old snow on the ground, mostly cloudy and light breeze this morning. Jays, nuthatches, chickadees, a junco, hairy and downy woodpeckers, flicker and a pine squirrel visiting. Mostly cloudy and breezy after lunch time. Breezy, warm and broken overcast mid-afternoon, high of 58 degrees. More open ground around trees and near buildings, a few bare patches of road in the neighborhood. Elk wandering by after sunset. Warm, partly clear and calmer at dusk. Some stars out before midnight. Rain probably started after 4am.
Friday (Mar 19) overnight low of 32 degrees, measured 0.14″ rainfall and an average of 17″ old snow on the ground, low overcast fogging the ridge tops and light sprinkles. Jays, juncos, nuthatches, a clark's nutcracker and pine squirrel visiting. Stopped raining and breaks in the clouds after lunch time. Overcast, light breeze and occasional drops and sprinkles mid-afternoon, high of 45 degrees. Partly clear and a colorful sunset this evening, still above freezing. Cloudy before midnight. Snowed a little before sunrise.
Saturday (Mar 20) overnight low of 28 degrees, measured 1/4″ new snow (rain+melted snow=0.05″) and an average of 17″ snow on the ground, mostly cloudy sky this morning. Jays, juncos, chickadees, nuthatches, male and female hairy woodpeckers and 2 pine squirrels visiting. Getting breezy after lunch time and partly clear. Snowing pretty good early afternoon for a short while and melting, high of 46 degrees. Report of the first spring robin sighting. Also a report of coyotes yipping in the village a few nights ago. Another breezy snow squall later in the afternoon for over an hour (about 1″ fell then melted) and temperature dropping. Herd of elk wandered by out on the golf course before sunset. Partly cloudy after sunset. Temperature dropping after dusk and partly cloudy. Stars out before midnight. Cloudy after midnight. Dusting of snow fell before 430am.
Sunday (Mar 21) overnight low of 22 degrees, only a trace of snow remained on the snow board, the inch+ from yesterday had melted (SWE=0.09″) estimate an average of 17″ on the ground, mostly cloudy sky this morning. Fresh fox tracks. Jays, juncos, male and female hairy woodpeckers, clark's nutcracker, chickadees, nuthatches and 2 squirrels visiting. Mostly cloudy at lunch time with scattered sunshine. Hawk in the neighborhood terrorizing songbirds (and scaring chickens.) Breezy, fairly warm and mostly cloudy with bits of sunshine mid-afternoon, high of 44 degrees. High thin overcast and light breeze after sunset. Still above freezing at dusk.
—————–
RIP:
John Hanson
February 6, 1925 – March 19, 2021
John Hanson, of Yellow Pine and Nampa, passed away at home March 19th at the age of 96.
John was well known as one of the founders of the Yellow Pine Country Club and beloved teacher at the University of Yellow Pine 1979-85.
No arrangements have been made yet.
————-
How Do You Live Your Dash?
I read of a man who stood to speak
At the funeral of a friend.
He referred to the dates on her tombstone
From the beginning… to the end.
He noted that first came the date of birth
And spoke the following date with tears,
But he said what mattered most of all
Was the dash between those years. (1934 – 1998)
For that dash represents all the time
That she spent alive on earth.
And now only those who loved her
Know what that little line is worth.
For it matters not, how much we own,
The cars… the house… the cash.
What matters is how we live and love
And how we spend our dash.
So think about this long and hard.
Are there things you'd like to change?
For you never know how much time is left,
That can still be rearranged.
If we could just slow down enough
To consider what's true and real,
And always try to understand
The way other people feel.
And be less quick to anger,
And show appreciation more
And love the people in our lives
Like we've never loved before.
If we treat each other with respect,
And more often wear a smile…
Remembering that this special dash
Might only last a little while.
So, when your eulogy's being read
With your life's actions to rehash…
Would you be proud of the things they say
About how you spent your dash?
– Author Unknown
——————-
Idaho News:
Highway 55 near Smiths Ferry to remain closed through Sunday
March 18, 2021 KTVB
https://pbs.twimg.com/media/EwpyIMZUcAEktQi?format=jpg
ITD
The Idaho Transportation Department is advising motorists to use US 95 as an alternate route.
The Idaho Transportation Department has extended the closure of Idaho 55 through Sunday due to a rockslide that has buried the highway in debris.
The rockfall happened Monday night around milepost 99, between Smiths Ferry and Cascade, and the highway is completely blocked.
ITD is advising motorists to use U.S. 95 as an alternate route.
ITD crews monitoring the slide and say they have seen continued movement of the hillside. The decision to keep the highway closed through the weekend was made after the area was evaluated by a national rockslide expert.
continued: w/video
— — — —
Hwy 55 Updates from ITD
link:
— — — —
Hwy 55 March 21st Update
(via FB)
ITD has been monitoring the rock slide throughout the weekend and determined that conditions continue to be unsafe in the area, and Idaho Highway 55 will remain closed to traffic.
According to our District Engineer at this point our ITD team can't confidently open the road with the existing risks to the traveling public and crews. Recent weather conditions paired with the weakened hillside, rock and soil from the slide has created a situation that requires further considerations before we can allow cars through. We know ID-55 is an important travel corridor in Idaho and we are working hard to open the road safely.
Drivers are advised to use U.S. 95 as an alternate route. The next update will be provided in the afternoon on Tuesday, March 23.
Don't forget about dialing *511 for current updates.
— — — — — — — — — —
383 new Idaho COVID-19 cases, 3 new deaths
March 19, 2021 Local News 8
Idaho officials reported 383 new COVID-19 cases and 3 new deaths on Friday.
That brings the total confirmed and probable cases reported since March to 177,185.
There are a total of 142,688 confirmed cases and 34,497 probable cases in all 44 of the 44 counties in Idaho, according to numbers released from the local health districts and the state. …
The state said 361,235 people have received the vaccine, and 578,288 total doses have been administered. …
The state said 10 new hospitalizations have been reported bringing the total number to 7,428 and 1 new case has been admitted to the ICU bringing the total to 1,275.
There are 10,747 asymptomatic reported cases and 9,849 cases among health care workers.
3 new deaths were reported bringing the total recorded deaths to 1,941.
full story: [Valley County 817 casts 7 deaths]
— — — —
Idaho March 19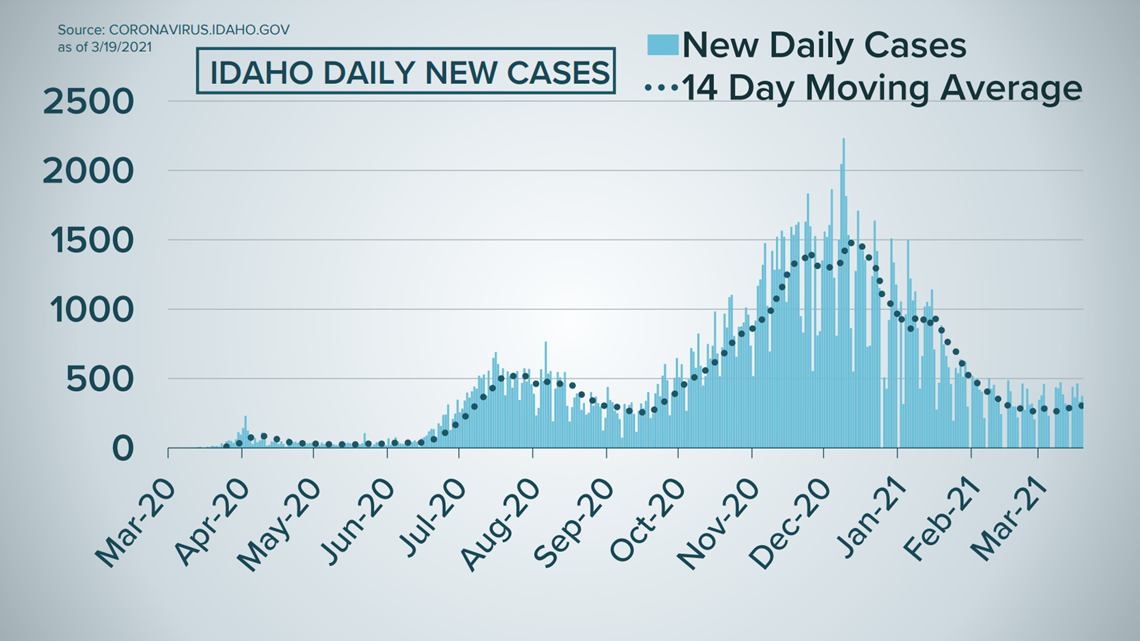 source: KTVB
— — — — — — — — — —
Ten New Cases [Valley County]
By Tom Grote for The Star-News March 18, 2021
Ten new cases of COVID-19 were reported in Valley County in the last week by St. Luke's McCall and Cascade Medical Center after several weeks of decline to just one new case two weeks ago.
The total number of positive cases since the pandemic reached Valley County last summer totaled 726 by Tuesday, up from 716 a week ago, the hospitals reported said.
St. Luke's McCall on Tuesday reported 621 total positive cases, or seven more than 614 total positive cases reported last week.
Cascade Medical Center reported 105 total positive cases as of this week, or three more than the 102 total positive cases reported last week.
Five confirmed deaths and two suspected deaths related to COVID-19 among Valley County residents have been reported by Central District Health. The second suspected death was added last week, but no details were available. …
2,867 First Doses
A total of 2,867 people had received the first dose of the COVID-19 vaccine by this week by Valley County's two hospitals. The hospitals also had given out 1,780 of the required second doses of the vaccine.
St. Luke's McCall reported giving 1,683 first doses and 1,166 second doses since vaccinations started Jan. 13 through last Saturday. The hospital has appointments to give 310 vaccinations this week.
Cascade Medical Center had given 1,184 first doses and 614 second doses by this week. Clinics are scheduled through April 29 where 1,300 first doses and 1,300 second doses are to be given.
full story:
— — — — — — — — — —
Boise VA opens up vaccinations to all veterans
By Steve Dent Mar 18, 2021 KIVI
The Boise VA is averaging 1,300 vaccinations a week and according to the VA they have vaccinated more than 60 percent of their veterans over the age of 65.
"When we first opened up vaccines to our veteran population we had one of the highest veteran vaccination populations in the country and that continues right now," said Lindsay Kaster, a Clinical Oncology Pharmacist at the Boise VA Medical Center.
This week, the VA announced that all veterans regardless of their age can go down to the VA to get their COVID-19 vaccination. Veterans can schedule an appointment for that same day or whenever they want by calling 208-422-1499
continued:
— — — — — — — — — —
Idaho Legislature recesses until April due to COVID-19 outbreak
by CBS2 News Staff Friday, March 19th 2021
Scott Bedke, Speaker of the Idaho House, held a press conference Friday to announce a recess in the Legislature after a COVID-19 outbreak.
Both the House and the Senate will return on April 6 after six positive cases were found among lawmakers. This news comes as the Legislature is debating a bill that would ban local governments from requiring that people wear masks.
continued:
— — — — — — — — — —
Kayakers get their first lap of the season on the Payette River
By Steve Dent Mar 20, 2021 KIVI
Banks, Idaho — Idaho has a unique attribute where outdoor adventure seasons overlap and this weekend there were people skiing and kayaking on the same day.
Many kayakers are getting in their first laps of the season, but it's also a time of year where the water runs cold, and warm weather gear is a necessity.
We were lucky enough to spot a group of paddlers that included Mike and Connor Voorhees, who were making their first run through the Staircase section on the South Fork of the Payette River.
continued: w/video
—————
Mining News:
Perpetua says slide shows need for new mine access
Mining company wants to build new route to Stibnite
By Drew Dodson for The Star-News March 18, 2021
Avalanches last month on Stibnite Road show why the road should not be used as the main access to a proposed gold mine at Stibnite, according to Perpetua Resources.
A series of three slides on Feb. 23 left the road closed indefinitely with 1,500 feet of roadway buried under as much as 30 feet of snow and debris, said Mckinsey Lyon, a Perpetua spokesperson.
"These are three of the 12 total known large avalanche zones along Stibnite Road and a continued example of why we prefer the Burntlog Route for project access," Lyon said.
The Burntlog Route is one of two mine access routes under consideration by the Payette National Forest, the lead permitting agency for the mine.
The other route, known as the Yellow Pine Route, would rely on Stibnite Road as the only road to the mine site, which Perpetua proposes to operate year-round.
A decision on the access routes is expected as part of the Payette's draft decision on the project, which currently is expected in August.
Whichever route is chosen by regulators could ferry up to 68 vehicles per day, as many as 49 of which would be semitrucks carrying supplies and chemicals.
Using the Yellow Pine route would avoid harm to animal habitat and water quality that could result from building roads in undisturbed areas for the Burntlog Route, according to the Payette's draft study of the mine.
The Burntlog Route would improve and extend existing Forest Service roads between Stibnite and the Landmark area east of Warm Lake.
Parts of the Burntlog route would come as close as 100 feet from Frank Church River of No Return Wilderness.
That could harm the wilderness area's character and threaten the habitat of endangered species like the lynx, the draft study said.
The Burntlog Route would be built in designated roadless areas, which are valued by the Payette for the lack of wildlife habitat disturbance.
"Burntlog Route allows us to take a safer route to Stibnite, avoid recreational and residential traffic on Johnson Creek Road and provides two ways in and out of the site in case of emergency," Lyon said.
The Payette's draft study of the mine found no avalanche zones along the Burntlog Route she said.
"The road mostly goes above starting zones for avalanches," she said.
Meanwhile, the 12 avalanche zones along Stibnite Road would remain a threat under the Yellow Pine Route, the study said.
Perpetua would plan for avalanche road closures in the winter if regulators opt to permit the Yellow Pine Route, Lyon said.
"Should we only have access via Stibnite Road, we would implement a full avalanche mitigation plan and stockpile materials and supplies on site."
Stibnite Road would not be maintained through the winter if regulators approve the Burntlog Route.
Roads built for the Burntlog Route would be removed after the 12 -year to 15-year projected life of Perpetua's mining operations at Stibnite, according to Perpetua's proposal.
If the Yellow Pine route is selected, at least two years would be added to the company's construction phase due to extensive work needed to about 40 miles of Johnson Creek Road, the draft study said.
Work would include blasting slopes to accommodate 20-foot-wide travel lanes and 3-foot-wide shoulders, leveling steep sections where possible and paving existing dirt roads.
source: © Copyright 2009-present Central Idaho Publishing Inc. All rights reserved. (Used with permission.)
——————–
Public Lands:
Payette National Forest plans prescribed burns through June
The Payette National Forest will be conducting multiple prescribed burns between March and June in an effort to improve the ability to protect local communities from wildfire.
The dates and times of the prescribed fires will depend on weather conditions.
The benefits of prescribed fires include reducing surface fuels, increasing the height of the canopy, promoting fire resilient trees and improving wildlife habitat.
The prescribed burns will include:
• McCall Ranger District: 350 acres in the Bear Basin area and West Face parking lot.
• New Meadows Ranger District: About 3,000 acres in Boulder Creek and 250 acres in the Meadows Slope project area.
• Krassel Ranger District: 3,800 acres in the Four Mile project area along the South Fork of the Salmon River near Reed Ranch and Poverty Flat campground.
Trailheads and roads that lead to these areas will be posted with caution signs and a map of the prescribed burn locations.
Fire personnel will work with the Idaho/Montana Airshed Group, the National Weather Service and the Idaho Department of Environmental Quality to ensure that smoke impacts are minimized, according to a recent press release.
For the most current information, visit (link) and search for Payette.
source: The Star-News March 18, 2021
— — — — — — — — — —
Bridge replacements, trail work to happen this summer on Payette
Three bridge replacements are planned for this summer on popular trails in the Payette National Forest with several other trail projects set to start.
The bridge replacements include the Alex Creek bridge on the Secesh River Trail near Chinook Campground; the Center Ridge Trail bridge, which is accessed from Warren Wagon Road; and the second bridge on the Pete Creek Trail, accessed from the Three Mile Creek dispersed camping area.
The work is funded in part by an Idaho Parks and Recreation grant and funds from the Great American Outdoors Act of 2020.
Funds from the federal legislation will be used to reroute short sections of the French Creek and Bear Pete Ridge trails as well as replace the Jenkins Crossing bridge on the French Creek trail.
Trails in the Rapid River drainage and the Chinese Cemetery Trail near Warren will also see trail work this summer with help from the Payette's Heritage Program.
Trail crews on the New Meadows and McCall Ranger Districts will have several partners on various projects, including the Montanan and Idaho Conservation Corps, the Idaho Trails Association, the Central Idaho Trail Riders Alliance, Back County Horsemen of Idaho and the Central Idaho Mountain Bike Association.
The Payette is also seeking public comment on two proposed trail reroutes.
A proposed reroute to the Bear Pete Ridge Trail would replace a heavily eroded stretch less than a quarter mile long with switchbacks that would be able to accommodate motorcycles.
The Willow Basket Trail, which accesses the Loon Lake trail system, would see a reroute less than a mile long.
More information about the proposed reroutes can be found on the Payette's website at (link) , by searching for McCall Ranger District 2021 Trail Reroutes. Deadline to comment is March 30.
source: The Star-News March 18, 2021
— — — — — — — — — —
Clear Creek Forest Health Project Virtual Community Meeting on March 30
Clear Creek Forest Health Project – Virtual Community Meeting on March 30
Mountain Home, Idaho, March 17, 2021 – The Mountain Home Ranger District of the Boise National Forest is in the preliminary stages of proposing the Clear Creek Forest Health (CCFH) Project. The project area is in Boise County and is located approximately 14 miles northeast of Boise, via Highway 21. The Forest is proposing this project to address forest health and hazardous fuels concerns in the wildland-urban interface near the Clear Creek / Robie Creek area.
You are invited to a virtual community meeting on Tuesday, March 30 at 5:30 PM. This online-only meeting will include a discussion of the preliminary proposal and include an opportunity for the public to participate and inform the development of the proposed action. Visit the project website to find the link to join this meeting.
Detailed information about this project can be found on the project webpage at (link)
If you would like to continue receiving information about the project, you can subscribe to emails on the project webpage (click on "subscribe to Email Updates" in the right hand column) or provide an email or mailing address to Comments-intermtn-boise-mtn-home@usda.gov (include "Clear Creek" in the subject line) or call Brian Lawatch, Environmental Coordinator at 208-590-3345. No response will indicate you no longer wish to receive project information.
— — — — — — — — — —
Idaho Land Board lifts moratorium on state endowment land surrounding Payette Lake
By Steve Dent Mar 17, 2021 KIVI
On Tuesday, the Idaho Land Board of Commissioners ended a moratorium on state endowment land surrounding Payette Lake, meaning the Idaho Department of Lands can now move forward on vetting applications for this land.
That includes Trident Holdings LLC's application they submitted in February, they propose trading land they plan to purchase elsewhere in the state for some of this lakefront property.
State endowment lands were given to Idaho by the federal government when Idaho became a state and the state constitution requires Idaho to use this land to maximize long-term financial returns for public beneficiaries like the public school system.
continued:
—————–
Critter News:
Cascade Veterinary Clinic Message
March 21st (via FB)
Due to road blockage our schedule has changed the week of March 22nd through Saturday the the 28th. Both Clinic's will be rescheduling. Monday, Tuesday, and Friday Dr. Keith will be in Cascade Clinic. Wednesday and Thursday Dr Keith will be in the Garden Valley Clinic. Saturday for Garden Valley we will be rescheduling per road conditions. Sorry for any inconvenience. Be Safe. Subject to change
— — — — — — — — — —
Hunter harvest up for elk, mule deer, white-tailed deer in 2020
Elk harvest was sixth-highest of all time
By Brian Pearson for The Star-News March 18, 2021
Statewide deer and elk hunter numbers crept back up in 2020 after dipping between 2018 and 2019, according to the Idaho Department of Fish and Game.
Idaho elk and deer hunters saw increased harvests in 2020, and elk hunting continued to steam toward all-time highs for consecutive years of harvest above 20,000 animals.
White-tailed deer harvest was also historic by topping the mule deer harvest, something that has happened just a few times in Idaho's history.
The 2020 Idaho elk and deer harvests were up about 10% and 11% from 2019. After hunter numbers dipped between 2018 and 2019, hunter numbers also bounced back by about 4% for deer hunters and nearly 6% for elk hunters.
Total elk harvest was up about 12% from the 10-year average, whitetail harvest was about even with its 10-year average, and mule deer harvest was down about 11%.
Success rates in 2020 were steady for mule deer and elk hunters compared with 2019, while the success rate for whitetail hunters jumped more than 5% from 38 to 43.5%.
continued:
— — — — — — — — — —
This winters fawn and calf survival above average, "things could definitely change"
By Lynsey Amundson Mar 18, 2021 KIVI
Mule deer fawns and elk calves survival over winter is what determines the population's outlook. Even though the deer and elk hunting season is several months away the survival of fawns and calves will affect opportunities for hunters this fall.
"Things look good," Rick Ward, Idaho Fish and Game Elk and Deer Coordinator said.
At the end of February, Idaho Fish and Game says 83 percent of fawns and 92 percent of calves with collars survived through winter so far.
continued:
— — — — — — — — — —
Cow gives birth to quadruplets
By Kaitlin Miklos March 19, 2021 Local News 8
A cow in Buhl delivered one shocking surprise on St. Patrick's Day.
She gave birth to quadruplets.
The odds of a cow birthing four [healthy calves] is 1 in 11.2 million
continued:
——————
Fish & Game News:
Fish and Game reminds hunters and anglers to keep their license profiles current
By Emme Andersen, Customer Service Representative 1
Friday, March 19, 2021
Licenses buyers are encouraged to keep their Fish and Game profiles updated to reduce the amount of returned mail sent back to Fish and Game due to invalid mailing addresses.
Since COVID-19 hit Idaho in March 2020, it directly impacted Idaho's hunters, anglers and trappers ability to access services provided by Fish and Game. These restrictions dramatically impacted the amount of products bought online by sportsmen and women. The Fish and Game website has been an increasingly effective and efficient way to safely and quickly purchase licenses, tags and permits. This convenient method is not without potential problems, however, and a small side effect of this surge in web-based sales is the amount of products that have been returned to the Department because of old, insufficient, and incorrect addresses that are still in a person's Fish and Game profile.
continued:
— — — — — — — — — —
Spring turkey controlled hunt results now available
By Roger Phillips, Public Information Supervisor
Thursday, March 18, 2021
General season hunts start on April 15 in many units
Hunters who applied for spring controlled turkey hunts can now check for the results online. All controlled hunt turkey tags were applied for, so there will be no leftovers available except for a landowner permission hunt.
Applicants who provided a valid email on their online license profile will receive an email of their draw status. Fish and Game will also send out post cards to successful applicants.
New this year, hunters who drew a controlled hunt tag will buy only that tag and will not be required to buy a separate permit. Controlled hunt turkey tags will also be valid in general hunts.
source:
— — — — — — — — — —
March 15 Upper Salmon River Steelhead fishing report
By Brent Beller, Fisheries Biologist 1
Monday, March 15, 2021
River conditions have been excellent, running clear to slightly cloudy, depending on location
Steelhead angler effort on the upper Salmon River increased again during the previous week, especially in the areas downstream of North Fork, in location code 15. Angler effort upstream of North Fork was similar to last week with bank and boat anglers spread out between Challis and North Fork. Anglers interviewed downstream of the Middle Fork Salmon River in location code 14 averaged 14 hours per steelhead caught, and anglers interviewed upstream of the Middle Fork Salmon River in location code 15 also averaged 14 hours per steelhead caught. Anglers interviewed upstream of North Fork averaged 26 hours per steelhead caught, and anglers interviewed upstream of the Lemhi River in location code 17 averaged 27 hours per steelhead caught. Anglers interviewed upstream of the Pahsimeroi River in location code 18 averaged 38 hours per steelhead caught, and anglers interviewed upstream of the East Fork Salmon River in location code 19 did not report catching a steelhead.
continued:
— — — — — — — — — —
More F&G News Releases
link:
———————————-
Crazy Critter Stuff:
Tiny chameleon a contender for title of smallest reptile
by The Associated Press Friday, February 5th 2021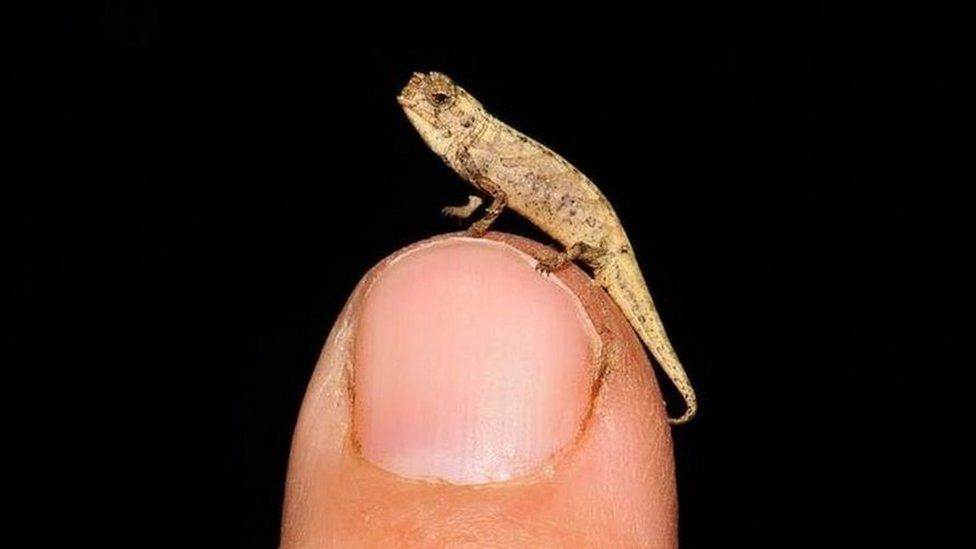 Picture taken in 2012 in Munich, Germany shows a newly discovered species of chameleon which is a contender for the title of world's smallest reptile. Scientists from Madagascar and Germany called it Brookesia nana, said the male appeared is just 13.5 millimeters big. (AP Poto/Frank Glaw)
It fits on a human fingertip, but this chameleon could make a big splash.
Scientists from Madagascar and Germany say a newly discovered species of chameleon is a contender for the title of world's smallest reptile.
Frank Glaw, who was part of the international team of researchers that classified the new species and named it Brookesia nana said the body of the male specimen appeared to be just 13.5-millimeters-long (a little more than a 1/2-inch.)
continued:
——————
Seasonal Humor:

——————