March 28, 2021 The Yellow Pine Times – Valley County, Idaho
Reminder: We are still under a boil water order until further notice.
Wind Advisory for Sunday night into Monday. Gusty here today and report of 2 trees down on the South Fork Road.
Community Calendar:
Apr 17 – Boil water order issued
Feb 19 – Valley County Mask Advisory
Feb 23 – Avalanche closed Stibnite Road
March 11 – Tick Season Began
March 15 – Hwy 55 closures start *Closed by rockfall 3/16
March 28 – Festival Zoom meeting at 2pm
April 4 – Easter Potluck Community Hall 3pm
April 16 – Yellow Pine Tavern Opens
June 12 – VYPA Meeting
(details below)
———-
Local Events:
Hwy 55 Work – currently 1 lane open 8am-3pm, closed at night.
When the project resumes, expect full road closures Monday-Thursday from 10am to 2pm in the Smith's Ferry area.
Project Website link:
— — — —
Next Festival Planning Meeting
Sunday, March 28, 2021, Zoom meeting at 2pm. (If you need the link, contact Deb.)
— — — —
Easter Potluck
Easter Sunday Potluck at the Community Hall at 3 pm. Ham provided. Contact Ginny or Deb with what you want to bring.
— — — —
Yellow Pine Tavern
Opening April 16th.

— — — —
Plumbers Coming to Yellow Pine
Rocky Mountain Mechanical will be coming to Yellow Pine some time in April to do a plumbing project. If you are interested in plumbing work please call (208) 365-PIPE (7473). These guys are professionals and do great work, clean and courteous.
— — — —
Heating Maintenance Day
Deb Filler is coordinating with Mastercraft of McCall to schedule a maintenance day in Yellow Pine for propane and pellet stoves. If you are interested, please contact Deb at 208 633-6945. The date will be at least a couple months out.
———-
Village News:
Scam Alert
If you receive an email with the subject "Favor To Ask" and it appears to be from a local official. DO NOT reply – it is a scam. The email will read something like "How are you doing? I need a favor from you. I would have loved to call you however can't get to call right now, Kindly let me know if you are Online.." If you respond, they will ask you to buy gift cards.
Remember, never buy gift cards when asked unless it is in person from someone you know.
— — — —
Avalanche Closes Road to Stibnite
The morning of Feb 23rd, we received a message there are slides on the road to Stibnite. "These slides start below Tamarack creek then up around the corner where the 2019 slides were." -PR They will keep us posted. Please don't attempt to go up there to look, the road is narrow and more slides could come down.
"Debris [is] strewn along 1,500 feet of roadway and up to 30 feet deep across the road" – PR. No timeline as to when the road will open.
— — — —
Ticks!
A report Thursday morning, March 11th of the first tick found. Check your dogs and yourself after a walk in the woods.
— —
Yellow Pine General Store
Please welcome Josh Jones as the new owner of the Yellow Pine General Store.
— — — —
Critters
Be Fox & Coyote Aware
* Do not feed foxes human food
* Feed domestic pets indoors
* Make sure your pets are updated on Rabies vaccines
* Small pets could become a snack
Be Mountain Lion Aware
* NEVER run away from a mountain lion. The lion's instinct is to chase and ultimately catch what they perceive as potential prey.
* NEVER turn your back on a lion. Always face them while making yourself look as large as you can. Yell loudly, but don't scream. A high-pitched scream may mimic the sound of a wounded animal.
* SLOWLY back away while maintaining eye contact with the lion.
* Safety equipment you may choose to carry could include bear spray, a noise device, like an air-horn, and if you walk in the dark, a very bright flashlight.
* If you are attacked, fight back!
— — — —
Road Reports
Link: to current road reports.
— — — —
Yellow Pine US Mail
The 3-day a week mail delivery started Nov 2nd. The Post Office in Yellow Pine is open six days a week year around: M-F 845am-245pm Saturday 9am-245pm. Forever Stamp: 55 cents. Support our local post office and purchase your holiday stamps here.
— — — —
Yellow Pine Transfer Station
The dump (and road) were plowed on March 11th. Recent report the bins are full..
Yellow Pine Transfer Station (aka, the dump)
Please do not abuse our Transfer Station or we may lose it. Household trash must be placed in the bins, flattened cardboard boxes can also go into the bins. Do not stack trash in front of the doors. Woody yard debris only for the burn pile. No furniture, appliances, tires or construction debris allowed, those items must be hauled out to the Donnelly station by you.
The Yellow Pine Transfer Station is Valley County responsibility. If it is not kept tidy, use of the Transfer Station may be revoked. That would result in residents having to take all household trash and yard waste to the Donnelly Transfer Station.
If Dumpsters Are Full, Contact Lake Shore Disposal at: (208) 634-7176
———-
Local Groups
YPWUA News:
The annual Water meeting for 2020 was held July 5th at the Community Hall 2pm.
link: minutes 20200705YPWUA.docx
Boil Your Water Before Using
Boil Water Order issued April 17, 2020.
Link: to Notice
Update Nov 29: Warren replaced the water meter because of inconsistent readings. With the new meter, the community is currently using over 55,000 gallons of water per day. A leak has been identified and will be repaired as soon as we can coordinate the contractor, equipment needed and weather together. It is difficult to get everything planned in the winter. When the repair is scheduled, the community will have a few days notice before the water is shut down. Since we are using more water than the rated use through the sand filters, the boil order will remain in effect. We continue the grant request process that is extremely slow. – Steve H
Update Nov 25: the boil order is still in effect due to the large quantity of water that is leaking from the system. – Warren D
— — — —
VYPA News:
VYPA Meetings are the 2nd Saturday of June, July, August, and September (June 12, July 10, August 14, September 11) at 2:00pm at the Community Hall.
Village Council members:
Deb Filler, Chairman
Matt Huber, Vice Chairman
Ronda Rogers, Treasurer
Rhonda Egbert, Secretary
Ron Noel, Member at Large
VYPA Bylaws adopted 8/8/2020 (link)
YPAC Corp Bylaws (link)
Festival
Anyone interested in being a part of the Festival Planning/Working committee, please contact Deb Filler. Meetings will begin at the end of January. Even if you aren't physically in YP, you can participate in the committee.
Next Festival Planning Meeting Sunday, Feb 28, 2021 @ Community Hall, 2pm
2021 Planning Notes updated Feb 28th (link)
Yellow Pine Music and Harmonica Festival Policy and Procedure Link:
— — — —
YPFD News:
After Action Report meeting Oct 13, 2020 (no minutes yet.)
YPFD had a budget meeting on September 30th at 10am at the fire station. (No minutes yet.)
Make sure to keep your chimney clean. Cleaning brushes can be borrowed from the YPFD.
YPFD COVID19 Policy
link: YPFD Covid 19 SOP
link: Covid-19 EMS (May 23)
Pile burning: Dress appropriately, have enough help on hand (people, water and tools) and make a firebreak before you start. Call your local fire protection district chief to let them know you'll be conducting a debris burn. This saves them from sending emergency responders to your property if they are not needed. Do NOT burn on breezy afternoons.
Better yet, "Rake It and Take It" yard waste (limbs, pine needles, brush, etc.) to the burn pile at the Transfer Station on the south end of the turn-around. Remember, keep the pile neat. Woody debris only, no nails, no cardboard and no furniture! The Boise NF will burn the pile in the fall when it is safe and doesn't pollute our fine YP air.
YP Fire Commissioners:
Sue Holloway – District 1
Dan Stiff – District 2
Merrill Saleen – District 3
Tim Rogers – Fire Chief
Yellow Pine Fire Protection District Community Service Notice
The purpose of this letter is to show how you as a Yellow Pine Resident can help protect your structure against a wildland fire by being "Fire Wise." Click the link: to view 20190724 Yellow Pine Fire Protection mitigation
——–
Biz Listings:
The Corner (208) 633-3325
Starting Nov 3rd open 3 days a week on mail days.
— — — —
Yellow Pine Tavern (208) 633-2233
Winter Closure: November 14, 2020 to April 16, 2021
— — — —
Yellow Pine Lodge (208) 633-3377
Closed Nov 3rd for winter.
— — — —
Yellow Pine General Store (208) 633-3300
New owner, plans to open this spring.
— — — —
Murph's RV Park & Mary's Cabins
FB page link
— — — —
Knotty Kat Crochet Works – 208-502-0940
FB page link
open Tue – Sat, 9-5
Yellow Pine eggs $3/doz
— — — —
Buck Horn Outfitters LLC 208-633-3614
Tom & Sarah Lanham
156 Yellow Pine Ave, Yellow Pine Id 83677
website:
Facebook:
Wapiti Meadow Ranch – Johnson Creek (208) 633-3217
or 208-315-3554 – cabin rentals
website:
Deadwood Outfitters
website:
— — — —
Local Fuel Suppliers
Amerigas Phone: (208) 634-8181
Ed Staub & Sons Phone: (208) 634-3833
Diamond Fuel & Feed Phone: (208) 382-4430 open 830am-5pm Monday-Friday, closed weekends.
— — — —
Outside Biz that will service Yellow Pine:
The Star-News


click to subscribe:
A reminder that those who live in other states can subscribe to the online edition only since the mail can take days for hard copy to reach them.
Rocky Mountain Mechanical – Plumbing – Heating – Air conditioning
(208) 365-PIPE (7473), Emmett, will service Yellow Pine
Website:
Elkhorn Heating & Cooling
(208) 906-4067 Middleton, Idaho, will service Yellow Pine
B&T Safety Solutions LLC
208-271-1600 Based out of Donnelly
Snow removal, cleaning chimneys and stoves, we do cabin staining/chinking as well
— — — —
Follow The Yellow Pine Times on Facebook (updated more often than emails)
———————–
Local Observations:
Monday (Mar 22) 24 hour low of 29 degrees from Sunday morning, measured 1/4″ new snow (SWE=0.02″) and an average of 16″ on the ground, low overcast (ridges foggy) and light snowfall this morning. Jays, more juncos, chickadees, nuthatches, male and female hairy woodpeckers and 2 pine squirrels visiting. Break in the snow for a short while at lunch time, then light snow and light breezes into early afternoon, and melting. Clouds breaking up, warmer and light breezes mid-afternoon, high of 42 degrees. Overcast and snowed for less than an hour late afternoon, no accumulation. Snowed for about 20 minutes (trace) before dusk and calmer. Cloudy before midnight. Snowing before sunrise.
Tuesday (Mar 23) overnight low of 23 degrees, measured 1/2″ new snow (SWE=0.03″) and 16 1/2″ average snow on the ground, overcast, light snowfall and light breeze this morning. Jays, clark's nutcracker, juncos, chickadees, nuthatches, hairy and downy woodpeckers, flicker and a pine squirrel visiting. Flaking at lunch time and new snow melting. Breaks in the clouds early afternoon and light breeze. Mostly cloudy and light breeze mid-afternoon, high of 44 degrees. Gusty breezes late afternoon and early evening. Mostly cloudy, above freezing and breezy at dusk. Partly or mostly clear before midnight.
Wednesday (Mar 24) overnight low of 15 degrees, measured an average of 16″ of old crusty snow on the ground, sky is overcast. Raven flying over and calling, jays, lots of juncos, chickadees, nuthatches, a pair of hairy woodpeckers, a clark's nutcracker calling from a tree and 2 pine squirrels visiting. Overcast at lunch time. Mail truck made it in a little early. Overcast and chilly light breeze mid-afternoon, high of 40 degrees. Late afternoon light snow falling. At dusk it was still snowing very lightly and starting to stick, right at freezing and breezy. Still snowing lightly before midnight. Steady snow after midnight and stacking. Probably snowed until 3 or 4am.
Thursday (Mar 25) 24 hour low of 23 degrees, measured 1 1/4″ new snow (SWE=0.11″) and an average of 17″ total snow on the ground, sky is overcast – foggy ridges and lightly flaking. Fresh fox tracks. Jays, juncos, chickadees, nuthatches, hairy woodpecker and 2 pine squirrels visiting. A report of a Rufous Sided Towhee in the neighborhood. Flaking lightly all morning and melting. Overcast and flaking at lunch time. Quite a snow flurry for about half an hour early afternoon then back to flaking. Gusty breezes and snowing on and off mid-afternoon, high of 40 degrees. Breaks in the clouds and a "parade" of elk on Westside Ave. after sunset. Cloudy before midnight.
Friday (Mar 26) overnight low of 25 degrees, most of yesterday's snow melted, 0.01″ in the gauge and an average of 16″ snow on the ground. Jays, lots of juncos, chickadees, nuthatches and 2 pine squirrels visiting. Cracked overcast at lunch time. Chilly breezes and gray overcast mid-afternoon, high of 43 degrees. Clouds breaking up late afternoon. Partly cloudy before sunset. Above freezing and partly cloudy at dusk. Looked cloudy before midnight, filtered moonlight.
Saturday (Mar 27) overnight low of 20 degrees, measured an average of 15″ old crusty snow on the ground, clear sky this morning with strong sunshine. Jays, juncos, downy woodpecker, clark's nutcracker, red-breasted nuthatches and chickadees visiting, later both pine squirrels stopped by. Power blipped of and back on at 1121am. Clear and sunny at lunch time. Occasional gusty breeze mid-afternoon, warm and almost clear, high of 55 degrees. At dusk it was still above freezing and clear sky. High thin haze before midnight, fuzzy nearly full moon.
Sunday (Mar 28) overnight low of 26 degrees, measured an average of 14″ old crusty snow on the ground, partly clear sky, lots of high thin haze and above freezing this morning. Jays, juncos, hairy woodpecker, flicker, nuthatches, chickadees and 2 pine squirrels visiting. Getting breezy before lunch time. Fox wandering the neighborhood just after lunch time. Mostly clear and breezy early afternoon. Warm, almost clear and windy mid-afternoon, high of 60 degrees. A report of a couple trees down on the South Fork road today. Mostly cloudy and gusty breezes before sunset.
——————-
Idaho News:
317 new Idaho COVID-19 cases
March 26, 2021 Local News 8
Idaho officials reported 317 new COVID-19 cases on Friday.
That brings the total confirmed and probable cases reported since March to 179,204.
There are a total of 144,114 confirmed cases and 35,090 probable cases in all 44 of the 44 counties in Idaho, according to numbers released from the local health districts and the state. …
The state said 417,124 people have received the vaccine, and 662,644 total doses have been administered. …
The state said 16 new hospitalizations have been reported bringing the total number to 7,522 and 2 new cases have been admitted to the ICU bringing the total to 1,288. …
Zero new deaths were reported bringing the total recorded deaths to 1,954.
full story: [Valley Co 821 cases 6 deaths]
— — — —
Idaho March 25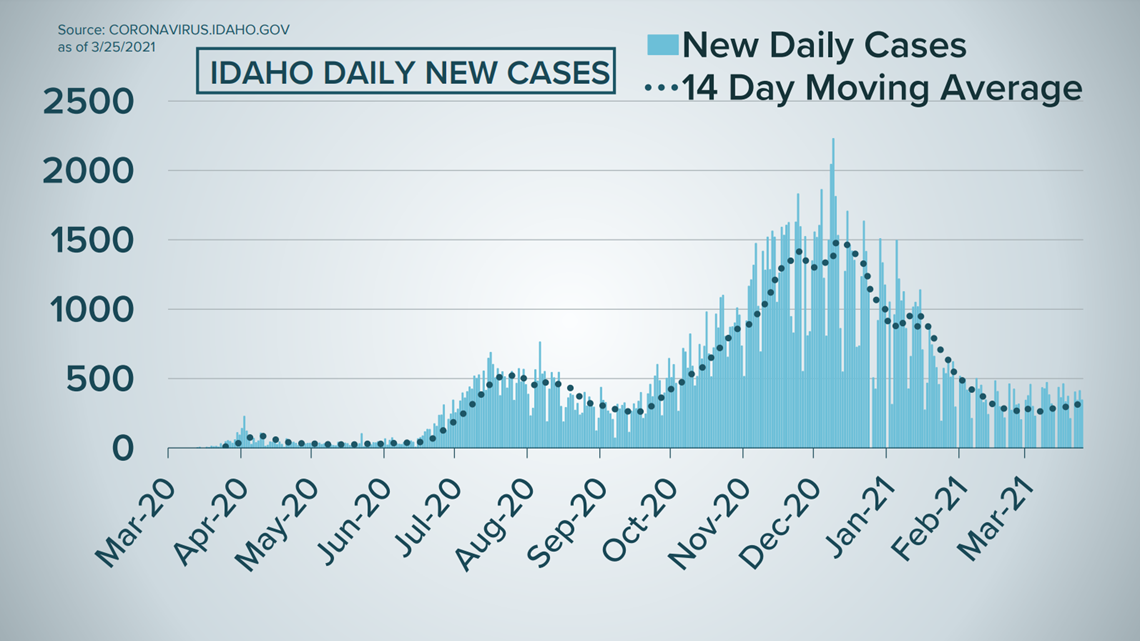 source: KTVB
— — — — — — — — — —
Gov. Brad Little: Anyone 16 and older eligible for COVID-19 vaccine in April
By Meredith Spelbring Mar 24, 2021 KIVI
Anyone over 16 years old will soon be eligible for the COVID-19 vaccine in Idaho soon. Gov. Brad Little announced Wednesday that all Idahoans, regardless of age, occupation and medical conditions, can make an appointment for the vaccine starting April 5.
continued:
— — — — — — — — — —
Anyone age 45 or older now eligible for COVID-19 vaccine
By Tom Grote for The Star-News March 25, 2021
Anyone age 45 older and anyone age 16 or older who lives in certain group settings are now eligible to receive the COVID-19 vaccine, Central District Health said Wednesday.
The announcement comes just two days after those age 55 and older became eligible to receive the vaccine in the area served by the health district, including Valley County.
The expansion was announced as more appointments have become available for the vaccine, with some providers able to offer same-day appointments, a news release said. …
Two New Cases
Two new cases of COVID-19 were reported in Valley County in the last week by St. Luke's McCall and Cascade Medical Center after an increase to 10 new cases two weeks ago.
The total number of positive cases since the pandemic reached Valley County last summer totaled 728 by Tuesday, up from 726 a week ago, the hospitals reported said. …
3,308 First Doses
A total of 3,308 people had received the first dose of the COVID-19 vaccine by this week by Valley County's two hospitals. The hospitals also had given out 2,288 of the required second doses of the vaccine.
full story:
— — — — — — — — — —
Hwy 55 Update March 23
(ITD FB post)
Starting Wednesday, March 24, Idaho Highway 55 will have daily openings to one lane of alternating traffic from 8 a.m. to 3 p.m. Travelers can expect at least 15 minutes delays during this time. Crews will be actively monitoring the rock outcropping and are prepared to close the road immediately if weather or hillside conditions change. ITD recommends travelers, especially large vehicles, RVs, and trucks pulling trailers, still use U.S. 95 as the alternate route.
Our ITD personnel and contractor crews have worked nights and weekends to open the road and protect the public. While this is a major milestone, we recognize that there is still significant effort required to resolve this issue.
ITD is working alongside national slide experts and finalizing plans to safely remove the remaining rock outcropping, which will require additional full road closures. These closures will likely begin in the next seven days. More information about the closures will be provided as it is available. Drivers are encouraged to plan ahead, visit Idaho 511, and pay close attention to the message boards on ID-55.
Highway 55 will be closed after 3 pm to through traffic until 8 am, the next day until further notice. Once the debris is cleared from the slide and safe for travelers, ITD will go back to the restricted highway use Monday – Thursday 10:00 – 2:00 pm.
Check (link) for updates.
— — — —
Highway 55 closure causes dip in business for some Valley County stores
by Trevor Fay Monday, March 22nd 2021 CBS2
Commuters on Highway 55 are in for more delays as workers continue to clean up the landslide that shut part of the highway down. The Idaho Transportation Department said the area is still unsafe for traffic. Detours being recommended add hours to the commute between Valley County and the Treasure Valley.
"People say this is rock migration season," Jake Melder, public information officer for ITD, said. "Ducks and rocks. If you're finding yourself on a mountain highway, especially in an area that's been signed for danger of rock falls, slow down."
For some living north of the landslide on Highway 55, the usual commute to Boise takes about one hour and 15 minutes. But now, their only option is to take Highway 95 down to the Treasure Valley, which effectively doubles or even triples their drive time. So many are keeping an eye on ITD, waiting for updates on the condition of the roads.
continued:
— — — —
Tamarack Resort feeling the impact of the Highway 55 closure
By Roland Beres Mar 22, 2021 KIVI
The Idaho Transportation Department (ITD) says Highway 55 is still not safe for drivers and will remain closed until at least Tuesday. ITD says the rain we're getting today is not helping and resorts like Tamarack are trying to keep the landslide from bringing their Spring Break business down.
"The possibility of a rock or a boulder being in the roadway is increased this time of year, so slow down and drive attentively," said Jake Melder of ITD.
Sometimes, it's a lot more than a boulder. This massive slide near Smiths Ferry shut down Highway 55 on the way to resorts in McCall and Cascade just before Spring Break.
continued:
— — — — — — — — — —
ITD to repave Idaho 55 from McCall to Donnelly this summer
Winter weather, traffic breaks up surface laid in 2010
By Tom Grote for The Star-News March 25, 2021
Eleven miles of Idaho 55 between Donnelly and McCall will get new pavement this summer under a project planned by the Idaho Department of Transportation.
The $3.25 million project is set to start in June and is scheduled to be finished in August, ITD Public Information Officer Jake Melder said.
The entire width of the highway will be repaved, but areas of the road that have broken up due to weather and traffic will get special attention, Melder said.
"For sections of damaged pavement, we will repair the base, and place a fresh layer of asphalt on top to provide a smooth riding surface," Melder said.
Also targeted for repair is culvert crossing just south of McCall that has had trouble with heaving during the winter, he said.
… Traffic will be reduced to one lane in the work zone with flaggers and pilot cars directing traffic. Delays of up to 15 minutes are expected.
Work will be done Mondays through noon Fridays, with no work done on Friday afternoon or weekends.
For updates, go to (link)
full story:
— — — — — — — — — —
Idaho tax filing deadline extended to May 17
Mar 24, 2021 KIVI
The deadline to file Idaho state income taxes will be extended to May 17, following the temporary changes to the federal tax filing deadline.
Gov. Brad Little instructed the Idaho State Tax Commission to hold a special meeting to extend the state filing deadline to provide taxpayers and preparers with immediate clarification.
"I appreciate the Tax Commission and the Idaho Legislature for prioritizing the actions needed to ease the burden on Idahoans in preparing their taxes this year," Governor Little said.
House Speaker Scott Bedke and Senate Pro Tem Chuck Winder said it's a priority of the state Legislature to act as quickly as possible when they return on April 6 to approve legislation simplifying tax preparation for Idahoans.
source:
—————–
Scam Alerts:
Middleton store clerk stops prepaid card scam in progress
by CBS2 News Staff Monday, March 22nd 2021 CBS2
The Middleton Police Department gave a shout-out to a Walgreens clerk on Monday after they stopped a scam in progress.
A Middleton resident apparently got caught in a scam trap and went to the store to get prepaid cards as payment, according to MPD.
The resident headed to Walgreens to buy the cards and the clerk started asking questions about the purchase. They asked if the prepaid cards were for family or friends, and the resident started explaining their situation.
The clerk got their manager who then explained common scams and stopped the resident from purchasing and sending the cards.
"Thank you for your diligence Walgreens," MPD said. "We would like to remind all that any time someone is requesting prepaid Green Dot cards, Google Play cards, iTunes cards, Western Union, etc. as payment, it is a scam and do not send the money. Those are extremely difficult to track."
continued:
— —
Note: If you receive an email with the subject "Favor To Ask" and it appears to be from a local official. DO NOT reply – it is a scam. The email will read something like "How are you doing? I need a favor from you. I would have loved to call you however can't get to call right now, Kindly let me know if you are Online.." If you respond, they will ask you to buy "Google Play" gift cards. Remember, never buy gift cards when asked unless it is in person from someone you know.
— — — — — — — — — —
Sheriff: Boise County hit with 'Idaho Power' scam threatening to turn off power
by CBS2 News Staff Thursday, March 25th 2021
Scammers have been making the rounds in Boise County.
This time, the Boise County Sheriff says, scammers are claiming to be calling from Idaho Power and telling customers that if payment isn't made their power will be turned off. The caller ID even says it's Idaho Power.
But, alas, it's not. It's a scam.
continued:
—————–
Public Lands:
Payette forest plans prescribed burns through June
The Payette National Forest will be conducting multiple prescribed burns between March and June in an effort to improve the ability to protect local communities from wildfire.
The dates and times of the prescribed fires will depend on weather conditions.
The benefits of prescribed fires include reducing surface fuels, increasing the height of the canopy, promoting fire resilient trees and improving wildlife habitat.
The prescribed burns will include:
• McCall Ranger District: 350 acres in the Bear Basin area and West Face parking lot.
• New Meadows Ranger District: About 3,000 acres in Boulder Creek and 250 acres in the Meadows Slope project area.
• Krassel Ranger District: 3,800 acres in the Four Mile project area along the South Fork of the Salmon River near Reed Ranch and Poverty Flat campground.
Trailheads and roads that lead to these areas will be posted with caution signs and a map of the prescribed burn locations.
Fire personnel will work with the Idaho/Montana Airshed Group, the National Weather Service and the Idaho Department of Environmental Quality to ensure that smoke impacts are minimized, according to a recent press release.
For the most current information, visit (link) and search for Payette.
source: The Star-News March 25, 2021
——————–
Critter News:
Cascade Veterinary Clinic
March 24 (FB)
The month of April our Schedule has changed due to road conditions. Cascade Vet Clinic will be open on Monday, Tuesday and Friday. Garden Valley Clinic will be open Wednesday and Thursdays.
— — — — — — — — — —
Highly contagious disease found in dead jackrabbits near Boise Airport
by CBS2 News Staff Thursday, March 25th 2021
A highly contagious disease has been detected in some dead jackrabbits near the Boise Airport
Idaho Fish and Game says Rabbit Hemorrhagic Disease, or RHD for short, is a deadly disease that affects animals in the rabbit family — including wild and domestic rabbits. Fish and Game says two dead jackrabbits found southwest of the Boise Airport were positive after lab results confirmed the findings.
It's the first known case of RHD in Idaho. The symptoms are not pleasant: bleeding from the eyes and bloodstained noses caused by internal bleeding. Infected rabbits may develop a fever, respiratory distress and lack of appetite.
continued:
— — — — — — — — — —
'The Bluebird Man' Turns 99
Al Larson has built, tracks 330 bluebird boxes
By Max Silverson for The Star-News March 25, 2021
Al Larson has probably done more to help the bluebird population in Idaho than anyone else in history.
Larson, who turns 99 on Friday, began building bluebird houses as a hobby when he retired in 1978 and is still tracking and making houses for the vibrantly colored migratory birds.
He currently monitors, with the help of other volunteers, a total of 330 bluebird boxes that he has built and placed in prime bluebird habitat above 4,000 feet from Cascade to the Owyhee Mountains.
Larson and his fellow volunteers have banded about 30,000 bluebirds with identification tags. About 33,000 birds have hatched and learned to fly from his boxes.
continued:
—————–
Fish & Game News:
New items just added to Fish and Game's online fur auction inventory
By Jennifer Jackson, Regional Communications Manager
Wednesday, March 24, 2021
Don't miss out– auction closes April 9
Idaho Fish and Game's annual fur auction has been underway since March 1 – albeit in a new online format—and there is no shortage of some amazing items, especially now that the inventory has just increased!
Up to this point, the available auction items were gathered mainly from the Southeast Region, but now additional furs, hides, antlers, skulls, carcasses, and other items from around the state of Idaho have been brought to the auction.
continued:
— — — — — — — — — —
More F&G News Releases
link:
———————————-
Crazy Critter Stuff:
Unexpected guest: Bear soaking in hot tub caught on video in Gatlinburg, Tennessee
by WTVC Wednesday, March 24th 2021 CBS2
Sometimes you just need to sit and soak and let the cares of the day wash away. That apparently applies to bears, too.
A Georgia tourist staying at a cabin in Gatlinburg, Tennessee recently had a surprise guest.
Todd Trebony, who owns the Juvenescence Medical Spa in Camilla, Georgia, had his camera rolling as he watched a black bear climb onto his cabin patio and take a dip in a hot tub.
Trebony shared the video on his Instagram page. Watch it below:
continued: w/video
——————–
Seasonal Humor:

——————-