April 4, 2021 The Yellow Pine Times – Valley County, Idaho
Reminder: We are still under a boil water order until further notice.
Community Calendar:
Apr 17 – Boil water order issued
Feb 19 – Valley County Mask Advisory
Feb 23 – Avalanche closed Stibnite Road
March 11 – Tick Season Began
March 15 – Hwy 55 closures (resumes April 2)
March 31 – Weight Limits on South Fork Salmon River road
April 4 – Easter Potluck Community Hall 3pm
April 16 – Yellow Pine Tavern Opens
May 9 – Next Festival Planning Zoom Meeting
June 12 – VYPA Meeting
(details below)
———-
Local Events:
Easter Potluck
Easter Sunday Potluck was at the Community Hall at 3pm. Around 20 locals showed up for the feast.

Photo courtesy Ray Lutz
— — — —
Yellow Pine Tavern
Opening April 16th.
— — — —
Plumbers Coming to Yellow Pine
Rocky Mountain Mechanical will be coming to Yellow Pine some time in April to do a plumbing project. If you are interested in plumbing work please call (208) 365-PIPE (7473). These guys are professionals and do great work, clean and courteous.
— — — —
Next Festival Planning Meeting
Sunday, May 9, 2021, Zoom meeting at 2pm.
Contact Deb for link and passcode.
— — — —
Heating Maintenance Day
Deb Filler is coordinating with Mastercraft of McCall to schedule a maintenance day in Yellow Pine for propane and pellet stoves. If you are interested, please contact Deb at 208 633-6945. The date will be at least a couple months out.
———-
Village News:
Wind Storm Cleanup
The wind storm that blew thru Sunday night and Monday morning knocked down trees on lower Johnson Creek from Yellow Pine to Wapiti Meadow Ranch and the EFSF roads. Many thanks to Cecil and Tom for going out and cutting trees out of the road and cleaning up rocks and debris on both roads.
No reports of local damage and our power stayed on.
— — — —
Hwy 55
The project resumed April 2nd, with full road closures Monday-Thursday from 10am to 2pm in the Smith's Ferry area. One lane with flaggers evenings and weekends.
Project Website link:
If you have Facebook, here is a (link) to a cool ITD video, preparing and blasting.
— — — —
Spring weight limits in effect SF Road
"Forest Service officials on the Payette and Boise National Forests implemented the annual seasonal break up limits/road weight restrictions on portions of the South Fork Salmon River Road (National Forest System Road #674 and #474) effective today, March 31, 2021. The restriction is in effect annually through June 1, or as Forest Service officers determine that no further damage will occur to the roadway and remove the signing."
— — — —
Avalanche Closes Road to Stibnite
The morning of Feb 23rd, we received a message there are slides on the road to Stibnite. "These slides start below Tamarack creek then up around the corner where the 2019 slides were." -PR They will keep us posted. Please don't attempt to go up there to look, the road is narrow and more slides could come down.
"Debris [is] strewn along 1,500 feet of roadway and up to 30 feet deep across the road" – PR. No timeline as to when the road will open, however a report that maybe it could be open later this week.
— — — —
Ticks!
A report Thursday morning, March 11th of the first tick found. Check your dogs and yourself after a walk in the woods.
— —
Yellow Pine General Store
Please welcome Josh Jones as the new owner of the Yellow Pine General Store. He plans to open this spring.
— — — —
Critters
Pine Martins & Raccoons
Watch your small pets, reports of pine martins on the west side and raccoons on the north side of the village. Also a report of a pine martin in the transfer station.
Be Fox & Coyote Aware
* Do not feed foxes human food
* Feed domestic pets indoors
* Make sure your pets are updated on Rabies vaccines
* Small pets could become a snack
Be Mountain Lion Aware
* NEVER run away from a mountain lion. The lion's instinct is to chase and ultimately catch what they perceive as potential prey.
* NEVER turn your back on a lion. Always face them while making yourself look as large as you can. Yell loudly, but don't scream. A high-pitched scream may mimic the sound of a wounded animal.
* SLOWLY back away while maintaining eye contact with the lion.
* Safety equipment you may choose to carry could include bear spray, a noise device, like an air-horn, and if you walk in the dark, a very bright flashlight.
* If you are attacked, fight back!
— — — —
Road Reports
Link: to current road reports.
— — — —
Yellow Pine US Mail
The 3-day a week mail delivery started Nov 2nd. The Post Office in Yellow Pine is open six days a week year around: M-F 845am-245pm Saturday 9am-245pm. Forever Stamp: 55 cents. Support our local post office and purchase your holiday stamps here.
— — — —
Yellow Pine Transfer Station
The dump (and road) were plowed on Saturday, Feb 27th.
Yellow Pine Transfer Station (aka, the dump)
Please do not abuse our Transfer Station or we may lose it. Household trash must be placed in the bins, flattened cardboard boxes can also go into the bins. Do not stack trash in front of the doors. Woody yard debris only for the burn pile. No furniture, appliances, tires or construction debris allowed, those items must be hauled out to the Donnelly station by you.
The Yellow Pine Transfer Station is Valley County responsibility. If it is not kept tidy, use of the Transfer Station may be revoked. That would result in residents having to take all household trash and yard waste to the Donnelly Transfer Station.
If Dumpsters Are Full, Contact Lake Shore Disposal at: (208) 634-7176
———-
Local Groups
YPWUA News:
Please conserve water. Turn off your trickle when it is above freezing during the day.
The annual Water meeting for 2020 was held July 5th at the Community Hall 2pm.
link: minutes 20200705YPWUA.docx
Boil Your Water Before Using
Boil Water Order issued April 17, 2020.
Link: to Notice
Update Nov 29: Warren replaced the water meter because of inconsistent readings. With the new meter, the community is currently using over 55,000 gallons of water per day. A leak has been identified and will be repaired as soon as we can coordinate the contractor, equipment needed and weather together. It is difficult to get everything planned in the winter. When the repair is scheduled, the community will have a few days notice before the water is shut down. Since we are using more water than the rated use through the sand filters, the boil order will remain in effect. We continue the grant request process that is extremely slow. – Steve H
Update Nov 25: the boil order is still in effect due to the large quantity of water that is leaking from the system. – Warren D
— — — —
VYPA News:
VYPA Meetings are the 2nd Saturday of June, July, August, and September (June 12, July 10, August 14, September 11) at 2:00pm at the Community Hall.
Village Council members:
Deb Filler, Chairman
Matt Huber, Vice Chairman
Ronda Rogers, Treasurer
Rhonda Egbert, Secretary
Ron Noel, Member at Large
VYPA Bylaws adopted 8/8/2020 (link)
YPAC Corp Bylaws (link)
Festival
Anyone interested in being a part of the Festival Planning/Working committee, please contact Deb Filler. Meetings will begin at the end of January. Even if you aren't physically in YP, you can participate in the committee.
Next Festival Planning Meeting May 9, 2021 – Contact Deb for Zoom link and passcode.
2021 Planning Notes updated May 28th (link)
Yellow Pine Music and Harmonica Festival Policy and Procedure Link:
— — — —
YPFD News:
YP Fire District 2 (east of Yellow Pine Ave) up for election Nov 2nd for 4 year term (per Valley County.) Link: to more info.
After Action Report meeting Oct 13, 2020 (no minutes yet.)
YPFD had a budget meeting on September 30th at 10am at the fire station. (No minutes yet.)
Make sure to keep your chimney clean. Cleaning brushes can be borrowed from the YPFD.
YPFD COVID19 Policy
link: YPFD Covid 19 SOP
link: Covid-19 EMS (May 23)
Pile burning: Dress appropriately, have enough help on hand (people, water and tools) and make a firebreak before you start. Call your local fire protection district chief to let them know you'll be conducting a debris burn. This saves them from sending emergency responders to your property if they are not needed. Do NOT burn on breezy afternoons.
Better yet, "Rake It and Take It" yard waste (limbs, pine needles, brush, etc.) to the burn pile at the Transfer Station on the south end of the turn-around. Remember, keep the pile neat. Woody debris only, no nails, no cardboard and no furniture! The Boise NF will burn the pile in the fall when it is safe and doesn't pollute our fine YP air.
YP Fire Commissioners:
Sue Holloway – District 1
Dan Stiff – District 2
Merrill Saleen – District 3
Tim Rogers – Fire Chief
Yellow Pine Fire Protection District Community Service Notice
The purpose of this letter is to show how you as a Yellow Pine Resident can help protect your structure against a wildland fire by being "Fire Wise." Click the link: to view 20190724 Yellow Pine Fire Protection mitigation
——–
Biz Listings:
The Corner (208) 633-3325
Starting Nov 3rd open 3 days a week on mail days.
— — — —
Yellow Pine Tavern (208) 633-2233
Winter Closure: November 14, 2020 to April 16, 2021
— — — —
Yellow Pine Lodge (208) 633-3377
Closed Nov 3rd for winter.
— — — —
Yellow Pine General Store (208) 633-3300
New owner, plans to open this spring.
— — — —
Murph's RV Park & Mary's Cabins
FB page link
— — — —
Knotty Kat Crochet Works – 208-502-0940
FB page link
open Tue – Sat, 9-5
Yellow Pine eggs $3/doz
— — — —
Buck Horn Outfitters LLC 208-633-3614
Tom & Sarah Lanham
156 Yellow Pine Ave, Yellow Pine Id 83677
website:
Facebook:
Wapiti Meadow Ranch – Johnson Creek (208) 633-3217
or 208-315-3554 – cabin rentals
website:
Deadwood Outfitters
website:
— — — —
Local Fuel Suppliers
Amerigas Phone: (208) 634-8181
Ed Staub & Sons Phone: (208) 634-3833
Diamond Fuel & Feed Phone: (208) 382-4430 open 830am-5pm Monday-Friday, closed weekends.
— — — —
Outside Biz that will service Yellow Pine:
The Star-News


click to subscribe:
A reminder that those who live in other states can subscribe to the online edition only since the mail can take days for hard copy to reach them.
Rocky Mountain Mechanical – Plumbing – Heating – Air conditioning
(208) 365-PIPE (7473), Emmett, will service Yellow Pine
Website:
Elkhorn Heating & Cooling
(208) 906-4067 Middleton, Idaho, will service Yellow Pine
B&T Safety Solutions LLC
208-271-1600 Based out of Donnelly
Snow removal, cleaning chimneys and stoves, we do cabin staining/chinking as well
— — — —
Follow The Yellow Pine Times on Facebook (updated more often than emails)
———————–
Local Observations:
Monday (Mar 29) strong winds and rain after midnight, then a little snow, overnight low of 23 degrees, power stayed on! This morning measured 1/10″ new snow and 0.06″ in the gauge (probable undercatch due to wind,) measured an average of 13″ snow on the ground, overcast and breezy. No trees down in the immediate area that I can see. (Later reports of trees down on the South Fork, EFSF and lower Johnson Creek roads.) Light snow shower before 11am. Jays, juncos, male and female hairy woodpeckers, nuthatches, chickadees and 2 pine squirrels visiting. Cloudy and breezy at lunch time. Wind gusting up mid-afternoon and cloudy, high of 34 degrees. Blustery snow flurries later in the afternoon, mostly melted. Breaks in the clouds at dusk and breezy. Cloudy before midnight. Light dusting of snow fell during the night.
Tuesday (Mar 30) overnight low of 21 degrees, partly cloudy and cold breeze, trace of new snow on the snow board from last night, average 13″ old snow on the ground. Jays, clark's nutcracker, hairy and downy woodpeckers, flicker, nuthatches, chickadees and a pine squirrel visiting. Partly cloudy and breezy at lunch time. Mostly clear and breezy mid-afternoon, high of 41 degrees. Mostly clear, below freezing and calmer at dusk. Mostly clear and cold before midnight. Breezy after midnight.
Wednesday (Mar 31) overnight low of 13 degrees, measured an average of 11″ crusty old snow on the ground, clear sky and fairly calm this morning. Jays, clark's nutcracker, hairy woodpecker, flicker, chickadees and nuthatches visiting, squirrel calling from the trees. Clear and warm at lunch time. Mail truck made it in on time. Sunny and warm mid-afternoon, high of 55 degrees. Report of pine martins and raccoons in the village. Getting breezy late afternoon. A bit of the sun was still above the horizon at 733pm. Above freezing and calmer at dusk. Stars out before midnight.
Thursday (Apr 1) overnight low of 20 degrees, measured an average of 9″ old snow on the ground, more open ground under trees and on south facing hillsides. Clear sky and cold breeze this morning. Jays, clark's nutcracker, hairy and downy woodpeckers, a few juncos, chickadees, nuthatches and a pine squirrel visiting. Clear, warm and gusty breezes after lunch. Local birding report: first spring swallow sighted, a robin hanging around and 3 Rufous sided towhees in the neighborhood. Clear, warm and gusty mid-afternoon, smell of pine trees in the air, high of 63 degrees. At dusk it was way above freezing, calmer and clear. Looked calm and clear before midnight.
Friday (Apr 2) overnight low of 26 degrees, measured an average of 7″ old snow, ground frozen hard under the snow. Mostly (thin) hazy sky and 1 cloud this morning. Jays, hairy and downy woodpeckers, chickadees, nuthatches and a pine squirrel visiting. Thicker haze at lunch time. Gusty breezes early afternoon melting snow. Quite warm and gusty under mostly cloudy skies mid-afternoon, more bare ground, high of 64 degrees. Still way above freezing at dusk, calmer and cloudy. Cloudy before midnight.
Saturday (Apr 3) overnight low of 27 degrees, measured an average of 5″ old snow (more open ground), clear sky with a little thin haze to the east. Tree swallows singing and looking at nest boxes, chickadees calling, jays shrieking, woodpecker drumming, nuthatches tapping and pine squirrel trilling. What a concert! Partly cloudy at lunch time. Warm, increasing clouds and gusty breezes early afternoon. Warmer and gusty mid-afternoon, partly hazy and you can see the snow melting away, high of 66 degrees. A few elk wandering by around sunset. It was way above freezing, calmer and cloudy at dusk. Mostly cloudy before midnight.
Sunday (Apr 4) overnight low of 29 degrees, measured 0 to 6″ of old snow – calling the average 2″ now. Mostly clear sky this morning, a little thin haze to the east. Flicker calling, jays, hairy woodpecker, chickadees, nuthatches, male cassins finch flew by and pine squirrel visiting. Later watched half a dozen tree swallows swooping around the neighborhood. Mostly clear and warm at lunch time. Increasing high haze, warm and light breeze early afternoon, melting more snow. Quite warm, overcast and breezy mid-afternoon, high of 67 degrees. Warm and cloudy before sunset.
—————-
Idaho News:
ID 55 returns to 'normal'
Highway back to 10-2 closures Mon-Thurs
By Max Silverson for The Star-News April 1, 2021
Traffic on Idaho 55 at Smiths Ferry on Friday will return to return to its previous schedule of closures from 10 a.m. to 2 p.m. Mondays through Thursdays, the Idaho Transportation announced Wednesday.
Friday will see one-way traffic with 15-minute delays, which was the previous schedule for Fridays, Saturdays and Sunday.
The reduced hours had been in effect since March 1, when construction resumed on a two-year project at the site, the most direct route between Valley County and the Boise area.
A large rock outcropping that sat precariously above the highway was blasted on Sunday allowing crews to remove tons of rock and dirt that fell March 15.
continued:
— — — —
Hwy 55
On Facebook there is a cool ITD video, preparing and blasting. (link)
You do not need a FB account to watch it.
— — — — — — — — — —
284 new Idaho COVID-19 cases, 3 new deaths
April 2, 2021 Local News 8
Idaho officials reported 284 new COVID-19 cases and 3 new deaths on Friday.
That brings the total confirmed and probable cases reported since March to 181,181
There are a total of 145,560 confirmed cases and 35,621 probable cases in all 44 of the 44 counties in Idaho, according to numbers released from the local health districts and the state. …
The state said 466,384 people have received the vaccine, and 748,506 total doses have been administered. …
The state said 12 new hospitalizations have been reported bringing the total number to 7,623 and 2 new cases have been admitted to the ICU bringing the total to 1,305. …
3 new death was reported bringing the total recorded deaths to 1,966.
full story: [Valley County: 827 cases 6 deaths]
— — — —
Idaho March 29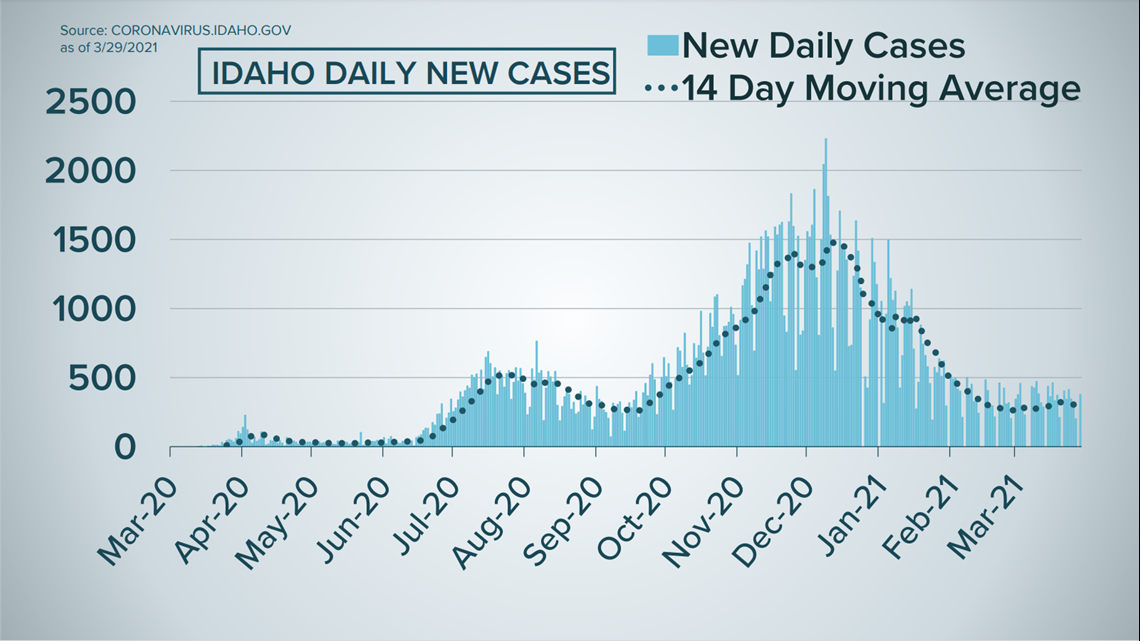 source: KTVB
— — — — — — — — — —
COVID-19 vaccine opens to all age 16 and older in Valley County
By Tom Grote for The Star-News April 1, 2021
Anyone age 16 or older in Valley County can now seek an appointment for the COVID-19 vaccine, Central District Health announced on Tuesday.
Tuesday's announcement comes one day after the COVID-19 vaccine was opened to those 16 years and older with a medical condition on Monday.
The broader opening comes a week ahead of Gov. Brad Little's timeline to open vaccines to everyone age 16 and older by Monday.
A "significant increase" in state vaccine allocated along with vaccine received by some providers through federal sources has boosted the volume of available vaccine, the health district said. Central District Health covers Ada, Boise, Valley and Elmore counties. …
3,560 First Doses
A total of 3,560 people had received the first dose of the COVID-19 vaccine by this week from Valley County's two hospitals. The hospitals also had given out 2,475 of the required second doses of the vaccine.
St. Luke's McCall reported giving 2,196 first doses and 1,421 second doses since vaccinations started Jan. 13 through last Saturday. The hospital has appointments to give 309 vaccinations this week, both first and second doses.
Cascade Medical Center had given 1,364 first doses and 1,054 second doses by this week. Clinics are scheduled for today, April 15 and April 29 with more clinics planned in May and June.
The pharmacy at the Albertsons store in McCall also has been giving the COVID-19 vaccine, but company policy prohibits disclosure of the number of vaccines given, said Albertsons spokesperson Kathy Holland of the company's corporate office in Boise.
full story:
— — — —
Percent of Total Population That is Fully Vaccinated

As of March 30th (Valley County is looking good!)
source: Boise State Public Radio
—————
Scam Alert:
Waiting for your stimulus check? Watch for these scams!
By Natasha Williams Apr 01, 2021
The new round of stimulus checks has begun hitting bank accounts–which is great news for millions of Americans–but for scammers, it means another chance to try and steal your information.
The Better Business Bureau says last time checks were released, scammers tried to contact people through phone calls, texts, and emails about their stimulus checks–and it's possible they'll try it again this time.
If you get a text or an email with a link to an application, beware! It's probably a scam. The BBB says sometimes scammers will call, posing as a government agency, in hopes of stealing your personal and financial information.
"Sometimes they even ask for a small fee in order to (allegedly) get you your stimulus funds faster," explained Rebecca Barr with the BBB.
continued:
————–
Mining News:
Perpetua Webinar Schedule for April 2021
I wanted to let you all know what webinars will be happening this month. If you would like to listen in, please click on the Registration link below:
April Date/Time Topic Presenter Registration Link
Technical 4/8/2021 Noon Off-site Infrastructure Jordan (link)
ESG 4/15/2021 Noon Modern Mining & Social License Dr. Anderson (link)
Office Hours 4/27/21 10am Office Hours Dale/Jordan (link)
If you have any questions, or your schedule does not permit your attendance, let me know and I will send the recording once it is finalized.
Please share this information with your communities, friends, family or anyone you think might be interested,
Belinda Provancher
Community Relations Manager
Perpetua Resources
——————
Public Lands:
Break Up Limits/Weight Restrictions in Effect – South Fork Salmon River Road
McCall, Idaho March 31, 2021 — Forest Service officials on the Payette and Boise National Forests implemented the annual seasonal break up limits/road weight restrictions on portions of the South Fork Salmon River Road (National Forest System Road #674 and #474) effective today, March 31, 2021. The restriction is in effect annually through June 1, or as Forest Service officers determine that no further damage will occur to the roadway and remove the signing.
The purpose of the restriction is to protect public health and safety and to prevent potential resource damage to the road during spring thaw conditions. Motorized vehicles weighing more than 10,000 pounds on the steering axle and tire width less than 9-inches, and a weight of more than 300 pounds per inch of tire on all other axles are prohibited.
The Forest Service is asking for public cooperation to uphold this restriction until conditions allow for safe passage without causing road and resource damage. The road lies within the Cascade Ranger District on the Boise National Forest and the Krassel Ranger District on the Payette National Forest.
Exemptions to this restriction are provided for: persons with specific Forest Service authorization exempting them from this Order; Law enforcement and/or rescue and firefighting authorities in the performance of their official duty; and Federal or State administrative personnel in the performance of an official duty.
Brian Harris
Public Affairs Officer
Payette National Forest
— — — — — — — — — —
Payette National Forest plans prescribed burns through June
The Payette National Forest will be conducting multiple prescribed burns between March and June in an effort to improve the ability to protect local communities from wildfire.
The dates and times of the prescribed fires will depend on weather conditions.
The benefits of prescribed fires include reducing surface fuels, increasing the height of the canopy, promoting fire resilient trees and improving wildlife habitat.
The prescribed burns will include:
• McCall Ranger District: 350 acres in the Bear Basin area and West Face parking lot.
• New Meadows Ranger District: About 3,000 acres in Boulder Creek and 250 acres in the Meadows Slope project area.
• Krassel Ranger District: 3,800 acres in the Four Mile project area along the South Fork of the Salmon River near Reed Ranch and Poverty Flat campground.
Trailheads and roads that lead to these areas will be posted with caution signs and a map of the prescribed burn locations.
Fire personnel will work with the Idaho/Montana Airshed Group, the National Weather Service and the Idaho Department of Environmental Quality to ensure that smoke impacts are minimized, according to a recent press release.
For the most current information, visit (link) and search for Payette.
source: The Star-News April 1, 2021
— — — — — — — — — —
USDA Forest Service Payette National Forest SOPA Update
Dear Interested Party,
The Forest Service's quarterly Schedule of Proposed Actions (SOPA) for April 1 – June 30, 2021 has been published. The Payette National Forest SOPA is available online at (link)
Thank you for your interest in the National Forests.
— — — — — — — — — —
Road conditions prompt closure for public safety
Boise, Idaho, April 1, 2021 — The Boise National Forest is temporarily closing National Forest System (NFS) road 327 (Granite Creek road) for public safety until conditions improve allowing safe passage. The road is temporarily closed to all highway legal motorized vehicles (passenger cars, vans, SUVs, pickups and trucks) due to vehicles becoming stuck and stranded in snow-covered segments of the roads.
"This closure is a routine annual event on a very popular National Forest System road," said Brant Petersen, Idaho City District Ranger. "In the morning, the road may appear firmly packed, but as temperatures warm throughout the day the snow, ice and road base thaws. Vehicles get stuck creating an unsafe situation and stressing local resources. Visitor safety is our primary concern and we want to warn motorists before putting themselves at risk."
Before driving any forest roads, visitors should be cautious and be prepared for the unexpected. Take warm clothing, extra food and water. Let someone know where you are going and when you will return. Know before you go and check the Boise National Forest's webpage for current closure orders and maps.
For specific details on this closure visit: (link)
Map (link)
— — — — — — — — — —
Southwest Idaho Spring prescribed fire burning planned
Contact: Venetia Gempler 208-373-4105
Boise, Idaho, March 30, 2021— Southwest Idaho interagency fire managers anticipate favorable spring weather conditions for planned low-intensity prescribed fires. Prescribed fires are designed to reduce hazardous vegetation (fuels), large wildfire potential to communities, and improve wildlife habitat.
Weather and conditions permitting, prescribed burns are scheduled to start in March and continue through June. Approximately 3,600 acres are planned for ignition in 11 project areas within the Boise National Forest.
Public and firefighter safety is always the top priority in all public land fire operations. Fire managers develop burn plans that account for safety, specific fuel and weather prescriptions and smoke management. All prescribed burns are closely evaluated and are only approved when favorable conditions are present.
Prescribed burns may affect people sensitive to smoke and may impact access to burn areas and travel routes. Fire officials strongly advise forest visitors and homeowners to prepare and plan activities around the proposed dates and locations of burns and to use extreme caution near prescribed fire areas. Please be aware of firefighters and equipment in the area and on roadways, comply with posted notices and drive slowly in areas with decreased visibility.
Information and signs will be posted on roads that access burn areas in advance of ignitions and remain in place through burn completion.
Visit the interactive map with the latest planned areas of prescribed fire treatments. (link) Zoom into your areas of interest to get the latest information. The Idaho Department of Lands and Boise, Payette, and Sawtooth National Forests' planned prescribed fire treatments will be featured.
Planned Boise National Forest fall prescribed burns include:
Idaho City Ranger District
* Alder (261 acres): located 3 miles north of Placerville, Idaho. This a landscape burn (ground fire) using hand ignition to reduce fuel in the wildland urban interface.
* Alder Ridge (100 acres): located 1 mile north of Placerville, Idaho. This is a landscape burn (ground fire) using hand ignition to reduce fuel in the wildland urban interface.
* Amber (300 acres): located 2 miles east of Idaho City, Idaho. This is a modified tree well burn.
* Buckskin (200): located approximately 3 miles east of Idaho City, Idaho.
* Little Ophir (100 acres): located 4 miles west of Pioneerville, Idaho. A landscape burn using hand ignition that will reduce fuel in the wildland urban interface area.
* Mores South-Granite Creek (50 acres): located 3 miles east of Idaho City, Idaho. This is a landscape burn (ground fire) using hand ignition to reduce fuel in the wildland urban interface.
* Pilot (150 acres): Located about 2 miles south-east of Idaho City, ID in the Boise Basin Experimental Forest for scientific study and wildland urban interface protection.
Lowman Ranger District
* West Lowman WUI (650 acres): located approximately 2 miles northeast of Lowman, Idaho between Clear and Miller creek drainages.
Emmett Ranger District
* Lodgepole Springs Underburn (585 acres): located approximately 14 miles north of Crouch, this will be a restoration underburn in the Silver Creek drainage north of FS road 671.
* Pinney Slope Rx (960 acres): Is approximately 6 miles north of Crouch, ID in the Pinney Creek drainage. Forest Service road 693 in Scriver Creek is South and West of the project area.
* Williams Creek Rx (240 acres): Is located west of Highway 55, between Banks and Smiths Ferry, Idaho. The project area is to the south and east of High Valley and located entirely on NFS lands in Valley County.
— — — — — — — — —
Public Comment Period Opens for the Brush Mountain Ecosystem Maintenance Burn Project – Virtual Public Meeting to be Held
Payette National Forest Requests Comments on Shared Stewardship Project
New Meadows, ID, April 2, 2021—The New Meadows Ranger District of the Payette National Forest invites public input on the development of the Brush Mountain Ecosystem Maintenance Burn Project. District Ranger Erin Phelps and her staff value public comment during this scoping period to help inform Forest Service officials as the project is developed. The district requests that comments be submitted through the project webpage at (link) by clicking on "Comment/Object on Project" by May 2, 2021.
The district will host a virtual public meeting on April 14 from 5:30 to 7 pm (Mountain Time). The meeting can be joined through the web at (link) or by phone at 669-254-5252, meeting ID 160 954 7522.
Prescribed burning and non-commercial thinning is proposed across approximately 27,000 acres to enhance wildlife habitat and forest stand structure and resiliency in portions of the Lower Little Salmon River, Middle Little Salmon River, Upper Little Salmon River, and Beaver Creek-Weiser River watersheds. In addition to work on the Payette National Forest west of New Meadows, Idaho, the project proposes work to be completed on adjacent Bureau of Land Management, State of Idaho, and potentially private lands (subject to agreement) in order to provide a more holistic, landscape-scale level treatment across ownership boundaries.
"This project will support Idaho's Shared Stewardship efforts to align multiple agencies, organizations, and landowners to work across ownership boundaries and strengthen the resiliency of Idaho's forests," said Lynn Oliver, South Idaho Shared Stewardship Coordinator. Scott Corkill, Area Manager for the Idaho Department of Lands Payette Lake Office, agreed: "It takes all of us working cooperatively together to make a difference."
The project is currently slated to be completed as a categorical exclusion. Projects may complete National Environmental Policy Act review as a categorical exclusion, pending input from the public and resource specialists about anticipated environmental effects. As a categorical exclusion, this scoping period is the only public comment opportunity before a decision on the project is made by the Forest Service.
"Improving wildlife habitat and forest resilience is important to not only federal and state agencies, but private landowners and the general public as well," said Erin Phelps, New Meadows District Ranger. "This project is an opportunity for us all to look at these through the lens of nature rather than jurisdictional boundaries."
Additional information on the project is available in the scoping document on the project webpage. Questions can be directed to Phil Roth, Fire and Fuels Specialist, at 208-271-2761 or philip.roth@usda.gov, or Erin Phelps, District Ranger, at 208-514-5809 or erin.phelps@usda.gov.
Brian Harris
Public Affairs Officer
Tribal Liaison
Payette National Forest
—————–
Critter News:
Missing cattle found in Kuna walking along Black Cat Road
by CBS2 News Staff Thursday, April 1st 2021
Update: Owners have been found.
The Ada County Sheriff's Office found cattle Thursday walking on Black Cat Road and no one has claimed them yet.
ACSO took to Twitter to ask anyone if they recognized the missing cattle. They were found at about midnight on Tuesday.
"Deputies checked around but no one has reported them missing," ACSO wrote.
Anyone who has information about the missing cattle, or has discovered they are missing a Holstein or a Jersey cow, should call the Idaho Humane Society at (208) 343-3166.
source:
— — — — — — — — —
Salmonella infections in 8 states could be tied to wild songbirds, CDC says
April 1, 2021 Local News 8
Investigators are looking into an outbreak of salmonella infections in 19 people that could be associated with sick or dead birds, according to the Centers for Disease Control and Prevention.
Infections have occurred in eight states, including California, Tennessee, and New Hampshire, with eight people requiring hospitalization. No deaths are currently reported.
The agency cites interviews with sick people and laboratory testing that show contact with wild songbirds and bird feeders could be driving the infections.
The California Department of Fish and Wildlife reports being "inundated" with calls about residents finding sick or dead finches at or around bird feeders, particularly around the state's central coast and in the San Francisco Bay Area.
One species in particular, pine siskins, is most frequently the subject of those calls in the state. …
The CDC recommends that people wash their hands immediately after they touch a bird feeder, bird bath, or handle a bird, even if they were wearing gloves. It also advises cleaning bird feeders outside your house, when possible.
And the Audubon Society recommends washing bird feeders with soapy water, before dunking them in a bleach-water solution. Cleaning bird feeders monthly can help prevent feeders from harboring disease. It can also help to rake or shovel up feces or birdseed casings scattered below bird feeders. the society says.
full story:
——————
Letter to Share:
Gamebird Foundation Fundraiser
Take a look at the attached ceramic coasters. These coasters are done for The Gamebird Foundation by Andy Sewell. All of the coasters are made from Andy's original paintings. All signed. Not only are the coasters a fine collectors piece, they are a fine addition to any piece of fine furniture in your living, dining or den room in your home. These ceramic coasters will not fade nor will they mar your fine furniture with their cork backing. I will be sending another email with all the coaster's with Andy's paintings, how you can order. Andy is one of the finer artist here in the North West and further. Take a good look and you will be waiting for the rest of the drawings. All Donations for the products go to raising pheasant chicks to adulthood and released into the wild. God Bless and be safe.
"The Pheasant Guy"
Jim Hagedorn
jhagedorn611 @ gmail.com
——————-
Fish & Game News:
F&G seeks public help in suspected elk poaching case near Emmett
By Evin Oneale, Regional Communications Manager
Wednesday, March 31, 2021
The big bull elk with a distinctive set of antlers was something of a celebrity to folks living in Emmett. Now Fish and Game is asking people for information regarding the suspected poaching of a large bull elk northeast of Emmett near Black Canyon Dam in late February.
Citizens Against Poaching is offering a reward for information in the case, and callers can remain anonymous. Contact CAP at 1-800-632-5999 twenty four hours a day, or provide information online at (link).
Local residents enjoyed observing the bull elk for several weeks prior to its disappearance. In late February, Fish and Game conservation officer Josh Leal responded to a report of a dead elk near the south side of Black Canyon Dam and found the headless carcass of a large bull.
continued:
— — — — — — — — — —
Spring turkey hunting outlook good for 2021 and similar to 2020
By Brian Pearson, Conservation Public Information Specialist
Wednesday, March 31, 2021
Youth turkey season opens April 8, and general turkey season opens April 15
According to Idaho Fish and Game biologists around the state, turkey hunters in Idaho can expect more of the same in 2021 — which is great news for hunters looking to bag a gobbler during the spring season.
"The turkey outlook for the 2021 spring season is looking pretty positive," said Jeff Knetter, statewide upland game bird manager. "Turkey populations, in general, were pretty healthy heading into this winter. This winter was relatively mild throughout the state, and we've had no major events that give us cause for concern regarding turkey survival. Last year was good for turkey hunters, and there's no reason to believe it would be different in 2021."
continued:
— — — — — — — — — —
More F&G News Releases
link:
———————————-
Crazy Critter Stuff:
Twin Falls Sheriff, Nampa Police add donkeys and goat to drug-sniffing team
by CBS2 News Staff Thursday, April 1st 2021
The Twin Falls Sheriff's Office and Nampa Police Department made some odd additions to their drug-sniffing team on Thursday: two donkeys and a goat.
Of course one would think it's strange that donkeys and goats would be added to law enforcement instead of the usual K9, but then you realize what day it is… April 1!
"Ruby and Havoc are certified drug sniffing donkeys assigned to our Patrol Section," the Twin Falls Sheriff's Office posted on Facebook. "Known for their gentle disposition, Sheriff Carter and his wife Deneice are helping them get started with their first tour of duty with this new program."
While this is clearly a joke, the donkeys are quite adorable.
source: w/photos
—————
Seasonal Humor:

———————-