April 11, 2021 The Yellow Pine Times – Valley County, Idaho
Reminder: We are still under a boil water order until further notice.
Community Calendar:
Apr 17 – Boil water order issued
Feb 19 – Valley County Mask Advisory
Feb 23 – Avalanche closed Stibnite Road
March 11 – Tick Season Began
March 31 – Weight Limits on South Fork Salmon River road
April 2 – Hwy 55 closures
April 13 – Rx Burn near Yellow Pine
April 16 – Yellow Pine Tavern Opens
May 9 – Next Festival Planning Zoom Meeting
June 12 – VYPA Meeting
(details below)
———-
Local Events:
Prescribed Burning update near Yellow Pine and Eiguren
The Krassel Ranger District is planning to start burning next week (4/13/21). Ignitions will occur in the 4 mile and Bald Hill projects areas. Priority units are Bald Hill units F,G and 4 mile unit G,A. Maps of the project areas can be found below. Units may be broken into smaller portions to aid in implementation. Ignitions should take 1-3 days for each project, with smoke and fire most likely present in the project area until the next significant precipitation.
Please email me with any questions or concerns.
Patrick Schon
Fire Management Specialist
Payette National Forest, East Zone
p: 208-634-0623
f: 208-634-0634
patrick.schon@usda.gov
— — — —
Yellow Pine Tavern
Opening April 16th.
— — — —
Plumbers Coming to Yellow Pine
Rocky Mountain Mechanical will be coming to Yellow Pine some time in April to do a plumbing project. If you are interested in plumbing work please call (208) 365-PIPE (7473). These guys are professionals and do great work, clean and courteous.
— — — —
Next Festival Planning Meeting
Sunday, May 9, 2021, Zoom meeting at 2pm. Contact Deb for link and passcode.
— — — —
Heating Maintenance Day
Deb Filler is coordinating with Mastercraft of McCall to schedule a maintenance day in Yellow Pine for propane and pellet stoves. If you are interested, please contact Deb at 208 633-6945. The date will be at least a couple months out.
———-
Village News:
Spring Elk
Watch for elk wandering around at dusk.

photo by Local Color Photography.
— — — —
Hwy 55
The project resumed April 2nd, expect full road closures Monday-Thursday from 10am to 2pm in the Smith's Ferry area.
Project Website link:
If you have Facebook, here is a (link) to a cool ITD video, preparing and blasting.
— — — —
Spring weight limits in effect SF Road
"Forest Service officials on the Payette and Boise National Forests implemented the annual seasonal break up limits/road weight restrictions on portions of the South Fork Salmon River Road (National Forest System Road #674 and #474) effective today, March 31, 2021. The restriction is in effect annually through June 1, or as Forest Service officers determine that no further damage will occur to the roadway and remove the signing."
— — — —
Avalanche Closes Road to Stibnite
The morning of Feb 23rd, we received a message there are slides on the road to Stibnite. "These slides start below Tamarack creek then up around the corner where the 2019 slides were." -PR They will keep us posted. Please don't attempt to go up there to look, the road is narrow and more slides could come down.
"Debris [is] strewn along 1,500 feet of roadway and up to 30 feet deep across the road" – PR. The road could be open soon, No current report.
— — — —
Ticks!
A report on March 11th of the first tick found. Check your dogs and yourself after a walk in the woods.
— —
Yellow Pine General Store
Please welcome Josh Jones as the new owner of the Yellow Pine General Store.
— — — —
Critters
Pine Martins & Raccoons
Watch your small pets, reports of pine martins on the west side and raccoons on the north side of the village.
Be Fox & Coyote Aware
* Do not feed foxes human food
* Feed domestic pets indoors
* Make sure your pets are updated on Rabies vaccines
* Small pets could become a snack
Be Mountain Lion Aware
* NEVER run away from a mountain lion. The lion's instinct is to chase and ultimately catch what they perceive as potential prey.
* NEVER turn your back on a lion. Always face them while making yourself look as large as you can. Yell loudly, but don't scream. A high-pitched scream may mimic the sound of a wounded animal.
* SLOWLY back away while maintaining eye contact with the lion.
* Safety equipment you may choose to carry could include bear spray, a noise device, like an air-horn, and if you walk in the dark, a very bright flashlight.
* If you are attacked, fight back!
— — — —
Road Reports
Link: to current road reports.
— — — —
Yellow Pine US Mail
The 3-day a week mail delivery started Nov 2nd. The Post Office in Yellow Pine is open six days a week year around: M-F 845am-245pm Saturday 9am-245pm. Forever Stamp: 55 cents. Support our local post office and purchase your holiday stamps here.
— — — —
Yellow Pine Transfer Station
The dump (and road) were last plowed on Saturday, Feb 27th.
Yellow Pine Transfer Station (aka, the dump)
Please do not abuse our Transfer Station or we may lose it. Household trash must be placed in the bins, flattened cardboard boxes can also go into the bins. Do not stack trash in front of the doors. Woody yard debris only for the burn pile. No furniture, appliances, tires or construction debris allowed, those items must be hauled out to the Donnelly station by you.
The Yellow Pine Transfer Station is Valley County responsibility. If it is not kept tidy, use of the Transfer Station may be revoked. That would result in residents having to take all household trash and yard waste to the Donnelly Transfer Station.
If Dumpsters Are Full, Contact Lake Shore Disposal at: (208) 634-7176
———-
Local Groups
YPWUA News:
Please conserve water. Turn off your trickle when it is above freezing during the day.
The annual Water meeting for 2020 was held July 5th at the Community Hall 2pm.
link: minutes 20200705YPWUA.docx
Boil Your Water Before Using
Boil Water Order issued April 17, 2020.
Link: to Notice
Update Nov 29: Warren replaced the water meter because of inconsistent readings. With the new meter, the community is currently using over 55,000 gallons of water per day. A leak has been identified and will be repaired as soon as we can coordinate the contractor, equipment needed and weather together. It is difficult to get everything planned in the winter. When the repair is scheduled, the community will have a few days notice before the water is shut down. Since we are using more water than the rated use through the sand filters, the boil order will remain in effect. We continue the grant request process that is extremely slow. – Steve H
Update Nov 25: the boil order is still in effect due to the large quantity of water that is leaking from the system. – Warren D
— — — —
VYPA News:
VYPA Meetings are the 2nd Saturday of June, July, August, and September (June 12, July 10, August 14, September 11) at 2:00pm at the Community Hall.
Village Council members:
Deb Filler, Chairman
Matt Huber, Vice Chairman
Ronda Rogers, Treasurer
Rhonda Egbert, Secretary
Ron Noel, Member at Large
VYPA Bylaws adopted 8/8/2020 (link)
YPAC Corp Bylaws (link)
Festival
Anyone interested in being a part of the Festival Planning/Working committee, please contact Deb Filler. Meetings will begin at the end of January. Even if you aren't physically in YP, you can participate in the committee.
Next Festival Planning Meeting May 9, 2021 – Contact Deb for Zoom link and passcode.
2021 Planning Notes updated May 28th (link)
Yellow Pine Music and Harmonica Festival Policy and Procedure Link:
— — — —
YPFD News:
YP Fire District 2 (east of Yellow Pine Ave) up for election Nov 2nd for 4 year term (per Valley County.) Link:
After Action Report meeting Oct 13, 2020 (no minutes yet.)
YPFD had a budget meeting on September 30th at 10am at the fire station. (No minutes yet.)
Make sure to keep your chimney clean. Cleaning brushes can be borrowed from the YPFD.
YPFD COVID19 Policy
link: YPFD Covid 19 SOP
link: Covid-19 EMS (May 23)
Pile burning: Dress appropriately, have enough help on hand (people, water and tools) and make a firebreak before you start. Call your local fire protection district chief to let them know you'll be conducting a debris burn. This saves them from sending emergency responders to your property if they are not needed. Do NOT burn on breezy afternoons.
Better yet, "Rake It and Take It" yard waste (limbs, pine needles, brush, etc.) to the burn pile at the Transfer Station on the south end of the turn-around. Remember, keep the pile neat. Woody debris only, no nails, no cardboard and no furniture! The Boise NF will burn the pile in the fall when it is safe and doesn't pollute our fine YP air.
YP Fire Commissioners:
Sue Holloway – District 1
Dan Stiff – District 2
Merrill Saleen – District 3
Tim Rogers – Fire Chief
Yellow Pine Fire Protection District Community Service Notice
The purpose of this letter is to show how you as a Yellow Pine Resident can help protect your structure against a wildland fire by being "Fire Wise." Click the link: to view 20190724 Yellow Pine Fire Protection mitigation
——–
Biz Listings:
The Corner (208) 633-3325
Starting Nov 3rd open 3 days a week on mail days.
— — — —
Yellow Pine Tavern (208) 633-2233
Winter Closure: November 14, 2020 to April 16, 2021
— — — —
Yellow Pine Lodge (208) 633-3377
Closed Nov 3rd for winter.
— — — —
Yellow Pine General Store (208) 633-3300
New owner, plans to open this spring.
— — — —
Murph's RV Park & Mary's Cabins
FB page link
— — — —
Knotty Kat Crochet Works – 208-502-0940
FB page link
open Tue – Sat, 9-5
Yellow Pine eggs $3/doz
— — — —
Buck Horn Outfitters LLC 208-633-3614
Tom & Sarah Lanham
156 Yellow Pine Ave, Yellow Pine Id 83677
website:
Facebook:
Wapiti Meadow Ranch – Johnson Creek (208) 633-3217
or 208-315-3554 – cabin rentals
website:
Deadwood Outfitters
website:
— — — —
Local Fuel Suppliers
Amerigas Phone: (208) 634-8181
Ed Staub & Sons Phone: (208) 634-3833
Diamond Fuel & Feed Phone: (208) 382-4430 open 830am-5pm Monday-Friday, closed weekends.
— — — —
Outside Biz that will service Yellow Pine:
The Star-News


click to subscribe:
A reminder that those who live in other states can subscribe to the online edition only since the mail can take days for hard copy to reach them.
Rocky Mountain Mechanical – Plumbing – Heating – Air conditioning
(208) 365-PIPE (7473), Emmett, will service Yellow Pine
Website:
Elkhorn Heating & Cooling
(208) 906-4067 Middleton, Idaho, will service Yellow Pine
B&T Safety Solutions LLC
208-271-1600 Based out of Donnelly
Snow removal, cleaning chimneys and stoves, we do cabin staining/chinking as well
— — — —
Follow The Yellow Pine Times on Facebook (updated more often than emails)
———————–
Local Observations:
Monday (Apr 5) overnight low of 33 degrees, started snowing before 9am, a fat 1/4″ by 930am and socked in down to the valley floor and snowing big flakes, light breeze, estimate an average of 2″ old snow on the ground (lots of bare ground, yet several inches remain in the deep shady places.) Male and female cassins finches, hairy and downy woodpeckers, juncos, nuthatches and chickadees visiting. Almost 2″ of snow fell before lunch time, tapering off to flakes, breaks in the clouds and ridges fogged in. Nearly all of the new snow had melted by early afternoon. Overcast, breezy and spitting snow for 10-15 minutes mid-afternoon, high of 44 degrees. Elk on the golf course around sunset. Cloudy and a little breezy but above freezing at dusk. Cloudy and calmer before midnight.
Tuesday (Apr 6) overnight low of 26 degrees, clear sky this morning. Half the ground or more is bare, 2-8″ snow remain in the shade, giving an average of 1″. The snow from yesterday melted down to 0.08″ water. Flicker calling, a few juncos, cassin's finches, clark's nutcracker, red-breasted nuthatches, mountain chickadees, jays, hairy woodpecker and pine squirrel visiting. Elk on the golf course at lunch time and half dozen nutcrackers foraging down the side of the road, clear and sunny. Warm, clear and light breeze mid-afternoon, high of 57 degrees. Still above freezing and clear at dark. Looked clear with sparkly stars before midnight.
Wednesday (Apr 7) overnight low of 23 degrees, clear sky this morning, the average snow depth is 1″, there is still 1-8″ of old snow in the shade. Tree swallows are back, calling and swooping, a few cassin's finches, jays, chickadees, nuthatches and 2 pine squirrels visiting. Warm, clear and breezy at lunch time. Mail truck made it in on time. A few clouds, warm and windy mid-afternoon, high of 62 degrees. Overcast and calmer before sunset. Above freezing, calm and partly cloudy at dusk. Elk in the neighborhood after dark. Cloudy before midnight.
Thursday (Apr 8) overnight low of 31 degrees, overcast and breezy this morning, a few flakes of snow around 945am. Most of the yard is bare except in the shade, reporting a trace of old snow. Red-breasted nuthatches, dark-eyed juncos, jays, hairy woodpecker and cassin's finches visiting. Snowing on and off, then snowing and sticking before lunch time, then another round of snow after lunch. Higher thinner clouds and new snow melted by early afternoon. Snowing on and off and breezy mid-afternoon, high of 43 degrees. Breaks in the clouds and scattered sunshine late afternoon. Elk on the golf course at sunset. Partly cloudy at dusk. Partly clear, breezy and getting cold before midnight. Clear after midnight.
Friday (Apr 9) overnight low of 16 degrees, yesterday's snow had melted (SWE=0.02″), clear sky this morning and cold light breeze. Jays, nuthatches, hairy woodpecker and 2 pine squirrels visiting. First sighting of a golden mantel ground squirrel. Clear, sunny and light breeze at lunch time. Clear and quite breezy mid-afternoon, high of 56 degrees. Clear and light breeze at dusk. Elk on the golf course as it was getting dark. Clear sky before midnight.
Saturday (Apr 10) overnight low of 25 degrees, broken overcast and calm this morning, a trace of old snow lingers in the shade. Hairy woodpecker visiting, flicker calling in the distance. Getting gusty at lunch time. Cloudy and blustery mid-afternoon, high of 53 degrees. A few flakes of snow around 5pm. Strong gusts of wind around 530pm. Calmer at 630pm. A few flakes of snow at sunset. Cloudy, above freezing and light breeze at dusk. Looked cloudy before midnight.
Sunday (Apr 11) overnight low of 18 degrees, clear sky and light breeze this morning, 95% bare ground. Robin calling, cassin's finches singing, hairy woodpecker and nuthatches visiting, flicker drumming off in the distance, and pine squirrels running about. Clear sky and gusty breezes at lunch time. Partly cloudy mid-afternoon and light breeze, high of 46 degrees. Mostly clear before sunset and above freezing.
——————
Idaho News:
312 new Idaho COVID-19 cases, 4 new deaths
April 9, 2021 Local News 8
Idaho officials reported 312 new COVID-19 cases and 4 new deaths on Friday.
That brings the total confirmed and probable cases reported since March to 183,153.
There are a total of 147,052 confirmed cases and 36,101 probable cases in all 44 of the 44 counties in Idaho, according to numbers released from the local health districts and the state. …
The state said 518,450 people have received the vaccine, and 838,855 total doses have been administered. …
The state said 12 new hospitalizations have been reported bringing the total number to 7,722 and 3 new cases have been admitted to the ICU bringing the total to 1,320.
There are 11,160 asymptomatic reported cases and 10,175 cases among health care workers.
4 new deaths were reported bringing the total recorded deaths to 1,993. …
full story:
— — — —
Idaho April 5th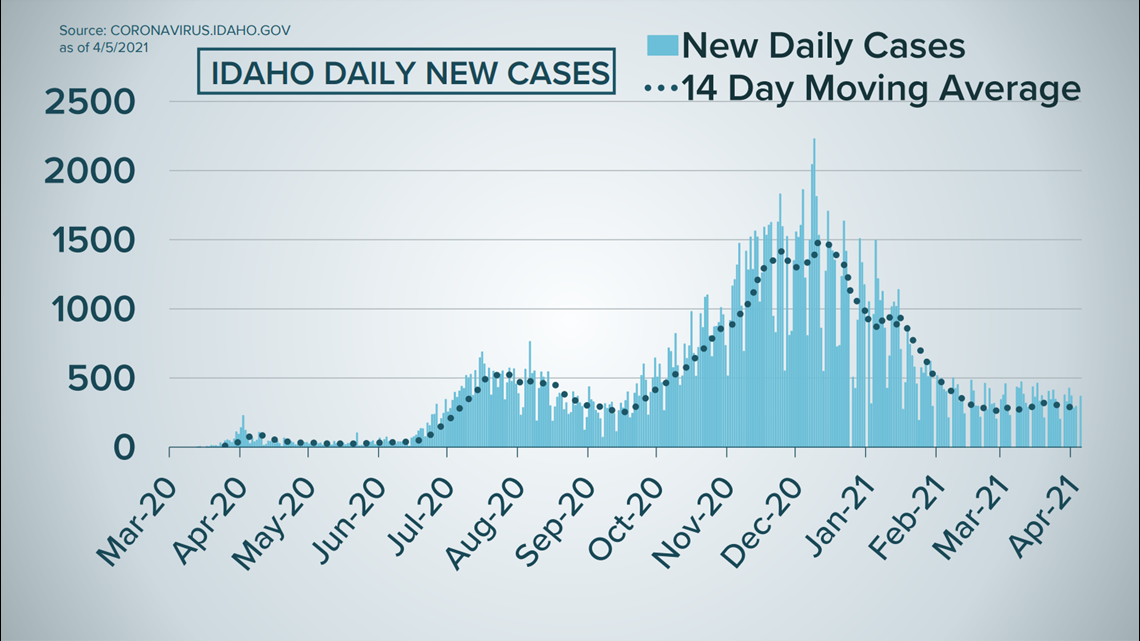 source: KTVB
— — — — — — — — — —
Valley County hospitals report no new COVID-19 cases
First time without new cases since March 2020
By Tom Grote for The Star-News April 8, 2021
No new positive cases of COVID-19 in Valley County were reported last week by the county's two hospitals for the first time in more than a year.
Both St. Luke's McCall and Cascade Medical Center reported no new cases of COVID-19 in the past week.
That hasn't happened since the first case was detected at St. Luke's McCall on March 19, 2020. Cascade Medical Center detected its first case on June 23, 2020.
Since then, each hospital has had some weeks where no new cases were reported, but last week was the first time that both hospitals reported no cases the previous week.
Administrators of both hospitals said the news was welcomed but expressed caution about the state of the pandemic.
"We need to see a lot more people coming in for vaccinations before we feel like we are out of the woods," Cascade Medical Center CEO Tom Reinhardt said.
"It's important not to let up too soon, and it is concerning that St. Luke's medical centers in other Idaho cities are seeing a rise in hospitalizations," said Amber Green, St. Luke's McCall Chief Operating Officer/Chief Nursing Officer.
"We have more tools in our tool belt to help fight COVID now and we need to continue to use them all," Green said. "Get vaccinated, wear masks, avoid large gatherings and wash your hands."
The total number of positive cases since the pandemic reached Valley County held at 731, the same number reported a week ago.
St. Luke's McCall on Tuesday reported 625 total positive cases, while Cascade Medical Center reported 106 total positive cases.
Five confirmed deaths and two suspected deaths related to COVID-19 among Valley County residents have been reported by Central District Health. ..
4,068 First Doses
A total of 4,068 people had received the first dose of the COVID-19 vaccine by this week by the two hospitals. The hospitals also had given out 2,710 of the required second doses of the vaccine.
St. Luke's McCall reported giving 2,337 first doses and 1,605 second doses since vaccinations started Jan. 13 through last Saturday. The hospital has appointments to give 300 vaccinations this week, both first and second doses.
Cascade Medical Center had given 1,731 first doses and 1,105 second doses by this week.
The pharmacy at the Albertsons supermarket in McCall also has been giving the COVID-19 vaccine, but company policy prohibits disclosure of the number of vaccines given, an Albertsons spokesperson in the company's corporate office in Boise said. …
New Testing
St. Luke's McCall has begun offering COVID-19 nasal swab testing for those not showing symptoms of the virus.
The tests are offered to:
• Those having exposure to someone with coronavirus at school or work.
• Those having exposure to someone with coronavirus in high-density or communal living.
• Those planning on traveling or who have completed traveling.
Those wishing to be tested should make an appointment using the same system noted above as those wishing to be vaccinated. Results will be posted in their myChart account, typically within 24 hours.
full story:
— — — — — — — — — —
McCall renews mask mandate for another 45 days within city limits
by CBS2 News Staff Friday, April 9th 2021
The McCall City Council renewed the city's mask mandate on Thursday for people within city limits for another 45 days.
The mask mandate will expire on May 26 and includes a $100 citation for violators.
At the end of the month, or early next month, the council will rediscuss the parameters that are guiding its decisions. Those include weekly case rates, Idaho rebound stages, and vaccination percentages.
continued:
— — — — — — — — — —
Valley County offers $500 grants to reduce wildfire risk
The Star-News April 8, 2021
Valley County is offering $500 grants through a new Firewise pilot program to encourage landowners to reduce wildfire risk on their property.
There are 20 awards available, with three being reserved for each of the county's three fire districts and one for a backcountry location. The remaining will be awarded by priority.
Applications will be reviewed by a panel of members from the Valley County Fire Working Group and final recipients will be approved by Valley County commissioners.
"The review panel is looking for innovative and creative projects that contribute to the community, even if the project is implemented only on one parcel," Stephanie Nelson of the Valley County Fire Working Group said.
Examples of approved uses of funds include:
• Removal of hazard fuels, such as trees, brush and pine needles, that require hired labor, equipment rental or supplies, including leaf bags and chainsaw gas.
• Landscape hardening and upgrading to Firewise plants.
• Upgrading building materials to those that are fire resistant.
• Improvements for soffits, attic screens, enclosing wood decks and firewood storage areas.
• Support for community work days.
• Development and implementation of evacuation signage.
• Disbursement of educational materials, contacting absentee landowners and informing the community about defending their homes against wildfire.
A site visit will be required during the application process and again for photos to be taken once the grant application is selected.
Successful applicants will be reimbursed for their approved, completed projects that meet agreed criteria.
The application deadline is May 2, and awards will be announced within two weeks. Projects must be completed by Aug. 1.
For more information, including applications and rules, email VCFirewise@gmail.com or visit the Valley County Fire Working Group's Facebook page.
source:
— — — — — — — — — —
McCall homeowners converting properties to vacation rentals, pushing locals out
"Every day there's somebody posting that they've been kicked out of their residence because it's being sold or turned into a vacation rental."
Katija Stjepovic (KTVB) April 8, 2021
The housing crisis that is so critical in the Treasure Valley, stretches all the way up to the banks of Payette Lake and beyond.
Residents in Valley County and McCall have been dealing with skyrocketing prices on homes and rentals. According to Zillow, the average home value in McCall is just about $463,000, up 11.4% from the past year.
West Central Mountains Economic Development Council said 3-bedroom units are regularly being advertised for about $3,000 a month.
continued:
— — — — — — — — — —
Highway 55 rockslide caused by water, cut made by ITD crews last year
by CBS2 News Staff Friday, April 9th 2021
The Idaho Transportation Department says the March 15 rockslide on Highway 55 was caused by melting snow and a cut made by crews last year.
"Water from melting snow seeped into and destabilized the hillside at a cut crews created last fall," according to ITD. "To prevent future localized slides, ITD is enhancing the reinforcement of the hillside as cuts are created."
The slide happened in a work zone where crews are actively cutting into the hillside to create extra room for Highway 55 and increase safety for drivers. Updates provide a reduction in the severity of curves, wider shoulders, and add guardrail and pullouts.
continued:
— — — — — — — — — —
Boise woman hurt in Sunday wreck on ID55 north of Cascade
The Star-News April 8, 2021
A Boise woman was injured when she rolled her mini-van on Idaho 55 about seven miles north of Cascade on Sunday, the Idaho State Police reported.
Kristen Wright, 36 was driving northbound at about 8:45 a.m. when she drove off the shoulder, over-corrected and rolled her vehicle, an ISP report said.
Wright and two juvenile passengers were taken by ambulance to Cascade Medical Center where Wright was flown by air ambulance to Saint Alphonsus Medical Center in Boise.
Wright was listed as being in good condition on Monday by a Saint Alphonsus media representative. The conditions of the two juveniles were not available,
Emergency vehicles cleared the scene at about 10:15 p.m., the ISP report said.
source:
— — — — — — — — — —
Water year ending with tight supply
April 7, 2021 Local News 8
A lack of precipitation during March resulted in near to below normal snowpack across most of the state as of April 1.
The Natural Resources Conservation Service said the vast majority of sites within the Snake River above Palisades Basin recorded record low precipitation in March.
As of April 1, total water precipitation in the Upper Sake is 80% of normal.
continued:
—————–
Scam Alert:
Have you been vaccinated for COVID-19? Watch out for this phishing scam, Idaho
Apr 07, 2021 Idaho Statesman
More than 800,000 COVID-19 vaccine doses have been administered in Idaho as of Wednesday, and the U.S. Department of Justice is warning citizens of a fake post-vaccine survey scam that they might encounter.
A phishing scheme sent via email or text message asks individuals to fill out a COVID-19 vaccine survey with the promise of a prize or cash at the conclusion of the survey, according to a recent news release from the Department of Justice's office of public affairs.
The surveys are used to steal money, and unlawfully capture bank and personal information, which increases the probability of identity theft.
continued: (KIVI)
————
Letter to Share:
It takes more than raking pine needles
A rite of spring for those who live among the trees is raking pine needles and gathering branches broken by winter snow. But Valley County has a way to turn this bit of housekeeping into something much bigger that could keep homes standing during a wildfire.
The county is offering 20 grants of $500 each to people living in neighborhoods that have been built inside a forest to get their homes prepared for the unthinkable – a wildfire started by lighting, an unattended campfire that reignites or a burn pile that gets blown out of control. The grants will promote methods of protecting homes known as Firewise.
The Firewise concept is not new, but needs to be reinforced with the annual churn of new county residents and those buying vacation homes in wildfire-prone areas. The most common methods seem simple enough: trim branches that overhang a home, porch, and deck; prune branches of large trees 10 feet from the ground; use crushed stone or gravel instead of mulches five feet around a house.
The problem is people may not have the time, physical ability, equipment or money that is needed to do these precautions. That is where the county's new grant program comes in. The money can be used to hire a tree service that can trim limbs around several homes or buy a dump truck filled with gravel to share among neighbors. And any job is easier if there are 10 people with shovels and rakes rather than one.
It may also convince those who have been putting off home improvements that now is the time to invest in fire-resistant roofing and siding that will vastly improve chances for survival in a wildfire. Or it could spur them to do something as simple yet effective as moving their firewood pile away from the wall of their house.
If enough people show an interest in the initial grant program, that will encourage Valley County commissioners to budget more than the paltry $10,000 allocated this year for future grants. State and federal agencies do what they can when a wildfire strikes on public land, but only action by individuals or groups of property owners can make those efforts pay off where it counts, which is saving homes.
source: The Star-News April 8, 2021
——————-
Public Lands:
Prescribed Burning update near Yellow Pine and Eiguren
The Krassel Ranger District is planning to start burning next week (4/13/21). Ignitions will occur in the 4 mile and Bald Hill projects areas. Priority units are Bald Hill units F,G and 4 mile unit G,A. Maps of the project areas can be found below. Units may be broken into smaller portions to aid in implementation. Ignitions should take 1-3 days for each project, with smoke and fire most likely present in the project area until the next significant precipitation.
Please email me with any questions or concerns.
Patrick Schon
Fire Management Specialist
Payette National Forest, East Zone
p: 208-634-0623
f: 208-634-0634
patrick.schon@usda.gov
— — — —
Payette National Forest plans prescribed burns through June
The Payette National Forest will be conducting multiple prescribed burns through June in an effort to improve the ability to protect local communities from wildfire.
The dates and times of the prescribed fires will depend on weather conditions.
The benefits of prescribed fires include reducing surface fuels, increasing the height of the canopy, promoting fire resilient trees and improving wildlife habitat.
The prescribed burns will include:
• McCall Ranger District: 350 acres in the Bear Basin area and West Face parking lot.
• New Meadows Ranger District: About 3,000 acres in Boulder Creek and 250 acres in the Meadows Slope project area.
• Krassel Ranger District: 3,800 acres in the Four Mile project area along the South Fork of the Salmon River near Reed Ranch and Poverty Flat campground.
Trailheads and roads that lead to these areas will be posted with caution signs and a map of the prescribed burn locations.
Fire personnel will work with the Idaho/Montana Airshed Group, the National Weather Service and the Idaho Department of Environmental Quality to ensure that smoke impacts are minimized, according to a recent press release.
For the most current information, visit (link) and search for Payette.
source: The Star-News April 8, 2021
— — — — — — — — — —
Public Comments Requested for Campgrounds Deferred Maintenance Project
New Meadows, Idaho, April 8, 2021— The New Meadows Ranger District of the Payette National Forest invites public input on the New Meadows Ranger District Campgrounds Deferred Maintenance Project. Scoping comments would be most helpful if submitted by May 7, 2021.
The campgrounds under consideration are located across the New Meadows Ranger District, from Lost Valley Reservoir to Hazard Lake, within Adams and Idaho counties. The district proposes this project to replace various features within the Cold Springs, Last Chance, Grouse, and Hazard Lake campgrounds, including fire rings, picnic tables, site markers, fee tubes, signs, and kiosks. At the Last Chance Campground, a fence and toilet are also proposed for replacement. Work is proposed to start this summer at Last Chance and Hazard Lake campgrounds.
"Camping is such a timelessly classic way to enjoy public lands and create great memories," said Erin Phelps, New Meadows District Ranger. "We're very excited about this opportunity to update our campgrounds and improve the visitor experience."
These projects would be funded by the Great American Outdoors Act, which was signed into law last year and is providing $285 million to the Forest Service in fiscal year 2021 to reduce the backlog of deferred maintenance across the agency. This funding will address critical maintenance needs across the Payette National Forest over the next five years. More information on the Great American Outdoors Act on USDA Forest Service lands can be found at (link)
. The scoping document provides more details on the project, as well as information on how to submit comments. The scoping document is available on the project webpage at (link) http://www.fs.usda.gov/project/?project=59802
For further information on the New Meadows Ranger District Campgrounds Deferred Maintenance Project, please contact Payette National Forest Central Zone Recreation Manager, Mike Beach at michael.beach@usda.gov.
Brian Harris
Public Affairs Officer
Tribal Liaison
Payette National Forest
— — — — — — — — — —
Payette forest to hold meeting Wed. on prescribed burning near NM
The Payette National Forest is seeking comments on a roughly 27,000-acre project that would include prescribed burns and tree thinning on land west and north of New Meadows for several years to come.
The project, called the Brush Mountain Ecosystem Maintenance Burn, is located in the Little Salmon River and Beaver Creek-Weiser River watersheds.
A virtual public meeting on the project is scheduled for Wednesday from 5:30 p.m. to 7 p.m. The meeting can be viewed online or by phone.
To access the meeting visit (link) and search for "Brush Mountain Ecosystem Maintenance Burn."
The area extends from about four miles west of New Meadows north into Idaho County and includes federal land in the New Meadows Ranger District, private land and land managed by the State of Idaho and Bureau of Land Management.
The project is expected to last between five to 10 years depending on how many landowners agree to participate, New Meadows District Ranger Erin Phelps said.
"Improving wildlife habitat and forest resilience is important to not only federal and state agencies, but private landowners and the general public as well," Phelps said.
The goals of the project are to improve habitat for elk, lynx, the white-headed woodpecker, northern goshawk and the northern Idaho ground squirrel. It also seeks to thin smaller trees and promote larger trees.
The prescribed burns would generally be done in the spring or fall. Thinning would be carried out to keep the fire from spreading out of the intended areas.
For more information on how to comment on the project or to request further information, contact Phil Roth, Fire and Fuels Specialist, at 208-271-2761 or philip.roth@usda.gov, or New Meadows District Ranger Erin Phelps at 208-514-5809 or erin.phelps@usda.gov.
Comments are requested before May 2.
source: The Star-News April 8, 2021
——————-
Critter News:
How you can keep your pet safe during tick season
By Lynsey Amundson Apr 06, 2021 KIVI
As temperatures start to warm up, and with more people recreating outside tick season is ramping up.
Habitat Veterinary Hospital said they are already starting to see an increase in animals coming into their clinics with ticks.
"It's that time of year and recently we have treated more dogs for ticks," Dr. Steve Baker, Habitat veterinarian said.
You should be on the lookout for ticks when you are hiking or in any wooded or grassy areas.
continued:
— — — — — — — — — —
Fish and Game seeks info on mountain lion poaching
April 6, 2021 Local News 8
The Idaho Fish and Game Department is seeking information about the poaching death of an adult female mountain lion.
The animal's body was found on Scout Mountain, south of Pocatello, on March 22. The lion was found off the Lead Draw-Crestline Connector Trail in Big Game Management Unit 70.
The female lion quota had been met in that unit in early February, meaning the animal was shot during a closed season.
Anyone with information about the case should contact the Citizens Against Poaching Hotline at 1-800-632-5999. Callers can remain anonymous and a reward is available for information leading to an arrest.
source:
— — — — — — — — — —
Information needed regarding swan shooting near Newdale
April 6, 2021 Local News 8
Conservation Officers are seeking information after discovering multiple dead trumpeter swans on March 27 at the intersection of 100 N. and 2750 E. in Fremont County, just north of Newdale.
Five swans in various states of decomposition are suspected to have been shot. Holes indicative of gunshot wounds were found in the three bird carcasses that were intact enough to perform necropsies on.
"Trumpeter swans are classified in Idaho as a Species of Greatest Conservation Need," wildlife biologist Matt Proett said. "Although large congregations of migrant swans may be observed in the agricultural landscape in winter, the summer breeding population in eastern Idaho is still quite low. We want to manage and conserve this iconic species for the enjoyment of future generations and poaching of trumpeter swans is taken very seriously."
continued:
—————
Letter to Share:
Gamebird Foundation Fundraiser
Ceramic designed sealed coasters
There are 160 different designs for you to look at. If you like birds, animals, scenery, find the humming birds, the pheasants, geese, elk, you can just about name it. If you have something you want painted, water or acrylic, Andy can do it. The coasters are 4×4 inches square with a cork back. The ceramic coaster design is sealed after the painting is put on so it just don't fade. The cork backing protects your fine furniture. I have not seen one of the fine pieces fade or chip and I know of some folks that have some for at least 10 years. The paintings on the coasters are from Andy's original paintings and they all have his signature on them. These are a real piece of art.
The ceramic coasters are $10.00 each plus shipping. I shipped 6 coasters the other day for under $10.00. It depends on the weight. I will take one to six coasters to the PO and get the exact amount for you and where you live.
All proceeds from the sale will go to the raising and feeding the baby chick pheasants and the Red-leg partridge. The membership donates the raising and care. TGBF is a 501C3 nonprofit and can be used for a tax deduction.
"The Pheasant Guy"
Jim Hagedorn
208-883-3423
Jhagedorn611@gmail.com
[Note: Contact The Pheasant Guy for photos and how to order.]
—————
Fish & Game News:
Idaho driver's license or state identification required to purchase adult resident Fish and Game licenses
By Emme Andersen, Customer Service Representative 1
Tuesday, April 6, 2021 – 12:55 PM MDT
A valid Idaho driver's license or identification card must be presented to a license vendor to purchase a resident hunting, fishing or trapping license in Idaho.
Idaho Fish and Game moved to a new sales and licensing system in November 2020 and with this move came several new changes. One such change is the requirement to produce a valid Idaho driver's license so it can be scanned when purchasing resident licenses, tags and permits from a vendor. For those who do not drive, an Idaho State Identification card is required.
Proof of residency is required to buy any resident license.
continued:
— — — — — — — — — —
Recreationists, homeowners and hunters are reminded grizzly bears are emerging from dens
Monday, April 5, 2021 – 9:28 AM MDT
Grizzlies are federally protected in Idaho and neighboring states
The U.S. Fish and Wildlife Service reminds the public to remain vigilant as grizzly bears emerge from their dens this spring. Most grizzly bear conflicts can be avoided by practicing the basic bear safety guidelines below. Feeding, approaching, or otherwise disturbing grizzly bears not only poses a significant threat to humans and bears but is also a federal offense under the Endangered Species Act.
Approaching, disturbing, or feeding bears, intentionally or accidentally, is extremely dangerous to both humans and bears. Feeding wildlife is likely to habituate animals to human development and create dangerous human food conditioned behavior, when this happens bears can become aggressive and pose a threat to human safety. Feeding also discourages wildlife from seeking natural food sources.
continued:
— — — — — — — — — —
April 5 Upper Salmon River Steelhead Fishing Report
By Brent Beller, Fisheries Biologist 1
Tuesday, April 6, 2021 – 8:26 AM MDT
During the past week, steelhead angler effort on the upper Salmon River continued to shift upstream. Angler effort downstream of Salmon was minimal, and the majority of anglers were observed near the confluence of the Pahsimeroi River or upstream of the East Fork Salmon River in location code 19.
The best catch rates for the week were observed upstream of the East Fork in location code 19, and anglers interviewed within that area averaged 13 hours per steelhead caught. Anglers interviewed downstream of North Fork in location code 15 averaged 64 hours per steelhead caught, and anglers interviewed upstream of North Fork in location code 16 averaged 22 hours per steelhead caught. Anglers interviewed upstream of the Lemhi River in location code 17 averaged 49 hours per steelhead caught, and anglers interviewed upstream of the Pahsimeroi River in location code 18 averaged 66 hours per steelhead caught.
continued:
— — — — — — — — — —
More F&G News Releases
link:
———————————-
Crazy Critter Stuff:
Some Alaska Costco shoppers say ravens steal their groceries
by The Associated Press Saturday, March 27th 2021
Some Alaska Costco shoppers said they've had their groceries stolen by ravens in the store parking lot.
Matt Lewallen said he was packing his groceries into his car in the parking lot of an Anchorage Costco when ravens swooped in to steal a short rib from his cart, the Anchorage Daily News reported Friday.
"I literally took 10 steps away and turned around, two ravens came down and instantly grabbed one out of the package, ripped it off and flew off with it," Lewallen said.
continued:
— — — —
Ravens Stealing Food
PBS 2007

—————-
Seasonal Humor:

—————