May 30, 2021 The Yellow Pine Times – Valley County, Idaho
Reminder: We are still under a boil water order.
Community Calendar:
April 17, 2020 – Boil water order issued
March 31 – Weight Limits on SF road
May 10 thru Oct 20 – Burn Permit season
May 15 – Firewood Season permits at The Corner
May 25 – Upper Johnson Creek road and Landmark Open
May 29 – Yellow Pine Escapade 10am ATV/UTV Rally
May 29 – Memorial Potluck 4pm Yellow Pine Tavern
May 29-30 Live music 6pm The Corner
June 2 – Amerigas delivery
June 2-5 Free Dump Days in Donnelly
June 6 – Planning meeting for festival
June 12 – YPFD meeting 10am at Fire Hall
June 12 – VYPA Meeting 2pm at Community Hall
July 2-4 Yard Sale Silver Dollar Cafe
July 10 – YPFD meeting 10am at Fire Hall
July 10 – VYPA Meeting 2pm at Community Hall
July 21-22 Mastercraft stove maintenance
(details below)
———-
Local Events:
Memorial Weekend Events
May 29, 2021 – Yellow Pine Escapade – ATV/UTV Rally at 10am
Join us on May 29th for another rally game. This year's Rally game is – Letter Tiles! Participants ride their vehicles in the 70 miles of identified area to participate in the game. The timeframe of this event is from 10:00 am to 3:00 pm. Participants begin and end the event at the Yellow Pine Community Hall.
$20 early online registration (link); $25 at the event. Funds raised from this event support the Yellow Pine Community Hall. FB link:
—
Memorial Day Potluck and Remembrance Saturday, May 29, 2021 at 4pm at The Yellow Pine Tavern
Gathering for Remembrance and Potluck. Burgers and Hot Dogs provided by the Tavern bring a dish or dessert if you wish.
Thank you for joining us in remembering Our departed Yellow Piners
Funds raised will go towards the July 4th Fireworks fund.
—
The Corner
Join us on Memorial Day Weekend for some great food and live music with Hannah Wickizer! She will be playing at 6pm on Saturday and Sunday.
Smoked brisket, tri tip, and chicken sandwiches will be waiting for you at The Corner on Memorial Day Weekend.
— — — —
General Store
The General Store plans a "soft opening" Memorial Day weekend with beer, beverages, and ice. Rooms, fuel, and laundry available now.
— — — —
Amerigas Delivery June 2
Tentative date for propane delivery is Wednesday, June 2nd. Call Amerigas if you need propane. (208) 634-8181
— — — —
June 2-5 Free Dump Days Donnelly
Free residential dumping of most materials taken at the Transfer Site [240 Spink Lane, Donnelly.] A perfect opportunity to start fresh for the summer.
A few reminders:
* Oversize items such as vehicles, boat trailers, watercraft, and special handling items will be charged at a reduced rate and, when applicable, must be accompanied by the title.
* Commercial dumping will be charged at the regular rate, and all large truck and trailer loads will be considered commercial.
* Household hazardous waste materials will NOT be accepted. Please retain these and plan to dispose of them at our scheduled Household Hazardous Waste Collection day on August 21, 2021.
— — — —
Next Festival Planning Meeting
Sunday, June 6, 2021, Zoom meeting at 2pm. Contact Deb for link and passcode.
— — — —
Heating Maintenance Day July 21-22
Deb Filler is coordinating with Mastercraft of McCall to schedule a maintenance day in Yellow Pine for propane and pellet stoves. If you are interested, please contact Deb at 208 633-6945. Mastercraft will be here July 21 and 22 to do stove maintenance.
— — — —
Yard Sale July 2-4
I am having a huge yard sale between the store and the Silver Dollar July 2nd, 3rd and 4th. Items include restaurant equipment, antiques, tools, building supplies, furniture, electrical wire, stainless steel cable, diesel heaters and much, much more.
-S Holloway
———-
Village News:
Water News May 30
All non essential water needs to be shut off. Filter cleaning today. Those at the top of the hill, water outage expected.
— — — —
Memorial at the Tavern
Had a great turnout for our Memorial Potluck got a bit busy and missed out on Photos of the event and great food. However we made close to $500 towards our 4th of July Fireworks Fund. Great Photos to share of our Karaoke singalong late in the evening though, with our next Generation of Karaoke Junkies coming up. Bringing up memories of our old times with Vickie and Karaoke at the Corner.

— — — —
Johnson Creek Road Officially Open
Report May 25th that Johnson Creek road is open at the upper end. The avalanche debris on Warm Lake road was removed by the County.
— — — —
Scrap Metal
Sharing a message that Mike Amos will haul out a load of scrap metal. If you have scrap metal, contact Mike. He has an area by his place to stack it.
— — — —
Dust Abatement
The infrastructure committee has determined to use Calcium Chloride this year (same stuff used on the E. Fork.) It is slightly less expensive than the Earthbind. If you are interested in dust abatement this year please let Deb Filler know. She can give you the cost information. If you would prefer the Earthbind (the stuff that was used last year) let Deb know that. If you choose Earthbind, North American Dust Control will bill you directly.
Dust abatement will occur once Landmark is open.
— — — —
Road News
Link: to current road reports.
Johnson Creek road is Open. The county cleared a large avalanche across Warm Lake road above the turnoff to North Shore Lodge.
South Fork Salmon River Road Spring weight limits are in effect March 31 through at least June 1st.
The Stibnite road between Yellow Pine and Stibnite mine is open.
Lick Creek, Profile Gap, Elk summit, Monumental summit and Deadwood summit are still closed.
The Hwy 55 project Smith's Ferry area: Will have 2 lanes open over Memorial Weekend. Starting June 1, crews will transition into their summer construction schedule. Drivers can anticipate single-lane, alternating traffic controlled by flaggers Monday – early Friday morning. From Friday morning – Sunday, and any major holidays, the road will be open to two lanes. This schedule will be in place until September. Project Website link:
— — — —
Critters
Ticks
* Know where to expect ticks. Many ticks live in grassy, brushy, or wooded areas. When possible, avoid wooded and brushy areas with tall grass and leaf litter. Walk in the center of trails, particularly in spring and summer when ticks feed.
* Wear appropriate clothing. When in tick habitats, wear light-colored, tightly woven long pants and long-sleeve shirt. Tuck your pant legs into socks or boots, and your shirt into your pants. This helps keep ticks on the outside of your clothing where you can spot them more easily.
* Use tick repellent when necessary, and carefully follow instructions on the label. Apply an EPA-registered repellent effective against ticks, such as those containing DEET to clothes and exposed skin, and permethrin to clothes and gear. Take care when applying repellent on children. EPA's search tool can help you find the repellent that best suits your needs.
* Check clothing, gear, and pets after being areas with ticks. Ticks can hitch a ride into your home on clothing and pets, then attach to you or a family member later. Carefully examine coats, camping gear, and daypacks. Don't forget your dog, see CDC's where to check your pet for ticks.
* Shower soon after being outdoors. Showering within two hours of coming can reduce your risk of getting Lyme disease and may be effective in reducing the risk of other tick-borne disease. Showering can wash off unattached ticks and it is a good opportunity to do a tick check.
* Check your body, your child and pets thoroughly for ticks. Carefully inspect areas in and around the hair, head, neck, ears, under arms, inside the belly button, around the waist, between the legs, and behind the knees. Ticks can be very small before they feed—look for what may appear like a new freckle or speck of dirt. Continue checking for two to three days after returning from areas with ticks.
Pine Martins & Raccoons
Watch your small pets. Reports of pine martins living in the dump and raccoons on the north side of the village.
Be Bear, Fox & Coyote Aware
* Do not feed them human food
* Secure your trash
* Feed domestic pets indoors
* Make sure your pets are updated on Rabies vaccines
* Small pets could become a snack
Be Mountain Lion Aware
Note: A report of a mountain lion near the upper end of the village.
* NEVER run away from a mountain lion. The lion's instinct is to chase and ultimately catch what they perceive as potential prey.
* NEVER turn your back on a lion. Always face them while making yourself look as large as you can. Yell loudly, but don't scream. A high-pitched scream may mimic the sound of a wounded animal.
* SLOWLY back away while maintaining eye contact with the lion.
* Safety equipment you may choose to carry could include bear spray, a noise device, like an air-horn, and if you walk in the dark, a very bright flashlight.
* If you are attacked, fight back!
— — — —
Yellow Pine US Mail
The 3-day a week mail delivery started Nov 2nd. The Post Office in Yellow Pine is open six days a week year around: M-F 845am-245pm Saturday 9am-245pm. Forever Stamp: 55 cents. Support our local post office and purchase your holiday stamps here.
— — — —
Yellow Pine Transfer Station
The bins were emptied May 22nd.
Yellow Pine Transfer Station (aka, the dump)
Please do not abuse our Transfer Station or we may lose it. Household trash must be placed in the bins, flattened cardboard boxes can also go into the bins. Do not stack trash in front of the doors. Woody yard debris only for the burn pile. No furniture, appliances, tires or construction debris allowed, those items must be hauled out to the Donnelly station by you.
The Yellow Pine Transfer Station is Valley County responsibility. If it is not kept tidy, use of the Transfer Station may be revoked. That would result in residents having to take all household trash and yard waste to the Donnelly Transfer Station.
If Dumpsters Are Full, Contact Lake Shore Disposal at: (208) 634-7176
———-
Local Groups
YPWUA News:
We are still under a Boil Order. Please conserve water. Turn off your trickles.
Update May 14, 2021: Kerry and Dion from Idaho Rural Water were onsite yesterday along with Nicki and me for leak detection in the "downtown" Yellow Pine grid.
Utilizing their leak detection equipment, and Nicki's knowledge of the distribution system, Kerry and Dion successfully located a number of leaks including a large leak at a fire hydrant. The fire hydrant was turned off and Tim, the fire chief, was notified that the hydrant is not operational.
Many small leaks were identified and marked, but of particular concern is the waterline that runs under the alley behind the hotel and all the way down to the community center. Numerous active leaks were located in that section. So many leaks exist along the alley that the best course of action is probably replacing the entire run of pipe.
Nicki followed up after the guys left and using her tablet and GPS program, accurately recorded the location of all the leaks identified. Now that a record of the leak locations exists, prioritization of the leaks and a plan to repair them can be developed.
Kerry and Dion were very thorough and helpful, and the work they completed will be beneficial to reducing demand on the system as a whole. Based on today's daily system data, reported this morning by Nicki, it appears that daily demand was reduced by approximately 10,000 gallons as a result of yesterday's work.
Regards, Warren Drake, Drake Diversified LLC
Update May 13, 2021: Cecil, Tom and Ron fixed a leaking valve which resulted in saving 5000 gallons of water!
Update May 6, 2021: The Yellow Pine Water Users Association, Yellow Pine, Idaho intends to file an application with the USDA, Rural Development to obtain a drinking water system facility planning grant. If any additional information is needed please contact: Willie Sullivan, Treasurer Ypwater @ gmail.com
The annual Water meeting for 2020 was held July 5th at the Community Hall 2pm.
link: minutes 20200705YPWUA.docx
Boil Your Water Before Using
Boil Water Order issued April 17, 2020.
Link: to Notice
— — — —
VYPA News:
VYPA Meetings are the 2nd Saturday of June, July, August, and September (June 12, July 10, August 14, September 11) at 2:00pm at the Community Hall.
Village Council members:
Deb Filler, Chairman
Matt Huber, Vice Chairman
Ronda Rogers, Treasurer
Rhonda Egbert, Secretary
Ron Noel, Member at Large
VYPA Bylaws adopted 8/8/2020 (link)
YPAC Corp Bylaws (link)
Festival
Want to join YPAC Corp in making a difference? We are raising money to benefit the Yellow Pine Music and Harmonica Festival . Any donation will help.
Each year, during the first full weekend of August, the sleepy mountain village of Yellow Pine is transformed into the largest festival of it's kind in the western hemisphere!
The festival is produced by volunteers and raises funds to support the village of Yellow Pine as well as the funds needed to hold next year's festival.
As you all know, the 2020 festival had to be cancelled due to Covid-19. This placed a significant burden on Yellow Pine to come up with enough funding to hold the 2021 festival this August 5, 6, 7.
Souvenirs and events at the festival help raise funds. We also know there are many of you who support the festival, but are not able to attend. This fund raiser is to give you an opportunity to help us help Yellow Pine.
Thanks in advance for your tax-deductible contribution to this cause that means so much to us!
GoFundMe link:
Anyone interested in being a part of the Festival Planning/Working committee, please contact Deb Filler. Meetings will begin at the end of January. Even if you aren't physically in YP, you can participate in the committee.
Next Festival Planning Meeting May 9, 2021 – Contact Deb for Zoom link and passcode.
2021 Planning Notes updated May 9, 2021 (link)
Yellow Pine Music and Harmonica Festival Policy and Procedure Link:
— — — —
YPFD News:
May 15, 2020 – there was a YPFD meeting 10am at the Fire Hall (no minutes yet.)
The Fire Station recently had a propane heater installed. The heater will be a great addition to the fire station. It will be more efficient at keeping the station above freezing during the winter, especially since we keep water in the engines so they are ready to roll if an emergency occurs. It will also make it more pleasant to hold meetings at the fire station. Big thanks to Fire Chief Tim Rogers for coordinating this.
Meeting schedule for the YPFD. All meetings are at the YPFD Station
Sat. May 15 at 10am
Sat. June 12 at 10am
Sat. July 10 at 10am
Sat. September 11 at 10am Budget Meeting
YP Fire District 2 (east of Yellow Pine Ave) up for election Nov 2nd for 4 year term (per Valley County.) Link:
YPFD had a budget meeting on September 30, 2020 at 10am at the fire station. (No minutes yet.)
Make sure to keep your chimney clean. Cleaning brushes can be borrowed from the YPFD.
Also if you are burning any piles of forest litter and debris – please have a connected and charged garden hose that can reach your piles. If your hose cannot reach where you are burning, follow the good advice of having a shovel, axe, and water bucket at the scene. Rake away from anything that could ignite. Stop burning if winds become an issue. Make sure your fire is out before you leave the area. Nothing like getting surprised by a escaped fire in the middle of the night!
Better yet, "Rake It and Take It" your yard waste (limbs, pine needles, brush, etc.) to the burn pile at the Transfer Station on the south end of the turn-around. Remember, keep the pile neat. Woody debris only, no nails, no cardboard and no furniture! The Boise NF will burn the pile in the fall when it is safe.
YPFD COVID19 Policy
link: YPFD Covid 19 SOP
link: Covid-19 EMS
YP Fire Commissioners:
Sue Holloway – District 1
Dan Stiff – District 2
Merrill Saleen – District 3
Tim Rogers – Fire Chief
Yellow Pine Fire Protection District Community Service Notice
The purpose of this letter is to show how you as a Yellow Pine Resident can help protect your structure against a wildland fire by being "Fire Wise." Click the link: to view 20190724 Yellow Pine Fire Protection mitigation
——–
Biz Listings:
The Corner (208) 633-3325
Hours: 11am-8pm, closed on Tuesdays
We offer smoked tri tip, brisket, and chicken sandwiches and also burgers and chicken wings.
Firewood Permits available May 15th.
— — — —
Yellow Pine Tavern (208) 633-2233
Yellow Pine Tavern open daily:
Monday thru Thursday 8am to 9pm
Friday and Saturday 8am to 10pm
Sunday 8am to 8pm
Indoor Dining with limited seating and Outdoor Dining Available.
Full Breakfast Menu. Burgers, Pizza, Fajitas, Beer, Wine and Pop
— — — —
Yellow Pine Lodge (208) 633-3377
Closed Nov 3rd for winter.
— — — —
Yellow Pine General Store (208) 633-3300
Rooms, fuel, and laundry available now. Store plans a "soft opening" Memorial Day weekend.
Email for reservations
— — — —
Murph's RV Park and Mary's Cabins
FB page link
— — — —
Knotty Kat Crochet Works – 208-502-0940
FB page link
open Tue – Sat, 9-5
Yellow Pine eggs $3/doz
— — — —
Buck Horn Outfitters LLC 208-633-3614
Tom & Sarah Lanham
156 Yellow Pine Ave, Yellow Pine Id 83677
website:
Facebook:
Wapiti Meadow Ranch – Johnson Creek (208) 633-3217
or 208-315-3554 – cabin rentals
website:
Deadwood Outfitters
website:
— — — —
Local Fuel Suppliers
Amerigas Phone: (208) 634-8181
Ed Staub & Sons Phone: (208) 634-3833
Diamond Fuel & Feed Phone: (208) 382-4430 open 830am-5pm Monday-Friday, closed weekends.
— — — —
Outside Biz that will service Yellow Pine:
The Star-News


click to subscribe:
A reminder that those who live in other states can subscribe to the online edition only since the mail can take days for hard copy to reach them.
Rocky Mountain Mechanical – Plumbing – Heating – Air conditioning
(208) 365-PIPE (7473), Emmett, will service Yellow Pine
Website:
Elkhorn Heating & Cooling
(208) 906-4067 Middleton, Idaho, will service Yellow Pine
B&T Safety Solutions LLC
208-271-1600 Based out of Donnelly
Snow removal, cleaning chimneys and stoves, we do cabin staining/chinking as well
— — — —
Follow The Yellow Pine Times on Facebook (updated more often than emails)
———————–
Local Observations:
Monday (May 24) the 24 hour low of 39 degrees was from Sunday morning's reset. Rain yesterday and during the night totaled 0.34″. This morning dark "cracked" overcast, foggy blobs mid-mountain. A few tree swallows, jays, several clark's nutcrackers, robins, a couple hummingbirds and cassins finches around. Dark overcast at lunch time. Pine squirrel mugging for peanuts, chipmunk and ground squirrels running amuck. About 10-15 minute rain shower with breezes late afternoon, followed by misty drops and calmer, then breaks in the clouds, high of 55 degrees. Mostly cloudy after sunset. Another rain shower at dusk for about an hour. Cloudy before midnight. More rain early morning.
Tuesday (May 25) overnight low of 37 degrees, dark low overcast and light rain this morning, 0.04″ in the last 24 hours. No swallows, but jays, robins and a few finches calling, hummingbirds, clark's nutcracker and a pair of black-headed grosbeaks visiting. Hawk in the neighborhood scaring the birds into hiding. Still raining pretty good before lunch time and getting breezy. Stopped raining, a few cracks in the overcast letting in more light and breezy just after lunch. Hairy and downy woodpeckers visiting, and ground squirrels running about. Bleeding hearts starting to bloom, lilacs are close to blooming. Another breezy rain shower mid-afternoon followed by broken overcast and bits of filtered sunshine, high of 57 degrees. Dark overcast and fairly calm early evening. Raining pretty good, dark and gusty before sunset. Stopped raining before dusk, foggy mountain peaks. Moon back-lighting the cloudy sky before midnight. Rain showers during the night and early morning.
Wednesday (May 26) 24 hour low of 40 degrees, 24 hour rain total = 0.41″. This morning dark overcast, foggy ridges and peaks. A few swallows are back, happy robins chirping, jays calling, a few finches and hummingbirds, black-headed grosbeaks, a clark's nutcracker and hairy woodpecker visiting. Dark overcast and cool at lunch time. Mail truck was a little late, came in Johnson Creek w/no problems. Breaks in the clouds early afternoon. Partly clear and warm late afternoon, high of 63 degrees. Increasing traffic. Warm and partly cloudy after sunset. Looked mostly clear before midnight.
Thursday (May 27) overnight low of 32 degrees, no rain yesterday, so far in May we have received 1.53″ of precipitation. This morning the sky is mostly hazy and light breeze. More tree swallows have returned, robins, finches, a hairy woodpecker, a few hummingbirds and jays calling. More traffic. Nearly overcast, warm and quite breezy at lunch time. Quite windy early afternoon, gusts 20+mph. Ground squirrels running around. Warm, windy and mostly cloudy late afternoon, high of 71 degrees. Low flying airplane at 626pm (and gusty.) Much lighter breezes by early evening and mostly cloudy. Calmer and mostly cloudy before dusk. Looked cloudy before midnight.
Friday (May 28) overnight low of 39 degrees, mostly cloudy with patches of blue sky and light breeze this morning. Air traffic. Lots of tree swallows swooping, robins calling, clark's nutcracker, cassins finches and a few hummingbirds visiting. Partly cloudy and breezy before lunch time. Mostly clear, warm and light breezes early afternoon. Increasing traffic. Clear sky, warm and cool breezes late afternoon, high of 66 degrees. Still warm, clear and slight breeze before dusk. Stars out in a clear sky before midnight.
Saturday (May 29) overnight low of 29 degrees, almost clear sky (patches of thin high haze,) light breezes and wet with dew. Air and street traffic. Tree swallows, robins, jays and finches calling, hairy woodpecker, a few hummingbirds and a clark's nutcracker visiting. Sunny and warm at lunch time. Increasing traffic, mostly ATVs and UTVs, some dirt bikes. Clear and warm early afternoon. Golfers out playing the Country Club. Quite warm by late afternoon, slight breeze and clear, high of 73 degrees. Clear and warm before dusk. Stars out before midnight.
Sunday (May 30) overnight low of 33 degrees, clear sky and light breeze this morning. Early air traffic. Swallows, jays, robins, pine squirrel, finches and evening grosbeaks calling. Sunny, warm and light breeze at lunch time. Quite warm by early afternoon, sunny and slight breeze. A couple hummingbirds and a downy woodpecker visiting, golden mantled and colombian ground squirrels running around. Increased street traffic and dust. Loud helicopter at 5pm. Very warm late afternoon, mostly clear and breezy, high of 79 degrees.
—————-
Poem
1976 Star-News
Dr. Barnett Rosenberg…
Is telling all his peers…
He's found the basic technique…
To live two hundred years…
With lower body temperature…
Conclusions have been drawn…
That aging is retarded…
And life can thus go on…
This only proves the theory…
Which is a general rule…
To live a long and happy life…
Just merely keep your cool.
[h/t LI]
——————
Idaho News:
COVID-19 Updates: 135 new Idaho COVID-19 cases, 0 new deaths
May 28, 2021 Local News 8
Idaho officials reported 135 new COVID-19 cases and zero new deaths Friday.
That brings the total confirmed and probable cases reported since March to 192,012. …
The state said 672,164 people have received the vaccine, and 1,220,941 total doses have been administered. 590,772 people are fully vaccinated. …
The age group with the most cases is 18-29 with 47,932 cases.
The state said 9 new hospitalizations have been reported bringing the total number to 8,582, and 1 new case has been admitted to the ICU bringing the total to 1,450.
There are 11,839 asymptomatic reported cases and 10,728 cases among health care workers.
full story: [Valley Co 847 cases, 6 deaths.]
— — — — — — — — — —
Valley County COVID-19 vaccination continues slow climb
By Tom Grote for The Star-News May 27, 2021
The total of eligible Valley County residents who had received at least one dose of the COVID-19 vaccine continued its slow climb during the past week, the Idaho Department of Health and Welfare reported.
A total of 54.7% of county residents age 12 and older had received the vaccine as of Monday, up from 53.4% the previous week, the H&W reported.
Four confirmed deaths and two suspected deaths related to COVID-19 among Valley County residents have been reported by Central District Health. A total of 755 positive cases have been reported in Valley County.
St. Luke's McCall offers the Pfizer vaccine, with walk-in shots available from 8 a.m. to 5 p.m. Monday through Friday at St. Luke's Clinic – Payette Lakes Family Medicine, 211 Forest St.
Minors must have parent or legal guardian permission to receive a COVID-19 vaccine. A parent or legal guardian should come with the child to provide consent at the appointment.
Written or verbal consent by phone may be accepted if a parent or legal guardian is not present. Minors also cannot schedule their own appointments in myChart.
Parents and children can also walk in to a vaccination clinic together or a parent can schedule an appointment for their child by calling 208-381-9500.
Cascade Medical Center offers both the Pfizer and Moderna vaccines during walk-in clinics held Monday through Friday from 8 a.m. to 5 p.m. at 402 Lake Cascade Pkwy in Cascade.
continued:
— — — — — — — — — —
St. Luke's McCall expands virtual care in the emergency department
By Laura Crawford for The Star-News May 21, 2021
Patients treated in St. Luke's McCall's emergency department not only get care from local physicians, nurses and clinical care teams on-site, but they are now able to be seen by specialists outside McCall.
The program, called the Virtual Hospital Emergency Department, will be set up in all nine emergency departments operated by St. Luke's Health system over the next several months.
"Having increased access to specialists in real time elevates the care we provide to our patients locally," said Dr. Jon Currey, St. Luke's Clinic-Payette Lakes Family Medicine physician.
continued:
— — — — — — — — — —
Tourists urged to make The McCall Promise
The McCall Area Chamber of Commerce & Visitors Bureau says the upcoming travel season inspires a renewed focus on core community values.
KTVB Staff May 26, 2021
With Memorial Day weekend just around the corner and the COVID-19 vaccine being rolled out, the city of McCall is anticipating more visitors in the coming weeks.
So, the city is asking visitors to follow some guidelines they are calling The McCall Promise.
"This summer will look a lot more familiar to McCall's frequent visitors than last summer, with the return of large events like the Fourth of July Fireworks and many other exciting things planned and hosted by our local businesses," McCall Area Chamber spokesperson McKenzie Kraemer said. "The goal of this effort is to remind our visitors of the qualities that originally attracted them to the community of McCall and of their role in preserving that character."
continued:
— — — — — — — — — —
CORRECTION
A story in The Star-News last week incorrectly stated the value of items to be taxed under the City of Cascade's 1% sales tax approved by voters on May 18. The tax will be applied to items valued under $1,000.
source: The Star-News May 27, 2021
— — — — — — — — — —
Volunteer groups continue to pick up loads of trash from Idaho recreation sites
Katija Stjepovic (KTVB) May 24, 2021
Cascade, Idaho — Multiple volunteer groups are working to combat the growing amount of trash and litter across the region. One Boise couple has picked up trash in Cascade twice in one year, gathering as much as 26 garbage bags worth of trash in a one-mile stretch.
What started out as a good deed is now becoming a concern.
"Cascade is near and dear to our hearts because we camp there, we ride there," said Darlene Smith, the president of the Idaho UTV Club. "I have lived here almost all my life and I have camped here almost all my life since I was a child, and I never ever saw what I am seeing today. It is disheartening to an Idaho native."
continued:
— — — — — — — — — —
ITD to double flaggers on Banks-Lowman intersection during busiest summer weekends
by CBS2 News Staff Tuesday, May 25th 2021
The Idaho Transportation Department announced Tuesday it will double the number of flaggers on the Banks-Lowman Road intersection during the busiest summer weekends.
Flaggers will be deployed on the six weekends that ITD anticipates to have the highest number of travelers. Flaggers have historically been used on three summer holidays: Memorial Day, Independence Day, and Labor Day.
The current flagging schedule will now include June 20, July 5, 11, 18, 25, and Sept. 6.
Memorial day was removed from the schedule after ITD analyzed travel data and noticed flaggers would be more effective during another day.
continued:
—————–
Public Lands:
Forest officials warn campers to be careful over Memorial Day weekend
by CBS2 News Staff Wednesday, May 26th 2021
Idaho City, Idaho (CBS2) — It's fair to say that a lot of people will be camping this Memorial Day weekend.
With so many folks out and about, the Boise National Forest is putting out a warning to help keep folks safe.
Be mindful of changing weather conditions and temperatures. And don't forget higher elevation areas may still have plenty of snow.
continued:
— — — — — — — — — —
Know Before You Go this Memorial Day!
Be prepared for your forest adventure and practice Leave No Trace
BOISE, Idaho, May 27, 2021—Boise National Forest employees would like you and your family to have a safe and enjoyable Memorial Day weekend and encourage everyone to Know Before You Go and practice the Seven Principles of Leave No Trace. For your safety, please do not to attempt to travel on any roads and trails at higher elevations that have remaining snowpack. In addition to the possibility of getting stuck without available rescue service and no cell service, driving on or off muddy roads and trails causes damage to the resources. Please check with your local Forest Service office for current campground, road and trail conditions, (link)
Please let someone know where you are going and when to expect you to return. Have an emergency plan in place. Conditions and temperatures are unpredictable and good preparation can save hours of discomfort.
Most lower elevation campgrounds on the Forest will be open with services. For a list of campgrounds opening dates visit: (link)
Campsites may be really hard to find this weekend and reservable sites are booked. It is a good idea to have a plan B, C or D. Campground reservations are only available in advance at (link) or by phone at 1-877-444-6777.
Forest visitors are encouraged to download Motor Vehicle Use Maps (MVUMs) using the Avenza app (link) to find out what roads and trails are open to motorized and nonmotorized use. You can also stop by a Boise NF District office (call ahead for opening hours), or the Visitor information Center at 1387 S. Vinnell Way in Boise, to buy a Forest map and pick up free 2021 MVUM.
Another important reminder is to put your campfire completely out when leaving your campsite for the day or for the weekend. Make sure there is no heat and it is cold to the touch. Have a great holiday and remember, whatever you pack in please pack out, especially your garbage.
Linda Steinhaus
Public Affairs Specialist
R4, Boise National Forest
— — — — — — — — — —
Mountain Pass Status from Payette NF
May 28, 2021 (via FB)
Headed out to the woods? Snow remains at higher elevations throughout the Payette National forest.
Mountain Pass Status:
Secesh Summit to Burgdorf/Warren – Open
Warren Summit – Open to the South Fork Salmon River
Landmark – Open
No Business – Open
Lick Creek Summit – Closed due to snow pack
Goose Lake Road – Closed beyond the Brundage Ski Resort turn off
Profile Gap Summit to Big Creek – Closed due to snow pack
Elk Summit – Closed due to snow pack
Cuddy Mt. to Buck Park – Closed due to snow pack
Note: Monumental summit is also still closed
— — — — — — — — — —
Survey kicks off Valley County Waterways Management Plan
The Star-News May 27, 2021
An online survey has been launched to begin the drafting of the Valley County Waterways Management Plan.
The plan is an effort by Valley County commissioners to make decisions about management of the county's lakes and the North Fork of the Payette River based on research rather than perceptions.
The survey can be taken at (link) through June 20.
Targeted in the survey are Payette Lake, Little Payette Lake, Upper Payette Lake, Lake Cascade, Warm Lake, reservoirs, alpine lakes and the North Fork north and south of Lake Cascade.
continued:
— — — — — — — — — —
Five years after the shutdown of Skinny Dipper Hot Springs, could it reopen?
The Bureau of Land Management committed in 2016 to keep the site closed for five years. But as that target draws closer, the hot spring's future remains unclear.
Katija Stjepovic (KTVB) May 24, 2021
Banks, Idaho, Idaho — If you squint, you could convince yourself not much has changed at Skinny Dipper Hot Springs in Boise County.
There's still the steep climb up to the site, located a rocky scramble up a hill overlooking the Banks-Lowman Road. Hot water still dribbles down from the geothermic spring deep under the ground. Steam hangs low over the wet rocks.
In one spot, enough of the warm water collects to make a shallow pool.
But the crowds are gone. The pipes that routed the hot water are disconnected. The big concrete pool – once deep enough to submerge up to your neck – has been ripped out. The one-time chatter of visitors has been replaced with the wind in the pines, the trickle of water and the quiet whoosh of the highway below.
continued:
— — — — — — — — — —
Lowman residents chide against Kirkham Hot Springs visitors leaving trash behind
Locals worry that the Forest Service might clamp down hard on the hot springs and close it down, much like what the BLM did with Skinny Dipper Hot Springs.
Chase Biefeldt (KTVB) May 25, 2021
Nestled along the Payette River and down Highway 21 from Lowman, Kirkham Hot Springs has become a flashpoint for the small Idaho community.
On Tuesday, county commissioners met with Lowman residents to discuss the issues locals and business owners see with the popular hot springs and to begin brainstorming solutions for the chronic issue.
"The diapers, the condoms, the female products, the cans and the needles. It is getting horrific. It is getting downright scary," Lowman resident Angela Hellwege told county commissioners on Tuesday.
continued:
— — — — — — — — — —
Trash continues to be an ongoing problem at Grimes Creek
KTVB Staff May 27, 2021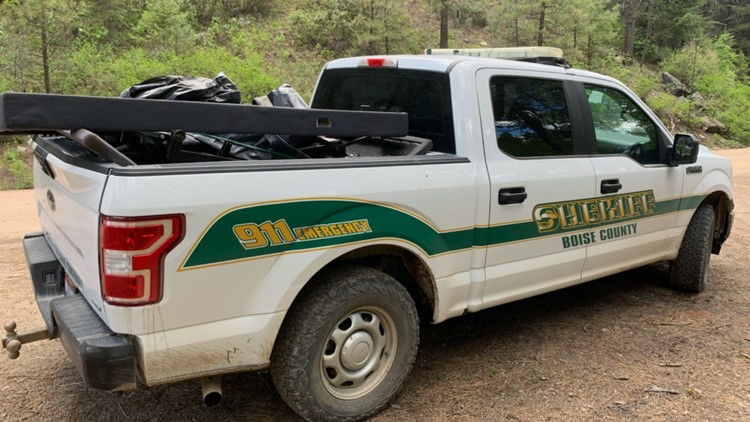 Credit: BCSO Deputy Reeder has been picking up trash from inconsiderate people on Grimes Creek. This trash is being left by locals and visitors.
"Please pick up after yourselves" – the Boise County Sheriff's Office made that plea in a post that also shows a deputy's pickup full of trash from the Grimes Creek area.
The message on Facebook also says the trash has been left by locals as well as visitors.
But it looks like the deputy isn't alone in the efforts to clean up Grimes Creek and other recreation areas in Boise County. Several residents commenting on Facebook, and some we've talked to for other stories, say they've been picking up trash too.
The county and the Forest Service issued an emergency area closure for Grimes Creek last fall because of damage and sanitation problems from heavy use.
source:
— — — — — — — — — —
USDA Forest Service St. Helens Mine Plan of Operations Update
May 28, 2021
The Forest Service is seeking comments on the proposed St. Helens Mine project on the McCall Ranger District of the Payette National Forest. A scoping document that provides more detailed information about the proposal is available on the project webpage at: (link).
The Forest Service is notifying potentially interested parties of this proposed action to gather pertinent feedback. To be most helpful, please submit your comments by July 1, 2021, and make your comments as specific as possible.
The project webpage provides you tools to engage in this process. From "Get Connected" on the right-hand side of the page, click on "Subscribe to Email Updates" if you wish to receive electronic communication about this project. Use the "Comment/Object on Project" link to access a simple webform to submit your comments on this project. The "Public Comment/Objection Reading Room" contains published comments received on this project.
Webform submission is preferred but written comments may be mailed to: District Ranger Jennifer Blake, 102 W Lake Street, McCall, ID 83638. Please be specific as to the project or projects on which you are commenting. Only those who subscribe to the GovDelivery mailing list or submit comments will receive future updates on this project.
Comments received in response to this request will be available for public inspection and will be released in their entirety if requested pursuant to the Freedom of Information Act. Comments received in response to this request will also be available for public inspection on the "Public Comment Reading Room" on the project webpage.
For further information on this project, please contact Forest Geologist Clint Hughes at 208-634-0756 or clinton.hughes@usda.gov.
————————-
Fire Season:
Bureau of Reclamation shares impacts over declining water storage ahead of summer
by Sarah Jacobsen Wednesday, May 26th 2021 CBS1
Water – it's essential to life here in the Treasure Valley.
But drought has taken hold of the West and the Gem State is no exception.
A drier than average spring, coupled with a below normal water year is raising questions over our reservoirs current capacity – which is on the decline.
continued:
— — — — — — — — — —
Water supply concerns mount as drought emergencies declared in 8 Idaho counties
by Deni Hawkins Friday, May 28th 2021 CBS2
The Idaho Department of Water Resources has declared drought emergencies for eight Idaho counties.
The emergencies are in place for Blaine, Butte, Camas, Clark, Custer, Fremont, Gooding, and Lincoln Counties in South Central Idaho.
The biggest water supply concerns are in the Big Wood Basin, but water managers say 19 counties in central and southern Idaho could be at risk for 'crop disaster losses.'
continued:
— — — — — — — — — —
Fire season in the West starts drier than last year: 'It's like having gasoline out there'
by Seth Borenstein AP Science Writer Monday, May 24th 2021
As bad as last year's record-shattering fire season was, the western U.S. starts this year's in even worse shape.
The soil in the West is record dry for this time of year. In much of the region, plants that fuel fires are also the driest scientists have seen.
Rainfall in the Rockies and farther west was the second lowest on record in April, according to the National Oceanic and Atmospheric Administration.
continued:
—————
Critter News:
Possible grizzly bear sighting in the Salmon area in 2020 confirmed by Fish and Game
by CBS2 News Staff Monday, May 24th 2021
Grizzly bears in Idaho area not uncommon.
But where in Idaho you find a grizzly is typically delegated to the northern panhandle and Yellowstone area in eastern Idaho.
But Idaho Fish and Game says it recently viewed video captured by a sportsman near the Continental Divide southeast of Salmon of a young grizzly bear in the spring of 2020.
"Although Idaho's known grizzly bear populations are in the northern Panhandle and the Greater Yellowstone Area in eastern Idaho, it's possible that grizzly bears could wander into the Salmon Region on a rare occasion where people aren't expecting them," Fish and Game says.
continued:
——————
Letter to Share:
Gamebird Foundation, Auction, Craft Fair. Yard Sale
The Gamebird Foundation [is] having a fundraiser to raise money to feed the baby chick pheasants and red-legs partridge. An estate donated all the reloading equipment from their father to the foundation for raising birds and releasing them [into the] wild. You won't want to miss this fun day. Open the attachment for more. For more information call 208-883-3423 or email jhagedorn611 @ gmail.com Please pass along to your friends. The birds need your help. If you want to help and donate just bring it and put it on the trailer. We still have space for crafts and donations.
When: June 5, 2021
Where: Viola, Idaho – South Main Street
Across from the Viola Community Center
8:00 AM: Yard and Craft Sale
10:30 AM: Auction Starts
The auction will consist of rifle reloading equipment, shells, casings, primers. There is just too much to list. 21 boxes of 16 gauge shot shells – Peters (a company that has been out of business for a great number of years), Remington, Federal. 410 shells, this is all lead shot. This will all be sold at Auction. It will be on display one hour before auction time. Auction will start at 10:30 AM – nothing will be sold before the Auction. This was donated to TGBF by an estate to help pay for the chick feed and brooders for pheasants and Red Legs raised and released by The Gamebird Foundation membership.
• Crafters, please call for a table space!
• Donations welcome (no clothes or books please)
• If you need more information, call Jim Hagedorn 208-883-3423
"The Pheasant Guy"
Jim Hagedorn
—————
Fish & Game News:
Chinook fishing on Lower Salmon River closes May 28
By Brian Pearson, Conservation Public Information Specialist
Tuesday, May 25, 2021
Seasons will remain open on the Little Salmon, Snake rivers
Idaho Fish and Game is closing salmon fishing on the Lower Salmon River, effective at the end of fishing hours on May 28, as Chinook salmon harvest is approaching current harvest objectives.
Chinook fishing will close from Rice Creek bridge upstream to Vinegar Creek. Seasons remain open on the Little Salmon River and Snake River.
continued:
— — — — — — — — — —
More F&G News Releases
link:
———————————-
Crazy Critter Stuff:
Smokey the Bear Song- Eddy Arnold (1952)

————–
Seasonal Humor:

—————-