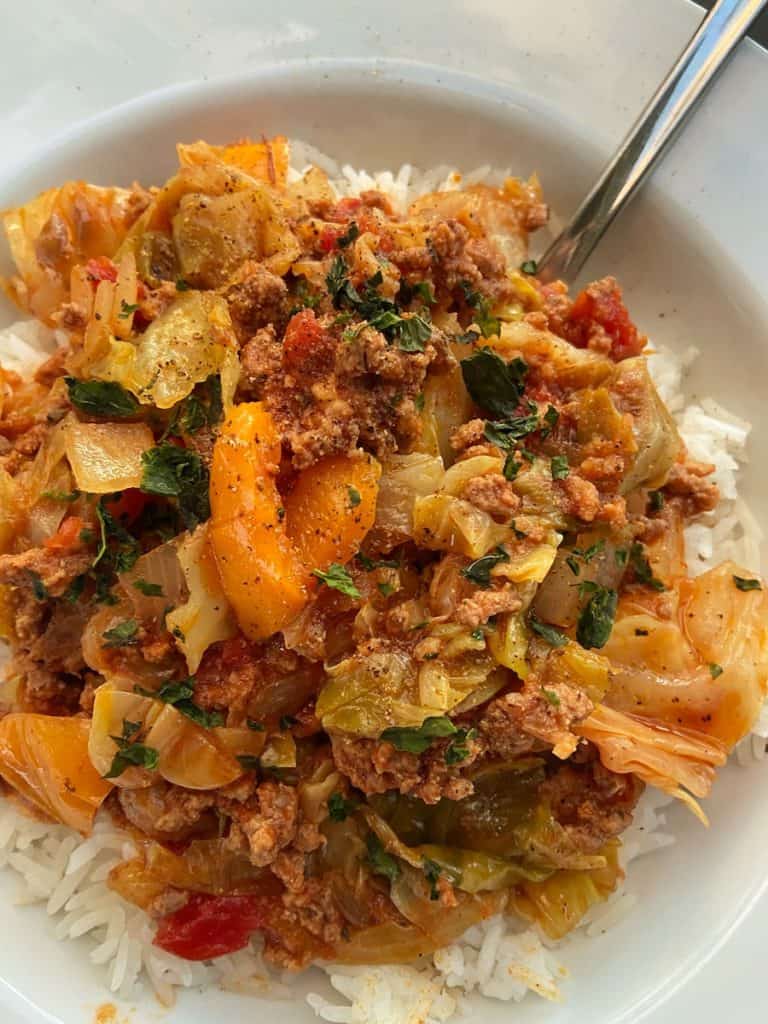 Recipe by Allisone Treadwell
4-6servings
Ingredients
1 pound lean ground beef
1 cup onion, chopped
1 orange bell pepper, chopped
3 garlic cloves, minced
1/2 teaspoon of salt
1/2 teaspoon of pepper
1/2 teaspoon thyme
1/2 teaspoon red pepper flakes
1/2 teaspoon sugar
1 head cabbage, coarsely chopped
1 (15 oz) can diced tomatoes, undrained
1 can tomato paste
3/4 cup water
Directions
Brown meat in pan and drain fat. Add half to the bottom of the Slow Cooker.
Combine thyme, red pepper flakes, sugar, salt and pepper in small bowl and stir. Sprinkle half of the seasoning over the top of the meat.
Add 1/2 the cabbage, bell peppers, onions and garlic.
Combine tomato paste and diced tomatoes and stir to combine. Pour half on top of veggies.
Repeat these layers one more time.
Take your tomato paste can and fill it with water, 3/4 cup water. Pour this liquid on top of everything.
Cover and cook on low for about 8 hours or on high for 4 hours.
Serve over rice or cauliflower rice.
——————