May 23, 2021 The Yellow Pine Times – Valley County, Idaho
Reminder: We are still under a boil water order.
Community Calendar:
April 17, 2020 – Boil water order issued
March 31 – Weight Limits on SF road
May 10-27 The Corner open weekends only
May 10 thru Oct 20 – Burn Permit season
May 15 – Firewood Season permits at The Corner
May 29 – Yellow Pine Escapade 10am ATV/UTV Rally
May 29 – Memorial Potluck 4pm Yellow Pine Tavern
May 29-30 Live music 6pm The Corner
June 6 – Planning meeting for festival
June 12 – YPFD meeting 10am at Fire Hall
June 12 – VYPA Meeting 2pm at Community Hall
July 2-4 Yard Sale Silver Dollar Cafe
July 10 – YPFD meeting 10am at Fire Hall
July 10 – VYPA Meeting 2pm at Community Hall
(details below)
———-
Local Events:
Memorial Weekend Events
May 29, 2021 – Yellow Pine Escapade – ATV/UTV Rally at 10am
Join us on May 29th for another rally game. This year's Rally game is – Letter Tiles! Participants ride their vehicles in the 70 miles of identified area to participate in the game. The timeframe of this event is from 10:00 am to 3:00 pm. Participants begin and end the event at the Yellow Pine Community Hall.
$20 early online registration (link); $25 at the event. Funds raised from this event support the Yellow Pine Community Hall. FB link:
—
Memorial Day Potluck and Remembrance Saturday, May 29, 2021 at 4pm at The Yellow Pine Tavern
Gathering for Remembrance and Potluck. Burgers and Hot Dogs provided by the Tavern bring a dish or dessert if you wish. Donations for a Memorial Plaque at the Golf Course
Thank you for joining us in remembering Our departed Yellow Piners
Your donations will go to restoring the sign that was hanging at the Yellow Pine Country Club Golf Course.
Any additional funds raised will go towards the July 4th Fireworks fund.
A Little History:
The Yellow Pine Country Club boasts the most challenging golf course in Idaho. Elk and deer have the right of way on the un-fairways. The first 9 holes were laid out by hurling a softball to mark the next hole! The Yellow Pine golf course, originally nine holes, was first built in 1989. The Course was altered in 1998 and was increased to the present 18 holes and entirely within the boundaries of the Boise National Forest. Subsequent brush and dead tree removal was done by local volunteers, Cascade Ranger District Personnel and inmates from Valley Co. Sheriffs Office. Local Yellow Piners have been mainly responsible for construction and maintenance. Uppermost of them have been Bud Boyd, John Hanson & Dennis Wiley. Many others have also contributed over the years to this effort. Please understand that this recreational facility is on Public Lands and subject to USFS Regulation and Supervision. Your assistance in keeping the course clean is appreciated. Golf equipment is available at the YP General store.

—
The Corner 6pm Saturday and Sunday
Join us on Memorial Day Weekend for some great food and live music with Hannah Wickizer! She will be playing at 6pm on Saturday and Sunday.
Smoked brisket, tri tip, and chicken sandwiches will be waiting for you at The Corner on Memorial Day Weekend.
— — — —
Next Festival Planning Meeting
Sunday, June 6, 2021, Zoom meeting at 2pm. Contact Deb for link and passcode.
— — — —
Heating Maintenance Day
Deb Filler is coordinating with Mastercraft of McCall to schedule a maintenance day in Yellow Pine for propane and pellet stoves. If you are interested, please contact Deb at 208 633-6945. The date will be after Lick Creek road opens.
— — — —
Yard Sale July 2-4
I am having a huge yard sale between the store and the Silver Dollar July 2nd, 3rd and 4th. Items include restaurant equipment, antiques, tools, building supplies, furniture, electrical wire, stainless steel cable, diesel heaters and much, much more.
-S Holloway
———-
Village News:
Plumbers Visit Yellow Pine
Keaton and Robert from Rocky Mountain Mechanical traveled to Yellow Pine from Emmett Monday evening, and spent the night in the motel rooms behind the General Store. Then Tuesday (May 18) morning bright and early they started the first of several plumbing projects for locals. These guys are fast, efficient, clean and courteous professionals. We are lucky they are willing to travel to our remote location.

— — — —
Scrap Metal
Sharing a message that Mike Amos will haul out a load of scrap metal. If you have scrap metal, contact Mike. He has an area by his place to stack it.
— — — —
Dust Abatement
The infrastructure committee has determined to use Calcium Chloride this year (same stuff used on the E. Fork.) It is slightly less expensive than the Earthbind. If you are interested in dust abatement this year please let Deb Filler know. She can give you the cost information. If you would prefer the Earthbind (the stuff that was used last year) let Deb know that. If you choose Earthbind, North American Dust Control will bill you directly.
Dust abatement will occur once Landmark is open.
— — — —
The Corner
As of Monday 5/10 we will only be open on the weekends, until Memorial Day. Friday-Sunday 11am-8pm
— — — —
Yellow Pine General Store
Laundry is open, gas available and rooms for rent. The store plans to open by Memorial Weekend.
— — — —
Road News
Link: to current road reports.
Upper Johnson Creek road is still closed at Landmark. There was a large avalanche across Warm Lake road above the turnoff to North Shore Lodge.
The Stibnite road between Yellow Pine and Stibnite mine is open.
The Hwy 55 project Smith's Ferry area: Will have 2 lanes open over Memorial Weekend. Starting June 1, crews will transition into their summer construction schedule. Drivers can anticipate single-lane, alternating traffic controlled by flaggers Monday – early Friday morning. From Friday morning – Sunday, and any major holidays, the road will be open to two lanes. This schedule will be in place until September. Project Website link:
South Fork Salmon River Spring weight limits are in effect March 31 through at least June 1st.
— — — —
Critters
Ticks
Tick season is in full swing, and they are numerous this year. Check your dogs and yourself after a walk in the woods.
Pine Martins & Raccoons
Watch your small pets. Reports of pine martins living in the dump and raccoons on the north side of the village.
Be Bear, Fox & Coyote Aware
* Do not feed them human food
* Secure your trash
* Feed domestic pets indoors
* Make sure your pets are updated on Rabies vaccines
* Small pets could become a snack
Be Mountain Lion Aware
Note: A report of a mountain lion near the upper end of the village.
* NEVER run away from a mountain lion. The lion's instinct is to chase and ultimately catch what they perceive as potential prey.
* NEVER turn your back on a lion. Always face them while making yourself look as large as you can. Yell loudly, but don't scream. A high-pitched scream may mimic the sound of a wounded animal.
* SLOWLY back away while maintaining eye contact with the lion.
* Safety equipment you may choose to carry could include bear spray, a noise device, like an air-horn, and if you walk in the dark, a very bright flashlight.
* If you are attacked, fight back!
— — — —
Yellow Pine US Mail
The 3-day a week mail delivery started Nov 2nd. The Post Office in Yellow Pine is open six days a week year around: M-F 845am-245pm Saturday 9am-245pm. Forever Stamp: 55 cents. Support our local post office and purchase your holiday stamps here.
— — — —
Yellow Pine Transfer Station
The bins were emptied May 22nd.
Yellow Pine Transfer Station (aka, the dump)
Please do not abuse our Transfer Station or we may lose it. Household trash must be placed in the bins, flattened cardboard boxes can also go into the bins. Do not stack trash in front of the doors. Woody yard debris only for the burn pile. No furniture, appliances, tires or construction debris allowed, those items must be hauled out to the Donnelly station by you.
The Yellow Pine Transfer Station is Valley County responsibility. If it is not kept tidy, use of the Transfer Station may be revoked. That would result in residents having to take all household trash and yard waste to the Donnelly Transfer Station.
If Dumpsters Are Full, Contact Lake Shore Disposal at: (208) 634-7176
———-
Local Groups
YPWUA News:
We are still under a Boil Order. Please conserve water. Turn off your trickles.
Update May 14, 2021: Kerry and Dion from Idaho Rural Water were onsite yesterday along with Nicki and me for leak detection in the "downtown" Yellow Pine grid.
Utilizing their leak detection equipment, and Nicki's knowledge of the distribution system, Kerry and Dion successfully located a number of leaks including a large leak at a fire hydrant. The fire hydrant was turned off and Tim, the fire chief, was notified that the hydrant is not operational.
Many small leaks were identified and marked, but of particular concern is the waterline that runs under the alley behind the hotel and all the way down to the community center. Numerous active leaks were located in that section. So many leaks exist along the alley that the best course of action is probably replacing the entire run of pipe.
Nicki followed up after the guys left and using her tablet and GPS program, accurately recorded the location of all the leaks identified. Now that a record of the leak locations exists, prioritization of the leaks and a plan to repair them can be developed.
Kerry and Dion were very thorough and helpful, and the work they completed will be beneficial to reducing demand on the system as a whole. Based on today's daily system data, reported this morning by Nicki, it appears that daily demand was reduced by approximately 10,000 gallons as a result of yesterday's work.
Regards, Warren Drake, Drake Diversified LLC
Update May 13, 2021: Cecil, Tom and Ron fixed a leaking valve which resulted in saving 5000 gallons of water!
Update May 6, 2021: The Yellow Pine Water Users Association, Yellow Pine, Idaho intends to file an application with the USDA, Rural Development to obtain a drinking water system facility planning grant. If any additional information is needed please contact: Willie Sullivan, Treasurer Ypwater @ gmail.com
The annual Water meeting for 2020 was held July 5th at the Community Hall 2pm.
link: minutes 20200705YPWUA.docx
Boil Your Water Before Using
Boil Water Order issued April 17, 2020.
Link: to Notice
— — — —
VYPA News:
VYPA Meetings are the 2nd Saturday of June, July, August, and September (June 12, July 10, August 14, September 11) at 2:00pm at the Community Hall.
Village Council members:
Deb Filler, Chairman
Matt Huber, Vice Chairman
Ronda Rogers, Treasurer
Rhonda Egbert, Secretary
Ron Noel, Member at Large
VYPA Bylaws adopted 8/8/2020 (link)
YPAC Corp Bylaws (link)
Festival
Want to join YPAC Corp in making a difference? We are raising money to benefit the Yellow Pine Music and Harmonica Festival . Any donation will help.
Each year, during the first full weekend of August, the sleepy mountain village of Yellow Pine is transformed into the largest festival of it's kind in the western hemisphere!
The festival is produced by volunteers and raises funds to support the village of Yellow Pine as well as the funds needed to hold next year's festival.
As you all know, the 2020 festival had to be cancelled due to Covid-19. This placed a significant burden on Yellow Pine to come up with enough funding to hold the 2021 festival this August 5, 6, 7.
Souvenirs and events at the festival help raise funds. We also know there are many of you who support the festival, but are not able to attend. This fund raiser is to give you an opportunity to help us help Yellow Pine.
Thanks in advance for your tax-deductible contribution to this cause that means so much to us!
GoFundMe link:
Anyone interested in being a part of the Festival Planning/Working committee, please contact Deb Filler. Meetings will begin at the end of January. Even if you aren't physically in YP, you can participate in the committee.
Next Festival Planning Meeting May 9, 2021 – Contact Deb for Zoom link and passcode.
2021 Planning Notes updated May 9, 2021 (link)
Yellow Pine Music and Harmonica Festival Policy and Procedure Link:
— — — —
YPFD News:
May 15, 2020 – there was a YPFD meeting 10am at the Fire Hall (no minutes yet.)
The Fire Station recently had a propane heater installed. The heater will be a great addition to the fire station. It will be more efficient at keeping the station above freezing during the winter, especially since we keep water in the engines so they are ready to roll if an emergency occurs. It will also make it more pleasant to hold meetings at the fire station. Big thanks to Fire Chief Tim Rogers for coordinating this.
Meeting schedule for the YPFD. All meetings are at the YPFD Station
Sat. May 15 at 10am
Sat. June 12 at 10am
Sat. July 10 at 10am
Sat. September 11 at 10am Budget Meeting
YP Fire District 2 (east of Yellow Pine Ave) up for election Nov 2nd for 4 year term (per Valley County.) Link:
YPFD had a budget meeting on September 30, 2020 at 10am at the fire station. (No minutes yet.)
Make sure to keep your chimney clean. Cleaning brushes can be borrowed from the YPFD.
Also if you are burning any piles of forest litter and debris – please have a connected and charged garden hose that can reach your piles. If your hose cannot reach where you are burning, follow the good advice of having a shovel, axe, and water bucket at the scene. Rake away from anything that could ignite. Stop burning if winds become an issue. Make sure your fire is out before you leave the area. Nothing like getting surprised by a escaped fire in the middle of the night!
Better yet, "Rake It and Take It" your yard waste (limbs, pine needles, brush, etc.) to the burn pile at the Transfer Station on the south end of the turn-around. Remember, keep the pile neat. Woody debris only, no nails, no cardboard and no furniture! The Boise NF will burn the pile in the fall when it is safe.
YPFD COVID19 Policy
link: YPFD Covid 19 SOP
link: Covid-19 EMS
YP Fire Commissioners:
Sue Holloway – District 1
Dan Stiff – District 2
Merrill Saleen – District 3
Tim Rogers – Fire Chief
Yellow Pine Fire Protection District Community Service Notice
The purpose of this letter is to show how you as a Yellow Pine Resident can help protect your structure against a wildland fire by being "Fire Wise." Click the link: to view 20190724 Yellow Pine Fire Protection mitigation
——–
Biz Listings:
The Corner (208) 633-3325
As of Monday 5/10 we will only be open on the weekends, until Memorial Day. Friday-Sunday 11am-8pm
We offer smoked tri tip, brisket, and chicken sandwiches and also burgers and chicken wings.
Firewood Permits available May 15th.
— — — —
Yellow Pine Tavern (208) 633-2233
Yellow Pine Tavern open daily:
Monday thru Thursday 8am to 9pm
Friday and Saturday 8am to 10pm
Sunday 8am to 8pm
Indoor Dining with limited seating and Outdoor Dining Available.
Full Breakfast Menu. Burgers, Pizza, Fajitas, Beer, Wine and Pop
— — — —
Yellow Pine Lodge (208) 633-3377
Closed Nov 3rd for winter.
— — — —
Yellow Pine General Store (208) 633-3300
Rooms, fuel, and laundry available now. Store plans to open by Memorial Day weekend.
Email for reservations
— — — —
Murph's RV Park and Mary's Cabins
FB page link
— — — —
Knotty Kat Crochet Works – 208-502-0940
FB page link
open Tue – Sat, 9-5
Yellow Pine eggs $3/doz
— — — —
Buck Horn Outfitters LLC 208-633-3614
Tom & Sarah Lanham
156 Yellow Pine Ave, Yellow Pine Id 83677
website:
Facebook:
Wapiti Meadow Ranch – Johnson Creek (208) 633-3217
or 208-315-3554 – cabin rentals
website:
Deadwood Outfitters
website:
— — — —
Local Fuel Suppliers
Amerigas Phone: (208) 634-8181
Ed Staub & Sons Phone: (208) 634-3833
Diamond Fuel & Feed Phone: (208) 382-4430 open 830am-5pm Monday-Friday, closed weekends.
— — — —
Outside Biz that will service Yellow Pine:
The Star-News


click to subscribe:
A reminder that those who live in other states can subscribe to the online edition only since the mail can take days for hard copy to reach them.
Rocky Mountain Mechanical – Plumbing – Heating – Air conditioning
(208) 365-PIPE (7473), Emmett, will service Yellow Pine
Website:
Elkhorn Heating & Cooling
(208) 906-4067 Middleton, Idaho, will service Yellow Pine
B&T Safety Solutions LLC
208-271-1600 Based out of Donnelly
Snow removal, cleaning chimneys and stoves, we do cabin staining/chinking as well
— — — —
Follow The Yellow Pine Times on Facebook (updated more often than emails)
———————–
Local Observations:
Monday (May 17) overnight low of 36 degrees, clear sky and warm this morning. Swallows, finches, hummingbirds, jays and a downy woodpecker sighted. All 4 species of local squirrels made an appearance, Colombian, Golden-mantled, chipmunk and pine squirrel. Warm, clear and light breezes at lunch time. Partly cloudy, warm and breezy early afternoon. Very warm, partly cloudy and light breezes late afternoon, high of 81 degrees. So quiet you can hear the river. Warm, clear, calmer and robins calling at dusk. Thin crescent moon high in the sky at 930pm. Stars out before midnight.
Tuesday (May 18) overnight low of 37 degrees, clear sky and not much dew this morning. Early morning sharp-shinned hawk. Swallows and robins calling. Rocky Mt. Plumbers were in YP this morning. Breezy before lunch time. Mostly clear and breezy at noon. A few finches, hummingbirds and jays visiting. Colombian ground squirrels, a chipmunk and a pine squirrel stopped by. Partly cloudy, a little breezy and milder temperatures late afternoon, high of 70 degrees. Partly cloudy and calmer at dusk, robins calling. Calm, partly clear and quiet before midnight – no frogs.
Wednesday (May 19) overnight low of 40 degrees, dark overcast sky this morning. Not many birds around. Getting breezy before lunch time. Mail truck made it in on time. Dark clouds and breezy early afternoon. A few finches, hummingbirds, colombian ground squirrels and 2 pine squirrels chasing each other. Sprinkles mid-afternoon. Cooler, low overcast (VanMeter stocked in) and sprinkles on and off late afternoon, high of 54 degrees. Steady rain early evening. Foggy ridges and cooler at dusk, a break in the rain, and happy robins chirping. Raining again pretty good after dark. Steady rain before midnight. Light sprinkles after midnight.
Thursday (May 20) overnight low of 32 degrees, yesterday's rain total 0.49″. A trace of snow was reported from the upper side of the village. This morning dark overcast, light sprinkles and foggy ridges, snow on Golden Gate hill. Light sprinkles of rain on and off all morning. No swallows around, robins chirping, a couple of jays, a few finches and evening grosbeaks visiting – then a sharp-shinned hawk showed up and the songbirds birds fled. Light sprinkles at noon for about an hour. Light sprinkles early afternoon. Ground squirrels and a chipmunk running about. Breaks in the overcast, cool and light breezes late afternoon, high of 44 degrees. Cool and cloudy at dark and not raining. Cloudy before midnight. No rain during the night.
Friday (May 21) overnight low of 37 degrees, yesterday's sprinkles added up to 0.03″. This morning dark overcast, clouds sitting down on top of VanMeter. No swallows around. Jays, collared dove and hairy woodpecker calling, a few finches, male and female black-headed grosbeaks, ground squirrels, a golden-mantled and a chipmunk visiting. Cloudy at lunch time. Cloudy afternoon and light breezes, high of 52 degrees. A 10 minutes sprinkle of rain early evening and a bit breezy, then lowering clouds and steady rain for less than an hour. Overcast and calm before dusk. Looked cloudy and not raining before midnight.
Saturday (May 22) overnight low of 35 degrees, yesterday's sprinkles measured 0.03″ again. This morning partly cloud to mostly clear and breezy. A few tree swallows have returned, cassin's finches, jays, a clark's nutcracker and a red-breasted nuthatch visited. Mostly cloudy with scattered sunshine and breezy at lunch time. Golden-mantled, chipmunk and colombian ground squirrels running about. Mostly cloudy and quite gusty mid-afternoon. Warm, mostly cloudy and breezy late afternoon, high of 64 degrees. Mostly cloudy and light breezes just before dusk. Quiet evening. Looked cloudy before midnight.
Sunday (May 23) overnight low of 33 degrees, no rain yesterday, this morning dark overcast. A few swallows swooping and calling. Finally getting some rain late morning. Dark clouds and still raining at lunch time. Several cassin's finches visiting. Early afternoon low dark clouds (VanMeter fogged in) and rain continued until mid-afternoon. Dark clouds and fairly calm late afternoon, high of 48 degrees. Jays, finches and robins calling, black-headed grosbeak and clark's nutcracker visiting, ground squirrels running around.
—————-
Idaho News:
COVID-19 Updates: 168 new Idaho COVID-19 cases, 0 new deaths
May 21, 2021 Local News 8
Idaho officials reported 168 new COVID-19 cases and zero new deaths Friday.
That brings the total confirmed and probable cases reported since March to 191,068.
There are a total of 152,929 confirmed cases and 38,139 probable cases in all 44 of the 44 counties in Idaho, according to numbers released from the local health districts and the state. …
The state said 653,587 people have received the vaccine, and 1,189,080 total doses have been administered. 574,574 people are fully vaccinated. …
The age group with the most cases is 18-29 with 47,736 cases.
The state said 7 new hospitalizations have been reported bringing the total number to 8,333, and 1 new case has been admitted to the ICU bringing the total to 1,408. …
275 vaccine breakthrough cases have been reported.
Zero new deaths were reported bringing the total recorded deaths to 2,080.
full story: [Valley County 843 cases, 6 deaths.]
— — —
Idaho Hospitalizations May 12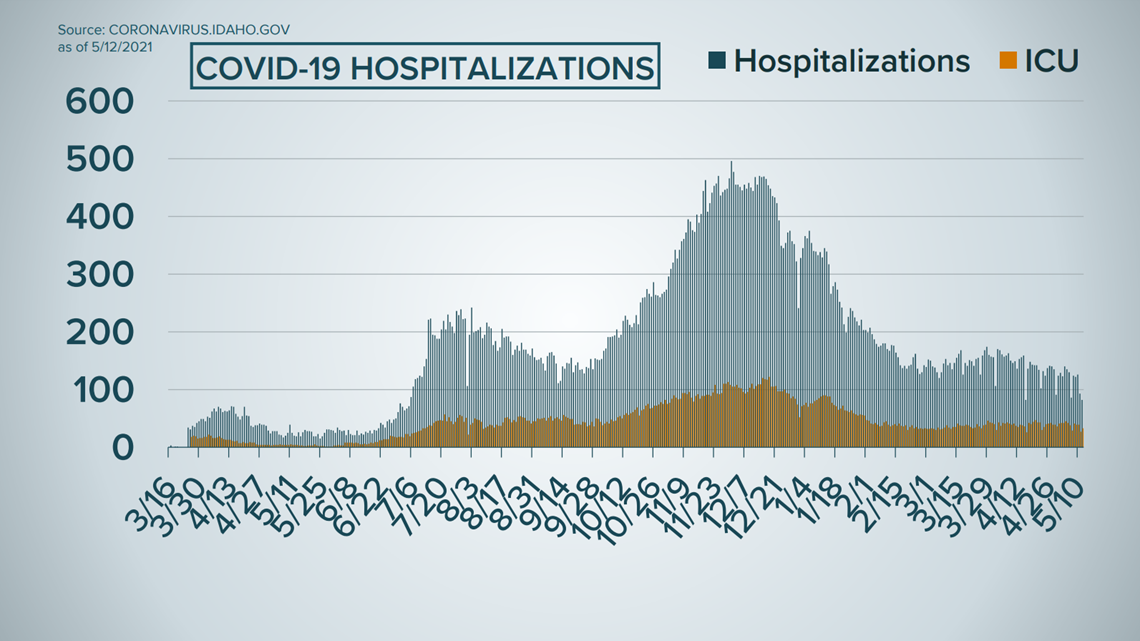 The latest hospitalization data from Wednesday reported 82 Idahoans currently in the hospital with COVID-19. Of that number, 33 are in the ICU.
source: KTVB
— — — — — — — — — —
New age group drops Valley County vaccination rate to 53.4%
By Tom Grote for The Star-News May 20, 2021
Adding a new age group to those eligible to receive the COVID-19 vaccine in Valley County dropped the percentage of total vaccinations from last week.
The total of eligible Valley County residents who had received at least one dose of the COVID-19 vaccine dropped from 54.9% to 53.4%, the Idaho Department of Health and Welfare reported.
The drop was due to those age 12-15 being added to the total after they were declared eligible to receive the Pfizer vaccine, H&W Public Information Officer Niki Forbing-Orr said.
A total of 5,350 county residents age 12 and older had received the vaccine out of an estimated 10,017 people eligible, the H&W reported.
Four confirmed deaths and two suspected deaths related to COVID-19 among Valley County residents have been reported by Central District Health.
St. Luke's McCall offers the Pfizer and Moderna vaccines, with walk-in shots available from 8 a.m. to 5 p.m. Monday through Friday at St. Luke's Family Medicine, 209 Forest St.
Minors must have parent or legal guardian permission to receive a COVID-19 vaccine. A parent or legal guardian should come with the child to provide consent at the appointment.
Written or verbal consent by phone may be accepted if a parent or legal guardian is not present. Minors also cannot schedule their own appointments in myChart.
Parents and children can also walk in to a vaccination clinic together or a parent can schedule an appointment for their child by calling 208-381-9500.
Cascade Medical Center offers Moderna vaccines during walk-in clinics held Monday through Friday from 8 a.m. to 5 p.m. at 402 Lake Cascade Pkwy in Cascade.
The Pfizer vaccine is available by appointment. To schedule an appointment, visit (link), follow the vaccine request button and fill out the information, or call 208-382-4285.
Hospital employees will call back to schedule the appointment.
continued:
— — — — — — — — — —
Cascade approves 1% sales tax for city projects
By Max Silverson for The Star-News May 20, 2021
Cascade voters approved a 1% local sales tax on Tuesday by a vote of 73 to 43.
The new tax was passed by 63% of voters, with 60% plus one needed for passage. About 17% of the 702 registered voters cast ballots on Tuesday.
Funds from tax, which will last five years, will be spent on roads and park projects in the city.
"As tourism has increased the maintenance and improvement of streets, pathways and parks has fallen solely on property tax revenue," Cascade Mayor Judith Nissula said.
continued:
— — — — — — — — — —
McCall voters back library bond
KTVB May 19, 2021
A $4.2 million to add onto the City of McCall's library facility won the support of voters Tuesday.
The bond passed 608 to 172, with nearly 78% of voters backing the measure.
The money will go towards building and furnishing a new addition to the library, as well as renovations to the existing building.
continued:
— — — — — — — — — —
Idaho 55 closures Smiths Ferry to wind down
By Max Silverson for The Star-News May 20, 2021
Weekday closures at the Idaho 55 project at Smiths Ferry were reduced from four hours to two hours on Monday.
Closures are now noon to 2 p.m. Mondays through Thursdays as opposed to 10 a.m. to 2 p.m. previously, the Idaho Transportation Department said.
On Fridays through Sundays, traffic through the project site will be open to one-way alternating traffic.
The road will be open to two-way traffic for Memorial Day weekend from Friday, May 28, through Monday, May 31, the ITD said.
Starting June 1, traffic will be reduced to one-lane alternating traffic Mondays through early Fridays, and then open to two-way traffic for weekends.
The road will open to two lanes over Fourth of July weekend and Labor Day weekend. There are no full closures planned through early September, according to the ITD.
continued:
—————
Public Lands:
Payette projects to get boost from Great American Outdoors Act
The Great American Outdoors Act of 2020 will provide funds to the Payette National Forest for several projects that had been on hold.
Nationwide the legislation provided $3.7 billion to fund roads and bridges and $1.5 billion for visitor centers, campgrounds and other facilities.
Here are the projects to be funded on the Payette:
•The French Creek and Bear Pete trails will see almost two miles of new trail construction and just over a mile of old trail taken out.
• The Little Weiser River Trail will see 1.5 miles of trail rerouted and six miles of trail improved.
•The South Fork Salmon River Trail will see seven miles of heavy maintenance and improvements.
• A 60-foot bridge at the Jenkins Crossing will be replaced with the new bridge to be made off-site and flown in by helicopter.
• Last Chance and Hazard Creek Campgrounds will both receive new picnic tables, fire rings, signs and kiosks, and Last Chance will also get new fencing and toilets.
• Several campsites on the Krassel Ranger District will see new campsite furniture as well as upgraded kiosks and toilets.
• A contaminated well at the Huckleberry Campground about 30 miles north of Council will be abandoned and replaced with a new water system.
source: The Star-News May 20, 2021
— — — — — — — — — —
Intermountain Region to benefit this year from USDA Forest Service Grant
Grant to provide funding for new specialized lumber stacker
Ogden, UT, May 17, 2021 – The U.S. Department of Agriculture's Forest Service aims to revitalize local economies and support sustainable forest management in the Intermountain Region by investing $250,000 as part of the agency's Wood Innovation and Community Forest Grant programs. (link)
The grant funding will support engineering and installation of a new specialized lumber stacker at the Tamarack Mill's Evergreen Forests mill outside of New Meadows, Idaho. With this new equipment and improved throughput efficiency, the mill will be able to handle smaller diameter timber in shorter lengths to produce small dimensional lumber products.
"This USDA grant helps to provide valuable equipment to our local timber infrastructure. We are happy these dollars are going directly towards increasing the ability of the mill to utilize small diameter timber as this supports our efforts in proactively implementing forest restoration projects." Payette National Forest, Forest Supervisor, Linda Jackson, said.
Nationally, the Forest Service is investing $15 million to fund 60 projects that expand wood products, strengthen emerging wood energy markets, and protect community forests. The agency will leverage an additional $30 million in matching and partner funds bringing the totals well above $45 million.
More information on Wood Innovation and Community Forest Grant programs is available online at: (link)
—————
Fire Season:
Payette National Forest Declares a Part of the Four Mile Prescribed Fire as a Wildfire
McCall, ID, May 19, 2021 – On May 6th the Payette National Forest applied prescribed fire to approximately 700 acres in the southern portion of the Four Mile project area along the South Fork of the Salmon River. This burn is approximately 5 miles south of Reed Ranch Airstrip and 14 miles southwest of Yellow Pine.
On May 17th, a small portion of the prescribed fire (1/4 acre) spread beyond the project area boundary. Fire personnel have been unable to extinguish this portion of the prescribed fire due to burning snags in the area. Other portions of the burn unit also exhibited smoldering/creeping fire that may require actions to contain the potential for the prescribed fire to spread.
Due to the steep terrain, limited access, dry fuel conditions and time of year, we chose to declare this prescribed fire a wildfire on May 18.
"This is not a wildfire typical of August and September wildfires on the Forest," said David Hogen, Krassel District Ranger. "This wildfire is smoldering and creeping, with occasional torching of Lodgepole pine. As the fire moved out of the prescribed fire boundary, our protocol is to declare it a wildfire and manage it as a suppression fire."
The fire is entirely on National Forest land and is not threatening private property or infrastructure. No area or road closures are in effect for this fire. Forest visitors may encounter smoke in the vicinity of the wildfire. Information on the Four Mile Fire is posted to Inciweb at: (link)
Rain is forecasted for over the next 7 days but smoldering in the heavier concentrations of down logs is expected to continue after the rain event. All actions to contain fire spread are based on risk to fire personnel, the public, and natural resources. Fire personnel will continue to take action where they can do so effectively and safely. Fire updates will be posted regularly.
*The Four Mile Prescribed Fire is a wildlife and natural resource prescribed fire to enhance wildlife habitat and assist in the restoration of the forested ecosystem.
Brian Harris
Public Affairs Officer
Tribal Liaison
Payette National Forest
link: to maps
— — — — — — — — — —
Permits for controlled open burning now required
Permits for controlled open burning are now required from the Idaho Department of Lands.
The permits can be obtained online at (link). The burn permits are free and good for 10 days. Idaho law requires a permit for burning outside city limits except for campfires between May 10 and Oct. 20.
Those wishing to conduct burning inside the city limits of McCall should use the online application site.
Permits for burning inside the city limits of Donnelly area are available at the Donnelly Fire & EMS station on West Roseberry Road.
Permits are available at New Meadows City Hall for burning within the New Meadows city limits.
Open burning is not permitted inside the Cascade city limits between May 10 and Oct. 20.
Having a burn permit on record means fire managers can also respond more quickly to fires that escape, a statement from the lands department said.
A permit on record also means false reports of fires can be more easily determined, the statement said.
Information at (link) includes safe burning practices and current fire restrictions in place statewide.
source: The Star-News May 20, 2021
————————-
Critter News:
'Beyond lightning strike odds:' Mountain lion attacks on humans are low in Idaho
Idaho Fish and Game recommends supervising your pets when they are outside, and keeping them on leashes on the trails.
Chase Biefeldt (KTVB) May 19, 2021
Mountain lions, also known as cougars or pumas, are widespread across Idaho. The animals are also quite secretive, making human encounters unusual.
The Idaho Department of Fish and Game said it's "beyond lightning strike odds" for a person to be attacked by a mountain lion, but pets are a different story.
"They're opportunistic animals and when they see an opportunity to get prey they will take it, and if it happens to be your pet there in front of them they might take that opportunity," said IDFG spokesman Roger Phillips. "It's key for people to really keep an eye on their pets and keep them under control on leashes." …
Typically, cougars only get territorial when protecting their killed prey.
full story:
— — — — — — — — — —
Idaho's black bears are out of their winter dens looking for food
May 20, 2021 Local News 8
The Idaho Department of Fish and Game says the key to keeping Idaho bears wild is to never let them have access to human food because a food-conditioned bear can quickly become a threat to public safety which never ends well for the bear.
After spending the winter months hibernating, black bears are now emerging from their dens. Once they leave their dens they are now hungry bears and will immediately start looking for food, mostly spring grasses, but pretty much anything that can provide easy calories. During hibernation, black bears survive by burning fat reserves, a boar (male) black bear usually loses 15-30% of their body weight, while a sow with cubs can lose up to 40% of her body weight. After emerging from hibernation, black bears are on a quest to eat between 15,000 – 20,000 calories to replenish fat reserves before winter sets in again, which means they are constantly searching for food.
The key to keeping Idaho bears wild is to not allow them to access human food around neighborhoods and homes.
continued:
— — — — — — — — — —
Young bear spotted in Boise neighborhood
Katie Terhune May 20, 2021 KTVB
Boise Police is on scene in a Boise neighborhood Thursday morning after several reported sightings of a young bear.
The yearling black bear was most recently spotted near Hill Road and 24th Street, a residential area that abuts the Foothills.
Boise Police Officer Scott Nicholls told KTVB that the cub was seen twice Wednesday evening near Hill and 36th Street, then later that night at Hill Road and 24th Street. The young bear was seen again in that same location at about 8:30 a.m. Thursday.
continued:
— —
Black bear yearling removed from Northwest Boise neighborhood and released
By Roger Phillips, Public Information Supervisor
Thursday, May 20, 2021
Idaho Fish and Game and Boise Police officers removed yearling male black bear from a Northwest Boise neighborhood on Thursday, May 20 and successfully released the bear in a forested area near Pilot Peak between Boise and Idaho City.
Officers were able to sedate the 78-pound bear after it climbed a tree in a backyard roughly 200 yards from the Foothills. The bear landed on a tarp after coming out of the tree, and after establishing the bear was healthy and suitable for release, the sedative was reversed and the bear taken a remote location and released.
The yearling bear had likely recently separated from its mother, which is typical in the spring.
source: Fish & Game
— — — — — — — — — —
Utah's drought may lead to more aggressive black bears
by Sara Knox, KUTV Tuesday, May 18th 2021
Utah is black bear country and in the midst of a severe drought, a combination the Utah Division of Wildlife resources calls a dangerous one.
In a recent press release, the DWR said the likeliness of conflicts with bears increases during drought years when a bear's normal food supply is decreased. This leads bears to seek alternative sources of food, which could put many at risk.
According to the DWR, black bears are the only bear species in Utah and have an amazing sense of smell which allows them to travel far to find the food they need. They also have no problem eating the same type of food that people eat. As a result, many of the conflicts between people and bears happen because the bears start scavenging for the food that humans are eating and cooking in the bear's natural habitat.
continued: Note this article contains many good tips for avoiding bear conflicts.
— — — — — — — — — —
Pet cats at risk of coyote attacks
Idaho Fish and Game said the best way to deter coyotes is to keep things tidy around your home.
Chase Biefeldt (KTVB) May 20, 2021
Idaho has thousands of coyotes, and while they primarily stick to the foothills, they can venture into more populated zones as well.
Idaho Fish and Game said coyotes travel in packs of about two to five, and are comfortable going into cities and neighborhoods early in the morning and late at night.
Coyotes don't usually go around attacking people, but they will hurt or kill your pets, especially cats.
continued:
— — — — — — — — — —
Salmonella outbreaks tied to backyard chickens reported in 43 states, CDC says
The CDC said that poultry like chicken and ducks can carry salmonella germs even if they look healthy and clean.
Erin McHugh May 21, 2021 KTVB
The Centers for Disease Control and Prevention is looking into a multistate outbreak of salmonella infections linked to backyard chickens.
The health agency said on Thursday that a total of 163 people were infected across 43 states, but the total number of infected individuals is "likely much higher." It said the illnesses started around Feb. 12, 2021, through April 25, 2021. Epidemiologic and laboratory data claims that contact with backyard poultry is making people sick.
continued:
————–
Fish & Game News:
Mountain lions continue to be sighted throughout the Wood River Valley
By Terry Thompson, Regional Communications Manager
Thursday, May 20, 2021

IDFG – A young mountain lion takes refuge in a backyard tree in Ketchum.
Mountain lion sightings are increasing in the communities of Ketchum and Sun Valley in the Wood River Valley.
Over the last several weeks multiple sightings of mountain lions have been reported by residents of Ketchum and Sun Valley. Most of the reports are of a female lion with two kittens, but some reports are of a single adult lion. Most reports have been sightings in neighborhoods within city limits. Some reports include sightings of lions during daylight hours, which is not typical behavior.
continued:
— — — — — — — — — —
Winter survival estimates for mule deer, elk remain above average and similar to 2020
By Brian Pearson, Conservation Public Information Specialist
Monday, May 17, 2021
Statewide survival of collared mule deer fawns and elk calves was above average through the end of April. Fish and Game biologists will continue monitoring through May, but traditionally less than 5 percent of the mortalities occur after April.
"In years with milder winters, like this one, we tend to see the number or mortalities drop off in May," said Rick Ward, Deer and Elk Program Coordinator. "While we anticipate we will see some additional mortality by the end of the month, the statewide survival of mule deer fawns and elk calves is likely to end up being above average this year, barring an unusual event."
Fish and Game crews and volunteers trap fawns and calves during winter and fit them with telemetry collars that allow biologists to track the young animals through their first winter and early spring.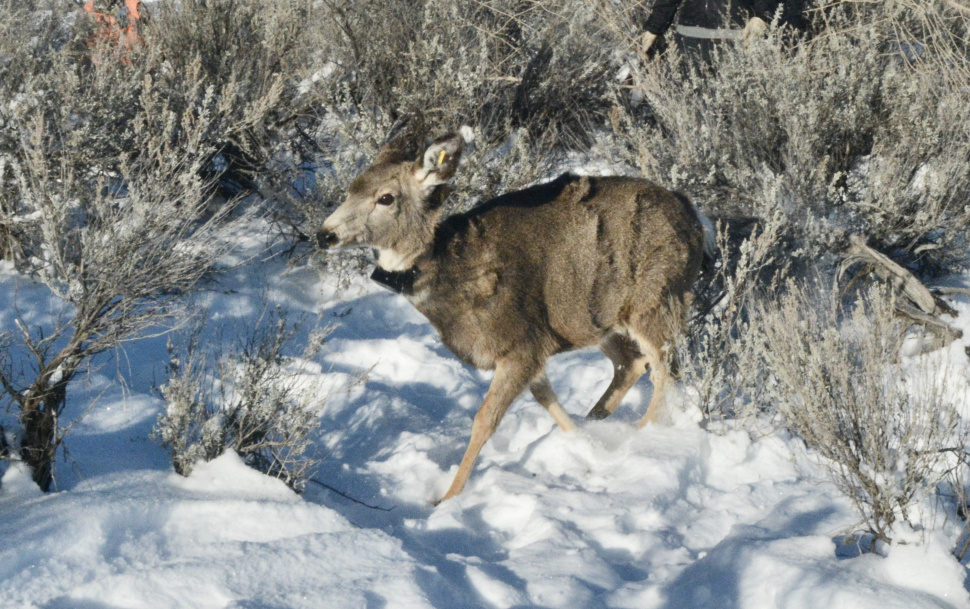 Roger Phillips/Idaho Fish and Game
continued:
— — — — — — — — — —
Trail users are encouraged to safely enjoy and share Idaho's trails with wildlife
By Terry Thompson, Regional Communications Manager
Monday, May 17, 2021
When hiking trails in Idaho it is not uncommon to come across wildlife. Wildlife, like people, don't like to be unexpectedly surprised. The key to safely observing and recreating around wildlife is awareness of your surroundings.
Spring and summer bring many opportunities for Idahoans and visitors to explore Idaho's trails which open up access to many backcountry destinations. When trekking up a trail just outside of town or deep into Idaho's mountains everyone should be aware of their surroundings that they share with many species of wildlife. While most wildlife encounters are welcomed and create lasting memories, inadvertent or surprise encounters can put both people, their pets and wildlife in a potential conflict situation.
Wildlife, such as mountain lions, bears, elk, deer and moose can be found in many location throughout Idaho, sometimes within towns and neighborhoods. Deer and elk have become year-round residents in many Idaho communities, and mountain lions continue to be seen throughout the state on area trails and at times within neighborhoods.
continued:
— — — — — — — — — —
Wildlife Express: Bees of Idaho
By Sara Cassinelli, Digital Content Strategist
Tuesday, May 18, 2021
Did you know Idaho has 707 native bee species? A University of Idaho scientist who studies bees believes the number is high because we have so many diverse habitats where different bees have adapted to different plants.
Find out what makes a bee a bee and how you can help monitor bee populations in the Northwest in our May edition of Wildlife Express.
continued:
— — — — — — — — — —
More F&G News Releases
link:
———————————-
Crazy Critter Stuff:
Owls of North America and their Calls

—————
Seasonal Humor:

——————