July 18, 2021 The Yellow Pine Times – Valley County, Idaho
Reminder: We are still under a boil water order.
Because of our [water] situation lawn watering is discouraged. Odd/Even days watering. No watering after 2pm. If you are asked to turn your water off, it's because the system is in danger of running out. Please be respectful. There will NO lawn watering on all summer holidays and during the Festival weekend!
Community Calendar:
April 17, 2020 – Boil water order issued
May 10 thru Oct 20 – Burn Permit season
May 15 – Firewood Season, permits at The Corner
May 25 – Johnson Creek road fully open
June 7 – Lick Creek road open
June 13 – Profile road open
July 16 – Stage 1 Fire Restrictions
July 17 – ATV/UTV Escapade 10am
July 19-29 – Lick Creek Road closure for bridge replacement
July 21-22 – Mastercraft stove maintenance days
July 24 – Pet Vax Clinic
July 28 – Dust Abatement Calcium chloride
August 5-7 – Harmonica Festival
Aug 14 – VYPA Meeting 2pm at Community Hall
Sept 11 – YPFD Budget Meeting 10am at Fire Hall
Sept 11 – VYPA Meeting 2pm at Community Hall
(details below)
———-
Local Events:
Stage 1 Fire Restrictions July 16
Under the Stage 1 Fire Restrictions, the following acts are prohibited on state and federally managed or protected lands, roads, and trails:
* Building, maintaining, attending, or using a fire, campfire or stove fire except within a designated recreation site and in a permanent concrete or metal fire ring, or on private land, and only within an owner-provided structure.
* Smoking, except within an enclosed vehicle, building, or designated recreation site or while stopped in an area at least three feet in diameter that is barren or cleared of all flammable materials.
— — — —
ATV/UTV Escapade July 17
Saturday July 17, 2021: This out-and-back ride is rated as intermediate. Participants ride from Yellow Pine Community Hall to Logan Creek , then return to Big Creek Campground for lunch (provided) and history/stories. After lunch, participants will continue the ride to Pilot Peak. The timeframe of this event is estimated to be from 10:00 am to 4:00 pm. Check-in starts at 9:00am; leave at 10:00am. You can register early at (link)
— — — —
Heating Maintenance Day July 21-22
Deb Filler is coordinating with Mastercraft of McCall to schedule a maintenance day in Yellow Pine for propane and pellet stoves. If you are interested, please contact Deb at 208 633-6945. Mastercraft will be here July 21 and 22 to do stove maintenance.
— — — —
July 24 – Pet Vax Clinic
Dr. Keith Ruble and crew from Cascade Vet Clinic will be coming to Yellow Pine Saturday, July 24th, to vaccinate our pets. If you want to get on the list, call Cascade Vet Clinic at (208) 382-4590 so they know to bring the proper charts, etc.
— — — —
Harmonica Festival August 5, 6, and 7
Link: to website
———
Village News:
General Store Update July 15th
The store has received their fuel delivery and now also offers diesel.
— — — —
Smoke in Yellow Pine
Yellow Pine, along with most of Idaho has had smoky skies and poor air quality this past week. Most of the smoke is coming from fires in California, Oregon and Washington, but some days we were getting smoke from the Dixie fire north of the main Salmon River. Our air quality was in the "Orange" range for several days, and this past weekend it has been "Yellow."
Western Satellite Map for July 18, 2021


— — — —
Veterans' Monument
With this heat, the flowers and shrubs at our Veterans' Memorial dry out quickly. When Niebrand's are in, they water them, but aren't here all the time……if you go by, please check, and give them a drink with the hose that is there. Our veterans (and the Niebrand's) thank you!
— — — —
Attention
Would the person who borrowed the measuring wheel please return it to the community hall? It will be needed for the festival.
Also – Will the person who left the twin bed outside the Community Hall please pick it up.The yard sale is over until next year. Thank you.
— — — —
Lick Creek Road
Lick Creek Road will be closed at Zena Creek TOMORROW (about 4 miles east of the Ponderosa Campground) from July 19 – July 29 for a bridge replacement. Please plan ahead!
— — — —
Conserve (and Boil) Water
Please be conservative when watering lawns. We ask those that are here all week to not water lawns on the weekends so that more water is available for the weekend cabin owners. There will NO lawn watering on all summer holidays and during the Festival weekend!
— —
Tips on Water Recycling
Use a dishpan to catch the rinse water when doing dishes (and hand washing) and use it to water outdoor flowers.
— —
DEQ awards $150,000 to the Yellow Pine Water Users Association, Inc. in Valley County
Boise, June 29, 2021 — The Idaho Department of Environmental Quality (DEQ) today announced the award of a $150,000 in drinking water construction assistance to the Yellow Pine Water Users Association, Inc. in Valley County, Idaho.
The funding will be used to replace the damaged transmission and distribution water mains and install three pressure-reducing valves.
The assistance from DEQ's State Revolving Loan Fund, which is capitalized annually by grants from the US Environmental Protection Agency, provides this funding with no repayment obligation. The favorable loan terms represent a $205,146 savings to the community when compared to average costs for municipal general obligation debt issuances.
MaryAnna Peavey – Grants & Loans Bureau Chief
— — — —
Scrap Metal
Sharing a message that Mike Amos will haul out a load of scrap metal. If you have scrap metal, contact Mike. He has an area by his place to stack it.
— — — —
Road News
Link: to current road reports.
Lick Creek Road will be closed at Zena Creek (about 4 miles east of the Ponderosa Campground) from July 19 – July 29 for a bridge replacement. Please plan ahead.
Johnson Creek, Profile Gap and Lick Creek roads are Open. These roads have not been bladed and are rough.
The Hwy 55 project Smith's Ferry area: Starting June 1, crews will transition into their summer construction schedule. Drivers can anticipate single-lane, alternating traffic controlled by flaggers Monday – early Friday morning. From Friday morning – Sunday, and any major holidays, the road will be open to two lanes. This schedule will be in place until September. Project Website link:
The Hwy 55 project from Donnelly to McCall: One lane during the week and two lanes on weekends. Project is slated to last until September.
— — — —
Critters
Aggressive Deer and Elk
Be aware that mothers will attack dogs and chase people if they feel their babies are threatened. Keep dogs leashed in the forest during "baby season" for their own protection.
Ticks
* Know where to expect ticks. Many ticks live in grassy, brushy, or wooded areas. When possible, avoid wooded and brushy areas with tall grass and leaf litter. Walk in the center of trails, particularly in spring and summer when ticks feed.
* Wear appropriate clothing. When in tick habitats, wear light-colored, tightly woven long pants and long-sleeve shirt. Tuck your pant legs into socks or boots, and your shirt into your pants. This helps keep ticks on the outside of your clothing where you can spot them more easily.
* Use tick repellent when necessary, and carefully follow instructions on the label. Apply an EPA-registered repellent effective against ticks, such as those containing DEET to clothes and exposed skin, and permethrin to clothes and gear. Take care when applying repellent on children. EPA's search tool can help you find the repellent that best suits your needs.
* Check clothing, gear, and pets after being areas with ticks. Ticks can hitch a ride into your home on clothing and pets, then attach to you or a family member later. Carefully examine coats, camping gear, and daypacks. Don't forget your dog, see CDC's where to check your pet for ticks.
* Shower soon after being outdoors. Showering within two hours of coming can reduce your risk of getting Lyme disease and may be effective in reducing the risk of other tick-borne disease. Showering can wash off unattached ticks and it is a good opportunity to do a tick check.
* Check your body, your child and pets thoroughly for ticks. Carefully inspect areas in and around the hair, head, neck, ears, under arms, inside the belly button, around the waist, between the legs, and behind the knees. Ticks can be very small before they feed—look for what may appear like a new freckle or speck of dirt. Continue checking for two to three days after returning from areas with ticks.
Pine Martins & Raccoons
Watch your small pets. Reports of pine martins living in the dump and raccoons on the north side of the village.
Be Bear, Fox & Coyote Aware
* Do not feed them human food
* Secure your trash
* Feed domestic pets indoors
* Make sure your pets are updated on Rabies vaccines
* Small pets could become a snack
Be Mountain Lion Aware
Note: A report of a mountain lion still hanging around the upper end of the village early summer.

* NEVER run away from a mountain lion. The lion's instinct is to chase and ultimately catch what they perceive as potential prey.
* NEVER turn your back on a lion. Always face them while making yourself look as large as you can. Yell loudly, but don't scream. A high-pitched scream may mimic the sound of a wounded animal.
* SLOWLY back away while maintaining eye contact with the lion.
* Safety equipment you may choose to carry could include bear spray, a noise device, like an air-horn, and if you walk in the dark, a very bright flashlight.
* If you are attacked, fight back!
— — — —
Yellow Pine US Mail
Attention Mail Route Customers – FedEx Ground has changed their policy, and they will no longer pay for Mail Plane or Truck freight. If you can avoid it, we strongly encourage you to use UPS or USPS to receive packages. If you do order a FedEx Ground package, you will be billed for: Air Freight @ $0.45/lb, or Mail Truck Freight @ $0.05/lb. We are truly sorry this is the case, and are working very hard to make sure you still receive your orders. – Arnold Aviation
The 6-day a week mail delivery started June 1st. The Post Office in Yellow Pine is open six days a week year around: M-F 845am-245pm Saturday 9am-245pm. Forever Stamp: 55 cents. Support our local post office and purchase your holiday stamps here.
— — — —
Yellow Pine Transfer Station
Report July 17: The dumpsters are about one quarter full, and it still clean out there. The road to the dump is fine.
The bins were emptied May 22nd. Locals worked hard to clean up the area, please be respectful.
Yellow Pine Transfer Station (aka, the dump)
Please do not abuse our Transfer Station or we may lose it. Household trash must be placed in the bins, flattened cardboard boxes can also go into the bins. Do not stack trash in front of the doors. Woody yard debris only for the burn pile. No furniture, appliances, tires or construction debris allowed, those items must be hauled out to the Donnelly station by you.
The Yellow Pine Transfer Station is Valley County responsibility. If it is not kept tidy, use of the Transfer Station may be revoked. That would result in residents having to take all household trash and yard waste to the Donnelly Transfer Station.
If Dumpsters Are Full, Contact Lake Shore Disposal at: (208) 634-7176
———-
Local Groups
YPWUA News:
We are still under a Boil Order. Please conserve water. No outside watering after 2pm, nor on holiday weekends and especially not during the festival.
July 8, 2021 Update
DRINKING WATER WARNING
Yellow Pine Water Users PWS 4430059
BOIL WATER ADVISORY
Due to insufficient treatment
We routinely monitor the conditions in the drinking water distribution system. On 4-19-2020 we experienced a period of insufficient treatment due to extreme water demand which exceeded the capacity of the treatment system. A drop in water pressure is a signal of the existence of conditions that could allow contamination to enter the distribution system through backflow, by backpressure, or back-siphonage. As a result, there is an increased chance that the drinking water may contain disease-causing organisms.
What should I do?
* DO NOT DRINK THE WATER WITHOUT BOILING IT FIRST. Bring all water to a boil, let it boil for one minute, and let it cool before using, or use bottled water. Boiled or bottled water should be used for drinking, making ice, brushing teeth, washing dishes, and food preparation until further notice. Boiling kills bacteria and other organisms in the water.
* Inadequately treated water may contain disease-causing organisms. These organisms include bacteria, viruses, and parasites, which can cause nausea, cramps, diarrhea, and associated headaches.
* The symptoms above are caused by many types of organisms. If you experience any of these symptoms and they persist, you may want to seek medical advice. People at increased risk should seek advice about drinking water from their health care providers.
What is being done?
Efforts are under way to curtail water use. Once water use is diminished, the water treatment system will again be operational and the boil water order can be lifted
We will inform you when you no longer need to boil your water. We anticipate resolving the problem within 180 days.
For more information, please contact Warren at 208-573-6261 or wdrake@drakediversified.com. .
Please share this information with all the other people who drink this water, especially those who may not have received this notice directly (for example, people in apartments, nursing homes, schools, and businesses). You can do this by posting this notice in a public place or distributing copies by hand or mail.
This notice is being sent to you by Yellow Pine Water Users Assoc. .
PWS ID #: 4430059. Date distributed: 7-8-21.
—
YPWUA 2021 Shareholder Meeting July 4 at 10am
YPWUA 2021 Shareholder Meeting Minutes
Sunday July 4th 10 AM
Community Hall
1. Financial Report – Willie
A. We have $52,000 balance
B. 9 people delinquent compared to 18 two years ago
2. Operations
A. Boil order status – continue to be on boil order and will be until more leaks are found and repaired
3. Grants
A. Details of grants We are been granted $450,000 in grants. YPWUA must contribute $12,500 as matching funds to receive grants
C. A vote was taken which was required by the shareholders to accept the terms of the grant. Nicki Harner made the motion, Ginny seconded the motion and the vote was approved by 100 percent of the shareholders that attended.
C. More future grants are going to be written. The approved $450,000 will only get some of the distribution lines replaced
4. Summer lawn watering
A. Because of our situation lawn watering is discouraged
B. Odd/Even days watering
C. No watering after 2 pm
D. If you are asked to turn your water off, it's because the system is in danger of running out. Please be respectful.
5. Election of one board member
A. Dave Prouty is not running for another term
B. Candy Hardisy was nominated and accepted the available position on the board
6. Other Comments
A. Mike Fortin brought up that he was collecting spring water to water his lawn. That's great, many in the community is coming up with ways to water lawns without using our community water.
B. Many thanked the water board for their work on getting grants. It has taken a while but is starting to pay off.
C. Meeting ended at 10:50 am.
—
The annual Water meeting for 2020 was held July 5th at the Community Hall 2pm.
link: minutes 20200705YPWUA.docx
Water Board:
Steve Holloway
Willie Sullivan
Dawn Brown
Stu Edwards
Candy Hardisty
Boil Your Water Before Using
Boil Water Order issued April 17, 2020.
Link: to Notice
— — — —
VYPA News:
Village of Yellow Pine Association
Meeting Minutes July 10, 2021
I. Call to order
Deb Filler called to order the regular meeting of the VYPA at 1400 at the Yellow Pine Community Hall.
II. Roll call
Council Members: Deb Filler, Ronda Rogers, Hailey Harris.
Attendees: Rhonda Egbert, Virginia Bartholomew, Ron Basabe, Christy Petersen, Joel Fields, Mary Fields, Belinda Provancher, Margaret Vranish, Bill McIntosh, Rob Rosenbaum, Theresa Rosenbaum.
III. Approval of minutes from last meeting
Deb Filler asked attendees if there were any outstanding questions/concerns with prior meeting minutes. All attendees agreed that there were no questions/concerns. Minutes approved.
IV. Open issues
a) Treasurer Report: Ronda Rogers discussed the breakdown of the General Ledger Report, all attendees were offered a copy. No questions/concerns. Marj Fields requesting a copy of financial breakdown for the cemetery committee. (Ronda Rogers to send that to Marj).
b) Community Hall Update: Council has cleaned out the Community Yard Sale items, waiting on grant outcomes, and Tim Rogers is still working on kitchen/bathroom renovations.
c) Cemetery: Ron Basabe gave an update-Tim & Ron will work together to get water source running; expired water permit is in process of being renewed, Ron will get the headstone for Chappy placed.
d) Infrastructure: OK Gravel started project on West Ellison
e) Harmonica Festival: Deb Filler gave a budget summary including the decline in funds due to ads, supplies, etc. Final Festival meeting to be held July 11, 2021 at 1400 at Deb Filler's home.
f) Stibnite Project: University of Idaho partnership to monitor water levels starts this week.
g) Nominations: Hailey Harris appointed as interim Secretary in replacement of Rhonda Egbert until the position is up for election in 2022. Chairman: Deb Filler nominated by Virginia Bartholomew, seconded by Rhonda Egbert, no objections, motion to re-elect Deb Filler as Chairman approved unanimously. Member at Large: Rhonda Egbert nominated by Virginia Bartholomew, seconded by Christy Petersen, no objections, motion to elect Rhonda Egbert as Member at Large approved unanimously.
h) Dust Abatement: North American Dust Control has laid Earthbind; Calcium Chloride to be laid on July 28th. Deb Filler discussed the ultimate goal behind having Calcium Chloride on Yellow Pine Ave.
i) Perpetua Resources Update: Belinda Provancher explained that a comment period will be held for the Supplemental DEIS, Stibnite Lake will aim to keep water temperatures low (suggested by the tribes & conservation groups) by providing shrubbery and vegetation around the lake/along the stream. Within the first six months of 2023, a decision is likely to be made on mining permitting with hopes to start construction in the fall of 2023.
j) Fire Department: Ronda Rogers gave update-Elections for Commissioners for both District 2 & 3 will be held in November 2021.
V. New business
a) Fireworks: Explained by Deb Filler that both VYPA & YPFPD have no authority with the individuals that organize the fireworks show, but that VYPA can give donations if VYPA members vote for such. Concern around presence and location of fireworks was displayed by citizens of Yellow Pine. Rhonda Egbert to conduct research to further investigate requirements for future fireworks to ensure community unanimity. VYPA to inform Belinda Provancher of the outcome of said research and how the Village of Yellow Pine (citizens or otherwise) will handle this issue going forward.
b) Transfer Station: On July 10, 2021, at 1730, the community of Yellow Pine is encouraged (if able) to help clean up the transfer station. Explained by Deb Filler that Lake Shore Disposal had many breakdowns in their dump trucks, which resulted in an overflowing transfer station. Encouragement to maintain cleanliness of transfer station was expressed.
VI. Adjournment
Deb Filler adjourned the meeting at 1444.
Minutes submitted by: Hailey Harris
Link: to July 10, 2021 VYPA meeting minutes
—
June 12 – VYPA Meeting 2pm at Community Hall Minutes link:
VYPA Meetings are the 2nd Saturday of June, July, August, and September (June 12, July 10, August 14, September 11) at 2:00pm at the Community Hall.
Village Council members:
Deb Filler, Chairman
Matt Huber, Vice Chairman
Ronda Rogers, Treasurer
Hailey Harris, Secretary
Rhonda Egbert, Member at Large
VYPA Bylaws adopted 8/8/2020 (link)
YPAC Corp Bylaws (link)
Festival
Want to join YPAC Corp in making a difference? We are raising money to benefit the Yellow Pine Music and Harmonica Festival . Any donation will help.
Each year, during the first full weekend of August, the sleepy mountain village of Yellow Pine is transformed into the largest festival of it's kind in the western hemisphere!
The festival is produced by volunteers and raises funds to support the village of Yellow Pine as well as the funds needed to hold next year's festival.
As you all know, the 2020 festival had to be cancelled due to Covid-19. This placed a significant burden on Yellow Pine to come up with enough funding to hold the 2021 festival this August 5, 6, 7.
Souvenirs and events at the festival help raise funds. We also know there are many of you who support the festival, but are not able to attend. This fund raiser is to give you an opportunity to help us help Yellow Pine.
Thanks in advance for your tax-deductible contribution to this cause that means so much to us!
GoFundMe link:
Anyone interested in being a part of the Festival Planning/Working committee, please contact Deb Filler. Meetings will begin at the end of January. Even if you aren't physically in YP, you can participate in the committee.
Next Festival Planning July 11, 2021 – Contact Deb for Zoom link and passcode.
2021 Planning Notes updated July 11, 2021 (link)
Yellow Pine Music and Harmonica Festival Policy and Procedure Link:
— — — —
YPFD News:
Valley County Wildfire Evacuation Checklist
A wildfire evacuation checklist that property owners in the Yellow Pine area might find useful.
link: Valley County Evacuation Checklist – 2021.pdf
June 12, 2020 – 10am Fire siren test and YPFD meeting.
Link to minutes: 2021 June 12 YPFD meeting minutes.docx
There was a meeting Saturday, July 10th, 10 am at Fire Station (no minutes yet.)
Elections for Commissioners for both District 2 and 3 will be held in November 2021.
May 15, 2020 – there was a YPFD meeting 10am at the Fire Hall.
Link: to 20210515 YPFD MeetingNotes_Final.docx
YPFD had a budget meeting on September 30, 2020 at 10am at the fire station. (No minutes yet.)
2021 Meeting schedule for the YPFD. All meetings are at the YPFD Station
Sat. May 15 at 10am
Sat. June 12 at 10am
Sat. July 10 at 10am
Sat. September 11 at 10am Budget Meeting
Also if you are burning any piles of forest litter and debris – please have a connected and charged garden hose that can reach your piles. If your hose cannot reach where you are burning, follow the good advice of having a shovel, axe, and water bucket at the scene. Rake away from anything that could ignite. Stop burning if winds become an issue. Make sure your fire is out before you leave the area. Nothing like getting surprised by a escaped fire in the middle of the night!
Better yet, "Rake It and Take It" your yard waste (limbs, pine needles, brush, etc.) to the burn pile at the Transfer Station on the south end of the turn-around. Remember, keep the pile neat. Woody debris only, no nails, no cardboard and no furniture! The Boise NF will burn the pile in the fall when it is safe.
YPFD COVID19 Policy
link: YPFD Covid-19 SOP
link: Covid-19 EMS
YP Fire Commissioners:
Sue Holloway – District 1
Phil Jensen, Acting – District 2
Merrill Saleen – District 3
Tim Rogers – Fire Chief
Secretary Ronda Rogers
Treasurer Nikki Saleen
Yellow Pine Fire Protection District Community Service Notice
The purpose of this letter is to show how you as a Yellow Pine Resident can help protect your structure against a wildland fire by being "Fire Wise." Click the link: to view 20190724 Yellow Pine Fire Protection mitigation
——–
Biz Listings:
The Corner (208) 633-3325
Hours: 1pm-8pm, closed on Tuesdays
We offer smoked tri tip, brisket, and chicken sandwiches and also burgers and chicken wings.
Firewood Permits available May 15th.
— — — —
Yellow Pine Tavern (208) 633-2233
Yellow Pine Tavern open daily:
Monday thru Thursday 8am to 9pm
Friday and Saturday 8am to 10pm
Sunday 8am to 8pm
Indoor Dining with limited seating and Outdoor Dining Available.
Full Breakfast Menu. Burgers, Pizza, Fajitas, Beer, Wine and Pop
— — — —
Yellow Pine Lodge (208) 633-3377
Opened June 12th for Summer
— — — —
Yellow Pine General Store (208) 633-3300
Store hours: 10am to 5pm Gas and Diesel available.
The store is now receiving inventory of Food items. The ATM is operational, and Debit/Credit cards are accepted. Currently there is fuel, ice, alcoholic beverages (non liquor) tobacco, non alc beverages, snacks, and Dairy items (ice cream, milk, butter, and yogurt). Fresh produce is soon to come. If there are needs for fuel or anything during off hours, Josh will be around on call to accommodate. For any particular store item requests, please call 208-633-3300 or Email
For room reservations, please call 208-633-3300 or Email for reservations
— — — —
Murph's RV Park and Mary's Cabins
FB page link
— — — —
Knotty Kat Crochet Works – 509-406-2221
FB page link
open Tue – Sat, 9-5
Yellow Pine eggs $3/doz
— — — —
Buck Horn Outfitters LLC 208-633-3614
Tom & Sarah Lanham
156 Yellow Pine Ave, Yellow Pine Id 83677
website:
Facebook:
Wapiti Meadow Ranch – Johnson Creek (208) 633-3217
or 208-315-3554 – cabin rentals
website:
Big Creek Lodge
website:
Deadwood Outfitters
website:
— — — —
Local Fuel Suppliers
Amerigas Phone: (208) 634-8181
Ed Staub & Sons Phone: (208) 634-3833
Diamond Fuel & Feed Phone: (208) 382-4430 open 830am-5pm Monday-Friday, closed weekends.
— — — —
Outside Biz that will service Yellow Pine:
Arnold Aviation – (208) 382-4844
The Star-News


click to subscribe:
A reminder that those who live in other states can subscribe to the online edition only since the mail can take days for hard copy to reach them.
Rocky Mountain Mechanical – Plumbing – Heating – Air conditioning
(208) 365-PIPE (7473), Emmett, will service Yellow Pine
Website:
— — — —
Follow The Yellow Pine Times on Facebook (updated more often than emails)
———————–
Local Observations:
Monday (July 12) overnight low of 47 degrees. This morning it appears clear above moderate smoke and orange air quality. A few tree swallows, a robin, a flicker and a jay in the area. Colombian ground squirrels are very numerous. Johnson Creek is running one third of normal flow. Smoky and warm at lunch time. A bit breezy early afternoon. Hot and smoky all afternoon, high of 97 degrees. Still in the 90s by early evening, appears clear above the smoke, poor air quality. Looked hazy before midnight.
Tuesday (July 13) overnight low of 52 degrees. This morning it is likely clear above the smoke, reduced visibility and orange air quality, light breeze. Loud aircraft buzzed over the village at 859am. Not many birds around, only a couple of swallows, and heard a woodpecker drumming. It is VERY dry. Warm and thicker smoke at lunch time. Hot afternoon, increasing smoke and very poor air quality, a bit breezy at times, high of 92 degrees. Warm and smoky by early evening, light breezes. Cooling off after sunset, light breezes and smoky. Looked hazy before midnight.
Wednesday (July 14) overnight low of 49 degrees. This morning it is likely clear above moderate smoke and poor air quality. A few tree swallows and several ground squirrels. Warm and smoky at lunch time. Mail truck made it in on time. Light street traffic and very dusty. Hot smoky afternoon, high of 93 degrees. Still hot early evening, looks clear above the smoke and light breeze. Slow to cool down after sunset, smoky and crappy air quality. Looked hazy before midnight.
Thursday (July 15) overnight low of 50 degrees. This morning it is probably clear above moderate smoke and orange air quality. A couple of tree swallows and a jay calling. Light air traffic. Hot and smoky at lunch time, light breeze. Light street traffic and very dusty. Hot smoky afternoon, high of 96 degrees. Still pretty warm by early evening, light breeze and a couple of small passing clouds above the smoke. Slowly cooling off before dusk and smoky. Looked hazy before midnight.
Friday (July 16) overnight low of 49 degrees. This morning it is likely clear above moderate smoke, very poor air quality, and reduced visibility. A jay and a hairy woodpecker calling, ground squirrels and chipmunk running about. Warm, smoky and partly cloudy after lunch time. Hot, dry and smoky afternoon, poor air quality, a few clouds and gusty breezes, high of 95 degrees. Better air quality by early evening, still pretty warm but can see the sky – partly cloudy. Jays visiting after it started cooling off. Report of 1 chick about ready to fledge at the osprey nest.
Saturday (July 17) overnight low estimated at 49 degrees (gizmo showed 23F!) This morning clear sky visible above light haze of smoke. Not many birds around. Traffic kicking up dust. Helicopter at 139pm. Hot and gusty breezes early afternoon, smoke increasing a little bit. Hot, dry, smoky and dusty afternoon, high of 97 degrees. It was still in the low 90s by early evening, clear above a light haze of smoke and light breezes. The osprey chick has been taking practice flights from the nest to a nearby snag. A couple of jays stopped by. Still warm at dusk. Looked hazy before midnight.
Sunday (July 18) overnight low of 48 degrees. This morning clear sky above a haze of smoke. Very light air traffic. A couple of swallows swooping, no sign of any chicks fledging yet. Hot and smoky at lunch time. Hot and gusty breezes early afternoon, appears partly cloudy above increasing smoke. Very hot late afternoon and smoky, high of 100 degrees. Still above 90 degrees by early evening, it appears clear over the haze of smoke and slight breeze.
———————
Idaho News:
17 new Valley County COVID-19 cases reported since July 1
By Tom Grote for The Star-News July 15, 2021
Valley County's two hospitals have reported 17 new cases of COVID-19 since July 1. The hospitals are on a pace to exceed the 29 new cases reported during June.
St. Luke's McCall reported seven new cases between July 1 and Monday, while Cascade Medical Center reported 10 new cases during the same period.
A total of 806 cases of COVID-19 have been reported by the two hospitals since the first case was detected in March 2020.
Four confirmed deaths and two suspected deaths related to COVID-19 among Valley County residents have been reported by Central District Health.
A total of 58.6% of eligible Valley County residents had received at least one dose of the COVID-19 vaccine as of this week, the Idaho Department of Health and Welfare reported. That is less than a 1% increase over the 57.8% reported vaccinated two weeks ago. …
St. Luke's McCall offers walk-in COVID-19 vaccines from 8 a.m. to 5 p.m. Monday through Friday at St. Luke's Clinics – Payette Lakes Family Medicine, 211 Forest Street, McCall.
Appointments also can be scheduled online through St. Luke's myChart or calling 208-381-9500 or by calling 208-634-2225.
Cascade Medical Center offers a daily walk-in vaccination clinic Mondays through Fridays, 8 a.m. to 5 p.m. each day.
full story:
— — — —
COVID-19 Updates: 161 new Idaho COVID-19 cases, 4 new deaths
July 16, 2021 Local News 8
Idaho officials reported 161 new COVID-19 cases and 4 new deaths Friday.
That brings the total confirmed and probable cases reported since March 2020 to 196,856. …
The state said 732,108 people have received the vaccine, and 1,357,663 total doses have been administered. 679,065 people are fully vaccinated. …
The age group with the most cases is 18-29 with 49,013 cases.
The state said 8 new hospitalizations have been reported bringing the total number to 8,937, and zero new cases have been admitted to the ICU bringing the total to 1,502. …
611 vaccine breakthrough cases have been reported.
4 new deaths were reported bringing the total recorded deaths to 2,173.
full story: [Valley County 894 casts, 6 deaths.]
— — — —
Southfork Lodge Lowman Idaho Temporarily CLOSED.
Owner Bill passed on Wednesday and wife Jeni-Lei was life flighted as a result of Covid. She is battling to recover. The CDC has closed us for a minimum two weeks for the safety of our workers and our guests. Your understanding during this difficult time is appreciated.
per: Southfork Lodge FB page
more info: Idaho Statesman
— — — — — — — — — —
Lick Creek Road to be closed starting Monday for bridge work
Lick Creek Road east of McCall will be closed Monday through July 29 while Valley County crews replace the bridge at Zena Creek.
The road will be closed to all traffic during construction with no direct detour.
Access to Yellow Pine and areas of the backcountry can be gained by using the Warm Lake Road from Cascade and then either the South Fork Salmon River Road or Johnson Creek Road.
The original bridge was built in 1959 and was found to have extensive deterioration in the wood structure, Valley County Road and Bridge Superintendent Jeff McFadden said.
The wooden bridge was removed and a temporary steel bridge from the Payette National Forest was used to span the creek last fall, McFadden said.
The wooden bridge was 26 feet across. The new bridge will sit higher over the creek, spanning 40 feet and measuring 16 feet wide. The bridge is about 36 miles from McCall and about three miles from the South Fork Salmon River.
The bridge and pavement will cost about $68,000 to be paid by the Local Highway Technical Assistance Council, while construction work done by the county will cost about $40,000.
source: The Star-News July 15, 2021
— — — — — — — — — —
Missing 9-year-old girl found safe
The girl was found safe shortly after the Valley County Sheriff's Office reported her missing.
KTVB Staff July 18, 2021
Original story:
— — — — — — — — — —
Cascade to sell former police station at Aug. 14 auction
By Max Silverson for The Star-News July 15, 2021
The building that formerly housed the Cascade Police Department will be sold at auction on Aug. 14, the Cascade City Council decided Monday.
The council set the minimum price at $360,000. Money raised from the sale would be set aside for future city projects like a new city hall and library building, Mayor Judith Nissula.
The building is located at 1480 E. Main Street (Idaho 55) across from the Cascade Airport.
continued:
— — — — — — — — — —
5 left homeless after McCall house fire
The residents of the home, who work at the Whitetail Club and Shore Lodge in McCall, lost all of their belongings in the blaze.
KTVB Staff July 15, 2021
Five McCall residents are searching for a place to live after their house caught fire Tuesday.
According to the fire department, electrical wiring beneath the front porch was determined to have sparked the blaze.
No one was hurt in the fire, and crews were able to keep it from spreading to neighboring houses, but the building was left charred and uninhabitable.
continued:
— — — — — — — — — —
McCall becomes another battleground for affordable housing
Developers are looking at what's currently public land for new areas for housing. Conservation groups want to keep the land public and free from development.
Tristan Lewis July 15, 2021 KTVB
In the summertime, Payette Lake has the attention of many tourists but recently, the area also has grabbed the attention of developers who are seeing massive growth, with room for more.
Developers are looking at constructing more affordable housing on land that's currently public. However, some residents and conservation groups are trying to keep that land out of the hands of developers.
McCall is joining a growing list of municipalities across the Gem State that are beginning to feel the weight of the housing crisis that began in the Treasure Valley. The small town's growth increased during the last year due to the COVID-19 pandemic and more people moving there thanks to remote work, according to McCall's community and economic development director.
continued:
— — — — — — — — — —
Drought worsens around Idaho
The entire state is experiencing at least "moderate" drought.
Jeremy Stiles July 15, 2021 KTVB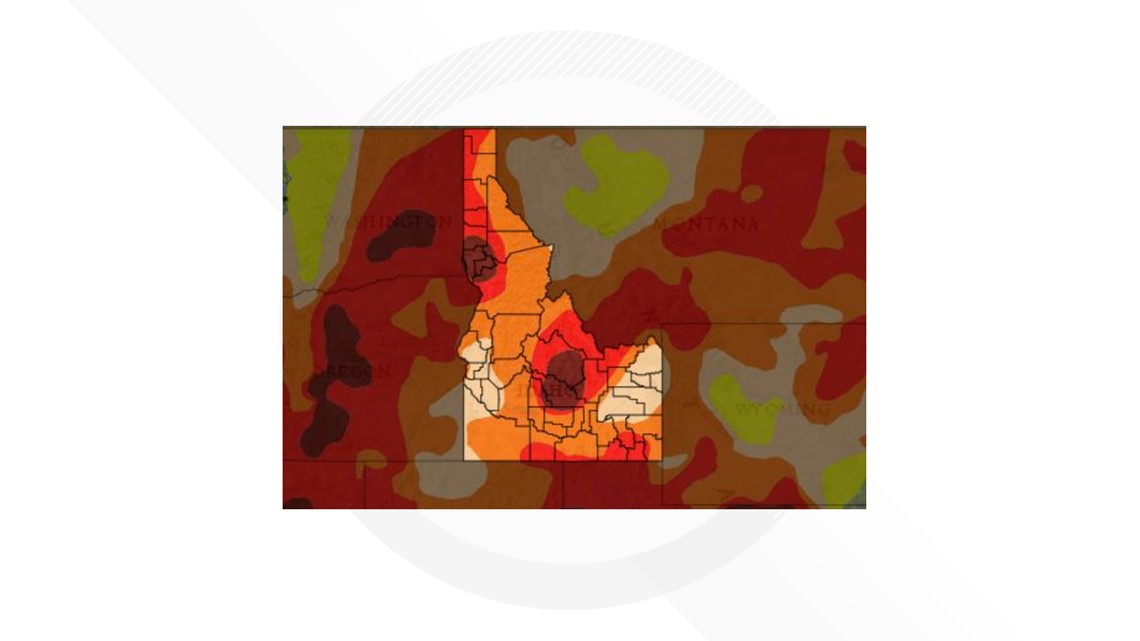 Credit: National Integrated Drought Information System – drought.gov
U.S. Drought Monitor conditions for Idaho on July 15, 2021. A darker shade indicates a higher severity of drought.
The percentage of Idaho land area experiencing exceptional drought conditions has increased more than tenfold in the past week, according to the U.S. Drought Monitor.
The U.S. Drought Monitor uses five categories to describe drought conditions, ranging from D0 – "abnormally dry" – to D4, or "exceptional."
All of Idaho is now experiencing at least a moderate drought, D1 on the scale. About 84% of the state is at D2 – "severe drought," and about 33% is in D3 – "extreme drought."
continued:
——————
Idaho History:
The search for those left behind
Chinese Cemetery still may have bodies not returned home
By Max Silverson for The Star-News July 15, 2021
Circling the historic Chinese Cemetery in Warren, a specially trained dog located what could be the grave of a woman named Too Hay who was buried more than a century ago.
The search based on historical records and maps of the area was conducted earlier this month by a German shepherd named Cayvun, who was lead through the cemetery by his handler Florence Dickens of Rupert.
The Payette National Forest led the effort to locate the remains of any miners still buried in the cemetery, which was active between about 1870 to 1920.
The cemetery, located near the historic townsite of Warren, has 32 known temporary gravesites, Payette Archeology Technician Kelly Martin said.
Many bodies in the temporary gravesites were eventually sent to China funded by dues paid by Chinese workers to mining companies in the area.
But women who were not employed by the mines were also buried in the cemetery without the guarantee of posthumous repatriation.
"Continuing research and investigation into sites such as the Chinese Cemetery at Warren enables archaeologists to more accurately capture Idaho Chinese mining history and mining culture," Martin said.
Payette archeologists think the cemetery could still contain unidentified remains, including the body of Too Hay, for whom there is a commemorative sign at the cemetery.
Hay died in 1880 at the age of 30, according to Forest Service records.
In addition to the 32 known temporary gravesites at the cemetery, Cayvun may have located additional previously unknown gravesites, Martin said.
Further research with ground penetrating radar may be necessary to confirm whether any human remains are still buried at the cemetery, she said.
Dickens was assisted in the search by Samantha Blatt, Assistant Professor of Anthropology at Idaho State University; Jordan Ruska, Valley County Deputy Coroner; and Kathy Peterson, Adjunct Professor of Anthropology at the College of Western Idaho.
Prior to the search, Payette archeologists assisted a trail crew and Youth Conservation Corps crews in replacing the fence around the cemetery.
source: © Copyright 2009-present Central Idaho Publishing Inc. All rights reserved (used with permission.)
——————
Public Lands:
Land Management Agencies to Implement Stage 1 Fire Restrictions in Boise and Payette Fire Restriction Areas
Campfires, Stove Use and Smoking Restricted
Boise, Idaho – July 13, 2021 – With the threat of wildfire danger increasing rapidly throughout Idaho, local land management agencies will implement Stage 1 Fire Restrictions in the Boise Fire Restriction Area and the Payette Fire Restriction Area beginning at 12:01 a.m. Friday, July 16, 2021.
These fire restrictions are being implemented by agencies managing state, private and public/federal lands in the area, including the Bureau of Land Management (BLM), Bureau of Reclamation (BOR), United States Forest Service (USFS), Southern Idaho Timber Protective Association (SITPA), and the Idaho Department of Lands (IDL). Fire restrictions are intended to decrease the risk of any human caused wildfires in the designated areas.
The Boise and Payette Fire Restriction Areas include both the Boise and Payette National Forests, Idaho state endowment lands, Boise and Cottonwood BLM Field Offices, Bureau of Reclamation Project lands, and private lands in the restriction areas. Designated Wilderness areas are excluded from fire restrictions at this time but may be included in the future. For a detailed map of each fire restriction area, visit these links:
* Boise Fire Restriction Area includes the West Central, Treasure Valley and the Owyhee areas: (link)
* Payette Fire Restriction Area includes the Weiser River, Payette National Forest East and West, Little Salmon River and the Long Valley/Meadows Valley areas: (link)
Fire, fuels, and weather conditions as they relate to fire restrictions will continue to be monitored – based on these conditions, restrictions will be adjusted. The land management agencies would like to thank the public for their diligence in preventing unwanted human caused fires so far this season and ask for their continued support as fuels dry and hotter temperatures are expected to continue into this fall.
Under the Stage 1 Fire Restrictions, the following acts are prohibited on state and federally managed or protected lands, roads, and trails:
* Building, maintaining, attending, or using a fire, campfire or stove fire except within a designated recreation site and in a permanent concrete or metal fire ring, or on private land, and only within an owner-provided structure.
* Smoking, except within an enclosed vehicle, building, or designated recreation site or while stopped in an area at least three feet in diameter that is barren or cleared of all flammable materials.
The following are exemptions to the Stage 1 Fire Restrictions:
* Persons with a written permit that specifically authorizes the otherwise prohibited act.
* Persons using fire fueled solely by liquid petroleum or liquid petroleum gas (LPG) fuels. Such devices, including propane campfires, may be used only in an area cleared of flammable material.
* Persons conducting activities in those designated areas where the activity is specifically authorized by written posted notice.
* Any federal, state, or local officer or member of an organized rescue or firefighting force in the performance of an official duty.
* All land within a city boundary is exempted.
* Other exemptions unique to each agency.
Please visit (link) or contact the local land management offices for current information regarding fire restrictions and their potential end dates.
— — — — — — — — — —
USDA Forest Service South Fork Restoration and Access Management Plan Update
July 16, 2021
The Payette National Forest has concluded the environmental assessment process and has issued two Decision Notices for the South Fork Salmon River Restoration and Access Management Plan project. The decisions were signed on July 13, 2021.
The Decision Notices are posted on the project webpage as follows: (link). Hardcopy documents may be made available to interested parties upon request by calling 208-634-0601.
A project implementation plan is posted under the "Post-Decision" tab on the project webpage.
For additional information about this project please contact Krassel District Ranger, David Hogen at 208-634-0601 or via email at david.hogen@usda.gov.
Sincerely,
Linda L Jackson
Forest Supervisor
Payette National Forest
——————-
History:
Harry S. Truman in Idaho 1950
Spreading the message – Keep Idaho Green, don't be a Guberif!
courtesy Justin Smith, Idaho History Group
————————-
Fire Season:
Red Flag Warning from July 19, 3am to July 20, 11pm
link:
— — — — — — — — — —
Payette NF Fire July 17, 2021
As thunderstorm marched across eastern Idaho last night, the Payette National Forest is conducting initial attack on three wildfire north and south of Big Creek within the Frank Church River of No Return Wilderness.
The Vinegar Fire is at 10 acres and located approximately 3 miles north of Root Ranch, a private inholding within the Wilderness.
The Club Fire is approximately 4 mile southwest of Root Ranch and is at 12 acres.
The Rush Fire is estimated at 15 acres and is located south of Big Creek, and approximately 3 mile south of the Cabin Creek area.
Smokejumpers and helitak firefighters and helicopters conducting bucket drops have been in initial attack on these wilderness fires throughout the day. Additional smokejumpers are being brought to McCall to assist with these fires and other fire starts that may occur.
These fires are burning in heavy dead and downed trees with Lodgepole regeneration – this makes access and moving around the fire perimeter difficult for firefighters.
In addition to these wildfires, firefighter responded to an abandoned campfire in Slaughter Gulch north of Lost Valley Reservoir today. The abandoned campfire was extinguished before it escaped and created a larger wildfire.
Forest visitors are reminded the Payette National Forest is in Stage 1 Fire Restrictions – under stage 1 restrictions campfires are allowed only in designated sites such as improved campgrounds. The abandoned campfire in Slaughter Gulch is not a designated site where campfires are not allowed.
source: PNF FB page
— — — — — — — — — —
Dixie-Jumbo Fires Nez Perce – Clearwater National Forests
InciWeb:
Dixie-Jumbo Fire Update- July, 18, 2021
Critical fire weather conditions are present across the fire with southwest winds at 10-15 mph, low relative humidity, and high temperatures. This will be the hottest, driest, and windiest day since the fire was discovered. Firefighters are expecting an increase in fire activity today with the change in weather.
The Dixie Fire
Dixie fire grew by 1,134 acres with most of the growth along the Salmon River and in the northeast corner. Heavy equipment task forces continue to work on a fuel break along Jack Mt road (FS Road 1190) above the northern perimeter of the fire. Mallard Ranch and the campground have structure protection in place and are being monitored. Along the eastern edge, crews are removing hazard trees on the 421 where the fire crossed the road between Vitta Point and White Water Ranch. To the south, the fire continues to spread along the Salmon River from Mallard Creek to just past Rhett Creek. Crews are continuing to do structure protection preparation along the river corridor. Within the communities of Dixie and Comstock, firefighters continue to hold and improve line, and do structure preparation on the west side of Dixie and down in the Comstock area.
The Jumbo fire grew by 62 acres. It will continue to be monitored daily and suppression tactics will be reassessed if conditions warrant.
Weather and Smoke
Today temperatures will be in the 90's across the fire, with relative humidity around 15%. Winds are coming out of the southwest at 10-15 mph with gusts up to 20-25 mph on ridgetops. Hazy skies will persist as southwest winds bring smoke aloft from regional and local fires.
Evacuations and Closures
Evacuation orders continue to be in place in the communities around the fire perimeter including the Dixie/Comstock Area, Mallard and White Water Ranch. For evacuation information and updates, please call 208-983-1100.
The Payette National Forest has issued a closure order south of the Dixie fire for multiple trails on the Krassel Ranger District, including a portion of the Idaho Centennial Trail.
full story:
— — — — — — — — — —
Mud Lick Fire Salmon-Challis National Forest
InciWeb:
Evacuations Now in Effect for Mudlick Fire
link: Local News 8
Mud Lick Fire now more than 12,000 acres, 0% contained
link: Local News 8
Haynes Fire burning in Salmon-Challis National Forest
link: Local News 8
— — — — — — — — — —
Snake River Complex Idaho Department of Lands
Location 20 miles south of Lewiston, ID
Size 103,907 Acres
InciWeb:
— — — — — — — — — —
Fire forces campers to evacuate in Sawtooth National Forest
The Cassia County Sheriff's Office closed the road to Howell Canyon down and is now finding and evacuating campers.
KTVB Staff July 14, 2021
A wildfire is forcing evacuations at campsites in Cassia County, south of Burley.
The fire, which has been dubbed the Howell Fire, started Wednesday afternoon, four miles east of Pomerelle on the Minidoka Ranger District.
The Cassia County Sheriff's Office closed the road to Howell Canyon down and is now finding and evacuating campers.
continued:
— — — — — — — — — —
Anticipated thunderstorms, lightning could spark new wildfires in Idaho
by CBS2 News Staff & Ariana Pyper Sunday, July 18th 2021
A Red Flag Warning takes effect early tomorrow morning through Tuesday.
This means critical fire weather conditions are either occurring now or will occur shortly.
The Weather Service in Boise predicts thunderstorms will begin developing and will increase in the next 48 hours.
That means lightning, gusty winds, and brief heavy rainfall will be possible with the storms. There is a good chance these gusty winds and lightning could spark new wildfires.
continued:
— — — — — — — — — —
'We are going to have a big fire season': Gov. Brad Little declares emergency disaster declaration due to state wildfires
By Meredith Spelbring Jul 13, 2021 KIVI
Gov. Brad Little announced an emergency disaster declaration has been declared due to wildfires within Idaho.
The emergency order applies to all lands protected by the Idaho Department of Lands, which enables the Idaho National Guard to assist in fire suppression, said Idaho Department of Lands Director Dustin Miller.
"Fighting wildfires across the west requires a well-coordinated effort among federal, state, local and tribal entities," Miller said.
continued:
— — — — — — — — — —
'Scary': Fuel shortage could ground firefighting aircraft
July 13, 2021 Associated Press
Airport officials facing jet fuel shortages are concerned they'll have to wave off planes and helicopters that drop fire retardants during what could be a ferocious wildfire season, potentially endangering surrounding communities.
U.S. officials say they've already had sporadic shortages at some tanker bases and fear multiple bases running out simultaneously during what is shaping up to be a ferocious wildfire season in the U.S. West.
Airport officials, aviation companies and jet fuel transport companies say jet fuel supply chains that atrophied during the coronavirus pandemic haven't been able to rebuild fast enough to keep pace with the reopening of the U.S. economy.
source: KIVI
— — — — — — — — — —
Idaho Fires at NIFC
link:
— — — — — — — — — —
[Some of our smoke is coming from Oregon.]
Bootleg Fire in Oregon creating 'fire clouds' of dangerous smoke and ash
In a worst case, the clouds can spawn fire tornadoes and generate their own lightning.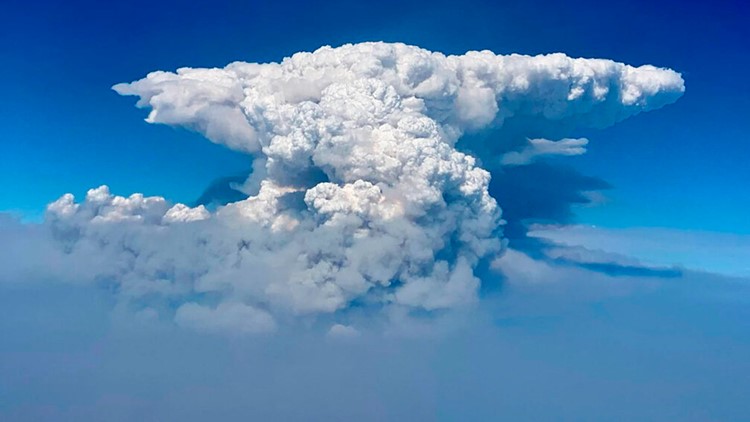 Credit: AP
In this photo taken with a drone provided by the Bootleg Fire Incident Command, a pyrocumulus cloud, also known as a fire cloud, is seen over the Bootleg Fire in southern Oregon on Wednesday, July 14, 2021. Smoke and heat from a massive wildfire in southeastern Oregon are creating "fire clouds" over the blaze — dangerous columns of smoke and ash that can reach up to 30,000 feet and are visible for more than 100 miles away. Authorities have put these clouds at the top of the list of the extreme fire behavior they are seeing on the Bootleg Fire, the largest wildfire burning in the U.S. (Bootleg Fire Incident Command via AP)
more info: KTVB
Bootleg Fire
InceWeb:
————–
Critter News:
Dairy cows more susceptible to heat stress, expert says
By Ricardo Coronado Jul 15, 2021 KIVI
Marsing, Idaho — Nederend Farms is dedicated to keeping its cows comfortable, happy, and healthy. In total, the farm has about 8,000 Holstein cows, and amid higher than normal temperatures that have hit the Treasure Valley, the farm is making sure the heat doesn't impact the cows.
"Cows don't have any sweat glands. Think about wearing a leather jacket all the time in 100-degree heat. What we do is create an environment around them. We'll soak the cows, we'll cool the air with water," said John Nederend, one of the owners of Nederend Farms.
continued:
— — — — — — — — — —
World Center for Birds of Prey welcomes new avian ambassador
By Katie Kloppenburg Jul 13, 2021 KIVI
The Peregrine Fund's World Center for Birds of Prey introduced Tulio, a 52-day-old Ornate Hawk-eagle to its education flock. Visitors may see Tulio during one of his daily trips outside to become acclimated to his new home.
The World Center for Birds of Prey says Tulio arrived at the center at 27-days-old and has been cared for by the expert raptor care staff at the center. There is another Ornate Hawk-eagle at the center, Fancy, who has been a long-time resident but was recently requested to join a breeding program.
Fancy's genes are underrepresented in the North American captive population of Ornate Hawk-eagles, making her valuable for breeding. Fancy moved into the program in Nevada and the center received Tulio in return.
continued:
——————
Fish & Game News:
Hunters, anglers and other recreationist's guide to wildfire season
By Roger Phillips, Public Information Supervisor
Monday, July 12, 2021
Know before you go, be careful, and do your part to prevent wildfires
Wildfires can threaten public safety, destroy property, harm productive wildlife habitat, create nuisance smoke, and much more. It's in everyone's interest to prevent wildfires from occurring, and human-caused wildfires are unfortunately common during summer, but doing your part to prevent wildfires can make a difference to reduce them.
During wildfire season, which typically lasts from summer through the first significant rain or snow during fall, consider foregoing a campfire, or be extremely cautious and follow these tips, rules and guidelines:
continued:
— — — — — — — — — —
Fish and Game places Stage 1 fire restrictions on department-owned lands in the Southwest Region
By Bradley Lowe, Regional Habitat Manager
Friday, July 16, 2021
Drought conditions in southwestern Idaho have led to the implementation of Stage 1 fire restrictions on Fish and Game lands throughout the Southwest Region.
Southwestern Idaho is currently experiencing extreme fire conditions brought on by on-going impacts from several years of drought throughout the area. In response to these severe conditions, Fish and Game has implemented Stage 1 fire restrictions, effective July 16, 2021 on all Fish and Game owned lands within the following counties: Ada, Adams, Boise, Canyon, Elmore, Gem, Payette, Owyhee, Valley, and Washington.
The Wildlife Management Areas included in the fire restrictions include: Boise River, Cecil D. Andrus, C.J. Strike, Fort Boise, Montour, and Payette River. In addition to the Stage 1 fire restrictions, the roads on Cecil D. Andrus WMA will be closed to motorized travel until further notice with the exception of the USFS 085 road.
continued:
— — — — — — — — — —
Summer heat will cause some trout mortality, but halting fishing won't improve the situation
By Joe Kozfkay, State Fisheries Manager
Friday, July 16, 2021
Trout are resilient and even extreme weather rarely has a long-term impact on populations
Wild animals for the most part are well equipped to survive fluctuations in environmental conditions, and trout, Idaho's favorite fish, are no different. Although they prefer cold water, trout are highly resilient, productive and adaptive. Because of this, short-term fishing regulation changes are unlikely to affect their numbers long-term, even during an extraordinary heatwave.
Recently, well-intended anglers and angling groups have requested Fish and Game restrict or close fishing during extreme heat because they feel restrictions will reduce fishing-related mortality and preserve more trout for next year when conditions will hopefully improve.
continued:
— — — — — — — — — —
More F&G News Releases
link:
———————————-
Crazy Critter Stuff:
Really 'embarrassed' raccoon recovered from Dalton, Ga. home
by WTVC Staff Wednesday, July 14th 2021
We all make mistakes. And unfortunately, sometimes that mistake winds up on Facebook.
A red-faced raccoon in Georgia would likely tell you he can relate, and all too well.
On its Facebook page Wednesday, the City of Dalton Fire Department says firefighters recovered a restive raccoon from a home on Monday night.
Their post reads,
You never know what the day is going to hold when you show up for your shift as a firefighter. Sure, there may be the occasional cat needing to be rescued from a tree, but a raccoon? That's a new one. We were called out to help this guy find his way back out of a house in Dalton Monday night. As you can tell, he was pretty embarrassed about it, but it's really nothing to be ashamed of. We all need a helping hand every now and then. After helping our new friend out of the jam, we were able to take him to safely release him back into the wild where he'll hopefully be less adventurous in his search for snacks from now on."
continued: CBS2 Idaho News
—————-
Seasonal Humor:

————