Oct 3, 2021 The Yellow Pine Times – Valley County, Idaho
Reminder: We are still under a boil water order.
Stage 1 Fire Restrictions rescinded Sept 17th
Community Calendar:
April 17, 2020 – Boil water order in effect
May 10 thru Oct 20 – Burn Permit season
May 15 – Firewood Season, permits at The Corner
Sept 17 – Stage 1 Fire Restrictions Rescinded
Oct 5 – Diamond Fall Fuel Delivery
Oct 28 – The Corner closing for the season
Oct 31 – Halloween
Nov 7 – Time Change – Fall back 1 hour
(details below)
———-
Local Events:
October 5th Diamond Fuel and Feed Fall Delivery
We are planning our fall fuel haul into Yellow Pine for Tuesday, October 5th. Please call or email us so we can add you to the list.
Diamond Fuel and Feed Team
diamondfuel.feed @ gmail.com
(208) 382-4430
———
Village News:
Planned Phone/Internet Outage Sept 30th
MTE needed to replace some equipment and shut down our internet starting before 9am and back on pretty good before noon. However, the afternoon and evening connection was spotty at times.
— — — —
Fish Fry Sept 25th
Our Annual Fish Fry Thanks to Stu for Providing the Fish and Teri also providing fish this year. Willie, Jeff and Ann cooking. Steve and Sue providing the Location. Alpine Village is a perfect place to have the Event. Also thanks for all of the great Potluck dishes. There was around 40 or 50 in attendance Residents and Friends.

photo courtesy Yellow Pine Tavern
— — — —
Fall Colors Sept 26th
rrS
— — — —
Mouse Nest
If someone says your car has an air conditioner filter, believe them.
— — — —
Notice – New Deadline
In order to have your item posted in that week's paper you must email it in by Noon on Sundays.
A reminder – if your group or business want an event, photo, minutes, news or advertising posted in the Yellow Pine Times, please write what you want posted in text form (for copy/paste) and send it by email. Remember to include the "who, what, when, where and why." Images or groups of images must be under 10 megs per email.
— — — —
Life Flight
It is a very good idea to have Life Flight insurance if you live or recreate in the back country. If you already have Life Flight, consider it as a gift to a loved one.
— — — —
Road News
Link: to current road reports.
Profile Gap, Lick Creek, Thunder Mountain and Deadwood roads are Open. These roads have not been bladed and are rough. Travel at your own risk.
Hwy 55 projects
Smith's Ferry area: Starting Tuesday, Sept. 7, drivers can expect full road closures Monday-Thursday from 10 a.m. to 2 p.m. After 2 p.m., the road will be open to one-way alternating traffic. Please note: the delays may be significant immediately after the road reopens due to large traffic volumes. Once this traffic clears, drivers can expect 15-minute delays. We encourage drivers to plan ahead and use U.S. 95 as an alternate route. Project Website link:
Donnelly to McCall: One lane during the week and two lanes on weekends. Project is slated to last until September.
— — — —
Critters
Be Bear Aware
* Do not feed them human food
* Secure your trash
* Feed domestic pets indoors
* Make sure your pets are updated on Rabies vaccines
* Small pets could become a snack
Bats
While bats are an important part of our ecosystem and most do not carry rabies, CDH offers the following tips to protect yourself and pets:
* Never touch a bat with your bare hands.
* If you have had an encounter with a bat, seek medical attention.
* If you come in contact with a bat, save the bat in a container without touching it and contact your health department to arrange testing for rabies. Whenever possible, the bat should be tested to rule out an exposure to rabies. During regular business hours in Ada, Boise and Elmore Counties, call 208-327-7499 and in Valley County, call 208-634-7194. After business hours in all counties, call 1-800-632-8000.
* Always vaccinate your pets for rabies, including horses. Pets may encounter bats outdoors or in the home.
* Bat-proof your home or cabin by plugging all holes in the siding and maintaining tight-fitting screens on windows. Bats can enter through holes the size of a quarter.
Mosquitoes – West Nile
* Remove standing water
* Wear long sleeves and pants during morning/evening hours
* Use a good repellent with DEET (our bugs laugh at "backyard" formulas.
* Vaccinate your horses and mules! West Nile can be fatal to equines.
— — — —
Yellow Pine US Mail
Aug. 29th the price of first-class postage stamps went to 58 cents from 55 cents.
Attention Mail Route Customers – FedEx Ground has changed their policy, and they will no longer pay for Mail Plane or Truck freight. If you can avoid it, we strongly encourage you to use UPS or USPS to receive packages. If you do order a FedEx Ground package, you will be billed for: Air Freight @ $0.45/lb, or Mail Truck Freight @ $0.05/lb. We are truly sorry this is the case, and are working very hard to make sure you still receive your orders. – Arnold Aviation
The 6-day a week mail delivery started June 1st. The Post Office in Yellow Pine is open six days a week year around: M-F 845am-245pm Saturday 9am-245pm. Forever Stamp: 58 cents. Support our local post office and purchase your holiday stamps here.
— — — —
Yellow Pine Transfer Station
Report Saturday (Sept 4) The dumpsters are being emptied on Wednesdays.
Locals have worked hard to clean up the area, please be respectful.
Yellow Pine Transfer Station (aka, the dump)
Please do not abuse our Transfer Station or we may lose it. Household trash must be placed in the bins, flattened cardboard boxes can also go into the bins. Do not stack trash in front of the doors. Woody yard debris only for the burn pile. No furniture, appliances, tires or construction debris allowed, those items must be hauled out to the Donnelly station by you.
The Yellow Pine Transfer Station is Valley County responsibility. If it is not kept tidy, use of the Transfer Station may be revoked. That would result in residents having to take all household trash and yard waste to the Donnelly Transfer Station.
If Dumpsters Are Full, Contact Lake Shore Disposal at: (208) 634-7176
Dump Tips
Do you know where your trash goes after it leaves Yellow Pine?
90 tons per week of Valley Co.'s solid waste comes to the Adams Co. landfill. (Valley Co. has a contract with Adams Co.) When Valley Co.'s weekly trash exceeds 90 tons, the rest is then taken to Payette. The more garbage, the more cost in transferring it further away.
Tips to reduce trash:
1. When purchasing groceries refuse plastic bags as they reek havoc at the Adams Co.'s landfill, causing problems with equipment.
2. Garbage: recyclables, compost, trash
If each household would have containers for these three categories this is the place to start.
– B. Dixon
———-
Local Groups
YPWUA News:
September Water Usage
| | | | | | | | | | |
| --- | --- | --- | --- | --- | --- | --- | --- | --- | --- |
| date | flow | used | hours | gph | gpm | | | more | less |
| 09/01/21 | 14497186 | 26378 | 24 | 1099 | 18 | W | | | 3522 |
| 09/02/21 | 14528659 | 31473 | 24 | 1311 | 22 | T | | 5095 | |
| 09/03/21 | 14562089 | 33430 | 24 | 1393 | 23 | F | | 1957 | |
| 09/04/21 | 14597407 | 35318 | 24 | 1472 | 25 | S | | 1888 | |
| 09/05/21 | 14631533 | 34126 | 24.5 | 1393 | 23 | S | | | 1192 |
| 09/06/21 | 14665588 | 34055 | 23.5 | 1449 | 24 | M | | | 71 |
| 09/07/21 | 14702783 | 37195 | 24 | 1550 | 26 | T | | 3140 | |
| 09/08/21 | 14749530 | 46747 | 24 | 1948 | 32 | W | | 9552 | |
| 09/09/21 | 14788402 | 38872 | 24 | 1620 | 27 | T | | | 7875 |
| 09/10/21 | 14823817 | 35415 | 24 | 1476 | 25 | F | | | 3457 |
| 09/11/21 | 14854357 | 30540 | 24 | 1273 | 21 | S | | | 4875 |
| 09/12/21 | 14889770 | 35413 | 24.5 | 1445 | 24 | S | | 4873 | |
| 09/13/21 | 14921434 | 31664 | 23.5 | 1347 | 22 | M | | | 3749 |
| 09/14/21 | 14954314 | 32880 | 24 | 1370 | 23 | T | | 1216 | |
| 09/15/21 | 14989719 | 35405 | 24 | 1475 | 25 | W | | 2525 | |
| 09/16/21 | 15028507 | 38788 | 24 | 1616 | 27 | T | | 3383 | |
| 09/17/21 | 15064968 | 36461 | 24 | 1519 | 25 | F | | | 2327 |
| 09/18/21 | 15106193 | 41225 | 24 | 1718 | 29 | S | | 4764 | |
| 09/19/21 | 15142267 | 36074 | 24 | 1503 | 25 | S | | | 5151 |
| 09/20/21 | 15174293 | 32026 | 24 | 1334 | 22 | M | | | 4048 |
| 09/21/21 | 15204133 | 29840 | 24 | 1243 | 21 | T | | | 2186 |
| 09/22/21 | 15234224 | 30091 | 24 | 1254 | 21 | W | | 251 | |
| 09/23/21 | 15266560 | 32336 | 24 | 1347 | 22 | T | | 2245 | |
| 09/24/21 | 15306678 | 40118 | 24 | 1672 | 29 | F | | 7782 | |
| 09/25/21 | 15352845 | 46167 | | | | S | | 6049 | |
| 09/26/21 | 15384582 | 31737 | | | | S | | | 14430 |
| 09/27/21 | 15415208 | 30626 | 22 | 1392 | 23 | M | | | 1111 |
| 09/28/21 | 15445672 | 30464 | 24 | 1269 | 21 | T | | | 162 |
| 09/29/21 | 15474439 | 28767 | 24 | 1199 | 20 | W | | | 1697 |
| 09/30/21 | 15504210 | 29771 | 24 | 1240 | 21 | T | | 1004 | |
We are still under a Boil Order. Please conserve water.
July 25, 2021 Update:
The Yellow Pine Water Users Association Board asks that individuals refrain from using domestic water to dampen the road. The Water Corporation is doing its best to provide water for domestic use during the low water period but as the supply becomes more limited, it is incumbent upon each of us to be judicious with its use. Thank you for your cooperation in ensuring that all community members have an adequate supply of water.
The corporation has received the first $150k grant of the anticipated $450k. We are hoping to have some of the supply lines replaced by winter. Thanks to those who wrote letters of support. They were very beneficial in securing the grants. – Willie Sullivan
Sept 10, 2021 Update
DRINKING WATER WARNING
Yellow Pine Water Users PWS 4430059
BOIL WATER ADVISORY
Due to insufficient treatment
We routinely monitor the conditions in the drinking water distribution system. On 4-19-2020 we experienced a period of insufficient treatment due to extreme water demand which exceeded the capacity of the treatment system. A drop in water pressure is a signal of the existence of conditions that could allow contamination to enter the distribution system through backflow, by backpressure, or back-siphonage. As a result, there is an increased chance that the drinking water may contain disease-causing organisms.
What should I do?
* DO NOT DRINK THE WATER WITHOUT BOILING IT FIRST. Bring all water to a boil, let it boil for one minute, and let it cool before using, or use bottled water. Boiled or bottled water should be used for drinking, making ice, brushing teeth, washing dishes, and food preparation until further notice. Boiling kills bacteria and other organisms in the water.
* Inadequately treated water may contain disease-causing organisms. These organisms include bacteria, viruses, and parasites, which can cause nausea, cramps, diarrhea, and associated headaches.
* The symptoms above are caused by many types of organisms. If you experience any of these symptoms and they persist, you may want to seek medical advice. People at increased risk should seek advice about drinking water from their health care providers.
What is being done?
Efforts are under way to curtail water use. Once water use is diminished, the water treatment system will again be operational and the boil water order can be lifted.
We will inform you when you no longer need to boil your water. We anticipate resolving the problem within 180 days.
For more information, please contact Warren at 208-573-6261 or wdrake @ drakediversified.com
Please share this information with all the other people who drink this water, especially those who may not have received this notice directly (for example, people in apartments, nursing homes, schools, and businesses). You can do this by posting this notice in a public place or distributing copies by hand or mail.
This notice is being sent to you by Yellow Pine Water Users Assoc.
PWS ID #: 4430059 . Date distributed: 9-10-21.
—
YPWUA 2021 Annual Shareholder Meeting July 4, 2021 at the Community Hall at 10am. Link: to 20210704 YPWUA minutes
YPWUA 2020 Annual Shareholder Meeting held July 5, 2020 at the Community Hall 2pm. link: to 20200705 YPWUA minutes
Water Board:
Steve Holloway
Willie Sullivan
Dawn Brown
Stu Edwards
Candy Hardisty
— — — —
VYPA News:
Sept 11, 2021 – VYPA Meeting 2pm at Community Hall (no minutes yet.)
Aug 14, 2021 VYPA Meeting Canceled (lack of quorum.)
July 10, 2021 VYPA meeting minutes link:
June 12, 2021 VYPA Meeting Minutes link:
VYPA Meetings are the 2nd Saturday of June, July, August, and September (June 12, July 10, August 14, September 11) at 2:00pm at the Community Hall.
Village Council members:
Deb Filler, Chairman
Matt Huber, Vice Chairman
Ronda Rogers, Treasurer
Hailey Harris, Secretary
Rhonda Egbert, Member at Large
VYPA Bylaws adopted 8/8/2020 (link)
YPAC Corp Bylaws (link)
— — — —
YPFD News:
Remember to clean your chimney before lighting your first fall fire, and check the fittings. Chimney brushes are available to borrow from the YPFD.
Sept 11, 2021 YPFD Budget meeting (no minutes yet.)
Aug 28, 2021 – YPFD Meeting to discuss upcoming election (no minutes yet.)
July 10, 2021 – YPFD Meeting Minutes. Link:
June 12, 2021 – YPFD Meeting Minutes. Link:
May 15, 2021 – YPFD Meeting Minutes. Link:
Sept 30, 2020 YPFD budget meeting. (No minutes yet.)
2021 Meeting schedule for the YPFD. All meetings are at the YPFD Station
Sat. May 15 at 10am
Sat. June 12 at 10am
Sat. July 10 at 10am
Sat. September 11 at 10am Budget Meeting
Also if you are burning any piles of forest litter and debris – please have a connected and charged garden hose that can reach your piles. If your hose cannot reach where you are burning, follow the good advice of having a shovel, axe, and water bucket at the scene. Rake away from anything that could ignite. Stop burning if winds become an issue. Make sure your fire is out before you leave the area. Nothing like getting surprised by a escaped fire in the middle of the night!
Better yet, "Rake It and Take It" your yard waste (limbs, pine needles, brush, etc.) to the burn pile at the Transfer Station on the south end of the turn-around. Remember, keep the pile neat. Woody debris only, no nails, no cardboard and no furniture! The Boise NF will burn the pile in the fall when it is safe.
Yellow Pine Fire Protection District Community Service Notice
The purpose of this letter is to show how you as a Yellow Pine Resident can help protect your structure against a wildland fire by being "Fire Wise." Click the link: to view 20190724 Yellow Pine Fire Protection mitigation
Valley County Wildfire Evacuation Checklist
A wildfire evacuation checklist that property owners in the Yellow Pine area might find useful. link: Valley County Evacuation Checklist – 2021
YPFD COVID19 Policy
link: YPFD Covid-19 SOP
link: Covid-19 EMS
Fire Chief: Lorinne Munn
Deputy Fire Chief: Merrill Saleen
YP Fire Commissioners:
Lorinne Munn – District 1
Phil Jensen – District 2
Merrill Saleen – District 3
Secretary/Treasurer – Nikki Saleen
——–
Biz Listings:
The Corner (208) 633-3325
As the season comes to an end, we are starting to dwindle our inventory. To ensure our stock is fresh and kept to our standards, we will only be taking reservations until the end of our season (October 28). To make arrangements, please call The Corner at 208-633-3325 or call/text Hailey Harris at 970-275-7336. Thank you for a great summer!
— — — —
Yellow Pine Tavern (208) 633-2233
Open daily: 8am to 9pm Sunday: 8am to 2pm
Indoor Dining and Outdoor Dining Available.
Full Breakfast Menu. Burgers, Pizza, Fajitas, Beer Wine and Pop
— — — —
Yellow Pine Lodge (208) 633-3377
Open thru hunting season.
— — — —
Yellow Pine General Store (208) 633-3300
Store hours: 10am to 5pm, Monday – Sunday. Gas and Diesel now available. The Liquor Store is now reinstated. Now Selling Black Rifle Coffee.
The store is stocked with basic convenience store items such as food, fuel, liquor, beer, wine, tobacco, ice, non alcoholic beverages, snacks, ice cream. New Yellow Pine branded shirts, hats and koozies have arrived. We are going through the process of installing a propane dispenser and bottle exchange service.
For any particular store item requests, please call 208-633-3300 or Email
For room reservations, please call 208-633-3300 or Email for reservations
— — — —
Murph's RV Park and Mary's Cabins
FB page link
— — — —
Knotty Kat Crochet Works – 509-406-2221
FB page link
open Tue – Sat, 9-5
Yellow Pine eggs $3/doz
— — — —
Buck Horn Outfitters LLC 208-633-3614
Our Elk & Deer hunts are booked for our 2021 season, we do have a couple openings for our 2022 Elk & Deer hunts. We Also have a couple openings for Mountain Lion hunts December 2021 through February 2022 and Spring Bear hunts May of 2022. Please see our Website site for further details.
Tom & Sarah Lanham
156 Yellow Pine Ave, Yellow Pine Id 83677
website:
Facebook:
Wapiti Meadow Ranch – Johnson Creek (208) 633-3217
or 208-315-3554 – cabin rentals
website:
Big Creek Lodge
website:
Deadwood Outfitters
website:
— — — —
Local Fuel Suppliers
Amerigas Phone: (208) 634-8181
Ed Staub & Sons Phone: (208) 634-3833
Diamond Fuel & Feed Phone: (208) 382-4430 open 830am-5pm Monday-Friday, closed weekends.
— — — —
Outside Biz that will service Yellow Pine:
Arnold Aviation (208) 382-4844
Watkins Pharmacy Cascade (208) 382-4204
Cascade Auto (208) 382-4224
Cascade Vet Clinic (208) 382-4590
The Star-News


click to subscribe:
A reminder that those who live in other states can subscribe to the online edition only since the mail can take days for hard copy to reach them.
Rocky Mountain Mechanical – Plumbing – Heating – Air conditioning
(208) 365-PIPE (7473), Emmett, will service Yellow Pine
Website:
Garden Mountain Contractors
We would like to extend our services into the Yellow pine area if there may be a need. We dig a lot of dirt! If you need this give us a shout on our FB page below. – Larry Williamson Garden Valley, Idaho FB Page:
— — — —
Follow The Yellow Pine Times on Facebook (updated more often than emails)
———————–
Local Observations:
Monday (Sept 27) overnight low of 36 degrees. This morning clear sky, light breeze, haze of Idaho smoke and Yellow air quality (the satellite map shows the Middle Fork and Main Salmon rivers outlined in smoke.) Jays and chipmunks visiting. Some high thin hazy clouds and getting breezy at lunch time. Mostly clear, breezy and a little better air mid-afternoon, high of 79 degrees. A few airplanes navigating turbulence over the village. Almost clear and much calmer at sunset. Mostly cloudy after midnight. Wind gusts ushered in the rain around 630am.
Tuesday (Sept 28) 24 hour low of 38 degrees (from Monday's reset.) This morning low overcast (VanMeter socked in mid-way) steady light rain and almost calm. Steady rain and low clouds at lunch time. Jays, chipmunks and pine squirrel visiting. Stopped raining early afternoon and by mid-afternoon breaks in the clouds, but the top of VanMeter is still fogged in and chilly breezes, high of 46 degrees. Broken cloud cover and chilly light breeze before sunset. Clouds on VanMeter finally lifted to reveal fresh snow.
Wednesday (Sept 29) overnight low of 27 degrees. This morning frosty, mostly clear, light breeze and good air quality. Jays, a pine squirrel and chipmunks visiting. Partly cloudy and chilly breeze at lunch time. Mail truck driver made it in on time (a little snow on the summits.) Mostly clear and chilly light breezes mid-afternoon, high of 61 degrees. Mostly clear at sunset, light cool breeze and good air. Probably clear before midnight.
Thursday (Sept 30) overnight low of 26 degrees. This morning frosty, clear sky and good air quality. A belted kingfisher, 3 hairy woodpeckers and jays visiting. Internet out before 9am, back on before 12pm. At lunch time clear and light chilly breeze. Light air and street traffic. Clear sky, light breezes and great air quality mid-afternoon, high of 72 degrees. Internet connection a bit spotty at times this afternoon. Clear and cooling off at sunset, great air quality. Internet working better around 8pm then spotty again around 930pm. Appeared to be clear before midnight.
Friday (Oct 1) 24 hour low of 28 degrees (from Thursday morning's reset.) This morning mostly cloudy (like bubble wrap) and light breeze. Early loud air traffic. Jays and chipmunks visiting. Mostly cloudy and cool at lunch time. Mild temperatures, partly clear and light breeze mid-afternoon, high of 74 degrees. Increasing street traffic (and a bit of dust.) Mostly cloudy – partly clear at sunset, calm and cooling off. Looked partly or mostly clear before midnight.
Saturday (Oct 2) overnight low of 30 degrees. This morning clear sky, good air quality and light frost. Air and street traffic (getting a bit dusty.) Clear and light breeze at lunch time. Jays, downy woodpecker, pine squirrel and chipmunks visiting. Mild temperatures, clear sky, slight breeze and good air quality mid-afternoon, high of 75 degrees. Clear and cooling off at sunset. Looked clear before midnight.
Sunday (Oct 3) overnight low of 30 degrees. This morning clear sky, light frost and good air quality. Jays and chipmunks visiting. Sunny and warming up at lunch time. Quite warm mid-afternoon, partly cloudy, light breezes and good air, high of 79 degrees. Partly cloudy (high wispies) at sunset and calm.
—————
Idaho News:
Valley County hospitals report 90 new COVID-19 cases
By Tom Grote for The Star-News September 30, 2021
A total of 90 new cases of COVID-19 were reported in the past week by the two hospitals. That compares to 92 new cases reported the previous week and 119 new cases the prior week.
St. Luke's McCall reported 82 new cases in the last week, while Cascade Medical Center reported eight new cases.
St. Luke's McCall reported 288 new cases from Sept. 1 through Monday, far exceeding the previous monthly record of 188 positive tests set in December 2020.
Cascade Medical Center reported 55 new cases during September through Monday, which is eight less than the hospital's high monthly mark of 63 cases reported in August.
Youths age 17 and younger made up the greatest number of McCall residents to test positive at all St. Luke's Health System testing locations so far in September, the hospital reported.
That group accounted for 33% of new cases among McCall residents during the month, followed by age 30 to 49 (17%) and ages 50 to 69 (16%).
A total of 89% of people hospitalized for COVID-19 at all St. Luke's Health System hospitals are unvaccinated, the hospital said.
Four confirmed deaths and two suspected deaths related to COVID-19 among Valley County residents have been reported by Central District Health.
The two hospitals have reported a total of 1,419 cases of COVID-19 since the pandemic arrived in Valley County in March 2020.
St. Luke's McCall offers walk-in COVID-19 vaccines from 8 a.m. to 5 p.m. Monday through Friday at St. Luke's Clinics – Payette Lakes Family Medicine, 211 Forest Street, McCall.
Appointments also can be scheduled online through St. Luke's myChart or calling 208-381-9500 or by calling 208-634-2225.
Booster shots are available by appointment through Payette Lakes Clinic to those who have a compromised immune system. Patients should schedule the booster shots through MyChart.
Cascade Medical Center offers a walk-in vaccination clinic from 8 a.m. to 5 p.m. on Tuesdays, Wednesdays and Thursdays.
full story: © Copyright 2009-present Central Idaho Publishing Inc. All rights reserved (used with permission.)
— — — — —
St. Luke's McCall deals with staffing shortage
Job offers turned down due to lack of housing
By Max Silverson for The Star-News September 30, 2021
Almost half of the job offers that St. Luke's McCall has made to prospective employees in the past year have been turned down, primarily because candidates cannot find housing in McCall.
Even more candidates for essential positions drop out of the hiring process before that point, St. Luke's Chief Operating Officer Amber Green said.
"First and foremost, they don't even come here…they can't find housing," Green said.
The hospital currently has 32 open positions, with the greatest need in support service departments like cleaning, food service, medical assistants and patient access staff, St. Luke's McCall Public and Community Relations Manager Laura Crawford said.
… Affordable housing is not a new problem affecting McCall, but the pressures have been exacerbated by the COVID-19 pandemic and the latest housing boom, Crawford said.
The lack of affordable housing has been affecting lower paying jobs at the hospital, but nurses, managers, doctors and other specialists have not been immune from the problem, she said.
full story:
— — — — — — — — — —
COVID-19 Updates: 1,778 new Idaho COVID-19 cases, 24 new deaths
October 1, 2021 Local News 8
Idaho officials reported 1,778 new COVID-19 cases and 24 new deaths Friday.
That brings the total confirmed and probable cases reported since March 2020 to 259,100.
The state said 878,212 people have received the vaccine, and 1,600,127 total doses have been administered. 786,828 people are fully vaccinated.
The hotspots so far this week are Canyon County, Ada County, Bannock County, Twin Falls County and Kootenai County.
The age group with the most cases is 18-29 with 62,228 cases.
The state said 55 new hospitalizations have been reported bringing the total number to 11,258, and 9 new cases have been admitted to the ICU bringing the total to 1,872.
24 new deaths were reported bringing the total recorded deaths to 2,931.
full story: [Valley County 1307 cases, 8]
— — — —
Covid-19 Hospitalizations Sept 27th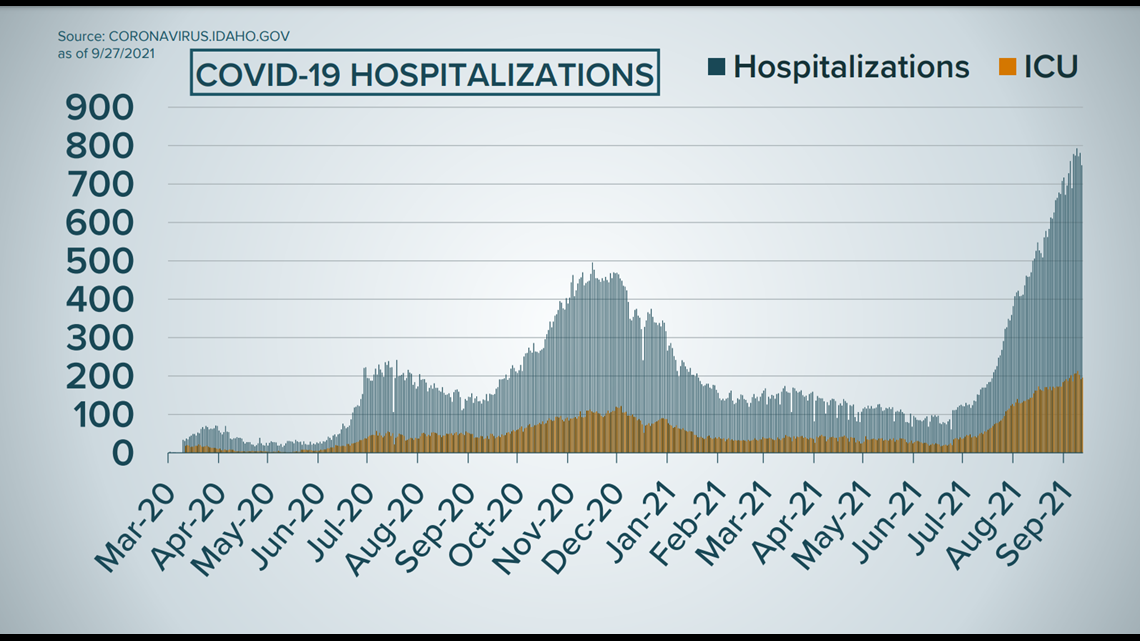 source: KTVB
— — — —
COVID-19 contact tracing: local health districts are thousands of cases behind
Between staffing and technology limitations, local health districts are unable to keep up amid surge of reported COVID cases.
Andrew Baertlein September 29, 2021 KTVB
The Idaho Division of Public Health's COVID-19 dashboard is behind approximately 11,500 outstanding positive cases needing local health district review, according to the Idaho Department of Health and Welfare.
That backlog not only limits the accuracy of reported COVID-19 cases in real time, but it also limits local public health districts in their ability to properly contact trace. Contact tracing is a process that notifies close contacts they have been exposed to the coronavirus and gathers information about where the virus is spreading in the community.
This backlog of cases has developed due to a lack of necessary manpower to process cases in real time, according to local health districts. However, hiring more staff hasn't been easy.
continued:
— — — — — — — — — —
McCall Public Library to offer assistance with voter registration
McCall Public Library is celebrating National Voter Registration Week by helping community members register to vote, check their registration details or request an absentee ballot via mail.
The celebration will continue through Friday, Oct. 8, which is the last day for Idahoans to register early.
There will be a Voter Registration Popcorn Party on Thursday, Oct. 7, for those who come in to register.
The last day for voters to request absentee ballots is Friday, Oct. 22, and early voting will begin on Monday, Oct. 18.
Librarians can answer questions, including about registering at the polls in November, either in person or by calling 208-634-5522.
McCall Public Library is located at 218 E. Park St.
source: The Star-News September 30, 2021
— — — — — — — — — —
Donnelly woman dies after car crash near McCall
by CBS2 News Staff Saturday, October 2nd 2021
One person is dead after a car crash near McCall Saturday.
Idaho State Police say the crash occurred at the intersection of Norwood Rd. and Johnson Rd. just south of McCall.
Police say a 71-year-old McCall man was driving east on Johnson Rd. crossing Norwood Rd.
A 51-year-old Donnelly woman was driving north on Norwood Rd. when the McCall man struck her car, causing her to spin off the east shoulder of the road.
continued:
— — — — — — — — — —
Two hurt in plane crash near Warren
Wreck is second this year in same area
By Drew Dodson for The Star-News September 30, 2021
Two people were injured on Monday when a single-engine airplane crashed near Warren, according to a news release from the Idaho County Sheriff's Office.
A Cessna 182 occupied by Gary Haass, 62, and Amy Haass, 58, crashed at about 12:30 p.m. northeast of the Warren Airport, the release said.
The hometowns for Gary and Amy Haass were not available. They were reportedly flying to an unknown destination in Idaho from Wasilla, Alaska, the Idaho County news release said.
The two were taken by air ambulance to St. Alphonsus Regional Medical Center in Boise, where they both were reported in "good" condition on Wednesday, a hospital spokesperson said.
The crash started a fire in trees and brush, a Payette National Forest spokesperson said.
Aircraft and firefighters from the Payette responded to the scene and contained the fire at two acres, the spokesperson said.
continued:
— — — — —
CORRECTION
A story in The Star-News last week incorrectly reported the cause of a single-engine plane that crashed 60 miles east of McCall on Aug. 28, killing two people and injuring a third.
The story said the crash was was caused by the plane flying too low in a drainage, but a preliminary National Transportation Safety Board report said the last data from a tracking system showed the plane was flying at an altitude of 6,400 feet, or 2,000 feet lower than the crash scene.
The preliminary report did not cite a probable cause.
source: The Star-News September 30, 2021
— — — — — — — — — —
Two more earthquakes reported near Stanley on Saturday
Celina Van Hyning (KTVB) October 3, 2021
Less than two weeks after a 4.0 magnitude earthquake was reported near Stanley, two more earthquakes were reported in the same area on Saturday evening.
According to the United States Geological Survey (USGS), a 4.0 magnitude earthquake hit nine kilometers northwest of Stanley at 5:47 p.m. on Saturday. Less than two hours later, a 2.8 magnitude earthquake was reported 10 kilometers northwest of Stanley at 7:34 p.m.
No damage has been reported as a result of Saturday's earthquakes and no reports of feeling the earthquake in the Treasure Valley have been made.
continued:
—————–
Idaho History:
Get to know the history of Old Freeze Out Road
There's a turnoff at the top of Freezeout Hill, outside Emmett, which takes you down the original Freeze Out Road. The long and winding road has a unique history.
Dani Allsop September 30, 2021 KTVB
Any map today will show you it's an easy 30-minute drive from Boise to Emmett. A straight shot down State Street, or Highway 44, with a sharp turn to the right onto Highway 16. Continue driving straight until you drop down Freezeout Hill into Emmett.
But a little more than a century ago, there were many more turns involved when going to Emmett, and you can still go that way today.
At the top of Freezeout Hill there's a turnoff called "Old Freeze Out Road" – a long and winding road with a colorful history.
The old road has 26 curves.
continued:
————–
Public Lands:
After Trident, 2 new plans for state lands
Payette forest, state to study swap of land around Payette Lake
By Drew Dodson for The Star-News September 30, 2021
State lands surrounding Payette Lake would become part of the Payette National Forest, under a preliminary proposal being studied by the Idaho Department of Lands.
The proposal would swap 16,125 acres of state land around Payette Lake for 30,895 acres of Payette forest land in Adams County, according to a draft agreement between the agencies.
The draft agreement, which has not been signed, was included in documents obtained by The Star-News in a public records request.
"These discussions have been preliminary and a commitment to execute the exchange has not been made at this point," said Brian Harris, a spokesperson for the Payette Forest.
continued:
— — — — — — — — — —
Hunters and visitors urged to use caution in Fawn Tussock Timber Sale area
Sept 30, 2021 Boise NF Press Release
The Cascade Ranger District employees are cautioning the public to be aware of road improvement work beginning next week within the Fawn Tussock Timber Sale area. The Timber Sale is located approximately 9 miles south of Cascade, Idaho.
Hunters and visitors using in the area, should be aware, engineers plan to upgrade roads beginning October 4, to meet standards for timber hauling. Anyone entering any section of the roads indicated on the attached map, should do so with caution and in anticipation of encountering vehicles, heavy equipment and eventually logging trucks.
Most of the sale area roads are behind closed gates however, timber managers encourage anyone visiting the area to be aware that there will be timber and silviculture employees accessing roads behind closed gates while working on timber sale preparation.
Fawn Tussock Timber Sale logging and hauling operations are planned to start in fall and continue through December. Main haul routes will be on National Forest System (NFS) road 404 and NFS road 446 near Cabarton. Please be aware, harvest operations and hauling will also be occurring on many secondary spurs in the 404 and 446 road systems.
No road closures are planned at this time for timber harvest or road maintenance activities. Safety signs will be in place to inform the public of ongoing activities.
Please be careful with campfires, as fire restrictions have been lifted for the Boise National Forest.
For more information, contact the Cascade Ranger District at 208-382-7400.
Map

Project link:
Linda Steinhaus
Public Affairs Specialist
Boise National Forest
————-
Fire Season:
Fall Burning on the Krassel RD
Sept 29, 2021 Payette NF
The Krassel Ranger District, Payette National Forest is planning to implement prescribed fire this fall east of Yellow Pine. The unit is located east of Yellow Pine, on the North side of the East Fork Rd, between Quartz creek and Profile creek. See attached maps for more specific areas affected. Ignitions should take 1 to 2 days for each. Hazards from the prescribed fires including fire spread, smoke, rolling debris, ash pits and fire weakened trees may be present in the area until significant weather (precipitation and cooler temperatures) occurs.
Ignition is anticipated to take place in October or early November.
Please contact Patrick Schon at 208-634-0623 patrick.schon@usda.gov or Laurel Ingram at 208-634-0622 laurel.ingram@usda.gov with any questions or comments, or if you will be operating in or close to that area this fall.
Map

Thank you,
Patrick Schon
Fire Management Specialist
Payette National Forest, East Zone
— — — — — — — — — —
2021 Payette Wilderness Fires
Three fires are burning in the Frank Church River of No Return Wilderness on the Payette National Forest. The Club, Rush Creek, and Vinegar fires were started by lightning on July 15, 2021. A Type 3 Incident Management Team took over the fires on July 19th. A closure order for trails has been put in place in and around these fires for public and firefighter safety to prevent any interference with suppression and response operations.
InciWeb: Maps and closure orders
— — — —
Boundary Fire grows to 84,756 acres
October 1, 2021 Local News 8
The lightning caused Boundary Fire that started on August 10 has burned 84,756 acres and is 68% contained.
A point protection strategy is being applied to the Boundary Creek Fire, which is burning in the Frank Church River of No Return Wilderness. The desired end state for this incident is that the fire will have taken its natural course while values-at-risk and firefighters have been protected.
With slightly higher temperatures and lower relative humidity, firefighters saw another increase in fire activity across the fire.
In the Sulphur Group, firefighters completed the burning operation north of the creek at Sulphur Creek Ranch. Today, crews will continue to improve upon their fire lines and wrap up the operation. Fire extended from Blue Bunch Mountain to the north end of Ayers meadow Thursday.
continued:
— —
Boundary Fire
Salmon-Challis National Forest
The lightning-caused Boundary Fire ~2 miles W of Boundary Creek Boat Launch was detected on August 10.
InciWeb: Maps and closure orders
— — — —
Mud Lick, Haynes, and Iron Fires
Salmon-Challis National Forest
InciWeb: Maps and closure orders
— — — — — — — — — —
Some useful links:
InciWeb Fire info link:
Air Quality McCall link:
National Fire Heat Map link: (zoom in to our area)
Weather Station at Stibnite link:
Real Time Lightning Map link: (zoom to our area)
GOES-West Satellite Maps Pacific Northwest link:
—————–
Critter News:
Dog park to be dedicated Sunday at McCall care center
Dog owners can bring their furry friends to celebrate the grand opening of the McCall Unleashed dog park on Sunday at 1 p.m.
The new dog park is located at the McCall Rehabilitation and Care Center, 418 Floyde St.
The event will include dog contests and prizes. Refreshments and dog biscuits will be served.
Alex Johnson, a senior at McCall-Donnelly High School, is organizing the event for his senior project.
Visit the McCall Rehabilitation and Care Center's Facebook page for more information.
source: The Star-News September 30, 2021
— — — — — — — — — —
Boise State's newest tee dog, Blitz, carrying on his dads legacy
By Lynsey Amundson Oct 01, 2021 KIVI
Boise — He's a certified Good Boy with big paws to fill. Meet Blitz, a four-year-old black lab.
But he's not just any black lab, Blitz is Boise State's newest tee dog, the Boise Hawks bat dog, and the son of Cowboy Kohl.
"I was really proud of him when he went and grabbed the tee for the first time and just to have the legacy continue," Devin Martin, Blitz' owner said. "It was pretty incredible. Kohl was one of the best dogs I have ever known. He loved everything, loved everybody, loved to retrieve, and he takes after his dad in a lot of ways. "
continued: w/video
— — — — — — — — — —
Boise Airport installs 'pet restroom' for service animals
by CBS2 News Staff Tuesday, September 28th 2021
Boise Airport installed new amenities including a "pet restroom" for service animals and a private lactation center.
"The service animal relief center is a pet restroom…offering four-legged travelers a space to relieve themselves on artificial grass," the Boise Airport news release says. The area offers free waste bags and a hose for washing the artificial grass.
This feature, along with the private lactation center, is required in midsized airports by the Federal Aviation Administration.
source:
— — — — — — — — — —
What's a food-conditioned bear and how to help prevent more bear conflicts
By Lynsey Amundson Sep 30, 2021 KIVI
With winter quickly approaching, bears all across Idaho are on the hunt for food to pack on the pounds before hibernation starts. This time of year, they sometimes search in places they normally wouldn't, like in neighborhoods and people's trashcans.
"A food-conditioned bear is basically one that has found a food source and it is going to return to it," Roger Phillips, IDFG Public Information Supervisor said. "These things cover a lot of territories, they know where to find food, and unfortunately oftentimes this time of year as they get closer to hibernation that might be near humans."
Idaho has a lot of black bears, and although most of the time they stay out in the wild when they find a food source, it's more than likely they will keep returning to it for more.
Most recently, IDFG says they have seen an increase in bear conflicts in the Wood River Valley and McCall.
continued:
— — — — — — — — — —
Call to Idaho poaching hotline leads to heavy sentences for Missourians
September 30, 2021 Local News 8
A simple call to Idaho's Citizens Against Poaching (CAP) hotline of reported illegal wildlife crimes in Custer and Blaine counties, resulted in multiple-year hunting, fishing and trapping license revocations, jail time, and thousands of dollars in fines and restitution to the state.
Missouri residents Grifen Whiteside, age 21, and Dylan Davidson, age 25, pled guilty to six misdemeanors in Custer County and each received a 15-year license revocation, served 14 days in jail, received 10 years of probation and were fined $2,325. A third accomplice, Sydney Wallace, age 20, also of Missouri, received a one year hunting, fishing and trapping license revocation and was fined $715. Final sentencing for the trio concluded the summer of 2021.
continued:
— — — — — — — — — —
Two rabid bats found in Canyon County
KTVB Staff September 27, 2021
Health officials issued a public warning Monday after rabid bats were found at two separate locations in Canyon County.
Southwest District Health (SWDH) said one of the bats was found alive outside an apartment complex. The other one was found dead on the ground in someone's yard.
While most bats don't carry rabies, health officials say bats are the only natural hosts for it in Idaho and they should always be avoided. There usually is an uptick in exposure calls from late August through September when bats are often migrating.
continued:
— — — — — — — — — —
Sockeye salmon released into central Idaho lakes to spawn
by Associated Press Tuesday, September 28th 2021
The number of endangered sockeye salmon making it to central Idaho from the ocean this year is one of the worst returns in the last decade, with only 43 fish so far.
But state wildlife managers said Tuesday a hatchery program intended to prevent the species from going extinct allowed the release earlier this month of over a thousand sockeye into Redfish and Pettit lakes to spawn naturally.
The Idaho Department of Fish and Game in August also started an emergency trap-and-truck operation at Lower Granite Dam in Washington due to overly warm rivers and captured 201 fish. The agency brought the fish to its hatchery in southwestern Idaho.
source: (CBS2)
—————–
Letter to Share:
Raffle tickets are in short supply.
The good news is that we are down to less than 200 Raffle tickets. The winner receives a new 7 cu. Foot freezer with a cut and wrapped heritage pig in it. Second prize is 2 BBQ baby pork rib racks. # 3 and 4 prize is 10 TGBF cups and coasters. If you want to win or have the best chance you need to get tickets now. Tickets are $5.00 each or 5 tickets for $20.00. All money from this project goes to the Game Bird Foundation to raise baby pheasant and Red-leg Partridge chicks to be released at the ripe old age of 10-12 weeks.
You can order the tickets by going to our web page (link) and order and pay for them. You can email me and order and send check to The Gamebird Foundation at PO Box 100, Viola, Idaho 83872. Or you can give me a call at 208-883-3423. And make a deal. We will fill out the stubs and send your half to you vi slow mail. The filled out stubs go in the stub box. You can also email me and I will do the hard work for you. jhagedorn611 @ gmail.com. The Pheasants and other birds will love you.
The drawing will be October 10th at the banquet in Moscow. More on this later.
Jim Hagedorn
Executive Director
The Gamebird Foundation
thegamebirdfoundation.org
jhagedorn611 @ gmail.com
208-883-3423
————-
Fish & Game News:
Friendly reminder to hunters: 10 common violations that can easily be avoided
By Mike Demick, Staff Biologist
Wednesday, September 29, 2021
Brushing up on basic rules can help hunters avoid common blunders and a possible citation
With many of Idaho's hunting seasons underway or about to begin, the Idaho Fish and Game staff reminds hunters that they can avoid running afoul with the law this fall by simply reviewing the regulations and avoiding common mistakes.
"Accidents happen and simple mistakes are made every year that get hunters into trouble," said David Silcock, Fish and Game regional conservation officer based in Salmon. "We see many violations that can be avoided if hunters just take the time to review and understand the regulations."
continued:
— — — — — — — — — —
Hunters: Please fill out your big game hunter reports
By Roger Phillips, Public Information Supervisor
Monday, September 27, 2021
Hunter reports are critical to effective big game management, and hunters are needed to do their part
Idaho Fish and Game needs all big game hunters to help by taking a few minutes to fill out their mandatory hunter reports regardless of whether they harvested, or even if they bought a tag, but didn't hunt.
You can help effective wildlife management and do it quickly and easily on the new licensing system, or by calling (877) 268-9365. The phone option is available 24 hours per day and seven days per week. Please have your hunting tag number when calling. If you don't have it handy, you can find it in your account at gooutdoorsidaho.com, which has tag information on file (and you can file your report there, too).
continued: w/link to submit report
— — — — — — — — — —
More F&G News Releases
link:
———————————-
Crazy Critter Stuff:
Kuna animal sanctuary seeks volunteers to snuggle piggies
by CBS2 News Staff Monday, September 27th 2021
Dominifarm Animal Sanctuary is looking for helpers to make their rescued farm animals feel loved.
The sanctuary is a charity that cares for elderly, disabled and abandoned farm animals such as pigs, cows, chickens and horses. Dominifarm says volunteering helps the animals socialize, but it also helps the volunteers.
"At first, I started the sanctuary to help animals," said Dominique Delobbe, president and operator of Dominifarm. "But over time, what has become beautiful to me is the beneficial impact of the animals on people who come to visit. The visitors get as much from the animals as the animals get from the visitors."
continued:
——————
Seasonal Humor:

——————-