Oct 10, 2021 The Yellow Pine Times – Valley County, Idaho
Reminder: We are still under a boil water order.
Stage 1 Fire Restrictions rescinded Sept 17th
Community Calendar:
April 17, 2020 – Boil water order in effect
May 10 thru Oct 20 – Burn Permit season
May 15 – Firewood Season, permits at The Corner
Sept 17 – Stage 1 Fire Restrictions Rescinded
Oct 25 – Halloween and Salmon Feed YP Tavern 7pm
Oct 28 – The Corner closing for the season
Nov 7 – Time Change – Fall back 1 hour
(details below)
———-
Local Events:
Halloween/Salmon Bake Party at the Tavern
Note Date Change: Monday, October 25th at 7pm. Salmon provided by Tom Wood. Bring a Potluck Dish if you wish. Halloween Costumes encouraged or come as a Hunter.
———
Village News:
Notice to all VYPA Members:
I have accepted a position on the board of directors of the Yellow Pine Area Coalition (YPAC).
I will be relinquishing all my VYPA responsibilities by January 1, 2022.
I will complete my responsibilities as Project Manager for the Community Hall Repair Project prior to stepping off the Council.
If you are interested in filling the position of VYPA Chairman; leading the Harmonica Festival committee; coordinating the YP Escapades; managing the village's online presence; or working on the Community Hall committee, please contact one of the Council members.
Over the next 2 1/2 months, the VYPA Council will be working toward a smooth transition for my successor. Thank you for allowing me to serve our community for the last 13 years.
Deb Filler, VYPA Chairman
— — — —
University of Yellow Pine
October 9, 2021 – rrS
— — — —
October 5th Fall Fuel Delivery
The Diamond Fuel and Feed tanker truck delivered fuel on Tuesday, October 5th.
— — — —
Notice – New Deadline
In order to have your item posted in that week's paper you must email it in by Noon on Sunday.
A reminder – if your group or business want an event, photo, minutes, news or advertising posted in the Yellow Pine Times, please write what you want posted in text form (for copy/paste) and send it by email. Remember to include the "who, what, when, where and why." Images or groups of images must be under 10 megs per email.
— — — —
Life Flight
It is a very good idea to have Life Flight insurance if you live or recreate in the back country. If you already have Life Flight, consider it as a gift to a loved one.
— — — —
Road News
Link: to current road reports.
Profile Gap, Lick Creek, Thunder Mountain and Deadwood roads are Open. These roads have not been bladed and are rough. Travel at your own risk.
Hwy 55 projects
Smith's Ferry area: Starting Tuesday, Sept. 7, drivers can expect full road closures Monday-Thursday from 10 a.m. to 2 p.m. After 2 p.m., the road will be open to one-way alternating traffic. Please note: the delays may be significant immediately after the road reopens due to large traffic volumes. Once this traffic clears, drivers can expect 15-minute delays. We encourage drivers to plan ahead and use U.S. 95 as an alternate route. Project Website link:
Donnelly to McCall: One lane during the week and two lanes on weekends. Project is slated to last until September.
— — — —
Critters
Be Bear Aware
* Do not feed them human food
* Secure your trash
* Feed domestic pets indoors
* Make sure your pets are updated on Rabies vaccines
* Small pets could become a snack
Bats
While bats are an important part of our ecosystem and most do not carry rabies, CDH offers the following tips to protect yourself and pets:
* Never touch a bat with your bare hands.
* If you have had an encounter with a bat, seek medical attention.
* If you come in contact with a bat, save the bat in a container without touching it and contact your health department to arrange testing for rabies. Whenever possible, the bat should be tested to rule out an exposure to rabies. During regular business hours in Ada, Boise and Elmore Counties, call 208-327-7499 and in Valley County, call 208-634-7194. After business hours in all counties, call 1-800-632-8000.
* Always vaccinate your pets for rabies, including horses. Pets may encounter bats outdoors or in the home.
* Bat-proof your home or cabin by plugging all holes in the siding and maintaining tight-fitting screens on windows. Bats can enter through holes the size of a quarter.
Mosquitoes – West Nile
* Remove standing water
* Wear long sleeves and pants during morning/evening hours
* Use a good repellent with DEET (our bugs laugh at "backyard" formulas.
* Vaccinate your horses and mules! West Nile can be fatal to equines.
— — — —
Yellow Pine US Mail
Aug. 29th the price of first-class postage stamps went to 58 cents from 55 cents.
Attention Mail Route Customers – FedEx Ground has changed their policy, and they will no longer pay for Mail Plane or Truck freight. If you can avoid it, we strongly encourage you to use UPS or USPS to receive packages. If you do order a FedEx Ground package, you will be billed for: Air Freight @ $0.45/lb, or Mail Truck Freight @ $0.05/lb. We are truly sorry this is the case, and are working very hard to make sure you still receive your orders. – Arnold Aviation
The 6-day a week mail delivery started June 1st. The Post Office in Yellow Pine is open six days a week year around: M-F 845am-245pm Saturday 9am-245pm. Forever Stamp: 58 cents. Support our local post office and purchase your holiday stamps here.
— — — —
Yellow Pine Transfer Station
Report Saturday (Sept 4) The dumpsters are being emptied on Wednesdays.
Locals have worked hard to clean up the area, please be respectful.
Yellow Pine Transfer Station (aka, the dump)
Please do not abuse our Transfer Station or we may lose it. Household trash must be placed in the bins, flattened cardboard boxes can also go into the bins. Do not stack trash in front of the doors. Woody yard debris only for the burn pile. No furniture, appliances, tires or construction debris allowed, those items must be hauled out to the Donnelly station by you.
The Yellow Pine Transfer Station is Valley County responsibility. If it is not kept tidy, use of the Transfer Station may be revoked. That would result in residents having to take all household trash and yard waste to the Donnelly Transfer Station.
If Dumpsters Are Full, Contact Lake Shore Disposal at: (208) 634-7176
Dump Tips
Do you know where your trash goes after it leaves Yellow Pine?
90 tons per week of Valley Co.'s solid waste comes to the Adams Co. landfill. (Valley Co. has a contract with Adams Co.) When Valley Co.'s weekly trash exceeds 90 tons, the rest is then taken to Payette. The more garbage, the more cost in transferring it further away.
Tips to reduce trash:
1. When purchasing groceries refuse plastic bags as they reek havoc at the Adams Co.'s landfill, causing problems with equipment.
2. Garbage: recyclables, compost, trash
If each household would have containers for these three categories this is the place to start.
– B. Dixon
———-
Local Groups
YPWUA News:
We are still under a Boil Order. Please conserve water.
July 25, 2021 Update:
The Yellow Pine Water Users Association Board asks that individuals refrain from using domestic water to dampen the road. The Water Corporation is doing its best to provide water for domestic use during the low water period but as the supply becomes more limited, it is incumbent upon each of us to be judicious with its use. Thank you for your cooperation in ensuring that all community members have an adequate supply of water.
The corporation has received the first $150k grant of the anticipated $450k. We are hoping to have some of the supply lines replaced by winter. Thanks to those who wrote letters of support. They were very beneficial in securing the grants. – Willie Sullivan
Sept 10, 2021 Update
DRINKING WATER WARNING
Yellow Pine Water Users PWS 4430059
BOIL WATER ADVISORY
Due to insufficient treatment
We routinely monitor the conditions in the drinking water distribution system. On 4-19-2020 we experienced a period of insufficient treatment due to extreme water demand which exceeded the capacity of the treatment system. A drop in water pressure is a signal of the existence of conditions that could allow contamination to enter the distribution system through backflow, by backpressure, or back-siphonage. As a result, there is an increased chance that the drinking water may contain disease-causing organisms.
What should I do?
* DO NOT DRINK THE WATER WITHOUT BOILING IT FIRST. Bring all water to a boil, let it boil for one minute, and let it cool before using, or use bottled water. Boiled or bottled water should be used for drinking, making ice, brushing teeth, washing dishes, and food preparation until further notice. Boiling kills bacteria and other organisms in the water.
* Inadequately treated water may contain disease-causing organisms. These organisms include bacteria, viruses, and parasites, which can cause nausea, cramps, diarrhea, and associated headaches.
* The symptoms above are caused by many types of organisms. If you experience any of these symptoms and they persist, you may want to seek medical advice. People at increased risk should seek advice about drinking water from their health care providers.
What is being done?
Efforts are under way to curtail water use. Once water use is diminished, the water treatment system will again be operational and the boil water order can be lifted.
We will inform you when you no longer need to boil your water. We anticipate resolving the problem within 180 days.
For more information, please contact Warren at 208-573-6261 or wdrake @ drakediversified.com
Please share this information with all the other people who drink this water, especially those who may not have received this notice directly (for example, people in apartments, nursing homes, schools, and businesses). You can do this by posting this notice in a public place or distributing copies by hand or mail.
This notice is being sent to you by Yellow Pine Water Users Assoc.
PWS ID #: 4430059 . Date distributed: 9-10-21.
—
YPWUA 2021 Annual Shareholder Meeting July 4, 2021 at the Community Hall at 10am. Link: to 20210704 YPWUA minutes
YPWUA 2020 Annual Shareholder Meeting held July 5, 2020 at the Community Hall 2pm. link: to 20200705 YPWUA minutes
Water Board:
Steve Holloway
Willie Sullivan
Dawn Brown
Stu Edwards
Candy Hardisty
— — — —
VYPA News:
Village Of Yellow Pine Association Meeting Minutes September 11, 2021
Attending Council Members: Deb Filler, Chairman; Ronda Rogers, Treasurer; Hailey Harris, Secretary; Rhonda Egbert, Member At Large.
Attendees: Sue Holloway, Sue Matlock, Christie Harris, Belinda Provancher, Josh Jones, Candy Sullivan, Willie Sullivan, Lorinne Munn, Cindy Fortin, Leslie Jensen, Ginny Bartholomew, Lynn Imel, Merrill Saleen, Niki Saleen, Steve Holloway, Tim Rogers.
Deb Filler called to order the regular meeting of the VYPA at 1400 at the Yellow Pine Community Hall.
Approval of minutes from last meeting-Deb Filler asked attendees if there were any outstanding questions/concerns with prior meeting minutes. All attendees agreed that there were no questions/concerns. Minutes approved.
Treasurer Report: Breakdown of ledger given by Ronda Rogers (see attached). Lorinne Munn requested a breakdown of how funds were appropriated. All VYPA minutes and attachments are available via Cloud Access. Joshua Jones to assist Council with technology solution to having documents available.
Community Hall: outside kitchen door replaced; upcoming, prioritized improvements will be done with available grant funds.
Cemetery: Chappy's was stone set.
Infrastructure: Lorinne Munn, Susan Matlock, and Dawn Brown volunteered to be on the infrastructure team.
Harmonica Festival: Lorinne expressed great concern about proceeds made at Community Breakfast versus prior years. First Aid booth is provided as a courtesy not a requirement-all incidents were handled appropriately.
Stibnite Foundation Update: Ronda Rogers handed grant check to VYPA council. Community Hall project was awarded $6200.00.
Water Dept: Steve Holloway gave update on fire hydrants, sand filter replacement, and the pressure regulators that will be put into place with grant funding that has been granted.
YPFPD: Meeting held today at 1000. Phil is going to be presented new procedures.
Perpetua Resources: Belinda Provancher-Annual pig roast/community potluck cancelled; field work is starting late September/early October prior to winter season.
Old Business
Fireworks research update: Rhonda Egbert-Completed research on fireworks requirements. All 2021 fireworks followed the law.
New Business
Community Reps Named: Stibnite Advisory Council-Lynn Imel requested continuation. Unanimous election. Stibnite Advisory Council-Ronda Rogers requested continuation. Unanimous election.
2022 Festival Chairman: Deb Filler-motioned by Ronda Egbert, second by Hailey Harris, motioned carried.
Escapades Ride: September 18, 2021, next ride to Thunder Mountain. Proceeds support the Community Hall.
Lorinne Munn expressed concern about retired fire truck. Information was given about current ownership of the truck and the restoration process that the new owners are working on. A letter addressed to The Council was provided by and orally delivered during the meeting by Lorinne Munn. All questions/concerns were addressed, and a meeting to address pain points will be scheduled with the Council and Business owners with Adam Pellegrini to facilitate. (See attachment for Munn's letter).
Respectfully submitted by,
Hailey Harris, VYPA Secretary
A complete, audio recording of this meeting can be accessed at: (link)
Sept 11, 2021 – VYPA Meeting minutes link: (see document at link for attachments)
Aug 14, 2021 VYPA Meeting Canceled (lack of quorum.)
July 10, 2021 VYPA meeting minutes link:
June 12, 2021 VYPA Meeting Minutes link:
VYPA Meetings are the 2nd Saturday of June, July, August, and September (June 12, July 10, August 14, September 11) at 2:00pm at the Community Hall.
Village Council members:
Deb Filler, Chairman
Josh Jones, Vice Chairman
Ronda Rogers, Treasurer
Hailey Harris, Secretary
Rhonda Egbert, Member at Large
VYPA Bylaws adopted 8/8/2020 (link)
YPAC Corp Bylaws (link)
— — — —
YPFD News:
Remember to clean your chimney before lighting your first fall fire, and check the fittings. Chimney brushes are available to borrow from the YPFD.
Sept 11, 2021 YPFD Budget meeting (no minutes yet.)
Aug 28, 2021 – YPFD Meeting to discuss upcoming election (no minutes yet.)
July 10, 2021 – YPFD Meeting Minutes. Link:
June 12, 2021 – YPFD Meeting Minutes. Link:
May 15, 2021 – YPFD Meeting Minutes. Link:
Sept 30, 2020 YPFD budget meeting. (No minutes yet.)
2021 Meeting schedule for the YPFD. All meetings are at the YPFD Station
Sat. May 15 at 10am
Sat. June 12 at 10am
Sat. July 10 at 10am
Sat. September 11 at 10am Budget Meeting
Also if you are burning any piles of forest litter and debris – please have a connected and charged garden hose that can reach your piles. If your hose cannot reach where you are burning, follow the good advice of having a shovel, axe, and water bucket at the scene. Rake away from anything that could ignite. Stop burning if winds become an issue. Make sure your fire is out before you leave the area. Nothing like getting surprised by a escaped fire in the middle of the night!
Better yet, "Rake It and Take It" your yard waste (limbs, pine needles, brush, etc.) to the burn pile at the Transfer Station on the south end of the turn-around. Remember, keep the pile neat. Woody debris only, no nails, no cardboard and no furniture! The Boise NF will burn the pile in the fall when it is safe.
Yellow Pine Fire Protection District Community Service Notice
The purpose of this letter is to show how you as a Yellow Pine Resident can help protect your structure against a wildland fire by being "Fire Wise." Click the link: to view 20190724 Yellow Pine Fire Protection mitigation
Valley County Wildfire Evacuation Checklist
A wildfire evacuation checklist that property owners in the Yellow Pine area might find useful. link: Valley County Evacuation Checklist – 2021
YPFD COVID19 Policy
link: YPFD Covid-19 SOP
link: Covid-19 EMS
Fire Chief: Lorinne Munn
Deputy Fire Chief: Merrill Saleen
YP Fire Commissioners:
Lorinne Munn – District 1
Phil Jensen – District 2
Merrill Saleen – District 3
Secretary/Treasurer – Nikki Saleen
——–
Biz Listings:
The Corner (208) 633-3325
As the season comes to an end, we are starting to dwindle our inventory. To ensure our stock is fresh and kept to our standards, we will only be taking reservations until the end of our season (October 28). To make arrangements, please call The Corner at 208-633-3325 or call/text Hailey Harris at 970-275-7336. Thank you for a great summer!
— — — —
Yellow Pine Tavern (208) 633-2233
Open daily: 8am to 9pm Sunday: 8am to 2pm
Indoor Dining and Outdoor Dining Available.
Full Breakfast Menu. Burgers, Pizza, Fajitas, Beer Wine and Pop
— — — —
Yellow Pine Lodge (208) 633-3377
Open through the end of hunting season.
— — — —
Yellow Pine General Store (208) 633-3300
Store hours: 10am to 5pm, Monday – Sunday. Gas and Diesel now available. The Liquor Store is now reinstated. Now Selling Black Rifle Coffee.
The store is stocked with basic convenience store items such as food, fuel, liquor, beer, wine, tobacco, ice, non alcoholic beverages, snacks, ice cream. New Yellow Pine branded shirts, hats and koozies have arrived. We are going through the process of installing a propane dispenser and bottle exchange service.
For any particular store item requests, please call 208-633-3300 or Email
For room reservations, please call 208-633-3300 or Email for reservations
— — — —
Murph's RV Park and Mary's Cabins
FB page link
— — — —
Knotty Kat Crochet Works – 509-406-2221
FB page link
open Tue – Sat, 9-5
Yellow Pine eggs $3/doz
— — — —
Buck Horn Outfitters LLC 208-633-3614
Our Elk & Deer hunts are booked for our 2021 season, we do have a couple openings for our 2022 Elk & Deer hunts. We Also have a couple openings for Mountain Lion hunts December 2021 through February 2022 and Spring Bear hunts May of 2022. Please see our Website site for further details.
Tom & Sarah Lanham
156 Yellow Pine Ave, Yellow Pine Id 83677
website:
Facebook:
Wapiti Meadow Ranch – Johnson Creek (208) 633-3217
or 208-315-3554 – cabin rentals
website:
Big Creek Lodge
website:
Deadwood Outfitters
website:
— — — —
Local Fuel Suppliers
Amerigas Phone: (208) 634-8181
Ed Staub & Sons Phone: (208) 634-3833
Diamond Fuel & Feed Phone: (208) 382-4430
— — — —
Outside Biz that will service Yellow Pine:
Arnold Aviation (208) 382-4844
Watkins Pharmacy Cascade (208) 382-4204
Cascade Auto (208) 382-4224
Cascade Vet Clinic (208) 382-4590
The Star-News


click to subscribe:
A reminder that those who live in other states can subscribe to the online edition only since the mail can take days for hard copy to reach them.
Rocky Mountain Mechanical – Plumbing – Heating – Air conditioning
(208) 365-PIPE (7473), Emmett, will service Yellow Pine
Website:
Garden Mountain Contractors
We would like to extend our services into the Yellow pine area if there may be a need. We dig a lot of dirt! If you need this give us a shout on our FB page below. – Larry Williamson Garden Valley, Idaho FB Page:
— — — —
Follow The Yellow Pine Times on Facebook (updated more often than emails)
———————–
Local Observations:
Monday (Oct 4) overnight low of 32 degrees. This morning mostly clear sky and good air quality. Trio of chipmunks and a few jays visiting, later the local pine squirrel showed up. Mostly sunny at lunch time, slight haze. Quite warm mid-afternoon, almost clear sky, gusty breezes, high of 82 degrees and haze building to the south (Boundary Fire.) Most of the sky had small clouds at sunset, cooling off and calmer. Clouds or haze before midnight.
Tuesday (Oct 5) 24 hour low of 34 degrees (from Monday's reset.) This morning it appears clear above haze of smoke and poor air quality. Early loud air traffic. Jays, a male hairy woodpecker and chipmunks visiting. Increasing traffic and dust. Haze of smoke at lunch time, light breeze and probably mostly clear. Diamond Fuel and Feed delivered fuel today. Warm, mostly cloudy, haze of smoke and dust and breezy mid-afternoon, high of 76 degrees. Mostly cloudy and haze of smoke (and some dust) at sunset and calmer. Clouds or haze before midnight.
Wednesday (Oct 6) overnight low of 39 degrees. This morning partly cloudy and light haze of smoke. McCall air quality is Yellow, but ours is better. Early loud air traffic. Jays, chipmunks and male hairy woodpecker visiting. Gusty breezes blowing colored leaves off the trees and bushes at lunch time. Mail truck made it in on time. Helicopter at 215pm. Mild, partly cloudy, good air and gusty breezes mid-afternoon, high of 71 degrees. Grasshoppers clacking around. Internet spotty around 535pm. Partly cloudy at sunset, lighter breezes. Clouds to the east before midnight.
Thursday (Oct 7) overnight low of 42 degrees. This morning dark overcast, good air quality and sprinkled lightly just after 10am (not enough to get wet.) Internet connection spotty around 1045am. Jays, a pine squirrel and chipmunks visiting. Cool and overcast with slight breeze at lunch time. Cloud of smoke behind the Fire Hall (controlled burn.) Cool, cloudy, drops and sprinkles of rain mid-afternoon, high of 58 degrees. Short rain shower after 4pm. Partly cloudy just before sunset and calm. Looked cloudy to the east before midnight.
Friday (Oct 8) overnight low of 40 degrees. Yesterday's sprinkles amounted to a trace in the rain gauge. This morning it started raining around 955am, dark overcast and good air quality. Light street traffic. Break in the rain between 1130am-1230pm, then more rain until a little after 1pm. Cool and low overcast (socked in mid-way down VanMeter Hill) mid-afternoon, high of 50 degrees. Overcast and a "freckle" of rain drops on the roof at sunset, light chilly breeze.
Saturday (Oct 9) overnight low of 41 degrees. Yesterday's showers added up to 0.07″. This morning mostly cloudy, patches of blue sky and light breeze. Hairy woodpecker, pine squirrel, chipmunks and jays visiting. Mostly cloudy at lunch time. Light traffic for a Saturday, streets are starting to dry out. Cool light breeze and mostly cloudy (thin high wispy) mid-afternoon, high of 58 degrees. Almost clear at sunset, light breeze and cooling off. Some stars shining to the east before midnight.
Sunday (Oct 10) overnight low of 31 degrees. This morning overcast and good air quality. Jays, a pine squirrel and chipmunks visiting. Dark overcast at lunch time. Mostly cloudy and chilly gusty breezes mid-afternoon, high of 58 degrees. Overcast, light breeze and light sprinkles of rain started around sunset.
—————-
Mining News:
2nd gold mine proposed near Yellow Pine
Stallion Gold project would border Perpetua mine
By Drew Dodson for The Star-News October 7, 2021
A Canadian mining company has begun exploring for gold and antimony on 5,600 acres of land bordering Perpetua Resources' proposed Stibnite Gold Mine near Yellow Pine.
Crews from Stallion Gold Corp of Vancouver, British Columbia, began collecting soil and rock samples from the largely under-explored Horse Heaven Project this past summer, Stallion Gold CEO Drew Zimmerman said.
A Stallion Gold investor presentation said that deposits at Horse Heaven "share similarities" to Perpetua's Stibnite project, which is predicted to produce 6 million ounces of gold.
Spokespeople for both Stallion Gold and Perpetua said the two projects are unrelated and that neither company has a business relationship with the other.
The Horse Heaven project is located on the Boise National Forest, which would be in charge of issuing permits for exploratory drilling and other approvals for the proposed mine.
Zimmerman had no estimate on when the company could begin mining.
Perpetua Resources began exploratory work on its Stibnite Gold Project in 2009. An extensive review of the project led by the Payette National Forest has been underway since 2016.
A decision on the Stibnite Gold Project is not expected until 2023, or 14 years after the start of the project.
The Horse Heaven project area takes in 8.8 square miles of land near the confluence of Johnson Creek and the East Fork South Fork Salmon River. Parts of the project zone are within one mile of Yellow Pine.
By comparison, Perpetua's project area totals 46.6-square-miles, but the company proposes to mine only about three square miles.
Stallion Gold raised $2 million in July through a private stock offering to fund exploration of the Horse Heaven Project, the company's only current project.
A $953,000 deal to acquire the mineral rights for the land was completed in May.
Zimmerman told The Star-News that Stallion Gold is "not affiliated with Perpetua Resources in any way," a statement echoed by Perpetua.
"To be explicitly clear, there have been no conversations about expanding our project or merging with Stallion Gold," said Mckinsey Lyon, a Perpetua spokesperson.
Exploration Zones
The main area Stallion Gold wants to explore for gold and antimony is Golden Gate Hill, which is less than a mile from Yellow Pine, a village of about 25 year-round residents.
Golden Gate Hill is flanked by Johnson Creek to the west and the East Fork South Fork Salmon River to the north.
The Golden Gate mineral zone stretches 1.8 miles and could include high-grade gold deposits, according to Stallion Gold.
Another area Stallion Gold wants to explore is Antimony Ridge, a smaller mineral zone located about one mile southeast of the Golden Gate Zone.
Antimony Ridge has historically been mined as far back as World War I for antimony, a mineral used in munitions and renewable energy, among other things.
However, no work has been done on the Antimony Ridge zone since 1987, when Amselco Minerals and Meridian Gold Company did some exploratory drilling.
Benefits of the project's location include year-round road access, nearby power lines, water rights availability and the nearby Johnson Creek airstrip, the investor presentation said.
Stallion Gold was known as Hybrid Minerals Inc. until the company announced a name change on June 2 after it acquired the Horse Heaven Project.
Hybrid's main focus was exploring a cobalt mine near Salmon in Lemhi County. That project was abandoned in April 2019 due to falling cobalt prices, according to the company.
Profiles of Stallion Gold Officers
Drew Zimmerman – CEO
Nine years of experience in public markets
Rose from investment advisor to portfolio manager.
Certified by Chartered Financial Analyst Institute. No past experience running mining companies
University of Victoria: Bachelor of Commerce – International Business.
Based in Vancouver, British Columbia.
William "Bill" Breen – President and VP of Exploration
41 years of experience with mining companies. Minex exploration (31 years)
Consultant for Horse Heaven Syndicate (10 years). Member of the Society of Mining, Metallurgy and Exploration
Professional geologist certifications in Wyoming and Washington
University of Idaho: Bachelor of Science – Geology
Based in Idaho: Mayor of Hope in northern Idaho.
Dong Shim – CFO
14 years of experience in accounting and finance.
Member of Chartered Professional Accountants of British Columbia. President of SHIM Accounting Corporation (2013 to present)
Simon Fraser University: Bachelor of Business Administration – Accounting and Finance
Based in Vancouver, British Columbia.
Kelly Pladson – Corporate Secretary
12 years of experience in corporate governance and regulatory compliance
Based in Vancouver, British Columbia
source: © Copyright 2009-present Central Idaho Publishing Inc. All rights reserved (Used with permission.)
— — —
Stallion Gold – Horse Heaven
Map


(click image for larger size)
link: to website
————
Idaho News:
Valley County hospitals report fewer new COVID-19 cases
Two new deaths reported among county residents
By Tom Grote for The Star-News October 7, 2021
The number of new COVID-19 cases reported by Valley County's two hospitals slowed last week, with 63 new cases reported.
That compares to 90 new cases reported the previous week, 92 new cases reported three weeks ago and 119 new cases reported a month ago.
St. Luke's McCall reported 55 new cases in the last week, while Cascade Medical Center reported eight new cases.
Two new deaths in Valley County due to COVID-19 were reported this week by Central District Health. Both deaths were men over age 70, the health department reported. No other details were released.
A total of six confirmed deaths and two suspected deaths related to COVID-19 among Valley County residents have now been reported by Central District Health.
Youths age 17 and younger made up the greatest number of McCall residents to test positive at all St. Luke's Health System testing locations in the past month, the hospital reported.
That group accounted for 28% of new cases among McCall residents, followed by ages 30 to 39 and ages 50 to 69 with 18% each.
A total of 91% of people hospitalized for COVID-19 at all St. Luke's Health System hospitals are unvaccinated, the hospital said.
The two hospitals have reported a total of 1,419 cases of COVID-19 since the pandemic arrived in Valley County in March 2020.
continued:
— — — —
COVID-19 Updates: 1,682 new Idaho COVID-19 cases, 53 new deaths
October 8, 2021 Local News 8
Idaho officials reported 1,682 new COVID-19 cases and 53 new deaths Friday.
That brings the total confirmed and probable cases reported since March 2020 to 267,664.
The state said 889,233 people have received the vaccine, and 1,622,114 total doses have been administered. 798,684 people are fully vaccinated.
The age group with the most cases is 18-29 with 63,817 cases.
The state said 51 new hospitalizations have been reported bringing the total number to 11,620, and 14 new cases have been admitted to the ICU bringing the total to 1,927.
53 new deaths were reported bringing the total recorded deaths to 3,117.
full story: [Valley County 1367 cases, 10 deaths.]
— — — — — — — — — —
1 dead, highway blocked for hours in Idaho 55 pileup
KTVB Staff October 4, 2021
One woman was killed and two other people were hurt in a four-vehicle collision north of Cascade Monday.
The pileup happened at about 3:30 p.m., and blocked Idaho 55 for more than four hours.
According to Idaho State Police, a 53-year-old man from Ogden was headed north in a Dodge Ram pulling a trailer when one of the trailer tires came off and flew into the opposite lane.
A southbound 32-year-old from Caldwell, who was driving a Ford F350 pulling an enclosed trailer, hit the tire and lost control. The man swerved into the northbound lane, hitting an oncoming Honda Accord head-on.
continued:
— — — — — — — — — —
Idaho man, 71, killed in crash after vehicle crashes into Payette River
by CBS2 News Staff Wednesday, October 6th 2021
A 71-year-old Garden Valley man died Wednesday following a crash on Highway 55.
Idaho State Police says the man was driving south when his vehicle went off the southbound side of the road and overturned north of Horseshoe Bend.
The vehicle ended up in the Payette River. The driver was ejected and died at the scene.
He was not wearing a seat belt, troopers say.
source:
— — — — — — — — — —
State, feds probe logging accident near New Meadows.
By Drew Dodson for The Star-News October 7, 2021
A fatal logging accident near New Meadows last month is under investigation by the federal Occupational Safety and Health Administration.
The Sept. 10 accident killed Luis Garcia, 50, of Mexico and critically injured Christian Vargas, 20, also of Mexico, according to a news release from the Adams County Sheriff's Office.
Vargas was transported by air ambulance to St. Alphonsus Regional Medical Center in Boise, where he was listed as being in "good condition" as of Tuesday, a hospital spokesperson said.
Garcia died before first responders arrived shortly after 11 a.m. on Sept. 10, the sheriff's office said.
continued:
—————
Idaho History:
1918 to now: How Idaho weathers pandemics
Almost 103 years ago, Idaho's Spanish flu response began similarly to March 2020.
Carolyn Komatsoulis (Idaho Press) October 6, 2021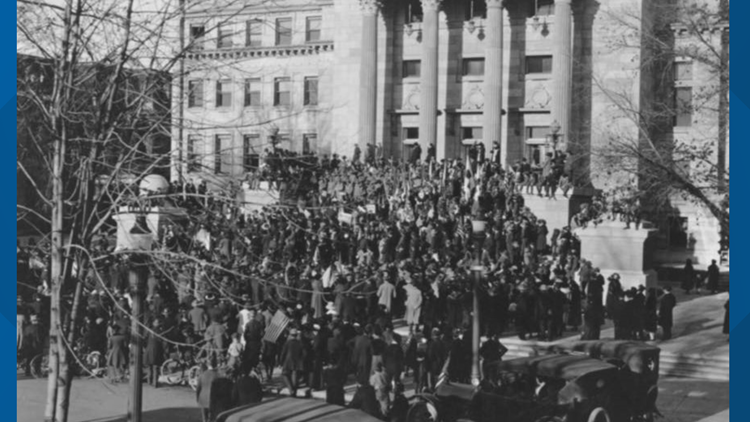 Credit: Idaho Press Courtesy Photo
When Boise celebrated the end of the Great War on Nov. 11, 1918, it was a dangerous gathering in the Spanish flu epidemic that killed millions.
Christmas and New Years were quiet affairs in Nampa in 1918, since the influenza ban prevented any public gatherings.
Almost 103 years ago, Idaho's Spanish flu response began similarly to March 2020. Restrictions were put in place.
"That there is some fear of the Spanish influenza becoming epidemic in Idaho is shown by the fact that the State Board of Health held a (meeting) in Boise Tuesday," read the Nampa Leader-Herald on Oct. 11, 1918. "And after (considering) the matter decided to close all places of public meeting against schools."
The Spanish influenza was one of the deadliest pandemics in history, lasting for the most part from Spring 1918 to Summer 1919.
The disease infected around 500 million people worldwide, which at the time was around a third of the planet's population. Somewhere between 20 million and 50 million people died.
In just one year, 1918, American life expectancy dropped 12 years.
[To read more about the Influenza in Idaho, check out the table of contents on the Yellow Pine Times' Idaho History Page:]
—————-
Scam Alert:
Common election season scams to watch out for
By Nicole Camarda Oct 07, 2021 KIVI
Scammers and hackers are always looking for ways to steal personal and finical information from whoever they can and one of the largest targets is voters.
According to the Idaho Secretary of State's Office, election scams are common during this time of year and people will try to get access to addresses, ID information and even banking information.
October is Cyber Security Awareness month and elections are right around the corner which means more Idahoans need to be aware of the risks.
continued:
—————–
Public Lands:
Fall Burning on the Krassel RD
Sept 29, 2021 Payette NF
The Krassel Ranger District, Payette National Forest is planning to implement prescribed fire this fall east of Yellow Pine. The unit is located east of Yellow Pine, on the North side of the East Fork Rd, between Quartz creek and Profile creek. See attached maps for more specific areas affected. Ignitions should take 1 to 2 days for each. Hazards from the prescribed fires including fire spread, smoke, rolling debris, ash pits and fire weakened trees may be present in the area until significant weather (precipitation and cooler temperatures) occurs.
Ignition is anticipated to take place in October or early November.
Please contact Patrick Schon at 208-634-0623 patrick.schon@usda.gov or Laurel Ingram at 208-634-0622 laurel.ingram@usda.gov with any questions or comments, or if you will be operating in or close to that area this fall.
Map

Thank you,
Patrick Schon
Fire Management Specialist
Payette National Forest, East Zone
————–
Fire Season:
Firefighters knock down Goose Fire in the Boise Foothills
KTVB Staff October 6, 2021
Firefighters worked overnight to get the upper hand on a grass fire that scorched 200 acres of land near homes in the Boise Foothills.
The Goose Fire began at about 5 p.m. Wednesday in the area of Idaho Highway 55 and Beacon Light Road, near the Eagle Sports Complex and a number of houses.
According to the Bureau of Land Management, all of the active flames had been knocked down as of 8:35 p.m. Wednesday. Crews remained at the scene overnight, but were aided by late-night rainfall.
continued: w/photos
— — — —
441-acre Goose Fire contained Thursday morning
by CBS2 News Staff Wednesday, October 6th 2021
A large fire, fueled by gusty winds, that erupted in the foothills near Eagle on Wednesday was contained at 10 a.m. Thursday morning, the Bureau of Land Management reports.
The 441-acre fire started near the Eagle Sports Complex and then spread to Hill Road between Horseshoe Bend and Seamans Gulch roads. At one point Wednesday evening, deputies had called for voluntary evacuation recommendations for several homes north of Hill Road and near Seaman's Gulch, but they've since been given the OK to return to their homes.
Multiple emergency crews from across the Treasure Valley fought the fire including Boise and Eagle. The Bureau of Land Management has dubbed it the Goose Fire.
continued: w/photos
— — — —
ACSO: Goose Fire in the Boise Foothills was started by fireworks
According to the Ada County's Sheriff's Office, the Goose Fire was started by fireworks that were lit in the middle of W. Goose Creek Road.
KTVB Staff October 7, 2021
story:
— — — — — — — — — —
2021 Payette Wilderness Fires
Three fires are burning in the Frank Church River of No Return Wilderness on the Payette National Forest. The Club, Rush Creek, and Vinegar fires were started by lightning on July 15, 2021. A Type 3 Incident Management Team took over the fires on July 19th. A closure order for trails has been put in place in and around these fires for public and firefighter safety to prevent any interference with suppression and response operations.
InciWeb: Maps and closure orders
— — — —
Boundary Fire in Frank Church Wilderness scorches 137 square miles, 88% contained
In this story is a list and interactive map of large wildfires burning in Idaho and Oregon.
KTVB Staff October 9, 2021
link:
—
Boundary Fire
Salmon-Challis National Forest
The lightning-caused Boundary Fire ~2 miles W of Boundary Creek Boat Launch was detected on August 10.
InciWeb: Maps and closure orders
— — — —
Mud Lick, Haynes, and Iron Fires
Salmon-Challis National Forest
InciWeb: Maps and closure orders
— — — — — — — — — —
Some useful links:
InciWeb Fire info link:
Air Quality McCall link:
National Fire Heat Map link: (zoom in to our area)
Weather Station at Stibnite link:
Real Time Lightning Map link: (zoom to our area)
GOES-West Satellite Maps Pacific Northwest link:
—————–
Critter News:
Apples picked up in Eastern Idaho to avoid attracting bears
October 5, 2021 Local News 8
Conservation officers and biologists from Idaho Fish and Game teamed up with a group of volunteers recently to pick and gather apples around the city of Ashton in an effort to prevent the juicy fruits from attracting bears into backyards.
Fish and Game regularly responds to bears wandering into neighborhoods this time of year as they search for fruit trees and other easy meals to provide them with quick calories in preparation for winter.
"An apple tree can be quite the find for a hungry bear, but it comes at a price," wildlife biologist Jeremy Nicholson said. "Bears that become accustomed to spending time near humans and eating human food are commonly removed from the population because of the danger they pose to the public."
continued: with bear tips
— — — — — — — — — —
Idaho trooper, volunteer rescue owl tangled in trash along Interstate-84
by CBS2 News Staff Tuesday, October 5th 2021
An owl is thanking its lucky feathers for an Idaho State Trooper and an animal rescue volunteer.
Idaho State Police says drivers along Interstate-84 spotted a Great Horned Owl tangled in some plastic in Nampa on Tuesday. The trooper parked her patrol vehicle between the owl and traffic and waited until a volunteer from Animals in Distress could arrive.
"The owl is OK and released away from the freeway," ISP said.
source:
————–
Fish & Game News:
Hunters: If your tag isn't properly notched, it's invalid
By Roger Phillips, Public Information Supervisor
Thursday, October 7, 2021

Sara Cassinelli/Idaho Fish and Game
This applies to all permits that require you to notch the month and date
Reminder for hunters, after you harvest your animal, you must validate your tag by completely removing the correct day and month – just like in the picture – and attaching it to the largest portion of the carcass.
source:
— — — — — — — — — —
Don't be tempted to shoot that road-side deer or elk, it might not be what you think
By Roger Phillips, Public Information Supervisor
Wednesday, October 6, 2021
F&G uses decoy to nab poachers in problem areas.
That buck or bull standing next to the road might be a tempting target, but it could also be a very costly mistake that causes you to lose your money and hunting license.
Idaho Fish and Game conservation officers deploy "artificial simulated animals" during hunting season to catch law-breaking hunters. Commonly called ASAs, they are life-like copies of deer, elk and other game species that look and act like the real thing.
continued:
— — — — — — — — — —
Elk hunters are reminded to know their bulls before pulling the trigger
By Brian Pearson, Regional Communications Manager
Tuesday, October 5, 2021
Multiple moose were illegally killed by elk hunters in Southwest Idaho last year
Moose are an iconic Idaho species, and moose hunts are a once-in-a-lifetime opportunity for Idahoans. Populations are carefully managed through an exclusively controlled hunt framework, and these hunts are among the most sought-after in the state. In Southwest Idaho, densities of moose are low, and the moose population isn't large enough to support a hunt, so even one moose killed – mistakenly or intentionally – is too many.
After multiple moose were mistaken for elk and illegally killed in Idaho Fish and Game's Southwest Region in 2020, Fish and Game is reminding hunters that it is their responsibility to positively identify their target before pulling the trigger, and that they need to "know their bulls" before heading out for rifle seasons.
continued:
— — — — — — — — — —
Dressing for hunting: hope for the best weather, but prepare for the worst
By Roger Phillips, Public Information Supervisor
Tuesday, October 5, 2021
Wear the right hunting clothing so you can stay in the woods and make your hunting time count
Fall hunting happens in all kinds of weather and conditions, so don't underestimate the importance of your clothing. It may determine how long you're able to stay outdoors and hunt, and more time in the woods often equates to a higher chance of success. Dressing for Idaho's variable fall weather takes preparation and investment, but it can pay dividends.
Hunting is often better when the weather is cold, wet and snowy, and finding clothes that keep you comfortable can be a challenge, so here are things to consider:
continued:
— — — — — — — — — —
Hunt safe: Survival tips for big game hunters
By Roger Phillips, Public Information Supervisor
Wednesday, October 6, 2021
Be prepared for those unexpected situations you might encounter while hunting in the fall
Every hunting season, hunters get lost or disoriented, caught outdoors in cold, wet weather, or experience some other unexpected hazard. While most escape no worse than tired, chilled and hungry, the hazards in Idaho's woods shouldn't be underestimated. Hunters can take precautions and prepare for unexpected situations.
continued:
— — — — — — — — — —
More F&G News Releases
link:
———————————-
Crazy Critter Stuff:
Small horses bring big smiles to Treasure Valley seniors
By Karen Lehr Oct 01, 2021 KIVI
Boise, Idaho — 18 months into the pandemic, we could all use some cheering up.
That's the goal of the local non-profit Mini Joys, taking miniature horses around the Treasure Valley to meet with children and seniors.
Mini Joys founder Laurie Bell started the non-profit nine years ago, visiting special needs classrooms, foster homes, children's hospitals, and senior homes. Groups can also visit the Mini Joys farm near Hidden Springs.
continued: w/video
—————-
Seasonal Humor:

[h/t CP]
—————-