Oct 24, 2021 The Yellow Pine Times – Valley County, Idaho
Reminder: We are still under a boil water order.
Community Calendar:
April 17, 2020 – Boil water order in effect
May 15 – Nov 30 – Firewood Season
Oct 25 – Halloween and Salmon Feed YP Tavern 7pm
Oct 28 – The Corner to close for the season
Oct 31 – YPFD Fire Training 2pm
Nov 4 – last Amerigas delivery
Nov 7 – Time Change – Fall back 1 hour
(details below)
———-
Local Events:
Halloween/Salmon Bake Party at the Tavern
Monday, October 25th at 7pm. Salmon provided by Tom Wood. Bring a Potluck Dish if you wish. Halloween Costumes encouraged or come as a Hunter.

photo courtesy Yellow Pine Tavern
— — — —
Fire Training Oct 31st
Winter Structure Fire Response Plan & Training
Sunday Oct. 31, 2021 At 2pm Yellow Pine Fire Station
To All Residents:
This is your opportunity to review and practice winter structure-fire response procedures. These sessions are recommended for all residents spending the winter in Yellow Pine. The session includes:
Engine operation, driving, communications, and logistical support will be discussed including:
Structure attack and structure protection techniques.
Actual practice opportunities to deploy engines including driving, spraying water, and refilling engines.
All winter residents are encouraged to attend one or both sessions.
Volunteer agreements will be available for those interested and not yet signed up.
Yellow Pine Fire Protection District (YPFPD), Valley County, Idaho
Dated this 15 day of October 2021 at 09:00. Notice posted at the Fire Station and other locations.
Lorinne Munn, Fire Chief
Merrill Saleen, Deputy Fire Chief
— — — —
Amerigas November 4
Dan from Amerigas wrote to say he will be coming to Yellow Pine Nov 4th to top us all off for the winter.
Note from Shon at Amerigas: I wanted to let you know that we plan on being in the Yellow Pine area one more time for the season the 1st week of Nov. You can make an order by going online at http://www.amerigas.com or by calling 1-800-427-4968.
———
Village News:
UTV Accident
The community's men and women joined together to extricate an accident victim on Sunday, Oct 17th. A UTV went over the embankment on Stibnite road (Hopeless Point) resulting in a four hour rescue, an ambulance trip and a helicopter ride after dark.
— — — —
Planned Power Outage Oct 20th
Power off from 1030am to 1256pm. This was for equipment maintenance scheduled for our area.
— — — —
Celebrating Candy's Birthday at the Tavern

photo courtesy Yellow Pine Tavern
— — — —
From Perpetua Resources
Last month, we hosted the Yellow Pine and Cascade Fire Departments at Stibnite to participate in a Hazardous Waste Operations & Emergency Response (Hazwoper) Training alongside our site crews

Photo courtesy Perpetua
— — — —
Fall Colors October 24, 2021

Yellow Pine West Webcam
The local webcams were off line for a few days, but back in service as of Sunday, October 24th.
— — — —
Notice – Deadline
In order to have your item posted in that week's paper you must email it in by Noon on Sunday.
A reminder – if your group or business want an event, photo, minutes, news or advertising posted in the Yellow Pine Times, please write what you want posted in text form (for copy/paste) and send it by email. Remember to include the "who, what, when, where and why." Images or groups of images must be under 10 megs per email.
— — — —
Road News
Link: to current road reports.
Profile Gap, Lick Creek, Thunder Mountain and Deadwood roads are Open. These roads have not been bladed and are rough. Travel at your own risk. High elevation snow possible after the weekend.
— — — —
Critters
Be Bear Aware
* Do not feed them human food
* Secure your trash
* Feed domestic pets indoors
* Make sure your pets are updated on Rabies vaccines
* Small pets could become a snack
Bats
While bats are an important part of our ecosystem and most do not carry rabies, CDH offers the following tips to protect yourself and pets:
* Never touch a bat with your bare hands.
* If you have had an encounter with a bat, seek medical attention.
* If you come in contact with a bat, save the bat in a container without touching it and contact your health department to arrange testing for rabies. Whenever possible, the bat should be tested to rule out an exposure to rabies. During regular business hours in Ada, Boise and Elmore Counties, call 208-327-7499 and in Valley County, call 208-634-7194. After business hours in all counties, call 1-800-632-8000.
* Always vaccinate your pets for rabies, including horses. Pets may encounter bats outdoors or in the home.
* Bat-proof your home or cabin by plugging all holes in the siding and maintaining tight-fitting screens on windows. Bats can enter through holes the size of a quarter.
— — — —
Yellow Pine US Mail
Aug. 29th the price of first-class postage stamps went to 58 cents from 55 cents.
Attention Mail Route Customers – FedEx Ground has changed their policy, and they will no longer pay for Mail Plane or Truck freight. If you can avoid it, we strongly encourage you to use UPS or USPS to receive packages. If you do order a FedEx Ground package, you will be billed for: Air Freight @ $0.45/lb, or Mail Truck Freight @ $0.05/lb. We are truly sorry this is the case, and are working very hard to make sure you still receive your orders. – Arnold Aviation
The 6-day a week mail delivery started June 1st. The Post Office in Yellow Pine is open six days a week year around: M-F 845am-245pm Saturday 9am-245pm. Forever Stamp: 58 cents. Support our local post office and purchase your holiday stamps here.
— — — —
Yellow Pine Transfer Station
Report Saturday (Sept 4) The dumpsters are being emptied on Wednesdays.
Locals have worked hard to clean up the area, please be respectful.
Yellow Pine Transfer Station (aka, the dump)
Please do not abuse our Transfer Station or we may lose it. Household trash must be placed in the bins, flattened cardboard boxes can also go into the bins. Do not stack trash in front of the doors. Woody yard debris only for the burn pile. No furniture, appliances, tires or construction debris allowed, those items must be hauled out to the Donnelly station by you.
The Yellow Pine Transfer Station is Valley County responsibility. If it is not kept tidy, use of the Transfer Station may be revoked. That would result in residents having to take all household trash and yard waste to the Donnelly Transfer Station.
If Dumpsters Are Full, Contact Lake Shore Disposal at: (208) 634-7176
Dump Tips
Do you know where your trash goes after it leaves Yellow Pine?
90 tons per week of Valley Co.'s solid waste comes to the Adams Co. landfill. (Valley Co. has a contract with Adams Co.) When Valley Co.'s weekly trash exceeds 90 tons, the rest is then taken to Payette. The more garbage, the more cost in transferring it further away.
Tips to reduce trash:
1. When purchasing groceries refuse plastic bags as they reek havoc at the Adams Co.'s landfill, causing problems with equipment.
2. Garbage: recyclables, compost, trash
If each household would have containers for these three categories this is the place to start.
– B. Dixon
———-
Local Groups
YPWUA News:
We are still under a Boil Order. Please conserve water.
Oct 11, 2021 Water Update
Warren Drake has been in this week and shut down the summer tank, took samples, and spent time on the winter drip points. He built a small, insulated box from pressure treated wood, around each [trickle] point that will allow better winter access, make it so [he] can use each point for sampling, and also ensure that things don't freeze.
DRINKING WATER WARNING October 11, 2021
Yellow Pine Water Users PWS 4430059 BOIL WATER ADVISORY Due to insufficient treatment
We routinely monitor the conditions in the drinking water distribution system. On 4-19-2020 we experienced a period of insufficient treatment due to extreme water demand which exceeded the capacity of the treatment system. A drop in water pressure is a signal of the existence of conditions that could allow contamination to enter the distribution system through backflow, by backpressure, or back-siphonage. As a result, there is an increased chance that the drinking water may contain disease-causing organisms.
What should I do?
* DO NOT DRINK THE WATER WITHOUT BOILING IT FIRST.
Bring all water to a boil, let it boil for one minute, and let it cool before using, or use bottled water. Boiled or bottled water should be used for drinking, making ice, brushing teeth, washing dishes, and food preparation until further notice. Boiling kills bacteria and other organisms in the water.
* Inadequately treated water may contain disease-causing organisms. These organisms include bacteria, viruses, and parasites, which can cause nausea, cramps, diarrhea, and associated headaches.
* The symptoms above are caused by many types of organisms. If you experience any of these symptoms and they persist, you may want to seek medical advice. People at increased risk should seek advice about drinking water from their health care providers.
What is being done?
Efforts are under way to curtail water use. Once water use is diminished, the water treatment system will again be operational and the boil water order can be lifted
We will inform you when you no longer need to boil your water. We anticipate resolving the problem within 180 days.
For more information, please contact Warren at 208-573-6261 or wdrake @ drakediversified.com
Please share this information with all the other people who drink this water, especially those who may not have received this notice directly (for example, people in apartments, nursing homes, schools, and businesses). You can do this by posting this notice in a public place or distributing copies by hand or mail.
This notice is being sent to you by Yellow Pine Water Users Assoc.
PWS ID #: 4430059 Date distributed: 10-11-21.
—
YPWUA 2021 Annual Shareholder Meeting July 4, 2021 at the Community Hall at 10am. Link: to 20210704 YPWUA minutes
YPWUA 2020 Annual Shareholder Meeting held July 5, 2020 at the Community Hall 2pm. link: to 20200705 YPWUA minutes
Water Board:
Steve Holloway
Willie Sullivan
Dawn Brown
Stu Edwards
Candy Hardisty
— — — —
VYPA News:
Notice to all VYPA Members:
I have accepted a position on the board of directors of the Yellow Pine Area Coalition (YPAC).
I will be relinquishing all my VYPA responsibilities by January 1, 2022.
I will complete my responsibilities as Project Manager for the Community Hall Repair Project prior to stepping off the Council.
If you are interested in filling the position of VYPA Chairman; leading the Harmonica Festival committee; coordinating the YP Escapades; managing the village's online presence; or working on the Community Hall committee, please contact one of the Council members.
Over the next 2 1/2 months, the VYPA Council will be working toward a smooth transition for my successor. Thank you for allowing me to serve our community for the last 13 years.
Deb Filler, VYPA Chairman
Sept 11, 2021 – VYPA Meeting minutes link: (see document at link for attachments)
Aug 14, 2021 VYPA Meeting Canceled (lack of quorum.)
July 10, 2021 VYPA meeting minutes link:
June 12, 2021 VYPA Meeting Minutes link:
VYPA Meetings are the 2nd Saturday of June, July, August, and September (June 12, July 10, August 14, September 11) at 2:00pm at the Community Hall.
Village Council members:
Deb Filler, Chairman
Josh Jones, Vice Chairman
Ronda Rogers, Treasurer
Hailey Harris, Secretary
Rhonda Egbert, Member at Large
VYPA Bylaws adopted 8/8/2020 (link)
YPAC Corp Bylaws (link)
— — — —
YPFD News:
Remember to clean your chimney before lighting your first fall fire, and check the fittings. Chimney brushes are available to borrow from the YPFD.
Sept 11, 2021 YPFD Budget meeting (no minutes yet.)
Aug 28, 2021 – YPFD Meeting to discuss upcoming election (no minutes yet.)
July 10, 2021 – YPFD Meeting Minutes. Link:
June 12, 2021 – YPFD Meeting Minutes. Link:
May 15, 2021 – YPFD Meeting Minutes. Link:
Sept 30, 2020 YPFD budget meeting. (No minutes yet.)
2021 Meeting schedule for the YPFD. All meetings are at the YPFD Station
Sat. May 15 at 10am
Sat. June 12 at 10am
Sat. July 10 at 10am
Sat. September 11 at 10am Budget Meeting
Also if you are burning any piles of forest litter and debris – please have a connected and charged garden hose that can reach your piles. If your hose cannot reach where you are burning, follow the good advice of having a shovel, axe, and water bucket at the scene. Rake away from anything that could ignite. Stop burning if winds become an issue. Make sure your fire is out before you leave the area. Nothing like getting surprised by a escaped fire in the middle of the night!
Better yet, "Rake It and Take It" your yard waste (limbs, pine needles, brush, etc.) to the burn pile at the Transfer Station on the south end of the turn-around. Remember, keep the pile neat. Woody debris only, no nails, no cardboard and no furniture! The Boise NF will burn the pile in the fall when it is safe.
Yellow Pine Fire Protection District Community Service Notice
The purpose of this letter is to show how you as a Yellow Pine Resident can help protect your structure against a wildland fire by being "Fire Wise." Click the link: to view 20190724 Yellow Pine Fire Protection mitigation
Valley County Wildfire Evacuation Checklist
A wildfire evacuation checklist that property owners in the Yellow Pine area might find useful. link: Valley County Evacuation Checklist – 2021
YPFD COVID19 Policy
link: YPFD Covid-19 SOP
link: Covid-19 EMS
Fire Chief: Lorinne Munn
Deputy Fire Chief: Merrill Saleen
YP Fire Commissioners:
Lorinne Munn – District 1
Phil Jensen – District 2
Merrill Saleen – District 3
Secretary/Treasurer – Nikki Saleen
——–
Biz Listings:
The Corner (208) 633-3325
As the season comes to an end, we are starting to dwindle our inventory. To ensure our stock is fresh and kept to our standards, we will only be taking reservations until the end of our season (October 28). To make arrangements, please call The Corner at 208-633-3325 or call/text Hailey Harris at 970-275-7336. Thank you for a great summer!
— — — —
Yellow Pine Tavern (208) 633-2233
Open daily: 8am to 9pm Sunday: 8am to 2pm
Indoor Dining and Outdoor Dining Available.
Full Breakfast Menu. Burgers, Pizza, Fajitas, Beer Wine and Pop
— — — —
Yellow Pine Lodge (208) 633-3377
Open through the end of hunting season.
— — — —
Yellow Pine General Store (208) 633-3300
Store hours: 10am to 5pm, Monday – Sunday. Gas and Diesel now available. The Liquor Store is now reinstated. Now Selling Black Rifle Coffee.
The store is stocked with basic convenience store items such as food, fuel, liquor, beer, wine, tobacco, ice, non alcoholic beverages, snacks, ice cream. New Yellow Pine branded shirts, hats and koozies have arrived. We are going through the process of installing a propane dispenser and bottle exchange service.
For any particular store item requests, please call 208-633-3300 or Email
For room reservations, please call 208-633-3300 or Email for reservations
— — — —
Murph's RV Park and Mary's Cabins
FB page link
— — — —
Knotty Kat Crochet Works – 509-406-2221
FB page link
open Tue – Sat, 9-5
Yellow Pine eggs $3/doz
— — — —
Buck Horn Outfitters LLC 208-633-3614
Our Elk & Deer hunts are booked for our 2021 season, we do have a couple openings for our 2022 Elk & Deer hunts. We Also have a couple openings for Mountain Lion hunts December 2021 through February 2022 and Spring Bear hunts May of 2022. Please see our Website site for further details.
Tom & Sarah Lanham
156 Yellow Pine Ave, Yellow Pine Id 83677
website:
Facebook:
Wapiti Meadow Ranch – Johnson Creek (208) 633-3217
or 208-315-3554 – cabin rentals
website:
Big Creek Lodge
website:
Deadwood Outfitters
website:
— — — —
Local Fuel Suppliers
Amerigas Phone: (208) 634-8181
Ed Staub & Sons Phone: (208) 634-3833
Diamond Fuel & Feed Phone: (208) 382-4430
— — — —
Outside Biz that will service Yellow Pine:
Arnold Aviation (208) 382-4844
Watkins Pharmacy Cascade (208) 382-4204
Cascade Auto (208) 382-4224
Cascade Vet Clinic (208) 382-4590
The Star-News


click to subscribe:
A reminder that those who live in other states can subscribe to the online edition only since the mail can take days for hard copy to reach them.
Rocky Mountain Mechanical – Plumbing – Heating – Air conditioning
(208) 365-PIPE (7473), Emmett, will service Yellow Pine
Website:
Garden Mountain Contractors
We would like to extend our services into the Yellow Pine area if there may be a need. We dig a lot of dirt! If you need this give us a shout on our FB page below. – Larry Williamson Garden Valley, Idaho FB Page:
— — — —
Follow The Yellow Pine Times on Facebook (updated more often than emails)
———————–
Local Observations:
Monday (Oct 18) 24 hour low of 30 degrees from Sunday morning. This morning mostly cloudy and no frost. Chipmunks, pine squirrel and jays visiting. Overcast at lunch time. Dark overcast, light breeze and mild mid-afternoon, high of 59 degrees. Overcast and scarlet clouds to the west after sunset. Bright moon after midnight.
Tuesday (Oct 19) overnight low of 27 degrees. This morning clear sky and frosty. Mostly clear and slight breeze at lunch time. Ed Staub propane delivering in the village today. Mostly cloudy and mild temperatures mid-afternoon, high of 65 degrees. Sounds of winter firewood in the air, the "thunk" of splitting wood and a chainsaw buzzing off in the distance. Looked partly cloudy at dusk. Partly cloudy and bright moon before midnight.
Wednesday (Oct 20) 24 hour low of 29 degrees from Tuesday morning, likely low 41F. This morning dark overcast and started getting blustery. Power off at 1030am. Two minute shower of rain and gusty breezes at lunch time. Mail truck was a little early. Power on just before 1pm. Chipmunks, pine squirrel, jays and male hairy woodpecker visiting. Lighter breezes and mostly cloudy mid-afternoon, high of 57 degrees. Late afternoon rain shower for about 15 minutes, enough to wet things. Mostly cloudy and light breeze after sunset. Cloudy before midnight.
Thursday (Oct 21) overnight low of 35 degrees. Recorded just a "trace" from yesterday's rain showers. This morning partly clear, small white clouds and no frost. Jays and chipmunks visiting. Mostly cloudy (nearly overcast) at lunch time. Getting windy by early afternoon. Warmer, partly cloudy and blustery mid-afternoon, high of 67 degrees. Calm and mostly high thin clouds after sunset. Looked mostly clear to the east before midnight – bright moon. Rain showers early morning.
Friday (Oct 22) estimated low of 40 degrees (equipment error.) Early morning rain shower = 0.03″. This morning dark overcast, short sprinkle around 1030am. Broken overcast and 51 degrees at noon. Dark overcast and rain showers mid-afternoon, high of 62 degrees, then temperature dropping. Dark low overcast and steady rain continues at sunset and calmer. More rain after midnight.
Saturday (Oct 23) overnight low of 36 degrees. The 24 hour rain total = 0.36″. This morning low overcast, foggy peaks and ridges, snow on top of VanMeter but not Golden Gate. Hairy woodpecker, jays and chipmunks visiting. Thinner clouds around lunch time. Dark overcast sitting down on top of VanMeter and slight chilly breeze mid-afternoon, high of 46 degrees. Light rain shower late afternoon. Dark overcast at sunset. Cloudy before midnight. Early morning sprinkle of rain before 6am.
Sunday (Oct 24) overnight low of 36 degrees. The 24 hour rain total = 0.03″. This morning dark overcast and light breeze. Jays visiting. Light rain started falling before lunch time, dark overcast. Getting breezy, steady light rain and dark overcast mid-afternoon, high of 44 degrees. Pine squirrel calling from the trees, jays bopping around in the rain. Still raining at sunset, dark and overcast.
————
RIP:
John Miller
John Miller, passed away on Tuesday evening, [October 19, 2021.] Carolyn and John had been married for MANY years and had an anniversary on the 16th. Their son and granddaughter are coming today to spend some time with Carolyn. Please send prayers for her as she continues to recover from a back injury a few weeks ago and now grieves the loss of her husband.
[John used to drive the mail truck to Yellow Pine, and Carolyn had been doing the shopping for the back country for many years.]
— — — — — — — — — —
Nicole Irving Musgrove
Nicole Irving Musgrove was born Sept. 8, 1978, to Marian Knight Irving and Thomas Irving in New Orleans, Louisiana. She moved on to her next great adventure Oct. 10, 2021, at the age of 43.
Nicole grew up in Metairie, Louisiana. She loved being in the kitchen with her mother and grandmother, and had the spirit of a Cajun chef mixed with a bit of Southern flair.
She attended St. Martin's Episcopal School and graduated Ecole Classique. She attended University of New Orleans and Delgado Community College.
Nicole married her life partner, Clint Musgrove, in 1999, and they produced two incredible children, Parrish and Cole. After living in Metairie, the couple moved to Kentwood, Louisiana where she owned and operated Southern Belle Catering and worked for Regions Bank.
The family survived Hurricane Katrina and relocated to New Meadows (Clint's childhood dream country) in 2013.
Nicole has been involved in the community in many capacities including the McCall Area Chamber of Commerce, McCall-Donnelly High School, America's Best Communities, Idaho First Bank, The Ponderosa Center, and many other varied community activities.
Nicole spent countless hours of her personal time on community enhancement and celebrations for her friends. However, her most important contributions to the area were for her family and her children's friends. They all knew if they needed a safe place to go, they had it. She always had an "open door" policy.
Nicole is survived by her husband, Clint, daughter Parrish, son Cole, mother Marian Baroni (Frank), and her brother, Thomas Irving, Jr.
A celebration of Nicole's life will be held Friday, Oct. 22, 2021, at 2 p.m. at Elk Creek Church in McCall. All who wish to attend are invited. In lieu of flowers, memorials may go to Ponderosa Center or a fund of your choice.
source: The Star-News October 21, 2021
—————
Idaho News:
Ninth COVID-19 death in Valley County reported
Number of new cases sees slight increase
By Tom Grote for The Star-News October 21, 2021
The ninth confirmed death from COVID-19 in Valley County was reported this week by Central District Health.
No details on the death were available on Wednesday. Two other suspected deaths from the virus among Valley County residents have been reported by Central District Health since the pandemic started 18 months ago.
Valley County's two hospitals last week reported a slight increase in new cases after several weeks of decline.
A total of 46 new cases were reported in the last week by St. Luke's McCall and Cascade Medical Center. That compares to 41 new cases reported the previous week.
The two hospitals have reported 1,570 cases of cases of COVID-19 since the pandemic started in March 2020.
The most new cases among McCall residents tested by St. Luke's were age 50 to 69, which made up 24% of the total. Those up to age 17 were the next largest group, with 21% of the total, the hospital reported.
St. Luke's McCall now has free take-home COVID-19 tests available to pick up in the hospital's main entrance at 1000 State St. The saliva-based test offers results for COVID-19 in two to three days.
full story:
— — — —
COVID-19 Updates: 1,480 new Idaho COVID-19 cases, 26 new deaths
October 22, 2021 Local News 8
Idaho officials reported 1,480 new COVID-19 cases and 26 new deaths Friday.
That brings the total confirmed and probable cases reported since March 2020 to 284,278.
The state said 85,532 people have received one dose of a two dose series, and 74,645 people have received an additional or booster dose. 1,656,961 total doses have been administered. 819,443 people are fully vaccinated.
26 new deaths were reported bringing the total recorded deaths to 3,403.
full story: [Valley County 1449 cases, 10 deaths.]
— — — — — — — — — —
Community Christmas Concert canceled due to COVID-19
The traditional McCall Community Christmas Concert has been canceled this year due to COVID-19 concerns and time restraints, but organizers hope to return for the spring community event.
continued: The Star-News October 21, 2021
— — — — — — — — — —
Tamarack Resort ownership changes
Florida company buys out partners from 2018 acquisition
By Tom Grote for The Star-News October 21, 2021
One partner in Tamarack Resort near Donnelly has sold its share to the other partner, a news release from Tamarack Resort said.
Imperium Blue, a partnership of families in Ft. Lauderdale, Fla., and Atlanta, Ga., has sold its interests to existing partner MMG Equity Partners of Pinecrest, Florida, a suburban village in Miami-Dade County.
The two companies acquired the resort in November 2018, 10 years after the original developers closed the resort due to financial troubles.
The new owners have revived The Village at Tamarack with new businesses opening and the first phase of condos sold.
"We are immensely proud of what the entire team has accomplished over the past three years at Tamarack Resort and remain very excited about what lies ahead for the future of Tamarack," said Kyle Mowitz of Imperium Blue.
MMG Equity Partners is a privately-owned investment company focused on the long-term ownership, development, and acquisition of commercial properties in Florida according to the company's website.
continued:
— — — — — — — — — —
Valley County Sheriff's Office to close Fridays starting Nov. 1
The administrative division of the Valley County Sheriff's Office in Cascade will be closed on Fridays beginning the week of Monday, Nov. 1 until further notice.
The new operating hours will be Monday through Thursday, 8 a.m. to 5 p.m.
The administrative division of the Valley County Sheriff's Office handles all civil actions, driver's license services, concealed weapons, records requests, finger printing services, release of property and sex offender registry.
The Friday closures are due to lack of staffing. Call the court office at 208-382-7150 with any questions.
source: The Star-News October 21, 2021
————-
Mining News:
FS: No plans submitted from Stallion Gold
Mine would be located adjacent to Perpetua Resources
By Drew Dodson for The Star-News October 21, 2021
Stallion Gold Corp. has not yet submitted plans required to begin exploration of its mining claims near Yellow Pine, according to the Boise National Forest.
The Vancouver, British Columbia, mining company has notified the Boise Forest of its intent to conduct exploration on its "Horse Heaven Project," but still needs to finalize exploration plans.
"The Forest has not accepted any plan as complete," said Venetia Gempler, a spokesperson for the Boise National Forest.
If complete plans are submitted, the Boise Forest would review the plans with a team of geologists, botanists, fisheries biologists, wildlife biologists and other specialists, Gempler said.
"We would be trying to look at what the impacts could be," she said.
It is unknown how long it could take to review an exploration plan submitted by Stallion Gold, Gempler said.
Stallion Gold CEO Drew Zimmerman said this week that his company is working on formal plans to be submitted to the Boise Forest for review.
Last summer, crews were collecting soil and rock samples from the site to help the company refine locations for its drilling permit applications, Zimmerman.
If exploration reveals Horse Heaven's mineral deposits are feasible for mining, Stallion Gold would need to submit a complete plan of mining operations for review by the Boise Forest.
"Only a very small percent of mineral deposits become a 'mine,'" said Rick Wells, a geologist with the Boise Forest.
Golden Gate Hill
The requests submitted so far by Stallion Gold involve exploration of two areas on Golden Gate Hill, which takes in two of three primary exploration zones identified by the company.
Golden Gate Hill is located in the northeast corner of 5,644 acres on which Stallion Gold owns 695 mining claims.
The hill is less than a mile from Yellow Pine, a village of 25 year-round residents, and is flanked by Johnson Creek to the west and the East Fork South Fork Salmon River to the north.
The Golden Gate mineral zone stretches 1.8 miles and could include high-grade gold deposits, according to Stallion Gold.
Another area Stallion Gold wants to explore is Antimony Ridge, a smaller mineral zone located about one mile southeast of the Golden Gate Zone.
However, Stallion Gold has not filed documents with the Boise Forest to begin exploration of Antimony Ridge, Gempler said.
Antimony Ridge has historically been mined as far back as World War I for antimony, a mineral used in munitions and renewable energy, among other things.
The company has "numerous targets to be evaluated and prioritized" for exploration once the Antimony Ridge and Golden Gate zones are explored, according to Stallion Gold.
Benefits of the project's location include year-round road access, nearby power lines, water rights availability and the nearby Johnson Creek airstrip, the company said.
The Horse Heaven Project shares its eastern boundary with Perpetua Resources' Stibnite Gold Project, for which a mining plan is currently under review by the Payette National Forest.
Officials from both companies have said the projects are independent and unrelated.
Perpetua began exploration of its Stibnite deposits in 2009. Review of its mining plan began in September 2016 after it was submitted to the Payette Forest.
Stallion Gold was known as Hybrid Minerals Inc. until the company announced a name change on June 2 after it acquired the Horse Heaven Project.
Hybrid's main focus was exploring a cobalt mine near Salmon in Lemhi County. That project was abandoned in April 2019 due to falling cobalt prices, according to the company.
Stallion Gold has four employees, three of which are based in British Columbia. President and Vice President of Exploration Bill Breen is a long-time Idaho resident.
source: © Copyright 2009-present Central Idaho Publishing Inc. All rights reserved (used with permission.)
————–
Public Lands:
Public Scoping Period Opens for the East Fork-South Fork Restoration and Access Management Plan
McCall, Idaho, October 19, 2021 – The Krassel Ranger District of the Payette National Forest is interested in hearing your comments on a proposal to implement a range of actions under the East Fork South Fork Restoration and Access Management Plan project.
The Forest is considering a range of actions relating to motorized travel management and watershed rehabilitation within the East Fork South Fork Salmon River watershed and non-wilderness portion of the upper Monumental Creek drainage within the headwaters of the Middle Fork Salmon River.
With publication of the legal notice in the Idaho Statesman anticipated October 21, the Scoping Period will run for a 30-day timeframe. This is the first public opportunity to provide input on the initial proposal, with an opportunity to review and comment on a completed environmental analysis prior to an objection period on a draft decision.
Information on the project is available in the scoping document on the project webpage at: (link)
For further information on this project, please contact Joshua Simpson, Recreation Program Manager at 208-634-0616 or via email at joshua.simpson@usda.gov
Brian Harris
Public Affairs Officer
Tribal Liaison
Payette National Forest
Scoping document link:
————–
Fire Season:
Fall Burning on the Krassel RD
Sept 29, 2021 Payette NF
The Krassel Ranger District, Payette National Forest is planning to implement prescribed fire this fall east of Yellow Pine. The unit is located east of Yellow Pine, on the North side of the East Fork Rd, between Quartz creek and Profile creek. See attached maps for more specific areas affected. Ignitions should take 1 to 2 days for each. Hazards from the prescribed fires including fire spread, smoke, rolling debris, ash pits and fire weakened trees may be present in the area until significant weather (precipitation and cooler temperatures) occurs.
Ignition is anticipated to take place in October or early November.
Please contact Patrick Schon at 208-634-0623 patrick.schon@usda.gov or Laurel Ingram at 208-634-0622 laurel.ingram@usda.gov with any questions or comments, or if you will be operating in or close to that area this fall.
Map

Thank you,
Patrick Schon
Fire Management Specialist
Payette National Forest, East Zone
— — —
BLM to burn logging slash east of Smiths Ferry this fall
The Bureau of Land Management will conduct the Round Ridge Pile prescribed burn in Valley County through the end of the year.
The burn will be located six miles east of Smiths Ferry and will involve burning 30 large piles of logging slash spread over 250 acres from a 2020 timber harvest.
Fire managers will wait for adequate moisture levels and cooler conditions in the project area to minimize fire spread and eliminate what might otherwise be a hazardous fuel source during a wildfire.
Once initiated, prescribed burning operations are expected to last up to three days, with personnel and equipment patrolling areas up to five days afterward.
Smoke from the burn may be visible from large distances due to the location, fuel types and burning conditions.
Contact the Bureau of Land Management's Boise Fire District information line at 208-384-3378 for more information.
source: The Star-News October 21, 2021
——————
Critter News:
Cascade Veterinary Clinic
(from their FB page, Oct 20, 2021)
Due to the outbreak of COVID we have been forced to close our doors to the Cascade Veterinary Clinic and Garden Valley Clinic We apologize for any inconvenience We will keep you up dated, Thank you for understanding
— — — — — — — — — — —
Herd of sheep cross Idaho Highway 55, with the help of Eagle Police
Eagle police had to help out with a BAAA-d traffic jam on Highway 55 Tuesday morning.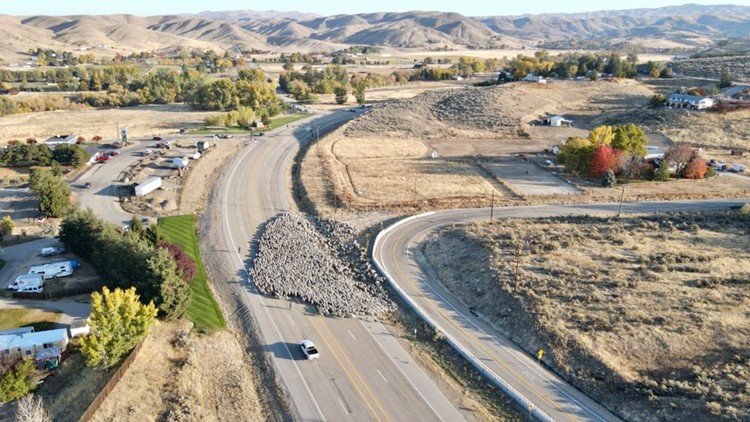 Credit: Eagle Police Department
KTVB Staff October 19, 2021
If you've ever pondered life's biggest questions and wondered why the sheep crossed the road, the Eagle Police Department has your answer.
On Tuesday morning, a BAAA-d traffic jam hit Idaho Highway 55 in Eagle. According to a Facebook post by Eagle police, Frank Shirts, a rancher from Wilder, was driving his herd west across Highway 55 on Tuesday morning and needed the help of police.
In their post, the Eagle Police Department shared a wooly cool aerial photo of the sheep's' migration from the Boise National Forest near Highway 55 and Beacon Light Road. According to police, Shirts' herd of sheep spent the last few months in the national forest.
continued:
— — — — — — — — — —
Rats found in Coeur d'Alene Library book drop-off are now in need of homes
The pet rats, four males and a female, were left behind by an obscured figure about 12:30 a.m. Wednesday, as recorded by the library video surveillance system.
Bill Buley (Coeur d'Alene Press) October 21, 2021
Consider them a new breed of literary critic.
Five pet rats were discovered Wednesday morning in the book drop-off at the Coeur d'Alene Public Library, as reported by our news partner the Coeur d'Alene Press.
The rats apparently didn't care for the books in the bin.
"They simply pooped on them," said Michael Priest, library director.
continued:
— — — — — — — — — —
Angler sets record with huge Snake River grass carp
October 19, 2021 Local News 8
Congratulations to Cris Endicott of Meridian for setting a new certified state record for grass carp.
Endicott caught the monster carp on Oct. 10 using a twin-tail bass jig while prospecting the Snake River for smallmouth.
The fish weighed 46.7 pounds, and measured 50-inches long, clinching a new certified weight state record. Carp records are kept separately for rod/reel and archery anglers, and this fish surpasses the current 39.5-pound archery record set by Saige Wilkerson in 2012.
Grass carp (Ctenopharyngodon idella) are an herbivorous (plant-eating) member of the Cyprinidae family, which is a large family of fish that contains all carp and minnow species. They are native to Asia and may be found in portion of the Snake River, but are much less numerous than their cousins the common carp, which are widespread throughout Southwest Idaho.
source:
————–
Fish & Game News:
Public can comment on proposed rules pertaining to Fish and Game
By Roger Phillips, Public Information Supervisor
Wednesday, October 20, 2021
The public has opportunity to comment about Fish and Game proposed rules, including proposed fee rules. Deadline for comment is November 10 and people can comment via email to rules@idfg.idaho.gov or mail to Jim Fredericks, P.O. Box 25, Boise, ID, 83707.
Proposals are found in the Oct. 20 Administrative Rules Bulletin.
continued:
— — — — — — — — — —
Nonresident elk tags still available for residents to buy as second tags
By Roger Phillips, Public Information Supervisor
Thursday, October 21, 2021
Residents pay full nonresident price for the tags, which are available for a limited number of elk zones
Resident Idaho hunters looking to potentially double their elk hunting opportunities this year are in luck. Some nonresident elk tags remain available for residents as second tag for the 2021 season. After Aug. 1, unsold nonresident tags remaining can be bought by resident hunters as second tags, but still at the nonresident price. Available tags and zones are listed online at gooutdoorsidaho.com. Residents can also buy the tags at all license vendors, at Fish and Game regional offices, or by calling 1-800-554-8685.
These elk tags fall within the statewide limit of 12,815 nonresident tags. The tags are not currently available to nonresidents because the nonresident limits for each individual elk zone has already been met, but the total nonresident tags in all combined elk zones was less than the statewide limit for nonresident tags.
source:
— — — — — — — — — —
Studying Idaho's white sturgeon fishery in the upper Snake River
By Nathanial Tillotson, Fisheries Technician
Tuesday, October 19, 2021

Ben Anderson / Idaho Fish and Game
Fish and Game biologist with a white sturgeon caught in the Snake River
This past summer, fisheries biologists with the Magic Valley Region spent weeks on the Snake River between Milner Dam and Idaho Falls surveying the white sturgeon population. The work, which will continue for a few more years, will help Fish and Game better understand how hatchery white sturgeon in the upper Snake River grow, survive, move, and just how many are out there. White sturgeon are not native to the Snake River above Shoshone Falls. However, since 1990, Fish and Game occasionally stocked white sturgeon upstream of Shoshone Falls to provide additional angling opportunity for sturgeon outside of their native range.
continued:
— — — — — — — — — —
More F&G News Releases
link:
———————————-
Crazy Critter Stuff:
Pooch trapped in crevice 5 days rescued, unharmed
by Associated Press Thursday, October 14th 2021

This photo provided by New York State Parks on Wednesday, Oct. 13, 2021, shows a 12-year-old dog named Liza being viewed on a plumbing camera in a crevice in Kerhonkson, N.Y. (New York State Parks via AP)
A dog trapped for five days deep inside a narrow, rocky crevice at a state park north of New York City was rescued unharmed — though it was hungry and thirsty, parks officials said Wednesday.
While the 12-year-old dog, Liza, went days without food or water at the Minnewaska State Park Preserve, it was observed licking the damp walls of the crevice before a rescuer was finally able to shimmy in Tuesday, the state parks agency said in a news release.
A local woman was hiking with the dog Thursday when it fell out of sight into crevice. Park staffers were unable to get into the crevice to help the barking dog.
Two members of the New Jersey Initial Response Team, a volunteer group specializing in cave rescue, were able to descend into the crevice enough on Tuesday to get a specialized plumbing camera close enough to observe Liza.
Rescuer Jessica Van Ord shimmied through the passage and used a hot dog hanging from the end of a modified catch pole to attract the dog into putting its head into a loop. That allowed another rescuer nearby to close the loop.
continued:
————
Seasonal Humor:

——————