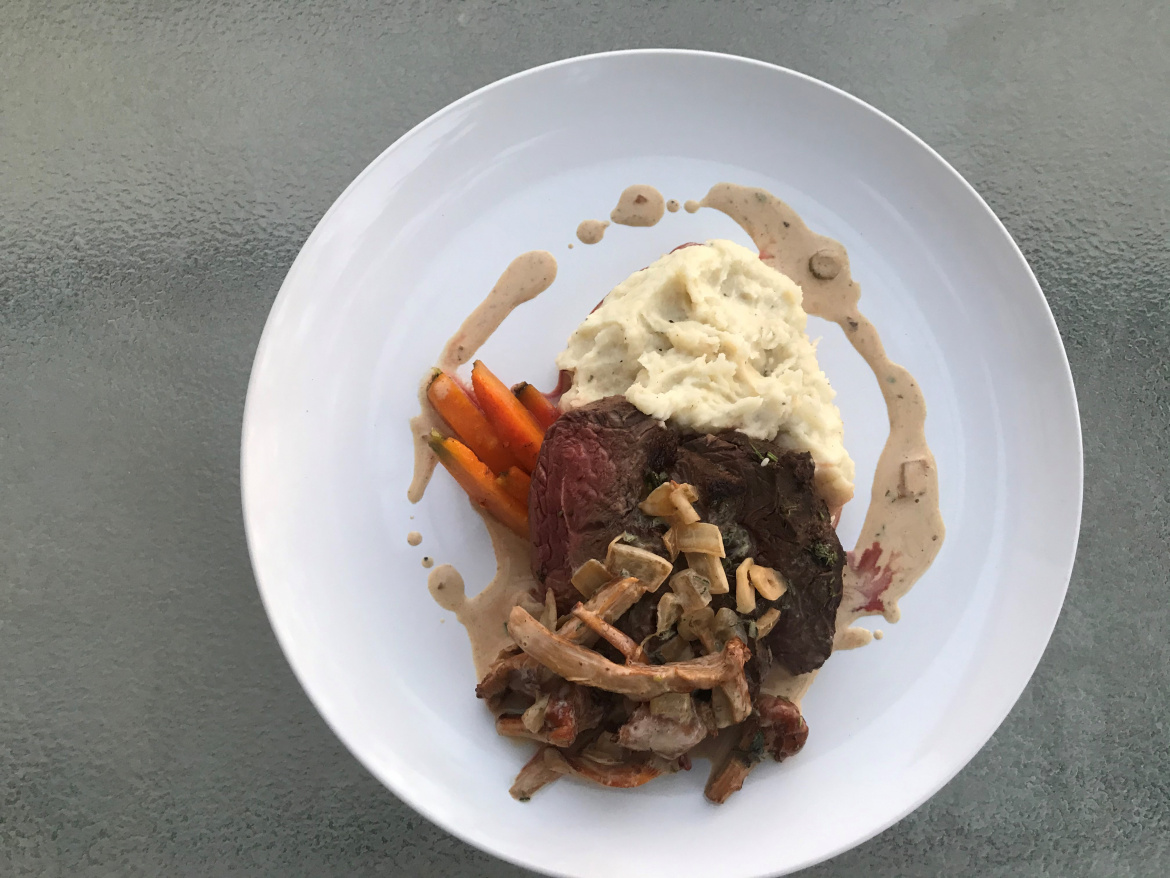 By Ian Malepeai, IDFG
Photo courtesy of Randy King
In this dish, venison steak with sherry cream mushrooms, you get balance from combinations of saltiness, fat from the cream, sweet from the sherry, and then umami from the mushrooms. Stack that on some venison and a "bright" flavored potato (lemon and parsley) and you have a winning combo.
Ingredients
3 tablespoons butter
4 each, 6-ounce venison steaks (sirloin, flatiron or backstrap work best)
1/2 pound chanterelles (or other wild-ish mushrooms)
1/2 onion, small, diced
2 cloves of garlic, smashed
1/2 cup sherry wine
1/2 cup cream
Salt and pepper
Directions
Heat oven to 350 degrees. Bring steaks to room temperature. Season steaks with salt and pepper. In 10-inch sauté pan add a tablespoon of butter and heat on medium until butter is clear and foaming. Add the two steaks to the pan. Brown on both sides – two to three minutes. Set aside.
Add another tablespoon of butter and melt it. Add the two remaining steaks to the pan and cook until brown, three to four minutes per side.
Place all steaks on a cookie sheet and place in a 350-degree oven and cook until 120 degrees internal temperature, or to your preference.
Add the remaining butter to the pan. Melt and add the onion, garlic and mushrooms. Lower the heat. You don't want to burn the brown bits on the bottom of the pan. When the mushrooms begin to lose some moisture, add the sherry wine. This will boil fast and quick. Then, when most moisture is gone, add the cream. Bring to a boil and then simmer for three minutes. Remove from heat and season with salt and pepper. Keep warm until steaks are done. Serve over mashed potatoes and roasted carrots.
—————