Nov 14, 2021 The Yellow Pine Times – Valley County, Idaho
Reminder: We are still under a boil water order.
Community Calendar:
April 17, 2020 – Boil water order in effect
May 15 – Nov 30 – Firewood Season
Oct 27 – Transfer Station on Winter Schedule
Nov 1 – Winter Mail Delivery Starts
Nov 15 – Last Amerigas delivery
Nov 15 – Deadline to order 2022 Calendar
Nov 17 – 10am-2pm Craft-n-Learn Community Hall
Nov 19 – partial lunar eclipse
Nov 25 – Thanksgiving Potluck 3pm
Dec 3 – 10am-2pm Craft-n-Learn Community Hall
Deb 17 – 10am-2pm Craft-n-Learn Community Hall
(details below)
———-
Local Events:
Amerigas November 15
Note from Shon at Amerigas dated Nov 4th: I wanted to let you know that due to scheduling issues. Our driver's want to go hunting!!! We will be going to Yellow Pine the week of 11/15 now. Just wanted to keep you in the loop.
— — — —
Craft-n-Learn Starts Nov 17
Okay! So the season begins!
Starting November 17th from 10 to 2 we will be opening up the Yellow Pine Community Hall to all interested folks! Bring your favorite crafts and coffee mug and join us for Craft-n-Learn!
You are welcome to bring snacks, your favorite drink mug, and a craft to work on.
Even if you don't know any craft, come on out and enjoy learning one, or learning a new one!
ALL are welcome!
After this date we will meet every 3rd and 17th of each month between the hours of 10 to 2 until the end of May.
See you soon! Kat A.
— — — —
Thanksgiving Potluck
Please join us for a Thanksgiving Potluck on Thursday, November 25th at 3pm the Community Hall. Turkey and ham are provided.
———
Village News:
Yellow Pine Visitor
This one is making his presence known again!
photo courtesy NH
— —
Moderna Jabs
Cascade Medical Center sent Teri (RN) and Sam (EMT) with the ambulance to Yellow Pine on Tuesday, November 9th, to jab willing arms at the Community Hall. One local met the ambulance and received her jab on the side of the EFSF road. They did one first dose, one second dose and 11 boosters, as well as 3 flu shots.
The community of Yellow Pine appreciates their time and effort.
— — — —
Veteran's Day Internet Outage
Our internet went out around 1pm on Thursday, November 11th. Phones were still working and able to contact MTE. They had the holiday off, but were called in to work on the problem. Internet service was restored before 320pm.
— — — —
Christmas in Yellow Pine
Yellow Pine Santa's elves! Time to think about Christmas bags!
– Nik
— — — —
Notice – Deadline
In order to have your item posted in that week's paper you must email it in by Noon on Sunday.
A reminder – if your group or business want an event, photo, minutes, news or advertising posted in the Yellow Pine Times, please write what you want posted in text form (for copy/paste) and send it by email. Remember to include the "who, what, when, where and why." Images or groups of images must be under 10 megs per email.
— — — —
Road News
Link: to current road reports.
Profile Gap, Lick Creek, Elk Summit, Thunder Mountain and Deadwood roads probably have snow. These roads have not been bladed and are rough. Travel at your own risk.
— — — —
Critters
Be Bear Aware
* Do not feed them human food
* Secure your trash
* Feed domestic pets indoors
* Make sure your pets are updated on Rabies vaccines
* Small pets could become a snack
Be Cougar Aware
A big cat has been hanging around the upper part of the village recently. Watch your small pets and do not leave food outside.
Bats
While bats are an important part of our ecosystem and most do not carry rabies, CDH offers the following tips to protect yourself and pets:
* Never touch a bat with your bare hands.
* If you have had an encounter with a bat, seek medical attention.
* If you come in contact with a bat, save the bat in a container without touching it and contact your health department to arrange testing for rabies. Whenever possible, the bat should be tested to rule out an exposure to rabies. During regular business hours in Ada, Boise and Elmore Counties, call 208-327-7499 and in Valley County, call 208-634-7194. After business hours in all counties, call 1-800-632-8000.
* Always vaccinate your pets for rabies, including horses. Pets may encounter bats outdoors or in the home.
* Bat-proof your home or cabin by plugging all holes in the siding and maintaining tight-fitting screens on windows. Bats can enter through holes the size of a quarter.
— — — —
Yellow Pine US Mail
The 3-day a week mail delivery started November 1st. The Post Office in Yellow Pine is open six days a week year around: M-F 845am-245pm Saturday 9am-245pm. Forever Stamp: 58 cents. Support our local post office and purchase your holiday stamps here.
Attention Mail Route Customers – FedEx Ground has changed their policy, and they will no longer pay for Mail Plane or Truck freight. If you can avoid it, we strongly encourage you to use UPS or USPS to receive packages. If you do order a FedEx Ground package, you will be billed for: Air Freight @ $0.45/lb, or Mail Truck Freight @ $0.05/lb. We are truly sorry this is the case, and are working very hard to make sure you still receive your orders. – Arnold Aviation
— — — —
Yellow Pine Transfer Station
Dump Report Nov 13: The bins are full.
Dump update October 27th: It was [last] emptied today and we are now in winter mode. When it gets fairly full we will call to have it dumped. Contact Cecil.
Locals have worked hard to clean up the area, please be respectful.
Yellow Pine Transfer Station (aka, the dump)
Please do not abuse our Transfer Station or we may lose it. Household trash must be placed in the bins, flattened cardboard boxes can also go into the bins. Do not stack trash in front of the doors. Woody yard debris only for the burn pile. No furniture, appliances, tires or construction debris allowed, those items must be hauled out to the Donnelly station by you.
The Yellow Pine Transfer Station is Valley County responsibility. If it is not kept tidy, use of the Transfer Station may be revoked. That would result in residents having to take all household trash and yard waste to the Donnelly Transfer Station.
If Dumpsters Are Full, Contact Lake Shore Disposal at: (208) 634-7176
Dump Tips
Do you know where your trash goes after it leaves Yellow Pine?
90 tons per week of Valley Co.'s solid waste comes to the Adams Co. landfill. (Valley Co. has a contract with Adams Co.) When Valley Co.'s weekly trash exceeds 90 tons, the rest is then taken to Payette. The more garbage, the more cost in transferring it further away.
Tips to reduce trash:
1. When purchasing groceries refuse plastic bags as they reek havoc at the Adams Co.'s landfill, causing problems with equipment.
2. Garbage: recyclables, compost, trash
If each household would have containers for these three categories this is the place to start.
– B. Dixon
———-
Local Groups
YPWUA News:
We are still under a Boil Order. Please conserve water.
Oct 11, 2021 Water Update
Warren Drake has been in this week and shut down the summer tank, took samples, and spent time on the winter drip points. He built a small, insulated box from pressure treated wood, around each [trickle] point that will allow better winter access, make it so [he] can use each point for sampling, and also ensure that things don't freeze.
DRINKING WATER WARNING October 11, 2021
Yellow Pine Water Users PWS 4430059 BOIL WATER ADVISORY Due to insufficient treatment
We routinely monitor the conditions in the drinking water distribution system. On 4-19-2020 we experienced a period of insufficient treatment due to extreme water demand which exceeded the capacity of the treatment system. A drop in water pressure is a signal of the existence of conditions that could allow contamination to enter the distribution system through backflow, by backpressure, or back-siphonage. As a result, there is an increased chance that the drinking water may contain disease-causing organisms.
What should I do?
* DO NOT DRINK THE WATER WITHOUT BOILING IT FIRST.
Bring all water to a boil, let it boil for one minute, and let it cool before using, or use bottled water. Boiled or bottled water should be used for drinking, making ice, brushing teeth, washing dishes, and food preparation until further notice. Boiling kills bacteria and other organisms in the water.
* Inadequately treated water may contain disease-causing organisms. These organisms include bacteria, viruses, and parasites, which can cause nausea, cramps, diarrhea, and associated headaches.
* The symptoms above are caused by many types of organisms. If you experience any of these symptoms and they persist, you may want to seek medical advice. People at increased risk should seek advice about drinking water from their health care providers.
What is being done?
Efforts are under way to curtail water use. Once water use is diminished, the water treatment system will again be operational and the boil water order can be lifted
We will inform you when you no longer need to boil your water. We anticipate resolving the problem within 180 days.
For more information, please contact Warren at 208-573-6261 or wdrake @ drakediversified.com
Please share this information with all the other people who drink this water, especially those who may not have received this notice directly (for example, people in apartments, nursing homes, schools, and businesses). You can do this by posting this notice in a public place or distributing copies by hand or mail.
This notice is being sent to you by Yellow Pine Water Users Assoc.
PWS ID #: 4430059 Date distributed: 10-11-21.
—
YPWUA 2021 Annual Shareholder Meeting July 4, 2021 at the Community Hall at 10am. Link: to 20210704 YPWUA minutes
YPWUA 2020 Annual Shareholder Meeting held July 5, 2020 at the Community Hall 2pm. link: to 20200705 YPWUA minutes
Water Board:
Steve Holloway
Willie Sullivan
Dawn Brown
Stu Edwards
Candy Hardisty
— — — —
VYPA News:
Sept 11, 2021 – VYPA Meeting minutes link:
Aug 14, 2021 VYPA Meeting Canceled (lack of quorum.)
July 10, 2021 VYPA meeting minutes link:
June 12, 2021 VYPA Meeting Minutes link:
VYPA Meetings are the 2nd Saturday of June, July, August, and September (June 12, July 10, August 14, September 11) at 2:00pm at the Community Hall.
Village Council members:
Deb Filler, Chairman
Josh Jones, Vice Chairman
Ronda Rogers, Treasurer
Hailey Harris, Secretary
Rhonda Egbert, Member at Large
VYPA Bylaws adopted 8/8/2020 (link)
YPAC Corp Bylaws (link)
— — — —
YPFD News:
Remember to clean your chimney before lighting your first fall fire, and check the fittings. Chimney brushes are available to borrow from the YPFD.
Sept 11, 2021 YPFD Budget meeting (no minutes yet.)
Aug 28, 2021 – YPFD Meeting to discuss upcoming election (no minutes yet.)
July 10, 2021 – YPFD Meeting Minutes. Link:
June 12, 2021 – YPFD Meeting Minutes. Link:
May 15, 2021 – YPFD Meeting Minutes. Link:
Sept 30, 2020 YPFD budget meeting. (No minutes yet.)
2021 Meeting schedule for the YPFD. All meetings are at the YPFD Station
Sat. May 15 at 10am
Sat. June 12 at 10am
Sat. July 10 at 10am
Sat. September 11 at 10am Budget Meeting
Also if you are burning any piles of forest litter and debris – please have a connected and charged garden hose that can reach your piles. If your hose cannot reach where you are burning, follow the good advice of having a shovel, axe, and water bucket at the scene. Rake away from anything that could ignite. Stop burning if winds become an issue. Make sure your fire is out before you leave the area. Nothing like getting surprised by a escaped fire in the middle of the night!
Better yet, "Rake It and Take It" your yard waste (limbs, pine needles, brush, etc.) to the burn pile at the Transfer Station on the south end of the turn-around. Remember, keep the pile neat. Woody debris only, no nails, no cardboard and no furniture! The Boise NF will burn the pile in the fall when it is safe.
Yellow Pine Fire Protection District Community Service Notice
The purpose of this letter is to show how you as a Yellow Pine Resident can help protect your structure against a wildland fire by being "Fire Wise." Click the link: to view 20190724 Yellow Pine Fire Protection mitigation
Valley County Wildfire Evacuation Checklist
A wildfire evacuation checklist that property owners in the Yellow Pine area might find useful. link: Valley County Evacuation Checklist – 2021
YPFD COVID19 Policy
link: YPFD Covid-19 SOP
link: Covid-19 EMS
Fire Chief: Lorinne Munn
Deputy Fire Chief: Merrill Saleen
YP Fire Commissioners:
Lorinne Munn – District 1
Phil Jensen – District 2
Merrill Saleen – District 3
Secretary/Treasurer – Nikki Saleen
——–
Biz Listings:
The Corner (208) 633-3325
Closed
— — — —
Yellow Pine Tavern (208) 633-2233
Winter Hours at the Tavern
Open Mon, Wed, Fri & Sat: 9am-2pm 4pm-8pm
Open Sunday 9am-2pm
Closed Tues & Thurs
Call the Tavern 208 633-2233 or Cell 208 739-7086 for other arrangements
Full Breakfast Menu. Burgers, Pizza, Fajitas, Beer Wine and Pop
— — — —
Yellow Pine Lodge (208) 633-3377
Open through the end of hunting season.
— — — —
Yellow Pine General Store (208) 633-3300
Store hours: 10am to 5pm, Monday – Sunday. Gas and Diesel now available. The Liquor Store is now reinstated. Now Selling Black Rifle Coffee.
The store is stocked with basic convenience store items such as food, fuel, liquor, beer, wine, tobacco, ice, non alcoholic beverages, snacks, ice cream. New Yellow Pine branded shirts, hats and koozies have arrived. We are going through the process of installing a propane dispenser and bottle exchange service.
For any particular store item requests, please call 208-633-3300 or Email
For room reservations, please call 208-633-3300 or Email for reservations
— — — —
Murph's RV Park and Mary's Cabins
FB page link
— — — —
Knotty Kat Crochet Works – 509-406-2221
FB page link
open Tue – Sat, 9-5
Yellow Pine eggs $3/doz
— — — —
Buck Horn Outfitters LLC 208-633-3614
Our Elk & Deer hunts are booked for our 2021 season, we do have a couple openings for our 2022 Elk & Deer hunts. We Also have a couple openings for Mountain Lion hunts December 2021 through February 2022 and Spring Bear hunts May of 2022. Please see our Website site for further details.
Tom & Sarah Lanham
156 Yellow Pine Ave, Yellow Pine Id 83677
website:
Facebook:
Wapiti Meadow Ranch – Johnson Creek (208) 633-3217
or 208-315-3554 – cabin rentals
website:
Big Creek Lodge
website:
Deadwood Outfitters
website:
— — — —
Local Fuel Suppliers
Amerigas Phone: (208) 634-8181
Ed Staub & Sons Phone: (208) 634-3833
Diamond Fuel & Feed Phone: (208) 382-4430
— — — —
Outside Biz that will service Yellow Pine:
Arnold Aviation (208) 382-4844
Watkins Pharmacy Cascade (208) 382-4204
Cascade Auto (208) 382-4224
Cascade Vet Clinic (208) 382-4590
The Star-News


click to subscribe:
A reminder that those who live in other states can subscribe to the online edition only since the mail can take days for hard copy to reach them.
Rocky Mountain Mechanical – Plumbing – Heating – Air conditioning
(208) 365-PIPE (7473), Emmett, will service Yellow Pine
Website:
Garden Mountain Contractors
We would like to extend our services into the Yellow Pine area if there may be a need. We dig a lot of dirt! If you need this give us a shout on our FB page below. – Larry Williamson Garden Valley, Idaho FB Page:
— — — —
Follow The Yellow Pine Times on Facebook (updated more often than emails)
———————–
Local Observations:
Monday (Nov 8) overnight low of 15 degrees. Yesterday's short light snow = Trace. This morning mostly hazy sky and hard frost. Pine squirrel, hairy woodpecker and jays visiting. Partly clear at lunch time. Almost clear sky mid-afternoon, frost lingering in the shade, high of 45 degrees. It had dropped below freezing by dusk. Mostly cloudy by midnight. Snowed early morning.
Tuesday (Nov 9) 24 hour low of 19 degrees from Monday morning. This morning snow on the ground by 7am, low overcast – foggy peaks and ridges and light sprinkle of rain at sunrise starting to melt the 1/2″ of snow (SWE = 0.16″.) Pine squirrel, downy woodpecker and jays visiting. Probably stopped raining before lunch time, melting snow dripping off roofs and overcast. Gray overcast, patchy snow on the ground and cold light breeze mid-afternoon, high of 39 degrees. Overcast and calm at dusk. Rained after dark, probably done before midnight.
Wednesday (Nov 10) overnight low of 23 degrees, yesterday's rain total = 0.08″. This morning partly clear (small white clouds) frost and icy paths. Jays and pine squirrel visiting. Mostly cloudy at lunch time and warming up. Mail truck was a little late. Partly clear – partly cloudy and light chilly breeze mid-afternoon, high of 42 degrees. Below freezing and clear sky at dusk. Looked cloudy before midnight. Snowing before 5am and probably ended before 930am.
Thursday (Nov 11) overnight low of 23 degrees. This morning's snow measured 1 3/8″, melted to 0.10″ of water, sky is overcast. Pine squirrel, jays, hairy and downy woodpeckers visiting. A few breaks in the clouds at lunch time and some snow melting. Internet out from approximately 1pm-320pm. Overcast, fog belts mid-mountain and light sprinkles of rain mid-afternoon for less than an hour, high of 38 degrees. Overcast and calm at dusk. Rain after midnight.
Friday (Nov 12) 24 hour low of 29 degrees from Thursday morning. Rain total = 0.19″. This morning overcast and slightly warmer than it was all day yesterday. Vocal pine squirrels, jays and hairy woodpecker visiting. Gray overcast at lunch time. Dark overcast mid-afternoon. high of 46 degrees. Thinner clouds and fuzzy moon rising at dusk. Loud gunshot at 829pm. Rain before and after midnight.
Saturday (Nov 13) overnight low of 34 degrees, last night's rain total = 0.15″. This morning partly cloudy, fog burning off with the sunrise. Heard a robin calling, jays, hairy and downy woodpeckers visiting. Partly clear at lunch time. Warmer and partly clear mid-afternoon, slight breeze, high of 54 degrees. Above freezing, colorful clouds and partly clear at dusk. Mostly cloudy before midnight.
Sunday (Nov 14) 24 hour low of 36 degrees from Saturday morning, no precipitation in the last 24 hours. (0.68″ of water. this week.) This morning overcast, warm and light breeze. Hairy woodpecker, pine squirrel and jays visiting. Overcast and a bit breezy at lunch time. Warm and broken cloud cover mid-afternoon with light breeze, high of 60 degrees. At dusk it was fairly warm, river sounded up, overcast (scarlet clouds to the west) and light breeze.
—————
Idaho News:
New COVID-19 cases in Valley decline to 9
Two more deaths reported by Central District Health
By Tom Grote The Star-News Nov 11, 2021
New cases of COVID-19 declined again last week as reported by Valley County's two hospitals.
A total of nine new cases were reported for the week through Monday by St. Luke's McCall and Cascade Medical Center. That compares to 24 new cases reported the previous week and 31 new cases the prior week.
The two hospitals have reported 1,643 cases of COVID-19 since the pandemic started in March 2020.
Two more deaths among Valley County residents due to COVID-19 were reported in the last week by Central District Health. That brings the total to 10 deaths confirmed from COVID-19 and two probably deaths from the virus. No details on the two new deaths were available.
Cascade Medical Center has begun giving the Pfizer vaccine to children age 5 to 11. Call the clinic at 208-382-4285 for dates and times when the children's vaccine will be offered.
The Cascade hospital gave out 320 booster shots of the Moderna vaccine during a vaccination open house held last week at the American Legion Hall in Cascade, CEO Tom Reinhardt said.
Take-Home Tests
St. Luke's McCall and Cascade Medical Center have take-home COVID-19 tests available. The salivabased test offers results for COVID-19 in two to three days.
The tests can be picked up at the main entrance to St. Luke's McCall at 1000 State St. in McCall or at the clinic at Cascade Medical Center at 402 Lake Cascade Pkwy in Cascade.
St. Luke's McCall offers walk-in COVID-19 vaccines from 8 a.m. to 5 p.m. Monday through Friday at St. Luke's Clinics – Payette Lakes Family Medicine, 211 Forest Street, McCall.
Appointments also can be scheduled online through St. Luke's myChart or by calling 208-381-9500 or 208-634-2225.
Booster shots are available by appointment through Payette Lakes Clinic to those who have a compromised immune system. Patients should schedule the booster shots through their MyChart account.
Cascade Medical Center offers a walk-in vaccination clinic from 8 a.m. to 5 p.m. on Tuesdays, Wednesdays and Thursdays. The Moderna vaccine for those age 18 and older is available on Tuesdays and Thursdays along with the Moderna booster.
The Pfizer vaccine for those age 12 and older, is available on Wednesdays as well as the Pfizer booster.
full story: Copyright © 2021 The Star-News
— — — —
COVID-19 Updates: 942 new Idaho COVID-19 cases, 32 new deaths
November 12, 2021 Local News 8
Idaho officials reported 942 new COVID-19 cases and 32 new deaths Friday.
That brings the total confirmed and probable cases reported since March 2020 to 299,576.
The state said 84,157 people have received one dose of a two dose series, and 161,435 people have received an additional or booster dose. 1,701,774 total doses have been administered. 843,741 people are fully vaccinated.
The state said 50 new hospitalizations have been reported bringing the total number to 13,075, and 15 new cases have been admitted to the ICU bringing the total to 2,210.
32 new deaths were reported bringing the total recorded deaths to 3,735.
full story: [Valley County 1522 cases, 13 deaths.]
— — — — — — — — — —
M-D sets benchmarks for lifting its mask mandate
Crisis standards, youth vaccines among factors to be watched
By Max Silverson The Star-News Nov 1, 2021
Benchmarks that must be met before a mandatory mask mandate can be lifted at McCall-Donnelly schools were adopted last week by the district's board of trustees.
Two of the benchmarks were Idaho lifting crisis standards of care and enough time passing for vaccines to be effective for children age 5-11.
Trustees also voted to include community transmission rates of COVID-19 as part of the benchmarks. Trustees will meet on Monday at 4 p.m. at McCall-Donnelly High School to set the rates that would be needed to meet the goal.
continued:
— — — — — — — — — —
Idaho 55/Smith Ferry project to shut down for the winter
By Max Silverson The Star-News Nov 11, 2021
The Idaho 55 road straightening project at Smiths Ferry is more than half complete as crews work to complete final projects before construction closes for the winter.
Work will continue until snowy and cold weather interferes, which is expected to be sometime between late November and mid-December, Idaho Transportation Department project manager Alex Deduck.
The project is about 60% completed and is expected to be finished in fall 2022.
Since the project began in spring 2020, about 178,000 cubic yards of rock have been excavated. Seven of nine cliffside excavations to widen and straighten the roadway are near completion.
To break apart the rock walls, 64 blasts have been conducted. About 20 blasts are still needed.
Under the roadway, 18 new culverts have been added, plus a large pipe arch culvert at Bogus Creek.
Five walls were constructed between the roadway and North Fork Payette River to support the widened road.
About 1,500 feet of roadway has been completed for travel during construction. Another layer of asphalt will be added on top of the completed roadway before the project is finished.
The project budget is about $25 million.
source: Copyright © 2021 The Star-News
— — — — — — — — — —
State to sell 6 parcels in McCall's Pilgrim Cove
Auction is not part of long term plan to sell, lease land
By Dew Dodson The Star-News Nov 11, 2021
Six parcels of state land in McCall's Pilgrim Cove Subdivision are set to be sold at public auction next month by the Idaho Department of Lands.
The public auction will begin on Dec. 2 at 10 a.m. at the Waters Edge Event Center in Eagle, located at 287 E. Shore Dr.
The six parcels are all unleased residential cottage sites. Two lots on Rainbow Lane and Water Lily Lane are lakefront, while the other four lots on John Alden Road are set back from the lake.
Minimum bids for the lots range from $175,000 to $1.4 million. Combined, the minimum bids would earn the lands department a total of $3.4 million.
continued:
— — — — — — — — — —
3.2 earthquake detected near Stanley
by CBS2 News Staff Thursday, November 11th 2021
The shaking continues in the mountains near Stanley.
On Thursday, the United States Geological Survey reported a 3.2 magnitude earthquake about 14 miles northwest of Stanley.
The quake was reported at about 7:16 p.m. The region has grown accustom to these small-level quakes ever since March 2020 when a 6.5 earthquake was reported and was felt across the west and even into Canada.
source:
— — — — — — — — — —
Idaho's oldest schoolhouse will reopen Monday following two-year-closure
For the past two years, Idaho's oldest two-room schoolhouse has been closed.
Brian Holmes November 12, 2021 KTVB
The Ola School, located in the tiny Ola community of 450 people between Horseshoe Bend and Emmett, informed the school's two teachers that they would not be able to teach in the building just two days before the beginning of the 2019 school year.
For the past two years, Idaho's oldest two-room schoolhouse has been closed. However, the classes continued in the nearby community center, with about 20 students between kindergarten and sixth grade squeezed into one room.
The move to the community center was done with the help of an unincorporated community.
continued:
————–
Scam Alerts
From Idaho County Sheriff's Office
Scam Alert
A resident just received a scam text using pictures of the Sheriff and the courthouse from our website.
The Sheriff's Office will never ask you to send money via gift cards and the Sheriff's Office does not assist in delivering millions of dollars in winnings.
These are scams. If it sounds too good to be true, it probably is. And if you can, please make sure the elderly people in your life are aware of these scams.
(via their FB page Nov 8th)
— — — — — — — — — —
From Boise County Sheriff's Office
Pick Pockets:
BCSO is usually issuing warnings to citizens on how to behave in the remote mountains of Boise County. Today, we are going to warn you on how to behave in the city.
Meridian Police have said that pickpockets are being reported in the Treasure Valley. These pickpockets are operating in teams to distract and relieve unsuspecting shoppers of their valuables.
Here are a few tips to help you against theft when you go shopping in in the Boise area (or anyplace).
1) Lock your car door. C'mon man, this one is easy and yet many people don't activate this simple trick to keep your valuable inside your car safe.
2) Don't leave valuables in plain sight in your car. Thieves will gladly break a window if they see a cell phone or a laptop in plain sight. Thieves also like backpacks as they are like a Christmas present with goodies inside them. We know some of you like to collect french fry boxes in your cars and that's sill OK.
3) Put a pin code or biometric (thumb print/ face recognition) lock on you cell phone. Let's at leas make it a little bit challenging for thieves to get all your personal information.
4) Clean out your purse/wallet! A file folder works wonders for all those Starbucks receipts you are keeping for….. OK, we have no idea why you are keeping all those receipts. Receipts will give bad guys lots of information you should want to keep private.
5) Pay attention when you are in public. On your phone getting the latest tea with your friends while talking about NASCAR makes you a perfect target for criminals.
6) Know what thieves look like. They look old, young, rich, poor, and everything in between. Protect your personal bubble.
7) What are you having for lunch? Many pickpockets target restaurants and bars because people are focused on their food and drinks.
8) Beware of the helpful stranger. The duo teams normally have a helpful stranger as part of the team to distract you while their accomplice lightens your load.
9) Don't leave anything in shopping carts or back pockets. These are two of the easiest places for a pickpocket to strike.
We will leave you with these helpful tips for now. If you feel you have been pickpocketed please contact the police as they might be able to track down the culprit on surveillance camera.
(via their FB page Nov 8th)
—————–
Weather Trivia:
Winter Precipitation Types
Snow is small white ice crystals formed when supercooled cloud droplets freeze. Snow crystals can have different shapes usually dictated by the temperature at which they form.
Snow pellets, also called graupel, are white, opaque ice particles round or conical in shape. They form when supercooled water collects on ice crystals or snowflakes. They typically bounce when they fall on a hard surface and often break apart.
Snow grains are very small, white opaque particles of ice, more flattened and elongated than snow pellets. Snow grains can be thought of as the solid equivalent of drizzle, or as I like to call it, "snizzle".
Ice pellets, or sleet, are small balls of ice. They form from the freezing of raindrops or the refreezing of melting snowflakes when falling through a below-freezing layer of air near the earth's surface.
For measurement purposes, all four are treated as frozen precipitation and snow measurement procedure should be followed.
Freezing rain occurs when rain occurs and the surface temperatures is below freezing. The raindrops become supercooled as they fall through the layer of cold air near the surface and freeze upon impact with surfaces below freezing. Freezing rain is liquid precipitation and should be measured as you would measure rain, after you have melted the ice in your rain gauge (don't worry about any ice on the outside surface of the cylinder). You can report the thickness of ice on surfaces in you observation comments.
From: Hilberg at CoCoRaHS
—————-
Public Lands:
Friends of Payette avalanche center offers scholarships
Friends of the Payette Avalanche Center is offering a Future Forecasters Scholarship for a Level 1 Avalanche class for high school seniors interested in a career in the snow sciences.
The scholarship is open to students from McCall-Donnelly, Cascade and New Meadows schools who can ski, snowboard or snowmobile.
Friends of the Payette Avalanche Center would like a mix of students from both the motorized and non-motorized modes of snow transportation, as the two groups are likely to submit observations from different places.
continued: The Star-News Nov 11, 2021
— — — — — — — — — —
Payette National Forest to Soon Begin Christmas Tree Permit Sales
McCall, ID, November 11, 2021 – The Payette National Forest vendors will begin selling Christmas tree permits Saturday, Nov. 20. On Monday, Nov. 22, permits will be available at Forest Service offices via curbside service. Online purchase of permits began on Oct. 14. All permits are valid Nov. 20 to Dec. 31.
Again, this year, Christmas tree permits will be available for purchase online at Recreation.gov – click this link. When purchasing online, be certain to specifically purchase a permit for the Payette National Forest as permits purchased online for other Forests are not valid on the Payette. Permits purchased online are $10 and an additional $2.50 service fee, then printed by the purchaser at the time of purchase (printer access is required). On-line permit website: (link)
Permits remain available locally as well at our vendors (see attached list) – and by calling our local Forest Service offices, paying via credit card/debit card, then curbside pickup (phone numbers attached). Each permit allows one tree to be cut, with a limit of three permits per family. The cost of a permit purchased locally is $10. Locally purchased permits are valid on both the Payette and Boise National Forest – one permit works for both Forests.
All purchasers are provided with information about where a Christmas tree may be harvested, restrictions and helpful tips. A Christmas Tree Permit is for personal use only and use of permits for commercial purposes is prohibited. Permits are non-refundable and the purchaser must be at least 18 years in age.
In coordination with the "Every Kid Outdoors" program, fourth-graders who are participating in the Every Kid Outdoors program can receive a free Christmas tree Permit. The U.S. Forest Service is among several federal agencies that support the Every Kid Outdoors initiative which is a nationwide call to action to build the next generation of outdoor enthusiasts. The initiative provides a free pass to all fourth-grade students who first go to (link) and complete the application process for a pass, print the pass and call a Forest Service office for curbside service. If utilizing the online system at recreation.gov, enter the pass number when prompted.
Commercial vendors will not be issuing a free Christmas tree permit to participants of the Every Kid Outdoors program, and free Christmas tree permits cannot be sent through the mail or electronically. Participation in the Every Kid Outdoors program also offers benefits at National Parks and on other public lands and facilities across the United States.
Harvesting a Christmas tree is a fun adventure and often a traditional family event. Please review the Christmas tree brochure and map for optimal areas and be fully prepared for winter travel.
If an unusually heavy snowfall occurs and forest roads become a safety concern for the public, some areas may be closed early to Christmas tree gathering. Forest roads are not plowed. Call ahead and check websites for road conditions before heading out. Please do not block private or county roadways at any time.
To provide for family safety, officials advise a few simple guidelines:
* Use the brochure with instructions provided.
* Practice winter survival and driving techniques.
* Bring the right tools, such as a saw and a shovel, so the tree can be cut to within 6" of the ground's surface.
* Take along emergency equipment, plenty of food and water, and try to use a 4-wheel drive vehicle if you are planning to travel in snow country.
* Always inform neighbors and family friends of the route you intend to take, include a map of your destination, and the time that you plan to be gone.
* Be prepared for the possibility of a long hike or snowmobile ride while searching for the perfect tree.
* According to Idaho state law, any vehicle carrying a load that extends more than 4 feet past the tailgate, must display a red or florescent orange flag tied on the end of the load to caution other drivers.
Brian Harris
Public Affairs Officer
Tribal Liaison
DFO – Southwest Idaho RAC
Payette National Forest
—————–
Critter News:
SARS-CoV-2 variant detected in dogs and cats with suspected myocarditis
Peer-Reviewed Publication 5-Nov-2021
A new study in the Veterinary Record reveals that pets can be infected with the alpha variant of SARS-CoV-2, which was first detected in southeast England and is commonly known as the UK variant or B.1.1.7. This variant rapidly outcompeted pre-existing variants in England due to its increased transmissibility and infectivity.
The study describes the first identification of the SARS-CoV-2 alpha variant in domestic pets; two cats and one dog were positive on PCR test, while two additional cats and one dog displayed antibodies two to six weeks after they developed signs of cardiac disease. Many owners of these pets had developed respiratory symptoms several weeks before their pets became ill and had also tested positive for COVID-19.
All of these pets had an acute onset of cardiac disease, including severe myocarditis (inflammation of the heart muscle).
"Our study reports the first cases of cats and dogs affected by the COVID-19 alpha variant and highlights, more than ever, the risk that companion animals can become infected with SARS-CoV-2," said lead author Luca Ferasin, DVM, PhD, of The Ralph Veterinary Referral Centre, in the UK. "We also reported the atypical clinical manifestations characterized by severe heart abnormalities, which is a well-recognised complication in people affected by COVID-19 but has never described in pets before. However, COVID-19 infection in pets remains a relatively rare condition and, based on our observations, it seems that the transmission occurs from humans to pets, rather than vice versa."
source:
— — — — — — — — — —
Bear 399's yearlings are safely collared
By Braydon Wilson November 7, 2021 Local News 8
Thanks to the effort of the U.S Fish and Wildlife Service and the National Park Service, among others federal agencies the famous Bear 399 along with her cubs are safe. Agents of the agencies yesterday were successfully able to radio collar two of 399's cubs.
The collars are to track the movements of the young grizzlies and take the steps necessary too prevent future human-bear conflicts. Three of the yearlings were rounded up, but only two were collared.
All three of the cubs were released in the presence of their mother and allowed to go about their bearly activities.
continued:
— — — — — — — — — —
Wild horse bait, water traps used to gather in horses near Challis
Nov 11, 2021 Local News 8
The BLM Challis Field Office is conducting a wild horse gather operation in the Challis Wild Horse Herd Management Area (CHMA), just south of Challis. The BLM is using temporary water and bait traps consisting of a series of corral panels stocked with water and hay/mineral. No helicopters will be used.
The BLM plans to gather approximately 70 wild horses and remove approximately 39 to maintain populations within the Appropriate Management Level of 185-253 horses on the HMA. The gather could last up to six months. The purpose of the gather is to maintain the population of wild horses, selectively remove a portion of horses for placement into the adoption program, capture, treat and release horses for application of fertility treatment.
continued:
————
Fish & Game News:
Cow moose with calf reported near Atlas Road and Kathleen Avenue in Coeur d'Alene
By T.J. Ross, Regional Communications Manager
Wednesday, November 10, 2021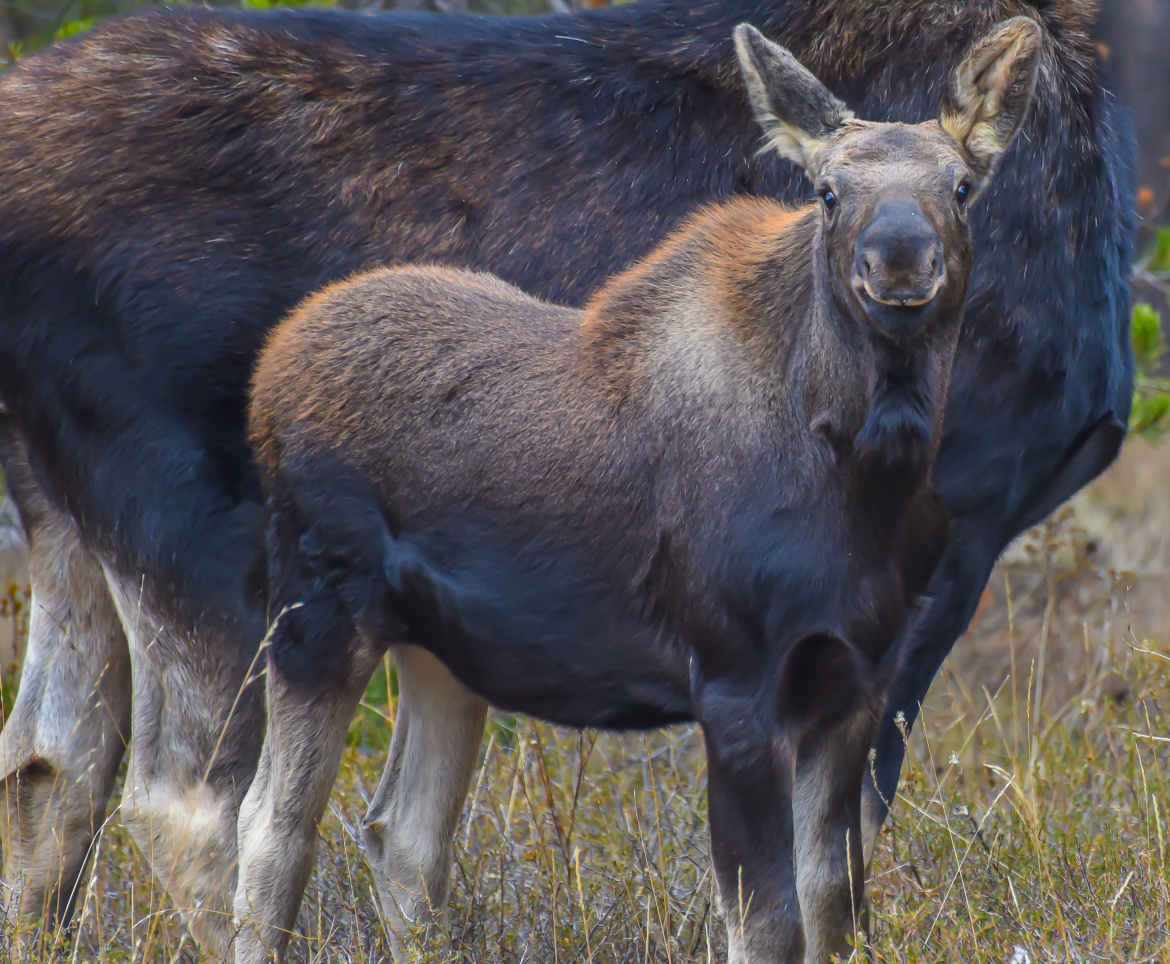 James Brower Idaho Fish and Game
Idaho Fish and Game has received multiple reports of a cow moose and calf in the northwestern portion of Coeur d'Alene
Why moose venture into town and what you should do
During winter, it is not uncommon to see moose within city limits in the Idaho Panhandle and in other parts of the state. Moose move to lower elevations to avoid deep snowpack, take advantage of milder weather conditions and enjoy the easily life for a bit.
Plus, in town there is no shortage of tasty treats in the form of ornamental trees and shrubs; they are basically ice cream sundaes for moose. Give them space, and consider taking a photo from the safety of your car or through your home window. Never approach them, and never attempt to feed or touch them.
full story:
— — — — — — — — — —
The steelhead are coming back to Boise, the fish, not the hockey team
By Connor Liess, Public Information Specialist
Friday, November 12, 2021
Fish will be stocked in the river on Nov. 18 between Glenwood Bridge and Barber Park
Big news for anglers – on Thursday, Nov. 18, approximately 150-200 steelhead will be transported and released into the Boise River. Trapped at Hells Canyon Dam on the Snake River, the fish will be released in equal numbers at five stocking locations:
continued:
— — — — — — — — — —
More F&G News Releases
link:
———————————-
Crazy Critter Stuff:
Military vet captures six-foot alligator from woman's yard in Florida
by Zachary Rogers – WKRC Staff Wednesday, September 29th 2021
Mt. Dora, Fla. (WKRC) — An incredible video, that you will not be surprised to hear was filmed in Florida, is making the rounds on social media.
In short summary, it features a very brave individual successfully wrangling a visibly unhappy, alligator by creative use of a garbage bin.
That brave individual is none other than Abdul Gene Malik, a United States Army veteran. He posted a video of his encounter with the reptile on Instagram.
video link:
continued: CBS2 Idaho
—————
Seasonal Humor:

[h/t PL]

—————–