Hwy 55 UPDATE #4: 1:30 P.M. 11/22/2021
State Highway 55 between Smiths Ferry and Round Valley will remain closed through Thanksgiving weekend (at least November 29) as crews work diligently to secure the rockslide area near the Rainbow Bridge, about 20 miles south of Cascade.
Crews began work Sunday on an interim solution to safely open the road for the winter. The plan includes removing boulders and mud from the hillside to construct a rock wall approximately 20 feet tall and 500 feet long. Once the wall is built to reinforce the slope, a temporary road will be constructed around the slide to safely allow traffic.
"We appreciate the patience of the public as we work to reinforce the very large slide area," said Jason Brinkman, ITD District 3 Engineering Manager. "Our goal is to reopen the highway as soon as possible. This is potentially dangerous work on an unstable slope. We need to take the time to ensure the safety of our construction team and eventually the traveling public once the road is reopened."
Until the highway is reopened, travelers can use U.S. Highway 95 as an alternate route. A long-term plan for the rockslide area will be determined over the coming months. The immediate focus is to secure the slope before winter.
The slide is estimated to have brought down 30,000-50,000 cubic yards of material and debris. It measures nearly 200 feet from the top of the slide to the roadway and is approximately 250 feet wide along the bottom.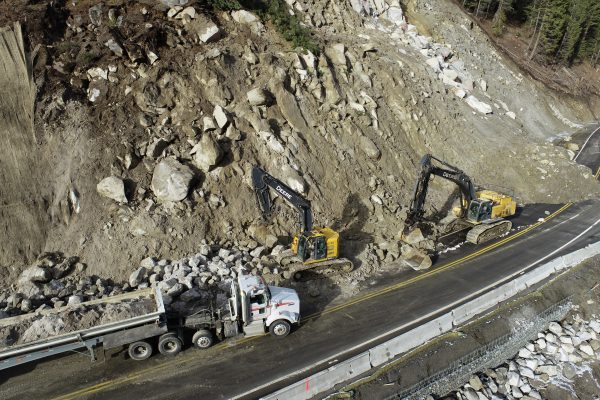 View of the work on 11/21/2021