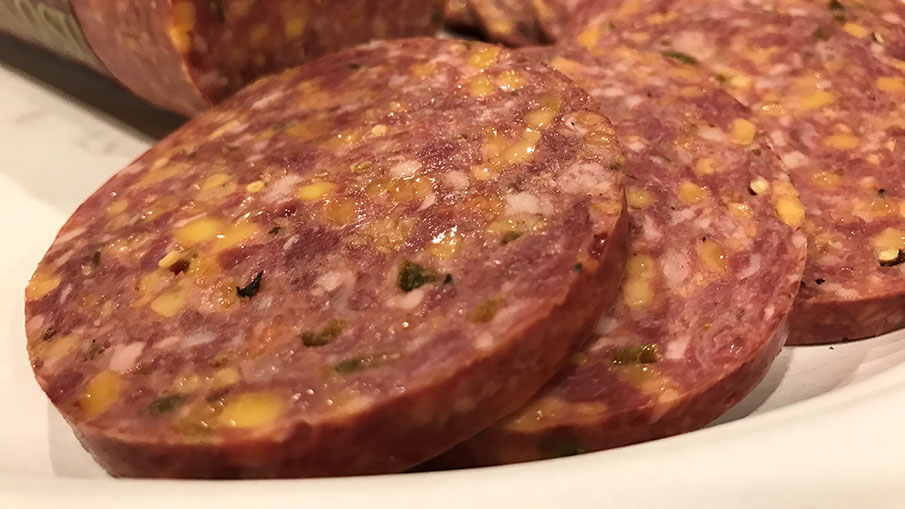 You'll love the sharp flavor of Cheddar cheese and spicy kick of jalapeño peppers in this venison summer sausage recipe.
By Raschell Rule
Yield: 3 venison summer sausage logs
Prep time: 30 minutes
Cook time: 1 1/2 hours
Ingredients
3 pounds venison, ground
1 cup cold water
1 teaspoon freshly ground black pepper
2 jalapeño peppers (or to taste), seeded and minced
3 tablespoons tender quick
2 teaspoons mustard seed
1 teaspoon onion powder
2 teaspoon liquid smoke
1 1/2 cups shredded cheddar cheese
Directions
Mix the tender quick, water, mustard seed, garlic powder, onion powder, black pepper and liquid smoke together in a large bowl until the tender quick is dissolved. Add the ground venison, jalapeño peppers and cheese; mix well. Divide in thirds and roll into logs. Wrap tightly with foil and refrigerate overnight.
Preheat oven to 170 degrees and line a baking sheet with foil.
Unwrap the sausage logs and place on the prepared baking pan.
Bake for a few hours or until the internal temperature reads 165 degrees.
Cool to room temperature and dab excess oil. Slice and serve.
——————-