Jan 30, 2022 The Yellow Pine Times – Valley County, Idaho
Reminder: We are still under a boil water order.
Tonight Snow after 11pm. Low around 20. West southwest wind 6 to 9 mph. Chance of precipitation is 100%. Total nighttime snow accumulation of 1 to 2 inches possible.
Monday Snow likely, mainly before 11am. Mostly cloudy, with a high near 30. West wind 10 to 13 mph, with gusts as high as 22 mph. Chance of precipitation is 60%. New snow accumulation of less than one inch possible.
Monday Night A 50 percent chance of snow showers, mainly before 11pm. Mostly cloudy, with a low around 15. West wind 6 to 11 mph becoming light west northwest after midnight. New snow accumulation of less than one inch possible.
Tuesday A 50 percent chance of snow showers, mainly after 11am. Mostly cloudy, with a high near 28. West wind 3 to 7 mph. New snow accumulation of less than a half inch possible.
Tuesday Night A 30 percent chance of snow showers before 11pm. Mostly cloudy, with a low around 6. West wind 5 to 8 mph becoming calm after midnight. New snow accumulation of less than one inch possible.
———–
Community Calendar:
Apr 17, 2020 – Boil water order in effect
Oct 27, 2021 – Transfer Station on Winter Schedule
Nov 1, 2021 – Winter Mail Delivery Starts
Jan 30 – YPFD meeting at 2pm
Feb 1 – Movie Porky's
Feb 2 – Fest Planning Meeting
Feb 8 – Movie Mrs. Doubtfire
Feb 13 – Superbowl at The Corner
Feb 14 – Valentine's Dinner at The Corner
Feb 19 – Pie Contest 4pm YP Tavern
Mar 27 – YPFD meeting at 2pm
(details below)
———-
Local Events:
YPFD Meeting Jan 30th
A Fire Department meeting is scheduled for Sunday, January 30th at 2pm at the Fire Hall. (Agenda posted in YPFD news.)
— — — —
Tuesday Movie Nights
430pm at the Community Hall every Tuesday. Snacks are welcome, P.J.s OK. Everyone welcome.
February 1, 2022 Porky's
February 8, 2022 Mrs. Doubtfire
— — — —
Feb 2 – Fest Planning Meeting
Harmonica Festival 2022 Planning Meetings will be held the first Wednesday of the month at 5 pm at the community hall. The first meeting will be February 2. Everyone who wants to be on the committee and involved in planning and/or volunteering is strongly encouraged to attend.
Current committee members:
Josh Jones
Hailey Harris
A zoom meeting option will be available for those who are not physically in town. (Contact Hailey for Zoom info)
— — — —
Feb 13 – Superbowl Party at The Corner
Sunday February 13th we plan to host a Super Bowl party. For a $15 cover you get nachos, chicken wings and 2 drinks. Possibly some other goodies included.
— — — —
Feb 14 – Valentine's Dinner at The Corner
The Corner is going to do a Valentines dinner on Monday 2/14, starting at 6pm. We are asking that reservations be made no later than 2/7 so we can plan and order. We are having Chicken Alfredo or Steak with a baked potato along with sides and dessert.
— — — —
Feb 19 – Annual Pie Contest Yellow Pine Tavern
Saturday February 19th at 4pm. Bring your favorite Pie or your appetite and buy a plate for $2.00 donation and sample the Pies. The winners get the money. Chili dogs and Chips also provided by the Tavern.
———
Village News:
Avalanche Education Course
Dave Williams: "It was a good turn out for the avalanche awareness class on Monday. Glad to see so many people interested. I know it was a lot of information in a short period of time. If anyone has any questions, you can call me (208 271 6065) or stop me when I'm in town."
Thank you Dave Williams, from Perpetua Resources, for doing this Avalanche Education Clinic. Held January 24 at 5pm at the Community Hall.
photo courtesy YP General Store
— — — —
Attention Yellow Pine Water Users
You may now apply to WICAP for help with your water bill under the Low Income Household Water Assistance Program (LIHWAP). You may apply for help with your past-due, as well as your current bill.
Application may be made in person at the WICAP office in Cascade, 110 W. Pine St. You may also apply by phone at 208 454-0675, or on-line at wicap.org.
— — — —
Amerigas
Amerigas has updated their Terms and Conditions for residential customers. View at (link)
— — — —
Notice – Deadline
In order to have your item posted in that week's paper you must email it in by Noon on Sunday.
A reminder – if your group or business want an event, photo, minutes, news or advertising posted in the Yellow Pine Times, please write what you want posted in text form (for copy/paste) and send it by email. Remember to include the "who, what, when, where and why." Images or groups of images must be under 10 megs per email.
— — — —
Road News
Hwy 55 Opened again Jan 25th.
Link: to current road reports.
Upper Johnson Creek road at Landmark, Profile Gap, Lick Creek, Elk Summit, Thunder Mountain and Deadwood roads are closed to wheeled vehicles. These roads are not maintained. Travel at your own risk.
— — — —
Critters
Be Elk Aware
Elk are hanging around the village, please watch for them on local streets. There have been a couple of near misses reported.
Be Wolf Wary
* Always keep children nearby and in sight.
* Keep pets leashed and under control.
Be Fox Aware
* Do not feed foxes human food
* Feed domestic pets indoors
* Make sure your pets are updated on Rabies vaccines
* Small pets could become a snack


Photo taken Jan 18, 2021 by AP
Be Cougar Aware
A big cat has been hanging around the upper part of the village recently. Watch your small pets and do not leave food outside.


photo courtesy NH
— — — —
Yellow Pine US Mail
The 3-day a week mail delivery started November 1st. The Post Office in Yellow Pine is open six days a week year around: M-F 845am-245pm Saturday 9am-245pm. Forever Stamp: 58 cents. Support our local post office and purchase your holiday stamps here.
Attention Mail Route Customers – FedEx Ground has changed their policy, and they will no longer pay for Mail Plane or Truck freight. If you can avoid it, we strongly encourage you to use UPS or USPS to receive packages. If you do order a FedEx Ground package, you will be billed for: Air Freight @ $0.45/lb, or Mail Truck Freight @ $0.05/lb. We are truly sorry this is the case, and are working very hard to make sure you still receive your orders. – Arnold Aviation
— — — —
Yellow Pine Transfer Station
Report Monday, Jan 24th, lots of room in the bins.
Report the road and dump plowed Jan 17th.
Report Jan 7th: Bins were emptied about a week and a half ago. Road plowed Jan 5th.
Dump update October 27th: We are now in winter mode. When it gets fairly full we will call to have it dumped. Contact Cecil.
Locals have worked hard to clean up the area, please be respectful.
Yellow Pine Transfer Station (aka, the dump)
Please do not abuse our Transfer Station or we may lose it. Household trash must be placed in the bins, flattened cardboard boxes can also go into the bins. Do not stack trash in front of the doors. Woody yard debris only for the burn pile. No furniture, appliances, tires or construction debris allowed, those items must be hauled out to the Donnelly station by you.
The Yellow Pine Transfer Station is Valley County responsibility. If it is not kept tidy, use of the Transfer Station may be revoked. That would result in residents having to take all household trash and yard waste to the Donnelly Transfer Station.
If Dumpsters Are Full, Contact Lake Shore Disposal at: (208) 634-7176
Dump Tips
Do you know where your trash goes after it leaves Yellow Pine?
90 tons per week of Valley Co.'s solid waste comes to the Adams Co. landfill. (Valley Co. has a contract with Adams Co.) When Valley Co.'s weekly trash exceeds 90 tons, the rest is then taken to Payette. The more garbage, the more cost in transferring it further away.
Tips to reduce trash:
1. When purchasing groceries refuse plastic bags as they reek havoc at the Adams Co.'s landfill, causing problems with equipment.
2. Garbage: recyclables, compost, trash
If each household would have containers for these three categories this is the place to start.
– B. Dixon
———-
Local Groups
YPWUA News:
January 2022 Water Usage
| | | | | | | | | |
| --- | --- | --- | --- | --- | --- | --- | --- | --- |
| Date | Flow | Used | Hours | gph | gpm | dow | more | less |
| 01/01/22 | 18385785 | 49925 | 24.5 | 2038 | 34 | S | 1761 | |
| 01/02/22 | 18435178 | 49393 | 24 | 2058 | 34 | S | | 532 |
| 01/03/22 | 18481375 | 46197 | 23.5 | 1966 | 33 | M | | 3196 |
| 01/04/22 | 18540630 | 59255 | 24 | 2469 | 41 | T | 13058 | |
| 01/05/22 | 18595162 | 54532 | 24 | 2272 | 38 | W | | 4723 |
| 01/06/22 | 18642389 | 47227 | 24 | 1968 | 33 | T | | 7305 |
| 01/07/22 | 18689439 | 47050 | 24 | 1960 | 33 | F | | 177 |
| 01/08/22 | 18747314 | 57875 | 24 | 2411 | 40 | S | 10825 | |
| 01/09/22 | 18808289 | 60975 | 24 | 2541 | 42 | S | 3100 | |
| 01/10/22 | 18864113 | 55824 | 24 | 2326 | 39 | M | | 5151 |
| 01/11/22 | 18918688 | 54575 | 24 | 2274 | 38 | T | | 1249 |
| 01/12/22 | 18972448 | 53760 | 24 | 2240 | 37 | W | | 815 |
| 01/13/22 | 19025122 | 52674 | 24 | 2195 | 37 | T | | 1086 |
| 01/14/22 | 19074945 | 49823 | 24 | 2076 | 35 | F | | 2851 |
| 01/15/22 | 19123078 | 48133 | 24 | 2006 | 33 | S | | 1690 |
| 01/16/22 | 19171372 | 48294 | 24 | 2012 | 34 | S | 161 | |
| 01/17/22 | 19217605 | 46233 | 24 | 1926 | 32 | M | | 2061 |
| 01/18/22 | 19265108 | 47503 | 24 | 1979 | 33 | T | 1270 | |
| 01/19/22 | 19311833 | 46725 | 24 | 1947 | 32 | W | | 778 |
| 01/20/22 | 19358375 | 46542 | 24 | 1939 | 32 | T | | 183 |
| 01/21/22 | 19405255 | 46880 | 24 | 1953 | 33 | F | 338 | |
| 01/22/22 | 19452583 | 47328 | 24 | 1972 | 33 | S | 448 | |
| 01/23/22 | 19498766 | 46178 | 24 | 1924 | 32 | S | | 1150 |
| 01/24/22 | 19545075 | 46309 | 24 | 1930 | 32 | M | 131 | |
| 01/25/22 | 19591204 | 46129 | 24 | 1922 | 32 | T | | 180 |
| 01/26/22 | 19638073 | 46869 | 24 | 1953 | 33 | W | 740 | |
| 01/27/22 | 19684262 | 46189 | 24 | 1925 | 32 | T | | 680 |
| 01/28/22 | 19732237 | 47975 | 24 | 1999 | 33 | F | 1786 | |
| 01/29/22 | 19778973 | 46736 | 24 | 1947 | 32 | S | | 1239 |
| 01/30/22 | 19826815 | 47842 | 24 | 1993 | 33 | S | 1106 | |
Water Update Jan 19th
Hello Yellow Piners,
After the news went out about high water use, the demand went down about 10,000 gallons per day by the following five days. That seems to indicate that the message was heard and action was taken.
Mike Amos was a huge help when I came in on Sunday 1/16/2022 to clean filter #2. He provided a four-wheeler and shuttled it up close to Nicki's place for me which was extremely helpful. I loaded it up with tools and pumps etc., and hauled it all up to the plant. Filter #2 was then cleaned and flow has been restored to an acceptable level. Please keep in mind that daily demand still exceeds the design capacity of the system by approximately 30%.
I also took the necessary DEQ compliance samples and took care of regular maintenance issues while there. Aside from the high demand, everything else seems to be normal.
Regards, Warren Drake
—
Water Usage Jan 9, 2022
In the past few days our water usage has jumped to over 61,000 gallons per day. In November we were consistently around the 27,000 gallons per day. I am thinking a water line has frozen and broke somewhere in town. Please let me know if someone hears or suspects major water leaks. – Steve Holloway
—
Update Dec 31, 2021
Yellow Pine water use up 80% this month
Today's water meter reading indicates that 48164 gallons of water was used yesterday. Compared to the beginning of the month, daily water use has increased by approximately 80% . This rate of increase is unsustainable and is cause for some concern. If water demand continues to increase at or close to this rate, interruption of water service is a real possibility.
The cause of the increased demand should be investigated. Running toilets, over use of trickle faucets to prevent freezing, a broken service line or waterline in a cabin, or other distribution system leaks are likely to blame.
I recommend that we get a message out to residents Informing them of the circumstances and asking for their help in conserving water and locating any potential leaks.
Regards,
Warren Drake
—
We are still under a Boil Order. Please conserve water.
DRINKING WATER WARNING January 10, 2022
Yellow Pine Water Users PWS 4430059 BOIL WATER ADVISORY Due to insufficient treatment
We routinely monitor the conditions in the drinking water distribution system. On 4-19-2020 we experienced a period of insufficient treatment due to extreme water demand which exceeded the capacity of the treatment system. A drop in water pressure is a signal of the existence of conditions that could allow contamination to enter the distribution system through backflow, by backpressure, or back-siphonage. As a result, there is an increased chance that the drinking water may contain disease-causing organisms.
What should I do?
* DO NOT DRINK THE WATER WITHOUT BOILING IT FIRST.
Bring all water to a boil, let it boil for one minute, and let it cool before using, or use bottled water. Boiled or bottled water should be used for drinking, making ice, brushing teeth, washing dishes, and food preparation until further notice. Boiling kills bacteria and other organisms in the water.
* Inadequately treated water may contain disease-causing organisms. These organisms include bacteria, viruses, and parasites, which can cause nausea, cramps, diarrhea, and associated headaches.
* The symptoms above are caused by many types of organisms. If you experience any of these symptoms and they persist, you may want to seek medical advice. People at increased risk should seek advice about drinking water from their health care providers.
What is being done?
Efforts are under way to curtail water use. Once water use is diminished, the water treatment system will again be operational and the boil water order can be lifted
We will inform you when you no longer need to boil your water. We anticipate resolving the problem within 365 days.
For more information, please contact Warren at 208-573-6261 or wdrake @ drakediversified.com
Please share this information with all the other people who drink this water, especially those who may not have received this notice directly (for example, people in apartments, nursing homes, schools, and businesses). You can do this by posting this notice in a public place or distributing copies by hand or mail.
This notice is being sent to you by Yellow Pine Water Users Assoc.
PWS ID #: 4430059. Date distributed: 1-10-22.
—
Water Conservation Tips
1. Turn OFF the tap when you brush your teeth
Pretty much everyone runs the tap whilst brushing their teeth, when in fact you only need water at the beginning and the end (to wet the brush and rinse it).
2. Try and conserve water when using the toilet
We've heard a simple saying for this "If it's yellow, let it mellow. If it's brown flush it down".
Also don't use the toilet as a bin, every time you throw a small bit of trash and flush the toilet 5 gallons is gone.
3. Shorten your shower and turn it off when you can
You can also turn the shower off in between, wet yourself, lather up then turn the water off. When you're ready turn it on and rinse off.
4. If you have any dripping taps – FIX THEM.
A single dripping tap can waste 4 gallons of water a day (or more) or 1450 gallons of water a year.
—
YPWUA 2021 Annual Shareholder Meeting July 4, 2021 at the Community Hall at 10am. Link: to 20210704 YPWUA minutes
YPWUA 2020 Annual Shareholder Meeting held July 5, 2020 at the Community Hall 2pm. link: to 20200705 YPWUA minutes
Water Board:
Steve Holloway
Willie Sullivan
Dawn Brown
Stu Edwards
Candy Hardisty
— — — —
VYPA News:
Sept 11, 2021 – VYPA Meeting minutes link:
Aug 14, 2021 VYPA Meeting Canceled (lack of quorum.)
July 10, 2021 VYPA meeting minutes link:
June 12, 2021 VYPA Meeting Minutes link:
VYPA Meetings are the 2nd Saturday of June, July, August, and September at 2:00pm at the Community Hall.
Village Council members:
Chairman – vacant
Vice Chairman – Josh Jones
Treasurer – Ronda Rogers
Secretary – Hailey Harris
Member-at-large – Rhonda Egbert
Cemetery Committee:
Ron Basabe
Marj Fields
Ron Earl
VYPA Bylaws adopted 8/8/2020 (link)
YPAC Corp Bylaws (link)
— — — —
YPFD News:
Fire Commissioners Meeting
January 30, 2022, 2pm, at Community Hall
Agenda Item Presenter Time Comments
Call to Order Bill McIntosh
Discussion/Vote: Revisit Personnel Bill McIntosh
Discussion/Vote: Proposed Bylaws Bill McIntosh
Report: Budget Ronda Rogers
Discussion: Volunteers Tim Rogers
Discussion: Training Ron Basabe
Discussion: YPFD fuel tanks Tim Rogers
Discussion: Damaged generator Tom Lanham
Discussion: need for a safe at the firehouse Ronda Rogers
Discussion: Repair of the Large pump & location Ron Basabe
Adjournment Bill McIntosh
Meeting Conduct: Meeting attendees are expected to: Uphold the professional purposes of meetings by respecting the rights, privacy, safety, and dignity of all persons, exercise professionalism, consideration, and respect in their speech and actions; refrain from harassing speech and other harassing behavior. Failure to conduct oneself in accordance with these expectations may result in removal of the offending person or adjournment of the meeting.
—
If you have an emergency, please call 911.
Chimney cleaning brushes are available to borrow from the YPFD.
To the Village of Yellow Pine:
Letter to Share:
I am Tim Rogers, the new Fire Chief of Yellow Pine Volunteer Fire Department. My experience in handling emergencies and firefighting came from the 12 years I served in the Army as a crew chief on the OH-58, UH-1H helicopters and the 12 years served in the Air Force in ground support on the C-130 airplane and the A-10 jets. I invite everyone to feel free to stop by my house or firehouse to introduce yourself. I can go over the plans we have for the Firehouse and answer any questions you may have. I would be glad to show you around the Firehouse, so you know where your tax money is going. I am always open to any suggestions you have. I believe this is the Yellow Pine people's Firehouse.
I am Ron Basabe, the Assistant Fire chief for the Yellow Pine Volunteer Fire Department. My training and experience in firefighting came from the years I spent at Boise Cascade sawmills, volunteering at the McCall Fire Department, the Bureau of Land Management, and Forest Service. I was also involved in Search and Rescue in Valley County starting in the 1990's.
If you would like to be a volunteer firefighter, we would be happy to get you signed up. If you need help in any way, get a hold of us; we are here to serve you.
Thank You
Tim Rogers; Fire Chief; 208-633-2005
Ron Basabe; Assistant Fire Chief; 208-633-9001
Working together to protect our Village
—
Meeting Minutes
Jan 30, 2022 YPFD meeting (no minutes yet.)
Jan 10, 2022 YPFD Special Meeting Link:
Jan 9, 2022 YPFD Special Meeting (no minutes yet.)
November 23, 2021 Special meeting Link:
November 8, 2021 AAR Report (Hopeless) Link:
October 31, 2021 Special meeting Link:
October 14, 2021 Special meeting Link:
September 27, 2021 Special meeting Link:
September 18, 2021 Special meeting Link:
Sept 11, 2021 YPFD Budget meeting Link:
Aug 28, 2021 – YPFD Meeting to discuss election (no notes taken.)
July 10, 2021 – YPFD Meeting Minutes. Link:
June 12, 2021 – YPFD Meeting Minutes. Link:
May 15, 2021 – YPFD Meeting Minutes. Link:
Sept 30, 2020 YPFD budget meeting. (No minutes yet.)
If you are burning any piles of forest litter and debris – please have a connected and charged garden hose that can reach your piles. If your hose cannot reach where you are burning, follow the good advice of having a shovel, axe, and water bucket at the scene. Rake away from anything that could ignite. Stop burning if winds become an issue. Make sure your fire is out before you leave the area. Nothing like getting surprised by an escaped fire in the middle of the night!
Better yet, "Rake It and Take It" your yard waste (limbs, pine needles, brush, etc.) to the burn pile at the Transfer Station on the south end of the turn-around. Remember, keep the pile neat. Woody debris only, no nails, no cardboard and no furniture! The Boise NF will burn the pile in the fall when it is safe.
Yellow Pine Fire Protection District Community Service Notice
The purpose of this letter is to show how you as a Yellow Pine Resident can help protect your structure against a wildland fire by being "Fire Wise." Click the link: to view 20190724 Yellow Pine Fire Protection mitigation
Valley County Wildfire Evacuation Checklist
A wildfire evacuation checklist that property owners in the Yellow Pine area might find useful. link: Valley County Evacuation Checklist – 2021
YPFD COVID19 Policy
link: YPFD Covid-19 SOP
link: Covid-19 EMS
Fire Chief: Tim Rogers
Assistant Fire Chief: Ron Basabe
YP Fire Commissioners:
Lorinne Munn – District 1
Tom Lanham – District 2
Bill McIntosh – District 3
Secretary/Treasurer – Ronda Rogers
2022 Meeting Schedule:
January 30, 2022, Sunday at 2pm
March 27, 2022, Sunday at 2pm
May 29, 2022, Sunday at 2pm
September 11, 2022, Sunday at 2pm Budget Meeting
November 27, 2022, Sunday at 2pm
——–
Biz Listings:
The Corner (208) 633-3325 Facebook Page
Winter hours:
Open Wednesday 11-6
Fridays 11-9
Saturdays 9-6
Sunday's 10-6
Closed Monday, Tuesday and Thursday
Exceptions are by appointment and we'll be open on Mondays of Holiday weekends.
— — — —
Yellow Pine Tavern (208) 633-2233 Facebook Page
Winter Hours at the Tavern
Open Mon, Wed, Fri & Sat: 9am-2pm 4pm-8pm
Open Sunday 9am-2pm
Closed Tues & Thurs
Call the Tavern 208 633-2233 or Cell 208 739-7086 for other arrangements
Full Breakfast Menu. Burgers, Pizza, Fajitas, Beer Wine and Pop
— — — —
Yellow Pine General Store and Motel (208) 633-3300
Website Facebook page
The Yellow Pine General Store will be observing new Winter Hours. We will be officially open on Wednesday, Friday, and Saturday 11am-4pm. Josh or Christy are in town on the off days and will be available to open the store as needed. Their contact information is posted on the front door of the store if you need to reach either of them locally. The motel rooms and the laundry room are still available 7 days per week. Store phone: 208-633-3300 Email:
— — — —
Yellow Pine Lodge (208) 633-3377
Closed for the winter.
— — — —
Murph's RV Park and Mary's Cabins
FB page link
— — — —
Knotty Kat Crochet Works – 509-406-2221
FB page link
Open Tue – Sat, 9-5
Yellow Pine eggs $3/doz
— — — —
Buck Horn Outfitters LLC 208-633-3614
Our Elk & Deer hunts are booked for our 2021 season, we do have a couple openings for our 2022 Elk & Deer hunts. We Also have a couple openings for Mountain Lion hunts December 2021 through February 2022 and Spring Bear hunts May of 2022. Please see our Website site for further details.
Tom & Sarah Lanham
156 Yellow Pine Ave, Yellow Pine Id 83677
website:
Facebook:
Wapiti Meadow Ranch – Johnson Creek (208) 633-3217
or 208-315-3554 – cabin rentals
website:
Big Creek Lodge
website:
Deadwood Outfitters
website:
— — — —
Local Fuel Suppliers
Amerigas Phone: (208) 452-4361
Ed Staub & Sons Phone: (208) 634-3833
Diamond Fuel & Feed Phone: (208) 382-4430
— — — —
Outside Biz that will service Yellow Pine:
Arnold Aviation (208) 382-4844
Watkins Pharmacy Cascade (208) 382-4204
Cascade Auto (208) 382-4224
Cascade Vet Clinic (208) 382-4590
The Star-News


click to subscribe:
A reminder that those who live in other states can subscribe to the online edition only since the mail can take days for hard copy to reach them.
Rocky Mountain Mechanical – Plumbing – Heating – Air conditioning
(208) 365-PIPE (7473), Emmett, will service Yellow Pine
Website:
— — — —
Follow The Yellow Pine Times on Facebook (updated more often than emails)
———————–
Local Observations:
Monday (Jan 24) overnight low of 11 degrees (probably around midnight.) This morning 21 degrees at 10am, mostly small clouds and patches of blue sky, light frost and estimate 21″ old snow on the ground. Fresh fox tracks. Pine squirrel, nuthatch and jays visiting. Mostly cloudy at lunch time (bigger and darker clusters.) Gray overcast by early afternoon. Mostly cloudy mid-afternoon – a few hazy open patches of sky and high of 36 degrees. Socked in and snowing at dusk and 32 degrees. Very light snowfall at dark and done snowing soon afterwards. Looked partly cloudy or mostly clear before midnight.
Tuesday (Jan 25) overnight low of 6 degrees. This morning clear sky, 1/2″ new snow (SWE=0.04″) and 21″ on the ground. (Fresh fox tracks spoiled a couple of snow measuring spots.) Red-breasted nuthatch, jays and pine squirrel visiting. Clear and strong sunshine at lunch time. Clear sky and hovering around freezing mid-afternoon, high of 33 degrees. A report of 13 elk wandering around in the village. Almost clear at dusk, temperature and dropping quickly. Haze moving in (with nice colors) just before dark. Stars out before midnight.
Wednesday (Jan 26) 24 hour low of 6 degrees from Tuesday morning. This morning 15 degrees and mostly high thin haze, estimate 21″ old snow on the ground. Pine squirrel, nuthatch and jays visiting. Mostly clear at lunch time. Mail truck was late, no troubles on the road – but got stuck at our post office (thank you to locals who pulled him out.) Clear and mild mid-afternoon, high 39 degrees. Clear sky at dusk and dropping below freezing. Stars out before midnight.
Thursday (Jan 27) overnight low of -2 degrees. This morning clear sky, and zero degrees at 10am. Measured an average of 21″ old snow on the ground. Sunrise 1027am. Pine squirrel, hairy woodpecker, nuthatches and jays visiting. Elk wandering through the neighborhood. Clear and sunny at lunch time. Clear sky and hovering around freezing mid-afternoon, high of 35 degrees. Clear sky at dusk and temperature dropping quickly. Stars out before midnight.
Friday (Jan 28) overnight low of -2 degrees. This morning clear sky and -1 degree at 10am. Estimate 21″ old snow on the ground. Fresh Fox tracks. Red-breasted nuthatches, jays and hairy woodpecker visiting. Clear sky and bright sunshine at lunch time and still below freezing. Clear sky before mid-afternoon, high of 37 degrees. Clear and cold at dusk and temperature dropping quickly. Fox visiting after dark. Looked clear before midnight.
Saturday (Jan 29) 24 hour low of -1 degree. This morning 1 degree above and clear sky. Measured an average of 20″ old snow on the ground. Red-breasted nuthatches visiting. Clear sky and sunny at lunch time. Hairy woodpecker visiting. Mostly clear with some light haze to the south west mid-afternoon and above freezing, high of 38 degrees. Snowmobilers on the golf course. Mostly clear at dusk, some thin high haze, and temperature dropping quickly below freezing. Stars out before midnight.
Sunday (Jan 30) 24 hour low of 1 degree. This morning 5 degrees above and mostly clear sky. Measured an average of 20″ old snow on the ground. Pine squirrel, red-breasted nuthatches, jays and hairy woodpecker visiting. Partly cloudy at lunch time. Nearly overcast by mid-afternoon and high of 41 degrees. Overcast and light breeze at dusk, just a hair below freezing.
————
Idaho News:
Idaho Highway 55 closed due to overnight rockslide
by CBS2 News Staff Sunday, January 23rd 2022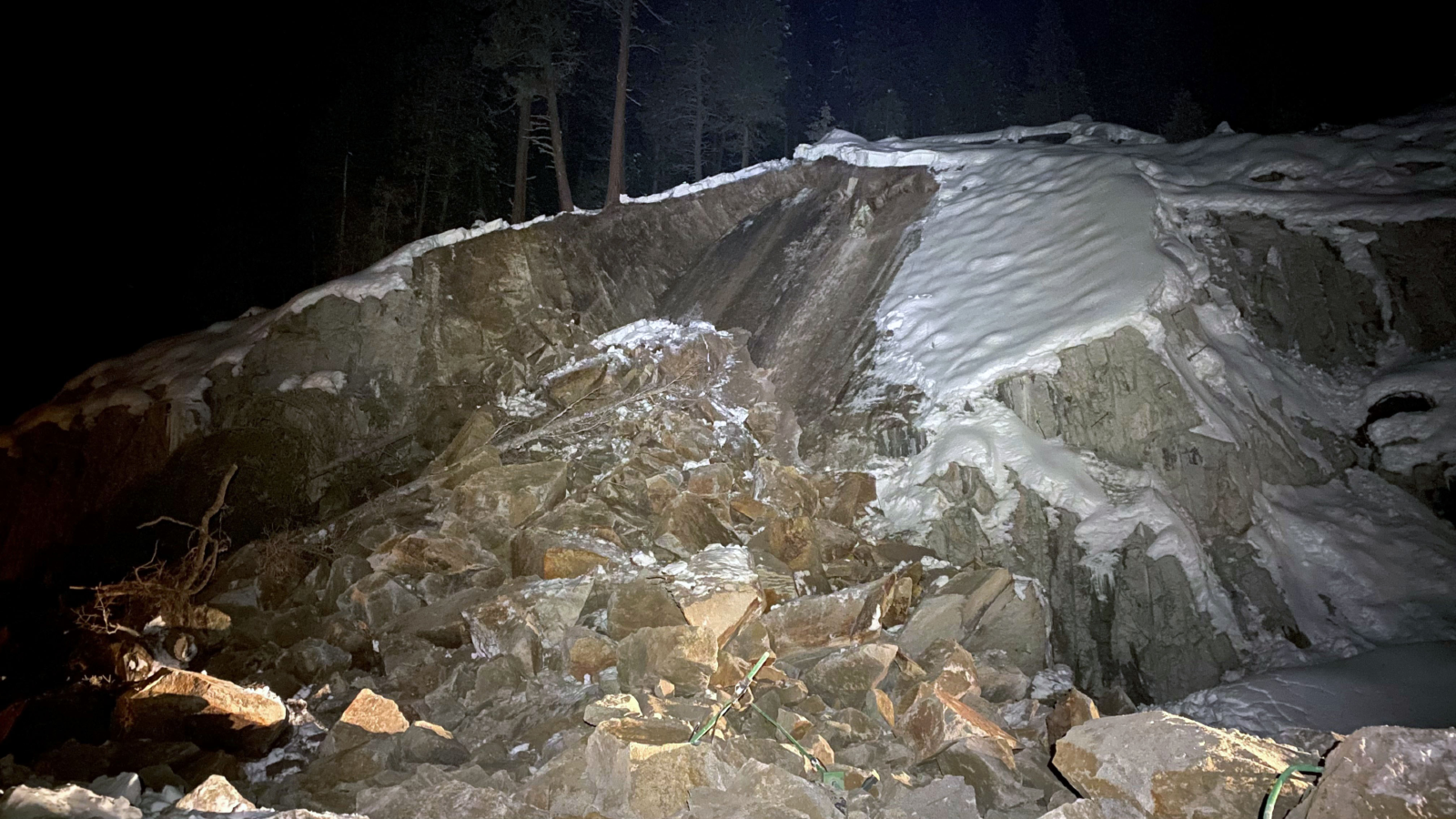 Idaho Highway 55 closed due to overnight rockslide (ITD)
Idaho Highway 55 is currently closed north of Smiths Ferry due to an overnight rockslide.
A spokesperson says the highway will remain closed in both directions at least through the afternoon of Jan. 24.
"The Idaho Transportation Department appreciates the continued patience of the public with another rockslide while crews work to reopen the highway as soon as possible," ITD said.
continued:
— — —
Highway 55 north of Smiths Ferry reopens after rockslide
The closure was lifted by 9 p.m. Monday, according to the Idaho Transportation Department.
KTVB Staff January 25, 2022
A section of Highway 55 that closed over the weekend due to a rockslide Saturday night reopened to traffic Monday night.
The closure was lifted by 9 p.m., according to the Idaho Transportation Department.
According to ITD, construction crews worked all day to stabilize the hillside, and geotechnical experts inspected the area and confirmed it was safe to reopen the highway. ITD said that they are aware of the risks in the area and that a previously constructed safety catchment built under the slope kept the majority of the rockslide from reaching the highway.
continued:
— — —
Third rockslide on Highway 55 near Smiths Ferry raises safety questions
The area on Highway 55 near Smiths Ferry has experienced rockslides in March 2021, November 2021 and January 2022.
Tristan Lewis KTVB January 26, 2022
There are some concerns about safety on Highway 55 near Smiths Ferry after the third rockslide in less than a year happened Saturday night. This incident is just a week before the McCall Winter Carnival, which could see thousands of cars on the busy road.
"The safety of the public is of the utmost concern to Idaho Transportation Department (ITD)," Vincent Trimboli, a spokesperson for ITD said. "Our mission is 'Your safety, your mobility, your economic opportunity.' But safety is first and foremost in that mission statement for a reason."
According to Trimboli, the cause of the rockslide was due to heavy snow and ice "putting a lot of weight on the hillside." He added crews were able to clean and clear the road and stabilize the hillside within hours after the rockslide happened.
continued:
— — —
IDT Update Jan 27 (link)
— — — — — — — — — —
COVID-19 Updates: 3,653 new Idaho COVID-19 cases, 35 new deaths
January 28, 2022 Local News 8
Idaho officials reported 3,653 new COVID-19 cases and 35 new deaths Friday.
The state reports data for the most recent 2-week period are incomplete. Due to the recent surge in cases, approximately 41,500 outstanding positive laboratory results are pending local public health district review and follow-up.
The state said 22 new hospitalizations have been reported bringing the total number to 14,771, and 5 new cases have been admitted to the ICU bringing the total to 2,495.
35 new deaths were reported bringing the total recorded deaths to 4,400.
full story: [Valley County 2,237 cases, 14 deaths.]
— — —
Idaho health district talks about the backlog of positive COVID-19 cases
January 28, 2022 Local News 8
Idaho is dealing with a backlog of more than 42,000 positive COVID-19 cases which still need to be followed up on, according to the State Department of Health and Welfare.
It's important to note these are just cases the state knows about.
"Home tests are not reported to public health," Corbett said. "So these are just cases that we know of. It gives an understanding of what's going on in the community, but likely numbers are higher than that with home tests or other tests that may or may not be reported."
full story:
— — —
Omicron sub-lineage BA.2 identified in Idaho; public health stresses importance of reducing the spread of COVID-19
January 28, 2022 Local News 8
The Idaho Department of Health and Welfare (DHW) and Central District Health (CDH) are announcing the first confirmed infection with the BA.2 sub-variant of the COVID-19 Omicron variant in Ada County.
"The identification of the first infection with this sub-variant of Omicron is a reminder that the virus that causes COVID-19 will continue to mutate as long as it is being transmitted, and is a reminder of the importance of vaccination and other measures to protect yourself from this virus," said Dr. Christine Hahn, state epidemiologist and the medical director for DHW's Division of Public Health. "We will continue to monitor this and future variants and are committed to transparency in informing the public what we know when we know it."
The BA.1 lineage of Omicron is currently causing 98% of all COVID-19 infections in Idaho, making the severity of illness and infectiousness from the BA.2 sub-variant unknown. Very early data from Asia and Europe indicate there have not been major differences in disease severity or the effectiveness of currently authorized COVID-19 vaccines against the BA.2 sub-lineage.
However, COVID-19 treatments and vaccines may become less effective as mutations continue to emerge. In addition, natural immunity from infection with prior variants may not be protective against future variants.
continued:
— — —
198 new COVID-19 cases reported in Valley County
Virus 'raging' in Cascade; new daily record set
By Tom Grote The Star-News January 27, 2022
New cases of COVID-19 reported in Valley County last week dropped from the previous week, but were still at a level not seen prior to the beginning of the year.
A total of 198 new cases were reported by the county's two hospitals, which was less than the record-breaking levels of 269 cases and 212 cases reported the previous two weeks.
Prior to this month, 63 cases was the highest number of new cases reported in a week since the beginning of the pandemic in March 2020.
Cascade Medical Center reported a one-day record of nine new cases last Thursday, CEO Tom Reinhardt said.
"It is raging here," Reinhardt said "We are seeing some sicker folks now, with lower oxygen levels and one flown down to Boise."
The two hospitals have reported 2,423 cases of COVID-19 since the pandemic started nearly two years ago.
A total of 11 deaths confirmed from COVID-19 and two probable deaths from the virus have been reported among Valley County residents, according to Central District Health.
Clinics & Tests
St. Luke's Clinic – Payette Lakes Family Medicine is now offering the Moderna COVID-19 vaccine and boosters to anyone age 18 and older. Pfizer-BioNTech vaccines continue to be offered for anyone age 5 and older.
Also available are Pfizer-BioNTech COVID-19 vaccine boosters for ages 12 to 15 and to moderately or severely immunocompromised youths age 5 to 11.
Pfizer vaccines are offered on Monday, Tuesday, Thursday and Fridays. The Moderna vaccine are offered on Wednesdays only.
Those wanting to get a vaccination can schedule through MyChart at (link)  or call 208-381-9500.
Parents of minors should create a MyChart for eligible children and set up proxy access. Instructions are available at stlukesonline.org.
Walk-ins are welcome Monday through Friday, 8 a.m. to 5 p.m., for adults who are seeking their initial COVID-19 vaccine dose only.
St. Luke's McCall and Cascade Medical Center have take-home COVID-19 tests available. The saliva-based test offers results for COVID-19 in two to three days.
The tests can be picked up at the main entrance to St. Luke's McCall at 1000 State St. in McCall or at the clinic at Cascade Medical Center at 402 Lake Cascade Pkwy in Cascade.
Cascade Medical Center offers a walk-in vaccination clinic from 8 a.m. to 5 p.m. on Tuesdays, Wednesdays and Thursdays.
The Moderna vaccine for those age 18 and older is available on Tuesdays and Thursdays along with the Moderna booster.
The Pfizer vaccine for those ages 5 and older is available in Cascade on Wednesdays.
full story: © Copyright 2009-2021 Central Idaho Publishing Inc. All rights reserved (used with permission.)
— — — — — — — — — —
Cascade hospital gets grant to connect seniors to services
By Max Silverson The Star-News January 27, 2022
The Cascade Medical Center received a grant for $89,200 to connect seniors to community health services and evaluate their health.
The grant from the Blue Cross of Idaho Foundation for Health will fund two community health workers to support the health of seniors in the community and the creation of a strategic plan to make senior care more accessible.
The pilot project is designed to help find solutions that will allow Valley County seniors to age "safely and well" in their own homes, Cascade Medical Center CEO Tom Reinhardt said.
"We need to collaboratively identify and then address gaps in care and services in order to keep our seniors enjoying their golden years in the comfort of their own homes," Reinhardt said.
continued:
— — — — — — — — — —
Local home costs soar due to short supply
Median price of McCall home in 2021 was $635K
By Tom Grote The Star-News January 27, 2022
The median price of a home sold in McCall in 2021 was $635,000, or nearly $200,000 more than the price of a home in 2020, according to figures compiled by the Mountain Central Association of Realtors.
The surge in home prices was driven by a lack of homes for sale, according to Realtors interviewed.
"I can think of numerous examples of houses in McCall which have doubled in price within one year, just crazy," said Bob Crawford, broker with Crawford Olson Real Estate Services in McCall.
continued:
— — — — — — — — — —
Sculptures take center stage at 2022 Winter Carnival
COVID-19 worries see cancellation of popular events
The Star-News January 27, 2022
The snow sculptures that are at the heart of the McCall Winter Carnival will return to center stage this year.
Worries over the possible spread of COVID-19 has led to the cancellation of several events during the 2022 carnival that is set to start Friday and run through Feb. 5.
continued:
— — —
Event guide: 2022 McCall Winter Carnival
The ten-day festival returns for a 56th year – with some changes – after being canceled in 2021.
KTVB Staff January 26, 2022
The 2022 edition of the McCall Winter Carnival begins Friday, Jan. 28, and runs through Sunday, Feb. 6.
continued:
— — — — — — — — — —
YMCA Camp at Horsethief Reservoir to serve s'mores, cocoa
The Star-News January 27, 2022
Attendees of the 2022 McCall Winter Carnival festivities can stop by the YMCA Camp at Horsethief Reservoir this weekend for campfires with s'mores, hot cocoa and campfire songs.
There will be s'mores and hot cocoa Friday from 5 p.m. to 9:30 p.m., Saturday from 11 a.m. to 6 p.m. and Sunday from 11 a.m. to 5 p.m.
Camp director Lincoln McLain will lead camp song singalongs on Saturday and Sunday from 3 p.m. to 4 p.m. Cost is free.
continued:
— — — — — — — — — —
National Snow Bike Series to return to Cascade Saturday
The Star-News January 27, 2022
Spectators can watch the world's oldest snow bike race during the 2022 NASBA Pure Adrenaline Motorsports National Snow Bike Series to be held Saturday in Cascade.
The event has been part Winter Carnival festivities since 2009 and frequently pulls in 80 to 100 racers and more than 1,200 spectators.
continued:
— — — — — — — — — —
Tamarack offers free ski day to people with season passes at other Idaho resorts
by CBS2 News Staff Tuesday, January 25th 2022
Tamarack Resort is now offering a free, one-day lift ticket to anyone with a season pass for another Idaho ski area.
This "Idaho Free Day" is valid from Jan. 26 through the end of the 2021-2022 season.
"We know many Idaho skiers and riders had to cancel their out-of-state ski trips due to the ongoing challenges of the pandemic," said Matt Gebo, Tamarack vice president of marketing. "This is our way of offering a winter staycation opportunity to our Idaho neighbors, inviting them to experience the mountain and explore the resort. We'll give you a day and hope to make your whole season!"
continued:
————–
Scam Alert:
Scammers who say they're from Idaho Power are trying to get your credit card info
by CBS2 News Staff Thursday, January 27th 2022
Some crooks claiming to be from Idaho Power are making the rounds.
The bad guys seem legit — even using an app to make their caller ID seem real. They will tell you you're behind on your build and will then want your credit card number or funds through a money transfer.
But it's all a scam.
"The best thing to do is when they call and tell you who they are, don't fall for it," said Meridian Police Lt. Mark Ford. "If you're in question or think you're delinquent, or something's wrong, hang up and call your Idaho Power representative and speak to them personally about it."
full story:
————–
Public Lands:
Emmett Ranger District applies for grant to improve two campgrounds
Boise, Idaho, January 27, 2022 — The Emmett Ranger District is applying for grant funding from the Idaho Department of Parks and Recreation to help with the redesign of Cartwright Ridge and Antelope Annex Campgrounds. The application will request funding through the Departments Recreation Vehicle Fund. These funds will be used to replace campsite furniture including fire rings, picnic tables, utility tables and information kiosks.
Many of the current campground furnishings have been in place for 30 years and do not meet current Architectural Barriers Act/Americans for Disability Act requirements. The grant proposal will also add two additional campsites.
The upgrades will improve public health and safety standards and ensure an inclusive recreation experience for everyone to enjoy. If received, implementation will begin in the fall of 2022.
Comments or requests for more information can be directed to JW Cleveland, Emmett Ranger District, 1857 Highway 16, Suite A, Emmett, ID 83617 or by calling (208) 365-7000.
Venetia Gempler
Public Affairs Officer
Boise National Forest
————-
Critter News:
Idaho Sled Dog Challenge moves to Cascade, starts Sunday
The Star-News January 27, 2022
The Idaho Sled Dog Challenge will have a new home when it returns next week during the 2022 McCall Winter Carnival.
This year most events will be staged in Cascade at the Lake Cascade boat ramp on Lake Cascade Parkway between Lakeshore Bar & Grill and the Van Wyck Campground.
Race events that are open to the public and free of charge include:
continued:
— — — — — — — — — —
Idaho wolf population holding steady, wildlife officials say
By Associated Press (AP) Jan 27, 2022
Idaho wildlife managers say the state's wolf population remained steady last year at about 1,500.
The Idaho Department of Fish and Game made its wolf population estimate public on Thursday during an Idaho Fish and Game Commission meeting. Officials say the estimate represents wolf numbers during August and is based in part on information from hundreds of trail cameras.
Idaho lawmakers last year approved a law greatly expanding wolf killing in what some lawmakers stated could reduce the wolf population by 90%. Officials say the wolf population has been at about 1,500 in each of the last three years in August.
source: (KIVI)
— — — — — — — — — —
Rare to Idaho, a ringtail was recently found in Twin Falls, and you can see it in a video
January 25, 2022 Local News 8
Finding a ringtail in Idaho is a very rare occurrence, and the last few sightings have happened near Twin Falls.
In early December 2021 staff from the Amalgamated Sugar factory south of Twin Falls spotted a ringtail on the property.
Within a few days a wildlife biologist from the Magic Valley Regional set traps with a goal of relocation to more suitable habitat.
more info: Wikipedia


— — — — — — — — — —
Idaho wildlife officials expand river otter trapping
By Associated Press (AP) Jan 27, 2022
Idaho wildlife officials have approved expanding trapping for river otters despite widespread opposition.
The Idaho Fish and Game Commission voted 6-1 on Thursday to approve the plan that lifts trapping restrictions on the mainstem of the Middle Fork of the Clearwater River, mainstem of the Snake River and mainstem of the main Salmon River. It also lifts restrictions on portions of the North Fork of the Payette River. Backers say trapping is part of Idaho's heritage.
Opponents say the state also has a responsibility to those who like to see otters but don't want to kill them. About 100 otters statewide have been killed so far this trapping season.
source: (KIVI)
— — — — — — — — — —
Ice fishing tourney to be held Feb. 5 on Lake Cascade
The Star-News January 27, 2022
Ice anglers of all ages can fish for prizes in the fourth annual Deep Freeze for Firefighters fundraising tournament on Saturday, Feb. 5, beginning at 7:30 a.m. at Lake Cascade.
Check-in will be from 7:30 a.m. to 8:30 a.m. and weigh-in will be at 3 p.m. at the Boulder Creek Boat Ramp in Donnelly.
Prizes will be awarded for largest trout as well as first, second and third place winners for total weight of three best perches.
The event will also include a live auction and raffle. Cost is $25 per entry.
Proceeds will benefit the Wildland Firefighter Foundation, which helps families of wildland firefighters who were killed or injured in the line of duty.
The Boulder Creek Boat Ramp is located 14 miles north of Cascade by turning left on Loomis Lane and following the signs to Boulder Creek.
source:
— — — — — — — — — —
Research finds fewer wild steelhead are caught by anglers and survive at high rates after being released
Jan 29, 2022 Local News 8
A two-year study showed Idaho's wild steelhead are caught by anglers less often than hatchery fish, and they survive at a very high rate after being caught and released. That's good news for anglers because wild steelhead survival is critical to continuing fishing seasons and ensuring they are protected while anglers target hatchery fish.

Picture of t-bar tagged adult steelhead from Lower Granite Dam.
The study was conducted by University of Idaho graduate student Will Lubenau under the guidance of UI professor Michael Quist and in cooperation with Idaho Fish and Game, the U.S. Geological Survey, along with anglers and outfitters, who were critical to the study's success.
continued:
—————
Fish and Game News:
Feeding backyard deer and elk does more harm than good
By Connor Liess, Public Information Specialist
Monday, January 24, 2022

Roger Phillips/Idaho Fish and Game
It may seem like you're helping, but handouts for wintering deer and elk ultimately harm the animals and people.
Seeing a herd of deer outside your door or a head of elk may seem idyllic, and during winter they can almost seem tame. But truth is they're wild animals that need to remain wild animals, and feeding them can quickly create a variety of problems.
Here's how a simple well-meaning act can lead to a neighborhood-wide conflict.
continued:
— — — — — — — — — —
Applications for 2022 spring turkey controlled hunts open Feb. 1
By Connor Liess, Public Information Specialist
Friday, January 28, 2022
2022-23 upland game, turkey and furbearer seasons and bag limits were set by the Fish and Game Commission on Jan. 27
Applications for 2022 spring turkey controlled hunts open Feb. 1. Turkey hunters looking to apply can do so through March 1.
continued:
— — — — — — — — — —
Cascade and Payette Lakes ice conditions – Jan. 25, 2022
By Mike Thomas, Regional Fisheries Biologist
Wednesday, January 26, 2022
On Tuesday, January 25th we checked surface and ice conditions on Cascade and Payette Lakes. On Lake Cascade, surface and ice conditions are excellent on the majority of the lake. However, poor ice conditions (white ice) exist between the Sugarloaf Island and Crown Point areas. These conditions are a result of heavy snow accumulation during early season ice formation. We urge anglers to use caution if traveling in these areas. Foot and snowmobile remain the only recommended methods of travel at this time. The weather forecast for this weekend is favorable for ice fishing with stable weather consisting of warm days and cold nights. Warm afternoon temperatures may result in degrading surface conditions (slush). See below for details.
At Lake Cascade I measured ice conditions at three locations. At Van Wyck access (south end), I measured nine inches of clear ice underneath four inches of white compacted ice, and three inches of snow. At Crown Point Access (south end near the dam), I measured six inches of clear ice underneath seven inches of white ice, and three inches of snow. At Sugarloaf Island (central), I measured seven inches of clear ice under five inches inches of white ice, and four inches of snow. These measurements were all taken over 200 yards from shore.
continued:
— — — — — — — — — —
Windows to Wildlife: bumble bees, mussels, owls, and winter wildlife watching at Market Lake WMA
Idaho Fish and Game
In the winter edition of Windows to Wildlife:
* An Update on the Pacific Northwest Bumble Bee Atlas
* News from the Field: Put Some Mussel In It
* On the Idaho Birding Trail: Market Lake WMA
* Spotlight Species: Great Gray Owl
Deniz Aygen
Watchable Wildlife Biologist,
Idaho Department of Fish and Game
link: (pdf file)
— — — — — — — — — —
More F&G News Releases
link:
———————————-
Crazy Critter Stuff:
Rare eagle seen in Maine, wowing birders, might stay a bit
by Patrick Whittle Associated Press Tuesday, January 25th 2022

In this Dec. 31, 2021 photo provided by Zachary Holderby, a Steller's sea eagle is seen off Georgetown, Maine. The rare eagle has taken up residence thousands of miles from its home range, delighting bird lovers and baffling scientists. (Zachary Holderby, Downeast Audubon via AP)
A rare species of eagle that has thrilled bird lovers and baffled scientists since arriving in Maine last month might not be in a hurry to leave.
The Steller's sea eagle arrived in Maine in late December after a brief stop in Massachusetts more than a month ago. It has stuck to Maine's middle coast, eating fish and ducks and attracting hundreds of birdwatchers from all over the world.
The sea eagle numbers only a few thousand worldwide and is native to northeastern Asia, including Russia and Japan, and has wingspans of up to 8 feet (2.4 meters). The bird is far off course, and it's still unclear why it came here at all, said Doug Hitchcox, staff naturalist at Maine Audubon.
continued: (CBS2 Idaho)
—————-
Seasonal Humor:

—————-