Idaho 1918-1920 Influenza Pandemic
Part 90
Idaho Newspaper Clippings March 26-30, 1920
Idaho photos courtesy: the Mike Fritz Collection, History of Idaho
— — — — — — — — — —
March 26
Cottonwood Chronicle. March 26, 1920, Page 1
News Around The State
Items of Interest From Various Sections Reproduced for Benefit of Our Readers
John J. Gray, one of the prominent stock men of southern Idaho, died at a Boise hospital Sunday of pneumonia. He was taken ill at Buhl and brought to Boise, his home, Saturday morning.
Everett Bennders, a prominent young farmer of the Nezperce section for the past fifteen years and engaged in farming south of that city, died shortly before midnight Sunday from complications resulting from an attack of the influenza. Mr. Bennders was about 28 years of age and is survived by a wife, his parents, three brothers and three sisters.
With many reports still to come in, Robert O. Jones state commissioner of law enforcement, estimated Saturday that 50 automobile owners had been arrested during the day in the state's first official drive against license violators. The deadline after which auto owners who failed to display 1920 license tags became subject to arrest, was passed March 17.
The basketball team of Moscow high school won the state championship Friday evening by defeating Twin Falls high school team by a score of 34 to 14. At the end of the first half the score was 16 to 7 in Moscow's favor.
The result of Tuesday's bond election assures Coeur d'Alene of the best aviation field in the Northwest and paves the way for the government to establish a sub-base for forest patrol here in the near future. Out of 1014 registered votes, 736 were cast. Five hundred and thirty five casting their vote in favor of the purchase of the municipal aviation held and 201 registering their vote against the bond.
R. F. Bicknell, president of the Overland National bank, has a $6000 investment in a piece of radium not over a quarter of an inch in length and no thicker than the heavy lead of a pencil. The radium arrived in Boise Saturday morning and was opened at the bank Saturday at noon by Dr. James L. Stewart, who has been designated by Lloyd Life Insurance company of England to handle the precious mineral in Idaho, the designation being made at the request of the purchaser.
— —
Thirteen telephone poles were blown down between Cottonwood and Keuterville Wednesday evening. Snow fell to the depth of about 5 inches in the Keuterville section on that night.
— —
Ed Long Is Dead
Ed Long, son of James Long of Warren, and nephew of county commissioner John Long of Grangeville, died Thursday at a hospital in Boise. His remains passed through Cottonwood Wednesday evening, being taken to Grangeville where the funeral services were held Thursday.
Ed Long has followed mining and livestock lines for a number of years and had gone to Boise to confer with an associate relative to stocking a Salmon river ranch when he was taken ill with influenza. This developed into pneumonia, which proved fatal.
— —
Hospital Plans Progressing
Committee Working On Plans For A Modern Hospital Here
Cottonwood is going to have a hospital. Such is the plan of a committee of citizens who have organized to solicit the the support of the community in this worthy enterprise. The committee consisting of John Hoene, Felix Martzen, J. V. Baker, W. B. Hussman, Dr. Orr, John Peterson and J. F. Jenny, are busy outlining the plans for organization and financing and within a few weeks will put the proposition up to the community. Cottonwood should have a hospital and will support such an institution. Many towns of less population than Cottonwood and with no where near as large a surrounding country find a hospital self sustaining and there is no reason why such an undertaking should not be a success here. A hospital is not a money making institution but a protection for the health and life of the community that it serves. Whoever has had the experience of having to send a loved one of the family to a distant hospital, away from family and friends to be placed in the keeping of strangers and inaccessible except at intervals by someone that accompanies him who gives both time and money for this privilege, will realize what a hospital in Cottonwood would have meant to him under such conditions. We are for a hospital for Cottonwood. This news item was given us just before we went to press. We shall have more to say about it next week.
— —
Moving Offices
County officials at Grangeville are busy this week removing their offices from the old court house, which has been occupied since the removal of the county seat from Mt. Idaho to Grangeville. The new court house was formerly occupied by the Grangeville schools and has been thoroughly remodeled. The old court house is owned by the city of Grangeville and has been leased to the county for the sum of $1 a year.
— —
Wood's 'Barrel' Rouses Borah
Demands Explanation Of Money Spending In Primaries
Washington, March 22. — Acting on published reports that large sums has been contributed to Leonard Wood's campaign fund, Senator William E. Borah, republican, of Idaho, called on the general and his campaign managers today for the "names of subscribers, amounts and the manner in which it is being used."
General Wood's managers not only owe it to their candidate, but "still more to the party and the country to clear these charges in an unmistakable way," Senator Borah declared, in a statement.
"The use of money in elections has reached a point where the people will have to take hold of it," he said. "It is nothing less than a national peril that two months before the convention the use of money in the attempt to control the convention has reached the point of a scandal.
"That a vast sum of money is being spent is perfectly apparent. I have seen letters from South Dakota, Virginia and Illinois showing the people generally are becoming restless in the face of the apparent use of money for corrupt purposes.
"From what I have known of General Wood I would not suspect him for a moment of doing the things himself which are being charged against him; but it is not sufficient that he does not himself actually participate. He can not be the recipient of favors of such a campaign without himself being responsible.
"I hope general Wood or his managers will not permit this matter to go until it will become a subject which others will have to take hold of."
[See Footnote 1 below]
source: Cottonwood Chronicle. (Cottonwood, Idaho), 26 March 1920. Chronicling America: Historic American Newspapers. Lib. of Congress.
— — — —
Cottonwood Chronicle. March 26, 1920, Page 5
County Seat News Items
Word has been received from Lonnie Bales stating that he is in a hospital at Vicksburg, Arizona. It seems that Mr. Bales has had a recurrence of his old trouble and another operation will become necessary.
Twenty-one hours were required by Charles Smith, mining man, of the Ten Mile district, to travel from Newsome to the summit at Mountain House, the first of the week. Mr. Smith recently arrived in Grangeville. He traveled through three and a half feet of snow, and was obliged to break the road.
While splitting wood last Friday noon Judge R. F. Fulton received quite a severe gash under his right eye caused by his axe catching in a clothesline. His glasses were broken and a piece of glass which entered his cheek was removed by his physician. No stitches were necessary but his cheek and nose were badly bruised. He was detained from the abstract office the matter of one day.
Woman's auxiliary to the American legion post in Grangeville will be formed, if plans of the legion members materialize. Eligible to membership in the auxiliary are mothers, wives, daughters and sisters of American legion men, and mothers, wives and daughters and sisters of all men who were in the military service of the United States between April 6, 1917 and Nov 11, 1918. Fifteen members are required, before a charter for the women's auxiliary of the American legion will be issued.
(ibid, page 5)
— — — —
Cottonwood Chronicle. March 26, 1920, Page 7
[Local News]
Charles Strickfaden, of Ferdinand was a visitor in Cottonwood Thursday for the first time since returning from California where he spent the winter with his parents, Mr. and Mrs. J. F. Strickfaden of Compton, Calif. While in the state of perpetual sunshine Charlie contracted the flu which has settled in his stomach and lungs and he is not feeling very well. Charlie says California is all right to spend the winter in but would not care to live there permanently.
Dr. Orr reports the arrival of a baby girl at the John Jentges home Tuesday and a baby girl to Mr. and Mrs. Newton Norberg today.
(ibid, page 7)
— — — —
Cottonwood Chronicle. March 26, 1920, Page 8
Cottonwood And Vicinity
Personal Mention and Local Happenings of the Week in This Vicinity
Ed Funke has leased the farm formerly occupied by the late Henry Kuther near Ferdinand and is now there preparing for spring work. Mrs. Kuther will hold a public auction of her personal property on March 29 after which she will leave with her family accompanied by her father, H. J. Nau, for California where she will make her future home.
[See Footnote 2 below]
Dr. and Mrs. J. D. Shinnick accompanied by their daughter Margaret were visitors at the county seat Thursday. The doctor attended to professional matters while Mrs. Shinnick and daughter visited at the home of Mr. and Mrs. A. J. Maugg.
Master Tom Shinnick accompanied his father Dr. Shinnick to Lewiston Saturday returning Sunday evening.
The Cottonwood Hardware Saturday delivered two Dodge cars to local parties. One going to Dr. Sommers, the veterinarian and the other to Gus Maugg. Both of these gentlemen were occupied Sunday in learning the fine points of their new purchases.
John Nuxoll of Greencreek took delivery of a seven passenger Buick last week from the Hoene Hardware. John made his first trip to Cottonwood Wednesday and says the darn thing wanted to run away with him. In a few more days he no doubt will have the "animal" well trained.
Dr. W. S. Jackson, the Eyesight Specialist, of Grangeville, will be in his office at the Hotel Cottonwood on Monday and Tuesday, April 5 and 6.
(ibid, page 8)
— — — — — — — — — —
The Oakley Herald. March 26, 1920, Page 1
Vipont News
Little Lee "S. B." Wilcox is now on the road to recovery after a week of sickness.
Construction work on S. B.'s pool hall to install a moving picture machine, has been started. We will have a show once a week as soon as the hall is completed.
— —
Churchill News
The stork has been busy in and around here.
— —
Insignia Of Ancient Order That Now Worn by United States Army Medical Officers Goes Back Four Thousand Years
The caduceus, which was introduced in 1902 by Col. John Van R. Hoff, M. C., U.S.A., editor of the Military Surgeon, as part of the medical officers' insignia, dates back 4,000 years, according to F. H. Garrison, M.D., U.S.A., writing in the Journal of the American Medical Association. For a number of reasons the serpent was always the symbol of medicine in antiquity. The Babylonians' caduceus, which as the insignia shows today – two snakes entwined with wings at the top of the staff – occurs in Hittite remains. It stands for an actual serpent god, Ningishzida, who as the special messenger of Ishtar, was the awakener of life in the springtime, and the Mesopotamian prototype of the Greek Hermes. The Romans had a special functionary, the caduceator, who was a sort of peace commissioner. The caduceus was used on the title pages of books published by the famous medical printer, Frobenius, in 1460 to 1527. The "wand of Mercury," as it is sometimes called, was also carried by merchant traders in ancient times, on excursions where peaceful negotiations were desired and they wanted to be known as neutrals.
[See Footnote 3 below]
source: The Oakley Herald. (Oakley, Idaho), 26 March 1920. Chronicling America: Historic American Newspapers. Lib. of Congress.
— — — —
The Oakley Herald. March 26, 1920, Page 3
Locals
Clif Cummins has been bedfast a few days this week.
Word was received here last week of the death of John Gray at his home in Boise. Mr. Gray was well known to old timers here, having made a fortune in sheep. His death was caused by pneumonia following influenza. Frank, Lowell and Dan Cummins attended the funeral.
The dance at Burley Saturday night attracted a number of our young people.
(ibid, page 3)
— — — —
The Oakley Herald. March 26, 1920, Page 4
Take Aspirin With Water
If your Aspirin tablets have the name "Bayer" stamped on them, they are genuine "Bayer Tablets of Aspirin," proved safe by millions of people. The name "Bayer" identifies the true wold-famous Aspirin prescribed by physicians for over eighteen years.
Always drink one or two glasses of water after taking the tablets.
Each unbroken "Bayer package" contains proper directions for Colds, Headache, Toothache, Earache, Neuralgia, Lumbago, Rheumatism, Neuritis, and for Pain.
Always say "Bayer" when buying Aspirin. Then look for the safety "Bayer Cross" on the package and on the tablets.
Handy tin boxes of twelve tablets cost but a few cents. Druggists also sell larger packages.
Aspirin is trace mark of Bayer Manufacture Monoaceticacideater of Sallcyllcacid
(Adv.)
(ibid, page 4)
— — — —
The Oakley Herald. March 26, 1920, Page 6
Local Mention
C. L. Jenkins experienced another serious illness a few days last week.
Relatives of Miss Zella Durfee, who was taken to Arizona some time ago in an effort to restore her health, received word recently that she was sinking rapidly and desired to be brought home. Upon going for her, however, they found her too weak to stand the trip. At last report she was still living, but little hope is entertained for her recovery.
Character Ball at the Anone on the night of All Fools' Day. It will be given by the American Legion.
(ibid, page 6)
— — — — — — — — — —
Montpelier Examiner. March 26, 1920, Page 1
Unscrupulous Agents Are Grafting Soldiers
The Examiner is in receipt of the following letter from Congressman Addison T. Smith at Washington, D. C., which is self-explanatory:
Washington, D. D., Mar. 18, 1920
"Editor Examiner:
"Information has reached me from a number of the returned soldiers that unscrupulous claim agents in this city have attempted to charge a fee of 20 per cent to the soldiers for the collection of the $60 bonus, travel pay, clothing allowance, etc.
"It is unnecessary for the soldiers to employ an attorney here for services of this character. If any of the soldiers who are readers of your paper have not received their bonus, traveling pay or clothing allowance and will write me to this effect, sending me their discharge, I will bring the matter to the attention of the proper official and see that any amount due is promptly forwarded, with the return of their discharge. Service men who were in France after July 19, 1919, are entitled to additional pay for foreign service, under a recent ruling of the department.
"It is unfortunate that the soldiers have been imposed upon by attorneys in adjusting their affairs with the government, when their representative in congress is willing and anxious to be of service in this or any other matter concerning their welfare.
"Sincerely yours, Addison T. Smith."
source: Montpelier Examiner. (Montpelier, Idaho), 26 March 1920. Chronicling America: Historic American Newspapers. Lib. of Congress.
— — — —
Montpelier Examiner. March 26, 1920, Page 2
In The Gem State
Buhl will have a new high school building at as early a date as it is possible to get it built.
Over $5000 was collected for auto licenses at Boise on March 15, the last day of grace for autoists.
Fred Wheeler, who pleaded guilty in federal court at Pocatello to selling alcohol to Indians, was sentenced to serve two months in jail and fined $100.
Radium is now available in Boise for treatment of cancer and Boise is the only point between Denver and the coast where such treatment may be had.
(ibid, page 2)
— — — —
Montpelier Examiner. March 26, 1920, Page 4
Local News
Dr. J. H. Lynn of Lynn Bros. hospital in Pocatello and formerly of this city, was in town today on professional business.
Mrs. Maud Hodges of Logan, who was operated on at a local hospital some weeks ago, returned to her home Tuesday.
— —
Local Brevities
Mrs. W. C. Nye, who has been seriously ill for some time, is well on the road to speedy recovery.
Fresh Easter candies, Easters and baskets at Frank Jones [market.]
(ibid, page 4)
— — — —
Montpelier Examiner. March 26, 1920, Page 7
Georgetown Notes
Mrs. Parley Smart returned home from the hospital at Soda Springs last Sunday feeling fine.
There will be an apron and overall dance here next Friday. A good time is assured and the public is invited to join and have a good time.
(ibid, page 7)
— — — —
Montpelier Examiner. March 26, 1920, Page 8
Among The Farm Bureaus
878 Animals Vaccinated
In Camas county last winter, under farm bureau direction, 878 head of cattle were vaccinated for blackleg prevention.
Minidoka Fighting Weeds
At the farmers' request, the Minidoka county commissioners have put into effect the weed control law. Weeds designated for eradication are the Canada thistle, cockelburr and bull thistle.
(ibid, page 8)
— — — —
Montpelier Examiner. March 26, 1920, Page 12
Local News
Joe Robinson, the prescription expert, is now filling prescriptions at the Modern Drug Store.
Easter egg dyes for the kiddies' fun at Riter Bros.
(ibid, page 12)
— — — — — — — — — —
The Idaho Republican. March 26, 1920, Page 1
Dr. Bernhisel Improving
Reports from the bedside of Dr. E. C. Bernhisel, who has been seriously ill for the past week, indicate that he is improving somewhat and hopes are entertained for his early recovery.
— —
Thomas Is Injured
M. Thomas painfully injured his foot yesterday morning, when a plow fell upon it, crushing the instep and cutting a severe gash. Dr. Mitchell attended the injured man.
source: The Idaho Republican. (Blackfoot, Idaho), 26 March 1920. Chronicling America: Historic American Newspapers. Lib. of Congress.
— — — —
The Idaho Republican. March 26, 1920, Page 4
Spectacle Of The Northern Lights
On Monday evening the northern lights shone with a brilliancy seldom seen in this latitude. It was the occasion of the spring equinox, the 22nd of March, at midnight, leap year. The sun shone vertically along the equatorial regions and reached both poles, marking the close of the (theoretical) six months night at the north pole and six months day at the south pole. As the earth floats in space these days, all parts of it have a chance to be bathed in sunlight for some part of the twenty-four hours, but the south pole is in the twilight, and it shines across the north pole and for some distance beyond; this will increase in margins until the 21st of June, when it will begin to swing back towards the equinox (equal day and night).
The northern lights were called aurora borealis by the ancients and it took scientists a long list of centuries to find out just what it was and is. The average man does not know yet just what it is, any more than he knows just what electricity is. The writer is an average man and has the understanding that it is an electrical display. The rather vague statements sometimes made that it is the sun's rays reflected from the ice fields of the polar regions does not check with all the observations even of the layman, and the explanations of the electricians that the currents of the electricity issuing from the polar magnet situated in the polar regions does not check with the actions of the compass after it is carried past the distributing center on the American continent northwest of Hudson bay.
The northern lights usually become most brilliant on cold, clear nights where there is no wind, but there is always wind in some regions. Travelers in the arctic regions in December see brilliant displays when the sun does not shine within a thousand miles of the pole, and where there is no possibility of its reflecting from the ice. One of the manifestations of it is that it shoots out in a great fan-like panels, and then these seem to cut off at the base and they stand vivid and brilliant for some seconds without any apparent connection with what usually appears to be the source. It bears some resemblance to the dawn and the sunset, yet it is neither.
The electrical display of Monday night greatly retarded the work of the telegraph service, and more especially the lines extending into the far north. In some places it completely controlled the lines so that traffic was impossible. Telephone lines did not seem to be much affected.
[See Footnote 4 below]
— —
Mother's Cook Book
For the Cooky Jar
A well-made cooky [sic], if kept in airtight cans or receptacles, will keep for weeks and is always a welcome addition to any meal.
Oatmeal Fruit Macaroons
Take three-quarters of a cupful of raisins, two and one-half cupfuls of rolled oats, half a teaspoonful of salt, two eggs, well beaten, half a cupful of sugar, two tablespoonfuls of corn sirup [sic] and a tablespoonful of melted shortening. Mix the fruit with the oats and salt; beat the sugar, sirup and shortening into the eggs and combine with two mixtures. Shape with a teaspoon and drop on greased baking sheet. Bake in a moderate oven.
(ibid, page 4)
— — — —
The Idaho Republican. March 26, 1920, Page 5
Mrs. Roundy-Childs Gives Explanation
True Blue Wife and Mother Gives Views on Widows' Pension Act
Following the articles published by this paper relative to the supposed misuse and abuse of the widows' pension act by Mrs. Roundy we publish her letter according to her request and our agreement. The statements made by her at the time of her marriage when the world naturally looked rosy and the written statement she makes now at the time of trouble do not leave the same impression, and the re-statement of her first declarations about her husband's financial rating by Miss Christensen to the editor, and his subsequent re-statement of it three months afterwards when it appeared that she was due to have stopped payments on the pensions, easily account for the differences of the impressions made then and now. It is probably a safe assumption that each of the three persons who passed the matter along added somewhat to the rosiness of the original facts.
The publication of the Roundy letter probably finished the incident, and so far as we know, nothing has been withheld from the public now.
—
Please Publish this article as soon as possible.
Springville, Utah, March 22, 1920
Mr. Byrd Trego and all whom it may concern,
A friend of mine sent me a copy of your paper in which I rec'd a great write up. There was plenty of spice and ginger used as seasoning. To say I appreciate your efforts would put it mildly.
I'm not afraid of being looked upon as a woman of the character spoken of in Mr. Trego's Editorial. My name, honor, honesty and moral character is and always has been above reproach. It is only for the benefit of those who do not chance to know me that I make this statement.
I was misquoted in regards to Mr. Childs being wealthy. I never did make that statement to anyone. I told all who inquired about his finances that he had a good home, 20 acres of farm land and 20 head of cattle.
Mr. Childs is a well respected resident of Springville Utah, was born and raised here. Served his city as councilman 9 years. Those are the only statements made by me.
When I decided to marry Mr. Childs, I called at the office to pay my bill and told Miss Christensen of my future plan. My marriage was published in both papers. I supposed when I married my pension would stop as it came as usual on the first of Jan. I decided I would except [sic] enough to pay off little accounts amounting to $80.00 which I had run before I met Mr. Childs.
I felt like he was doing me and my family and the county a great favor. I was on the county. I am now receiving charity at his hands. To me it was no worse for me to receive that much more from the county than it was to receive clothes and transportation to his home when he will have to spend most of his time working and scheming to maintain his family of 3 and himself, me and my family of five, without asking him to pay back debts. If my reasoning is faulty, I will take whatever blame or censure is due me.
I was wrongfully accused of being ungrateful for the efforts of Mr. Good, the county clerk, and the taxpayers. Will say that I could not express the thanks and appreciation for the charity if anyone wishes to call it that, that I rec'd because it was our only means of support, and I was truly grateful for every cent I rec'd and tried to act my appreciation. I also received other gifts and charity from friends and relatives for which I was and am still grateful.
I wrote to the clerk yesterday and stated my willingness to refund any money sent me that should not have been sent. If I have done any wrong I am willing as far as it is in my power to right any and all wrongs.
In closing let me say that none of the money rec'd from the county was spend on Luxuries, I spent every cent as wisely as I could for the necessary food and clothing of my children. I added all that I could make on my place and by working out to it. I was wrongfully accused of being ungrateful for the efforts of Mr. Good and the County Clerk and the people will say that I could not express the thanks and appreciation for the charity. If any one wishes to call it that because it was all we had to depend on. I was truly grateful for every cent I rec'd and tho I deplore the fact I was in a condition that left me no choice but to apply for aid. Let me say that that law is one of the greatest boons to destitute widows and children that was ever enacted.
I tried to make every dollar work over time and I tried to save in every way possible. My closest friends and neighbors could testify to the truthfulness of these statements, also the stores where I did my trading.
Let me say for the county officers that they are very careful in handling those funds and I believe it is proven to them beyond a doubt that those applying for aid are truly worthy or aid isn't given.
If I have done anything to make it harder for a poor soul to receive the aid she and hers are in need of, my shame be upon my head, as that law is a godsend to the needy and shame be upon the heads of anyone who try to do away with it.
Resp. Mrs. Cassie Roundy Childs.
Please publish this as it is written.
[See Footnote 5 below]
(ibid, page 5)
— — — —
The Idaho Republican. March 26, 1920, Page 7
Local News
Mrs. Ford Hassing is recovering from a series of attacks of influenza and is able to be up and around again.
Miss Jessie Lloyd has practically recovered from an attack of the influenza.
Mrs. L. J. Chapman is reported to be quite seriously ill.
M. M. Farmer is at Topeka, Kan., called there by the serious illness with pneumonia of his small son Jack. Mrs. Farmer was paying a visit to her relatives at Topeka.
The funeral of Mrs. Ervin Buttcane was held this afternoon from the home of L. R. Clegg.
Harry Clark, who broke his arm while cranking a Ford, has had it set and now carries it around in a cast.
Mrs. John Nordruff left for Pocatello today with her small grandson, who will enter the St. Anthony hospital for treatment for adenoids and heart trouble.
Dr. Davis made a business trip to Mackay today.
Miss D. E. Osborn writes from Lava Hot Springs to friends in Blackfoot that she is much improved and will be here the first of the week. She is taking treatments for rheumatism.
(ibid, page 7)
— — — —
The Idaho Republican. March 26, 1920, Page 8
Miller Family Mourns
The family of Rheuben G. Miller of Pingree has been called to mourn the loss of their son, Byron Miller, a young man of twenty-five years, who died of influenza at Salt Lake on the 7th of February. The father returned to Idaho this week.
Deceased spent two years in the navy and was in his second year in the University of Utah, studying to be a physician, when the fatal illness came. When the world war came on he had been on a mission to Germany for over a year, and was banished from there by the kaiser's government under the general order against Mormons. Mr. Miller came to America and finished his two year's mission under a new assignment, and afterwards visited some foreign countries in his naval service. He was a fine musician and a young man of good wholesome character wherever he went.
— —
One thousand five hundred and sixty-five women and girls in Idaho, Oregon and Washington are taking the Red Cross course in home hygiene and care of the sick.
— —
Shelley
Fire
Last Tuesday morning between 1 and 2 o'clock the citizens of Shelley were awakened by the piercing shriek of the city fire whistle. The fire occurred in the J. C. Penney company store. The fire department got on hand in good time and with a good pressure of city water soon extinguished the fire in time to save the building from burning. The damage done was mostly by smoke and water which did several thousand dollars' worth of damage. From all indications the fire was purposely started. Mr. Waller and Mr. Perry are getting things back into shape again and will open for business they hope in the near future.
(ibid, page 8)
— — — —
The Idaho Republican. March 26, 1920, Page 9
Centerville
The two small children of Mr. and Mrs. Barnard Olson have been quite ill with the influenza the past week.
Little Emma Killion, who has been quite ill, is improving.
Mr. and Mrs. Burnds and family of Blackfoot visited Sunday at the Killion home.
Little Fay Brown, who was quite ill, is able to be out again.
The infant daughter of Mr. and Mrs. L. Lowe has been quite ill the past week.
(ibid, page 9)
— — — —
The Idaho Republican. March 26, 1920, Page 10
Deaths In The Air
The number of deaths from diseases of the heart has doubled, in the large cities of America, in the last four years, and exceeds that from almost any other cause.
There are now more than 7,500,000 automobile vehicles in the United States and are likely to be 10,000,000 by the end of the year.
These two current items of information are apparently quite disconnected, and yet they may have a connection so vital and important as to command the gravest national concern.
The suggestion of relationship between them is found in the fact that the exhaust fumes from gasoline engines contain a large quantity of carbon monoxide gas, which is not only exceedingly poisonous, but is also peculiarly detrimental to the heart. Its first effect when inhaled is markedly to decrease oxygenation of the blood. This is does when mixed with the atmosphere in even so small a proportion as one part in two thousand. From that it proceeds to cause paralysis of the heart itself. There have been reported a number of deaths of persons in closed garages, apparently from known causes, which upon investigation were found to have been due to carbon monoxide poisoning.
Such tragedies may readily happen when a motor is running in a small closed room. But are they possible in the open air? Let us consider. Exhaust fumes from the average automobile contain about 7 per cent of carbon monoxide. The combustion of one gallon of gasoline produces at least fifty cubic feet of this deadly gas. It is estimated that in New York City alone 700,000 gallons of gasoline are consumed daily. This means that there are injected into the air of that city every twenty-four hours some 35,000,000 feet of poison gas, sufficiently virulent to vitiate to a dangerous degree seventy billion cubic feet of air.,
That in itself is a formidable state of affairs. It becomes far worse when we consider that this production of poison gas is not equally distributed in either time or place, but is largely massed into less than half of the twenty-four hours and into a comparatively few of the most crowded thorofares [sic]. The disastrous affect of the poison fumes upon vegetation has long been noticed along the principal driveways of the parks. If the gas has this effect upon trees and shrubs, in the open, it must have a far worse effect upon the much more susceptible organs of human beings on streets where vehicles are much more numerous than in the parks, and where tall buildings on both sides converge the narrow streets into veritable catch-sinks for noxious emanations. There is a reason for believing that the air on such a street – say Fifth avenue or Broadway – with a score of cars on every block pouring forth carbon monoxide, is sufficiently vitiated to induce in those who frequent it deadly lesion of nerves and heart. What the conditions would be in a crowded vehicular tunnel under one of the great rivers, is it appalling to contemplate.
The moral is not, of course, to abandon the automobile, but to get rid, in some way, of the poison gas. The automobile, it is needless to say, is one of the indispensable products of modern inventive genius, and will continue increasingly to be used. It may be chemically impossible to avoid the evolution of carbon monoxide in combustion of gasoline. But it surely should be possible for some inventive genius to find a way of neutralizing it, or of preventing its free and crude emission into the air. Methods were readily devised in the war for manufacturing poison gases and hurling them against the enemy. It would be an intolerable reproach if in time of peace we could not with equal efficiency, protect ourselves against them when they are emitted as a by-product of an indispensable mechanism of civilization.
— —
It frequently come in handy to know that a little bottle of kerosene and glycerin mixed in equal parts will clear the class of the windshield of rain drops and give clear vision ahead.
(ibid, page 10)
— — — —
The Idaho Republican. March 26, 1920, Page 11
Hippocratean
First doctor: Did you have a large flu practice during the epidemic?
Second doctor: About a hundred gallons, I should say. And you?
First doctor: Oh, two or three hundred cases.
(ibid, page 11)
— — — — — — — — — —
Shoshone Journal. March 26, 1920, Page 1
High School Notes
Amelia Gomes has returned to school after a week of illness.
James Zeigler has returned to school after a long absence.
April 16th has been set aside by Co. Supt. Burnside as Arbor Day for schools of this County. A program will be given that day and we want everyone who can to attend.
— —
The many friends of John J. Gray, will greatly regret to learn of his death last Sunday at a hospital in Boise. He was feeding several thousand head of sheep near Buhl, and several days ago he was attacked with the influenza which developed into pneumonia and he was brought from Buhl to Boise, but only lived twenty-fours hours after reaching the Boise hospital. Almost everybody in Shoshone knew him as he has resided in Southern Idaho for the past twenty-five years, most of which time he lived in Bellevue, having moved to Boise about two years ago. He was one of the largest sheep owners in the State, and his wealth is reported to have been a million dollars. He was a very unassuming man, having had a hard struggle in his early life to get a start and made his own way without help from any one. He left a wife and four children.
— —
Additional Local News
Judge H. F. Ensign sent word Tuesday to J. W. Lundin, Clerk of the District Court, that the Spring term of court which was set to open Monday, March 29th, was postponed for one week and would not open until 10 o'clock Monday morning, April 5th.
Frank Clem is spending a few days at home with his family. He has been quite ill and spent some time at Hot Lake, Oregon, but is now able to be out.
Matt McFall has returned from Hot Lakes, Oregon, where he went a few weeks ago in hopes of curing a case of sciatic rheumatism but the results are not as good as anticipated.
Paul Flanner has gone to Hot Lake, Oregon, for treatment in the sanitarium at that place by Dr. Phy.
Mrs. L. M. Zug, arrived in Shoshone Wednesday morning from Hot Lake, Oregon, where she went about ten days ago with Mr. Zug. Mr. Zug as been sick for several weeks, but is now much better, but will remain at Hot Lake for some time yet. Mrs. Zug will spend two or three days with her mother, Mrs. W. C. Custer before returning to Jerome.
Boise is a good place to stay away from at present unless you take your own bed and lunch basket. The hotels at present are not able to take care of the traveling public, and a few days ago the cooks and waiters at the restaurants went out on a strike, and those places have had to close up, or do a very limited business.
— —
Shoshone Hospital Notes
Gooding is justly proud of her hospital. It was finished 16 mos. ago. It is a stock Co. and the Gooding people subscribed for $14040. This stock has no dividend guaranteed. They have eight rooms for private patients and a ward in the basement for six. To build it today would cost $20,000. Sunday they had nine patients and six babies. In the 16 mos. it has run, it has been self supporting. Those who have subscribed for the stock regard it as a donation for the better care of the sick in the community.
The proposed plan for a hospital for Shoshone will give us a hospital more beautifully located than the Gooding hospital. It will be able to care for as many patients. It can be run far more economically. It will have conveniences that have not been installed at Gooding. It will have every facility for the care of patients that any hospital can have but with the surroundings of a beautiful home. The view and air on the convalescent's porch will rapidly bring strength and happiness. The promoters of the Shoshone hospital have pledged their personal credit in order to hasten the work of fitting the building for occupancy with absolute faith that the people of Lincoln county will not be in any way behind Gooding in their support of this much needed institution. The plant will not cost over two thirds what the Gooding plant cost and not one half what it would cost today to duplicate the Gooding hospital. The public will only be asked to subscribe for $5,000 of the stock, or about one third what Gooding people gladly subscribed. And this stock subscribed by the public will be a 6% cumulative dividend bearing stock. An average of six patients daily will pay running expenses and the dividends on the stock. Dr. C. P. Jones who is to be the business manager has had eight years experience as Supt. of similar hospitals.
No one is to be asked to subscribe for more than one share ($100) of stock. It is expected that Lincoln Co. will go "over the top" the first day the stock is offered for subscription.
— —
Dietrich Precinct Notes
Mrs. W. J. Morrow, seriously ill with disorders following the flu, has been taken to the Jones Hospital at Shoshone where she is under treatment.
The new scales that were ordered for scientific weighing and measuring the children have arrived. We placed them in the lower hall and everybody is weighing themselves.
We will observe Arbor day, Friday April 16. We want all parents to visit the schools in the afternoon, and why not bring your noon lunch and stay all day.
The Manual Training boys are making fly traps which means for every fly caught now, there will be a thousand less in August.
source: Shoshone Journal. (Shoshone, Idaho), 26 March 1920. Chronicling America: Historic American Newspapers. Lib. of Congress.
— — — —
Shoshone Journal. March 26, 1920, Page 5
Local Items
I can not say what the truth may be, I tell the tale as 'twas told to me.
Mrs. W. W. Custer has been on the sick list the past few days.
Mrs. Gilbert J. White, has been ill for the past ten days, but is now improved.
Saturday night Been Weeks and some friends were returning from Dietrich in Ben's car, and when about one mile out of Dietrich the car dropped into a large unprotected hole in the road and damaged the car to the extent of several hundred dollars. If the car had not been going slowly some of the occupants would undoubtedly have been seriously injured or killed.
The dance given by the ladies of the Catholic Alter Society on Wednesday evening, March 17th, St. Patrick's day, was well attended and the ladies cleared considerable money for the church purposes.
(ibid, page 5)
— — — — — — — — — —
The Caldwell Tribune. March 26, 1920, Page 1
Canvass City For Teachers
Housing Problem to Be Solved By P.T.A.; Schools Congested
About 15 members of the Caldwell Parent Teachers association appeared before the school board at its regular meeting Monday night and offered their services to thoroughly canvass Caldwell before the opening of the next school year to list every room available for rent by teachers. Last fall saw unusual difficulty for teachers in finding suitable places to live during the school year and it is believed that the situation will be no better next fall.
The school board accepted the offer of the P.T.A. members. Their work will be conducted a short time before school opens next fall and is expected to aid materially in solving the housing problem for Caldwell teachers. This year 44 teachers have been employed; next year this number will have swelled to more than 50.
Supplementing this work the board appointed a committee consisting of W. S. Maxey, Amos Miller and W. P. Lyon who are to take steps toward leasing a suitable building for a teacherage. There is also some agitation for the construction of a building suitable for this purpose.
Will need more Room
Additional school building room also came before the board for consideration. This year, Caldwell school attendance increased 21 per cent. In spite of the fact that a new high school building was constructed last summer, the room there is already taxed to capacity. Port of this is due to the adoption of the Junior high plan, but increased registration also is largely responsible.
"If next year's attendance increases to any extent, more room at the high school will be essential," C. H. Dowman, superintend of schools told a representative of The Tribune Wednesday. He pointed out that this year the gymnasium is being used for classes and that there was no place for an increased enrollment to be accommodated.
"Every indication points to a greatly increased registration again next fall," Mr. Dowman continued. "It can not be otherwise with all of the new houses being built here."
Clean Up Athletic Field
Some consideration was given by the school board to cottage plan to care for extra classes until the school district can either make substantial additions to the high school building or build another school building.
Steps were taken at the board meeting to immediately clear up the athletic field acquired last fall and to put the ground in condition to accommodate spring athletics.
In spite of appeals to every possible agency between Chicago and San Francisco, no one has been obtained capable of coaching baseball or track teams this spring at the high school. It was originally planned to have both track and baseball at the high school this spring but inability to get coaches has jeopardized both branches.
— —
[Local News]
The Carson children are recovering from scarlet fever.
Glenn Evans, Al Quast and U. L. Andre went to Jump Creek Wednesday fishing. They report fair success, each having returned with a creditable string.
source: The Caldwell Tribune. (Caldwell, Idaho), 26 March 1920. Chronicling America: Historic American Newspapers. Lib. of Congress.
— — — —
The Caldwell Tribune. March 26, 1920, Page 3
Local And Personal
Funeral services were held Wednesday afternoon for H. J. Evans who died at the family home on Twelfth and Dearborn streets. The Rev. D. H. Hare conducted the services. Mr. Evans died Sunday morning of apoplexy at the age of 59 years. He has been employed at the Golden Rule store for the past two years.
Mrs. H. M. Coldren underwent a serious operation at her home on North Ninth street Tuesday evening.
Civil service examinations will be held at the local post office April 14 to fill a vacancy as postmaster at Jordan Valley. Examinations are open only to residents of Jordan Valley. The job pays $1000 per year.
(ibid, page 3)
— — — —
The Caldwell Tribune. March 26, 1920, Page 6
Items of Interest From Surrounding Territory
Fairview
Henry Ode is in Caldwell sick with pneumonia.
Miss Woodhouse had to dismiss school Friday on account of sickness.
Miss Anna Spencer is still improving slowly.
Mr. Nicols is still improving slowly.
Mr. Burnett was on the sick list a few days the past week, but is better now.
Marble Front Items
Miss Opal Tongate is staying with Mrs. Monroe Dillie assisting with the house work.
(ibid, page 6)
— — — —
The Caldwell Tribune. March 26, 1920, Page 7
Items of Interest From Surrounding Territory
Ten David News
A. E. Dunn has traded his Hup for an Oldsmobile.
All the farmers in this neighborhood are busy putting in their crops.
Sunny Slope
Mr. Fred Caldwell, who has been suffering from a second attack of the influenza has recovered enough to be up and around again.
Our potato raisers are busy planting their early crop of potatoes these days.
Last Monday evening we were treated to the unusual spectacle of the glow of the "northern lights." From early darkness until a late hour of the night all the northern sky resembled an early day break.
Arena Valley Items
W. E. Smith came down from Burns, Ore., last Friday for a visit with his daughter, Mrs. Victor Gibson and Mrs. James Weston of Wilder. Mr. Smith will spend a short time in Boise while down, being in need of medical aid.
An unusually large crowd turned out for work on the park Saturday and a great deal was accomplished. The chicken dinner played no small part in the success of the affair for almost all that hungry men could wish for was there in abundance. …
Briar Rose
Mrs. Leslie Jones was on the sick list last week but is improving now.
Jessie Spencer is having the mumps.
Earl Skidmore is out of school this week on account of sickness.
Mrs. Edgar Meek who has been sick for two weeks past is now recovering.
Mr. Runciman and many others of the neighborhood have their spring wheat seeding done.
North Sunny Slope
Leonard Fullerton is entertaining the mumps this week.
George Hammer was operated on at the Caldwell hospital Monday morning. He is getting along nicely.
(ibid, page 7)
— — — —
The Caldwell Tribune. March 26, 1920, Page 8
Items of Interest From Surrounding Territory
Wilder Items
Wilder high school and Greenleaf academy played baseball on the academy diamond Friday. Score was 17 to 14 in favor of Greenleaf. Five of the regulars in Wilder nine were out on account of sickness.
Mrs. John Beall, who is in St. Luke's hospital, is reported to be getting along nicely after her operation for appendicitis.
Mrs. J. E. Neher underwent a major operation at a Boise hospital on Saturday. The first report received as to her condition was very favorable.
Reports so far given to the Equity indicate that a large acreage of potatoes will be planed here this year, 693 acres have already been listed. Listings are from 3 to 60 acres.
Wilder now has a public library in the basement of the Methodist church. Tuesday and Friday evenings from 7:30 to 10 o'clock it is open for reading and Saturday from 2 to 5 p.m. for exchange of books.
Wilder commissioners have a force of men at work grading the streets. They have also advertised for bids on the new water system.
Midway News
The April meeting of the P.T.A. will be at the school house Friday afternoon, April 2. Everyone is invited, especially parents of children.
Lake Lowell
Fay Bussard was out of school Friday on account of illness.
Arthur Fry's children have the mumps.
Harold Weeks has a new bug.
Miss Edith Sprang is in the Steenslands hospital suffering from blood poisoning.
Mrs. Sprang was in Caldwell Sunday to see her daughter Edith, who is ill in the hospital.
Some of the Lake Lowell people attended the St. Patrick's social at Huston school house Friday night.
(ibid, page 8)
— — — —
The Caldwell Tribune. March 26, 1920, Page 9
Canyon News
Fred Myers came home on Sunday ill, though the nature of his illness has not been learned.
Nicholas Ihli was attacked with appendicitis on Wednesday. He was taken to the hospital for an operation. From last report he was doing well.
The gentle rain of Sunday night was very welcome by the wheat growers, as the ground had begun to bake.
Mr. Summers and S. P. McNeil have finished planting their crop of onions.
(ibid, page 9)
— — — —
The Caldwell Tribune. March 26, 1920, Page 10
Local And Personal
Myrtha Langford is improving very slowly at the sanitarium, the tube was removed from her side Tuesday.
The G.T.B. will give an April Fool masquerade dance Friday evening in the Masonic Temple. Historical characters and "take off" on college students will be represented by the members of the club. The hosts and hostesses are: Raymond Rice, Miss Georgia Andrews, Vivian Kimbrough, Miss Marion Flemmer, Miss Lulu Rogers and "Deac" Gardner.
— —
Explosion Causes But Small Damage
Quick Action Averts Fire At Troy Laundry Saturday
As a result of an accidental dropping of a match into the dry tumbler at the Troy Laundry about 4 o'clock Saturday afternoon, a small quantity of gasoline became ignited. In an effort to extinguish the gasoline, steam was turned into the dry tumbler. An explosion followed, which smashed a part of the machinery and shattered several panes of glass in the building. Aside from this damage, which amounts to about $85, and which is covered by insurance no other loss was incurred.
Patrons of the laundry are assured that none of their property was affected by the accident.
(ibid, page 10)
— — — — — — — — — —
Watkins Remedies, Bonners Ferry, Idaho
Photo courtesy: the Mike Fritz Collection, History of Idaho
— — — — — — — — — —
March 30
Bonners Ferry Herald. March 30, 1920, Page 1
Dr. Fry Member of State Board
Dr. E. E. Fry recently received word of his appointment as one of the six members of the state medical examination board, the appointment coming from R. O. Jones, commissioner of law enforcement.
The board will be in session next week and Dr. Fry left yesterday for Boise, planning to go to coast points enroute and to visit with his brother at Seattle and his mother of Astoria. Dr. Tewey, of Spokane, is here to assist Dr. Faucett in the absence of Dr. Fry.
— —
Schools To Close Two Days
The Bonners Ferry schools and a number of the country schools will be closed Wednesday, Thursday and Friday of this week in order that the teachers may attend the sessions of the Inland Empire Teacher's Association to be held in Spokane those three days. Mrs. C. W. Flood, county superintendent of schools, has been asked to address the members of the association.
— —
Struck By a Blasted Rock
County Commissioner J. A. Welch had a narrow escape Friday from a fatal or serious accident when he was truck by a boulder weighing about 100 pounds which was blasted out of the road on the Rowell hill, northwest of town.
Commissioner Welch had been assisting in the road work and when the blast was ready he sought protection back of a stump. The rock was thrown farther than was expected and in falling to the ground just missed Mr. Welch's head and struck his foot, bruising it severely but not breaking any bones.
Yesterday Mr. Welch was getting around on crutches.
source: Bonners Ferry Herald. (Bonners Ferry, Idaho), 30 March 1920. Chronicling America: Historic American Newspapers. Lib. of Congress.
— — — —
Bonners Ferry Herald. March 30, 1920, Page 2
Copeland News Notes
Mrs. Donehoo and daughter, Rosy, are on the sick list with the Spanish influenza.
Dorothy Chambers was taken seriously ill last Monday and her parents took her to Bonners Ferry where she has been under the care of Dr. Fry and is reported to be well again.
George Andrews was called to Bonners Ferry last Monday to attend his son, James, who underwent an operation at the Bonners Ferry hospital for appendicitis.
— —
Round Prairie News Notes
H. L. Sawer, of Eastport and a party of young people, started for Round Prairie to attend the dance last Saturday evening but only succeeded in getting as far as the Greenway hill where they were stalled on account of the mud and the car not being in good working order. Two cars also left Meadow Creek the same night for the dance but were compelled to give up the trip.
The men employed at the Ohio Match Co. camp are rejoicing over the arrival of a new cook after being without one for several days last week.
(ibid, page 2)
— — — —
Bonners Ferry Herald. March 30, 1920, Page 4
Local Pick-ups
Dr. D. E. Tewey, of Spokane, came here Wednesday and will remain for several weeks, assisting Drs. Fry and Faucett.
Violet Delorice Wilson, daughter of G. H. Wilson of Naples, died at the Bonners Ferry hospital on Friday of last week. The body was shipped to Eagle Bend, Minn., for burial. The deceased was two years old.
Mrs. Frank B. White returned home Thursday from Portland where she was called recently by the serious illness of her sister, Mrs. W. D. Winter. Mrs. Winter accompanied Mrs. White here and will visit for some time with her sister.
Udo Nagel, of the Curley Creek district, came in Friday to consult with Dr. Fry regarding an infection in his eyes. The trouble started in a single day and left Nagel nearly blind. It is possible that the infection is due to the gassing that Nagel suffered in France.
Ed Fiest is at the Bonners Ferry hospital recovering from an operation for appendicitis which he underwent last Thursday.
(ibid, page 4)
— — — —
Bonners Ferry Herald. March 30, 1920, Page 5
Local Pick-ups
Mrs. Margaret Dehlbom is able to be up and around again after an illness of several weeks.
M. N. Woolwine was called to Spokane Saturday by word telling of the serious illness of his young son.
August Hess underwent an operation last week at the Bonners Ferry hospital for the removal of a growth on his eye.
James, the son of Mr. and Mrs. G. E. Andrews, of Copeland, recently underwent an operation at the Bonners Ferry hospital for appendicitis.
(ibid, page 5)
—————
Footnotes:
Footnote 1:
General Leonard Wood
General Wood in 1918 
source: By Internet Archive Book Images No restrictions.
Leonard Wood (October 9, 1860 – August 7, 1927) was a United States Army major general, physician, and public official. He served as the Chief of Staff of the United States Army, Military Governor of Cuba, and Governor General of the Philippines. He began his military career as an army doctor on the frontier, where he received the Medal of Honor. During the Spanish–American War, he commanded the Rough Riders, with Theodore Roosevelt as his second-in-command. Wood was bypassed for a major command in World War I, but then became a prominent Republican Party leader and a leading candidate for the 1920 presidential nomination.
continued: Wikipedia
— —
Personalities and Issues of the Presidential Election of 1920
Jeanne Rita Demling 1950 Loyola University Chicago Master's Theses
Chapter VI. The Election as a "Solemn Referendum"
… Many wise forecasters did not hesitate to say that 1920 would be an auspicious year for "dark horse" candidates. Given a great war had failed to supply a popular hero and champion and there was no sound of that spontaneous acclaim that has sometimes greeted those popularly chosen to lead. Leonard Wood, who as governor general of Cuba had supervised the purging of yellow fever, a chief of staff of the United states Army, was regarded Theodore Roosevelt's heir. The popularity of his name bloomed early, but Woods enthusiastic supporters would have been better pleased had it been delayed until the spring or early summer of the election year. Wood's entrance into Ohio and Illinois had caused hard feelings among the favorite sons there and perhaps caused them to throw their votes at the Convention to a lesser man. A further handicap to Wood was the fact that he was a military man at a time when the United States was tired of all thing military. Nevertheless, Leonard Wood's candidacy suffered its greatest setback with the charges of exorbitant campaign expenditures, with the intention to "buy the presidency." Harry M. Daugherty, Harding's campaign manager, claimed credit for the Senate investigation of funds:
I got the right man to pour into Senator Borah's ear the truth about this vast expenditure of money in a primary election and suggested that the foundations of the Republic Were being destroyed by this method of making a President. Borah made an eloquent speach [sic] and demanded an immediate investigation by a Senatorial Committee, and got it. I was summoned to appear and testify. I answered all questions with great caution and I made no bitter accusations against our opponents. In fact I refused to make any accusations whatever.
A second, and more creditable, version of the Senate investigation was that the New York World, following a lead in a campaign speech by Senator Hiram Johnson which hit at the money gushing from the Wood headquarters, uncovered a list of Wood's contributors which the World promptly turned over to Johnson's ally in the Senate, Borah. The Senate, aroused by a blistering speech by Borah, appointed the Kenyon Committee to look into the matter.
The committee's report on the campaign funds was as follows:
Leonard Wood ………. $1,773,303
Frank O. Lowden. ………. 414,000
Hiram W. Johnson ………. 194,000
Herbert Hoover. ………. 173,000
Warren G. Harding. ………. 113,000
Colonel William C. Proctor, manufacturer of Ivory Soap, had contributed $710,000 to Wood's campaign chest; on the other hand, Lowden's fund came from his own personal fortune. Wood's huge campaign fund reflected no discredit on his honesty and was not an attempt to "buy the presidency." The defense of his large expenditures was based upon the legitimate expenses made necessary by the Presidential primary, which forced an advertising campaign on a gigantic scale in order to secure delegates. Nevertheless for the Wood forces the investigation was a catastrophe; since it is almost certain that, without the Kenyon Committee exposures, Wood's popularity and public record would have won the convention and then the election.
source: Loyola University Chicago
— — — — — — — — — —
Footnote 2:
Kuther
Henry Kuther, 29 years old, a young farmer residing near Ferdinand, died Monday of the influenza-pneumonia. Mr. Kuther, who was born at Keuterville, was a life-long resident of Idaho county.
Surviving him are his widow, three children, his parents, Mr. and Mrs. Henry Kuther, of Lewiston; a brother Joe Kuther, of Ferdinand, and four sisters, Mrs. Joe Buscher, Orofino; Mrs. Nick Kinzer, California; Mrs. Stricker, Cottonwood; Mrs. Henry Sprute, Fenn; and Mrs. Josephine Swearmine, Ferdinand.
Funeral services were held Wednesday morning from the Catholic church in Ferdinand, with interment in the Ferdinand cemetery. A. J. Maugg Grangeville funeral director, was called to Ferdinand owing to the death of Mr. Kuther.
Idaho County Free Press. February 19, 1920
— — — — — — — — — —
Footnote 3:
Caduceus
For the (mis)usage as a medical symbol, see Caduceus as a symbol of medicine.
continued: Wikipedia
— — — — — — — — — —
Footnote 4:
March 1920 Aurora
March 22, 1920 – American Telephone and Telegraph telegraph service disrupted. Atlantic cable traffic reduced from 30 massages per day to one. Aurora seen over New York City. Women and children ran home to hide under bed sheets. [New York Times, March 23, 1920, p. 13]. Aurora borealis seen in Atlanta [The Atlanta Constitution, March 23, 1920, p. 1]. Jazzy aurora snarls wires, dazzles city [The Chicago Daily Tribune, March 23, 1920, p. 1]. The aurora borealis as Chicago saw it [Chicago Daily Tribune, March 23, 1920, p.5].
source: w/links to newspaper clippings
— — — — — — — — — —
Footnote 5:
Roundy "Scandal"
Mr. Roundy died of influenza October 1918, obituary in part #8 of this series (link)
See part #87 for the editorial "Another Widow Spoiled by the Pension" (link)
————-
Further Reading
Ten Myths About the 1918 Flu Pandemic
The 'greatest pandemic in history' was 100 years ago – but many of us still get the basic facts wrong
Richard Gunderman, The Conversation January 12, 2018 – Updated: March 17, 2020
A ward at the Mare Island Naval Hospital in California during the influenza epidemic, November 1918 Wikimedia Commons
Pandemic: It's a scary word.
But the world has seen pandemics before, and worse ones, too. Consider the influenza pandemic of 1918, often referred to erroneously as the "Spanish flu." Misconceptions about it may be fueling unfounded fears about COVID-19, and now is an especially good time to correct them.
In the pandemic of 1918, between 50 and 100 million people are thought to have died, representing as much as 5% of the world's population. Half a billion people were infected.
Especially remarkable was the 1918 flu's predilection for taking the lives of otherwise healthy young adults, as opposed to children and the elderly, who usually suffer most. Some have called it the greatest pandemic in history.
The 1918 flu pandemic has been a regular subject of speculation over the last century. Historians and scientists have advanced numerous hypotheses regarding its origin, spread and consequences. As a result, many of us harbor misconceptions about it.
By correcting these 10 myths, we can better understand what actually happened and learn how to prevent and mitigate such disasters in the future.
1. The pandemic originated in Spain
No one believes the so-called "Spanish flu" originated in Spain.
The pandemic likely acquired this nickname because of World War I, which was in full swing at the time. The major countries involved in the war were keen to avoid encouraging their enemies, so reports of the extent of the flu were suppressed in Germany, Austria, France, the United Kingdom and the U.S. By contrast, neutral Spain had no need to keep the flu under wraps. That created the false impression that Spain was bearing the brunt of the disease.
In fact, the geographic origin of the flu is debated to this day, though hypotheses have suggested East Asia, Europe and even Kansas.
2. The pandemic was the work of a 'super-virus'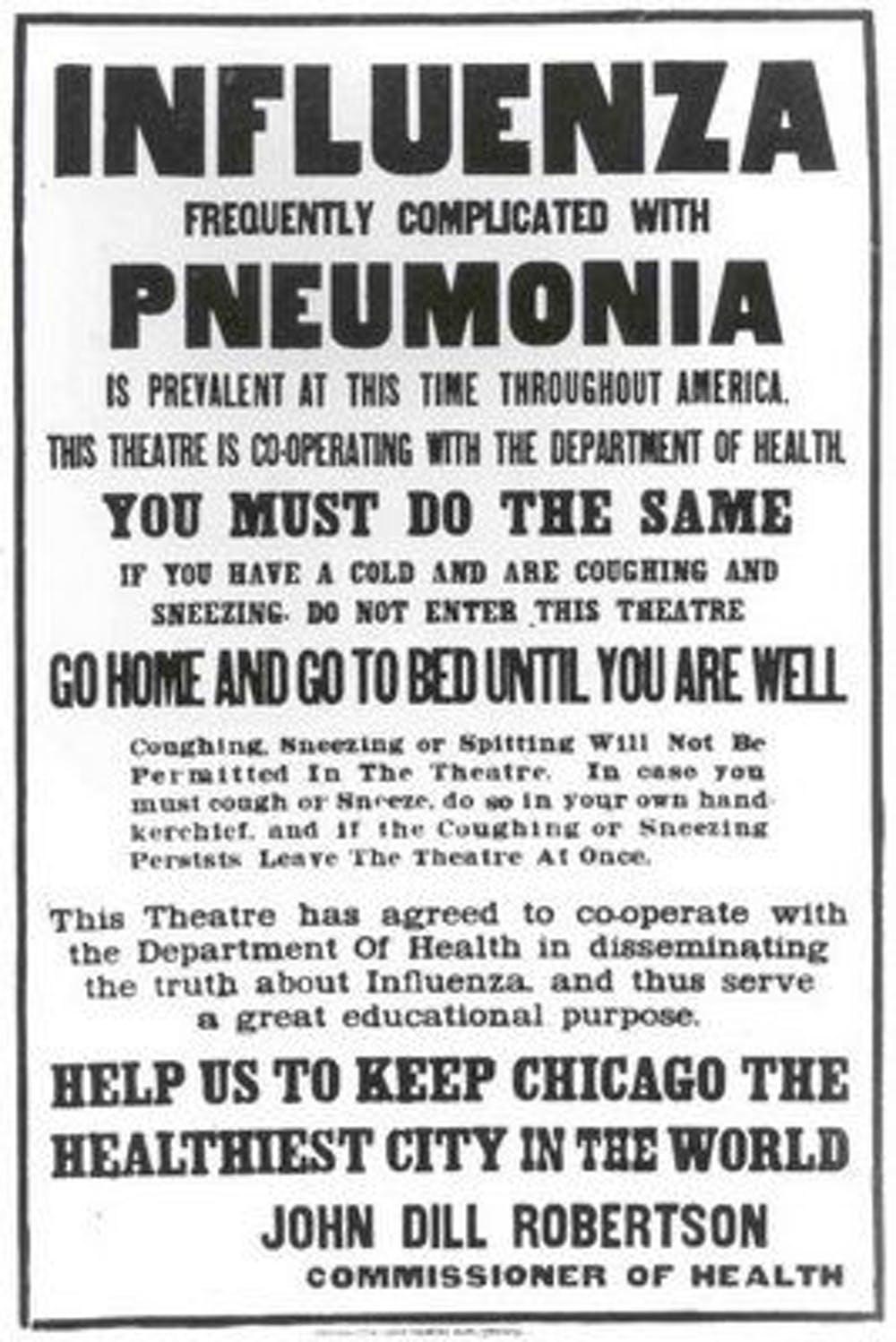 A Chicago Public Health poster outlines flu regulations during the pandemic. origins.osu.edu
The 1918 flu spread rapidly, killing 25 million people in just the first six months. This led some to fear the end of mankind, and has long fueled the supposition that the strain of influenza was particularly lethal.
However, more recent study suggests that the virus itself, though more lethal than other strains, was not fundamentally different from those that caused epidemics in other years.
Much of the high death rate can be attributed to crowding in military camps and urban environments, as well as poor nutrition and sanitation, which suffered during wartime. It's now thought that many of the deaths were due to the development of bacterial pneumonias in lungs weakened by influenza.
3. The first wave of the pandemic was most lethal
Actually, the initial wave of deaths from the pandemic in the first half of 1918 was relatively low.
It was in the second wave, from October through December of that year, that the highest death rates were observed. A third wave in spring of 1919 was more lethal than the first but less so than the second.
Scientists now believe that the marked increase in deaths in the second wave was caused by conditions that favored the spread of a deadlier strain. People with mild cases stayed home, but those with severe cases were often crowded together in hospitals and camps, increasing transmission of a more lethal form of the virus.
4. The virus killed most people who were infected with it
In fact, the vast majority of the people who contracted the 1918 flu survived. National death rates among the infected generally did not exceed 20 percent.
However, death rates varied among different groups. In the U.S., deaths were particularly high among Native American populations, perhaps due to lower rates of exposure to past strains of influenza. In some cases, entire Native communities were wiped out.
Of course, even a 20 percent death rate vastly exceeds a typical flu, which kills less than one percent of those infected.
5. Therapies of the day had little impact on the disease
No specific anti-viral therapies were available during the 1918 flu. That's still largely true today, where most medical care for the flu aims to support patients, rather than cure them.
One hypothesis suggests that many flu deaths could actually be attributed to aspirin poisoning. Medical authorities at the time recommended large doses of aspirin of up to 30 grams per day. Today, about four grams would be considered the maximum safe daily dose. Large doses of aspirin can lead to many of the pandemic's symptoms, including bleeding.
However, death rates seem to have been equally high in some places in the world where aspirin was not so readily available, so the debate continues.
6. The pandemic dominated the day's news
Public health officials, law enforcement officers and politicians had reasons to underplay the severity of the 1918 flu, which resulted in less coverage in the press. In addition to the fear that full disclosure might embolden enemies during wartime, they wanted to preserve public order and avoid panic.
However, officials did respond. At the height of the pandemic, quarantines were instituted in many cities. Some were forced to restrict essential services, including police and fire.
7. The pandemic changed the course of World War I
It's unlikely that the flu changed the outcome of World War I, because combatants on both sides of the battlefield were relatively equally affected.
However, there is little doubt that the war profoundly influenced the course of the pandemic. Concentrating millions of troops created ideal circumstances for the development of more aggressive strains of the virus and its spread around the globe.

Patients receive care for the Spanish flu at Walter Reed Military Hospital, in Washington, D.C. origins.osu.edu
8. Widespread immunization ended the pandemic
Immunization against the flu as we know it today was not practiced in 1918, and thus played no role in ending the pandemic.
Exposure to prior strains of the flu may have offered some protection. For example, soldiers who had served in the military for years suffered lower rates of death than new recruits.
In addition, the rapidly mutating virus likely evolved over time into less lethal strains. This is predicted by models of natural selection. Because highly lethal strains kill their host rapidly, they cannot spread as easily as less lethal strains.
9. The genes of the virus have never been sequenced
In 2005, researchers announced that they had successfully determined the gene sequence of the 1918 influenza virus. The virus was recovered from the body of a flu victim buried in the permafrost of Alaska, as well as from samples of American soldiers who fell ill at the time.
Two years later, monkeys infected with the virus were found to exhibit the symptoms observed during the pandemic. Studies suggest that the monkeys died when their immune systems overreacted to the virus, a so-called "cytokine storm." Scientists now believe that a similar immune system overreaction contributed to high death rates among otherwise healthy young adults in 1918.
10. The world is no better prepared today than it was in 1918
Severe influenza epidemics tend to occur every few decades, and the latest one is upon us.
Today scientists know more about how to isolate and handle large numbers of ill and dying patients, and physicians can prescribe antibiotics, not available in 1918, to combat secondary bacterial infections. To such common-sense practices as social distancing and hand-washing, contemporary medicine can add the creation of vaccinations and anti-viral drugs.
For the foreseeable future, viral epidemics will remain a regular feature of human life. As a society, we can only hope that we have learned the great pandemic's lessons sufficiently well to quell the current COVID-19 challenge.
from: The Smithsonian
————
Back to Table of Contents
Link to Idaho 1918 Influenza Pandemic (Part 1)
Link to Idaho 1918 Influenza Pandemic (Part 2)
Link to Idaho 1918 Influenza Pandemic (Part 3)
Link to Idaho 1918 Influenza Pandemic (Part 4)
Link to Idaho 1918 Influenza Pandemic (Part 5)
Link to Idaho 1918 Influenza Pandemic (Part 6)
Link to Idaho 1918 Influenza Pandemic (Part 7)
Link to Idaho 1918 Influenza Pandemic (Part 8)
Link to Idaho 1918 Influenza Pandemic (Part 9)
Link to Idaho 1918 Influenza Pandemic (Part 10)
Link to Idaho 1918 Influenza Pandemic (Part 11)
Link to Idaho 1918 Influenza Pandemic (Part 12)
Link to Idaho 1918 Influenza Pandemic (Part 13)
Link to Idaho 1918 Influenza Pandemic (Part 14)
Link to Idaho 1918 Influenza Pandemic (Part 15)
Link to Idaho 1918 Influenza Pandemic (Part 16)
Link to Idaho 1918 Influenza Pandemic (Part 17)
Link to Idaho 1918 Influenza Pandemic (Part 18)
Link to Idaho 1918 Influenza Pandemic (Part 19)
Link to Idaho 1918 Influenza Pandemic (Part 20)
Link to Idaho 1918 Influenza Pandemic (Part 21)
Link to Idaho 1919 Influenza Pandemic (Part 22)
Link to Idaho 1919 Influenza Pandemic (Part 23)
Link to Idaho 1919 Influenza Pandemic (Part 24)
Link to Idaho 1919 Influenza Pandemic (Part 25)
Link to Idaho 1919 Influenza Pandemic (Part 26)
Link to Idaho 1919 Influenza Pandemic (Part 27)
Link to Idaho 1919 Influenza Pandemic (Part 28)
Link to Idaho 1919 Influenza Pandemic (Part 29)
Link to Idaho 1919 Influenza Pandemic (Part 30)
Link to Idaho 1919 Influenza Pandemic (Part 31)
Link to Idaho 1919 Influenza Pandemic (Part 32)
Link to Idaho 1919 Influenza Pandemic (Part 33)
Link to Idaho 1919 Influenza Pandemic (Part 34)
Link to Idaho 1919 Influenza Pandemic (Part 35)
Link to Idaho 1919 Influenza Pandemic (Part 36)
Link to Idaho 1919 Influenza Pandemic (Part 37)
Link to Idaho 1919 Influenza Pandemic (Part 38)
Link to Idaho 1919 Influenza Pandemic (Part 39)
Link to Idaho 1919 Influenza Pandemic (Part 40)
Link to Idaho 1919 Influenza Pandemic (Part 41)
Link to Idaho 1919 Influenza Pandemic (Part 42)
Link to Idaho 1919 Influenza Pandemic (Part 43)
Link to Idaho 1919 Influenza Pandemic (Part 44)
Link to Idaho 1919 Influenza Pandemic (Part 45)
Link to Idaho 1919 Influenza Pandemic (Part 46)
Link to Idaho 1919 Influenza Pandemic (Part 47)
Link to Idaho 1919 Influenza Pandemic (Part 48)
Link to Idaho 1919 Influenza Pandemic (Part 49)
Link to Idaho 1919 Influenza Pandemic (Part 50)
Link to Idaho 1919 Influenza Pandemic (Part 51)
Link to Idaho 1919 Influenza Pandemic (Part 52)
Link to Idaho 1919 Influenza Pandemic (Part 53)
Link to Idaho 1919 Influenza Pandemic (Part 54)
Link to Idaho 1919 Influenza Pandemic (Part 55)
Link to Idaho 1919 Influenza Pandemic (Part 56)
Link to Idaho 1919 Influenza Pandemic (Part 57)
Link to Idaho 1919 Influenza Pandemic (Part 58)
Link to Idaho 1919 Influenza Pandemic (Part 59)
Link to Idaho 1919 Influenza Pandemic (Part 60)
Link to Idaho 1919 Influenza Pandemic (Part 61)
Link to Idaho 1919 Influenza Pandemic (Part 62)
Link to Idaho 1919 Influenza Pandemic (Part 63)
Link to Idaho 1919 Influenza Pandemic (Part 64)
Link to Idaho 1919 Influenza Pandemic (Part 65)
Link to Idaho 1920 Influenza Pandemic (Part 66)
Link to Idaho 1920 Influenza Pandemic (Part 67)
Link to Idaho 1920 Influenza Pandemic (Part 68)
Link to Idaho 1920 Influenza Pandemic (Part 69)
Link to Idaho 1920 Influenza Pandemic (Part 70)
Link to Idaho 1920 Influenza Pandemic (Part 71)
Link to Idaho 1920 Influenza Pandemic (Part 72)
Link to Idaho 1920 Influenza Pandemic (Part 73)
Link to Idaho 1920 Influenza Pandemic (Part 74)
Link to Idaho 1920 Influenza Pandemic (Part 75)
Link to Idaho 1920 Influenza Pandemic (Part 76)
Link to Idaho 1920 Influenza Pandemic (Part 77)
Link to Idaho 1920 Influenza Pandemic (Part 78)
Link to Idaho 1920 Influenza Pandemic (Part 79)
Link to Idaho 1920 Influenza Pandemic (Part 80)
Link to Idaho 1920 Influenza Pandemic (Part 81)
Link to Idaho 1920 Influenza Pandemic (Part 82)
Link to Idaho 1920 Influenza Pandemic (Part 83)
Link to Idaho 1920 Influenza Pandemic (Part 84)
Link to Idaho 1920 Influenza Pandemic (Part 85)
Link to Idaho 1920 Influenza Pandemic (Part 86)
Link to Idaho 1920 Influenza Pandemic (Part 87)
Link to Idaho 1920 Influenza Pandemic (Part 88)
Link to Idaho 1920 Influenza Pandemic (Part 89)
Link to Idaho 1920 Influenza Pandemic (Part 90)
Link to Idaho 1920 Influenza Pandemic (Part 91)
Link to Idaho 1920 Influenza Pandemic (Part 92)
Link to Idaho 1920 Influenza Pandemic (Part 93)
Link to Idaho 1920 Influenza Pandemic (Part 94)
Link to Idaho 1920 Influenza Pandemic (Part 95)
Link to Idaho 1920 Influenza Pandemic (Part 96)
Link to Idaho 1920 Influenza Pandemic (Part 97)
Link to Idaho 1920 Influenza Pandemic (Part 98)
Link to Idaho 1920 Influenza Pandemic (Part 99)
Link to Idaho 1918 Influenza Pandemic Ads (Part 100)
Link to Idaho 1919 Influenza Pandemic Ads (Part 101)
Link to Idaho 1920 Influenza Pandemic Ads (Part 102)