Feb 27, 2022 The Yellow Pine Times – Valley County, Idaho
Reminder: We are still under a boil water order.
Community Calendar:
Apr 17, 2020 – Boil water order in effect
Oct 27, 2021 – Transfer Station on Winter Schedule
Nov 1, 2021 – Winter Mail Delivery Starts
Mar 1 – Blazing Saddles
Mar 8 – Mamma Mia
Mar 13 – Daylight Saving Time begins
Mar 27 – YPFD meeting at 2pm
(details below)
———-
Local Events:
Tuesday Movie Nights
Movie nights are still on. Come join us at the community hall at 4:30 pm every Tuesday. Snacks, drinks, and pajamas welcome.
February 22: The Great Outdoors
March 1: Blazing Saddles
March 8: Mamma Mia
— — — —
March 13th Spring Ahead
Daylight Saving Time begins March 13th. Don't forget to check the battery in your smoke alarms.
———
Village News:
Sunday's Snow
945am Feb 27, 2022 Yellow Pine West Webcam
— — — —
Tuesday's Helicopter
Tuesday we heard a helicopter flying back and forth around our area for a few hours. Jon Hunter, our local Conservation Officer says, "… the helicopter contracted by the Fish and Game to count elk. These elk are part of the McCall elk zone. Basically, it is an area that stretches from Yellow Pine all the way to Riggins. About every 5 years we try to do an extensive aerial survey to monitor the numbers in the herds. We probably have another 4 days left flying in the Yellow Pine area."
— — — —
The Star-News
Only a few days left to renew your subscription early to beat the March 1 rate increase. It's easy! Just after you log on to read this week's edition, look for the link "Renew" under your name in the upper right corner (iPad, laptop or work station) or at the top of the screen (cellphone). Activate the link to the subscription form and choose from the menu options. Then follow the prompts to pay.
— — — —
Attention Yellow Pine Water Users
You may now apply to WICAP for help with your water bill under the Low Income Household Water Assistance Program (LIHWAP). You may apply for help with your past-due, as well as your current bill.
Application may be made in person at the WICAP office in Cascade, 110 W. Pine St. You may also apply by phone at 208 454-0675, or on-line at wicap.org.
— — — —
Notice – Deadline
In order to have your item posted in that week's paper you must email it in by Noon on Sunday.
A reminder – if your group or business want an event, photo, minutes, news or advertising posted in the Yellow Pine Times, please write what you want posted in text form (for copy/paste) and send it by email. Remember to include the "who, what, when, where and why." Images or groups of images must be under 10 megs per email.
— — — —
Arnold Aviation News:
Customers New Deadline – Please email your shopping list by Sunday evening so they are ready to print early Monday morning.
Attention Mail Route Customers – FedEx Ground has changed their policy, and they will no longer pay for Mail Plane or Truck freight. If you can avoid it, we strongly encourage you to use UPS or USPS to receive packages. If you do order a FedEx Ground package, you will be billed for: Air Freight @ $0.45/lb, or Mail Truck Freight @ $0.05/lb. We are truly sorry this is the case, and are working very hard to make sure you still receive your orders. – Arnold Aviation
— — — —
Road News
Link: to current road reports.
Upper Johnson Creek road at Landmark, Profile Gap, Lick Creek, Elk Summit, Thunder Mountain and Deadwood roads are closed to wheeled vehicles. These roads are not maintained. Travel at your own risk.
— — — —
Critters
Be Tick Aware
Ticks are out early this year, 1st report Feb 11th.
* After being outdoors check for ticks. Remove any that are attached.
* Tumble any clothing in a hot dryer for 10 minutes. That should kill any ticks left in the clothing.
* When hiking outside where there are ticks, wear long clothing. Tuck the ends of pants into socks.
* Use a bug repellent to shoes, socks and exposed skin.
Be Elk Aware
Elk are hanging around the village, please watch for them on local streets. There have been a couple of near misses reported.
Be Wolf Wary
Report Saturday, Feb 12, wolves howling around the upper end of the village, and two were in a residential yard.
* Always keep children nearby and in sight.
* Keep pets leashed and under control.
Be Coyote Aware
* Remove or secure attractants, such as pet food, trash or dog feces.
* If you have a potential living food source for coyotes, such as chickens, secure their coops with wire mesh fences at least five feet high.
* Don't leave your dog outside unsupervised.
* If possible, ensure your property boundaries are secure by keeping fences in good repair and letting your dogs out for bathroom breaks only in fenced areas, particularly at night. The American Kennel Club recommends solid fences of at least 6-feet tall, and buried in the ground at least 18 inches, and says that "coyote rollers" can provide additional deterrence.
* If your property is not fenced, turn on outside lights and make noise before letting your dog outside, and consider taking your dog out on a lead for nighttime bathroom breaks.
* Clear away brushy areas around your property that coyotes may see as safe denning or hiding spots.
Be Fox Aware
* Do not feed foxes human food
* Feed domestic pets indoors
* Make sure your pets are updated on Rabies vaccines
* Small pets could become a snack


Photo taken Jan 18, 2021 by AP
Be Cougar Aware
A big cat has been hanging around the upper part of the village recently. Watch your small pets and do not leave food outside.


photo courtesy NH
— — — —
Yellow Pine US Mail
The 3-day a week mail delivery started November 1st. The Post Office in Yellow Pine is open six days a week year around: M-F 845am-245pm Saturday 9am-245pm. Forever Stamp: 58 cents. Support our local post office and purchase your holiday stamps here.
— — — —
Yellow Pine Transfer Station
Report Thurs, Feb 16th, the trash in the bins has been compacted to make some room until they can get a truck in to empty them. Please flatten your empty boxes!
Report the road and dump plowed Jan 17th.
Report Jan 7th: Bins were emptied about a week and a half ago. Road plowed Jan 5th.
Dump update October 27th: We are now in winter mode. When it gets fairly full we will call to have it dumped. Contact Cecil.
Locals have worked hard to clean up the area, please be respectful.
Yellow Pine Transfer Station (aka, the dump)
Please do not abuse our Transfer Station or we may lose it. Household trash must be placed in the bins, flattened cardboard boxes can also go into the bins. Do not stack trash in front of the doors. Woody yard debris only for the burn pile. No furniture, appliances, tires or construction debris allowed, those items must be hauled out to the Donnelly station by you.
The Yellow Pine Transfer Station is Valley County responsibility. If it is not kept tidy, use of the Transfer Station may be revoked. That would result in residents having to take all household trash and yard waste to the Donnelly Transfer Station.
If Dumpsters Are Full, Contact Lake Shore Disposal at: (208) 634-7176
Dump Tips
Do you know where your trash goes after it leaves Yellow Pine?
90 tons per week of Valley Co.'s solid waste comes to the Adams Co. landfill. (Valley Co. has a contract with Adams Co.) When Valley Co.'s weekly trash exceeds 90 tons, the rest is then taken to Payette. The more garbage, the more cost in transferring it further away.
Tips to reduce trash:
1. When purchasing groceries refuse plastic bags as they reek havoc at the Adams Co.'s landfill, causing problems with equipment.
2. Garbage: recyclables, compost, trash
If each household would have containers for these three categories this is the place to start.
– B. Dixon
———-
Local Groups
YPWUA News:
Water Use
| | | | | | | | | |
| --- | --- | --- | --- | --- | --- | --- | --- | --- |
| 02/17/22 | 20675868 | 47480 | 23.5 | 2020 | 34 | T | 121 | |
| 02/18/22 | 20724135 | 48267 | 24 | 2011 | 34 | F | 787 | |
| 02/19/22 | 20764974 | 40839 | 24 | 1702 | 28 | S | | 7428 |
| 02/20/22 | 20806624 | 41650 | 24 | 1735 | 29 | S | 811 | |
| 02/21/22 | 20846425 | 39801 | 24 | 1658 | 28 | M | | 1849 |
| 02/22/22 | 20885577 | 39152 | 24 | 1631 | 27 | T | | 649 |
| 02/23/22 | 20925944 | 40367 | 24 | 1682 | 28 | W | 1215 | |
| 02/24/22 | 20966560 | 40616 | 24 | 1692 | 28 | T | 249 | |
| 02/25/22 | 21006914 | 40354 | 24 | 1681 | 28 | F | | 262 |
| 02/26/22 | 21047456 | 40542 | 24 | 1689 | 28 | S | 188 | |
| 02/27/22 | 21089483 | 42027 | 24 | 1751 | 29 | S | 1485 | |
—
Water Update Feb 26th
Hello Yellow Piners,
On Tuesday the 22nd of February I traveled to Yellow Pine, completed regular system checks, collected monthly and annual compliance samples, and cleaned Filter #1 to restore adequate flow.
Mike Amos again assisted by shuttling his 4-wheeler up to McIntosh's place ahead of my arrival which made it easier to get pumps, hoses and equipment up to the plant. Winter water plant access needs to be improved and should be planned for going into next winter. Vehicle access to at least the filtration plant should be part of the plan.
Nicki's reliable and consistent daily recording of data indicates that even after the recent leak repair completed in town, system demand exceeds 40K gallons per day which continues to exceed system capacity and therefore necessitates the continuation of the Boil Order.
Just for information's sake, the filters have the following capacity. Please keep in mind that the system is designed to be able to run on one filter at a time while the other filter is offline for cleaning or maintenance.
Design filtration rate is .1 gpm/sq ft of filter surface area during warm weather and .05 gpm/sq ft of surface area when below 5 degrees C (41 degrees F)
Filter #1 is 215 sq ft
Warm Weather
215 x 0.1= 21.5 gpm
21.5 gpm x 1440 minutes per day = 30,960 gallons per day
Cold Weather
215 x 0.05= 10.75 gpm
10.75 gpm x 1440 minutes per day = 15,480 gallons per day
Filter #2 is 256 sq ft
Warm Weather
256 x 0.1= 25.6 gpm
25.6 gpm x 1440 minutes per day = 36,864 gallons per day
Cold Weather
256 x 0.05= 12.8 gpm
12.8 gpm x 1440 minutes per day = 18,432 gallons per day
Flow rates explained above are optimal and are only to be expected from clean filters. Flow rates diminish rapidly as the filter media becomes "plugged" with dirt and debris from Boulder Creek. High system demand equates to increased water volume through the filters which in turn causes filters to become dirty faster reducing flow accordingly.
Every time the filters are cleaned, a portion of the sand filter media is removed. Over time and after repeated cleanings, the level of sand in the filters becomes low and must be replenished. A plan for cleaning and replacement of the used sand or purchase and installation of new sand needs to be developed.
Additionally, there are a number of deferred maintenance items and miscellaneous equipment purchases that need to be considered in order to help assure continued and uninterrupted water supply to the community. A plan to address these issues needs to be developed as well.
I am available to answer questions or can attend a water board meeting to assist in discussion and planning as needed.
Best Regards,
Warren
—
Water Update Jan 19th
Hello Yellow Piners,
After the news went out about high water use, the demand went down about 10,000 gallons per day by the following five days. That seems to indicate that the message was heard and action was taken.
Mike Amos was a huge help when I came in on Sunday 1/16/2022 to clean filter #2. He provided a four-wheeler and shuttled it up close to Nicki's place for me which was extremely helpful. I loaded it up with tools and pumps etc., and hauled it all up to the plant. Filter #2 was then cleaned and flow has been restored to an acceptable level. Please keep in mind that daily demand still exceeds the design capacity of the system by approximately 30%.
I also took the necessary DEQ compliance samples and took care of regular maintenance issues while there. Aside from the high demand, everything else seems to be normal.
Regards, Warren Drake
—
Water Usage Jan 9, 2022
In the past few days our water usage has jumped to over 61,000 gallons per day. In November we were consistently around the 27,000 gallons per day. I am thinking a water line has frozen and broke somewhere in town. Please let me know if someone hears or suspects major water leaks. – Steve Holloway
—
We are still under a Boil Order. Please conserve water.
DRINKING WATER WARNING February 10, 2022
Yellow Pine Water Users PWS 4430059 BOIL WATER ADVISORY Due to insufficient treatment
We routinely monitor the conditions in the drinking water distribution system. On 4-19-2020 we experienced a period of insufficient treatment due to extreme water demand which exceeded the capacity of the treatment system. A drop in water pressure is a signal of the existence of conditions that could allow contamination to enter the distribution system through backflow, by backpressure, or back-siphonage. As a result, there is an increased chance that the drinking water may contain disease-causing organisms.
What should I do?
* DO NOT DRINK THE WATER WITHOUT BOILING IT FIRST.
Bring all water to a boil, let it boil for one minute, and let it cool before using, or use bottled water. Boiled or bottled water should be used for drinking, making ice, brushing teeth, washing dishes, and food preparation until further notice. Boiling kills bacteria and other organisms in the water.
* Inadequately treated water may contain disease-causing organisms. These organisms include bacteria, viruses, and parasites, which can cause nausea, cramps, diarrhea, and associated headaches.
* The symptoms above are caused by many types of organisms. If you experience any of these symptoms and they persist, you may want to seek medical advice. People at increased risk should seek advice about drinking water from their health care providers.
What is being done?
Efforts are under way to curtail water use. Once water use is diminished, the water treatment system will again be operational and the boil water order can be lifted
We will inform you when you no longer need to boil your water. We anticipate resolving the problem within 365 days.
For more information, please contact Warren at 208-573-6261 or wdrake @ drakediversified.com
Please share this information with all the other people who drink this water, especially those who may not have received this notice directly (for example, people in apartments, nursing homes, schools, and businesses). You can do this by posting this notice in a public place or distributing copies by hand or mail.
This notice is being sent to you by Yellow Pine Water Users Assoc.
PWS ID #: 4430059. Date distributed: 2-10-22.
—
Water Conservation Tips
1. Turn OFF the tap when you brush your teeth
Pretty much everyone runs the tap whilst brushing their teeth, when in fact you only need water at the beginning and the end (to wet the brush and rinse it).
2. Try and conserve water when using the toilet
We've heard a simple saying for this "If it's yellow, let it mellow. If it's brown flush it down".
Also don't use the toilet as a bin, every time you throw a small bit of trash and flush the toilet 5 gallons is gone.
3. Shorten your shower and turn it off when you can
You can also turn the shower off in between, wet yourself, lather up then turn the water off. When you're ready turn it on and rinse off.
4. If you have any dripping taps – FIX THEM.
A single dripping tap can waste 4 gallons of water a day (or more) or 1450 gallons of water a year.
—
YPWUA 2021 Annual Shareholder Meeting July 4, 2021 at the Community Hall at 10am. Link: to 20210704 YPWUA minutes
YPWUA 2020 Annual Shareholder Meeting held July 5, 2020 at the Community Hall 2pm. link: to 20200705 YPWUA minutes
Water Board:
Steve Holloway
Willie Sullivan
Dawn Brown
Stu Edwards
Candy Hardisty
— — — —
VYPA News:
Sept 11, 2021 – VYPA Meeting minutes link:
Aug 14, 2021 VYPA Meeting Canceled (lack of quorum.)
July 10, 2021 VYPA meeting minutes link:
June 12, 2021 VYPA Meeting Minutes link:
VYPA Meetings are the 2nd Saturday of June, July, August, and September at 2:00pm at the Community Hall.
Village Council members:
Chairman – vacant
Vice Chairman – Josh Jones
Treasurer – Ronda Rogers
Secretary – Hailey Harris
Member-at-large – Rhonda Egbert
Cemetery Committee:
Ron Basabe
Marj Fields
Ron Earl
VYPA Bylaws adopted 8/8/2020 (link)
YPAC Corp Bylaws (link)
— — — —
YPFD News:
If you have an emergency, please call 911
Special Meeting of the Board of YPFPD Commissioners
Yellow Pine Fire Protection District (YPFPD), Valley County, Idaho
Meeting Notes, 24th day of February 2022, at 10:00 a.m. at Community Hall
Attendees: Fire Commissioners Bill McIntosh, Tom Lanham, Lorinne Munn. Meeting called to order at 10:01 a.m. by Chairman Bill McIntosh.
To add an item to the Agenda of the need to purchase replacement batteries for Defibrillators located at the Tavern and Corner a motion was made by Lorinne seconded by Tom unanimously voted by Bill, Tom and Lorinne to add the item to the Agenda. Agenda approval motion was made by Lorinne seconded by Tom, unanimously voted to approve the Agenda by Bill, Tom and Lorinne.
First Action Item addressed. Idaho State Fire Commissioners' Association 2022 40th Annual Conference March 24-27 at the Riverside Hotel in Boise. Tom made a motion for the Fire Department to pay the annual membership fee of $50.00 to qualify for the Member District discount to attend the Conference. Motion seconded by Lorinne. Unanimously voted to approve the motion by Bill, Tom and Lorinne.
Bill made a motion for the Fire Department to provide the funds for 6 attendees for the Friday March 25th Session. He had conferred with Chris Hinkle, in charge of the Boise Area registration that Friday should be required of our Fire Department: the Commissioners and Staff. So it was identified that Tim, Rhonda, Ron, Tom, Bill, Lorinne should go. A total of $900.00 at $150.00 apiece. Tom seconded the motion and it was unanimously voted to approve the motion by Bill, Tom and Lorinne.
Tom made a motion for the Fire Department to provide the funds for 2 overnight stays at the Riverside Hotel 2900 W. Chinden, Boise (208) 343-1871 for Bill, Tim and Rhonda, and Ron if necessary. Tom and Lorinne do not need these accommodations. The cost for this is $882.00 at $147.00 each night for a room. The motion was seconded by Lorinne and it was unanimously voted to approve the motion by Bill, Tom and Lorinne.
Lorinne wants to attend the Saturday Session and offered to pay the $150.00 for it. Tom said he may want to attend and would also pay. Tim and Rhonda might also benefit. Lorinne made a motion for the Fire Department to pay the total of $600.00 or $150.00 apiece if Lorinne, Tom, Tim, Rhonda should wish to attend Saturday. Tom seconded the motion and it was unanimously voted to approve the motion by Bill, Tom and Lorinne.
Tom made a motion to approve the total bill of $2432.00. It was determined we have a balance of $25,535.91 per our last Meeting Minutes of January 30, 2022. Bill seconded the motion and it was unanimously voted to approve the motion by Bill, Tom and Lorinne.
The second agenda item was brought up and a motion made by Lorinne to purchase from Fire Department Funds replacement batteries at $175.00 apiece or total of $350.00 for the Defibrillators located at the Tavern and Corner. Bill seconded the motion and it was unanimously voted to approve the motion by Bill, Tom and Lorinne.
A motion was made by Bill to adjourn the meeting. The motion seconded by Tom and unanimously voted to adjourn by Bill, Tom and Lorinne. Meeting adjourned at 10:34 a.m. by Chairman Bill McIntosh.
Minutes submitted by Lorinne N. Munn/District 1 Fire Commissioner and temporary acting Secretary
link to minutes:
—
Response to Yellow Pine Fire District Open Meeting Complaints from Valley County Prosecuting Attorney's Office, dated February 10, 2022
link:
—
Meeting Minutes
January 30, 2022 Fire Commissioners Meeting Link:
Jan 10, 2022 YPFD Special Meeting Link:
Jan 9, 2022 YPFD Special Meeting (no minutes yet.)
November 23, 2021 Special meeting Link:
November 8, 2021 AAR Report (Hopeless) Link:
October 31, 2021 Special meeting Link:
October 14, 2021 Special meeting Link:
September 27, 2021 Special meeting Link:
September 18, 2021 Special meeting Link:
Sept 11, 2021 YPFD Budget meeting Link:
Aug 28, 2021 – YPFD Meeting to discuss election (no notes taken.)
July 10, 2021 – YPFD Meeting Minutes. Link:
June 12, 2021 – YPFD Meeting Minutes. Link:
May 15, 2021 – YPFD Meeting Minutes. Link:
Sept 30, 2020 YPFD budget meeting. (No minutes yet.)
If you are burning any piles of forest litter and debris – please have a connected and charged garden hose that can reach your piles. If your hose cannot reach where you are burning, follow the good advice of having a shovel, axe, and water bucket at the scene. Rake away from anything that could ignite. Stop burning if winds become an issue. Make sure your fire is out before you leave the area. Nothing like getting surprised by an escaped fire in the middle of the night!
Better yet, "Rake It and Take It" your yard waste (limbs, pine needles, brush, etc.) to the burn pile at the Transfer Station on the south end of the turn-around. Remember, keep the pile neat. Woody debris only, no nails, no cardboard and no furniture! The Boise NF will burn the pile in the fall when it is safe.
Yellow Pine Fire Protection District Community Service Notice
The purpose of this letter is to show how you as a Yellow Pine Resident can help protect your structure against a wildland fire by being "Fire Wise." Click the link: to view 20190724 Yellow Pine Fire Protection mitigation
Valley County Wildfire Evacuation Checklist
A wildfire evacuation checklist that property owners in the Yellow Pine area might find useful. link: Valley County Evacuation Checklist – 2021
YPFD COVID19 Policy
link: YPFD Covid-19 SOP
link: Covid-19 EMS
Fire Chief: Tim Rogers 208-633-2005
Assistant Fire Chief: Ron Basabe 208-633-9001
YP Fire Commissioners:
Lorinne Munn – District 1
Tom Lanham – District 2
Bill McIntosh – District 3
Secretary/Treasurer – Ronda Rogers
2022 Meeting Schedule:
January 30, 2022, Sunday at 2pm
March 27, 2022, Sunday at 2pm
May 29, 2022, Sunday at 2pm
September 11, 2022, Sunday at 2pm Budget Meeting
November 27, 2022, Sunday at 2pm
——–
Biz Listings:
The Corner (208) 633-3325 Facebook Page
Winter hours:
Open Wednesday 11-6
Fridays 11-9
Saturdays 9-6
Sunday's 10-6
Closed Monday, Tuesday and Thursday
Exceptions are by appointment and we'll be open on Mondays of Holiday weekends.
— — — —
Yellow Pine Tavern (208) 633-2233 Facebook Page
Winter Hours at the Tavern
Open Mon, Wed, Fri & Sat: 9am-2pm 4pm-8pm
Open Sunday 9am-2pm
Closed Tues & Thurs
Call the Tavern 208 633-2233 or Cell 208 739-7086 for other arrangements
Full Breakfast Menu. Burgers, Pizza, Fajitas, Beer Wine and Pop
— — — —
Yellow Pine General Store and Motel (208) 633-3300
Website Facebook page
The Yellow Pine General Store will be observing new Winter Hours. We will be officially open on Wednesday, Friday, and Saturday 11am-4pm. Josh or Christy are in town on the off days and will be available to open the store as needed. Their contact information is posted on the front door of the store if you need to reach either of them locally. The motel rooms and the laundry room are still available 7 days per week. Store phone: 208-633-3300 Email:
— — — —
Yellow Pine Lodge (208) 633-3377
Closed for the winter.
— — — —
Murph's RV Park and Mary's Cabins
FB page link
— — — —
Local Color Photography
Website
Facebook page
— — — —
Knotty Kat Crochet Works – 509-406-2221
FB page
Open Tue – Sat, 9-5
Yellow Pine eggs $3/doz
— — — —
Buck Horn Outfitters LLC 208-633-3614
Our Elk & Deer hunts are booked for our 2021 season, we do have a couple openings for our 2022 Elk & Deer hunts. We Also have a couple openings for Mountain Lion hunts December 2021 through February 2022 and Spring Bear hunts May of 2022. Please see our Website site for further details.
Tom & Sarah Lanham
156 Yellow Pine Ave, Yellow Pine Id 83677
website:
Facebook:
Wapiti Meadow Ranch – Johnson Creek (208) 633-3217
or 208-315-3554 – cabin rentals
website:
Big Creek Lodge
website:
Deadwood Outfitters
website:
— — — —
Local Fuel Suppliers
Amerigas Phone: (208) 452-4361
Ed Staub & Sons Phone: (208) 634-3833
Diamond Fuel & Feed Phone: (208) 382-4430
— — — —
Outside Biz that will service Yellow Pine:
Arnold Aviation (208) 382-4844
Watkins Pharmacy Cascade (208) 382-4204
Call your doctor and have your Rx transferred until Watikns can rebuild.
Cascade Auto (208) 382-4224
Cascade Vet Clinic (208) 382-4590
The Star-News


click to subscribe:
Please help support local journalism and subscribe.
A reminder that those who live in other states can subscribe to the online edition only since the mail can take days for hard copy to reach them.
Rocky Mountain Mechanical – Plumbing – Heating – Air conditioning
(208) 365-PIPE (7473), Emmett, will service Yellow Pine
Website:
— — — —
Follow The Yellow Pine Times on Facebook (updated more often than emails)
———————–
Local Observations:
Monday (Feb 21) overnight low of 14 degrees. Yesterday's snow tally 1 1/5″ (SWE=0.15″) and an average of 22″ on the ground. This morning light snow 950am-1050am out of a mostly clear sky and 19 degrees. Lots of fox tracks. Pine squirrel, hairy woodpecker, nuthatch and jays visiting. Getting a little breezy before lunch time, then partly cloudy at lunch time. Breezy and overcast by early afternoon. Overcast, breezy and below freezing mid-afternoon and snowing lightly, high of 33 degrees. Socked in to the valley floor and snowing pretty good at dusk and calmer. Still snowing after dark and stacking up. Fox visiting. Stopped snowing before midnight.
Tuesday (Feb 22) overnight low of 8 degrees. Yesterday's snow tally 1 3/4″ (SWE=0.09″) and an average of 23″ on the ground. This morning mostly high thin haze, light breeze and 15 degrees at 10am. Helicopter flying around and around to the north east. Snowmobile traffic. Pine squirrel, jays, nuthatches and dark-eyed juncos visiting. Getting breezy before lunch time. Breaks in the (thicker) clouds mid-day and light breezes. Helicopter made another pass around 1225pm and again at 130pm. Short snow flurry around 140pm. Overcast, cold and light breeze mid-afternoon, high of 24 degrees. Mostly clear at dusk, cold light breeze and temperature down into the teens. Appeared to be clear before midnight.
Wednesday (Feb 23) overnight low of -11 degrees. Recorded a "Trace" from the little snow flurry yesterday. This morning clear sky, -8 degrees at sunrise and an average of 23″ snow on the ground. Where the ground has been shoveled and gets sun, Frost Flowers "blooming." Jays active, hairy woodpecker calling, downy woodpecker and pine squirrel visiting. Bright sunshine and clear sky at lunch time. Mail truck was on time and no troubles reported, but watch for rocks. Getting a little breezy early afternoon and still below freezing. Almost clear mid-afternoon (a few small "cotton ball" clouds over VanMeter) cold and breezy, high of 26 degrees. Clear sky at dusk, calmer and temperature in the teens. Mostly clear before midnight and getting cold. Light snow fell before sunrise.
Thursday (Feb 24) 24 hour low of -8 degrees from Wednesday morning. This morning overcast and fine light snow falling, by 10am a fat 1/4″ (SWE0.03″), 13 degrees and an average of 23″ on the ground. Junco tracks in the new snow, jays, pine squirrel, red-breasted nuthatches, hairy and downy woodpeckers visiting. Stopped snowing just after lunch time and overcast. Breezy at times early afternoon. Overcast mid-afternoon, below freezing and light cold breeze, high of 25 degrees. Thinning clouds and patches of hazy clear sky at dusk, temperature in the teens and a cold light breeze. Lots of stars out before midnight.
Friday (Feb 25) overnight low of -11 degrees. Yesterday's snow was just a Trace, and an average 23″ on the ground. This morning at 10am clear very blue sky and -6 degrees. A few juncos, red-breasted nuthatch, downy woodpecker, pine squirrel and several jays visiting. Snowmobile traffic. Clear sky at lunch time. Clear blue sky and just a hair below freezing mid-afternoon, high of 31.8F and slight cold breeze. Snowmobile traffic. Clear and cold at dusk. Snowmobile traffic. Lots of stars before midnight. Hazy after midnight and down to zero F.
Saturday (Feb 26) 24 hour low of -6 degrees from Friday. This morning at 10am 1 degree, clear sky, slight breeze and an average of 23″ snow on the ground. Snowmobile traffic. Fresh fox tracks. Jays, juncos, nuthatches and pine squirrel visiting. A little thin haze in a mostly clear sky at lunch time. Mostly hazy mid-afternoon and warmer with a slight breeze, high of 43 degrees. Mostly clear at sunset and below freezing. Lots of stars out before midnight. Snowing before sunrise.
Sunday (Feb 27) started snowing early morning, 24 hour low of 1 degree from Saturday. This morning it was 18 degrees at sunrise, low overcast, slight breeze and steady snowfall, measured 7/8″ new snow so far (SWE=0.04″) and an average of 23″ on the ground. Raven calling to the north, jays, juncos, nuthatches and pine squirrel visiting. Stopped snowing by lunch time, likely 1/8″ then melting. Small airplane flying over at 258pm. Overcast, breezy and a few drops of rain mid-afternoon, high of 37 degrees. Overcast, clouds sitting down on top of VanMeter and misting at dusk.
—————-
Idaho News:
COVID-19 Updates: 2,051 new Idaho COVID-19 cases, 8 new deaths
Feb 25, 2022 Local News 8
Idaho officials reported 2,051 new COVID-19 cases and 8 new deaths Friday.
That brings the total confirmed and probable cases reported since March 2020 to 423,638.
The state reports data for the most recent 2-week period are incomplete. Due to the recent surge in cases, approximately 17,000 outstanding positive laboratory results are pending local public health district review and follow-up.
There are a total of 332,088 confirmed cases and 91,550 probable cases in all 44 of the 44 counties in Idaho, according to numbers released from the local health districts and the state.
The state said 106,615 people have received one dose of a two dose series, and 392,833 people have received an additional or booster dose. 2,285,108 total doses have been administered. 921,690 people are fully vaccinated.
The state said 35 new hospitalizations have been reported bringing the total number to 15,702 and 10 new cases have been admitted to the ICU bringing the total to 2,663.
8 new deaths were reported bringing the total recorded deaths to 4,730.
full story: [Valley County 2,470 cases, 16 deaths.]
— — — —
New Valley County COVID-19 cases keep falling
13th death in county confirmed from virus
By Tom Grote The Star-News February 24, 2022
New cases of COVID-19 reported in Valley County last week continued to fall, according to the county's two hospitals.
A total of 17 new cases were reported by the county's two hospitals, down from the 22 new cases the previous week and down from 62 cases the prior week.
The two hospitals have reported 2,644 cases of COVID-19 since the pandemic started nearly two years ago.
A 13th death in Valley County confirmed from COVID-19 was reported this week by Central District Health. No details were a available.
Three other deaths in Valley County have been ruled as "probable" from the virus.
Clinics & Tests
St. Luke's Clinic – Payette Lakes Family Medicine is now offering the Moderna COVID-19 vaccine and boosters to anyone age 18 and older. Pfizer-BioNTech vaccines continue to be offered for anyone age 5 and older.
Also available are Pfizer-BioNTech COVID-19 vaccine boosters for ages 12 to 15 and to moderately or severely immunocompromised youths age 5 to 11.
Pfizer vaccines are offered on Monday, Tuesday, Thursday and Fridays. The Moderna vaccine is offered on Wednesdays only.
Those wanting to get a vaccination can schedule through MyChart at (link) or call 208-381-9500.
Parents of minors should create a MyChart for eligible children and set up proxy access. Instructions are available at (link).
Walk-ins are welcome Monday through Friday, 8 a.m. to 5 p.m., for adults who are seeking their initial COVID-19 vaccine dose only.
St. Luke's McCall and Cascade Medical Center have take-home COVID-19 tests available. The saliva-based test offers results for COVID-19 in two to three days.
The Cascade hospital is also providing free at-home COVID-19 antigen tests, which allow people to do more testing without coming into the hospital.
The tests can be picked up at the main entrance to St. Luke's McCall at 1000 State St. in McCall or at the clinic at Cascade Medical Center at 402 Lake Cascade Pkwy in Cascade.
Cascade Medical Center offers a walk-in vaccination clinic from 8 a.m. to 5 p.m. on Tuesdays, Wednesdays and Thursdays.
The Moderna vaccine for those age 18 and older is available on Tuesdays and Thursdays along with the Moderna booster.
The Pfizer vaccine for those ages 5 and older is available in Cascade on Wednesdays.
full story: © Copyright 2009-2021 Central Idaho Publishing Inc. All rights reserved (used with permission.)
— — — — — — — — — —
Need help paying utilities during the cold? There are local resources available
by Kristen McPeek Wednesday, February 23rd 2022 CBS2
According to the US Energy Information Administration, Idaho and Washington have the least expensive electricity costs.
Although these costs are comparatively low, people still need help paying those power bills right now.
There are a few places people can get help here in the Treasure Valley:
Idaho Department of Health and Welfare has a 'low-income home energy assistance program.' This includes Home Weatherization Assistance and Telephone Assistance. There are certain criteria that need to be met to get the assistance on a first-come-first-serve basis. There is also crisis heating assistance that aims to be solved within 48 hours.
[Note: In Valley County, contact WICAP (link)]
continued:
— — — — — — — — — —
This is one of Boise's driest Februarys, NWS says
by CBS2 News Staff Friday, February 25th 2022
It's a dry, dry February according to the National Weather Service in Boise.
"Total precipitation so far this February is 0.08 inch. If no more precipitation falls before March 1, it will be the driest February ever at the airport, and it will be the second driest February since records began in 1878."
Officials say the driest February was in 1889 where Idaho only received 0.04 inches.
Note: Yellow Pine Feb precipitation as of Feb 27th:
Water: 0.74″ Snow: 9.7″
February Precipitation History:
Year: Water / Snow
2021: 2.91″ / 35.8″
2020: 3.33″ / 43.7″
2019: 4.21″ / 38.2″
2018: 1.43″ / 12.0″
2017: 6.27″ / 10.0″
2016: 1.70″ / 6.7″
2015: 2.05″ / 1.5″
2014: 3.05″ / 24.8″
2013: 0.69″ / 9.1″
2012: 1.97″ / 12.5″
2011: 1.56″ / 13.9″
2010: 0.60″ / 3.5″
——————–
Scam Alert:
Ada County plagued by 'jury duty,' 'fake arrest warrant' phone scams
by CBS2 News Staff Thursday, February 24th 2022
Ada County continues to be plagued by scammers pretending to be local officials and telling them about future jury duty or an active arrest warrant on their name.
"Ada County Sheriff's Office deputies will never call and threaten to arrest you because you have an outstanding arrest warrant — or civil judgment — or have a tax bill due — or missed jury duty — or anything like that," Ada County Sheriff's Office says.
Giving out sensitive information over the phone — both personal and financial — can put you at risk for fraud.
Some scammers will call and tell individuals that they have an active arrest warrant and they need to place funds on a pre-paid card to cancel it.
continued:
————–
Mining News:
Stibnite mine study delayed until summer
Payette review had been due to be released next month
By Drew Dodson The Star-News February 24, 2022
The latest federal study of Perpetua Resources' proposed gold and antimony mine near Yellow Pine will not be released until this summer, the Payette National Forest said.
The study was originally set for release in March, but more time was needed to complete water studies and environmental analysis of changes proposed by Perpetua, Payette spokesperson Brian Harris said.
"There are important environmental aspects that need to be reviewed extensively, and we need to take the time necessary to do that," Harris said.
The study will focus on an updated mining plan submitted by Perpetua in December 2020, or four months after the Payette's original environmental study was released.
"We are eager to show how our improvements are designed to leave water quality and overall habitat in this historic mining district in better shape than they are in today," Perpetua President Laurel Sayer said.
A public comment period will follow the release of the study, but the length of the comment period is still to be determined, Harris said.
The public comments will help determine if a final decision on the project will be delayed, Harris said. A decision is currently projected for June 2023.
The changes to the mining plan reduce the size of the project and go beyond previous plans to protect water quality in the Stibnite area after the mine is closed, according to Perpetua.
The changes were made in response to additional analysis and over 11,000 public comments submitted on the Payette's original study, said Mckinsey Lyon, a Perpetua spokesperson.
Hangar Flats
Perpetua's updated mining plan would reduce the size of the proposed Hangar Flats pit, one of three open pit mines planned at Stibnite, from 140 acres to 66 acres, or by about 53%.
That would improve water quality and fish habitat by allowing the pit to be lined and filled with rock after mining. The new plan would eliminate a lake previously proposed for Hangar Flats.
Water studies in the Payette's draft study released last August showed exposed rock in the pit walls would leach toxic metals in the lake water and could require permanent water treatment.
Re-filling the Hangar Flats Pit with 18 million tons of waste rock would eliminate the need to pile the rock on 168 acres in the mostly undisturbed Fiddle Creek Drainage, under Perpetua's new plan.
The Fiddle waste rock site would have required permanent water treatment to remove toxic metals from water seeping through the waste rock, according to the Payette's original study.
Stibnite Lake
The updated plan would also create Stibnite Lake within the historic Yellow Pine Pit, which is currently a pit lake that Perpetua would drain to mine the highest-grade ore in the Stibnite deposits.
The pit would be partially re-filled with waste rock, re-shaped and then lined to prevent toxic metals from contaminating the lake, through which the East Fork South Fork Salmon River would flow.
Stibnite Lake would lower downstream water temperatures in the East Fork and improve fish habitat at the Yellow Pine pit lake, the most prominent remnant of historic mining at Stibnite, Perpetua claims.
Perpetua's previous mining plans would have filled the pit with rock after mining and re-established the East Fork in a lined channel over the site with no lake.
The updated plan would also reduce the amount of toxic arsenic left in the mine's tailings, or the slurry left over after gold and silver is removed from rock.
The changes would allow water treatment at the site to end about 25 years after mining instead of being needed indefinitely, according to Perpetua.
Two Plans
Perpetua's updated plan is one of two versions of the project currently being studied by the Payette.
The other plan would route mine traffic through Yellow Pine using Johnson Creek Road instead of building 13.5 miles of new roads to Stibnite.
The route used in Perpetua's updated plan would cross undisturbed Forest Service land, but would pose less risk of spills contaminating waterways, the Payette's original study said.
source: © Copyright 2009-2021 Central Idaho Publishing Inc. All rights reserved (used with permission.)
— — — —
Background: Perpetua has been working to mine Stibnite since 2009
By Drew Dodson The Star-News February 24, 2022
Perpetua Resources' proposed gold and antimony mine is located in the Stibnite Mining District about 40 air miles east of McCall.
Exploration of the Stibnite Mining District began with drilling in 2009. Since then, Perpetua has spent more than $250 million studying the mine site and collecting environmental data.
Perpetua, formerly known as Midas Gold, hopes to extract about $6 billion in gold and other minerals from Stibnite, the site of historic mining operations during World War II and as far back as 1899.
Perpetua needs approval on 50 different permits from local, state and federal agencies before mining can begin. Approval could come as soon as June 2023.
The Boise company's original mining proposal was submitted in 2016 and is currently being reviewed by the Payette National Forest, the lead permitting agency.
Approval of the project would trigger a three-year construction phase that Perpetua estimates would cost about $1.26 billion, followed by 12 to 15 years of mining.
Gold, silver and antimony would be extracted from three open pit mines totaling about 473 acres.
An on-site ore processing facility would then remove gold and silver from about 20,000 tons of rock per day in a contained cyanide circuit, according to Perpetua's operating plan.
The mine is expected to produce 100 million pounds of antimony and 4 million ounces of gold, which is expected to account for 94% of the mine's estimated $6 billion in lifetime revenue.
Stibnite would become the only U.S. source of antimony and would supply an estimated 30% of the annual demand for the mineral in the United States, according to Perpetua.
Antimony is used in the renewable energy industry and to make flame-proofing materials, paint, glass, defense munitions and ceramics.
source: © Copyright 2009-2021 Central Idaho Publishing Inc. All rights reserved (used with permission.)
—————–
Tips & Advice:
Are you prepared for a power outage?
Feb 21, 2022 Local News 8
Power outages can occur anytime due to factors such as storms, animals and accidents.
When outages occur, you don't know how long the power will be out, so it's important to be prepared for both before the outage and during the outage.
Idaho Falls Power suggests the following:
continued:
— — — — — — — — — —
Take immediate measures to prevent frozen waterlines
Feb 22, 2022 Local News 8
… If pipes do freeze, do not use a torch to thaw the pipes. Applying too much heat too fast can cause the ice inside the pipe to fracture and rupture. Rather, safely use a hairdryer, space heater, or rags soaked in warm water to gradually warm the frozen pipe until a little flow of cold water is restored to the faucets.
"Space heaters should be used with extreme caution, in a well ventilated area, and according to the manufacturer's guidelines," Idaho Falls Fire Marshal Scott Grimmett said. "We've responded to several structure fires this year caused by inappropriate use of space heaters. They should always be placed at least 3 feet away from anything combustible. Purchase a model that automatically shuts off if tipped over, and never leave a space heater unattended while in use."
full story:
—————-
Public Lands:
IDL asks Legislature to allow hazard pay for its wildland firefighters
By Anna Azallion Feb 24, 2022 KIVI
Yet another state agency is facing staffing challenges and drought conditions aren't helping.
Earlier this month we told you about the possibility of a multi-year drought in Idaho, which could increase wildfire risks.
Now, the Idaho Department of Lands is hoping a new bill will help address staffing challenges on the firelines.
IDL manages the state's endowment land, which makes money for Idaho's public schools and other beneficiaries. Managing this land includes fighting wildfires on private, state and federal land. The department is asking for help from the state to make sure they're equipped to handle this.
continued:
—————
Critter News:
Reminder: Clean up after your pet on public trails
Feb 23, 2022 Local News 8
… Cleaning up after our fur friends not only preserves the beauty of our natural environment, but it also protects human health, dog health, and our waters. Erskine says that Emily's Pond and Cache Creek are especially susceptible to watershed contamination from animal waste.
Many diseases are also transferred between dogs through fecal matter/oral transmission, such as intestinal parasites like roundworms and hookworms. Bacterial and viral infections, such as Parvovirus, can also spread through fecal matter.
Trail etiquette starts with being mindful of sharing public trails with others. When pet fecal matter is not picked up, it can diminish the outdoor experience for others: It smells; it can be stepped in; it is visually unpleasant; it carries diseases. Please be respectful of shared trails by controlling your pet, picking up after them, and properly disposing the bag. Please do not leave a bag behind for others to pick up.
full story:
— — — — — — — — — —
Idaho animal shelter sees increase in animals suffering from botched home treatments
by CBS2 News Staff Wednesday, February 23rd 2022
West Valley Humane Society says they've seen an uptick in animals who are in pain from being treated by someone without the proper experience.
"We have been seeing an increased number of 'home medical treatment' cases at the shelter," WVHS says. "These animals are being medically 'treated' at home with no veterinary supervision and unfortunately are suffering as a result."
The Caldwell animal shelter shared two recent cases of this.
continued:
— — — — — — — — — —
'Keep wildlife wild': Feeding wildlife can do more harm than good
By Lynsey Amundson Feb 25, 2022 KIVI
'Keep wildlife wild.' That is Idaho Fish and Game's message to Idahoans after a recent problem they've seen with people feeding wildlife.
"These animals have survived without us for a long time, and they can get through winter without our help," Roger Phillips, IDFG Public Information Supervisor said. "They survive on their fat stores and they can last quite a while."
In McCall, deer have no fear of visitors interested in feeding them. The deer were not scared of humans and were taking food right out of their hands. IDFG said this is a problem and no matter how cute people think they may be, feeding wild animals is not acceptable.
continued:
— — — — — — — — — —
Young hatchery sturgeon tested before release into Snake River in Magic Valley
Sturgeon raised at the Niagara Springs Sturgeon Hatchery are almost ready to be stocked in the Snake River.
KTVB Staff February 25, 2022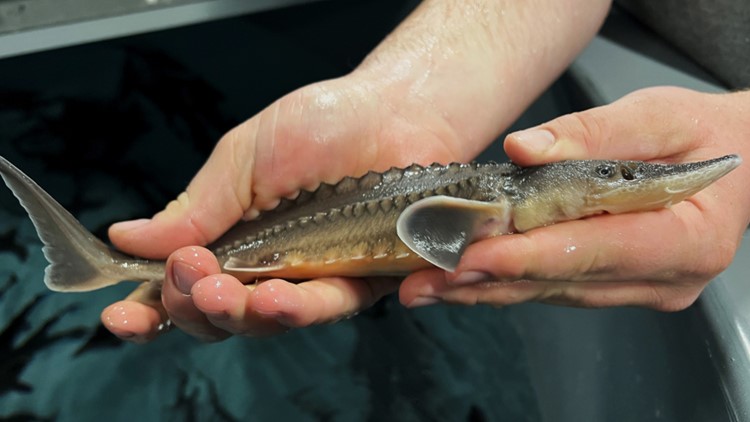 Credit: Terry Thompson/Idaho Fish and Game
Young white sturgeon raised in the new Niagara Springs Sturgeon Hatchery south of Wendell will soon be stocked into the Snake River in South Central Idaho. Before releasing the fish, the Idaho Department of Fish and Game and Idaho Power test them to make sure they're capable of reproducing.
IDFG said the white sturgeon are unique from typical hatchery fish, which are typically sterile when they're stocked so they can't spawn with wild fish. The main goal of sturgeon conservation efforts at the Niagara Springs hatchery is to ensure sturgeon populations in the Snake River can continue to support recreational fishing.
Eggs for the hatchery program are collected from naturally spawning sturgeon between Bliss Dam and CJ Strike Reservoir, then brought back to the hatchery to be reared for one year.
continued:
—————-
Letter to Share:
Hello from The Gamebird Foundation!
We at The Gamebird Foundation have so many folks to thank for the pheasants, Red-leg Chukars and the many other birds that you are seeing this tough winter and spring. The very important membership of this group; those that raise the chicks, build the brooders and the other equipment, and those that cannot raise chicks, but dig down deep in their pockets to help buy the feed and supplies to get birds from day old chicks to adult birds that we release into some of the best habitat that is provided by farmers and landowners for the birds to survive in for the public enjoyment.
We want to thank IDFG for purchasing the chicks for TGBF to raise and release for the benefit of us and the many others. TGBF had a great fall working with youth and their mentors on our Youth Access Yes area where all can come and enjoy viewing pheasants, taking some of the best photos that you can get in the wild. Kids and parents getting to handle live birds and turning them loose. Being able to visit with young hunters and their mentors, just the excitement that is generated by the hunt and the birds, some hunting with great dogs, some just enjoying a great hike.
IDFG purchased about 450 live rooster pheasants for TGBF to work with youth to release and hunt. We hope to have more Access areas for youth and their mentors this next year. We had sportsmen and women donate and loan TGBF 20 gauge shotguns so that we could help some of the kids get started hunting. Those folks also really need to be thanked. To our knowledge every youth that had the use of a loner gun now are a proud owner of their own, thanks to some parents, grandparents, uncles and just good folks that stepped up and donated a gun for a kid.
TGBF really thanks our State and corporate sponsors. These folks are really stepping up and have been a big help getting TGBF going. Potlatch Deltic Corp. CCI/Speers. Whiteman lumber. Cabalas Sporting stores. Idaho Fish and Game. Little Canyon Shooting Sports. The farmers, storage warehouses and seed plot operators that have donated cull grains for maintenance feed for the adult birds that are released.
If you would like to join us to find out more of what TGBF is doing we will meet Tuesday March 8th at The Farm Bureau Board room in Moscow Idaho. 220 farm road. If you need more information you can give us a call or email. We are a 501©3 non-profit corp.
Winter Feed for Winter Survival
The next month is a critical month for survival. Fat reserves are low on most species who have survived the winter.
If you released pheasants or red legged partridge this year or need to help birds in your area, we have some winter feed available for you. Please call to set up a time to pick up your feed, (208)883-3423 or email us.
We are looking forward to another great year and will be contacting all of our bird rearers soon.
Thanks!
The Gamebird Foundation
—————
Fish and Game News:
Shed hunt responsibly to protect big game animals
By Connor Liess, Public Information Specialist
Tuesday, February 22, 2022

James Brower Idaho Fish and Game
Just because snow has melted doesn't mean winter is over for elk and deer
On Feb. 2, Punxsutawney Phil – aka, the fuzzy little varmint that miraculously forecasts the winter-spring transition on Groundhog's Day – indicated there would be six more weeks of winter this year. The bigger takeaway from Mr. Phil is an important reminder that winter is not over for wintering deer and elk, so keep that in mind before you start shed hunting.
Shed hunting is a popular activity and an exciting remedy for cabin fever. Armed with nothing more than a good set of eyes, looking for a deer or elk's shed antlers in late-winter and early-spring is a highly accessible hobby for those squirming like birddogs for the next outdoor adventure.
Shed hunting is accessible for all types of folks, hunters and nonhunters, youngsters, etc. You can bring your friends, your family and enjoy a day outdoors and maybe come home with a natural prize.
continued:
— — — — — — — — — —
F&G seeking information about mule deer illegally killed in Boise
By Brian Pearson, Regional Communications Manager
Thursday, February 24, 2022
Fish and Game conservation officers are asking the public for information regarding a two-point mule deer buck that was illegally killed in Boise on February 12, 2022.
Fish and Game conservation officer Joshua Leal responded to a report of a dead deer on Goddard St., near Capital High School, on the morning of February 13. Evidence collected at the scene and during a necropsy led officers to believe that the animal was illegally shot sometime the night before.
"This deer was shot near the high school and in an area that is surrounded by residences and frequently has a lot of vehicle traffic," Leal said. "We are asking people who may have seen suspicious activity around Capital High School on the night of Feb. 12 to contact us with that information."
continued:
— — — — — — — — — —
Lake Cascade and Payette Lake ice conditions – Feb. 23, 2022
By Mike Thomas, Regional Fisheries Biologist
Thursday, February 24, 2022
On Wednesday, February 23 we checked conditions on Cascade and Payette Lakes. Surface and ice conditions remain favorable for travel on both lakes. However, on Payette Lake, surface conditions have become slightly less favorable with a layer of slush forming over the ice. Snow is forecasted later this week which may change current conditions.
Reminder: On Lake Cascade, we do not recommend using wheeled ATVs or UTVs due to unpredictable slush development and on Payette Lake we do not recommend any motorized forms of travel.
continued:
— — — — — — — — — —
More F&G News Releases
link:
———————————-
Crazy Critter Stuff:
Hank the Tank, a 500-pound bear, was blamed for Lake Tahoe break-ins. But DNA evidence tells a different story
By Aya Elamroussi Feb 25, 2022 Local News 8
The massive black bear, known as Hank the Tank and blamed for breaking and entering more than two dozen homes in California's Lake Tahoe area, is no longer the sole suspect, according to officials.
Authorities had believed the 500-pound bear was acting alone as he roamed the streets in the Tahoe Keys area of South Lake Tahoe, about 100 miles east of Sacramento.
But DNA evidence gathered by the California Department of Fish and Wildlife suggests several bears may have been responsible for the break-ins. The statement Thursday did not clarify if Hank was to blame for at least some of the incidents.
"While recent incidents of bears invading homes were originally thought to be a single bear, DNA evidence collected from the most recent incident as well as prior incidents over the past several months prove that at least three bears were responsible for breaking into numerous residences," the statement said.
continued:
—————
Seasonal Humor:

—————