Apr 17, 2022 The Yellow Pine Times – Valley County, Idaho
Reminder: We are still under a boil water order.
Note: If you are not receiving the Yellow Pine Times in your inbox, please check your spam folder.
Community Calendar:
Apr 17, 2020 – Boil water order in effect
Oct 27, 2021 – Transfer Station on Winter Schedule
Nov 1, 2021 – Winter Mail Delivery Starts
2022
Apr 17 – Easter Potluck 2pm The Corner
Apr 29 – Arbor Day
Mar-May – Spring Rx burns
May 5 – Cinco de Mayo party 3pm Community Hall
May 8 – Mother's Day Brunch Community Hall
May 28 – Memorial Potluck 2pm Community Hall
Jul 2 – 4th of July golf tournament
Jul 3 – YPWUA Shareholders Meeting
(details below)
———-
Local Events:
Easter Sunday Potluck April 17th at 2pm
Please join us for Easter Potluck at the Corner. Fried Chicken provided. Please bring your favorite Easter side dish if you would like.
— — — —
Cinco de Mayo May 5th
A Cinco de Mayo party will be held at the Community Hall at 3pm on May 5. The food will be provided by the VYPA Council as an appreciation for our village community.
— — — —
Mother's Day Brunch May 8th
Mother's Day brunch will be held at the Community Hall on Sunday May 8 at 12 noon. Food will be provided. Donations appreciated. All donations will contribute to the village's funds.
— — — —
Memorial Potluck Saturday May 28th
Memorial Potluck at the Community Hall. Burgers and Brats provided. Please bring a side dish if you would like.
Stay tuned for more details…

— — — —
Krassel RD Prescribed Burns Spring 2022
The Krassel Ranger District plans to apply fire to approximately 2,500 acres within the Bald Hill project area (east of Yellow Pine); 2,000 acres in the Four Mile project area along the South Fork of the Salmon River near the Miners peak trail, and 70 acres around Krassel Work Center.
Ignitions may occur over 2-7 days in the months of March through May Flame, smoke and hazards may be present in the area until significant precipitation or season ending weather is received. If you have any questions or comments please contact Dave Hogen Krassel District Ranger at 208-634-0600


(Same map from last fall.)
— — — —
Golf Tournament July 2nd
The annual 4th of July golf tournament will be on Saturday, July 2nd at 10(ish). All proceeds will be used to improve the golf course (improving the greens, signs and tees. More information to follow. Contact Joel or Marj Fields with questions, sponsorships or donations at fieldsmarjie @ yahoo.com

— — — —
YPWUA Shareholders Meeting July 3rd
The yearly shareholders meeting will be Sunday July 3rd at 10am. There will be two positions up for elections.
There has been some question on who can vote and can run for office. You must be a shareholder with the Yellow Pine Water Users Association to be able to vote and run for office. If you have any questions about being a shareholder, please contact me.
Thank you – Steve Holloway
———
Village News:
Snow!
A winter weather advisory was issued for Monday and Tuesday. It snowed all day Monday and all night. By Tuesday morning we had received 8 inches of new snow. The Big Creek SNOTEL site showed 12″ new snow. We received snow on Tuesday amounting to 1 1/4″ by Wednesday morning. Thursday morning's total was 2″, and Friday morning tally was just 1/2″. Early morning snow on Saturday was 1/2″ by 930am and snowed until around 2pm adding a couple more inches. A blizzard Saturday evening added another 1/2″ of snow. Sunday morning we had 5″ on the ground.

Yellow Pine West April 12, 2022 at 1030am courtesy Eye-n-Sky

Doug plowing main street April 13th – courtesy YP Tavern

Yellow Pine North (Elk) April 13, 2022 at 915am courtesy Eye-n-Sky
— — — —
Watkin's Pharmacy update
March 24, 2022: Watkins Pharmacy has not yet finalized plans to open in a new, temporary location and a date for when a new location would open was not set, pharmacy owner Amber Watkins said.
— — — —
Attention Yellow Pine Water Users
You may now apply to WICAP for help with your water bill under the Low Income Household Water Assistance Program (LIHWAP). You may apply for help with your past-due, as well as your current bill.
Application may be made in person at the WICAP office in Cascade, 110 W. Pine St. You may also apply by phone at 208 454-0675, or on-line at wicap.org.
— — — —
Notice – Deadline
In order to have your item posted in that week's paper you must email it in by Noon on Sunday.
A reminder – if your group or business want an event, photo, minutes, news or advertising posted in the Yellow Pine Times, please write what you want posted in text form (for copy/paste) and send it by email. Remember to include the "who, what, when, where and why." Images or groups of images must be under 10 megs per email.
— — — —
Arnold Aviation News:
Customers New Deadline – Please email your shopping list by Sunday evening so they are ready to print early Monday morning.
Attention Mail Route Customers – FedEx Ground has changed their policy, and they will no longer pay for Mail Plane or Truck freight. If you can avoid it, we strongly encourage you to use UPS or USPS to receive packages. If you do order a FedEx Ground package, you will be billed for: Air Freight @ $0.45/lb, or Mail Truck Freight @ $0.05/lb. We are truly sorry this is the case, and are working very hard to make sure you still receive your orders. – Arnold Aviation
— — — —
Road News
Link: to current road reports.
Valley County Road & Bridge Announcements
Road Break-Up Limits in Effect Until further notice, break-up limits are now in effect:
* 7 tons per axle,
* 80,000 lbs maximum
Hwy 55 summer road construction starts March 14, 2022
link:
South Fork Road: As of March 15th the road maintenance reverts back to the Forest Service. Contact PNF Ben Drier 208-634-0770 cell 208-315-7584 or Will Perry 208-634-0767 cell 208-630-3954 for issues with the SF road.
Yellow Pine to Stibnite: Closed to full sized vehicles at the junction with Profile Creek
from Perpetua "As Spring has arrived, snow and ice on the Stibnite road are beginning to melt, leaving some sections of the road bare and others still covered in snow. The road is soft in places so Perpetua Resources crews are minimizing traffic and utilizing UTV's when possible to prevent erosion. Warmer temperatures in the afternoons bring rocks down daily so caution for all travelers is advised. Perpetua Resources crews are vigilant and exercising extra caution to watch out for falling rocks and remove fallen rocks in order to maintain access to Stibnite.
"We also received notice from the County that due to spring melt conditions there will be temporary travel restrictions on Stibnite Road starting week of March 21st. These restrictions are both to keep the road from further damage, reduce erosion and to keep the public safe." – Sam
Upper Johnson Creek road at Landmark, Profile Gap, Lick Creek, Elk Summit, Thunder Mountain and Deadwood roads are closed to wheeled vehicles. These roads are not maintained. Travel at your own risk.
— — — —
Critters
Be Tick Aware
Ticks are out early this year, 1st report Feb 11th.
* After being outdoors check for ticks. Remove any that are attached.
* Tumble any clothing in a hot dryer for 10 minutes. That should kill any ticks left in the clothing.
* When hiking outside where there are ticks, wear long clothing. Tuck the ends of pants into socks.
* Use a bug repellent to shoes, socks and exposed skin.
Be Elk Aware
Elk are hanging around the village, please watch for them on local streets. There have been a couple of near misses reported.
Be Wolf Wary
Report Saturday, Feb 12, wolves howling around the upper end of the village, and two were in a residential yard. F&G confirms there is a pack of 6 wolves in our valley.
* Always keep children nearby and in sight.
* Keep pets leashed and under control.
Be Bear Aware
Bears will be coming out of hibernation soon and hungry.
* Keep trash cans inside a garage or shed until the morning of pick-up.
* Take down bird feeders in the spring.
* Do not store coolers, freezers or refrigerators outside where bears can reach them.
Be Coyote Aware
* Remove or secure attractants, such as pet food, trash or dog feces.
* If you have a potential living food source for coyotes, such as chickens, secure their coops with wire mesh fences at least five feet high.
* Don't leave your dog outside unsupervised.
* If possible, ensure your property boundaries are secure by keeping fences in good repair and letting your dogs out for bathroom breaks only in fenced areas, particularly at night. The American Kennel Club recommends solid fences of at least 6-feet tall, and buried in the ground at least 18 inches, and says that "coyote rollers" can provide additional deterrence.
* If your property is not fenced, turn on outside lights and make noise before letting your dog outside, and consider taking your dog out on a lead for nighttime bathroom breaks.
* Clear away brushy areas around your property that coyotes may see as safe denning or hiding spots.
Be Fox Aware
* Do not feed foxes human food
* Feed domestic pets indoors
* Make sure your pets are updated on Rabies vaccines
* Small pets could become a snack


Photo taken Jan 18, 2021 by AP
Be Cougar Aware
A big cat had been hanging around the upper part of the village this winter. Watch your small pets and do not leave food outside.


photo courtesy NH
— — — —
Yellow Pine US Mail
The 3-day a week mail delivery started November 1st. The Post Office in Yellow Pine is open six days a week year around: M-F 845am-245pm Saturday 9am-245pm. Forever Stamp: 58 cents. Support our local post office and purchase your holiday stamps here.
— — — —
Yellow Pine Transfer Station
Report March 15th: Road from YP to the dump is very slushy. The bins are still fairly empty.
Road plowed March 31st.
Bins dumped March 5th. Please flatten your empty boxes!
Dump update October 27th: We are now in winter mode. When it gets fairly full we will call to have it dumped. Contact Cecil.
Locals have worked hard to clean up the area, please be respectful.
Yellow Pine Transfer Station (aka, the dump)
Please do not abuse our Transfer Station or we may lose it. Household trash must be placed in the bins, flattened cardboard boxes can also go into the bins. Do not stack trash in front of the doors. Woody yard debris only for the burn pile. No furniture, appliances, tires or construction debris allowed, those items must be hauled out to the Donnelly station by you.
The Yellow Pine Transfer Station is Valley County responsibility. If it is not kept tidy, use of the Transfer Station may be revoked. That would result in residents having to take all household trash and yard waste to the Donnelly Transfer Station.
If Dumpsters Are Full, Contact Lake Shore Disposal at: (208) 634-7176
Dump Tips
Do you know where your trash goes after it leaves Yellow Pine?
90 tons per week of Valley Co.'s solid waste comes to the Adams Co. landfill. (Valley Co. has a contract with Adams Co.) When Valley Co.'s weekly trash exceeds 90 tons, the rest is then taken to Payette. The more garbage, the more cost in transferring it further away.
Tips to reduce trash:
1. When purchasing groceries refuse plastic bags as they reek havoc at the Adams Co.'s landfill, causing problems with equipment.
2. Garbage: recyclables, compost, trash
If each household would have containers for these three categories this is the place to start.
– B. Dixon
———-
Local Groups
YPWUA News:
Water Use
| | | | | | | | | |
| --- | --- | --- | --- | --- | --- | --- | --- | --- |
| 04/07/22 | 22671826 | 25412 | 24 | 1059 | 18 | T | 400 | |
| 04/08/22 | 22699624 | 27798 | 24 | 1158 | 19 | F | 2386 | |
| 04/09/22 | 22726981 | 27357 | 24 | 1140 | 19 | S | | 441 |
| 04/10/22 | 22754548 | 27567 | 24 | 1149 | 19 | S | 210 | |
| 04/11/22 | 22781702 | 27154 | 24 | 1131 | 19 | M | | 413 |
| 04/12/22 | 22809564 | 27862 | 24 | 1161 | 19 | T | 708 | |
| 04/13/22 | 22836411 | 26847 | 24 | 1119 | 19 | W | | 1015 |
| 04/14/22 | 22865324 | 28913 | 24 | 1205 | 20 | T | 2066 | |
| 04/15/22 | 22895796 | 30472 | 24 | 1270 | 21 | F | 1559 | |
| 04/16/22 | 22921411 | 25615 | 24 | 1067 | 18 | S | | 4857 |
| 04/17/22 | 22948489 | 27078 | 24 | 1128 | 19 | S | 1463 | |
We are still under a Boil Order. Please conserve water.
DRINKING WATER WARNING April 11, 2022
Yellow Pine Water Users PWS 4430059 BOIL WATER ADVISORY Due to insufficient treatment
We routinely monitor the conditions in the drinking water distribution system. On 4-19-2020 we experienced a period of insufficient treatment due to extreme water demand which exceeded the capacity of the treatment system. A drop in water pressure is a signal of the existence of conditions that could allow contamination to enter the distribution system through backflow, by backpressure, or back-siphonage. As a result, there is an increased chance that the drinking water may contain disease-causing organisms.
What should I do?
* DO NOT DRINK THE WATER WITHOUT BOILING IT FIRST.
Bring all water to a boil, let it boil for one minute, and let it cool before using, or use bottled water. Boiled or bottled water should be used for drinking, making ice, brushing teeth, washing dishes, and food preparation until further notice. Boiling kills bacteria and other organisms in the water.
* Inadequately treated water may contain disease-causing organisms. These organisms include bacteria, viruses, and parasites, which can cause nausea, cramps, diarrhea, and associated headaches.
* The symptoms above are caused by many types of organisms. If you experience any of these symptoms and they persist, you may want to seek medical advice. People at increased risk should seek advice about drinking water from their health care providers.
What is being done?
Efforts are under way to curtail water use. Once water use is diminished, the water treatment system will again be operational and the boil water order can be lifted
We will inform you when you no longer need to boil your water. We anticipate resolving the problem within 365 days.
For more information, please contact Warren at 208-573-6261 or wdrake @ drakediversified.com
Please share this information with all the other people who drink this water, especially those who may not have received this notice directly (for example, people in apartments, nursing homes, schools, and businesses). You can do this by posting this notice in a public place or distributing copies by hand or mail.
This notice is being sent to you by Yellow Pine Water Users Assoc.
PWS ID #: 4430059. Date distributed: 4-11-22.
—
Water Conservation Tips
1. Turn OFF the tap when you brush your teeth
Pretty much everyone runs the tap whilst brushing their teeth, when in fact you only need water at the beginning and the end (to wet the brush and rinse it).
2. Try and conserve water when using the toilet
We've heard a simple saying for this "If it's yellow, let it mellow. If it's brown flush it down".
Also don't use the toilet as a bin, every time you throw a small bit of trash and flush the toilet 5 gallons is gone.
3. Shorten your shower and turn it off when you can
You can also turn the shower off in between, wet yourself, lather up then turn the water off. When you're ready turn it on and rinse off.
4. If you have any dripping taps – FIX THEM.
A single dripping tap can waste 4 gallons of water a day (or more) or 1450 gallons of water a year.
—
YPWUA 2022 Annual Shareholder Meeting July 3rd at 10am.
YPWUA 2021 Annual Shareholder Meeting July 4, 2021 Link: to 20210704 YPWUA minutes
YPWUA 2020 Annual Shareholder Meeting July 5, 2020 link: to 20200705 YPWUA minutes
Water Board:
Steve Holloway
Willie Sullivan
Dawn Brown
Stu Edwards
Candy Hardisty
— — — —
VYPA News:
April 6, 2022 Village Council meeting to fill vacant chairperson position.
Village of Yellow Pine Association:
Hailey Harris, Chairman
Josh Jones, Vice Chairman
Jen Aldrich, Secretary
Ronda Rogers, Treasurer
Rhonda Egbert, Member at Large
Cemetery Committee:
Ron Basabe
Marj Fields
Ron Earl
Sept 11, 2021 – VYPA Meeting minutes link:
Aug 14, 2021 VYPA Meeting Canceled (lack of quorum.)
July 10, 2021 VYPA meeting minutes link:
June 12, 2021 VYPA Meeting Minutes link:
VYPA Meetings are the 2nd Saturday of June, July, August, and September at 2:00pm at the Community Hall.
2022 Meeting dates:
June 11
July 9
August 13
September 10
VYPA Bylaws adopted 8/8/2020 (link)
YPAC Corp Bylaws (link)
— — — —
YPFD News:
If you have an emergency, please call 911
Meeting Minutes
Apr 3, 2022, Fire Commissioners Meeting (minutes forthcoming)
Feb 24, 2022 Fire Commissioners Special Meeting Link:
Jan 30, 2022 Fire Commissioners Meeting Link:
Jan 10, 2022 YPFD Special Meeting Link:
Jan 9, 2022 YPFD Special Meeting (no minutes yet.)
Nov 23, 2021 Special meeting Link:
Nov 8, 2021 AAR Report (Hopeless) Link:
Oct 31, 2021 Special meeting Link:
Oct 14, 2021 Special meeting Link:
Sep 27, 2021 Special meeting Link:
Sep 18, 2021 Special meeting Link:
Sep 11, 2021 YPFD Budget meeting Link:
Aug 28, 2021 – YPFD Meeting to discuss election (no notes taken.)
Jul 10, 2021 – YPFD Meeting Minutes. Link:
Jun 12, 2021 – YPFD Meeting Minutes. Link:
May 15, 2021 – YPFD Meeting Minutes. Link:
Sep 30, 2020 YPFD budget meeting. (No minutes yet.)
If you are burning any piles of forest litter and debris – please have a connected and charged garden hose that can reach your piles. If your hose cannot reach where you are burning, follow the good advice of having a shovel, axe, and water bucket at the scene. Rake away from anything that could ignite. Stop burning if winds become an issue. Make sure your fire is out before you leave the area. Nothing like getting surprised by an escaped fire in the middle of the night!
Better yet, "Rake It and Take It" your yard waste (limbs, pine needles, brush, etc.) to the burn pile at the Transfer Station on the south end of the turn-around. Remember, keep the pile neat. Woody debris only, no nails, no cardboard and no furniture! The Boise NF will burn the pile in the fall when it is safe.
Yellow Pine Fire Protection District Community Service Notice
The purpose of this letter is to show how you as a Yellow Pine Resident can help protect your structure against a wildland fire by being "Fire Wise." Click the link: to view 20190724 Yellow Pine Fire Protection mitigation
Valley County Wildfire Evacuation Checklist
A wildfire evacuation checklist that property owners in the Yellow Pine area might find useful. link: Valley County Evacuation Checklist – 2021
YPFD COVID19 Policy
link: YPFD Covid-19 SOP
link: Covid-19 EMS
Fire Chief: Tim Rogers 208-633-2005
Assistant Fire Chief: Ron Basabe 208-633-9001
YP Fire Commissioners:
Lorinne Munn – District 1
Tom Lanham – District 2
Bill McIntosh – District 3
Secretary/Treasurer – Ronda Rogers
2022 Meeting Schedule:
January 30, 2022, Sunday at 2pm
March 27, 2022, Sunday at 2pm (rescheduled)
April 3, 2022 at 2pm
May 29, 2022, Sunday at 2pm
September 11, 2022, Sunday at 2pm Budget Meeting
November 27, 2022, Sunday at 2pm
——–
Biz Listings:
The Corner (208) 633-3325 Facebook Page
Winter hours:
Open Wednesday 11-6
Fridays 11-9
Saturdays 9-6
Sunday's 10-6
Closed Monday, Tuesday and Thursday
Exceptions are by appointment and we'll be open on Mondays of Holiday weekends.
— — — —
Yellow Pine Tavern (208) 633-2233 Facebook Page
Winter Hours at the Tavern
Open Mon, Wed, Fri & Sat: 9am-2pm 4pm-8pm
Open Sunday 9am-2pm
Closed Tues & Thurs
Call the Tavern 208 633-2233 or Cell 208 739-7086 for other arrangements
Full Breakfast Menu. Burgers, Pizza, Fajitas, Beer Wine and Pop
— — — —
Yellow Pine General Store and Motel (208) 633-3300
Website Facebook page
The Yellow Pine General Store will be observing new Winter Hours. We will be officially open on Wednesday, Friday, and Saturday 11am-4pm. Josh or Christy are in town on the off days and will be available to open the store as needed. Their contact information is posted on the front door of the store if you need to reach either of them locally. The motel rooms and the laundry room are still available 7 days per week. Store phone: 208-633-3300 Email:
— — — —
Yellow Pine Lodge (208) 633-3377
Closed for the winter.
— — — —
Murph's RV Park and Mary's Cabins
FB page link
— — — —
Local Color Photography
Website
Facebook page
— — — —
Knotty Kat Crochet Works – 509-406-2221
FB page
Open Tue – Sat, 9-5
Yellow Pine eggs $3/doz
— — — —
Buck Horn Outfitters LLC 208-633-3614
Availability for 2022
*Note can book Idaho Residents now for Archery or put on a waiting list for Non Residents, will find out final allocations by April 18th.
2 on 1 Archery August 29th to September 4th *Lodge hunt / Elk, Black Bear, Wolf.
2 on 1 Archery September 6th to September 12th *Fritzer Camp / Elk, Black Bear, Wolf.
2 on 1 Rifle September 24th to September 30th *Fritzer Camp / Elk, Mule Deer, Black Bear, Wolf.
Spring Bear Hunt June 3rd to June 9th Group of 2 to 3 hunters *Lodge Hunt / Black Bear and Wolf.
See our website for more details. Or give us a call 208-633-3614
website:
Facebook:
Wapiti Meadow Ranch – Johnson Creek (208) 633-3217
or 208-315-3554 – cabin rentals
website:
Big Creek Lodge
website:
Deadwood Outfitters
website:
— — — —
Local Fuel Suppliers
Amerigas Phone: (208) 452-4361
Ed Staub & Sons Phone: (208) 634-3833
Diamond Fuel & Feed Phone: (208) 382-4430
— — — —
Outside Biz that will service Yellow Pine:
Arnold Aviation (208) 382-4844
Watkins Pharmacy Cascade (208) 382-4204
Call your doctor and have your Rx transferred until Watikns can rebuild.
Cascade Auto (208) 382-4224
Cascade Vet Clinic (208) 382-4590
The Star-News


click to subscribe:
Please help support local journalism and subscribe.
A reminder that those who live in other states can subscribe to the online edition only since the mail can take days for hard copy to reach them.
Rocky Mountain Mechanical – Plumbing – Heating – Air conditioning
(208) 365-PIPE (7473), Emmett, will service Yellow Pine
Website:
————–
Follow The Yellow Pine Times on Facebook (updated more often than emails)
———————–
Local Observations:
Monday (Apr 11) overnight low of 23 degrees. Yesterday's snow water equivalent (SWE) was 0.04″ – it was breezy so that may be an under-catch. This morning low overcast and snowing. Flicker calling, jays, juncos, finches, rufous sided spotted towhee, pine squirrel and downy woodpecker visiting. Steady snow at lunch time, over half inch so far, foggy and socked in nearly to the floor of the valley. Still snowing mid-afternoon. Measured 4 3/4″ of new snow at 4pm, still snowing, high of 35 degrees. Stopped snowing before 5pm, breaks in the clouds before 6pm. Back to low clouds by 7pm. Snowing before sunset and below freezing. Likely snowed all night.
Tuesday (Apr 12) overnight low of 23 degrees. Snowed most of the day yesterday and probably all night. By 930am it was 26 degrees, 8″ of new snow on the board (SWE=0.56″) overcast (top of VanMeter fogged in) and snowing lightly. Large flock of juncos visiting along with a rufous sided spotted towhee, a hairy woodpecker, a nuthatch, some finches and the usual gang of jays. Flicker calling in the distance. Flaking lightly all morning, then stopped by lunch time (no accumulation) and cracks in the clouds with scattered sunshine. Trees dropping "snow bombs" out in the forest. Socked in and snowing again early afternoon – lasted about 20 minutes, then a 15 minute break then flaking on and off and breezy, high of 35 degrees. A few snow flakes mid-afternoon, breezy and just below freezing. Socked in and snowing early evening. Below freezing, low clouds and steady snow before sunset, scant quarter inch so far. Stopped snowing after dark. Broken clouds after midnight. Accumulating snow early morning.
Wednesday (Apr 13) overnight low of 10 degrees. This morning measured 1 1/4″ new snow (SWE=0.10″) and 5 1/4″ on the ground. At 930am it was 19 degrees, thinning overcast and still snowing lightly. Large flock of juncos, some finches, downy woodpecker, pine squirrel and jays visiting. Elk up by main street. Broken clouds and haze at lunch time. Colombian ground squirrel poked its head up looked around and went back into its hole. Mail truck was later than usual. Breezy and cloudy early afternoon, high of 35 degrees. Clouds lowering, gusty winds and starting snowing lightly mid-afternoon. Low clouds and snowing early evening, put down a solid trace. Mostly cloudy and cold after sunset. Partly clear before midnight, bright moon.
Thursday (Apr 14) overnight low of 13 degrees. Snow started after 7am, by 930am we had 2″ new snow (SWE=0.07″) low foggy overcast, 20 degree and steady snow falling. Large flock of juncos, a few finches and jays visiting. Stopped snowing by lunch time (fat 1/2″), cracks in the overcast to the south letting in filtered sunshine, but dark low clouds to the north obscuring VanMeter Hill. Scattered sunshine early afternoon, snow melting. Light gray overcast mid-afternoon, above freezing and breezy. Snow on and off late afternoon, no accumulation and most of previous snow melted, high of 40 degrees. Low overcast and snowing before sunset, later about 45 minutes, a trace. Mostly cloudy before dusk. Snowing after dark – another trace. Partly cloudy before midnight and bright moon.
Friday (Apr 15) overnight low of 14 degrees. Yesterday's snow had mostly melted, scant trace remaining. This morning it was 23 degrees at 930am, almost clear sky and light breeze, yesterday's SWE=0.03″ and currently 4″ snow on the ground. Flickers calling and drumming, (female flicker stopped by) first pine siskins have arrived, finches, nuthatches, hairy woodpecker, a few juncos, jays and a pine squirrel visiting. Mostly cloudy after lunch time. A couple of snow flurries early afternoon. Mostly cloudy mid-afternoon, breezy and an occasional flake of snow, high of 36 degrees. Mostly cloudy after sunset and cold breezes. Hazy fat moon rising over Golden Gate at 1030pm. Morning snow started before 830am.
Saturday (Apr 16) overnight low of 23 degrees. Morning snow measured a scant 1/2″ by 930am (SWE=0.02″) and 4″ on the ground, it was 26 degrees, socked in down to the valley floor, light breeze and steady snowfall. Lots of juncos early with a few finches, then jays, nuthatches, pine squirrel, a couple of pine siskins and a hairy woodpecker visiting. Socked in and still snowing big flakes at lunch time. Stopped snowing early afternoon, estimate about 2″ new snow before melting some, clouds lifting above Golden Gate. Mostly cloudy mid-afternoon, warmer, windy and spitting rain drops and snowflakes for about half an hour. At 635pm blizzard – limited visibility, socked in down to the floor, gusty and snowing hard – lasted about half an hour then slacking off and clouds lifting, estimate 1/2″ new snow. Partly clear after sunset and cold brisk breezes. High clouds before midnight, fuzzy full moon.
Sunday (Apr 17) overnight low of 21 degrees. Yesterday's snow total estimated 2 1/2″ as most of it melted (SWE=0.17″) and 5″ on the ground. It was 27 degrees at 930am, mostly cloudy and light breeze. Flickers calling, jays, juncos, nuthatches, pine squirrel and hairy woodpecker visiting. Partly clear after lunch time. Mostly cloudy mid-afternoon and chilly breezes, high of 45 degrees. Still above freezing right after sunset and high thin overcast.
—————
RIP:
Brian James Imel
December 2, 1958 – April 5, 2022
Brian James Imel, born December 2nd, 1958 in Prineville, OR to David Imel and Patricia Kent. He grew up in Boise, ID attending primary and middle school there. Brian was an adventurer who spent his summers in Central Idaho, primarily Yellow Pine, exploring every backroad, mine, mountaintop lake he could find (typically on a motorcycle behind his big brother).
Brian attended High school at Burns Union High School in Burns, OR. He was an accomplished football player and wrestler. Brian was a state runner up at the 1977 OSAA State Championships and a member of the 1977 OSAA State Championship Burns Union High Wrestling team. It was while attending Burns High School that he met the love of his life Tess Pepperling. On November 26, 1977 Brian and Tess were married in Hines, OR.
Brian and Tess moved to Boise, ID to attend College at Boise State University. Brian was an avid outdoorsman and now had a blossoming family to include on his adventures. He loved to take his family on adventures in the Idaho wilderness and had an unmatched zest for life. He was a vehement supporter of his children's athletics, often playing the role of chauffer, coach, parent and mentor to other athletes all while working and attending Boise State University. Brian was a self-taught carpenter who started with residential construction and eventually started his own custom cabinetry business: Division 06 Cabinets. Brian became a master carpenter and worked to restore several old buildings in Downtown Boise.
Brian graduated from Boise State University in 1996 with a Bachelor of Science in Organic Chemistry and a Bachelor of Science with emphasis in Secondary Education. Brian's opportunities as an Organic Chemist were abundant, however the beach was calling. Brian and Tess had always dreamed of living on the Oregon coast. They both accepted jobs in Eugene, OR and found a home on the beach in Florence, OR. Every day they commuted to work together, ate lunch together and enjoyed their beach home together. They were inseparable. Brian was an accomplished Chemist with Molecular Probes for 20 years. Upon retirement Brian and Tess took up their hand at farming and purchased the Imel estate in Scio, OR. Brian spent this time with his family working in his shop, gardening and running cattle. Brian passed away on April 5th, 2022 at the age of 63.
Brian was a man of great intelligence, compassion, and strength. He was a story teller and renaissance man. Brian was always ready for adventure, to jump in on a project or lend a hand to a friend in need. He was quick to make light of a bad situation and was the most loyal brother, son, husband, father and grandfather. Nothing mattered more to him than his family and we knew it because he showed us every day. He was known to break out in song and have a good laugh. The greatest father these authors could have imagined; he was our advisor, our inspiration, our hero and our rock. While the impact of his loss feels like an unfillable void, he inspired us to live life to its fullest, to work hard, take care of our families, and love each other unconditionally.
Brian was preceded in death by his Mother and Father. Brian is survived by his loving, dutiful wife Tess, his children and their spouses Andrew & Jodi Imel of Boise Idaho, Seth & Kari Bostick of Sandy Utah, Ryan & Keri Imel of Scio, OR. Ten grandchildren, that he mentored, encouraged and adored. They are: Ryan, Shealynn, Emma, Andrew, Olivia, Aaron, Abram, Brian (whom is his namesake), Amilia and Peter. Great grandchild: Holland. Brother Keith Imel of Juneau, AK, Sister Sally Imel of Vale, OR. Rest in peace Dad, you live in all of us. Your words, your wisdom, your love flows through all of us, now and forever.
Published: Idaho Statesman
— — — —
Violet L. Earl
Violet L. Earl, 84, of Emmett [and Yellow Pine], died Friday, April 15, 2022.
Funeral Home: Potter Funeral Chapel
Published in Idaho Press Tribune April 17, 2022
—————-
Idaho News:
COVID-19 Updates: 33 new Idaho COVID-19 cases, 2 new deaths
April 15, 2022 Local News 8
Idaho officials reported 33 new COVID-19 cases and 2 new deaths Friday.
That brings the total confirmed and probable cases reported since March 2020 to 445,040.
The state said 29 new hospitalizations have been reported bringing the total number to 16,996, and 0 new cases have been admitted to the ICU bringing the total to 2,918.
2 new deaths were reported bringing the total recorded deaths to 4,913.
full story: [Valley County 2,606 cases, 16 deaths.]
— — — —
Latest hospital numbers as of 4/6 (Wednesday):
45 hospitalized with COVID-19
9 in ICU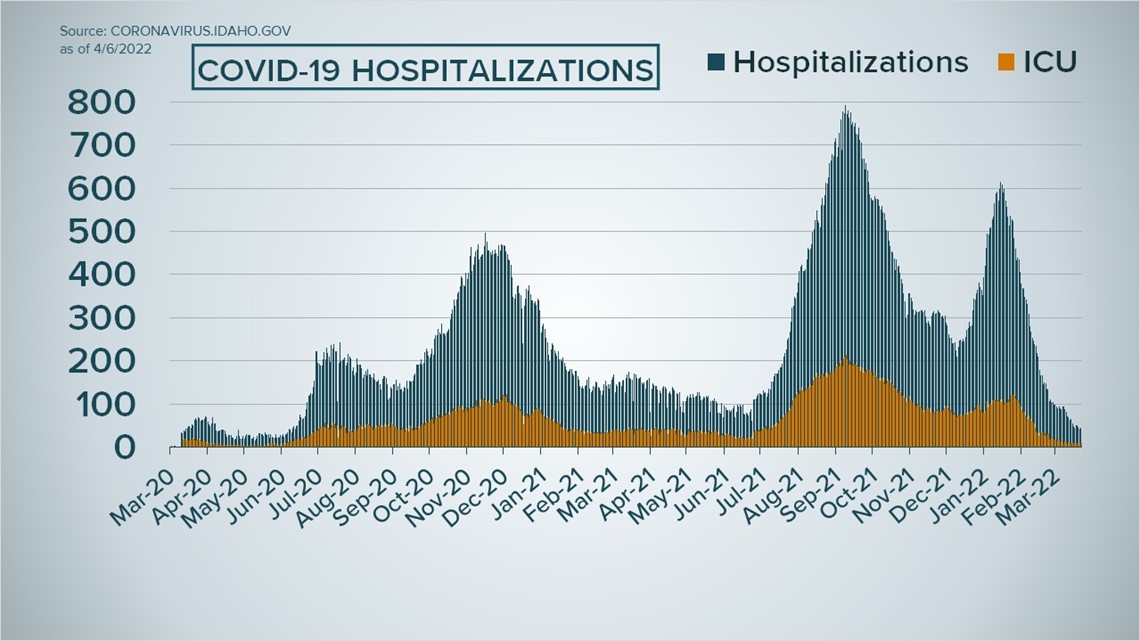 source: KTVB April 13, 2022
— — — —
New Valley County COVID-19 cases stay at one for week
By Tom Grote The Star-News April 14, 2022
For the second week in a row, just one new case of COVID-19 was reported in Valley County last week by the county's two hospitals.
St. Luke's McCall and Cascade Medical Center have reported 2,683 cases of COVID-19 since the pandemic started two years ago.
Thirteen confirmed deaths and three probable deaths in Valley County from COVID-19 have been reported by Central District Health.
Cascade Medical Center no longer offers the Pfizer vaccine, CEO Tom Reinhardt said.
"Pfizer requires us to purchase in large quantities and most just goes to waste," Reinhardt said. "So until further notice, we'll only carry the Moderna vaccine, which we can buy in smaller volumes."
Those wishing to be given the Pfizer vaccine should contact St. Luke's McCall or a local pharmacy, he said.
Clinics and Tests
The Cascade hospital offers a second booster shot of the Moderna vaccine to those over age 50 who received their first booster shot at least four months ago.
The Moderna vaccine for those age 18 and older is available on Tuesdays and Thursdays along with the Moderna booster. Call 208-382-4285 to schedule a time.
St. Luke's McCall and Cascade Medical Center have take-home COVID-19 tests available. The saliva-based test offers results in two to three days.
The Cascade hospital also provides free at-home COVID-19 antigen tests, which is a nasal swab test that gives results in 10 minutes, but is less accurate than the saliva-based test.
The tests can be picked up at the main entrance to St. Luke's McCall at 1000 State St. in McCall or at the clinic at Cascade Medical Center at 402 Lake Cascade Pkwy in Cascade.
St. Luke's Clinic – Payette Lakes Family Medicine offers the Moderna COVID-19 vaccine and boosters to anyone age 18 and older. The Pfizer-BioNTech vaccines are offered for anyone age 5 and older.
Also available are Pfizer-BioNTech COVID-19 vaccine boosters for ages 12 to 15 and to moderately or severely immunocompromised youths age 5 to 11.
Pfizer vaccines are offered on Monday, Tuesday, Thursday and Fridays. The Moderna vaccine is offered on Wednesdays only.
Those wanting to get a vaccination can schedule through MyChart at (link) or call 208-381-9500.
Walk-ins are welcome Monday through Friday, 8 a.m. to 5 p.m., for adults who are seeking their initial COVID-19 vaccine dose only.
full story: © Copyright 2009-2021 Central Idaho Publishing Inc. All rights reserved (used with permission.)
— — — — — — — — —
Forums planned on proposed Cascade hospital bond election
Cascade Medical Center will hold four public forums on the May 17 vote to authorize $19 million in bonds for a new hospital north of Cascade.
The first forum is scheduled for Tuesday at 6 p.m. at American Legion Post No. 60 at 105 West Mill St. in Cascade.
A second forum will be held at 6 p.m. on Thursday, April, 28. at Donnelly Bible Church at 159 Gestrin St. in Donnelly.
The third forum is set for Thursday, May 5, at 3:30 p.m. at Cascade Schools at 209 N. School Street in Cascade.
A virtual forum is set for May 12 at 6 p.m. with details on how to participate to be announced.
The bond would fund about half of the proposed $34.2 million cost of building the new facility, which would be built on eight acres of land about a half-mile north of Cascade on the west side of Idaho 55.
The current hospital on Lake Cascade Parkway is 50 years old, too small and outdated, hospital officials have said.
The plans call for a surgery department, occupational and speech therapies, and expanded diagnostic imaging in addition to general modernization and expansion of existing services.
The hospital has 59 employees and took in patient revenue of about $5.2 million in the last budget year that ended Sept. 30.
Last year the clinic hosted 5,557 patient visits. The hospital treated 1,646 patients, mostly in the emergency room, took 1,907 diagnostic images, ran 4,335 lab tests and provided 4,063 physical therapy sessions.
source: The Star-News April 14, 2022
— — — — — — — — —
Cascade fire district to ask for tax increase
November vote would provide funds for more first responders
By Max Silverson The Star-News April 14, 2022
The Cascade Rural Fire Protection District plans to ask voters in November to more than double property taxes to hire more first responders.
If approved, the levy would raise about $600,000 per year and fund three additional full-time paramedic/firefighters and three more EMT firefighters plus a deputy chief and secretary, Cascade Fire Chief Steve Hull said.
District commissioners plan to place the measure on the Nov. 8 general election ballot. The proposal would require a 66.7% majority to pass.
The levy would cost taxpayers an additional $133 per $100,000 in taxable property value per year.
continued:
— — — — — — — — — —
No one hurt when car plunges into North Fork S. of Cascade
The Star-News April 14, 2022
Traffic on Idaho 55 was blocked for about an hour on Sunday after a SUV drove off the road and into the North Fork of the Payette River about 20 miles south of Cascade, Idaho State Police said.
There were no injuries to the two teenage boys from Middleton who were in the car, an ISP news release said.
It appears the driver lost control in slushy conditions about noon Sunday while driving the car northbound, the ISP said.
The car went down an embankment and landed in the river's edge in shallow water, a spokesperson for the ISP said.
Both teens were able to get themselves out of the vehicle and only suffered minor injuries, a release said.
full story:
— — — — — — — — —
Idaho City closes schools due to weather
By KIVI Staff Apr 12, 2022
Classes in Idaho City will be canceled today, April 12th.
District officials confirmed the news this morning. They say schools are taking a snow day.
For more information, visit their website here.
source: w/link
— — — — — — — — — —
Avimor community growing across thousands of acres in the foothills
Morgan Romero April 13, 2022 KTVB
Approved by Ada County in the early 2000s, but stunted by the great recession in '08, the booming master-planned community of Avimor is now moving full steam ahead.
Drive north on Highway 55 and you can't miss it. So far, almost 700 homes, as well as mixed-use buildings, are nestled in the foothills community north of eagle.
Nine hundred homes were approved in Ada County and builders recently started in Boise County.
continued:
————-
Public Lands:
Controlled burns to be set near Cascade this spring
Two controlled burns will be set this spring near Cascade on the Boise National Forest.
The burns are scheduled to start this month and continue through June. A total of 4,200 acres are planned for burning in 11 areas on the Boise forest.
Here are the planned burns for the Cascade area:
* French Campbell: 68 acres about 10 miles west of Cascade along West Mountain Road lasting several days.
* Willow south: 294 acres about five miles southwest of Cascade lasting several days.
Information and signs will be posted on roads that lead to burn areas and remain in place through completion of the burns.
source: The Star-News April 14, 2022
— — — — — — — — — —
Bureau of Land Management and Idaho Army National Guard seek public input on expanded military training area in southwest Idaho
Date: April 14, 2022
Contact: Mike Williamson mwilliamson@blm.gov 208-384-3393
Boise, Idaho – The Bureau of Land Management (BLM) and Idaho Army National Guard are seeking public comments on a proposal to expand military training onto about 20 square miles of Federal and State land located west of Mountain Home and adjacent to the existing Orchard Combat Training Center.
The Simco Training Area Environmental Assessment analyzes possible impacts from proposed heavy maneuver training between March and November, construction and maintenance of 12.7 miles of dirt roadways, infrastructure development, and engineering practice areas. The proposal does not include live fire exercises.
The purpose of the proposal is to meet Department of Defense training requirements, ensure troop combat readiness, and offset loss of areas within the Orchard Combat Training Center where training is prohibited to protect native shrublands.
The BLM Four Rivers Field Office manages portions of the proposed expanded military training area that are located within the Morley Nelson Snake River Birds of Prey National Conservation Area. The military has been using land in this vicinity for training since the 1940s. The proposed military training activities are within acceptable levels outlined in the BLM's Resource Management Plan for the Morley Nelson Snake River Birds of Prey National Conservation Area.
The BLM and the Idaho Army National Guard will each issue separate decisions based on the Environmental Assessment. The BLM will issue a decision on whether to authorize rights-of-way for the proposed expanded military training area. The Idaho Army National Guard will issue a decision on whether to expand military training onto proposed Federal and State land.
The purpose of the comment period is to obtain public input on the proposal, alternative courses of action, and environmental consequences. The BLM and Idaho Army National Guard will host a virtual public meeting on Zoom to provide information about the proposal on April 21 from 4:00-6:00 p.m. Mountain Daylight Time. Those interested in participating in the virtual public meeting must pre-register at (link) (case sensitive). Detailed information about the proposal is also available on that site.
The BLM and Idaho Army National Guard will accept public comments through May 16 via the following means:
Email: BLM_ID_FourRiversOffice@blm.gov
Fax: 208-384-3326
Surface mail: BLM Four Rivers Field Office, 3948 Development Ave., Boise, ID 83705
Those who provide comments are advised that before including their personal identifying information (address, email, phone number) they should be aware that the entire comment – including their personal identifying information – may be made publicly available at any time. While those commenting can ask in their comments to withhold this information from public review, the BLM cannot guarantee that they will be able to do so.
For more information, contact the BLM Four Rivers Field Office at 208-384-3300.
— — — — — — — — — —
Bureau of Land Management to deliver fire engine to local fire district
Date: April 15, 2022
Contact: Jared Jablonski jjablonski@blm.gov (208) 384-3210
Boise, Idaho — The Bureau of Land Management (BLM) Boise District will transfer a surplus wildland fire engine to the New Plymouth Fire Protection District at 11:00 am on April 19. The media is invited to attend the engine transfer and meet with firefighting representatives from both the BLM and the Fire Protection District. Attendees will need to arrive by 10:45 a.m. to the Boise Interagency Dispatch Center, located at 3948 Development Avenue, Boise, Idaho, 83705.
The BLM is transferring the engine to the Fire Protection District at no cost through the Rural Fire Readiness Program, which is designed to enhance the capability of local fire districts, volunteer fire departments, and rangeland fire protection associations to respond to wildland fires safely and effectively. The BLM works hand in hand with these cooperators, as well as other federal and state agencies, to respond to wildfires on land under each other's protection. These partnerships have always been important and are becoming more so as wildfire seasons become longer and large, severe wildfires become more frequent.
Please contact Jared Jablonski at (208) 384-3210 or email jjablonski@blm.gov for more information.
—————-
Critter News:
Garden Valley and Cascade Veterinary Clinic
The phones in Garden Valley are working after almost 5 weeks. We apologize for all the inconveniences after the water damage in Garden Valley. We are doing our best to take care of everyone. Thank you for all your patience and understanding.
via FB April 15, 2022
— — — — — — — — — —
Bird flu confirmed in Idaho chicken flocks
Highly Pathogenic Avian Influenza is highly contagious and often fatal to birds, although human infections are uncommon.
KTVB Staff April 15, 2022
The Idaho State Department of Agriculture confirmed Friday that multiple cases of avian flu have been found in two separate flocks of domestic Idaho chickens.
One of the chicken flocks is in Gooding County, and the other is in Caribou County, officials said. The groups of birds do not appear to have any overlap or connection.
Highly Pathogenic Avian Influenza – more commonly known as bird flu or avian flu – is highly contagious and often fatal to birds.
continued:
— — — — — — — — — —
Idaho Fish and Game puts down five wild elk at farm
by CBS2 News Staff Tuesday, April 12th 2022
Idaho Fish and Game put down five wild elk at a Garden Valley farm on April 12.
The elk had wandered into the facility through an open gate in early March. The owner held the elk there and notified the State Department of Agriculture.
IDFG visited and consulted with the state. "Out of an abundance of caution regarding the potential risk of transmitting disease to wild elk herds, Fish and Game determined the most appropriate course of action was to dispatch the wild elk in the pen rather than release them," IDFG says.
IDFG says the elk will be tested for chronic wasting disease, and if their meat is safe, it will be donated to a local food bank.
source:
— — — — — — — — — —
Stray moose tries to crash egg hunt in Rexburg
April 16, 2022 Local News 8
Idaho Fish and Game officials say they captured and transported a female cow moose Saturday morning.
She was spotted in Porter Park in Rexburg around 9, just before an Easter Egg hunt was scheduled to begin. We are told local Law enforcement helped escort the big lady away without further incident or injury.
Within hours the Department posted on its Facebook page that "She is currently headed to a much more suitable habitat far away from town."
source:
—————
Fish and Game News:
Grizzly bear confirmed to have killed additional livestock near Naples in North Idaho on April 8
By T.J. Ross, Regional Communications Manager
Friday, April 8, 2022
Idaho Fish and Game staff have confirmed that a grizzly bear has killed two additional sheep and a goat on private land near Naples on April 8
continued:
— — — — — — — — — —
Annual F&G fur auction will be online again in 2022
By Brian Pearson, Regional Communications Manager
Monday, April 11, 2022
For the second straight year, Idaho Fish and Game's annual fur auction will be held entirely online in 2022.
This year's auction of furs, hides, antlers, and other items will be run through Prime Time Auctions (www.primetimeauctions.com). The online auction kicks off on April 18, and ends on April 25. While this unfortunately means potential buyers will not get to inspect items in person, they will be able to see photos of them on the Prime Time Auctions website.
Potential buyers will need provide a credit or debit card to register for the online auction, but have other options to pay for items they purchase. Here is more information.
continued:
— — — — — — — — — —
Salmon River Smolt Trap
By Scott Putnam, Fisheries Regional Biologist
Thursday, April 14, 2022
Story and Video by Devan Reid, Sr. Fisheries Technician
Located at Twin Bridges, near White Bird, Idaho, is the Smolt Monitoring Project's Salmon River fish trap. The incline plane scoop trap is designed to catch smolting salmon and steelhead trout on their way to the Pacific Ocean. The fish are directed into the trap by river flow, guided up an incline belt, and forced across a perforation plate into the livewell. Fish are then netted and anesthetized in preparation for tagging.
continued:
— — — — — — — — — —
More F&G News Releases
link:
———————————-
Crazy Critter Stuff:
Oregon Zoo
Tiny Dwarf Mongooses Open Eggs Filled With Treats

————
Seasonal Humor:

————