July 24, 2022 The Yellow Pine Times – Valley County, Idaho
Reminder: We are still under a boil water order.
Note: If you are not receiving the YPTimes emails, check your spam folder.
Community Calendar:
Apr 17, 2020 – Boil water order in effect
2022
May 10 thru Oct 20 – Burn Permit Season
May 15 thru Nov 30 – Firewood Season
June 1 – 6-day mail delivery starts
Jul 21 – South Fork Salmon season closes
Aug 4-6 – Music Festival
Aug 13 – VYPA Meeting 2pm Community Hall
Aug 16 – MasterCraft coming to service heaters
Sep 10 – YP Escapade Ride
(details below)
———-
Local Events:
Aug 4-6 Music Festival
See website for info: (link)
"We have coordinated with MTE who will be offering extra support during the high traffic time and they will be bringing in extra routers positioned at certain parts of town. There will be coverage and support for limited data use, live streaming services will probably will be throttled, however." – JJ
— — — —
August 13th VYPA Meeting
The Village of Yellow Pine Association meeting will be at 2pm in the Community Hall.
— — — —
August 16th MasterCraft
MasterCraft is coming to Yellow Pine to do maintenance on propane and pellet stoves. See below:
We will only be doing one day and one tech this year for service only – no inspections/job bids. The out of town service rate is $125 plus parts. With the cost of fuel/time, we need to fill the techs schedule to avoid a trip charge of $150. Our tech can take 6 calls. I have reserved 8/16.
Please call with name, addresses and phone number if you want service. Also need to know what appliance you have and/or any issues.
Christy Wonenberg
MasterCraft Hearth & Home, Inc
103 N. 3rd St. McCall, ID 83638
208-634-3132
— — — —
Yellow Pine Escapade September 10th
Join us for a loop ride with a BBQ at North Shore Lodge. $30/person. Fundraiser for the Yellow Pine Community Hall. Sign up early at (link)
Note: MTE says local customers will not be affected by this.
———
Village News:
Summer Water
The board is asking that property owners that water their lawns, to be conservative and water on an even/odd day schedule. Meaning if you address end with an even number, water on even numbered days. If your address ends with an odd number, water on odd numbered days. Also refrain from watering on holidays and during Harmonica Festival.
— — — —
Fire Training
On July 17, 2022 we had a great training with the big Red Truck. Big thank you to Marshall Hult and Ron Earl for a great day.


photo courtesy YPFD
— — — —
July 20 Fuel Delivery
Diamond Fuel and Feed tanker truck delivered fuel in Yellow Pine, Wednesday, July 20th.
— — — —
Dryer Help Request
Our stacked dryer has stopped responding – when we turn the start switch nothing happens. There are no lights on this models so we don't know if it's an interlock of some type, or …
GE Model DPXH46EA0WW
Serial VZ723232W
Contact: Dave Prouty, dave.prouty @ gmail.com, (208) 720-0833
If anyone is having appliance folks in for install, repair, we'd be interested in collaborating.
— — — —
Watkins Pharmacy Update June 23rd
To the community: the insurance claims are ongoing… We are still working on the temporary pharmacy/store going in at Across the Tracks. We wish we could move everything along faster, but unfortunately we have no control over that as much as we wish we did! … Thank you for those who have reached out for updates. – Watkins Pharmacy
— — — —
Arnold Aviation News:
Arnold's will no longer will offer grocery shopping services. (D9 now has online shopping – see below.) However, Arnolds will still pick up orders in Cascade from D9, auto parts, feed, and hardware, etc. for delivery to Yellow Pine. You will only be charged for freight from the Airport to YP.
Attention Mail Route Customers – FedEx Ground has changed their policy, and they will no longer pay for Mail Plane or Truck freight. If you can avoid it, we strongly encourage you to use UPS or USPS to receive packages. If you do order a FedEx Ground package, you will be billed for: Air Freight @ $0.45/lb, or Mail Truck Freight @ $0.05/lb. We are truly sorry this is the case, and are working very hard to make sure you still receive your orders. – Arnold Aviation
— — — —
D9 News:
You will be able to start ordering online directly from D9 on May 24th. Go to their website at link. Phone (208-382-4215) if you need assistance.
Orders must be placed before 10am Monday (Arnolds will pick up on Tuesday for Wednesday delivery.) It is important that upon checkout, you click the box marked "Gift" – and type in the order is for Arnolds to pick up and deliver to Yellow Pine. Otherwise they will think it is a local personal pickup.
Tips: After you sign in to your account, look at the top left of the webpage for "Shop departments" – it will show categories of items. For instance, if you want butter, click on "Dairy" – then when the page comes up, look for the row that says Butter, look over to the right side and click on "see more" and it will come up with every type and size of butter (and margarine) available. Click on "add to cart" under the item you want, there you can adjust the amount using the plus and minus symbols. When you are done, click on "check out" near the top right corner. That is where you can click "gift" to leave instructions before you enter your card number.
— — — —
Yellow Pine US Mail
The 6-day a week mail delivery started June 1st. The Post Office in Yellow Pine is open six days a week year around: M-F 845am-245pm Saturday 9am-245pm. Forever Stamp: 58 cents. Support our local post office and purchase your holiday stamps here.
— — — —
May 15 thru Nov 30 – Firewood Season
Firewood permits are available at The Corner.
— — — —
State Burn permits required May 10th to Oct 20th
Closed fire season begins May 10, which means Idahoans outside city limits will need a burn permit before burning any debris. The closed fire season lasts until Oct. 20.
— — — —
Notice – Yellow Pine Times Deadline
In order to have your item posted in that week's paper you must email it in by Noon on Sunday.
A reminder – if your group or business want an event, photo, minutes, news or advertising posted in the Yellow Pine Times, please write what you want posted in text form (for copy/paste) and send it by email. Remember to include the "who, what, when, where and why." Images or groups of images must be under 10 megs per email.
— — — —
Road News
June 18: Johnson Creek road opened. June 22: Deadwood Summit and Warm Lake Summit opened. June 23: Lick Creek opened. July 1: Profile Gap messy but open. Reports that Monumental and Elk summits opened recently.
Link: to current road reports.
Construction closures will end May 27 on Idaho 55 near Smiths Ferry.
One-way alternating traffic is set to replace closures from 10 a.m. to noon on Mondays through Fridays.
Both lanes will be open Friday mornings through Sundays.
link:
South Fork Road: As of March 15th the road maintenance reverts back to the Forest Service. Contact PNF Ben Drier 208-634-0770 cell 208-315-7584 or Will Perry 208-634-0767 cell 208-630-3954 for issues with the SF road.
— — — —
Critters
Be Tick Aware
Ticks are out early this year, 1st report Feb 11th.
* After being outdoors check for ticks. Remove any that are attached.
* Tumble any clothing in a hot dryer for 10 minutes. That should kill any ticks left in the clothing.
* When hiking outside where there are ticks, wear long clothing. Tuck the ends of pants into socks.
* Use a bug repellent to shoes, socks and exposed skin.
Be wary of mosquitoes spreading West Nile Virus
* Wear repellent containing DEET, Picaridin or Oil of Lemon Eucalyptus (all EPA-approved repellents) according to the label.
* Remove standing water around your home – this is where mosquitoes like to breed.
* Cover up your skin with clothing between dusk and dawn, when mosquitoes are most active.
* If you have livestock, also remember to change out their troughs every three days to keep the mosquito population down.
Be Elk and Deer Aware
It is spring "baby" season – watch your dogs, mama elk and deer can be very aggressive towards dogs. There have been a few dogs injured up here over the years.
Cows and Does are hanging around the village, please watch for them on local streets. There have been a couple of near misses reported.
Be Moose Aware
* Be aware of your surroundings and be especially careful around creeks and in areas with dense brush.
* Travel in groups whenever possible and make noise to alert animals to your presence.
* If you encounter a moose, give it lots of space and don't approach it. Always keep dogs under control.
* If a moose charges or chases you, take cover behind something solid, such as a tree.
* In some situations, bear spray has been known to be an effective defense tool in moose encounters.
Fourth of July weekend traffic on Johnson Creek. One more reason to drive slow.


courtesy Yellow Pine FB group
Be Wolf Wary
Report Saturday, Feb 12, wolves howling around the upper end of the village, and two were in a residential yard. F&G confirms there is a pack of 6 wolves in our valley.
* Always keep children nearby and in sight.
* Keep pets leashed and under control.
Be Bear Aware
* Keep trash cans inside a garage or shed until the morning of pick-up.
* Take down bird feeders in the spring.
* Do not store coolers, freezers or refrigerators outside where bears can reach them.


courtesy YP resident
Be Coyote Aware
* Remove or secure attractants, such as pet food, trash or dog feces.
* If you have a potential living food source for coyotes, such as chickens, secure their coops with wire mesh fences at least five feet high.
* Don't leave your dog outside unsupervised.
* If possible, ensure your property boundaries are secure by keeping fences in good repair and letting your dogs out for bathroom breaks only in fenced areas, particularly at night. The American Kennel Club recommends solid fences of at least 6-feet tall, and buried in the ground at least 18 inches, and says that "coyote rollers" can provide additional deterrence.
* If your property is not fenced, turn on outside lights and make noise before letting your dog outside, and consider taking your dog out on a lead for nighttime bathroom breaks.
* Clear away brushy areas around your property that coyotes may see as safe denning or hiding spots.
Be Fox Aware
* Do not feed foxes human food
* Feed domestic pets indoors
* Make sure your pets are updated on Rabies vaccines
* Small pets could become a snack


Photo taken Jan 18, 2021 by AP
Be Cougar Aware
A big cat was hanging around the upper part of the village this winter. Watch your small pets and do not leave food outside.


photo courtesy NH
— — — —
Yellow Pine Transfer Station
Report July 16: Bins are half full. Road is in good shape.
Locals have worked hard to clean up the area, please be respectful.
Yellow Pine Transfer Station (aka, the dump)
Please do not abuse our Transfer Station or we may lose it. Household trash must be placed in the bins, flattened cardboard boxes can also go into the bins. Do not stack trash in front of the doors. Woody yard debris only for the burn pile. No furniture, appliances, tires or construction debris allowed, those items must be hauled out to the Donnelly station by you.
The Yellow Pine Transfer Station is Valley County responsibility. If it is not kept tidy, use of the Transfer Station may be revoked. That would result in residents having to take all household trash and yard waste to the Donnelly Transfer Station.
If Dumpsters Are Full, Contact Lake Shore Disposal at: (208) 634-7176
———-
Local Groups
YPWUA News:
Summer Water
The board is asking that property owners that water their lawns, to be conservative and water on an even/odd day schedule. Meaning if you address end with an even number, water on even numbered days. If your address ends with an odd number, water on odd numbered days. Also refrain from watering on holidays and during Harmonica Festival.
—
The YPWUA is happy to announce that Clint Limbaugh has accepted the new position of Community Water Maintenance Coordinator.
Clint will be the contact person and advise the YPWUA board on Maintenance issues within the YPWUA district. He will be responsible for turning on and off property owners water, diagnose and troubleshoot shoot issues within the water district and then report to the board. Work with our water operator Warren when needed.
Thank you Clint for taking this much needed position.
—
Attention Yellow Pine Water Users
You may now apply to WICAP for help with your water bill under the Low Income Household Water Assistance Program (LIHWAP). You may apply for help with your past-due, as well as your current bill.
Application may be made in person at the WICAP office in Cascade, 110 W. Pine St. You may also apply by phone at 208 454-0675, or on-line at (link).
—
Water Use
| | | | | | | | | |
| --- | --- | --- | --- | --- | --- | --- | --- | --- |
| 07/14/22 | 25739510 | 41977 | 24 | 1749 | 29 | T | | 8302 |
| 07/15/22 | 25786792 | 47282 | 24 | 1970 | 33 | F | 5305 | |
| 07/16/22 | 25819228 | 32436 | 24 | 1352 | 23 | S | | 14846 |
| 07/17/22 | 25865733 | 46505 | 24 | 1938 | 32 | S | 14069 | |
| 07/18/22 | 25915660 | 49927 | 24 | 2080 | 35 | M | 3422 | |
| 07/19/22 | 25964270 | 48610 | 24 | 2025 | 34 | T | | 1317 |
| 07/20/22 | 26014923 | 50653 | 24 | 2111 | 35 | W | 2043 | |
| 07/21/22 | 26074423 | 59500 | 24 | 2479 | 41 | T | 8847 | |
| 07/22/22 | 26116484 | 42061 | 24 | 1753 | 29 | F | | 17439 |
| 07/23/22 | 26165160 | 48676 | 24 | 2028 | 34 | S | 6615 | |
| 07/24/22 | 26218775 | 53615 | 24 | 2234 | 37 | S | 4939 | |
We are still under a Boil Order. Please conserve water.
As of April 17th 2020, Yellow Pine is under a "Boil Order". This boil order will be in effect until further notice.
DRINKING WATER WARNING issued July 11, 2022
Yellow Pine Water Users PWS 4430059 BOIL WATER ADVISORY Due to insufficient treatment
We routinely monitor the conditions in the drinking water distribution system. On 4-19-2020 we experienced a period of insufficient treatment due to extreme water demand which exceeded the capacity of the treatment system. A drop in water pressure is a signal of the existence of conditions that could allow contamination to enter the distribution system through backflow, by backpressure, or back-siphonage. As a result, there is an increased chance that the drinking water may contain disease-causing organisms.
What should I do?
* DO NOT DRINK THE WATER WITHOUT BOILING IT FIRST. Bring all water to a boil, let it boil for one minute, and let it cool before using, or use bottled water. Boiled or bottled water should be used for drinking, making ice, brushing teeth, washing dishes, and food preparation until further notice. Boiling kills bacteria and other organisms in the water.
* Inadequately treated water may contain disease-causing organisms. These organisms include bacteria, viruses, and parasites, which can cause nausea, cramps, diarrhea, and associated headaches.
* The symptoms above are caused by many types of organisms. If you experience any of these symptoms and they persist, you may want to seek medical advice. People at increased risk should seek advice about drinking water from their health care providers.
What is being done?
Efforts are under way to curtail water use. Once water use is diminished, the water treatment system will again be operational and the boil water order can be lifted
We will inform you when you no longer need to boil your water. We anticipate resolving the problem within 365 days.
For more information, please contact Warren at 208-573-6261 or wdrake @ drakediversified.com
Please share this information with all the other people who drink this water, especially those who may not have received this notice directly (for example, people in apartments, nursing homes, schools, and businesses). You can do this by posting this notice in a public place or distributing copies by hand or mail.
This notice is being sent to you by Yellow Pine Water Users Assoc.
PWS ID #: 4430059. Date distributed: 7-11-22.
—
Water Conservation Tips
1. Turn OFF the tap when you brush your teeth
Pretty much everyone runs the tap whilst brushing their teeth, when in fact you only need water at the beginning and the end (to wet the brush and rinse it).
2. Try and conserve water when using the toilet
We've heard a simple saying for this "If it's yellow, let it mellow. If it's brown flush it down".
Also don't use the toilet as a bin, every time you throw a small bit of trash and flush the toilet 5 gallons is gone.
3. Shorten your shower and turn it off when you can
You can also turn the shower off in between, wet yourself, lather up then turn the water off. When you're ready turn it on and rinse off.
4. If you have any dripping taps – FIX THEM.
A single dripping tap can waste 4 gallons of water a day (or more) or 1450 gallons of water a year.
—
YPWUA 2022 Annual Shareholder Meeting July 3, 2022 (minutes to follow)
YPWUA 2021 Annual Shareholder Meeting July 4, 2021 Link: to 20210704 YPWUA minutes
YPWUA 2020 Annual Shareholder Meeting July 5, 2020 link: to 20200705 YPWUA minutes
Water Board:
Steve Holloway
Willie Sullivan
Tim Aldridge
Stu Edwards
Candy Hardisty
Warren Drake – Water Operator
Clint Limbaugh – Community Water Maintenance Coordinator
— — — —
VYPA News:
Community Hall usage procedures
Community Hall Update: To ensure proper scheduling of the community hall usage and to avoid scheduling conflicts, we are asking that if you would like to use the community hall to contact Rhonda Egbert (member at large). With increased usage requests, we need to ensure that everyone is able to use it without conflict/overlap of events. Rhonda is taking point to schedule those individuals who want to use the community hall. Please also read the Community Hall Usage Guidelines-this outlines the etiquette required for usage.
Village Association Meeting Update: In the past as a courtesy, a Zoom video conference was an option for the individuals who were not able to attend the meeting(s) in person. However, I will not be providing this option going forward. I'm sorry for the inconvenience this may cause some. Also, if you have a request for a meeting agenda item, please contact me (Hailey Harris) no later than 7 days before the upcoming meeting. We are not able to add agenda items without approval of the Chairman.
I will also be enforcing a meeting conduct, effective immediately: Meeting attendees are expected to: Uphold professional purpose of meetings by respecting the rights, privacy, safety, and dignity of all persons; exercise professionalism, consideration, and respect in their speech and actions; refrain from harassing speech and other harassing behavior. Failure to conduct oneself in accordance with these expectations may result in removal of the offending person(s) or adjournment of the meeting.
-Hailey Harris
Yellow Pine Community Hall General Use Procedures
Hall General Usage:
* All events must be scheduled through the Community Hall Committee and approved by the Committee Chairman
* No property shall be removed from the Community Hall without approval of the Community Hall Committee Chairman.
* Responsible alcohol usage is permitted.
* No smoking is allowed in the hall. Pick up any butts scattered outside.
* Building and grounds are not a storage area. Do not leave personal items in or around the Community Hall without approval of the Community Hall Committee Chairman.
* Notify a committee member if problems are encountered.
After each event using the hall:
* Sweep/vacuum hall floor and restroom floor
* Wipe down toilet
* Empty garbage cans and take garbage to the transfer station
* Fold tables
* Stack chairs
* Turn off lights, ceiling fans, heater (if applicable)
* Put away any kitchen items after they are cleaned
After each event using the kitchen:
* Sweep/mop kitchen floor
* Wash, dry, and store all used dishes, utensils, pans, coffee pots, etc.
* Clean and wipe down sinks
* Thoroughly clean griddles, if used, and turn off propane to griddles
* Remove any unused food/beverages from the refrigerators/freezers
* Clean up any spilled food or beverage
* Empty garbage cans and take garbage to the transfer station
* Notify a committee member if problems are encountered
Using the Community Hall and/equipment for non-Yellow Pine events:
* A refundable, $50 deposit is required seven (7) days prior to the event
* After the event, a Community Hall Committee member will inspect the premises prior to the deposit being refunded
* A $150/day donation is requested for the use of the Hall
* A $200/day donation is requested for the use of the Kitchen
No deposit or use donation is needed for use by Yellow Pine community members, committees, or groups.
Yellow Pine Community Hall Committee:
Rhonda Egbert – Chairman
Members: Ronda Rogers, Deb Filler, Hailey Harris
—
Village of Yellow Pine Association:
Hailey Harris, Chairman
Josh Jones, Vice Chairman
Jen Aldrich, (temp) Secretary
Ronda Rogers, Treasurer
Rhonda Egbert, Member at Large
Cemetery Committee:
Ron Basabe
Marj Fields
Ron Earl
July 9, 2022 VYPA Meeting minutes (not released yet.)
June 11, 2022 VYPA Meeting minutes link:
April 6, 2022 Village Council meeting to fill vacant chairperson position (no minutes.)
Sept 11, 2021 – VYPA Meeting minutes link:
Aug 14, 2021 VYPA Meeting Canceled (lack of quorum.)
July 10, 2021 VYPA meeting minutes link:
June 12, 2021 VYPA Meeting Minutes link:
VYPA Meetings are the 2nd Saturday of June, July, August, and September at 2:00pm at the Community Hall.
2022 Meeting dates:
June 11
July 9
August 13
September 10
VYPA Bylaws adopted 8/8/2020 (link)
YPAC Corp Bylaws (link)
— — — —
YPFD News:
Yellow Pine Fire Department
If you have an emergency, please call 911
Meeting Minutes
May 29, 2022 Fire Commissioners Meeting (no minutes yet)
May 20, 2022 Meeting in Cascade with Forest Service (no minutes yet)
Apr 3, 2022 Fire Commissioners Meeting Link:
Feb 24, 2022 Fire Commissioners Special Meeting Link:
Jan 30, 2022 Fire Commissioners Meeting Link:
Jan 10, 2022 YPFD Special Meeting Link:
Jan 9, 2022 YPFD New Commissioner's Transition Meeting Link:
Nov 23, 2021 – Special meeting Link:
Nov 8, 2021 – AAR Report (Hopeless) Link:
Oct 31, 2021 – Special meeting Link:
Oct 14, 2021 – Special meeting Link:
Sep 27, 2021 – Special meeting Link:
Sep 18, 2021 – Special meeting Link:
Sep 11, 2021 – YPFD Budget meeting Link:
Aug 28, 2021 – YPFD Meeting to discuss election (no notes taken.)
Jul 10, 2021 – YPFD Meeting Minutes. Link:
Jun 12, 2021 – YPFD Meeting Minutes. Link:
May 15, 2021 – YPFD Meeting Minutes. Link:
Sep 30, 2020 – YPFD budget meeting. (No minutes yet.)
If you are burning any piles of forest litter and debris – please have a connected and charged garden hose that can reach your piles. If your hose cannot reach where you are burning, follow the good advice of having a shovel, axe, and water bucket at the scene. Rake away from anything that could ignite. Stop burning if winds become an issue. Make sure your fire is out before you leave the area. Nothing like getting surprised by an escaped fire in the middle of the night!
Better yet, "Rake It and Take It" your yard waste (limbs, pine needles, brush, etc.) to the burn pile at the Transfer Station on the south end of the turn-around. Remember, keep the pile neat. Woody debris only, no nails, no cardboard and no furniture! The Boise NF will burn the pile in the fall when it is safe.
Yellow Pine Fire Protection District Community Service Notice
The purpose of this letter is to show how you as a Yellow Pine Resident can help protect your structure against a wildland fire by being "Fire Wise." Click the link: to view 20190724 Yellow Pine Fire Protection mitigation
Valley County Wildfire Evacuation Checklist
A wildfire evacuation checklist that property owners in the Yellow Pine area might find useful. link: Valley County Evacuation Checklist – 2021
YPFD COVID19 Policy
link: YPFD Covid-19 SOP
link: Covid-19 EMS
Fire Chief: Tim Rogers 208-633-2005
Assistant Fire Chief: Ron Basabe 208-633-9001
YP Fire Commissioners:
Lorinne Munn – District 1
Tom Lanham – District 2
Bill McIntosh – District 3
Secretary/Treasurer – Ronda Rogers
2022 Meeting Schedule:
January 30, 2022, Sunday at 2pm
March 27, 2022, Sunday at 2pm (rescheduled)
April 3, 2022 at 2pm
May 29, 2022, Sunday at 2pm
September 11, 2022, Sunday at 2pm Budget Meeting
November 27, 2022, Sunday at 2pm
——–
Biz Listings:
The Corner (208) 633-3325 Facebook Page
Summer hours: Wednesday thru Monday (closed Tuesdays) 9am to 7pm
Firewood permits Available May 15th
— — — —
Yellow Pine Tavern (208) 633-2233 Facebook Page
The Tavern will remain closed for renovations until further notice.
— — — —
Yellow Pine General Store and Motel (208) 633-3300
Website Facebook page
The General Store will be closed Mondays, and open Tuesday-Saturday 10-6pm. Sunday 10-3pm
The motel rooms and the laundry room are available 7 days per week. Email:
— — — —
Yellow Pine Lodge (208) 633-3377
Open
— — — —
Murph's RV Park and Mary's Cabins
FB page link
— — — —
Local Color Photography
Website
Facebook page
— — — —
Knotty Kat Crochet Works – 509-406-2221
FB page
Open Tue – Sat, 9-5
Yellow Pine eggs $4/doz
No longer taking scrap metal
— — — —
Buck Horn Outfitters LLC 208-633-3614
Buck Horn Outfitters is offering trail rides out of Yellow Pine, anything from an hour ride to day trips and fully catered camping / pack trips to high mountain lakes or DIY camp trips where you can enjoy Idaho's back country to yourself.
See our website for more details. Or give us a call 208-633-3614
website:
Facebook:
Wapiti Meadow Ranch – Johnson Creek (208) 633-3217
or 208-315-3554 – cabin rentals
website:
Big Creek Lodge
website:
Opened May 27, 2022 for Fly-ins
Deadwood Outfitters
website:
— — — —
Local Fuel Suppliers
Amerigas Phone: 1-800-427-4968
Ed Staub & Sons Phone: (208) 634-3833
Diamond Fuel & Feed Phone: (208) 382-4430
— — — —
Outside Biz that will service Yellow Pine:
Cascade:
Arnold Aviation (208) 382-4844
D9 Groceries: 208-382-4215 Website link to order:
Upon "checkout" click on "gift" and write "Arnolds to pick up and deliver to (your name) in Yellow Pine" so they know who will pick it up and where it goes.
Watkins Pharmacy Cascade (208) 382-4204
Call your doctor and have your Rx transferred until Watkins can rebuild.
Cascade Auto (208) 382-4224
Cascade Vet Clinic (208) 382-4590
The Star-News


click to subscribe:
Please help support local journalism and subscribe.
A reminder that those who live in other states can subscribe to the online edition only since the mail can take days for hard copy to reach them.
J & R Septic
Cascade (208) 382-8727
Valley Roofing Idaho
Meridian (208) 830-4890 email:
Facebook:
Rocky Mountain Mechanical – Plumbing – Heating – Air conditioning
(208) 365-PIPE (7473) Emmett, will service Yellow Pine
Website:
————–
Local Observations:
Monday (July 18) overnight low of 54 degrees, no rain. This morning it was 77 degrees by 9am, clear sky and breezy. Pine siskins, swallows, hummingbirds, and finches visiting. Gusty breezes right after lunch time. Warm but not hot mid-afternoon, clear sky and nice cool breezes, high of 84 degrees. Clear sky and cooling off just after sunset. Skeeters are hungry! Clear sky at midnight.
Tuesday (July 19) overnight low of 40 degrees, no rain. Light early air traffic. This morning it was 51 degrees by 9am and clear sky. A few tree swallows swooping and a robin calling, finches and several hummingbirds visiting. Breezy at lunch time and warm. Increasing street traffic. Clear hot and light breeze mid-afternoon, high of 91 degrees. Still warm and clear sky after sunset – a bit of haze. Clear sky at midnight.
Wednesday (July 20) overnight low of 45 degrees, no rain. Increasing street traffic. This morning it was 59 degrees by 9am and clear sky. A few tree swallows swooping and a couple of evening grosbeaks calling, finches, pine siskins, black-headed grosbeak, juvenile jay, hummingbirds and juvenile pine and ground squirrels observed. Mid-morning air traffic. Diamond Fuel and Feed tanker truck delivering fuel. Clear and warm at lunch time. Mail truck made it in on time. Hot and breezy mid-afternoon, high of 94 degrees. Still hot early evening but calmer. Clear sky and slight breeze after sunset and slow to cool off. Skeeters are swarming. Clear sky at midnight.
Thursday (July 21) overnight low of 45 degrees, no rain. This morning it was 59 degrees by 9am and clear sky. Sounds of weed-whackers and light traffic. A few tree swallows still around, robins, hummingbirds, finches, pine siskins and young pine and ground squirrels observed. Warm and sunny at lunch time. Hot with light variable breezes mid-afternoon, partly clear/cloudy, high of 95 degrees. Hot and clear by early evening. Clear and warm after sunset. Lots of Skeeters. Clear sky at midnight.
Friday (July 22) overnight low of 46 degrees, no rain. Increased morning air traffic. This morning it was 60 degrees by 9am and clear sky. Tree swallows, robins, hummingbirds, finches and pine siskins observed. Young pine and ground squirrels scampering about. Clear and hot at lunch time. Hot and a bit breezy mid-afternoon, almost clear except for a couple of small clouds, high of 92 degrees. Clear sky and warm after sunset. Clear at midnight.
Saturday (July 23) overnight low of 43 degrees, no rain. This morning it was 57 degrees by 9am and clear sky. A few tree swallows, robins, hummingbirds, finches and pine siskins observed. Several young ground squirrels and a couple of young pine squirrels running about. Increasing street traffic and dust. Warm and clear at lunch time. Clear and hot mid-afternoon, nice breeze, high of 91 degrees. Clear sky after sunset and warm. Skeeters swarming. Dusty air after dark. Clear sky at midnight.
Sunday (July 24) overnight low of 43 degrees, no rain. Early air traffic for a couple hours. This morning it was 55 degrees by 9am. Woodpecker drumming off in the distance, a few remaining swallows swooping around, hummingbirds, finches and pine siskins observed. Increasing street traffic and dust. Warm and sunny at lunch time. Plenty warm by mid-afternoon, almost clear sky and nice breeze, high of 88 degrees. Still warm before sunset, clear and breezy.
—————-
Idaho News:
Yellow Pine festival set Aug. 4-6 with concerts, workshops
Yellow Pine will celebrate the 32nd annual Music and Harmonica Festival Thursday through Saturday, Aug. 4-6, with live music, harmonica workshop, demonstrations, a live auction and the Great Harmonica Run.
Live music will kick off Thursday, Aug, 4, at 6 p.m., Friday, Aug 5, at 12:45 p.m. after the opening ceremonies and Saturday, Aug. 6, at noon in the remote village of Yellow Pine.
First-time attendees are urged to not use GPS routes and not to underestimate the danger of the mountain roads.
Professional harmonica players featured for the first time at the festival will be Mark Hummel, Lee Oskar, and Charlie Musslewhite.
Other scheduled performers will include Wilder, Blackwater Dan, West of Ustick, Muddy Boots & The Porch Pounders, Half Fast Hillbillies, David Richardson, Paddy Wagon, Broken Tip Jar and Side Hustle. Idaho stories in song and poetry will be presented by Gary Eller.
The Harmonica Workshop sessions will be Friday and Saturday from 10 a.m. to noon at the Yellow Pine Community Hall. Cost is $50 per session.
The 6.5K Great Harmonica Run will be Saturday at 9 a.m. at The Corner. Registration is $25 and is available online or beginning at 8 a.m. the day of the race.
Demonstrations include youth harmonica lessons, fly fishing, fly tying, casting, art and woodworking at the Demo Tent.
The community breakfasts will be Friday, Saturday and Sunday from 8 a.m. to 11 a.m. at the Community Hall. Cost is $6 per person.
Visit (link) for more information, including driving directions.
source: The Star-News July 21, 2022
— — — — — — — — — —
Valley County Fair, rodeo, to be held on separate weeks
For the first time, Valley County will celebrate the week-long Valley County Fair fair and junior rodeo the first week of August with the adult rodeo held following weekend.
The fair and junior rodeo will be Monday through Saturday, Aug. 1-6, with the theme "Summer Days and Country Ways" and the adult rodeo will be held Friday and Saturday, Aug. 12-13.
Both events will be held at the Valley County Fairgrounds in Cascade.
continued: The Star-News July 21, 2022
— — — — — — — — — —
COVID-19 Updates: 1,194 new Idaho COVID-19 cases, 7 new deaths
July 22, 2022 Local News 8
Idaho officials reported 1,194 new COVID-19 cases and 7 new deaths Friday. State-level case and hospital data are now being updated on the state dashboard on Monday, Wednesday and Friday, excluding holidays.
That brings the total confirmed and probable cases reported since March 2020 to 475,344.
The state said 16 new hospitalizations have been reported bringing the total number to 17,623, and 0 new cases have been admitted to the ICU bringing the total to 2,987.
7 new deaths were reported bringing the total recorded deaths to 5,017.
full story: [Valley County 2,849 cases, 16 deaths.]
— — — —
New Valley County COVID-19 cases drop to 17, hospitals say
By Tom Grote The Star-News July 21, 2022
Total new cases of COVID-19 reported in Valley County dropped to 17 last week, according to reports from the county's two hospitals.
The 17 new cases compared to 55 new cases reported the previous week and 33 new cases reported the prior week.
St. Luke's McCall and Cascade Medical Center have reported 3,024 cases of COVID-19 since the pandemic started in March 2020.
As of Monday, a total 83 new cases had been reported in July by St. Luke's McCall.
A total of 131 cases confirmed in June, with 82 new cases detected in May and 13 new cases reported in April.
Spokespeople for both hospitals said the number of new reported cases are likely far lower than the actual number of new cases. Both hospitals distribute home tests for COVID-19 and some patients may choose not to be tested, they said.
Thirteen confirmed deaths and three probable deaths in Valley County from COVID-19 have been reported by Central District Health since the start of the pandemic.
Clinics & Tests – McCall
St. Luke's Clinic – Payette Lakes Family Medicine now offers Pfizer's COVID-19 vaccines for children age 6 months to 4 years. Children 5-17 years old already may receive the Pfizer vaccine.
The McCall clinic also offers the Moderna and Pfizer COVID-19 vaccine and boosters to anyone age 18 and older, but the Moderna vaccine is not available for youths under age 18.
Second booster doses are available for adults ages 50 years and older, people ages 12 years and older who are moderately or severely immunocompromised.
Patients should talk to their health care provider about their medical condition, and whether getting an additional primary shot is appropriate for them.
Pfizer vaccines are offered on Monday, Tuesday, Thursday and Fridays. The Moderna vaccine is offered on Wednesdays only.
Those wanting to get a vaccination can schedule through MyChart at (link) or call 208-381-9500.
Parents of minors should create a MyChart for eligible children and set up proxy access. Instructions are available at (link)
Walk-ins are welcome Monday through Friday, 8 a.m. to 5 p.m., for adults who are seeking their initial COVID-19 vaccine dose only.
Clinics & Tests – Cascade
Cascade Medical Center no longer offers the Pfizer vaccine. Those wishing to be given the Pfizer vaccine should contact St. Luke's McCall or a local pharmacy.
The Moderna vaccine for those age 18 and older is available on Thursdays only along with the Moderna booster. Call 208-382-4285 to schedule a time.
The Cascade hospital offers a second booster shot of the Moderna vaccine to those over age 50 who received their first booster shot at least four months ago
Take-Home Tests
St. Luke's McCall and Cascade Medical Center have take-home COVID-19 tests available. The saliva-based test offers results in two to three days.
The Cascade hospital also provides free at-home COVID-19 antigen tests, which is a nasal swab test that gives results in 10 minutes, but is less accurate than the saliva-based test.
The tests can be picked up at the main entrance to St. Luke's McCall at 1000 State St. in McCall or at the clinic at Cascade Medical Center at 402 Lake Cascade Pkwy in Cascade.
full story: © Copyright 2009-2021 Central Idaho Publishing Inc. All rights reserved (used with permission.)
— — — —
Long COVID patients waiting months to receive specialized care
Andrew Baertlein July 22, 2022 KTVB
The St. Luke's COVID Recovery Clinic is receiving more referrals than they can handle. Some people experiencing "long COVID" are waiting two-to-three months just to get an appointment, according to Service Line Medical Director, Dr. Laura McGeorge.
St. Luke's is working to increase capacity, however, the industry in general is facing a worker shortage. It's a problem that's compounded by the continuous population growth throughout Idaho, especially in the Treasure Valley.
The waitlist is impacting Idahoans facing a range of symptoms that seemingly don't go away. Long covid symptoms include fatigue, brain fog, short breath, chest pain, cough, and heart palpitations, according to St. Luke's.
full story:
— — — — — — — — — —
Road over Cascade Dam to be closed for repairs through Sept.
The road over Cascade Dam in Cascade will be closed to the public Aug. 22 to Sept. 30, the U.S. Bureau of Reclamation announced.
The closure will allow crews to pave the existing gravel road and adjust existing concrete barriers along the edges of the roadway and spillway bridge.
The public will still be able to use Dam Road to get to Ridgeview Campground south of the dam. The road will be closed north of the campground. The public should use Vista Point Boulevard to get to Lake Cascade north of the dam.
The project is a joint venture of the B of R and the Federal Highway Administration. For more information, contact Christine Schuldheisz at cschuldheisz@usbr.gov
source: The Star-News July 21, 2022
— — — — — — — — — —
Idaho WIC makes annual adjustment to income guidelines
July 19, 2022 Local News 8
Idaho's Special Supplemental Nutrition Program for Women, Infants and Children (WIC) will implement new income guidelines effective July 1, 2022, that raise household income eligibility limits to help offset cost of living increases.
This review and adjustment happens annually.
To be eligible for the WIC program, an individual must be a pregnant or breastfeeding woman, a woman who has recently been pregnant, or an infant or child younger than 5 years old. In addition, the individual must live in Idaho, have a need that can be helped by WIC foods and nutrition counseling, and have a low-to-moderate income.
continued:
— — — — — — — — — —
Body of missing Idaho man recovered from Payette River
KTVB Staff July 20, 2022
The Boise County Sheriff's Office confirmed the body of Milt Alley, who went missing after his vehicle went into the Payette River on Highway 17 on July 14, was recovered Wednesday around 11:30 a.m.
In a Facebook post, the sheriff's office said, "our hearts and prayers go out to Milt's family in this difficult time for them. We would also like to send out a huge thank you to all the volunteers who spent many hours looking for Milt along the river."
Alley's vehicle went into the water near milepost 1. Officials recovered Alley's vehicle and dog from the Payette River following the incident.
continued:
—————
Mining News:
Valley flips on Perpetua study
Hasbrouck changes mind, withdraws county sponsorship
By Max Silverson The Star-News July 21, 2022
Valley County Commission chair Elt Hasbrouck on Monday reversed his support of a study of how Perpetua Resources' proposed gold mine at Stibnite would affect businesses and public services in the region.
Hasbrouck voted on July 5 with fellow commissioner Ed Allen to pursue the concept of the study.
On Monday, the commissioners had an item on its agenda to ask for formal proposals to draft the study.
The new vote was 2-1 against the study with Hasbrouck joining commissioner Sherry Maupin.
The study was requested by the newly formed Idaho Headwaters Economic Study Group, a coalition of more than 50 local businesses.
Hasbrouck said that he had since learned more about previous studies of the Stibnite Gold Project and did not know if another study was needed.
"I can't support going any further with this until I look at what's been provided, I didn't know this information was available," he said.
Hasbrouck made the switch after a presentation by Perpetua Resources Community Relations Manager Belinda Provancher, who told commissioners about previous economic studies funded by the mining company.
"I feel like this has been studied to death," Provancher said.
"In my mind, it is morally wrong to spend taxpayer dollars on a new study, just because you don't like the result of the previous study," she said.
Provancher cited a 2018 study by Highland Economics of Portland, Oregon that was funded by Perpetua Resources.
The study assessed the effects of the Stibnite Gold Project on worker wages and spending from that income as well as local spending on goods and services resulting from the mine.
The Headwaters group was "stunned" by the board's decision, representative Deb Fereday said.
"The most important aspect of commissioning this study is that our already vibrant economy, based on tourism and recreation, needs to be studied and the potential effects of the mine on our economy should be made public," Fereday said.
The Highland study did not evaluate the potential effects of the mine on recreation or tourism, she said.
"Why would the county not want to commission an in-depth unbiased socio-economic study?" Fereday said.
Following Provancher's presentation, Allen made a motion to seek formal proposals for a study, but received no second from Hasbrouck or Maupin.
The study would have cost Valley County about $35,000.
The Highlands group asked Valley County to fund the study to limit perceptions of bias.
Allen favored pursuing a new study as an improvement over previous information gathered on the topic.
"When we heard from Headwaters, they made a fairly strong argument that we didn't have as current and as complete of an analysis based on our dynamic economic environment," Allen said.
Maupin previously said she opposed the study because it would single out Perpetua without considering other major projects like expansion of Tamarack Resort and Brundage Mountain Resort.
The Headwaters group claimed the Highland study and other studies funded by Perpetua and regulatory agencies have fallen short on analyzing economic effects of the mine.
source: © Copyright 2009-2021 Central Idaho Publishing Inc. All rights reserved (used with permission.)
— — — — — — — — — —
Perpetua Resources begins clean-up project at the Stibnite Mine site
By Steve Dent Jul 17, 2022 KIVI
Mining at the Stibnite Mine east of Yellow Pine near the headwaters of the South Fork of the Salmon River dates back a hundred years, this mine was a critical component to the United States war effort in World War II.
However, environmental impacts from legacy mining remain, Perpetua Resources formerly known as Midas Gold who wants to open another large gold mine, has started the process of cleaning up some of those impacts they did not create.
"Today, that waste is integrating with both ground and service water degrading water quality with both arsenic and antimony," said McKinsey Lyon of Perpetua Resources. "So with this early action clean up we started this week, we get to be part of the solution."
Phase one of the clean-up comes after a settlement agreement between Perpetua Resources and the forest service and the Environmental Protection Agency, the EPA states this effort is expected to improve habitat and reduce harmful metals through sediment removal and three stream diversions.
"We appreciate efforts to clean up abandon mine sites, but we are really concerned about Perpetua's larger open pit mine plan for the area," said John Robison of the Idaho Conservation League. "We are concerned that if proceeding as proposed that would actually increase the the amount of pollution and contamination."
continued:
——————-
Fire Season:
Idaho Smoke July 19

courtesy NOAA
— — — — — — — — — —
Fisher fire held to 18 acres
Blaze started Saturday 15 miles NW of McCall
By Max Silverson The Star-News July 21, 2022
The Fisher Fire 15 miles northwest of McCall was held to 18 acres on Tuesday by firefighters, the Payette National Forest said.
The blaze started on Saturday, triggering an all-out effort by firefighters to contain the fire before winds caused it to spread rapidly.
The fire was 30% contained as of Tuesday and had not grown since Sunday, Payette National Forest Public Information Officer Brian Harris said.
Crews spent Tuesday putting out spot fires inside fire lines and calling for water dropped from buckets by helicopter as needed, Harris said
The fire is about a mile northeast of Brundage Reservoir. No buildings were threatened.
The cause of the fire was under investigation as of Tuesday, but Harris urged people to be vigilant about putting out campfires.
Eight firefighters were dropped by lines from a helicopter to the fire after it was spotted on Saturday afternoon, he said.
With high winds in the forecast, fire managers assigned 120 people to the fire, including four 20-person crews, two fire engines and four helicopters to drop water, Harris said.
"Our season may be a little later than normal due to the amount of precipitation received during May and June, but fire season is here now," he said.
source: © Copyright 2009-2021 Central Idaho Publishing Inc. All rights reserved (used with permission.)
— — — — — — — — — —
Central Idaho Dispatch Zone moves to Very High Fire Danger
July 19, 2020 Local News 8
Due to weather and fuel conditions, the Central Idaho Dispatch Zone, which includes the Salmon-Challis National Forest, has moved to Very High Fire Danger.
In Very High fire danger, fires can start from most causes. The fires can spread rapidly and have a quick increase in intensity, right after ignition. Small fires can quickly become large fires and exhibit extreme fire intensity, such as long-distance spotting and fire whirls. These fires can be difficult to control and will often become much larger and longer-lasting fires.
Forest officials are asking the public to be extremely careful when camping and to remember that it's your job and responsibility to properly maintain and extinguish all campfires.
continued:
— —
Central Idaho Fire Restrictions Area implements Stage I Fire Restrictions
July 22, 2022 Local News 8
The U.S. Forest Service, Idaho Department of Lands, and Bureau of Land Management in east-central Idaho will begin Stage 1 fire restrictions, effective at just after midnight (12:01 am) on Tuesday, July 26, 2022. Stage 1 fire restrictions apply to federal, state, state endowment, private forestland and rangelands within the designated area.
The Central Idaho Fire Restrictions Area encompasses those portions of Custer County that are north and east of the Sawtooth National Recreation Area excluding the Frank Church River of No Return Wilderness. That portion of Lemhi County that is not federal land designated as wilderness.
Stage 1 fire restrictions apply to campfires and smoking.
continued:
— — — — — — — — — —
Woodtick Fires
Salmon-Challis National Forest
The lightning fires are located approximately six (6) miles west northwest of the Meyers Cove in the Frank Church River of No Return Wilderness on the Middle Fork Ranger District.
7/24/2022
1,434 Acres
InciWeb link:
— — — —
Moose Fire
Salmon-Challis National Forest
The fire is located approximately five (5) miles southwest of the North Fork in the vicinity of Moose Creek and Deadwater on the North Fork Ranger District.
7/24/2022
Total Personnel 722
Size 32,330 Acres
InciWeb link: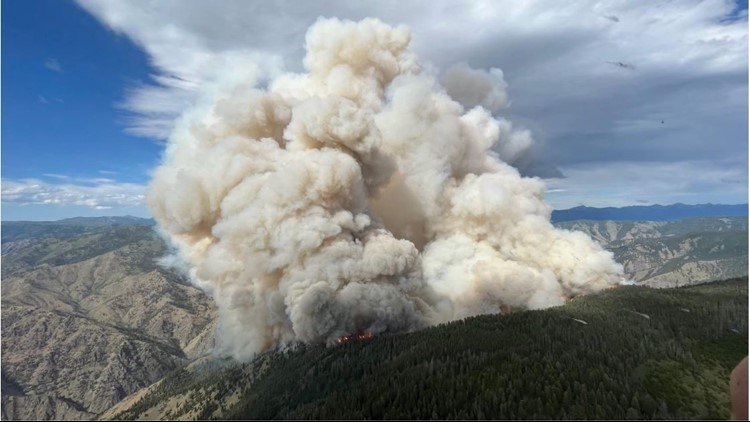 Credit: Salmon-Challis National Forest/Inciweb
The Moose Fire July 17, 2022, on the Salmon-Challis National Forest near North Fork in Lemhi County, Idaho.
Moose Fire Info Map July 21, 2022


— —
2 pilots succumb to injuries after helicopter crash
July 22, 2022 Local News 8
On Thursday at 4:48 p.m., Lemhi County Dispatch received a call of a downed aircraft in the Salmon River.
Lemhi County Sheriff's Office, Salmon Search and Rescue, Gibbonsville QRU, Idaho Air Methods and Salmon EMT all responded to the scene.
continued:
— —
Moose Fire evacuations in place
July 22, 2022 Local News 8
Due to increased fire activity of the Moose Fire, the Lemhi County Sheriff has announced all residents from (Zone 2) Tower Creek to North Fork are in GO status, which means immediate evacuation is necessary.
continued:
— — — —
Bray Fire
BLM
Location: approximately seven miles northeast of Bliss
Update 7/19/2022
Size: Estimated 12,000 acres
BLM fire info:
— — — —
Brush fire burning near Pocatello
July 23, 2022 Local News 8
Pocatello Valley Fire Department, BLM, and hotshot crews are on the scene of a brush fire that started overnight.
The fire is burning just south of Pocatello in the Portneuf Gap and Blackrock area.
It's called the East Gap Fire and is currently estimated at over 300 acres.
continued:
— — — — — — — — — —
Western Smoke Map July 24th

courtesy NOAA
—————-
Critter News:
Idaho Fish and Game euthanize food-conditioned black bear in Ketchum, cubs taken to wildlife facility
KTVB Staff July 19, 2022
On Monday evening, Idaho Fish and Game (IDFG) reported the death of another food-conditioned black bear in Ketchum.
Early Monday morning, IDFG and local law enforcement responded to reports of an aggressive bear in a Ketchum neighborhood. The bear was seen rooting through garbage cans, then growled and snapped at a resident.
When IDFG arrived at the incident, they found a sow black bear in a tree with two cubs. The bear was darted and sedated. After falling from the tree, IDFG said the bear died from a combination of stress and effects from the sedation and capture. However, IDFG said they had planned on euthanizing the bear once it was captured.
continued:
— — — — — — — — — —
Moose on the loose in Hidden Springs
KTVB Staff July 19, 2022
A moose is on the loose in a Hidden Springs community, according to Idaho Fish and Game (IDFG).
IDFG is asking for community members to keep their distance and not engage with the moose if they make contact. When moose are threatened, they may charge at humans or other animals like dogs or try and flee and potentially be hit by oncoming traffic.
…things to be aware of
* Moose have bad eyesight, which can cause them to become aggressive and unpredictable when surprised or cornered. When threatened, they may charge and attempt to stomp on the perceived threat.
* When moose lower or flatten their ears to their head, it is usually a sign of agitation and aggression. If you encounter a wild animal and observe this behavior, be aware and remove yourself from the situation as soon as possible.
* Keep a respectful distance of at least 50 yards or more from wild animals. The presence of a dog can be especially alarming to a moose, so for the dog's safety, and the safety of the moose, always keep dogs leashed and far away from the moose.
full story:
— — — — — — — — — —
Kuna dog recovers after eating poisonous panther cap mushroom
Even though this group of mushroom typically grows in the mountains, they are sometimes found in the Treasure Valley.
Abby Davis July 22, 2022 KTVB
When Nate Stauffer returned to his family's cabin in Stanley on Sunday morning, he found is lab Bella unresponsive in her crate.
The reason why – a poisonous panther cap mushroom Bella ate earlier in the day. After finding the lab, Stauffer and his girlfriend, Kayla Hall, rushed to the closest vet three hours away.
Bella ended up staying overnight in the ICU, Hall said.
While panther cap mushrooms are more common in the mountains, they do grow here in the Treasure valley. Retired fungi specialist Robert Chehey said the type of mushroom Bella ate usually grow near trees and has either yellow or brown caps with white warts.
More Info
Wikipedia:
— — — — — — — — — —
Video: Mormon crickets plowed off Idaho highway
by KBOI Staff Friday, July 22nd 2022
The Mormon crickets are out in full force in southwestern Idaho.
And there's some disgusting video to prove it.
The Idaho Transportation Department posted a video of a heavy equipment operator plowing crickets off of Highway 51. Too many crushed bugs along the highway can lead to slick spots for drivers.
continued:
—————-
Tips and Advice:
How to keep your dog and other pets cool in the heat
July 19, 2022 Local News 8
Keeping cool in hot weather is challenging for humans. What about our pets?
continued:
——————
Fish and Game News:
Chinook fishing season will end on the South Fork of the Salmon River on July 21
By Roger Phillips, Public Information Supervisor
Monday, July 18, 2022
Idaho Fish and Game will close Chinook salmon fishing on the South Fork of the Salmon River at the end of fishing hours on Thursday, July 21. The sport fishing share of the harvest will have been reached by that time. Anglers can see what areas remain open for fishing by checking the Chinook Salmon Seasons and Rules webpage.
continued: w/links
— — — — — — — — — —
Crawling through Idaho's rivers and streams, snorkelers provide valuable fisheries data
By Sara Cassinelli, Digital Content Strategist
Friday, July 22, 2022
When most people think of snorkeling, they picture a tropical setting where the water is a comfortable 80 degrees and the weather is always sunny. You're wearing a swimsuit, goggles with a breathing tube, and swim fins as you flutter kick through comfortable water observing fish at the bottom of the sea.
For Idaho Fish and Game's snorkel crews, it's the Idaho way, not the tropical way. Donning wetsuits and head coverings, snorkel gear, and wading boots, no day is the same in some of Idaho's most scenic rivers and streams. Weather and river conditions can change at any time and it's tough work.
continued:
— — — — — — — — — —
Aug. 1 deadline to buy controlled hunt tags is fast approaching
By Connor Liess, Public Information Specialist
Tuesday, July 19, 2022
All controlled hunt tags that are not purchased by the Aug. 1 deadline will be forfeited and offered in the second drawing.
The deadline to purchase controlled hunt tags is Aug. 1 at 11:59 p.m. MDT.
It is the applicant's responsibility to see if they drew a controlled hunt tag and to buy it by this deadline. All controlled hunt tags (except unlimited and January hunts) that are not purchased by the Aug. 1 deadline will be forfeited and offered in the second drawing. There are no exceptions.
continued:
— — — — — — — — — —
More F&G News Releases
link:
———————————-
Seasonal Humor:

——————