Jan 1, 2017 The Yellow Pine Times – Valley County, Idaho
Happy 2017 from Yellow Pine
Village News:
Local streets have been plowed by local volunteers, snow packed with a couple inches loose snow on top. December has been a bit colder than normal, it only got above freezing eight times, four mornings we had single digits and below zero temperatures on six mornings. The average high temp was 29 degrees and the average low was 5 degrees. There has been 36.9 inches of snow fall and down here on the flat by the school there is 16″ total snow on the ground.
— — — —
Christmas Day in Yellow Pine
——————————
RIP:
Gerri Adkins
Geraldine Ann "Gerri" Schmitt Adkins
1942 – 2016
Twenty-two years to the day since the passing of her beloved mother, Gerri, age 74, died peacefully in the arms of her three adoring daughters, on December 23, 2016 at her daughter Pam's home after a very brief battle with lung cancer.
Gerri was born on August 18, 1942 in Nampa, Idaho, and was the second of six children to Howard and Cecilia Schmitt. She attended St Paul's Catholic School through the eighth grade, going on to graduate from Nampa High School with the Class of 1960, remaining friends with many of her classmates throughout her lifetime.
Gerri married Brent Nyborg on July 1, 1961 and to that union were born three daughters—twins, Pamela Marie and Tamera Ann, on May 17, 1962, followed by Camille Louise on August 4, 1963. She lovingly called them Pami, Tami & Cami, and they became the light of her life and reason for living which she proved on many occasions. Unfortunately, when Camille was six months old Gerri got sick with ulcerative colitis and thus began the struggle for her life. In 1964, becoming only the second person in the State of Idaho to have an ileostomy, during that time, she received the last rights three times but fought to pull through. Her medical history just went on from there and continued to be a battle throughout the rest of her life. She was a walking miracle, and one of the strongest, bravest people you could ever meet!
Gerri worked several secretarial jobs, but one of her favorites was her executive secretary position at Oppenheimer Companies, which she held for many years until she left Boise. A beautiful seamstress, she sewed clothes to make extra money in her spare time. A craft which she also used to keep her girls clothed. Later, she traded in sewing for knitting, this was a craft that everyone in her family benefited from with gorgeous sweaters and blankets. She was so proficient she could knit even when her eyes where closed!
In June of 1973, with her parents' help she had the opportunity to purchase a bar and cafe in Yellow Pine and move to the mountains which she so grew to love. The girls attended school there for one year, as part of the "Yellow Pine Nine". The following school year, due to a lack of kids to open the school, Gerri faced one of the hardest decisions of her life, she had to be separated from her girls when they moved to Kuna with their Dad and Step-Mom to attend school.
On March 17, 1977, she married Jim Adkins and together they purchased Zena Creek Ranch. Upon this union, three more daughters entered Mom's life—Jeanne, Juli and Laura. Gerri's cooking was known far and wide, and anyone that stopped by couldn't leave there without being fed a meal or a snack. She loved to tend her yards and her gardens, when she wasn't helping Jim with his excavation business. The two also spent a lot of time at their cabin in Stibnite—another place Gerri was very fond of—while Jim was working for the mine.
In the last few years, Gerri's health diminished and she had to leave her home at the ranch. Though she missed her mountains, she enjoyed the time she got to spend with her girls, grandkids, and great-grandkids. From her great-grandchildren, she lovingly acquired the nickname "GiGi," loved spoiling them with treats and cookies every time they came to visit.
Gerri is survived by her husband, Jim Adkins; daughters Pam (Bret) Judy, Tami (Kevin) Spangler and Camille (Rick) Thomas; step-daughters Jeanne (Tom) Lake, Juli (Tyson) McCoy and Laura (Chad) Melanese; seven grandchildren, eight step-grandchildren; nine great grandchildren, five step great grandchildren; and one step great-great grandson; sisters Virgie McGolden, Linda Mortensen, Sue (Doyle) Collins and Vickie (Greg) Lovejoy; aunts Theresa Knox and Shirley Schmitt; numerous nieces and nephews; one special friend since birth, Marilee Wood.
Gerri was preceded in death by her Mother and Father, her brother Joe Schmitt, brother-in-law Wally McGolden, a great-grandbaby Brylee Nicole Fowler, and numerous Aunts and Uncles.
A memorial service will take place on Friday, December 30, 2016, at 11:00 am at the Nampa Funeral Home, Yraguen Chapel. 415 12th Ave S, Nampa, ID 83651. An online guest book is available at http://www.nampafuneralhome.com
Memorial contributions can be made to or a .
Mom, we love you to the moon and stars and back, always and forever!!!
Published in Idaho Statesman on Dec. 28, 2016
[h/t BG]
— —
Funeral Program for Gerri
[h/t JC]
— —
Gerri Adkins slide show
by TJ Thomas
[h/t SMc]
———————————————
Local Observations:
Monday (Dec 26) mostly clear and cold this morning, low of 3 degrees, 16″ total snow on the ground. Sunny all day, warmed briefly in the afternoon, then temps dropping before dark. Stars twinkling. Storm came in early morning, rising temps, wind and snow.
Tuesday (Dec 27) low overcast, steady snow falling this morning, an inch new snow and 17″ total on the ground. Snowed all day, another inch by 130pm and another inch by 430pm, then slacking off to flaking, clouds lifting and breaking up before dark. Report of very poor driving conditions between YP and Cascade due to blowing snow in the afternoon. Stars out at 8pm. Snowing again at 1am.
Wednesday (Dec 28) snow yesterday and last night added up to 2.5″ new and total snow 18″ on the flat, cold morning breaks in the clouds. Decreasing clouds and sunny day, warmed up above freezing! But as soon as the sun went down the temps dropped.
Thursday (Dec 29) very cold night, 0F for the low, then clouds came in and warmed to 11F by 930am. Large slow airplane flew over the village at 1137am. Clearing and sunny and above freezing by early afternoon. Ravens calling. By sun down clouds building up.
Friday (Dec 30) not so cold last night, cloudy morning. Raven flew over calling. Snowing before 11am. Snowed into the afternoon. Smell of engine exhaust in the air. Snowed about 1/2″ during the day, then clearing before dark. Noticed the day was slightly longer, still a bit light at 530pm.
Saturday (Dec 31) very cold, low -6 and clear. Sunny cold day, slow to warm up, then temps dropping after sundown. Quiet night.
Sunday (Jan 1) clear and got down to 2F by 4am, then clouds came in and light snow before 9am, just a trace and stopped before 11am. Noon siren went off, spooked raven flew over the school. Hairy woodpecker sighted on the edge of the golf course. Cloudy chilly afternoon. Some unexpected fireworks shot off around 825pm.
————————————–
Letter to Share:
Commissioner Cruickshank December 2016 Newsletter
From the desk of Commissioner Cruickshank Dec 31, 2016
Thursday December 1st
Today I was honored to participate in presenting to a class of New Elected Officials on Emergency Management on how to be prepared for any issue that arises. I also presented along with Valley County's Sheriff and an Attorney from the Idaho Counties Risk Management Program on requirements of maintaining an Adult Detention Facility. My part was to help understand the budgeting side and what is mandated by law.
Friday December 2nd
Today was spent on the phone discussing the upcoming needs for the Bio-Mass study, visiting with a Lakeshore Disposal Representative on Solid Waste issues and meeting with a Tamarack Homeowner Board member to discuss the Tax Deed Process on Tamarack parcels.
Monday December 5th
Today was a Commissioner meeting day. To see today's topics please visit the Valley County website at Valley County, Idaho Official Site http://www.co.valley.id.us/ the meeting minutes will be posted here once approved by the commissioners. Generally this takes up to two weeks. Of significance today was the taking of parcels at Tamarack that had not paid their taxes for several years and setting February 21st as the day to offer them for sale.
I returned a call to the Idaho State Tax Commission confirming the Idaho Council of Government was dissolved however the Tax Commission had not been notified.
I also received a call asking if I would consider running for a vacancy of the Western Region Representative on the National Association of Counties (NACo) Executive Board due to a Montana Commissioner leaving office the end of December. My response was I would consider it and wanted to discuss with my wife and others before committing to run.
I forwarded emails to Idaho Commissioners and Clerks on advocating for the Secure Rural Schools program as it has not been reauthorized and counties and schools will be suffering without the funding.
Tuesday December 6th
I called several folks to ask their opinion of my running for the Western Region Representative and to understand the commitment for this position with NACo.
I worked on the tentative agenda for an Americas Best Communities Forest Restoration Summit and sent emails to folks I want to speak to find their availability.
I received a call from the Idaho County Natural Resource person inquiring about mining access due to the lawsuit Valley County has with the Payette National Forest Travel Management Plan.
Wednesday December 7th
I called more folks on the idea of my running for the Western Region Representative position.
Thursday December 8th
Tonight I attended the Snow Advisory Committee meeting in Cascade.
Friday December 9th
Caught up on emails.
Monday December 12th
Commissioner meeting today. Check the website under commissioners for the minutes once approved. http://www.co.valley.id.us/
Wednesday December 14
This morning I attended the Americas Best Communities project lead meeting in Cascade to review the status of projects.
Thursday December 15th
I attended the Woody Bio-Mass Utilization Partnership meeting in Emmett. Major discussion on the material needed for the Bio-Mass Study to be completed and meeting specific timelines.
Called a citizen in McCall who had been inquiring about Bio-Mass and what avenues would work in McCall as the McCall Environmental Committee has been discussing this topic.
This afternoon I participated in a conference call with the National Forest Counties and Schools Coalition as the Secure Rural Schools funding did not make it in the legislation passed before Congress adjourned for the rest of the year. Advocacy efforts were discussed to encourage folks to speak to legislators while they are in their respective home states.
Friday December 16th
I attended the Objection meeting at the Payette National Forest to listen to how the Payette National Forest was responding to objections raised on the Big Creek Resource Management Plan. Several people had objected to various portions of the plan including Valley County as it concerned access for citizens.
This afternoon I participated in a NACo Transportation Committee conference call to learn about current legislation and how it effects counties.
Monday December 19th
Commissioner day today. Please see the minutes on the Valley County website. http://www.co.valley.id.us/
Tuesday December 20th
I responded to an email where a citizen was complaining about being charged for interest and late fees on prior taxes. Apparently this was from last summer and the person was just now complaining that Valley County was adding the extra cost. By following State Law we have no recourse for this person as the taxes were not paid timely.
After receiving an email on NACo's Western Interstate Region and the Western Governors Association working on similar advocacy that impacts the Western States I forwarded this information on to the Idaho Commissioners and Clerks to keep them informed.
Wednesday December 21st
Worked on emails this morning.
This afternoon I attended the Retirement Party for a Sheriff Deputy.
Thursday December 22nd
This morning was an Idaho Association of Counties (IAC) Board of Directors Conference call. Discussion on upcoming legislation, ethics, reviewing updates to the IAC by-laws, process for submitting resolutions and the potential for Idaho to host the 2018 Western Interstate Region Annual Conference.
This afternoon I reviewed a draft of the Bio-Mass Study to date for clarification. Minor corrections were found to be addressed.
Tuesday December 27th
Commissioner day today. Please see the Valley County Website later in January as these minutes will not be approved until mid January 2017. http://www.co.valley.id.us/
Wednesday December 28th
Today I sent out an email letting folks know in the Western States and NACo officials  that I would be placing my name in to run for the vacant position on the NACo Executive Board to represent the Western Region. Voting will take place during the NACo Legislative Conference held the end of February 2017. Not to be confused with the Western Interstate Region of NACo, the Western Region Representative is part of the Governance of NACo.
Thursday December 29th
I received multiple responses from folks supporting my running for the Western Region Representative position.
I received a call on the opportunity to groom a route to not interfere with a route on the DF Development LLC property. Valley County is working hard to find routes and respect the private property requests by DF Development and informing recreation users to do the same. This new route parallels the private property several hundred yards away and provides the access needed.
Well 2016 leaves us and 2017 is coming in. I hope each and everyone of you had a great year and look forward to the New Year.
Thanks to everyone who reads the newsletter and I hope this is informative to provide a snapshot of my commissioner duties to represent Valley County.
Happy New Year everyone,
Gordon
————————————
Idaho News:
Cascade is in the 'zone' for total solar eclipse next summer
Yellow Pine and McCall are just north of the line of totality.
Mark your calendar for Monday, Aug. 21, 2017 for the total solar eclipse. The total eclipse will be the first in the continental United States since 1979 and the only total eclipse that will reach Idaho this century.
For more information about the eclipse of 2017, go to the American Astronomical Society's website at http://www.aas.org
— — — — — — — — — — — — — — — —
How The Plow Driver Saved Christmas
Two women spotted breaking into Roseberry general store, arrested
By Tom Grote for The Star-News December 29, 2016
Two Grinches were nabbed in the act of breaking in the historic general store at Roseberry on Christmas Day thanks to the alert action of a Valley County snow plow driver.
Chelsea Morford, 41, and Tristann Harrison, 40, both of McCall, were arrested at the store by Valley County Sheriff's deputies and charged with felony counts of burglary.
The two were arraigned on Tuesday in Valley County Magistrate Court and ordered held in the Valley County Jail in Cascade on $5,000 bond each.
A hearing will be held on Jan. 17 to determine if the two should stand trial on the charges.
The incident started about 6:45 a.m. Christmas Day when Valley County Road and Bridge Assistant Superintendent Sam Clemens was driving a county snowplow through Historic Roseberry, located one mile east of Donnelly, a sheriff's office report said.
Clemens saw what he believed to be a flashlight in the former MacDougal General Store and reported it to Valley County Dispatch. Deputies responded to the school and detained two women, the sheriff's office said.
A search warrant was obtained for a pickup parked at the store and deputies found a variety of items including 12 bags of marbles, stick candy, a copper wood pump, photos and posters, a small wooden baseball bat, three pieces of silverware and a silver cap gun, according to the sheriffs report.
The items targeted by the burglars had more historical value than monetary worth, said Barbara Kwader, president of the Long Valley Preservation Society, which oversee the complex of buildings that includes the Valley County Museum.
full story The Star-News
— — — — — — — — — — — — — — — —
Chimney fire damages home on Jughandle Drive
The Star-News December 29, 2016
A build-up of creosote in a chimney flue is being cited as the cause of a fire Monday night at a home southeast of McCall, Donnelly Fire & EMS reported.
The fire at 50 Jughandle Dr. was reported about midnight on Monday. Two people who were in the home escaped without injury, Donnelly Fire Chief Juan Bonilla said.
Ten Donnelly firefighters along with three firefighters from McCall Fire & EMS responded to the blaze, which started in the chimney and spread into the attic and roof, Bonilla said.
No estimate of damage was available to the home, whose owner was identified as Claudia King. Firefighters spent 5-1/2 hours on the scene, Bonilla said.
source The Star-News
— — — — — — — — — — — — — — — —
Man hospitalized after fireworks accident in McCall
KTVB December 30, 2016
McCall — A 40-year-old man was airlifted to a Boise hospital after he was injured in a fireworks accident Thursday night.
McCall fire officials say the incident happened at a home at 301 Rio Vista Boulevard. The man's hand was injured when a mortar exploded, according to the fire department.
He was taken first to a nearby hospital, then transferred to Boise. The injury is not life-threatening, according to fire officials.
Copyright 2016 KTVB
— — — — — — — — — — — — — — — —
Idaho Highway 55 Could See Construction And A New Bridge Next Year
By Samantha Wright Boise State Public Radio 12/28/2016
If you drive on Idaho Highway 55, get ready for some construction slowdowns in the New Year.
For anyone traveling north from Boise to Banks, Cascade, Donnelly or beyond, Highway 55 is the main route, and an extremely busy one, especially in the summer months. Any construction project on the highway is of interest to travelers, especially one that will take 10 to 12 months and replace an entire bridge.
The Idaho Transportation Department will hold a meeting next week to talk about their project to replace the Idaho 55/Payette River Bridge.
It was built in 1934 and no longer meets today's standards. So the Department wants to build a new bridge, in the fall of 2017.
continued:
— — — — — — — — — — — — — — — —
Dozens of Santas hit the slopes at Tamarack
KTVB December 25, 2016
BOISE – After a busy night of delivering presents, Santa cooled off with some runs at Tamarack Resort Sunday morning. Actually, dozens of Santas hit the slopes.
Tamarack provided video showing 24 Santas skiing and snowboarding Christmas morning. Every guest who showed up dressed as Santa received a free lift ticket on Sunday.
Dozens of Santas going skiing Christmas morning
continued w/video:
— — — — — — — — — — — — — — — —
Body of snowmobiler found in Idaho mountains
12/29/16 AP
Salmon, Idaho — Authorities say an east-central Idaho snowmobiler has been found dead in a mountainous area northwest of Salmon.
The Lemhi County Sheriff's Office tells the Post Register in a story on Wednesday that deputies and rescue teams found the body of 58-year-old Michael Mogard of Salmon on Saturday.
Officials say they found Mogard's snowmobile at noon and followed footprints to his body.
Lemhi County Coroner Mike Ernst says a preliminary determination is that Mogard died from exposure. Mogard was reported missing the day before his body was found.
source:
— — — — — — — — — — — — — — — —
Idaho area code overlay coming in 2017
New numbers to be assigned 986 prefix
Ryan Thorne Dec 28, 2016 IME
Due to the high demand for phone and messaging services in Idaho, the 208 area code has been exhausted and a new area code will be implemented in 2017.
Beginning Sept. 5, Idahoans obtaining new telephone lines and services will be assigned a 986 area code.
According to the Idaho Public Utilities Commission, the new 986 area code will overlay the currently used 208 area code and will be issued statewide and not just in a specific geographic region.
In addition to the new area code, beginning Aug. 5, telephone users in Idaho will be required to dial all 10 digits of a phone number, including the area code, to complete a call, even if the call is local.
continued:
———————————-
Public Lands:
US considers mining limits to save sage grouse
by Dan Elliott, Associated Press Thursday, December 29th 2016
Denver (AP) — The Obama administration will release five possible plans Thursday for limiting mining on federal land in the West to protect the vulnerable greater sage grouse, but it isn't saying which it prefers.
The options range from banning new mining activity on about 15,000 square miles for up to 20 years to imposing no additional restrictions on mine locations.
The Associated Press obtained the outlines of the proposals in advance.
The rules would affect sage grouse habitat on federal land in Idaho, Montana, Nevada, Oregon, Utah and Wyoming.
continued:
— — — — — — — — — — — — — — — —
Shielded Native American sites thrust into debate over dams
By Keith Ridler – 1/1/17 AP
Boise, Idaho — A little-known federal program that avoids publicizing its accomplishments to protect from looters the thousands of Native American sites it's tasked with managing has been caught up in a big net.
The Federal Columbia River System Cultural Resources Program tracks some 4,000 historical sites that also include homesteads and missions in Oregon, Washington, Idaho and Montana.
Now it's contributing information as authorities prepare a court-ordered environmental impact statement concerning struggling salmon and the operation of 14 federal dams in the Columbia River Basin.
A federal judge urged officials to consider breaching four of those dams on the Snake River.
"Because of the scale of the EIS, there's no practical way for us, even if we wanted to, to provide a map of each and every site that we consider," said Sean Hess, the U.S. Bureau of Reclamation's Pacific Northwest Region archaeologist. "There are some important sites out there that we don't talk about a lot because of concerns about what would happen because of vandalism."
continued:
—————————————-
Letter to Share:
Mystic Farm Update
1/1/2017
The time is fast approaching when I will be out of commission operating the rescue and organizing the "GROW MORE SPOTS" fundraiser – albeit temporarily. Needless to say, we are behind a bit compared to other years. Please get your raffle tickets and mark your calendars for the January 21st event! You can use the following phone numbers for raffle ticket purchase, auction item drop offs (or need for pick up), and for any questions you may have: 208 597-3950 or 208 304-8241. They will guide you in the right direction. Thank you SO much!


Dory
Mystic Farm Wildlife Rescue, Inc.
208 241-7081
——————————–
Critter News:
Twice in one week, Eagle firefighters rescue pets from icy pond
Nicole Blanchard Idaho Statesman Dec 26, 2016
For the second time in a week, Eagle Fire Department has come to the rescue of a dog in an icy pond, saving one pup on Monday morning, according to a tweet from the department.
EFD spokesman Rob Shoplock said an off-duty Ada County Sheriff's Office deputy saw the dog go into the pond at Optimist Field near Hill Road and Idaho 55. The deputy called Eagle Fire Department, which has a station just down the road.
Shoplock said firefighters grabbed an ice rescue suit and took off to help the canine. He said the dog, which he thinks was a labradoodle, showed no obvious signs of injury and walked away from the scene with its owners.
"The owners were out walking their dogs," he said. "And they didn't attempt to go out on the ice — thank god!"
continued:
— — — — — — — — — — — — — — — —
St. Luke's nurse rescues dogs from icy pond
Morgan Boydston, KTVB December 29, 2016
Boise – Beth Stettler, a registered nurse at St. Luke's Employee Health, selflessly rescued two dogs out of a pond in Boise on Christmas Day.
Stettler says she knows heading out onto an icy ponds is unsafe – she's constantly reminding her kids not to play on the ice. But she says she felt mentally and physically prepared to come to the rescue in a life-or-death situation when two dogs jumped in and couldn't get out.
Tuesday night, we told you about two separate dog rescues this week in partially frozen ponds in Eagle. In those situations, we may want to be rescuers ourselves but first responders say you could be putting your own life at risk.
continued:
— — — — — — — — — — — — — — — —
Wyoming sled dog race holds stage in Idaho
12/31/16 AP
Driggs, Idaho — The Pedigree Stage Stop Sled Dog Race, the country's largest sled dog race outside of Alaska, will hold a stage in Driggs, Idaho on Jan. 28.
The Idaho State Journal reports that the race was launched in 1996 to showcase western Wyoming scenery, but has been sneaking over the border to Idaho for the past couple of years.
The city of Driggs and the Teton Valley Community Animal Shelter host the Idaho stage. It will be the second day of the race.
continued:
— — — — — — — — — — — — — — — —
2 dogs attacked by mountain lion near Ketchum
AP, KTVB December 28, 2016
Ketchum, Idaho (AP) – One dog has died and another is injured after they were apparently attacked by a mountain lion in a subdivision south of Ketchum.
The Idaho Mountain Express reports that wildlife officials have trapped and released the mountain lion in a remote area after the Thursday attacks.
A female Australian shepherd died from its wounds after the attack and a male yellow Labrador retriever is recuperating.
continued:
— — — — — — — — — — — — — — — —
Wolf News Roundup
by Cat Urbigkit, Pinedale Online! December 11, 2016
Dead Druid
The Jackson Hole News & Guide reports on the death of a wolf from Yellowstone National Park's northern range. The nearly 10-year-old male from the Druid Peak Pack was killed by a hunter in Montana during that state's fall wolf hunting season. For the history of this wolf, and the wolf pack that grew to 37 animals, check out the link below.
California's Wolf Plan
The California Department of Fish and Wildlife has released its Conservation Plan for Gray Wolves in California. The plan identified four key issues that are considered most significant for the future of wolf conservation: 1) wolf-livestock interactions; 2) wolf-ungulate interactions; 3) wolf interactions with other wildlife; and, 4) wolves and human safety concerns. For all the details, check out the links below.
Colorado Wolf Reintroduction
A spokesman for the Turner Endangered Species Fund is advocating that gray wolves be reintroduced to western Colorado. But for that state's environment to receive ecological benefits, there would have to be enough wolves – enough that wolves were "common." According to the spokesman, "There's no profound downside and there's a real, big upside."
continued:
— — — — — — — — — — — — — — — —
British Columbia man stalked by wolf
by Cat Urbigkit, Pinedale Online! December 12, 2016
According to media reports, a wolf attacked and killed a dog on a ski trail in British Columbia before following the dog's owner back to a parking lot. The attack happened on a ski trail at the Bulkley Valley Nordic Centre, which has stated its intention to leave the trails closed while conservation officers investigate.
See the links below for more details.
link:
— — — — — — — — — — — — — — — —
Anti-wolf dog vests tested
by Cat Urbigkit, Pinedale Online! December 12, 2016
Dogs in a village in Finland will be equipped with safety vests this spring, in an effort to keep them alive during attacks by wolves. Each vest contains chili cartridges that will release chili powder into the face of a wolf that punctures the vest while attacking the dog.
To learn more, check out the media links below.
link:
— — — — — — — — — — — — — — — —
Wolf Education International
Newsletter 12/27/2016
Norway to Kill 2/3 of their Wolves
— —
Norway reprieves 32 of 47 wolves earmarked for cull
Under Norway's endangered predator laws, only 15 lone wolves proved to pose a threat to livestock
Tone Sutterud and Elisabeth Ulven, Oslo Tuesday 20 December 2016
The Norwegian government has issued a last-minute reprieve for 32 of the 47 wolves that had been earmarked for a cull to protect sheep flocks.
continued:
— — — — — — — — — — — — — — — —
Idaho elk ranchers find strong market with hunters
By John O'Connell –  1/1/17 AP
Driggs, Idaho — Rancher Kent Bagley and his sons Greg and Stephen derive almost a third of their income from agricultural tourism, and their farm-raised elk are the main attraction.
The Bagleys bought their first 15 elk in the late 1990s, seeking to diversify their beef and dairy business. They've since given up the dairy, focusing on elk and beef cows.
As with the dairy market, elk prices have ebbed and flowed — and while values of most farm commodities have declined lately, Stephen said elk meat, antlers and bulls raised for penned hunting operations have all risen.
continued:
— — — — — — — — — — — — — — — —
Herd of 41 elk die in Eastern Oregon after falling through ice
Associated Press, KGW December 27, 2016
Richland, Ore. (AP) – Officials say an elk herd has died after the animals fell through the ice at a reservoir in east Oregon.
The Oregon Department of Fish and Wildlife said in a Facebook post that 41 elk died Tuesday on the Powder River arm of Brownlee Reservoir.
The Baker City Herald reports someone who lives near the reservoir called to report the incident. Oregon Department of Fish and Wildlife Biologist Brian Ratliff told the newspaper the elk were trying to cross the reservoir from the north side when the ice broke in four places.
Officials drove to the area to see if it was possible to save any of the elk or salvage meat, but Ratliff said neither option was possible.
The reservoir is about 40 miles east of Baker City.
source:
— — — — — — — — — — — — — — — —
Passersby rescue moose stuck on frozen St. Joe River
Taylor Viydo, KREM December 28, 2016
Benewah Co., Idaho – Benewah County Judge and Idaho Department of Fish and Game officer Douglas Payne snapped quite the photo earlier this month.
Payne was driving along the St. Joe River when he spotted another driver looking at a moose that had fallen through ice and was stuck.
Payne and two others helped rescue the moose from the ice using a tow strap. The rescue efforts took 30 minutes.
The moose (a cow) was reunited with her calf that was watching from the shoreline.
(© 2016 KREM)
— —
Taylor Viydo @KREMTaylor Dec 28
Another picture of the moose rescue from last week. This is a shot of the moose before rescue efforts began. She was stuck!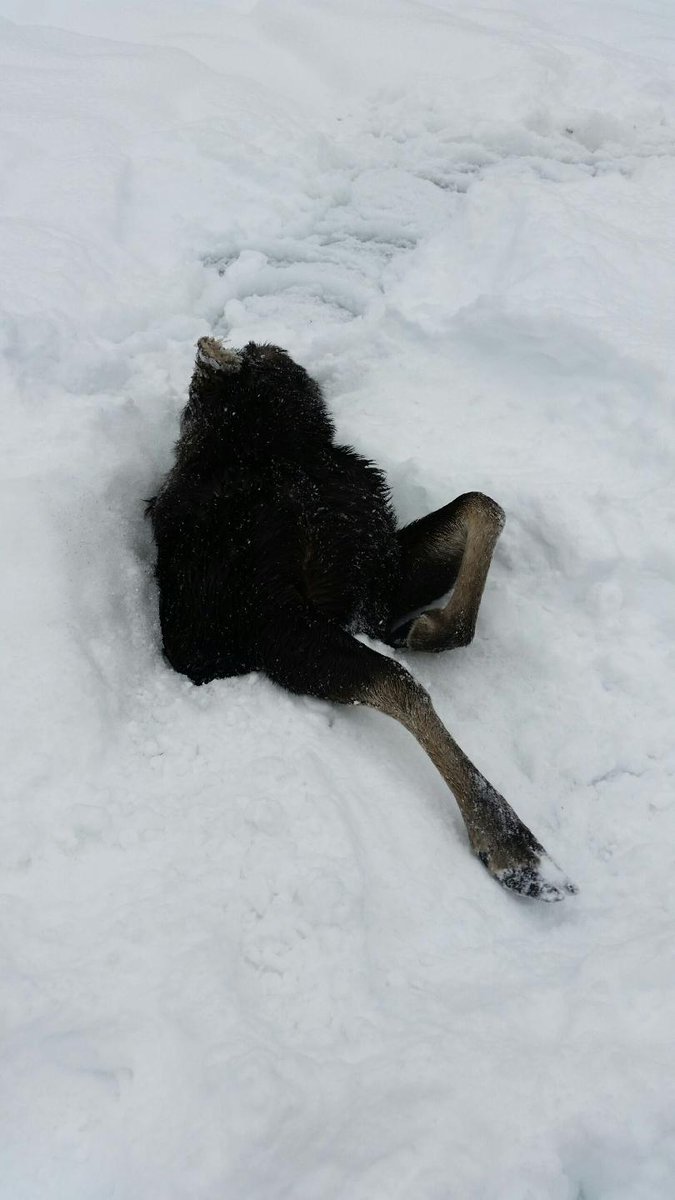 — — — — — — — — — — — — — — — —
Pronghorn prosper in Blaine County
Researchers to continue monitoring speed champions
Madelyn Beck Dec 28, 2016 IME
Pronghorn, often mistakenly referred to as antelope, are an odd species. Pronghorn don't jump fences, don't travel if snow is higher than 18 inches and their closest living relative is the giraffe, according to Idaho Department of Fish and Game wildlife research scientist Scott Bergen.
"There is nothing like it," he said.
Generally, pronghorn find areas of fence to cross under or through an opening to get through during a migration. As for the snow, Bergen said a hefty snowstorm can stop a migrating herd in its path, sometimes leading to starvation in easily snowed-in areas like Arco.
"It's a little tragic," he said.
Bergen was part of a Wildlife Conservation Society group in 2009 that helped uncover migratory routes of pronghorn herds living near Picabo and Carey, which can span more than 160 miles over a year. Currently, he said, the Blaine County herds have migrated out of the area to a few different locations.
continued:
— — — — — — — — — — — — — — — —
Lander group works to provide water to wildlife in Wyoming
12/25/16 AP
Casper, Wyo. — A Lander-based group is working to give wildlife across Wyoming access to water.
Water for Wildlife and partner organizations have recently installed five guzzlers — or water tanks — across the state in order to provide drinks for Wyoming's thirsty wildlife, The Casper Star-Tribune reported.
The group raises money to build and install the water tanks across the state's dry, arid regions. The guzzlers are intended to provide water to animals during periods of drought and also to expand the areas where the animals can live.
When donors ask if their money is working, they often provide photographic evidence. Each guzzler is equipped with a remote-censored trail camera that picks up images of elk, bighorn sheep, pronghorn, songbirds and even bobcats stopping by for a drink.
continued:
— — — — — — — — — — — — — — — —
Nearly 20 geese killed in Meridian by illegal hunting
Alex Livingston, KTVB December 29, 2016
Meridian, ID – Throughout the day the sound of hundreds of Greater Canadian Geese echoes through a subdivision in Meridian. On Monday, however, an uncommon sound rang through the neighborhood – gunshots.
"When the guys went by I just had a funny feeling," said Drew Wahlin, the President of the Idaho Chukar Foundation and witness to the shooting.
What happened next left Walhin and his wife speechless.
"It all happened so quickly when it was going on and I was taken back a little bit," said Wahlin.
Wahlin said he and his wife were about to snowshoe with their dog when two men in a pickup truck pulled over on the side of the road, got out, and shot at the nearly 500 geese.
continued:
———————————–
Fun Critter Stuff:
The Bulb Bandit is waging war on Christmas
Jim Dever, KING December 06, 2016
Seattle – A four-legged thief is waging war on Christmas in Queen Anne.  He's "The Bulb Bandit."
The bandit is none other than a fuzzy, little squirrel.
Homeowner Margaret Rican has seen him in action. He's been stealing her Christmas light bulbs.
"130 bulbs yesterday and he came back for the rest," said Rican.
This scrounging squirrel is stealing the season one bulb at a time. He somehow gets the lights off of the line and runs away to the neighbor's yard.
At first, Margaret thought it was kind of annoying, but now it's kind of impressive.
continued w/video news report:
— — — — — — — — — — — — — — — —
Beaver caught 'shopping' for Christmas decorations, causes property damage to Md. store
by Erin Danielle Jones ABC7 November 30th 2016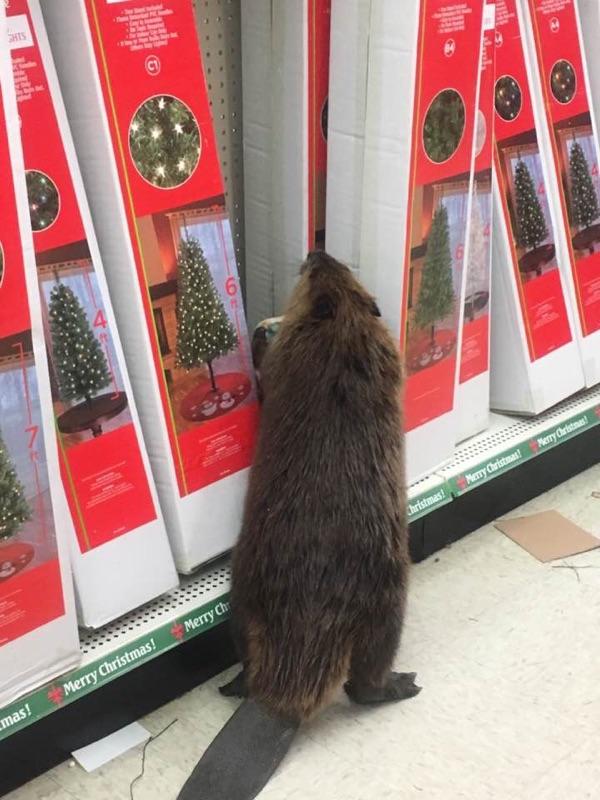 (Photo Courtesy of St. Mary's County Sheriff's Office)
Charlotte Hall, Md. … Witnesses say they saw the beaver attempting to select the perfect Christmas tree and checking out other discounted holiday decor.
Corporal Yingling was called in after the beaver reportedly caused some property damage to the store.
Officials say the beaver attempted to flee the area when Yingling arrived but he or she was safely "apprehended" by Animal Control.
source w/photos and video:
————————————
Fish & Game News:
News Releases
https://idfg.idaho.gov/press
————————————-
Trivia:
Boxing Day
The Old Farmer's Almanac
What is Boxing Day? Why is it called Boxing Day? What, if anything, does boxing have to do with it? Boxing Day, like a box, has many points of interest.
Boxing Day is a centuries' old British traditional gift-giving day once recognized across the British empire. Today Boxing Day is considered part of the Christmas season's festivities in Australia, Canada, Hong Kong, Ireland New Zealand, South Africa, and the United Kingdom.
Boxing Day occurs on December 26 (the day after Christmas). However, if Christmas falls on a Saturday, Boxing Day takes place on the following Monday.
Boxing Day in Ireland is also known as St. Stephen's Day. But did you know: There are two saints named Stephen! One St. Stephen was stoned to death for his Christian faith and is considered the first Christian martyr. The other St. Stephen practiced mission work in Sweden and had a fondness for animals—especially horses. (This may be the reason that horse racing is popular on this day.)
continued:
— — — — — — — — — — — — — — — —
— — — — — — — — — — — — — — — —
A History of the New Year Celebration
by Borgna Brunner
The celebration of the new year on January 1st is a relatively new phenomenon. The earliest recording of a new year celebration is believed to have been in Mesopotamia, c. 2000 B.C. and was celebrated around the time of the vernal equinox, in mid-March. A variety of other dates tied to the seasons were also used by various ancient cultures. The Egyptians, Phoenicians, and Persians began their new year with the fall equinox, and the Greeks celebrated it on the winter solstice.
Early Roman Calendar: March 1st Rings in the New Year
The early Roman calendar designated March 1 as the new year. The calendar had just ten months, beginning with March. That the new year once began with the month of March is still reflected in some of the names of the months. September through December, our ninth through twelfth months, were originally positioned as the seventh through tenth months (septem is Latin for "seven," octo is "eight," novem is "nine," and decem is "ten."
January Joins the Calendar
The first time the new year was celebrated on January 1st was in Rome in 153 B.C. (In fact, the month of January did not even exist until around 700 B.C., when the second king of Rome, Numa Pontilius, added the months of January and February.) The new year was moved from March to January because that was the beginning of the civil year, the month that the two newly elected Roman consuls—the highest officials in the Roman republic—began their one-year tenure. But this new year date was not always strictly and widely observed, and the new year was still sometimes celebrated on March 1.
Julian Calendar: January 1st Officially Instituted as the New Year
In 46 B.C. Julius Caesar introduced a new, solar-based calendar that was a vast improvement on the ancient Roman calendar, which was a lunar system that had become wildly inaccurate over the years. The Julian calendar decreed that the new year would occur with January 1, and within the Roman world, January 1 became the consistently observed start of the new year.
Middle Ages: January 1st Abolished
In medieval Europe, however, the celebrations accompanying the new year were considered pagan and unchristian like, and in 567 the Council of Tours abolished January 1 as the beginning of the year. At various times and in various places throughout medieval Christian Europe, the new year was celebrated on Dec. 25, the birth of Jesus; March 1; March 25, the Feast of the Annunciation; and Easter.
Gregorian Calendar: January 1st Restored
In 1582, the Gregorian calendar reform restored January 1 as new year's day. Although most Catholic countries adopted the Gregorian calendar almost immediately, it was only gradually adopted among Protestant countries. The British, for example, did not adopt the reformed calendar until 1752. Until then, the British Empire —and their American colonies— still celebrated the new year in March.
source:
— —
New Year's – Holidays
History.com
Civilizations around the world have been celebrating the start of each new year for at least four millennia. Today, most New Year's festivities begin on December 31 (New Year's Eve), the last day of the Gregorian calendar, and continue into the early hours of January 1 (New Year's Day). Common traditions include attending parties, eating special New Year's foods, making resolutions for the new year and watching fireworks displays.
lots more info:
———————————–
Happy New Year
[h/t SMc]
———————————-